Painted Kitchens: Experimenting With Colour In Your Modern Kitchen
Inspiration28th March 2022 4 minute read
A kitchen colour update can completely transform your interior. A bold feature wall brings fresh energy and a new focus into the room. Repainted fittings breathe new life into older installations. Reimagining your space's entire colour scheme can reinvent a property's entire aesthetic. Get inspired to pick up the paint roller with these beautiful kitchen colour ideas, perfect for an easy upgrade.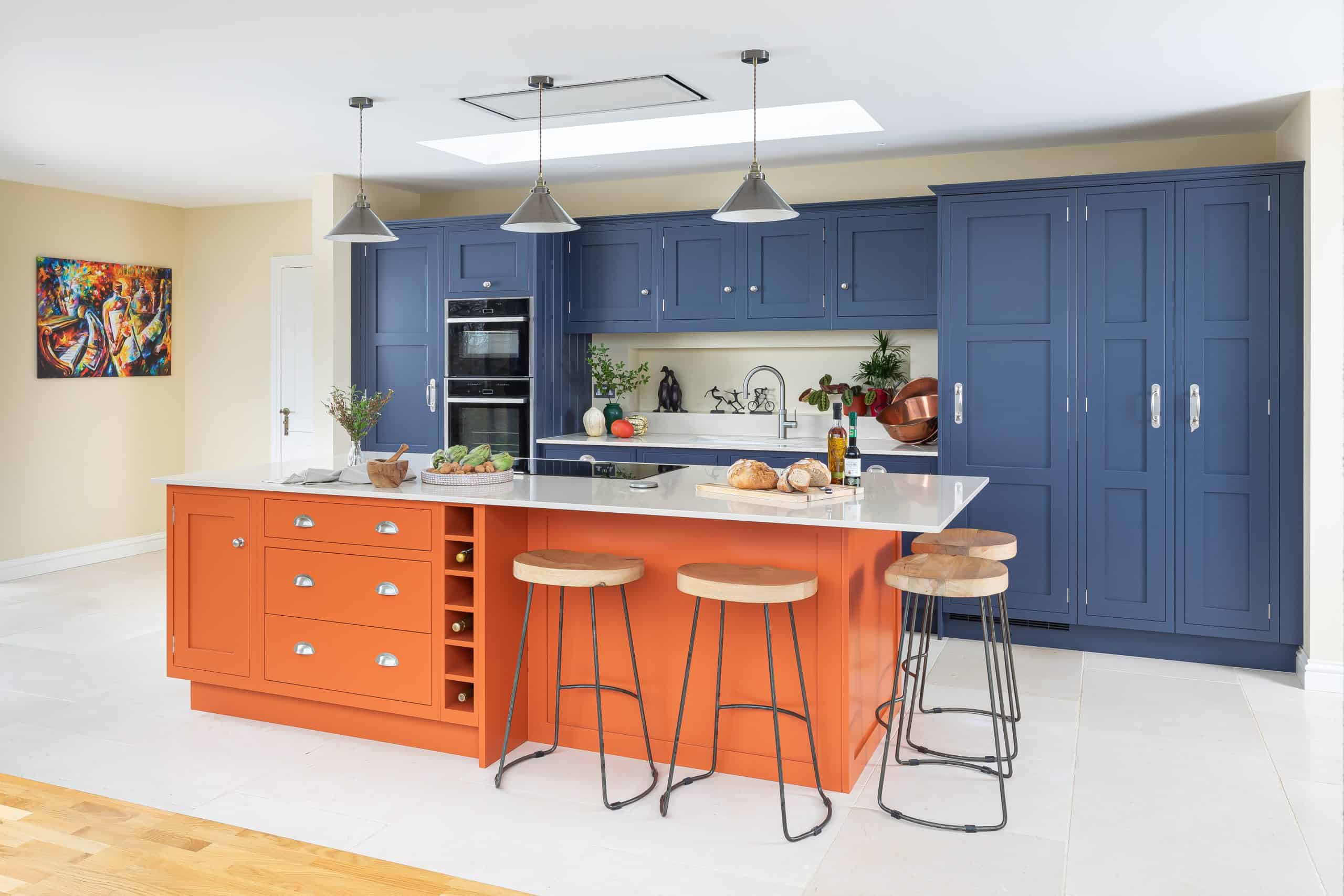 Statement Feature Walls
If you're ready to inject some fun into minimalist kitchen colour schemes, a feature wall is a fast way to do exactly that. A pared back, minimal aesthetic can look beautifully sleek, but if you're ready to add some warmth and personality to your kitchen, a statement feature wall is a great option. This design feature could even be a stepping stone to embracing more colour in your home.
As the one wall which will stand out in your kitchen, care needs to be taken in choosing the perfect shade and choosing which wall you will accentuate. Here are a few feature wall dos and don'ts…
Do

choose a shade which complements your existing interior

Don't

choose a bold shade for impact alone (make sure the colour complements your furnishings and fabrics)

Do

choose a wall which is already a focal point (like behind the oven or kitchen island)

Don't

choose 'just any' wall (this can draw the eye to unexpected areas of your kitchen)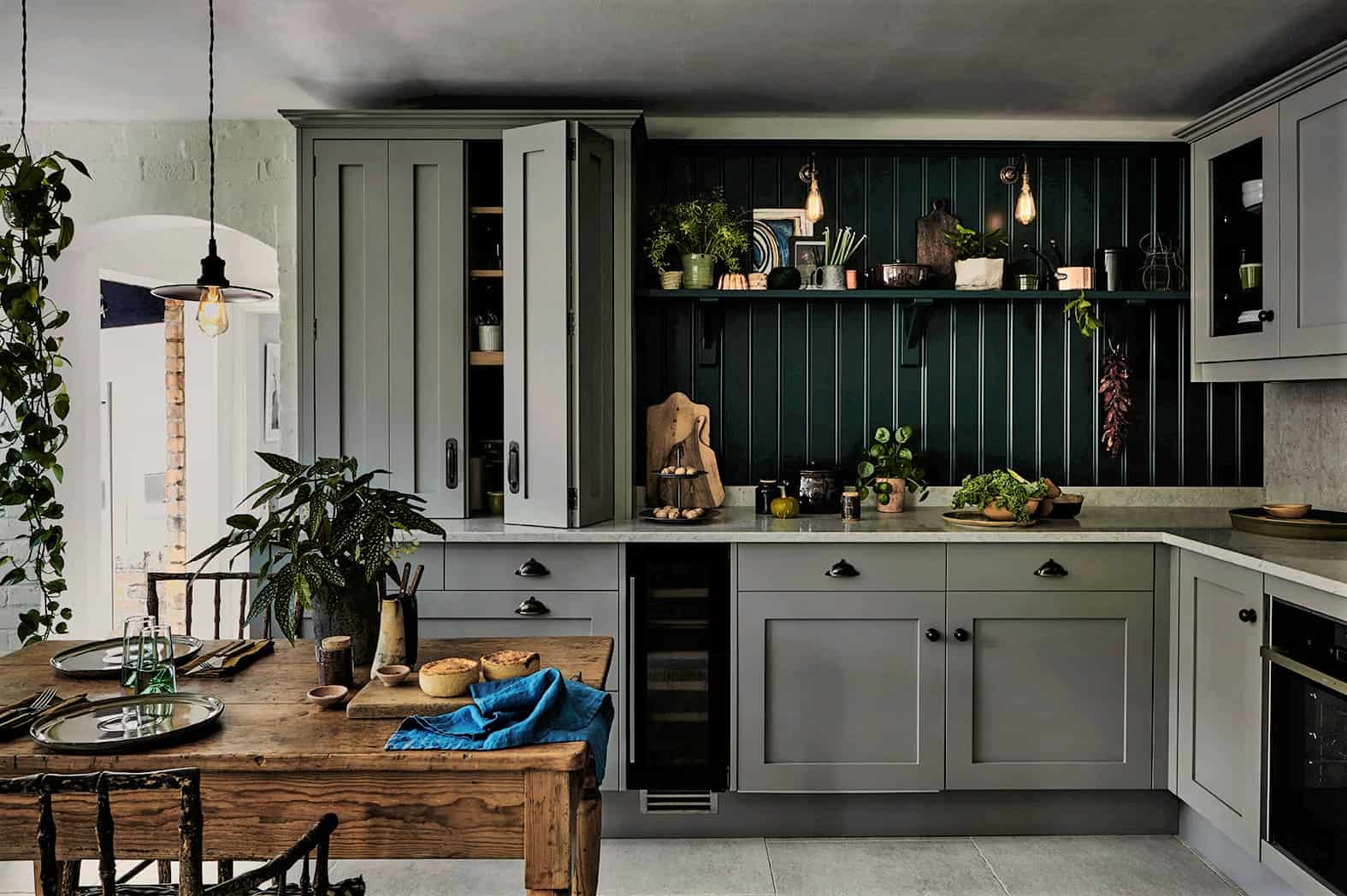 Bright Splashbacks
If a single feature wall doesn't feel right for your space, but you still want to add a burst of colour, your kitchen splashback could be the perfect place to experiment with your colour ideas. 
Wipeable, grease-resistant paint is readily available, which means you can upgrade your splashbacks with a lick of paint, without worrying about their longevity. Already set above key focal areas of your kitchen, painted splashbacks are great for adding warmth to food preparation areas and for zoning different parts of an open plan kitchen space. 
Match with painted cabinets for extra colour
To extend your new splashback colour scheme further, consider applying the same shade (or a complementary hue) to painted kitchen cabinets. Choosing an adjacent colour can add depth and gentle variety to your interior, while choosing the same shade creates a more uniform look. For more inspiration, take a look at the colours and finishes in the John Lewis of Hungerford collection or discover these aesthetic accent colours for grey cabinets.
Painted kitchen cabinets are a brilliantly easy way to add colour to your kitchen, without making a huge commitment. You can even try stick-on decals to experiment with colour without picking up a paintbrush.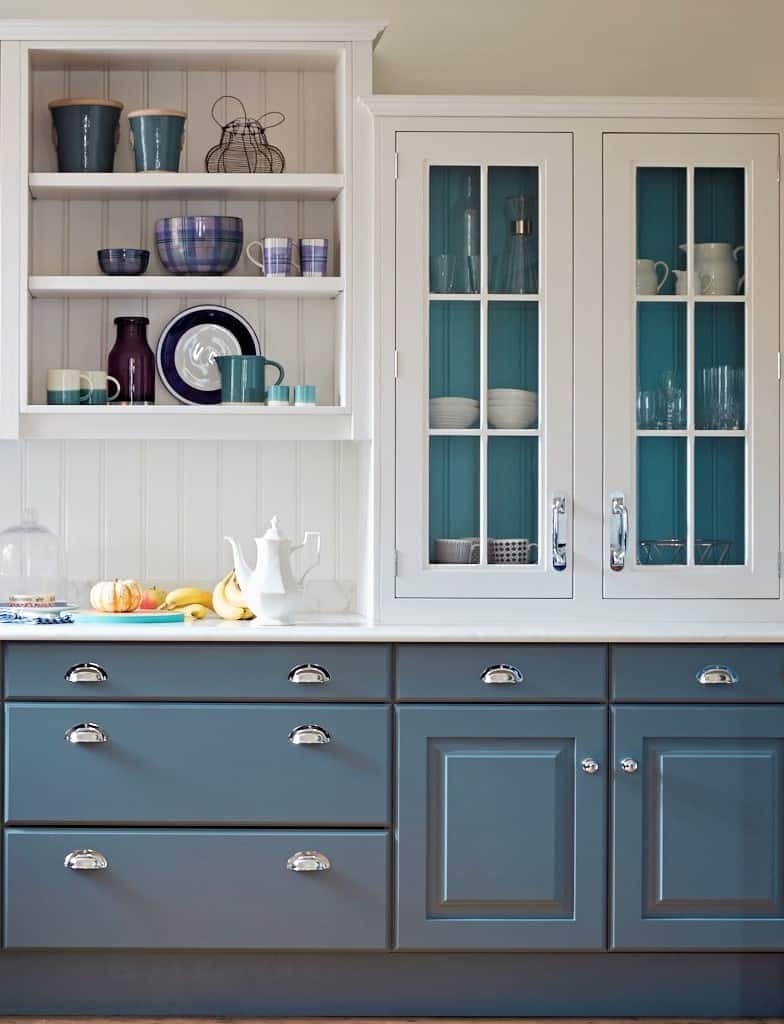 Interesting Shelving
Give kitchen colour schemes a quick update by painting your kitchen shelving. A quick lick of paint can take kitchen shelving from functional to beautiful. If you have open or glass-fronted cabinets, consider painting the shelving inside to add subtle variation, depth and visual interest to your space.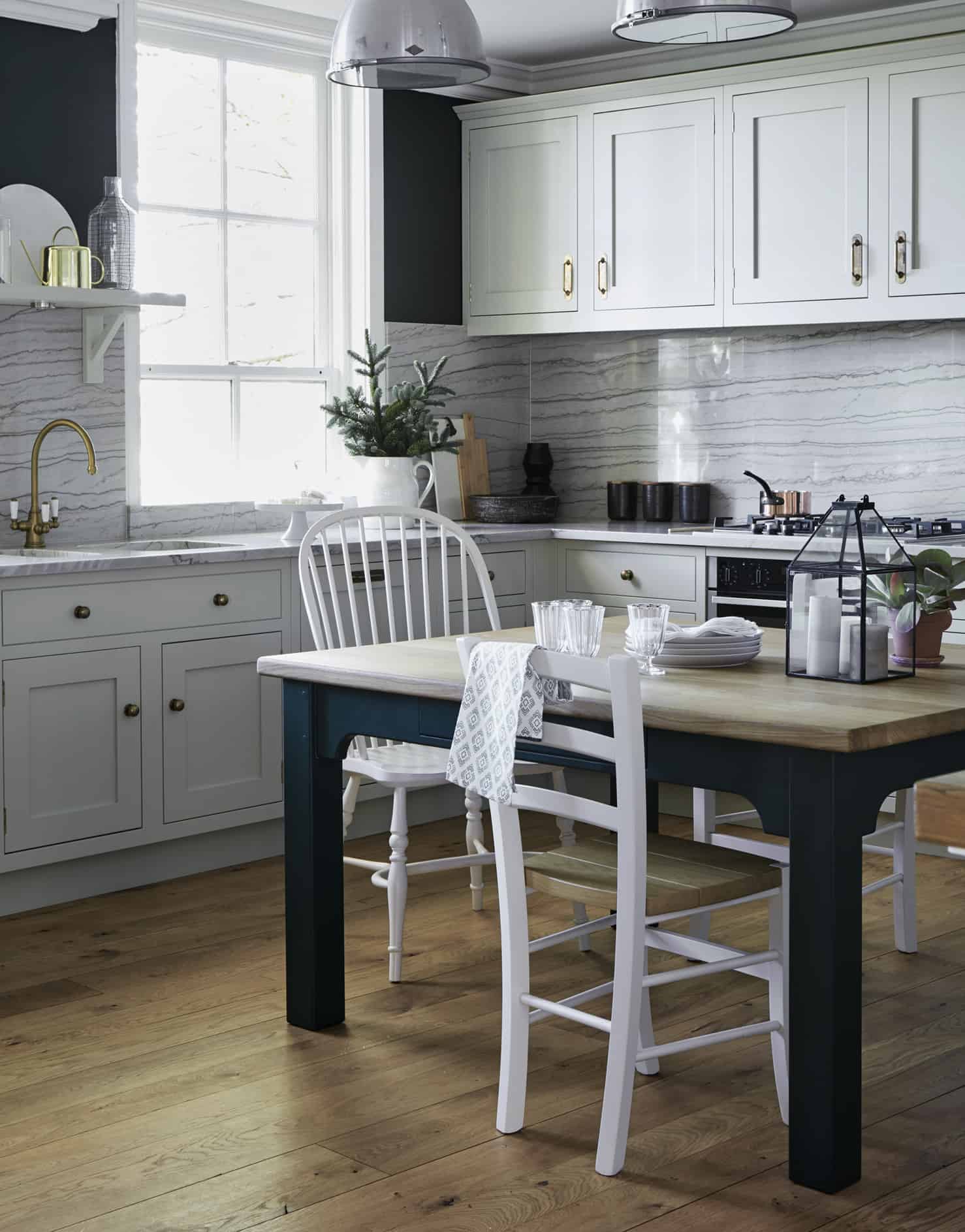 Colourful Furniture 
Updating your furniture with a whole new shade is one of our favourite kitchen colour hacks. Your furniture — particularly kitchen tables and chairs — is often the focal point in the room. Adding a splash of colour can completely transform these key ingredients, creating cohesion or contrast with your new kitchen colour scheme. For those who love quirky design features, why not paint the legs of your table and chairs in varying shade? 
Impactful Islands
Kitchen islands can easily be reimagined as part of upgraded kitchen colour schemes with a fresh coat of paint. As the heart of the kitchen, an island is a great place to add more colour for those keen to experiment with contrast and colour pops. If you're looking to tie together new colour ideas, kitchen islands simply can't be overlooked, and a fresh coat of paint will tie the entire scheme together.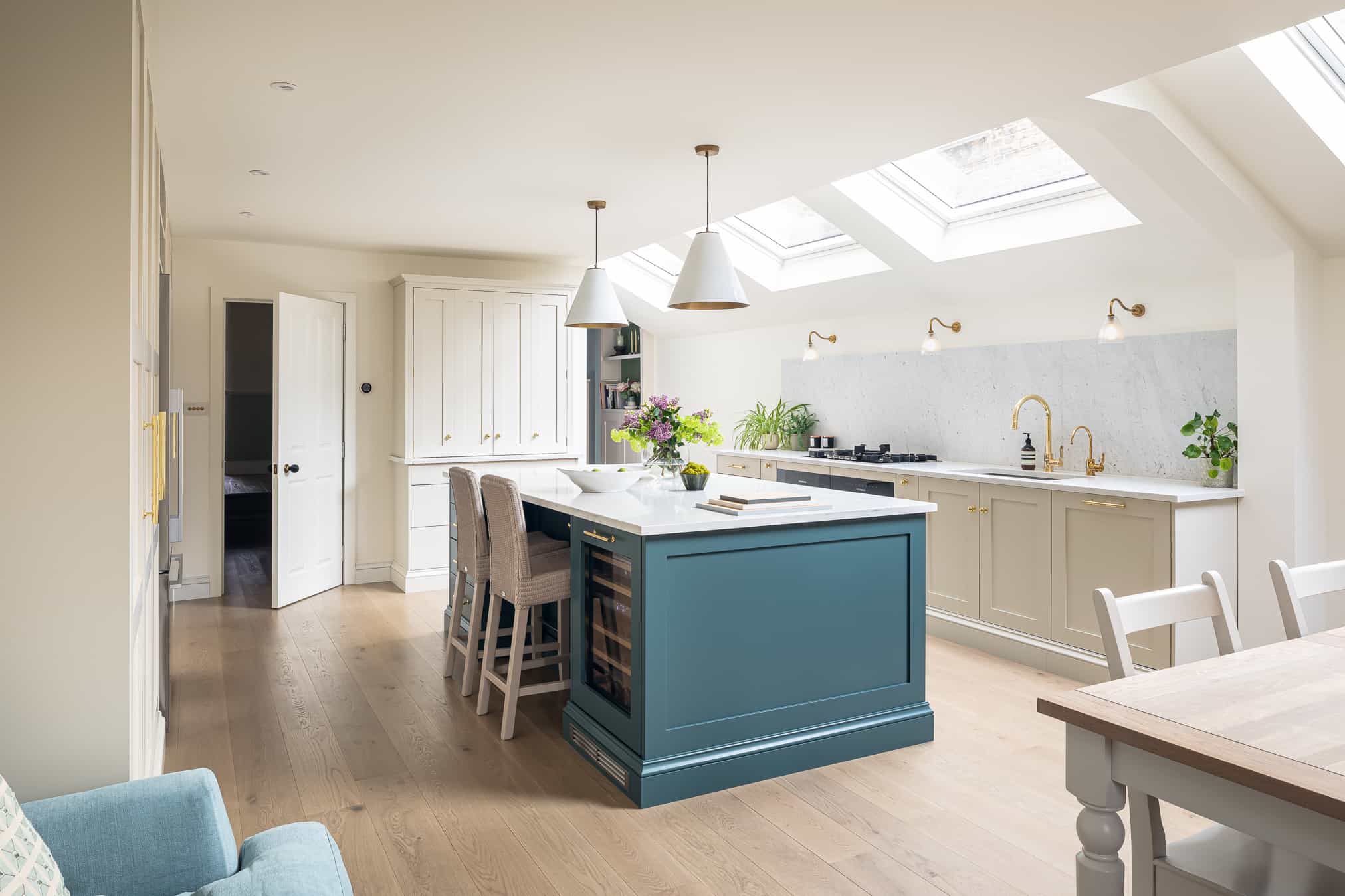 Discover Colour with John Lewis of Hungerford
Our experienced designers and craftspeople are on hand to help you discover fresh new colourways for your kitchen. Share your palette and vision, and we can recommend bright ideas for new cabinetry, kitchen surfaces and furniture. Committed to quality, beauty and functionality, we design perfect fit fixtures, built to look beautiful long term.
Book a free design consultation
John Lewis of Hungerford designers are on hand to bring your ideal home to life
Book a design consultation