Inspiring Painted Kitchen Furniture Ideas
Kitchens10th October 2021 4 minute read
The kitchen is the hub of any home and many of today's kitchens act as multifunctional spaces. They are not only used for preparing meals, but are also rooms where families and friends gather to eat, drink and socialise. Since kitchen designs reflect the homeowner's taste and the home's general ambience, a splash of colour can add a unique personality to the room.
John Lewis of Hungerford is the pioneer of painted kitchens. Our team's passion for colour reaches all the way from pantries and dressers to our tables and chairs. In this blog post, we will share inspiring painted kitchen furniture ideas to help you curate your own palette of colour or match the hues already found in your home with our bespoke colour matching service.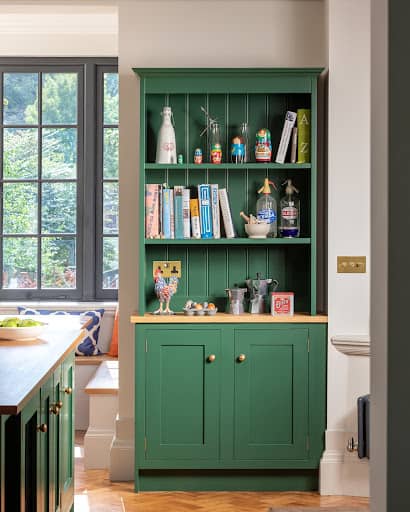 Our Favourite Painted Kitchen Furniture Ideas
We are renowned for our diverse range of durable bespoke kitchen furniture paints. As original specialists in painted, handmade kitchens and furniture, we have developed an exclusive selection of colours for almost every scheme you can think of, including classic, contemporary or a time-honoured favourite. From fresh whites and subtle neutrals to rich, dark shades and bold, bright accents, our designers know how a carefully considered colour scheme can bring your kitchen to life. Here are some of our favourite painted kitchen furniture ideas to inspire you.
1) Free-standing pantry cupboards

Pantry cupboards continue to be top of the nostalgic kitchen wish list, whether free-standing or fitted. Free-standing pantry cupboards make a fantastic kitchen addition. Kitchen pantries in neutral shades complement both classic and farmhouse style kitchens. Antiqued and distressed finishes generate a homely appearance perfect for country living. Free-standing pantry cupboards are also a fantastic way to add colour to your kitchen and create an eye-catching statement piece. For a real statement piece we love our retro inspired Cool Pantry which features flat doors with vents, and can be finished in any of our gloss or satin colours. This kitchen pantry makes a real impact and looks its best finished in a bold colour such as Sugar Candy Pink or Cardinal Red. The cool pantry is a unique style and idea for retro lovers and those looking for something a little different.
Our beautiful fitted pantry cupboards offer substantial storage space for all your culinary essentials, and are designed to ensure they suit your lifestyle requirement. The interiors can be adapted to your needs including a marble 'cold' shelf, solid oak drawers and door mounted spice storage. Additionally, sockets and lighting can be added so that small appliances can be used, creating a functional workspace.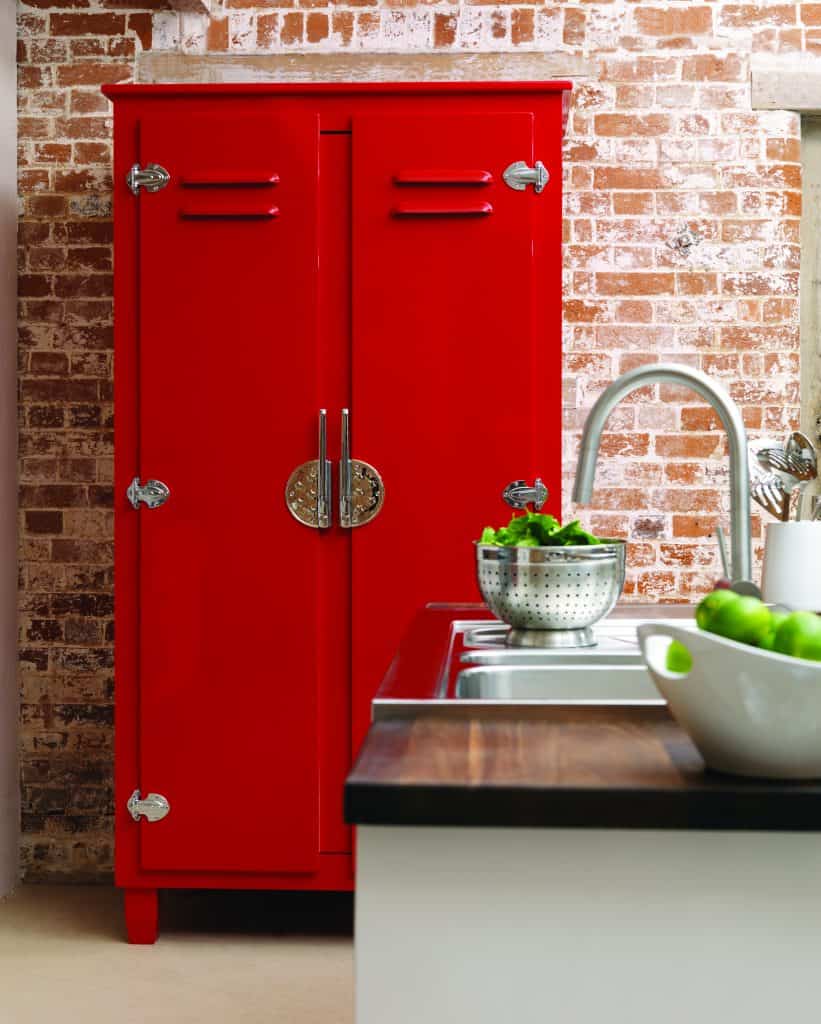 2) Bespoke dressers

A bespoke dresser is a fabulous addition, whether you're looking for a complete kitchen remodel or a statement piece of beautiful furniture. Whites, creams and neutral earthy hues are wonderful colours for both modern and classic kitchens, while warm ochre, honey and saffron tones work well with stone and wood for rustic-style homes. Moody dark paints in Clinker, Midnight Green or Blake Blue stand out immediately and benefit from strategic lighting to create a cosy and intimate atmosphere.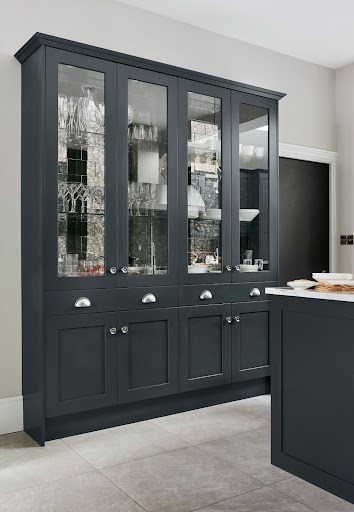 3) Kitchen islands

Are you interested in creating a visual impact but reluctant to commit to a dramatic colour scheme? Consider adding a bold colour statement to your kitchen's island. A painted kitchen island is a fabulous way to create a striking focal point and add colour. Bold colours on the kitchen island contrast beautifully against neutral kitchen cabinets and will give you that eye-catching centrepiece to your kitchen without overwhelming the space. Equally, a white island can be the perfect statement in a darker coloured kitchen.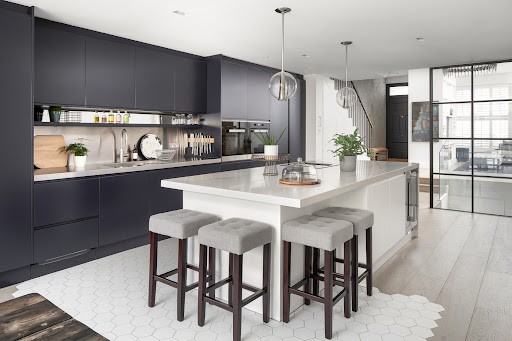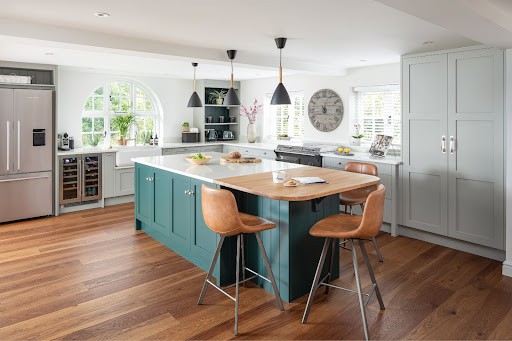 4) Chairs and stools

Even the smallest pop of colour can transform your kitchen. Simply adding a striking shade through chairs or stools can have a stunning visual effect. This is a wonderful way to add a bit of excitement to the space whilst maintaining the crisp, clean look of the cabinetry. Our classic three leg stools make a great kitchen addition and are available in any of our paint colours. These beautiful stools were originally inspired by a Cornish stool that caught our founder's eye and imagination. Handmade in our Oxfordshire workshop, our solid wood chairs and stools complement any interior scheme, from city penthouses to country estates.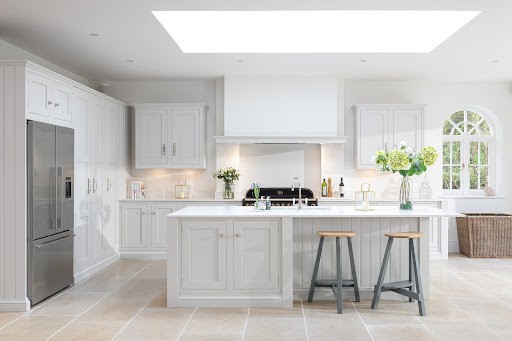 Painted Kitchen Furniture from John Lewis of Hungerford
Our specially crafted paints were designed with kitchens in mind. They are not only resistant to the most severe conditions of wet and dry heat, but can also withstand marking by liquids, oils and solvents. Our award-winning paints are available in 100 different satin eggshell shades, from subtle and fresh to rich and bold. We also offer 14 durable high gloss colours – each hand polished – which add depth and an easy-to-clean surface. Our shade range comprises just about every colour scheme you can imagine, and we offer a bespoke colour matching service if the colour you desire is already found throughout your home.
Our designers are highly enthusiastic about exploring different colours and textures to create a kitchen that meets your needs. Wherever your colour inspiration comes from, we can help realise your vision and advise you on the best pieces of fitted and free-standing furniture to complete your project. Book an appointment with our experts, who have years of experience helping clients like you find the perfect colour combination for your kitchen furniture. All of our hand-sprayed paint finishes add character to your surroundings and include a 10-year product and workmanship guarantee.
Book a free design consultation
John Lewis of Hungerford designers are on hand to bring your ideal home to life
Book a design consultation