Designing a Kitchen Diner for Your Home
Inspiration14th February 2022 6 minute read
Open plan homes are an increasingly popular choice for homeowners, and a great way to add value to your property. As we shift towards spending more time at home through hybrid working models, creating a shared space in the busiest room in the home – the kitchen – seems like a most logical home improvement.
Combining the kitchen and dining area is a perfect way to bring the family together to cook, eat, relax and socialise. There are several factors to consider when designing an open plan layout, and this guide will share kitchen diner ideas and tips to help you design your own kitchen diner.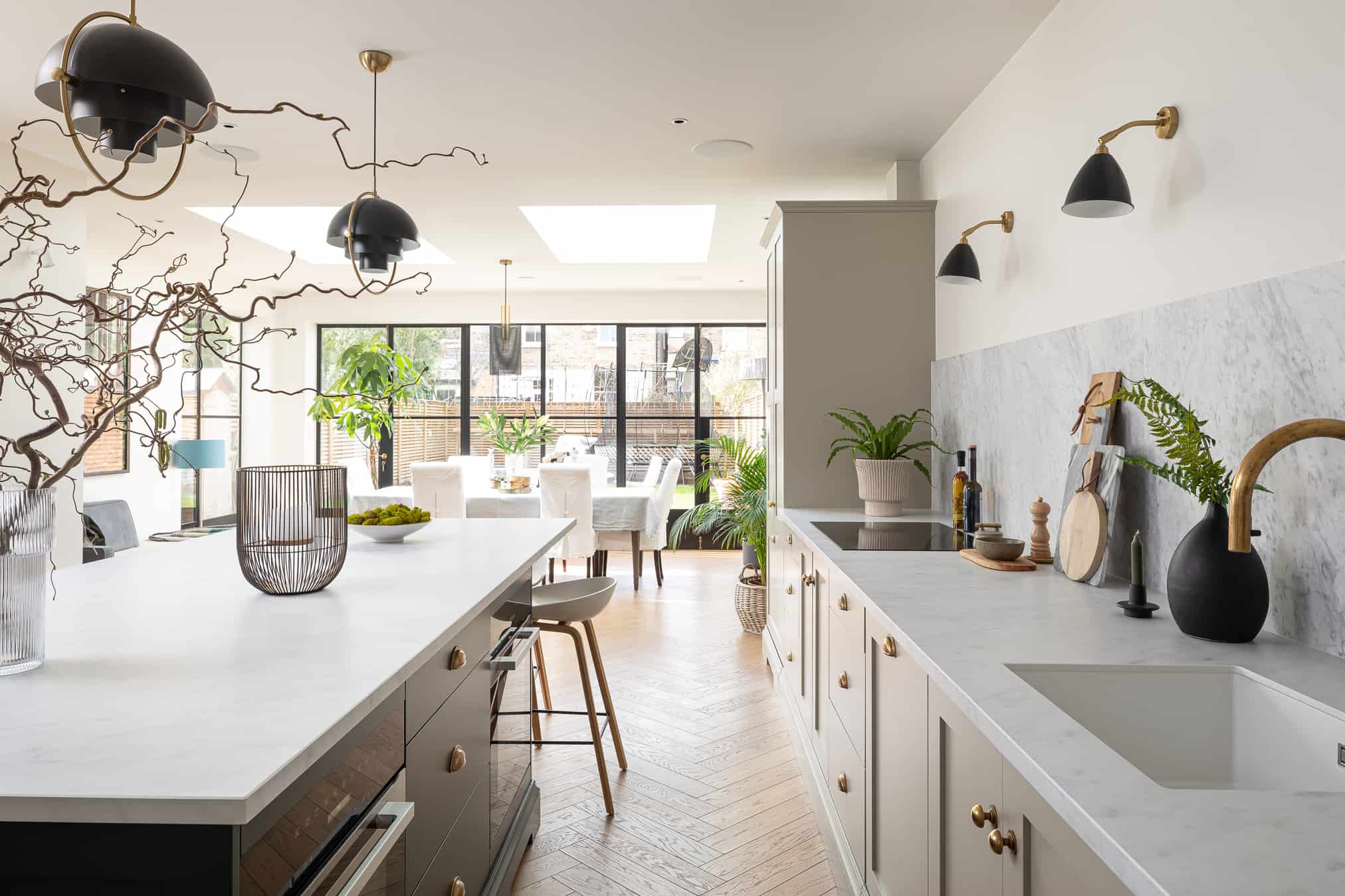 What Is a Kitchen Diner?
A kitchen diner is an open plan room configuration that functions as a multi-purpose space. Wide open kitchen diners maximise the space available and combine the practical and social aspects of kitchens and living areas. Perhaps you want an easy way to keep an eye on your kids while you prepare meals or finish working for the day. Or maybe you would like to upgrade to a large, open space for entertaining guests. Kitchen diners are a perfect luxury kitchen design solution for a variety of reasons and perfectly fit in with almost every type of household.
Benefits of a kitchen diner
A kitchen diner has numerous advantages, particularly when it comes to maximising space and light. The lack of visible barriers creates easy access and a spacious feel. Since kitchens are the heart of the home, an open plan kitchen brings the family together and aids communication. For example, open plan kitchen-living room layouts allow the children to watch television or play within view while you're cooking. The kids can also catch up with their homework under your supervision at the table or breakfast bar while waiting for dinner to be prepared, meaning you're not too far away to offer any help or guidance.
The social element is important when it comes to entertaining guests. You can carry on chatting as you pour drinks, slice pizza or place canapes on the breakfast bar or kitchen island. Hosting nearer the kitchen also means you're close to the fridge and can always see when someone needs a refill or you need to grab more food. This social hub also makes it easy to have an informal post-school run cup of coffee with friends.
Kitchen diners are highly sought-after and raise the property value, so not only will you have the benefit of living in a lighter, more airy environment, but the investment will pay for itself should you choose to put the house on the market.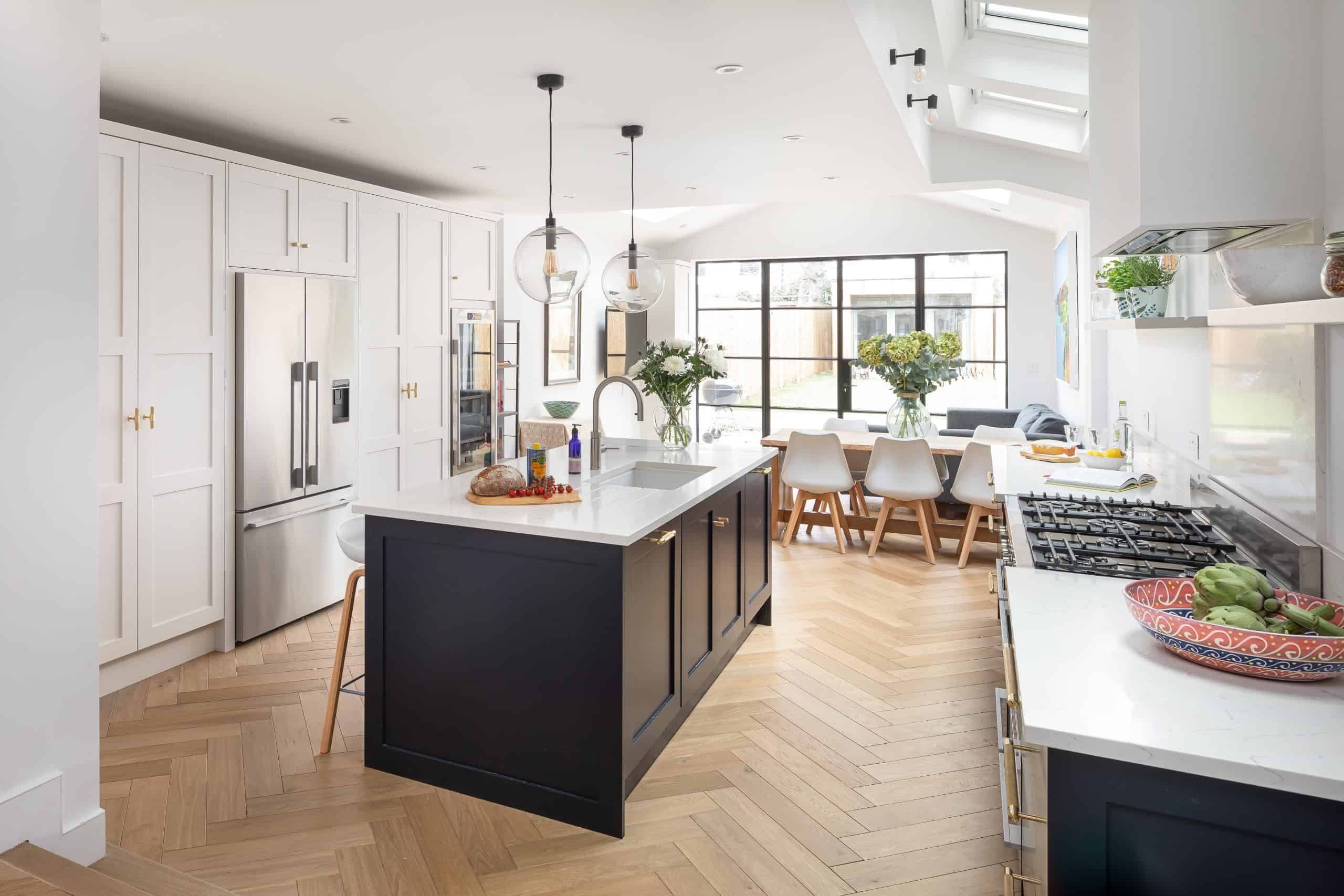 Drawbacks of a kitchen diner
While open-plan concepts are fantastic additions to a family home, they aren't for everyone, and some of the benefits can also be drawbacks. Having one large main room means you'll need to put more effort into keeping it tidy. And, although it's good for communication, an open-plan kitchen/living room can promote more noise. For example, appliances like blenders, dishwashers and microwaves operating can be distracting to children studying or home workers who don't have a separate office. Similarly, the sound of boisterous children playing can be equally distracting when you're trying to concentrate in the last couple of hours of work.
Keep the TV as far away from the kitchen area as possible if you don't want interruptions while watching. When it comes to white goods like washing machines and tumble dryers, it might be best to place them in a completely separate area, such as a bathroom or utility room to avoid the noise carrying over while you're relaxing in the evenings.
While they provide more space for people and movement, kitchen diners can make storage a bit tricky.  You'll need to get more creative with solutions such as extra cabinets, high shelving, hanging racks for pans, larders with pull-out shelves and seats with integrated storage. Try to keep most storage items concealed, as cluttered surroundings take the joy out of both cooking and relaxing.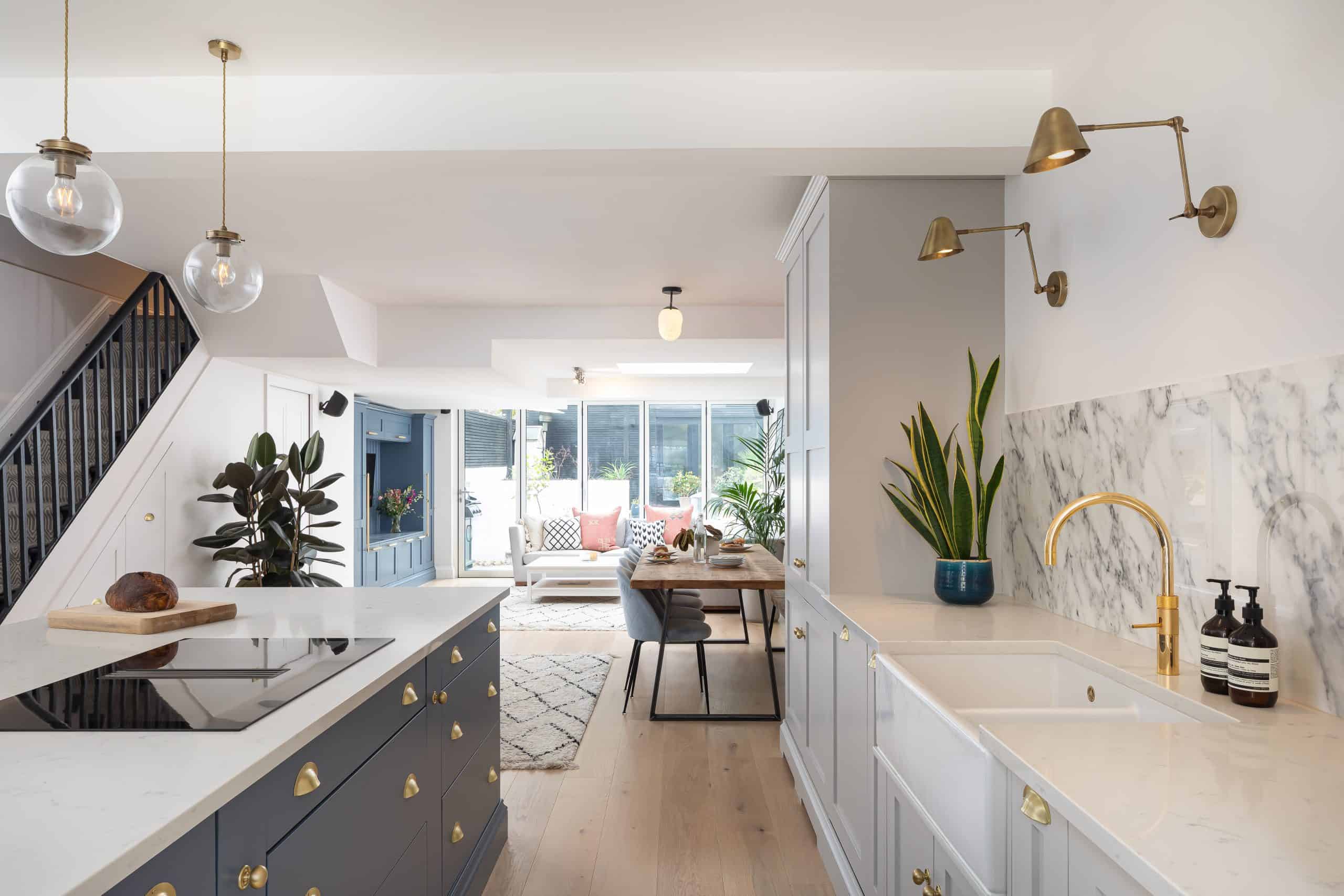 Carefully Consider Lighting
A kitchen diner is a multi-functioning room and each area will have specific lighting requirements. It's essential to carefully consider how to illuminate these separate spaces so that they work in harmony. One of the main reasons people choose an open-plan kitchen is to maximise natural light, so skylights and French windows onto a patio can really help.
You can complement natural light with artificial lighting. Create a lighting scheme that offers multiple layers of main lighting, task lighting and accent lighting to create ambience. Dimmer switches are ideal for transforming the level of light and mood of a room. Combined with task lighting that illuminates the specific area you're using, such as a worktop, dimmable ambient lighting can unobtrusively change the atmosphere.
Pendant lights create a striking focal point, particularly when installed over kitchen islands or dining tables. They blend well with recessed lighting and under-cabinet lights in the main food preparation areas. Meanwhile, downlights work well in the living areas when supplemented with table lamps. This allows you to adapt the lighting for a softer ambience when the day's activity shifts into relaxing with your family or having a drink with friends.
Create Structured Zones
Open-plan kitchens can be adapted to your lifestyle and how you want to use the room. It's a good idea to create zones to define which activities take place in specific areas and to encourage structure within your home.  Zones can be distinguished by creating contrasts with colour, lighting, split-level flooring and partitions, such as bookcases and breakfast bars. Even contrasting textures such as wooden flooring in the kitchen and carpets in the living area can have a subtle impact on how you treat each 'zone'.
Glass doors and partitions can keep the open-plan aesthetic while distinguishing each zone and preventing noise from travelling, meaning you can have separate rooms when you want, but still be able to easily open up your home when it's needed. You can also zone your sound system so that speakers can be turned off individually in different areas, giving you more control over how loud it gets.
Since open-plan kitchens are often the brightest parts of the house, it's worth creating a dedicated home office zone if you regularly work from home. Invest in an adjustable ergonomic chair and add some plants or some inspiring artwork to the wall. Your workstation also has the benefit of being close to the coffee maker!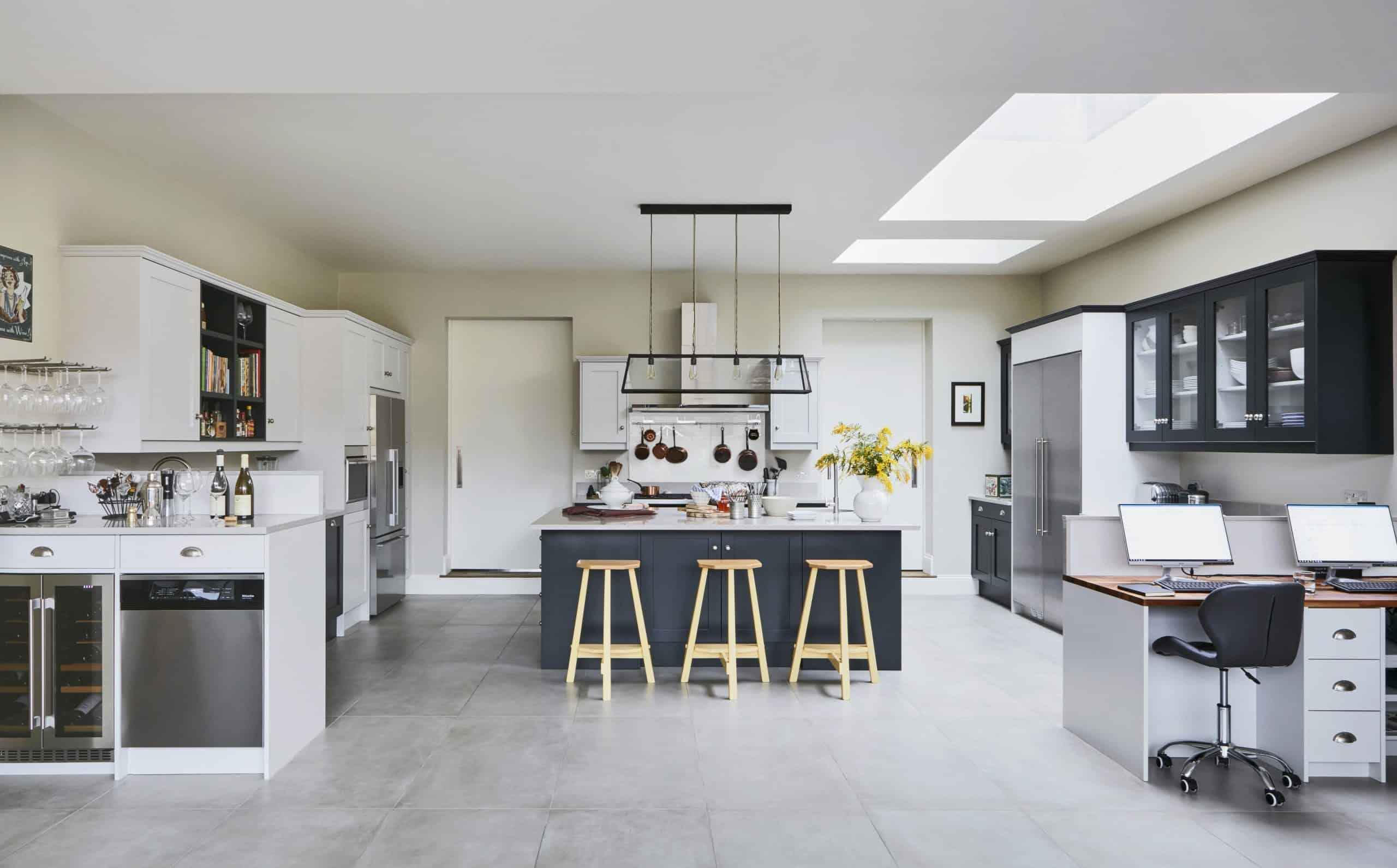 Pick a Diner Style
Kitchen diner styles often depend on the size and shape of the room. But even the smallest open-plan kitchens can fit a table or breakfast bar that can double up for dining or working. To keep the cooking zone clean and uncluttered, opt for handleless cupboards, which keep exteriors streamlined and harmonious.  Likewise, integrating appliances into units has the same space-saving effect and allows for more flow in the floor plan.
Kitchen islands provide a natural zone demarcation and can serve as extra storage, counter space and a social hub. You can also choose an island fitted with an integrated induction hob that allows you to simultaneously cook and entertain. Some people don't like to feel exposed or 'on display' while cooking. In this case, a raised breakfast bar or multi-level island can help the chef talk with guests while concealing the mess of the food preparation. While breakfast bars and kitchen islands can be more social, tables are more versatile. They are easier to move and many are extendable, giving you the freedom to play with the space however you see fit on any given day.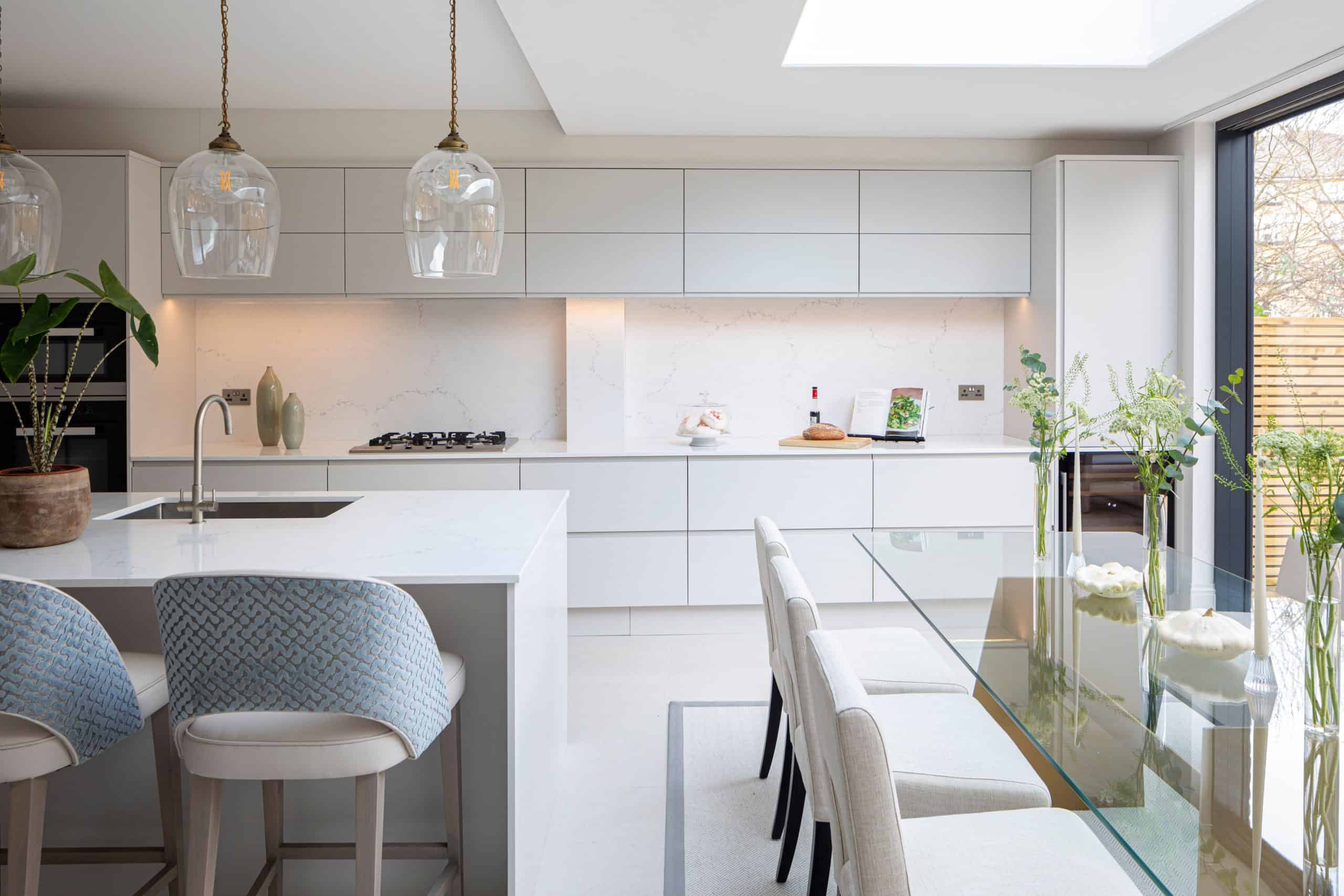 Plan for Extraction
Cooking naturally brings about strong smells, which can overpower open-plan kitchens. It's essential to ventilate the space with an extractor fan that is powerful enough to extract the smells as they arise, rather than letting them waft through to the living area.
The best extractor fans will work quickly and quietly to remove smells and also eliminate moisture and grease from coating your surfaces. It's also a good idea to have plenty of doors and windows to release odours naturally.
Kitchen diner ideas range from simple to ambitious, yet they are all family-friendly and great for socialising. If you would like to open up your living space and invite more light inside, book your free consultation or request a copy of our brochure for more kitchen ideas. Our designers are all too happy to advise you on the best open-plan options for your kitchen.
Book a free design consultation
John Lewis of Hungerford designers are on hand to bring your ideal home to life
Book a design consultation