Wood Worktops: How to Care for Your Kitchen Worktops
Inspiration7th February 2022 4 minute read
Wood is a popular choice for worktops, with its timeless and welcoming natural rustic beauty making it an ideal choice for both traditional and contemporary kitchen designs. Wooden surfaces are incredibly strong and durable, and – like a fine wine – they often get better with age. However, the natural material is susceptible to damage from heat and sharp objects so it needs a little more TLC than other, hardier kitchen worktops. This article will offer tips for keeping wood worktops in tip-top condition.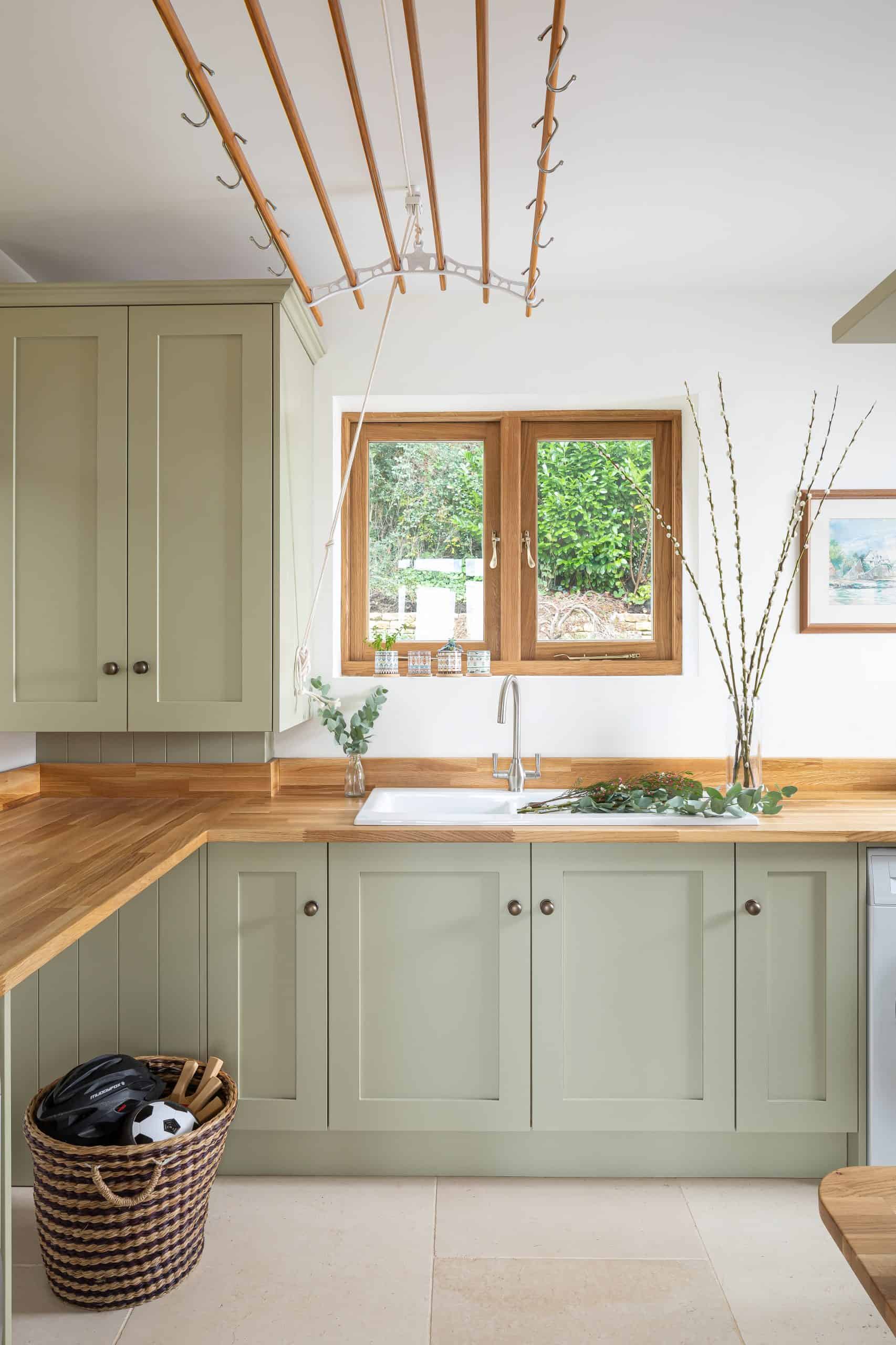 Proper Preparation of Wood Worktops
You need to start taking care of your wood worktops as soon as they are installed. Hardwood materials, such as walnut, beech, maple and oak are the best choice, but they all still require regular maintenance.
Sand and prep
Sanding a wood worktop creates an immaculately smooth surface in preparation for further treatments, such as oiling or varnishing. Use an electric hand-held sander to make the surface even and remove old oil, stains, scratches and scorch marks. You can also use fine sandpaper (120 – 180 grit) to manually sand deeply worn or damaged worktops.
Oil the surface
Oiling seals your wood worktop with layers of protection and forms part of regular maintenance to keep the wood in the best shape for your kitchen. Wood is porous and susceptible to water and bacteria entering gaps in the grain, which can cause it to rot. To protect solid wood worktops, you should treat them with oil as needed or twice a year at the very least. You'll know it's time to oil them when the wood starts looking particularly dull and dry.
Danish oil and linseed oil are among the best oils for treating wood worktops because they penetrate the grains more effectively than the traditional cooking oils you'll have in your kitchen.  Wipe the worktop with a clean cloth to remove any dust, then pour a small amount of oil directly on the wood. Use a lint-free cloth to spread it across the surface to form a very thin layer.
For extra protection, apply a second coat after the first one dries. The first coat should dry in a few hours, but subsequent coats can take up to eight hours to dry so it's best to apply the oil before bed, so it can dry while you sleep. The oil treatment will give the worktop a deep, rich patina and build resistance to stains and water damage.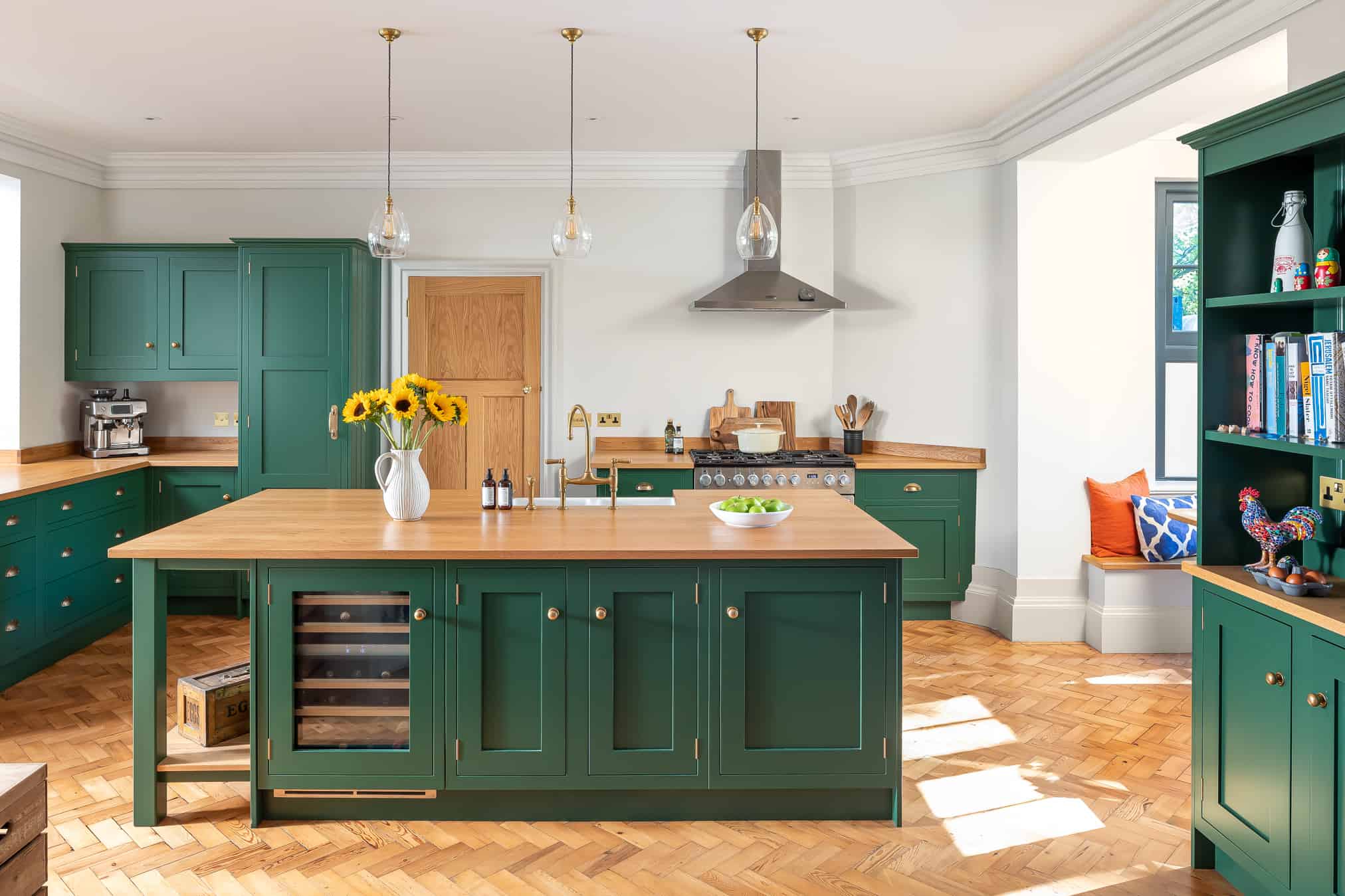 Water test
You know when a wooden worktop needs oiling as water droplets won't form on the surface. Performing a water test is a great way to check if the wood needs maintenance. Simply drop water onto the surface to see if it forms a bead. If the water forms a droplet, the worktop's in good condition. However, if it sits flat, it needs re-oiling.
The worktop you choose in your kitchen can change the overall feeling and aesthetic of your home. John Lewis of Hungerford designers can advise on the best worktop for your needs and the look and feel you want to convey.
Mop Up Spillages
The most effective maintenance for wood worktops in kitchens is to keep the wood as dry as possible. Try to prevent spillages, and if any spills occur, dry the area with a cloth as soon as you can. If liquid collects on the surface and seeps into the timber, it can ruin your wooden worktop. This is especially important if you have a sink installed in a wooden worktop. In this case, damp wood around the sink risks blackening and rotting, so regular maintenance on the work surface is essential.
Cleaning wooden worktops
When it comes to wiping down solid wood worktops, you need to use gentle cleaning products and materials. Avoid abrasive scouring pads and multi-purpose detergents which contain harsh chemicals that can leach into the wood. Bleach and other chemicals will make the wood more porous and prone to water damage and stains, so use warm soapy water with a lint-free cloth to wipe down surfaces instead. Remember to keep the cloth damp, not wet.
Protect Wood Worktops From Heat
Wooden worktops are more easily stained and damaged by heat than other types of countertops made from natural materials, such as quartz. To prevent scorch marks, place hot pans on trivets, cork mats or glass surface protectors. Likewise, always use chopping boards with pigmented foods and spices, such as pomegranates and turmeric, which can stain the surface.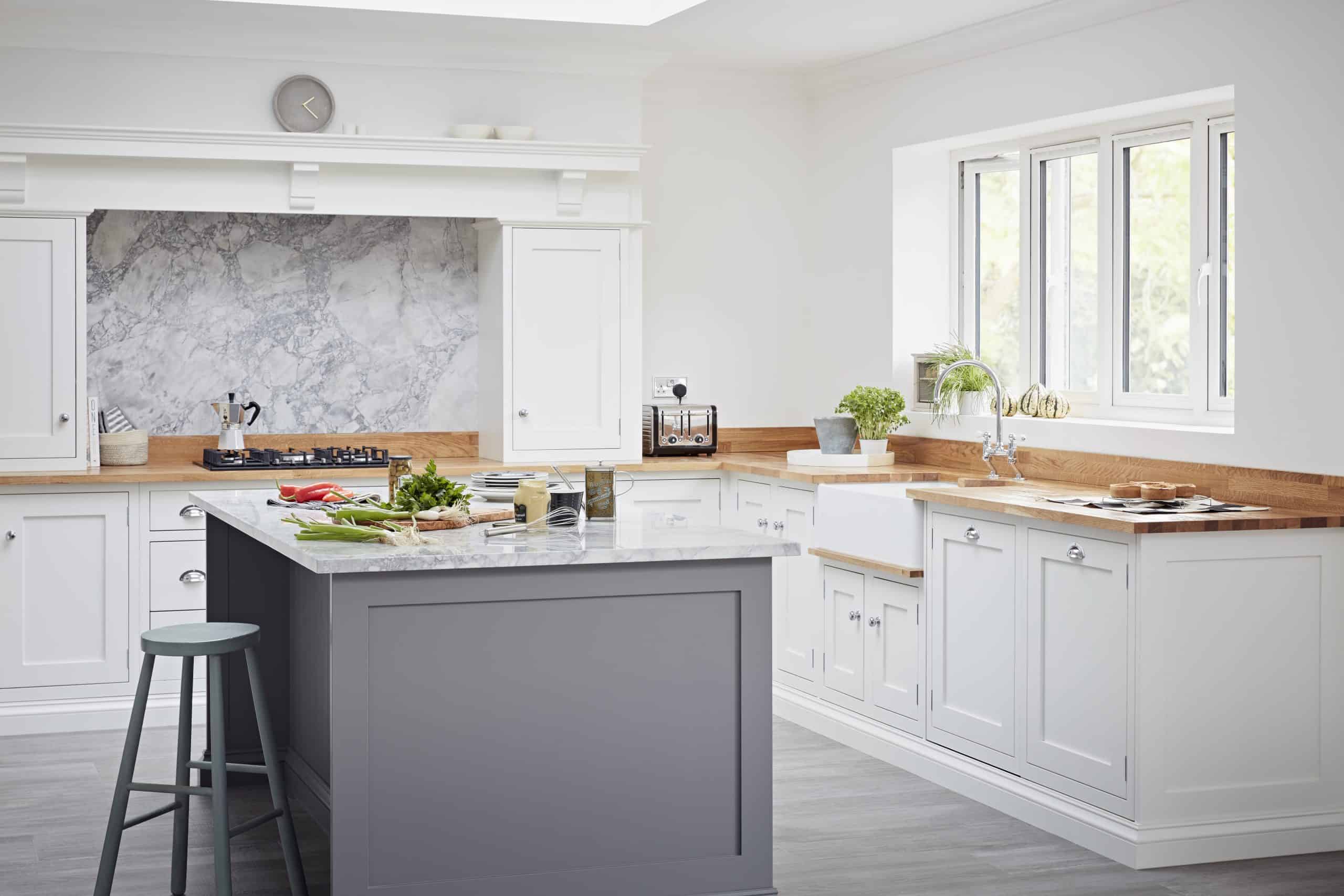 Avoid Direct Cutting
Chopping boards and butcher's blocks are essential to maintaining a kitchen worktop's longevity. Cutting directly on the surface will wear down the wood and allow bacteria into the timber, which is unhygienic. Fortunately, any accidental knife marks or imperfections can be fixed with sanding and oiling.
With the correct maintenance, wooden worktops can last for generations in your family home. They just keep getting better with age and are an essential feature of stylish yet timeless kitchens. Just make sure you oil wood countertops at least twice a year, regularly wipe down surfaces and avoid exposing them to heat, cuts and stains. Remember – warm water, lint-cloths, chopping boards and trivets are your friends!
If you have any questions about our large selection of kitchen worktops – wooden and otherwise – get in touch with our friendly team or download our brochure for all the kitchen inspiration you need.
Book a free design consultation
John Lewis of Hungerford designers are on hand to bring your ideal home to life
Book a design consultation