Traditional English Kitchen Designs for 2022
Inspiration21st February 2022 5 minute read
In recent years, the whole world seems to have been having a love affair with historic British romance. Period dramas like Bridgerton and Downton Abbey have swept viewers off of their feet on a global scale, inspiring a taste for traditional English interiors. 
This guide to designing a luxury classic kitchen will inspire you to craft a beautiful new kitchen that draws from traditional designs, combining clever modern touches with charming vintage British kitchen aesthetic. The beauty of a traditional English kitchen is a certain serenity, functional beauty and a lack of 'fussiness'. Clean and orderly, but with a warm heart, the kitchens of yesteryear are a real antidote to showy contemporary design and self-conscious minimalism. Embrace the look with these traditional English kitchen design ideas.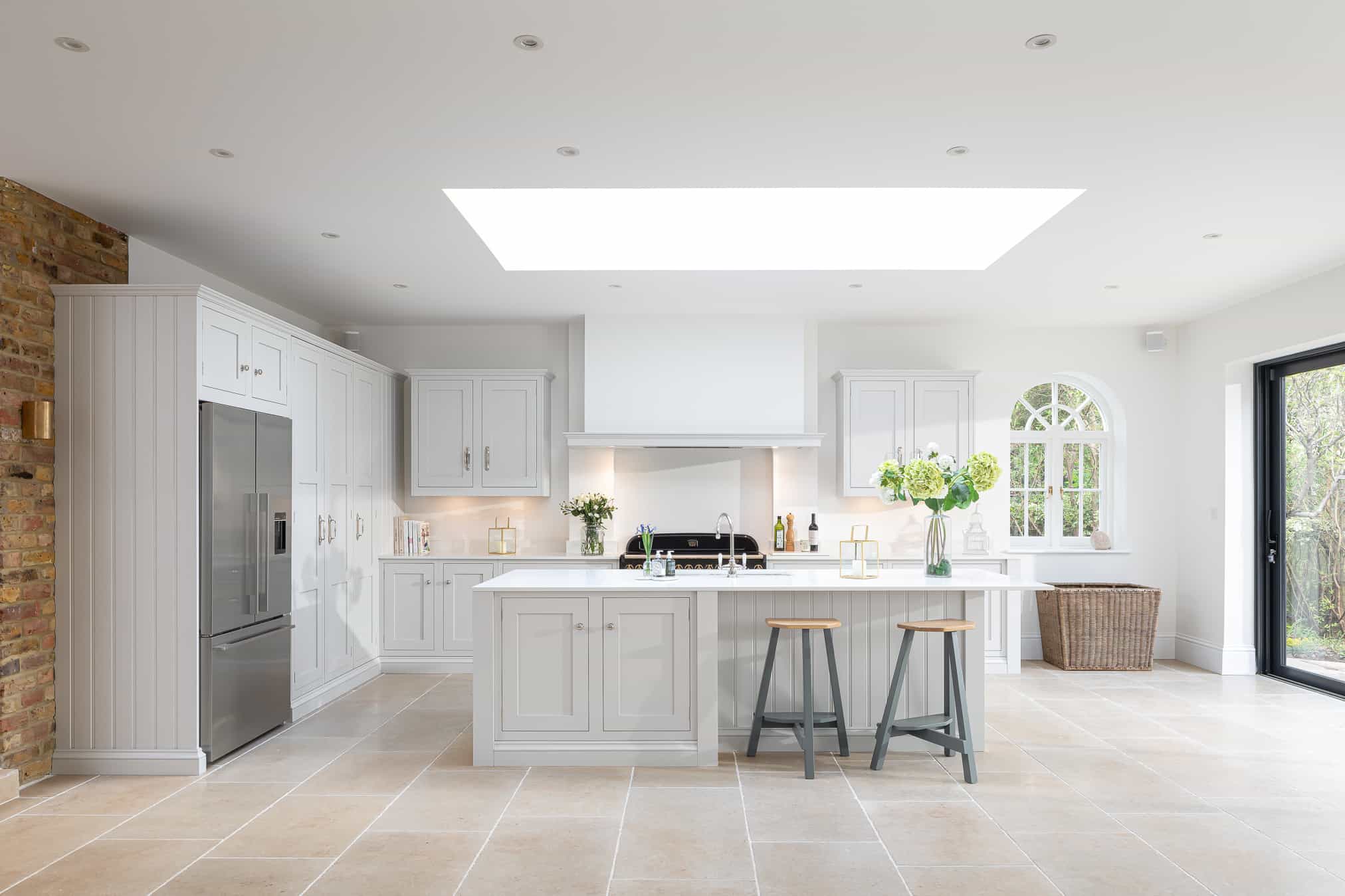 Function Over Form
In many modern homes, the kitchen has been steadily evolving into a multifunctional space. After months of lockdown, our homes have needed to serve many purposes, doubling as workplaces, creches, social hubs and more. 
Historically, the kitchen has always been a room with the sole function of food preparation. For this reason, the classic British kitchen was rarely extravagantly decorated, or even finished with beauty in mind. Instead, function lay at the heart of good, plain English kitchen design. 
Though this doesn't mean that your period-inspired kitchen needs to abandon aesthetics altogether. Instead, take this tradition and transform it into a beautiful design feature. Practical touches, like open shelving and hanging storage, can add both function and a certain charm to kitchen design. Exposed cookware and culinary equipment, when curated with care, creates a warm, rustic and welcoming look and feel (and provides the perfect excuse to start building your Le Creuset collection).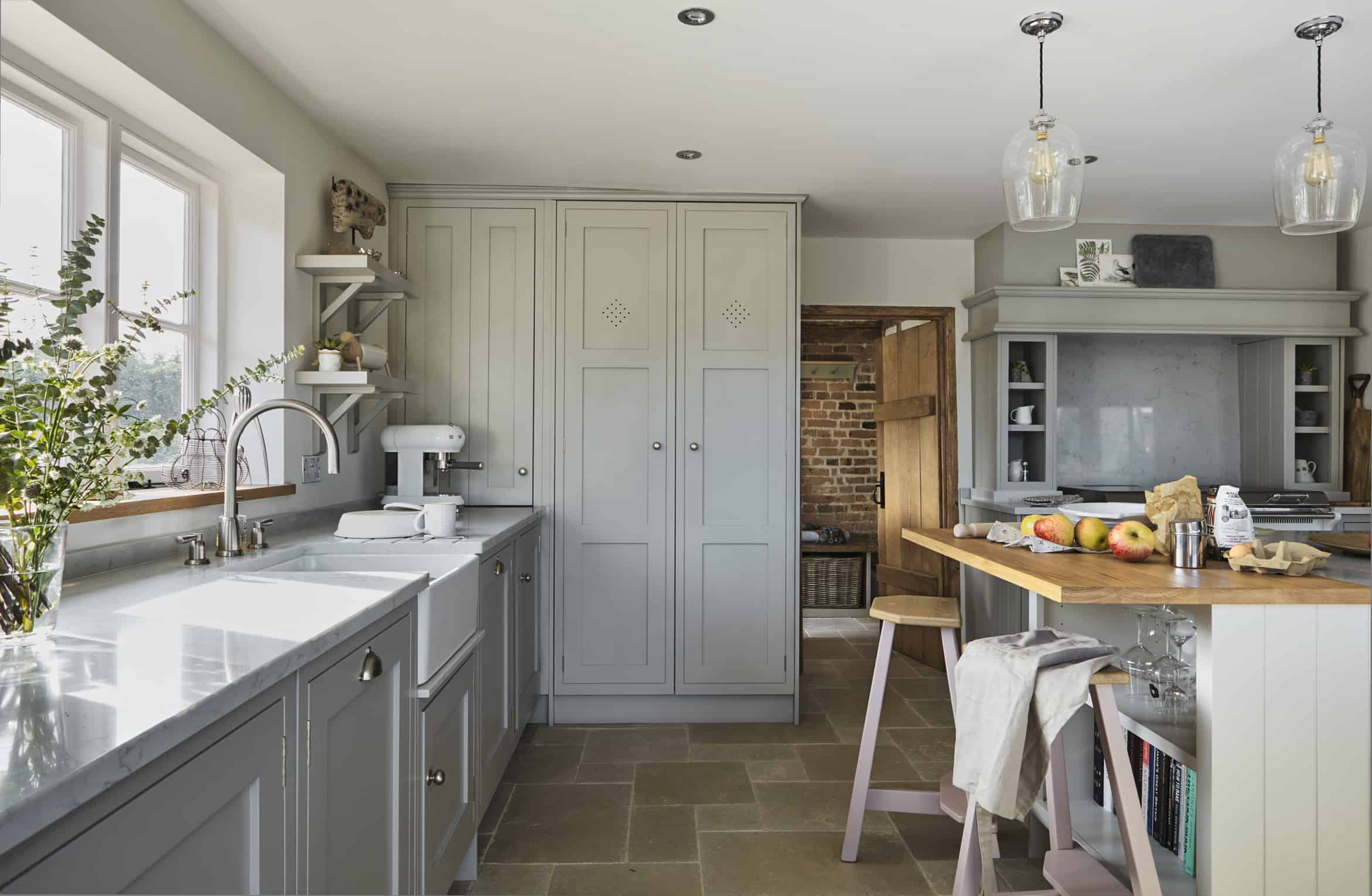 Keep Colours Simple
Showy colour palettes had no place in a traditional English kitchen. To recreate a vintage, pared-back look in your own home, choose one main neutral shade and one subtle, complementary shade to add contrast to features like trimmings and cabinet doors. Many of our Shaker style kitchens embrace simplistic colour palettes to beautiful effect, evoking lightness and cleanliness which retains plenty of homely warmth. 
Explore the colour palettes and finishes available in the John Lewis of Hungerford collection for more inspiration. Within our 2022 colour collection, shades like Old Bell House, Pantry White and Lichen are a perfect match for traditionally inspired kitchens.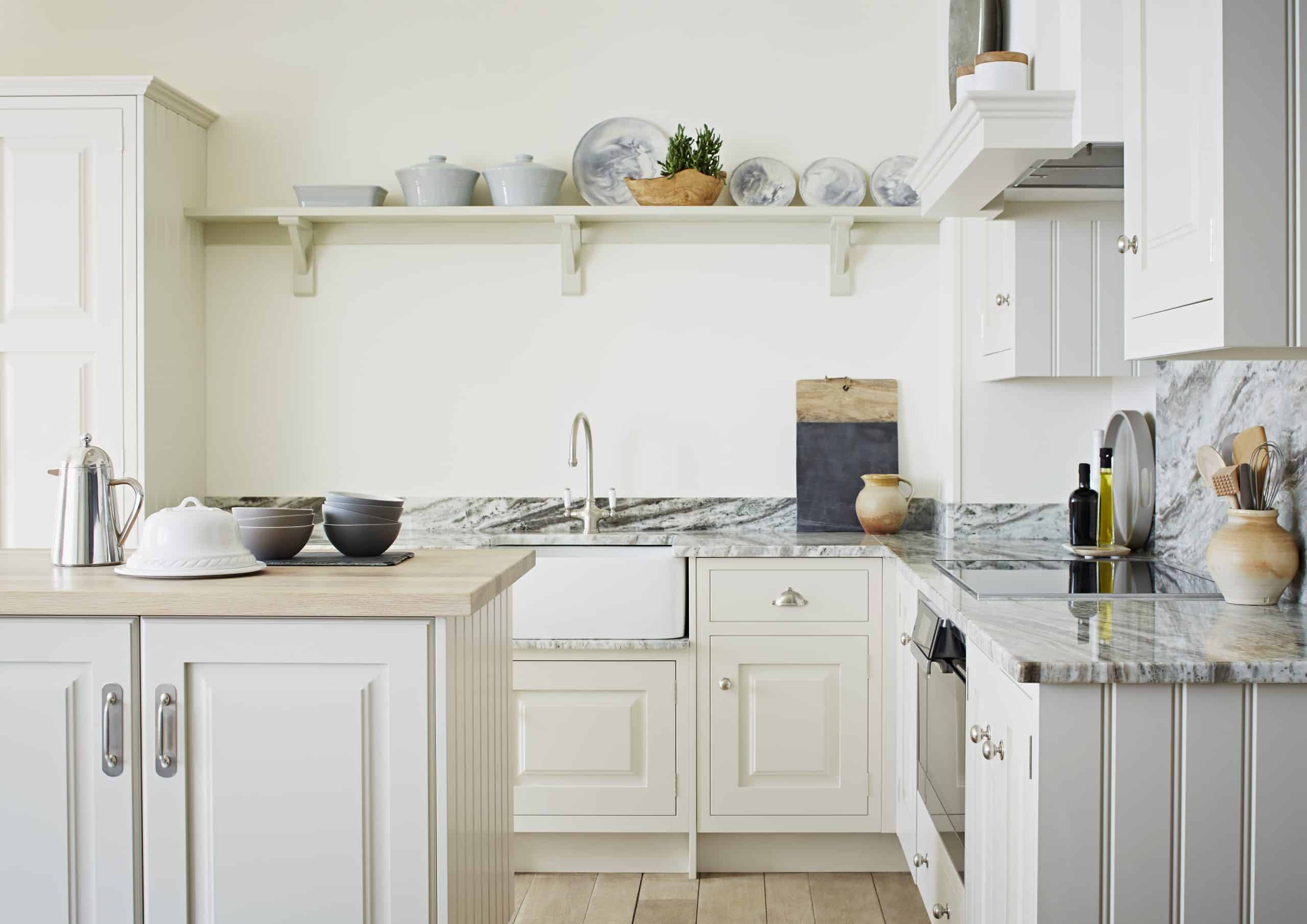 Prioritise Natural Materials
The kitchens of the 19th Century (and their forerunners) did not feature synthetic materials like stainless steel and vinyl, or luxury materials such as marble. Instead, rustic wood and stone were the building blocks of the plain English kitchen. Incorporate these materials into your new kitchen design to capture the homely feel of a traditional kitchen.
At John Lewis of Hungerford, we are passionate about beautiful natural materials, which we source with care, choosing only the finest responsibly sourced timber. Once sourced, each piece of timber is treated with care and precision as our craftspeople build beautiful cabinets and fittings, made to measure within your home. Our skill in wood is evident in all aspects of the collection, from elegantly simple bevelled Shaker-style cabinet doors to meticulously made furniture.
Create a Utility Room
A separate utility room was once a staple of a traditional English kitchen. Once known as a scullery room, this space was used for non-culinary tasks such as washing up dishes and doing laundry, keeping such tasks out of the way of food preparation. Adding a utility room to your home helpfully banishes many white goods from your traditional kitchen, while providing you with a convenient space for non-culinary tasks.
Creating a new room adjoining your kitchen is a larger-scale project, yet one which could help reorganise your daily routine and household chores. From clever storage solutions to cabinetry that conceals your white goods, developing a utility room from scratch allows homeowners to design a practical space full of intelligent touches that dovetail perfectly with their lifestyle.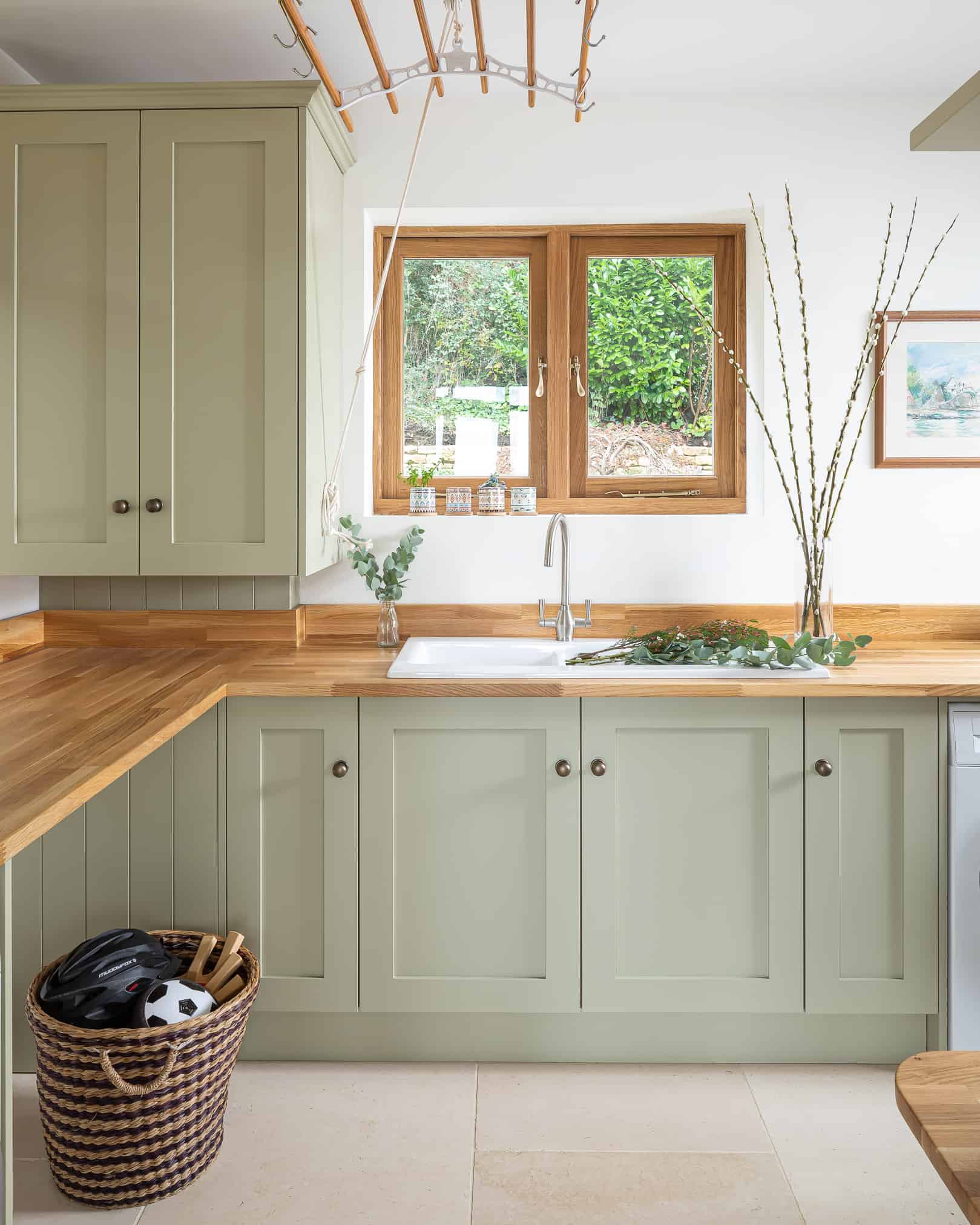 Add a Pantry
Once upon a time, the larder or pantry performed the function of the modern-day fridge. Before fridges were a reality in traditional English kitchens, the larder provided a space to keep perishable food items cool. Originally, it would have been an entire well-ventilated room, ideally made of stone and located on the shady side of a property.
Over time, the concept of a larder has evolved, now referring to a space dedicated to food storage. Today, larders evoke a certain historic charm, while also offering brilliantly practical options for food storage and organisation. Perfect for real foodies, or simply those looking to add order to their kitchens, a larder offers vintage appeal with contemporary practicality. Ask the John Lewis of Hungerford experts to design a pantry that cleverly fits into your existing kitchen footprint.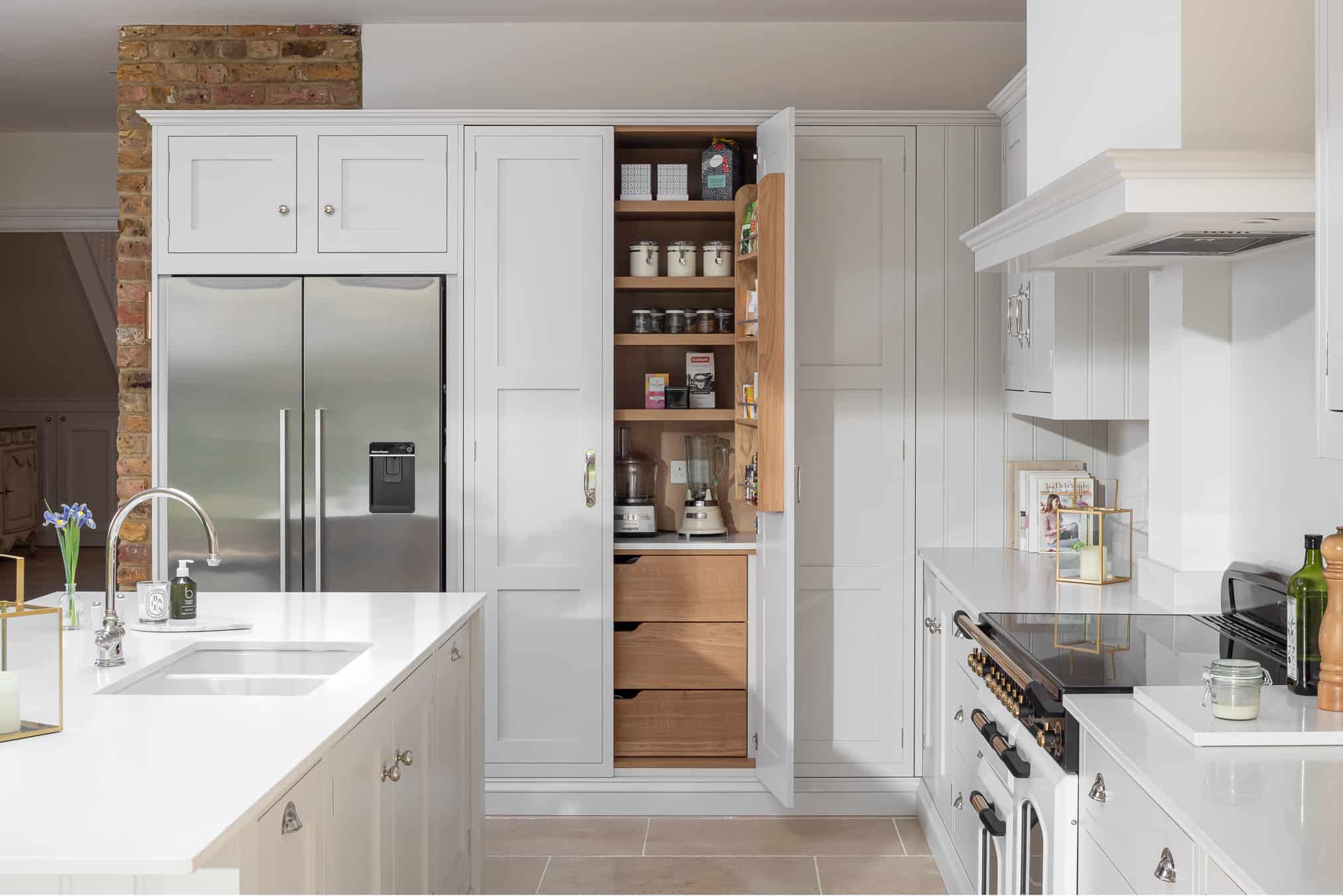 Work Around an Island
Originally used as food preparation spaces for cooks and servants in the kitchens of historic British homes, kitchen islands can serve a multitude of functions today, while still evoking traditional charm. Just as they were once the traditional hub for kneading bread, making jam, modern kitchen islands are now a hub for family life. These are surfaces to gather around, whether that's for a quick breakfast, a chat and a cup of tea, a homework session, or a glass of wine while dinner's cooking
To ensure your kitchen island embraces the traditional English kitchen aesthetic, follow our tips above and in our guide to designing a kitchen island. Choose natural materials, like wood and stone, and opt for a neutral colour palette – we love a very light, subtle green or blue scheme.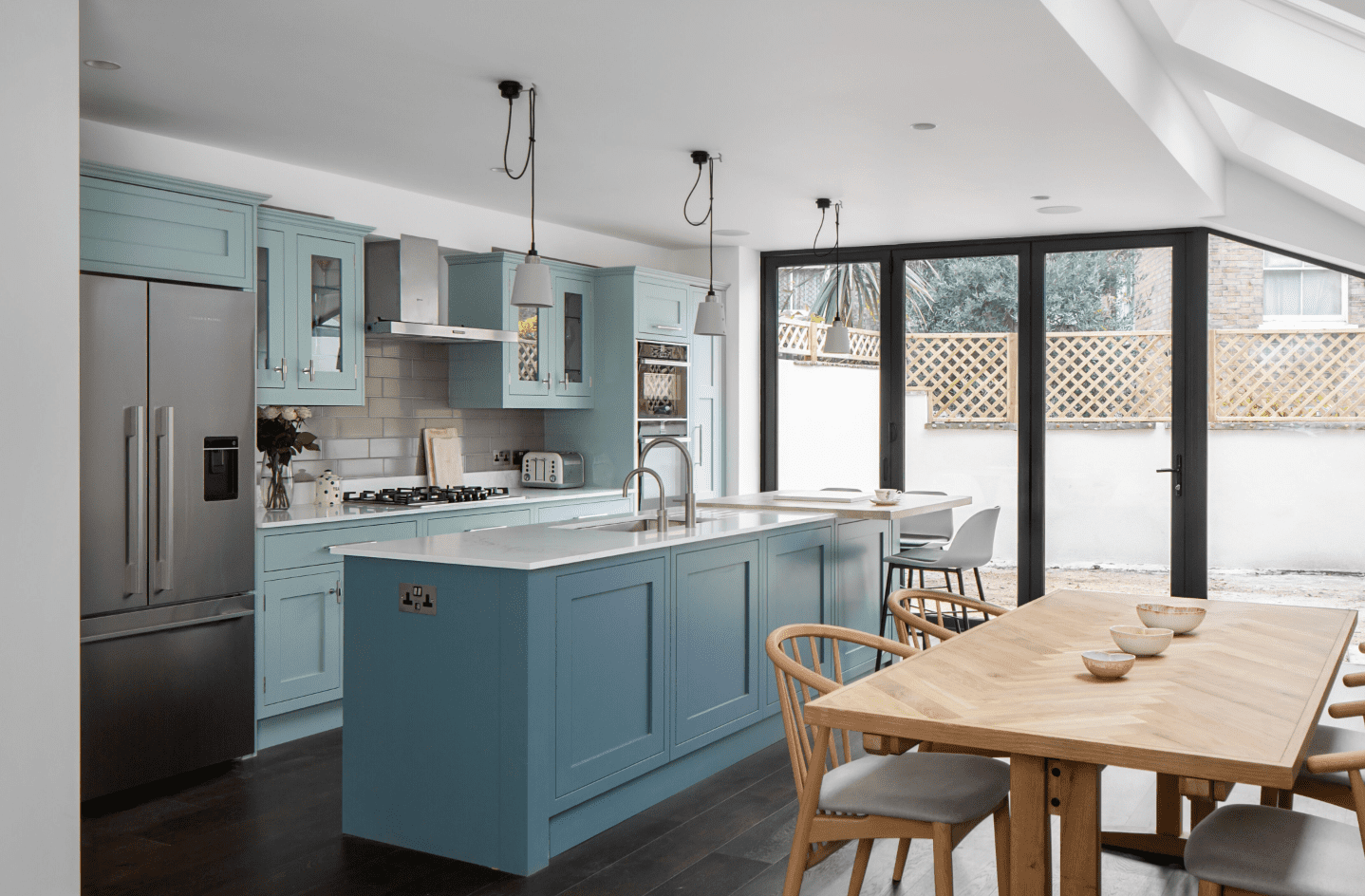 Kitchen Updates With John Lewis of Hungerford
With fifty years of expertise at our fingertips, John Lewis of Hungerford designers create timeless kitchen furniture and fittings. Our decades of industry experience ensure we create beautiful pieces, made to last, imbued with clever contemporary touches. Our Shaker kitchen collection is full of design inspiration for those looking for a new kitchen with old world charm.  Contact our team to discuss traditional English kitchen design ideas today, or download our brochure for more inspirational kitchen designs.
Book a free design consultation
John Lewis of Hungerford designers are on hand to bring your ideal home to life
Book a design consultation