Three Autumnal Kitchen Trends For Your Country Kitchen
Kitchens15th September 2023 3 minute read
A nip is in the morning air and the leaves are just starting to turn. These seasonal signs can herald only one thing: autumn is coming. When the air starts to feel a little colder and cosy knitwear looks all the more inviting, there's nothing like feeling snug at home – and there's no better space to cultivate autumnal warmth than the kitchen.
To celebrate the season we've curated some of our favourite interior ideas, perfect for making your kitchen feel inviting on long dark evenings.
Wooden and Natural Finishes
From roasted chestnuts and golden leaves to conker fights, this time of year has the trees overflowing with natural loveliness. To bring the beauty and bounty of autumn into your kitchen, why not forage locally for pinecones, chestnuts, holly branches and evergreen foliage? After a bracing walk, transform what you have collected into rustic kitchen decor by arranging your finds in a centrepiece vase or bowl.
If you're considering a more significant kitchen update, incorporating natural wood into your kitchen design is a wonderful way to curate a warm, earthy atmosphere, perfect for evoking homeliness and classic charm all year round. Our craftsmen work with sustainably sourced wood to build cabinets, countertops and kitchen islands, finished meticulously to ensure each piece of timber endures and looks its finest.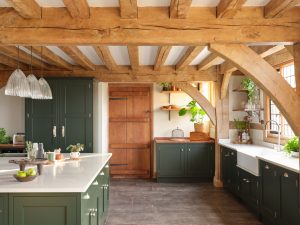 Warming Colour Schemes
With the weather getting cooler and the nights getting darker, warm colours are ideal for introducing a little extra cosiness into your kitchen decor. Choose rich shades that evoke a welcoming environment while creating a stylish and luxurious feel.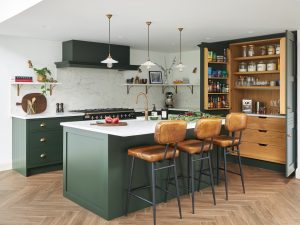 Greens are a fabulous colour for Autumn and continue to look great all year round. They offer a more subtle look to the classic Autumnal shades of red and orange. Dramatic, elegant and luxurious, green has so much to offer. From smokey dark greens paired with gorgeous brass hardware, to forest greens teamed with oak worktops, there is a perfect green out there to suit all styles of kitchen.
Blues are another wonderful colour choice for the kitchen, creating an inviting and homely feel. Deep, navy blues, such as our John Lewis of Hungerford Blake Blue or Cobalt are great for adding warmth to a space.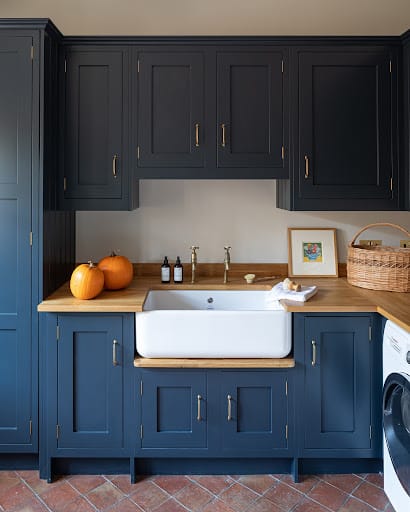 If you feel one bold colour is overpowering, opting for a pop of colour on the kitchen island is a fabulous choice, allowing you to use a neutral shade for the main cabinets, while creating an eye-catching focal point. Equally, a two tone colour scheme is another great option. Choosing a bold colour for your bottom cabinets and a neutral colour for the top is especially good if you have a small kitchen as it stretches the space, creating the illusion of space.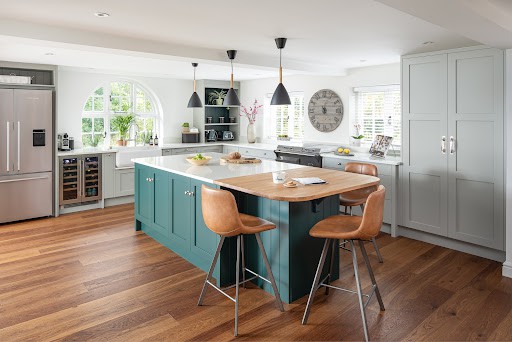 Explore the fabulous colours available in the John Lewis of Hungerford collection. Our designers will be more than happy to colour match a unique shade specifically for your home, should you wish.
Autumnal Metals
If you're looking to add a little more natural warmth to your home, brass and copper are gorgeous materials that can add real visual interest and charm.  Perfect as part of country kitchen decor, they are surprisingly easy to incorporate into interiors.
Invest in brass or copper handles, lights and taps to complement your kitchen colour scheme and add a sense of luxury. Antiqued brass handles pair beautifully with green or blue cabinetry and add to the homely, Autumnal feel.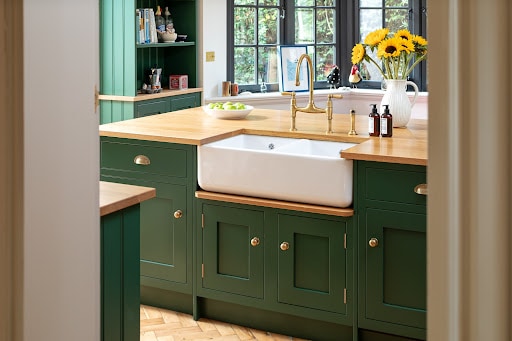 Your New Kitchen Decor
Our kitchens start with you. Inspired by your tastes, your needs and your personal desire to create a beautiful and functional space that complements your home perfectly. Explore our luxury bespoke kitchens, request a copy of our brochure or book an appointment to discuss your ideas. Let us help you transform your kitchen.
Book a free design consultation
John Lewis of Hungerford designers are on hand to bring your ideal home to life
Book a design consultation