10 Stylish and Striking Home Office Ideas for 2021
Trends4th January 2021 5 minute read
For many, the widespread shift to working from home that this last year has brought has been most welcome, with less time spent commuting and more time spent with our families. However, it also means that homes across Britain and beyond have needed to provide a functional workspace.
Whether you already have a dedicated office or are seeking small space solutions, John Lewis of Hungerford's bespoke furniture and cabinets can provide the functionality and style you need to make the most of working from home.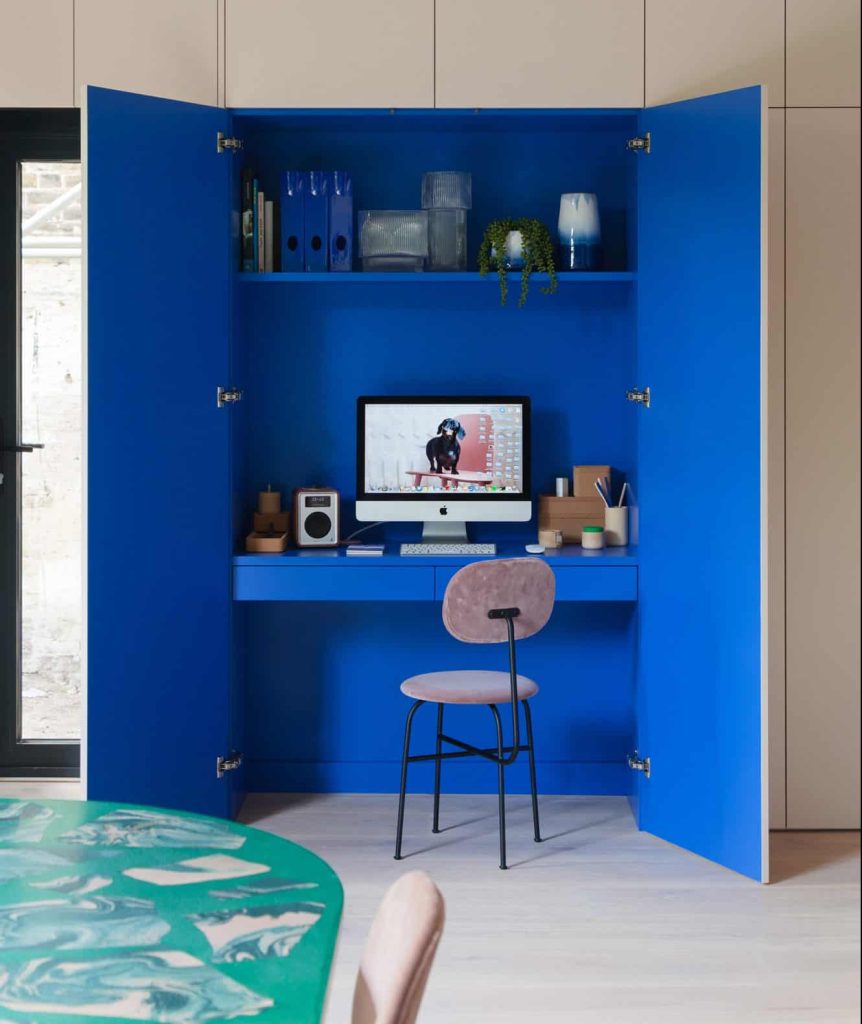 Our 10 Favourite Home Office Ideas for the New Year
As flexible working becomes the norm, John Lewis of Hungerford's designers want to make sure your work area is worthy of your home. Here, we share some expert home office furniture and decorating ideas to help you design a striking home office that fits in with your lifestyle.
1) Light and airy 
If your office space receives lots of natural light, why not accentuate the airy atmosphere by introducing light-reflecting office furniture and accessories in whites and creams? Natural light helps to keep the brain alert and positive, so maximising its benefits is perfect for a home office. Meanwhile, adding a touch of texture such as a shearling office chair or wooden desk lamp can help to create a grounded feel in a bright space.
2) Loft office
Converting your attic into a home office is a great way to add value to your property whilst also giving you a dedicated area where you can focus away from the hubbub of the rest of the house. Since it's usually rather separate, an attic space is a fantastic place to let your design dreams run wild. Let our designers help you turn awkward ceiling angles into wonderful feature corners with bespoke fitted furniture and create a soothing space in which to work. You could even try something new like a feature colour ceiling, some mesmerising wallpaper or a décor theme you've always dreamed of.
3) Space-saving office nook
If your home layout doesn't allow for a dedicated office, there are clever ways to reinvent various nooks and crannies, turning them into functional home workspaces. With some creative thinking, good lighting and perhaps a bespoke unit to fit the space perfectly, an alcove, corner or area under the stairs could be  transformed into a cosy, functional and stylish home office. Our designers specialise in making the most of unusual or underused space and are on hand to offer guidance for your home office.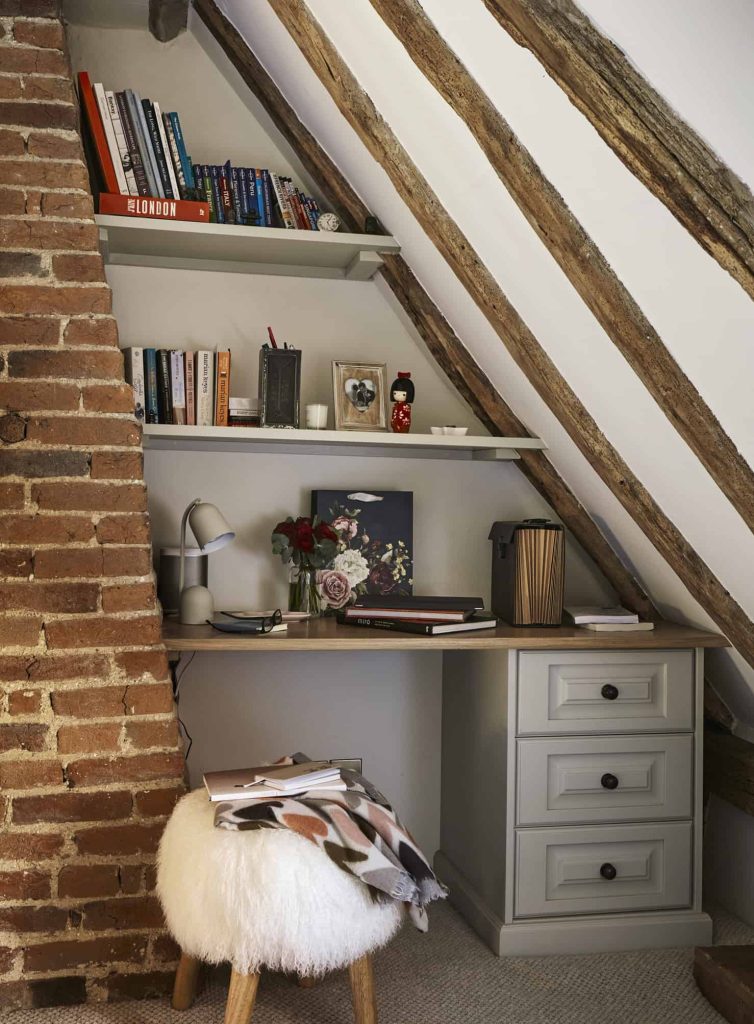 4) Pop of colour
Adding a splash of colour to your home office might be just the thing to spark inspiration throughout the workday. You may enjoy a neutral office with well-thought-out pops of colour in the form of books on shelves, a colourful office stationery set or a well-placed lampshade. Alternatively, if you're feeling bold, choose a colour that resonates with you – perhaps a deep teal or soft pink – and apply it across the board, from the furniture to your walls and soft furnishings.
5) Jungle fever
Houseplants are seeing a resurgence in popularity because of the natural touch they bring to an indoor space, not to mention their ability to produce productivity-boosting oxygen. Indoor plants offer a way of expressing eco-consciousness through interior design and make office space especially welcoming when positioned on shelves, windowsills and desks. If you admire the organic aesthetic, pair a rustic wooden office chair with natural tones like deep greens, greys and warm browns to bring a sense of nature indoors.

6) Room with a view 
A room with a view makes for a striking office design and is a time-honoured way to gain inspiration while you work. Centre your office desk to make the most of a garden view or position it around a focal point such as a fireplace. Symmetry is a powerful tool and works exceptionally well when designing a room around a central point. Using symmetrical balance, you can create a striking work space whilst drawing the eye to your chosen focal point, bringing a sense of order to the space.
7) Minimalist office
If you work best without distractions, a minimalist home office could be a purposeful way to boost productivity while bringing a stylishly simple space to your home. Using neutral tones, clean lines and clutter-free storage solutions creates an oasis of calm whilst being supremely functional. In a room like this, your computer screen is the focal point, helping you to concentrate on the task at hand.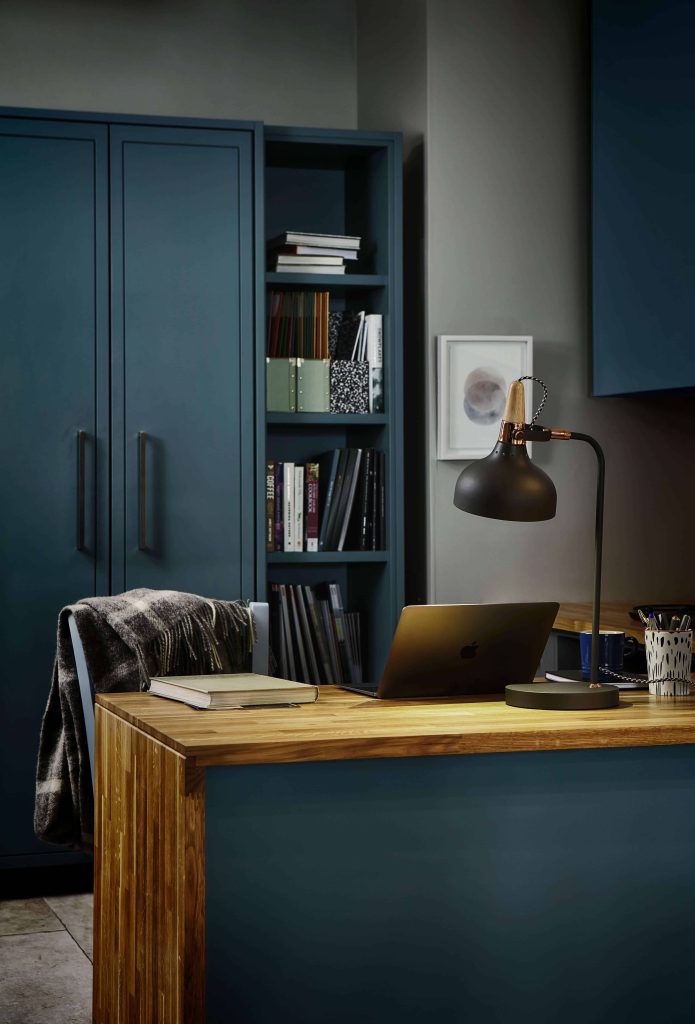 8) Artistic space
Few sources of inspiration can rival art. For an office that stimulates your creativity, include elements that will inspire your work, be it in the form of paintings, sculptures, photography or antiques. With sufficient storage to keep files, stationery and the other nuts and bolts of working life out of sight, you can showcase your pieces in a way that exudes originality and enables you to produce your best work.
9) Library aesthetic 
If you already have a home library or are considering creating one, one logical option is to combine it with your new workspace. Wall-to-wall open shelving displaying your book collection makes for a timeless and welcoming backdrop to an office space, and can be complemented with rich solid-wood furniture, plush leather office chairs and some carefully chosen ambient lighting. For a classic feel and luxurious finish, an antique rug would make an ideal addition.
10) Multi-functional
Open-plan living is commonplace today and downstairs spaces are becoming increasingly multifunctional. Many of us now cook, relax and entertain in a single open space, so why not work there too? Whether you are redesigning an open-plan kitchen or adding a new function to your existing dining room, it's possible to make working from home part of the purpose these spaces serve. The trick is to maintain some kind of separation so that work doesn't venture into the rest of your life uninvited. Living room cabinets that transform into writing desks, kitchen islands with filing storage beneath and kitchen cupboards that quietly conceal a mini office are all distinct possibilities in these most modern of spaces.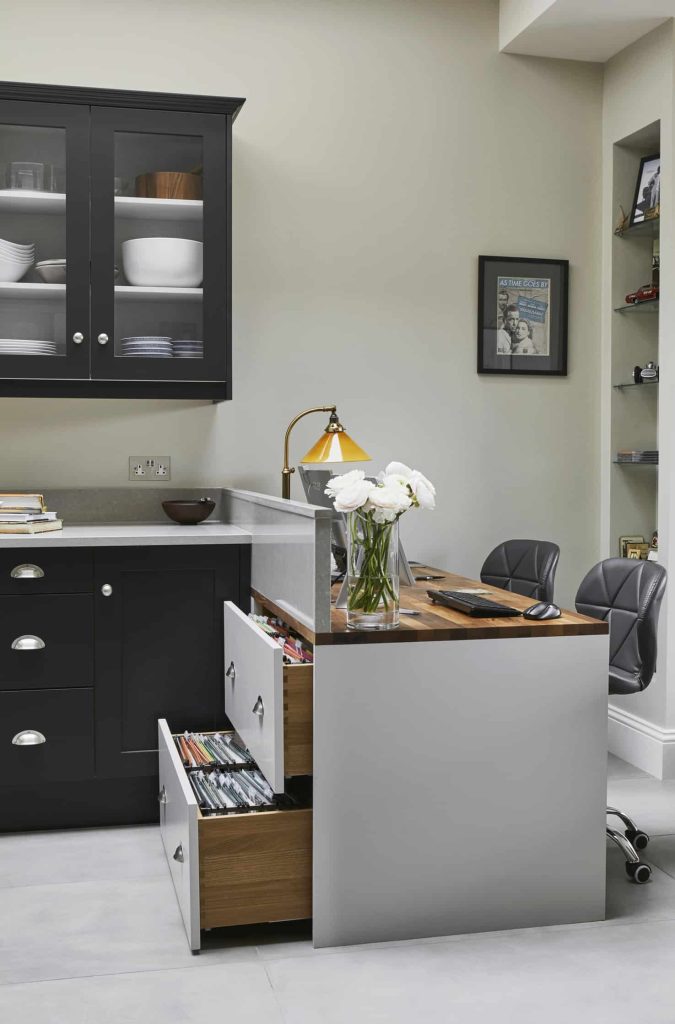 Beyond Kitchens and Bedrooms
Make working from home work for you. John Lewis of Hungerford's bespoke furniture and cabinets can infuse a sense of harmonious style throughout your home, including your home office space, utility rooms, hallways, stairs and more. Our expert design team is here to help. Get in touch to request a brochure or to book a free design consultation.

Book a free design consultation
John Lewis of Hungerford designers are on hand to bring your ideal home to life
Book a design consultation