Stunning Black Kitchens to Inspire Your Luxury Home
Inspiration28th January 2022 5 minute read
The seductive richness of a darker-toned kitchen is one of the biggest interior design trends we've observed as of late. Many homeowners are moving away from the typical neutral, light shades of the past and boldly welcoming a more contemporary look that dips of sophistication and allure. And taking a walk on the dark side doesn't necessarily require painting your entire kitchen black. In the blog post, we'll teach you how to easily experiment with a darker colour scheme while still maintaining a classic look and feel that will carry you through for decades to come.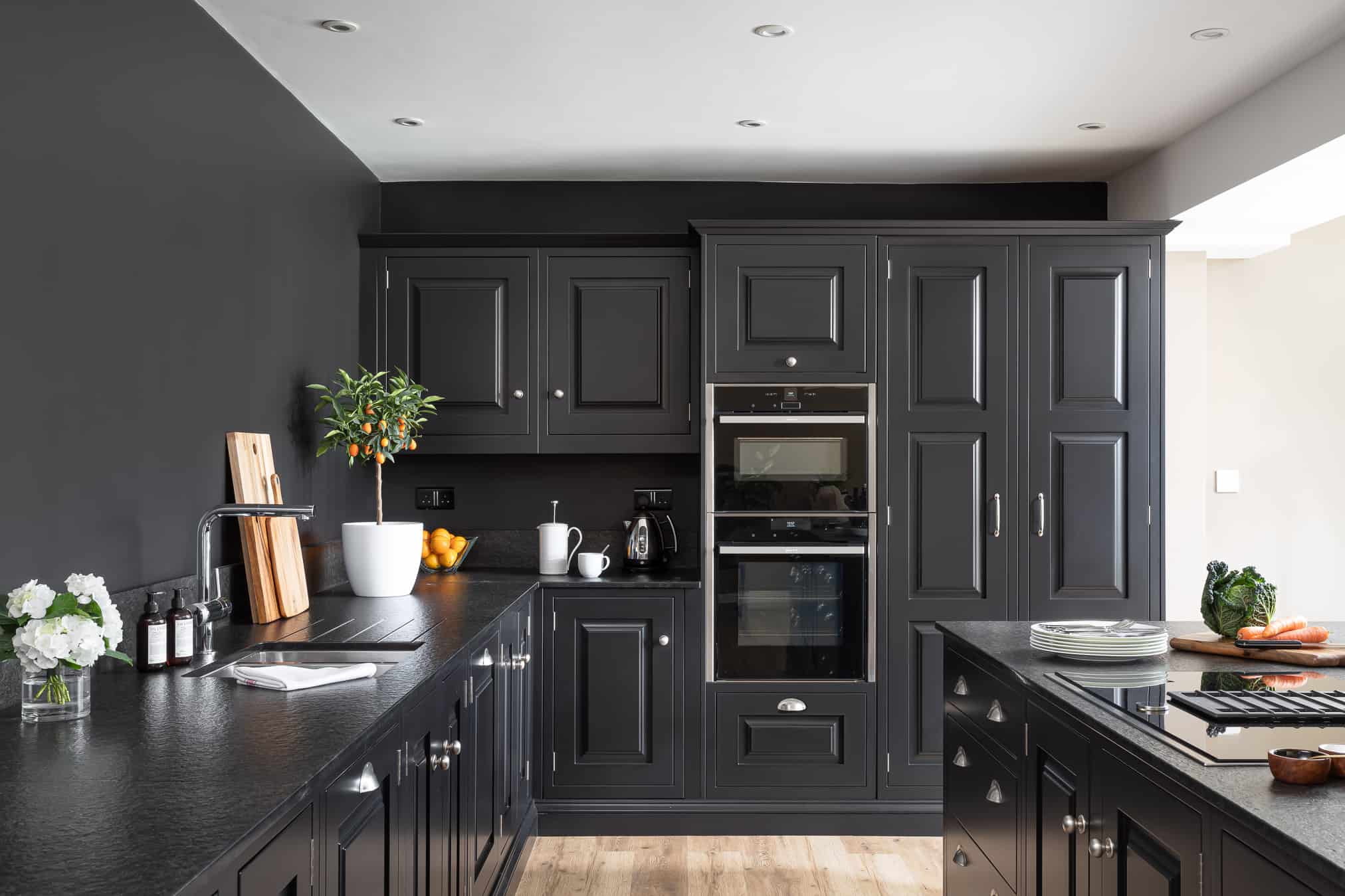 Dark Cabinets
Is your kitchen in need of a revamp? If so, adopting a darker motif for your space may be the answer you're looking for. Rather than plunge into dark walls, make a statement with black kitchen cabinets and doors. This gives a striking focal piece throughout the kitchen without overwhelming the eye. 
With over 100 award-winning shades to choose from, John Lewis of Hungerford is sure to offer something that makes your heart sing. For a deeply rich shade, opt for the newly-released Mange Tout, which gives a deep grey with a rich green tint. Or go for cabinetry in our shade Cocoa, giving the warming, sultry dark kitchen of your dreams.
Of course, black cabinets are always a classic option. Our shades Cobalt, Bramble and Clinker are all striking enough to stand out, creating a bold focal point strong enough to stand out in any home.
If you need assistance in pinning down the ideal dusky shade for your artisan kitchen, our designers excel in selecting the perfect shades for your cabinetry.
Kitchen Island
An inky hued island is a classic statement piece in any kitchen, whether you favour a traditional rustic design or a more elegant, contemporary look. A dark kitchen island is a low commitment way to experiment with a more saturated colour scheme. And, if the remainder of your kitchen favours a lighter hue, your new island becomes an eye-catching statement piece. Our designers are more than willing to help you create a custom kitchen island that effortlessly integrates with your current style while incorporating the dark colours you desire.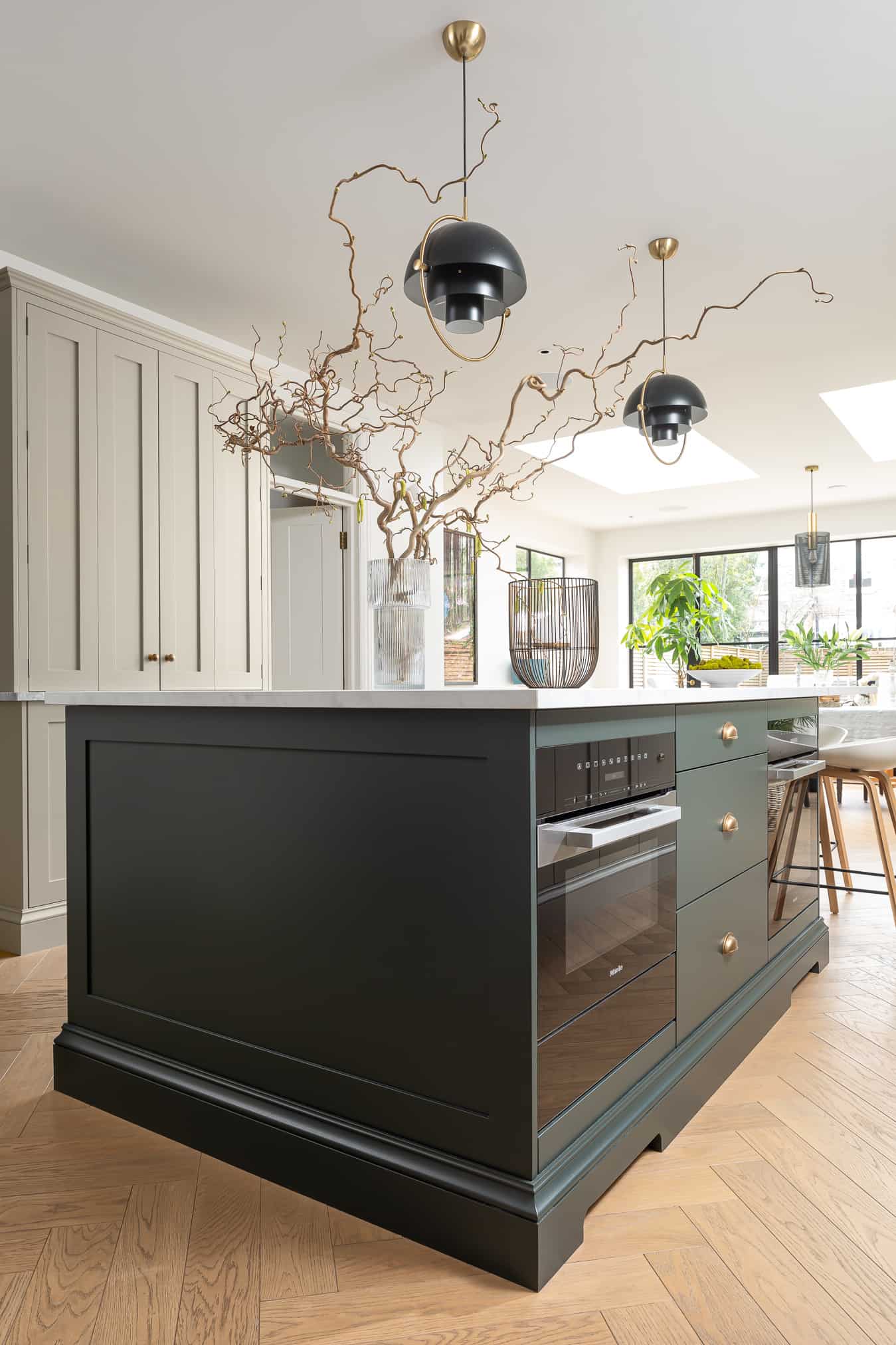 Worktops that wow 
For dark coloured worktops that leave a lasting impression, you could consider:
Granite

– a handsome natural granite worktop can be incorporated into any style of kitchen and comes in an array of shades with a natural, gentle twinkle and shimmer

Quartz

– a charming alternative to marble, dark quartz is a perfect worktop material that won't damage, despite the busiest of family life

Wood

– a richly hued timber worktop complements a rustic kitchen fabulously

Marble – the king of interiors for aeons, marble evokes a sense of luxury and sophistication that will weather the test of time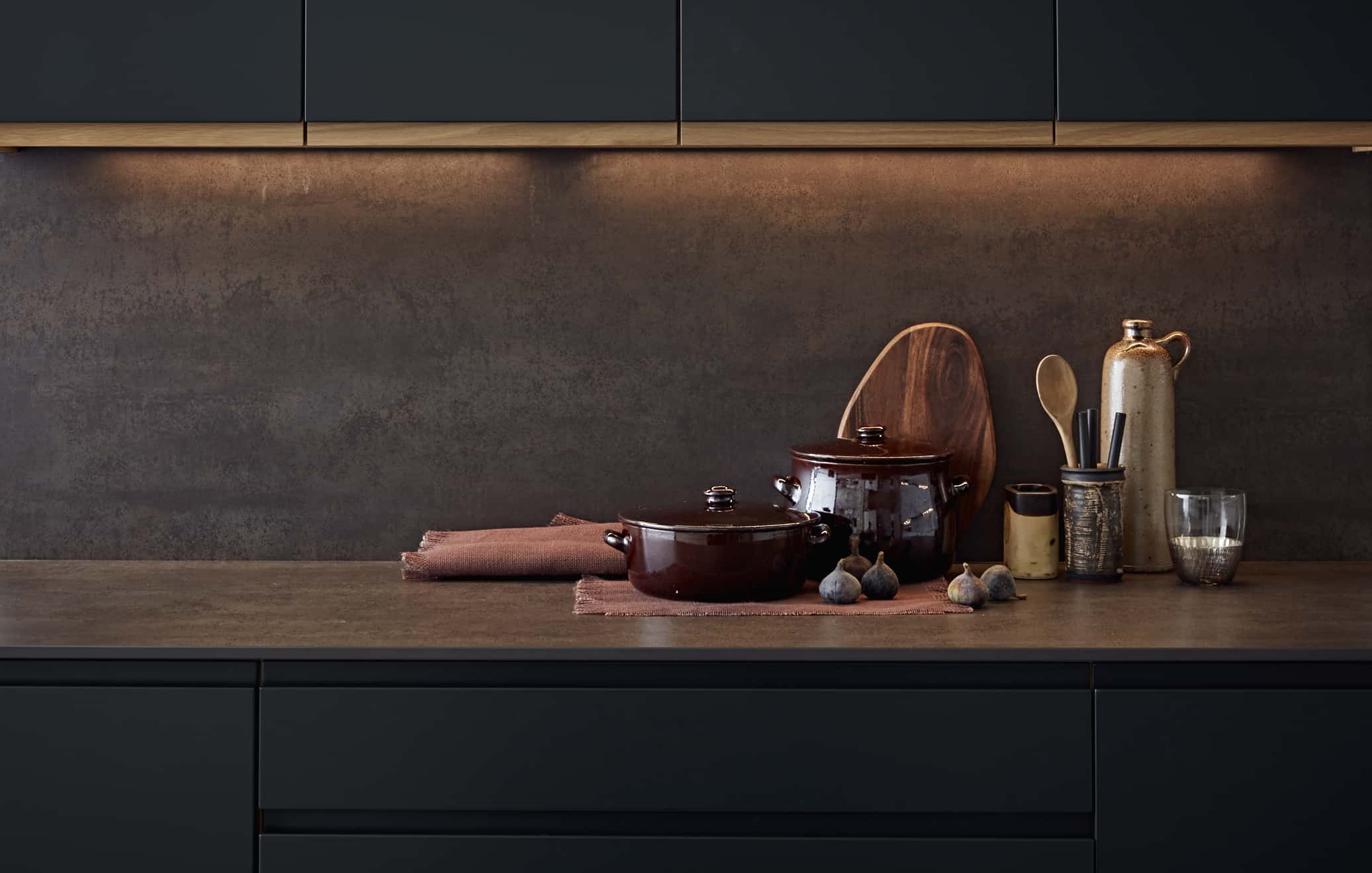 Dark Painted Walls
For a striking yet soothing look, consider painting your kitchen walls a pure black. A bold statement wall can do wonders for revitalising the feel of your kitchen. Or you may want to use complementary hues of blacks and deep greys for worktops and cabinets to stand out against a pale painted wall. Alternatively, paint the inside of your open shelves with a rich black or grey, allowing your crockery, mugs and other belongings to stand out and act as decor pieces.
Experiment with other shades 
If diving into jet-black walls feels like too big a commitment, consider a deep green or blue shade instead. Rich blues and greens can create a calming atmosphere to start your day and are relatively easy to decorate around. Going in this direction affords you the opportunity to match furniture painted in lighter shades of the same colour for a beautiful contrast that feels fresh and up-to-the-minute style-wise.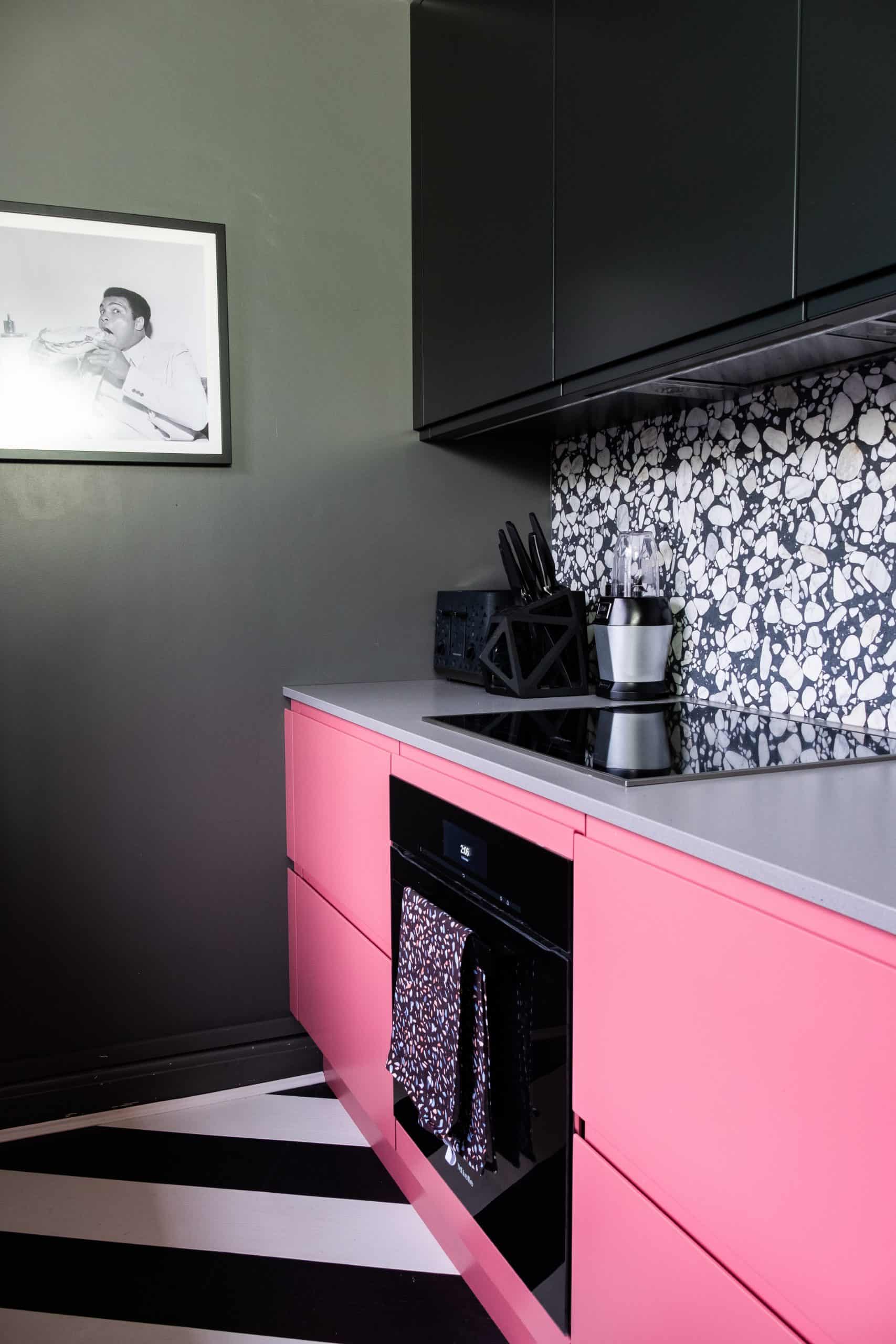 Dark Flooring
Suppose you want your kitchen to feel very rich, or you simply love the look of traditional decor. In that case, a darker floor may be for you. Dark floors can provide an excellent focal point and a lovely contrast when paired with lighter walls or custom cabinetry in soothing grey tones. 
While darker floors are suitable for any kitchen design, they work especially well for families with younger children and pets, purely because they hide dirt and spills far better than pastel flooring.
How to incorporate dark flooring in your bespoke kitchen:
The options are practically endless when considering flooring for your new dark kitchen. Here are just a few of the ways in which you can achieve the aesthetic you desire:
Tile

– a classic option for kitchens, tiles come in so many unique designs and colours, making it an excellent way to highlight your love for the dark kitchen trend. Try incorporating a zig-zag motif to add texture, interest and tonal variation into your space

Vinyl

– try a matte black vinyl with a golden marbling design for a chic aesthetic that allow a custom black kitchen island and painted black cabinets to pop

Wood

– a classic rustic kitchen is served well by floors comprised of reclaimed timber stained in a rich black

Concrete – for an industrial look, dark coloured concrete makes for an easy to clean finishing that can be easily repainted should your desire for a new style arise down the line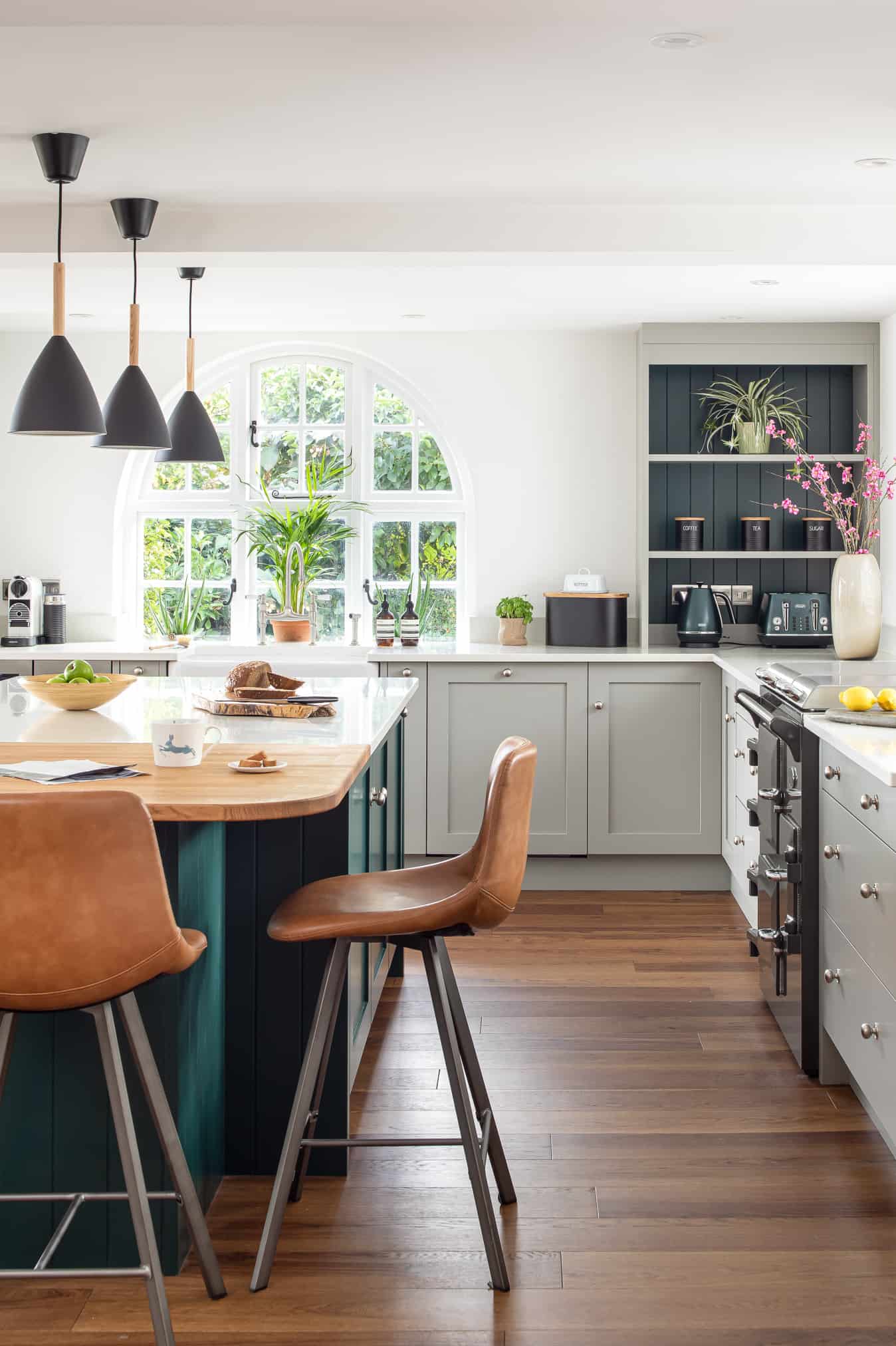 Whether you're ready to dive into smoky greys, stark blacks or deep shades of green and blue, a dark kitchen is a fabulous way to refresh your space. For a custom-designed kitchen that puts your taste and individual style in the driver's seat, we invite you to connect with the talented design team at John Lewis of Hungerford today. Since 1972, we have specialised in delivering bespoke kitchens, custom cabinetry and stunning hand-crafted furniture from concept to completion – delighting thousands along the way.
Book a free design consultation
John Lewis of Hungerford designers are on hand to bring your ideal home to life
Book a design consultation