Sink into 2021 with These Bedroom Design Ideas
Bedrooms17th February 2021 5 minute read
There's nothing more satisfying than retreating to the comfort of your bedroom after a long day – after all, your bedroom is a sacred space where you can snuggle up with your partner, read a good book or just have a good night's rest.
If your bedroom isn't living up to its full potential as your own personal sanctuary, perhaps it's time to give it a refresh. The John Lewis of Hungerford designers can help you create the bedroom of your dreams that is not only beautifully designed, but practical and durable too.
In this blog post, we will take a look at some luxury bedroom design ideas expected to be popular in 2021, including bold monochromatic bedrooms, wicker furniture and earthy aesthetics inspired by nature.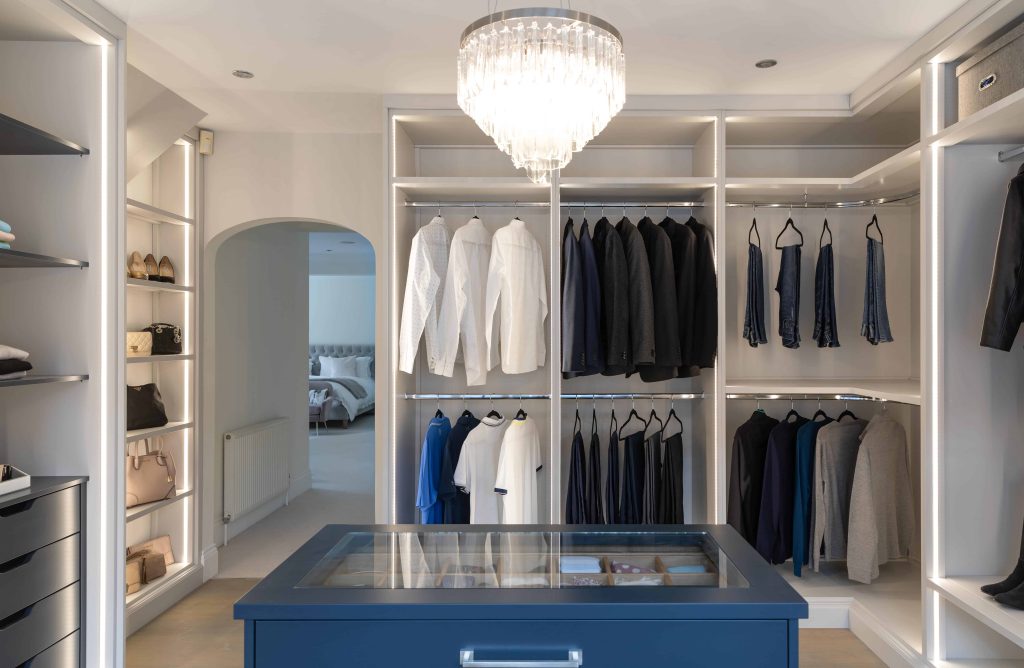 John Lewis of Hungerford's 2021 Bedroom Design Ideas
Our bedrooms are tailor made to suit each individual using only high quality materials selected with great care. Your bedroom is your sanctuary and safe haven, where you can indulge in beautiful design – be it traditional and grand, understated with smooth lines or strikingly contemporary.
Here are some of the latest bedroom trends to serve as inspiration for your next bedroom upgrade project.
1) Be bold with a monochromatic colour scheme
Opting for a monochromatic design is a brilliant way to add a bold touch to your bedroom design. In 2021, we expect people to feel confident in moving away from the traditional monochromatic blacks and whites, instead embracing striking statement colours. Cobalt blue, deep green and peachy orange tones are gaining popularity and can be used to create a beautiful bedroom.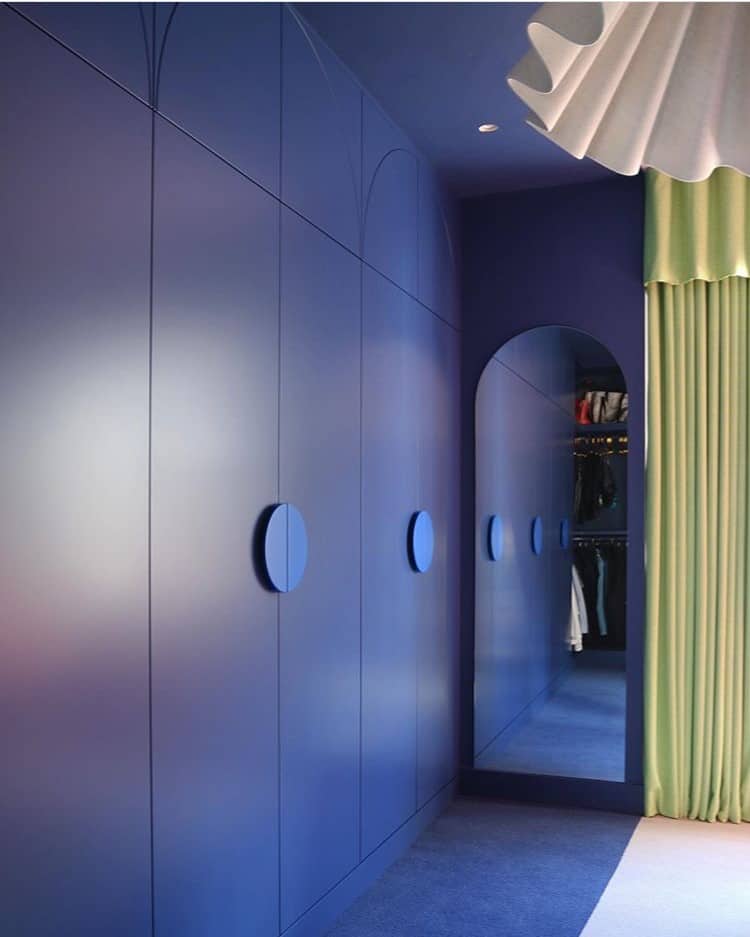 In larger bedrooms, playing with colour can help to break up a bare space. Utilising colour from floor to ceiling is also a fantastic way to create height and grandeur.
2) English cottage chic
The quintessential English cottage is a lovely sight to behold. The modernised cottage interior design trend is all about creating something that effortlessly combines modern and timeless aesthetics. Utilising an airy colour palette helps to create the illusion of space while timber barn doors, boucle weave carpets and low-rise furniture accentuate the natural and rustic feel within a home. Heritage hues from a bygone era such as soft sage greens, buff off-white tones and silvery blues create a calming bedroom that will send you to sleep in no time.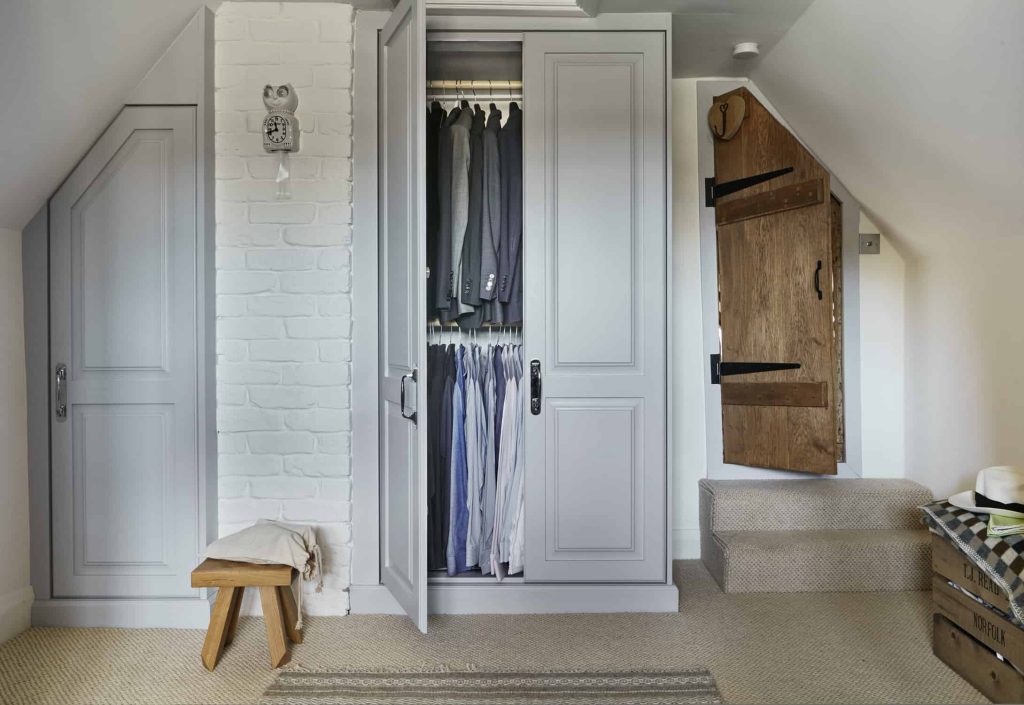 The door of this Artisan fitted wardrobe incorporates a raised and fielded centre panel and drawer edge detailing, and is painted with our Fossil Satin Eggshell finish.
If you live in a cottage, you'll be familiar with nooks and crannies that radiate charm but lack practicality. Bespoke fitted furniture is a great way to make the most of rooms with low ceilings, uneven levels and quirky floor plans.
3) Cloud nine comfort
From blush pinks to muted greys, this bedroom design idea is all about soft edges and layered textiles. Fleecy, downy, plush pillows stacked on the bed with a luxuriously full duvet and high quality throws come together perfectly to create a cloud-like bed that you won't want to leave. A soft fabric headboard and light diffusing bedside lamps add to the effect, while a clutter-free zone surrounding the bed creates negative space that draws your eye to the centre of the room.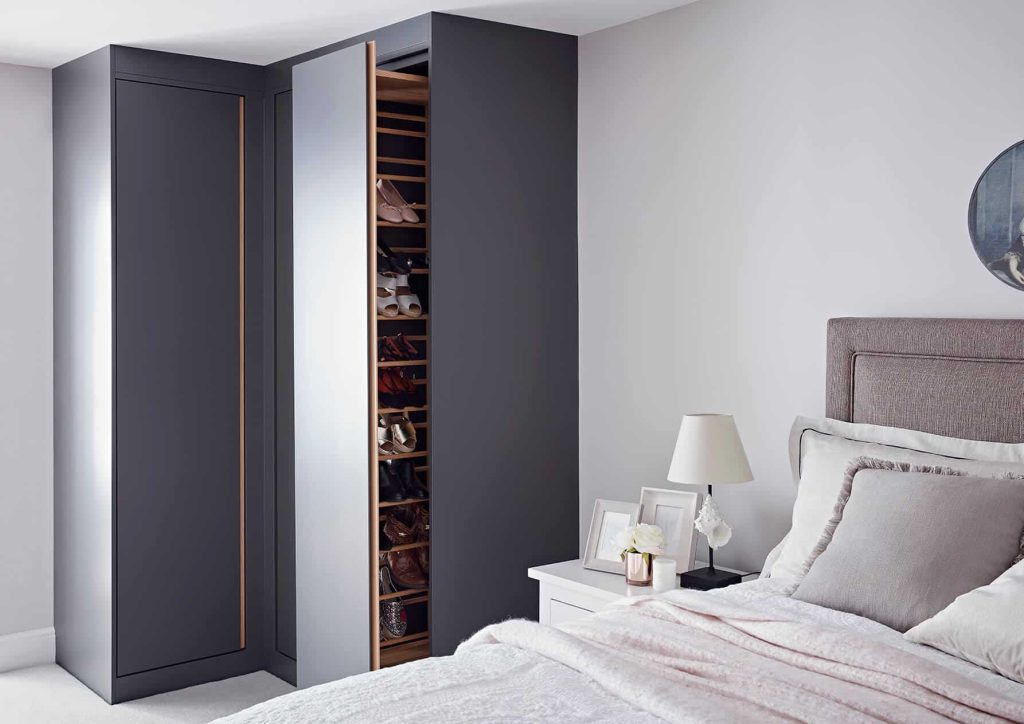 This corner furniture from our Pure range has been tailor made to maximise storage space. The integral handle that runs the full length of the door has been left unpainted, exposing the solid oak underneath for a high-end finishing touch.
4) Walk-in wardrobes
Whether you have a dedicated dressing room or unused space in your bedroom to work with, a walk-in closet is an excellent way to maximise your storage space. Having ample drawers, hanging space and shelving to organise your clothes, shoes and accessories leaves your bedroom clutter free, creating a serene setting that's reserved for relaxation.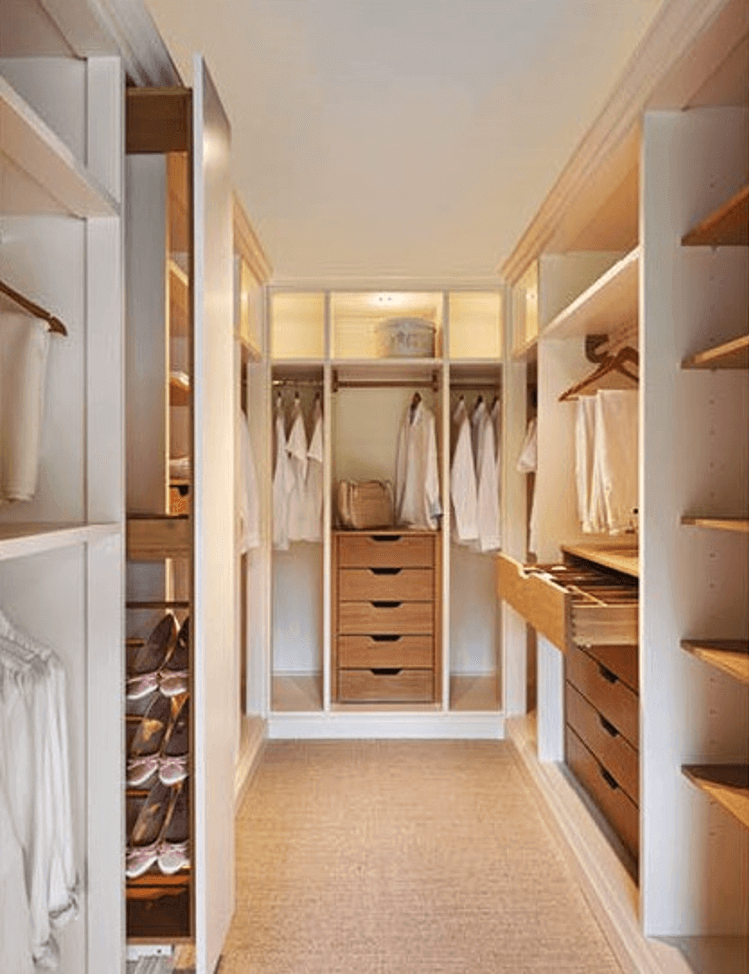 If a dressing room is at the top of your interior wish list, we can tailor your new built-in wardrobe to provide cavernous storage space, complete with bespoke oak drawers and dividers, hanging rails and sensor lighting.
5) Natural earthy tones
In modern life, it's easy to find yourself detached from the natural world, but there is no denying that fostering a connection with nature is good for your mental health. Bringing nature into your bedroom with earthy elements such as wood, linen and wool helps to make you feel rooted and relaxed. Terracotta, Slip and Birch are just some of our furniture paint shades inspired by nature.
6) Wicker, rattan and jute
Pairing perfectly with the trend of natural earthy tones, bohemian interiors with basket pendant light shades, jute rugs and wicker chairs are becoming increasingly popular in the bedroom design scene. Complementing rattan elements like headboards, side tables and feature chairs with other accessories such as terracotta vases, white window shutters and solid oak shelving is a fabulous way to create an eclectic yet calming space.
7) Home office hybrid
With last year's shift to home working, practical home offices are in higher demand than ever before. With this new style of working set to become a permanent shift for many, investing in a tailor-made workspace is an excellent way to ensure that you are set up for success. From compact corner desks to concealed cupboard offices and workstations that run along the full length of the room, there are many different ways to incorporate a home office into your bedroom design.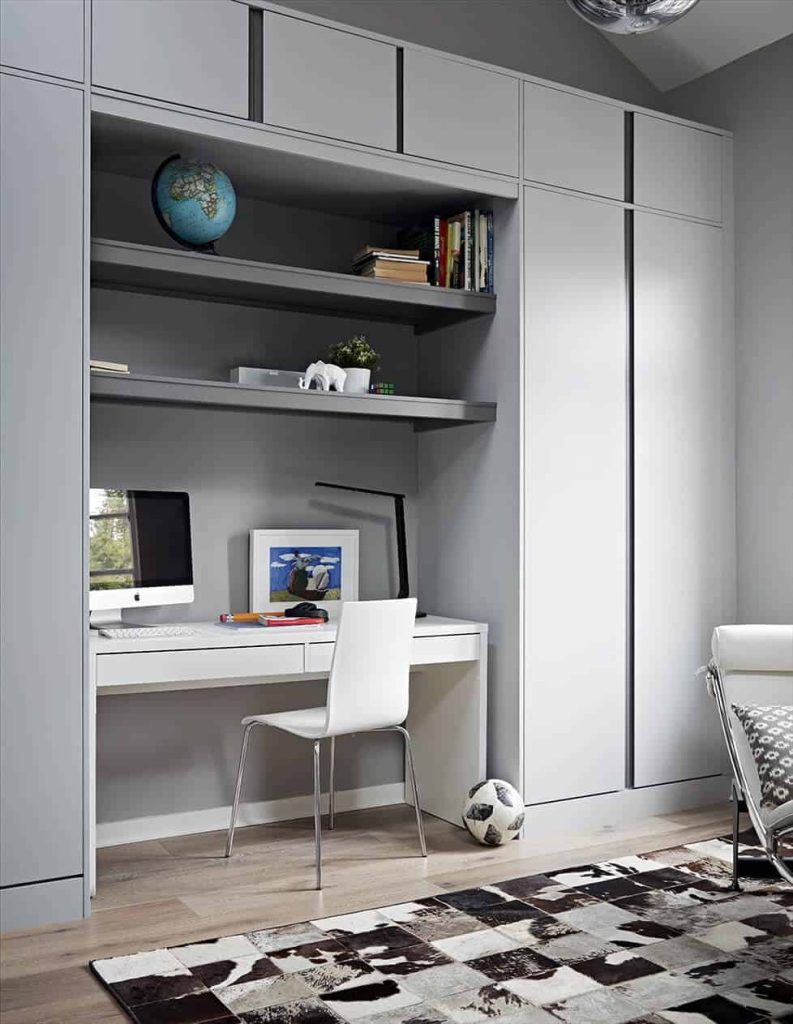 This home office cleverly uses space in a dual-function room. Finished in Pearl Satin Eggshell with accent integrated door handles and coordinating internal drawers. 
Whether you are using your spare room as an office or would like to incorporate a workstation into your bedroom, our precision-made built-in furniture and freestanding pieces can easily be included into your bedroom design.
Making Your Dream Bedroom a Reality
Your bedroom should serve you as a practical space that is also stylish and welcoming. Whether you live in a country house, townhouse or city flat, these bedroom design ideas for 2021 can be adapted to suit your space and style.
If you would like further bedroom design inspiration, take a look at our bedroom projects portfolio or feel free to get in touch with our design team, who would be happy to share their passion and expertise with you. From the first meeting with your designer to putting the finishing touches on your dream bedroom, we are here to guide you every step of the way.
Book a free design consultation
John Lewis of Hungerford designers are on hand to bring your ideal home to life
Book a design consultation