Shaker Kitchen Ideas: Designing Around Different Lifestyles
Kitchens15th June 2021 5 minute read
Simple and understated, Shaker-style kitchens have been around since the mid-eighteenth century and they continue to prove their worth in households across the country to this day. Here, we will explore five elegant ways in which John Lewis of Hungerford's designers adapted the Shaker-style kitchen to express a variety of personalities and individual styles.
5 Elegant Shaker Kitchen Ideas from John Lewis of Hungerford
A high quality kitchen should add value to your home and your daily lifestyle. Our bespoke Shaker kitchens are designed around your family's wants and needs and our talented team of designers is here to guide you throughout the whole process, from start to finish.
This blog post will explore the versatile Shaker kitchen, using case studies from some of our previous designs ranging from the bold and brilliant to quintessential classic country style.
1) Make it personal
Interior design knows no bounds and your kitchen is the perfect place to inject your own sense of style. Whether your dream kitchen has a statement hand-painted island unit or a vibrant backsplash, we believe that it can be tailored to reflect your individual personality, using a handpicked selection of textures, colours and materials.
We worked closely with our client to create this marvellous Shaker-style kitchen with a strong colour palette and unique details. The Cobalt Satin cabinetry pairs perfectly with the playful pops of yellow in the fish scale backsplash tiles and pendant lighting, while the unique peacock mural – painted by local artist Alex Lucas – brings this inimitable kitchen together. The space is an excellent example of the collaborative approach our designers take in helping you express your personality and individual style through your kitchen.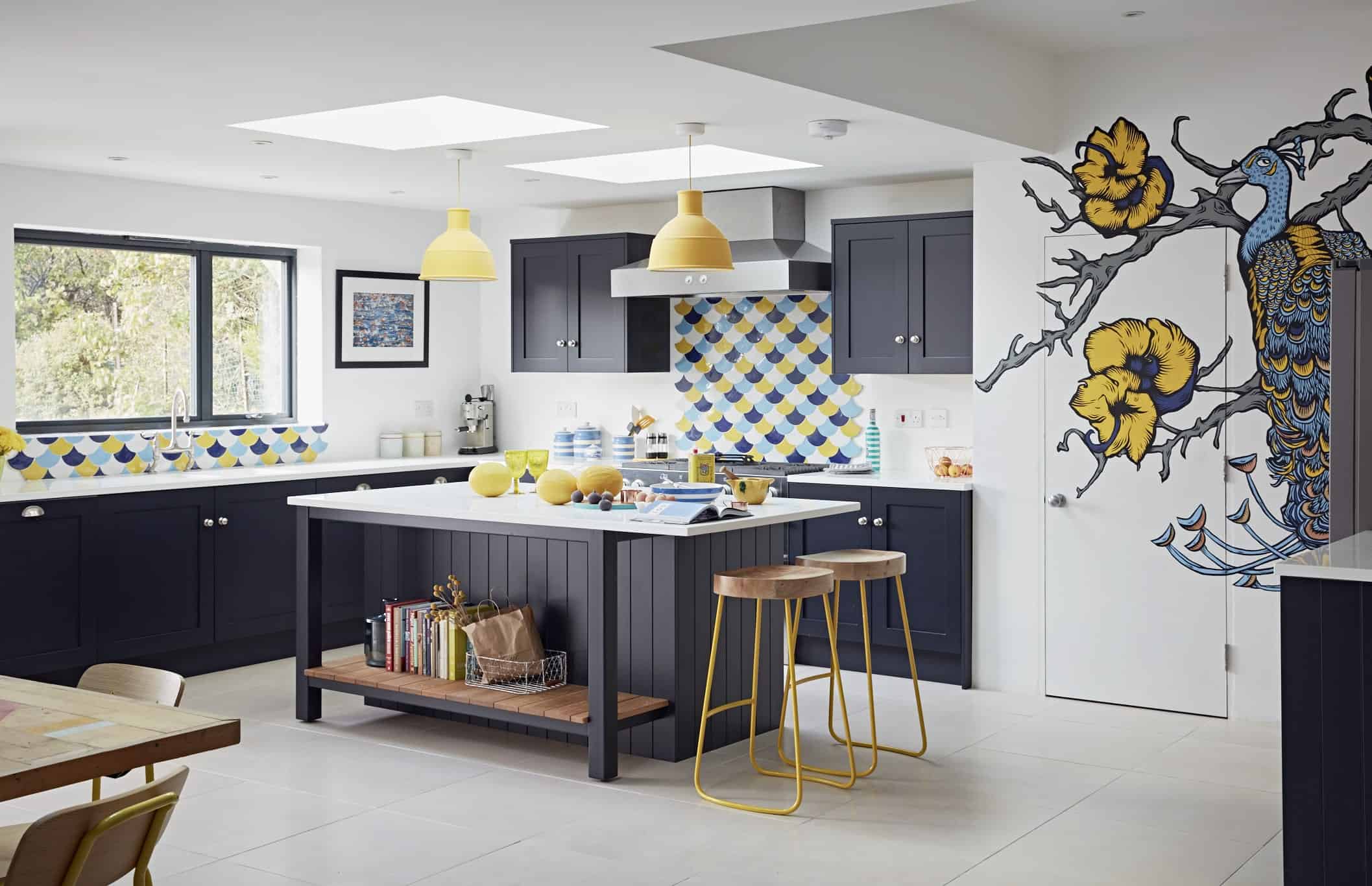 2) Create a social space
As the hub of the house, your kitchen should be so much more than simply a utilitarian space to prepare meals. Open plan and broken plan living spaces are popular among homeowners today as they enable families and friends to come together while providing a seamless flow to your entire home.
The versatility of the Shaker kitchen is beautifully demonstrated in this spacious modern kitchen, where an extra-large island takes centre stage and complements the bare walls. The overall effect is an effortless and minimalist elegance. With the graceful flow of open space around the island and ample natural light flooding in from the garden, this kitchen is perfect for hosting social events. The proud owner of this airy Shaker kitchen is now able to prepare delicious meals while still spending time with their family and friends as they sit and chat around the island unit.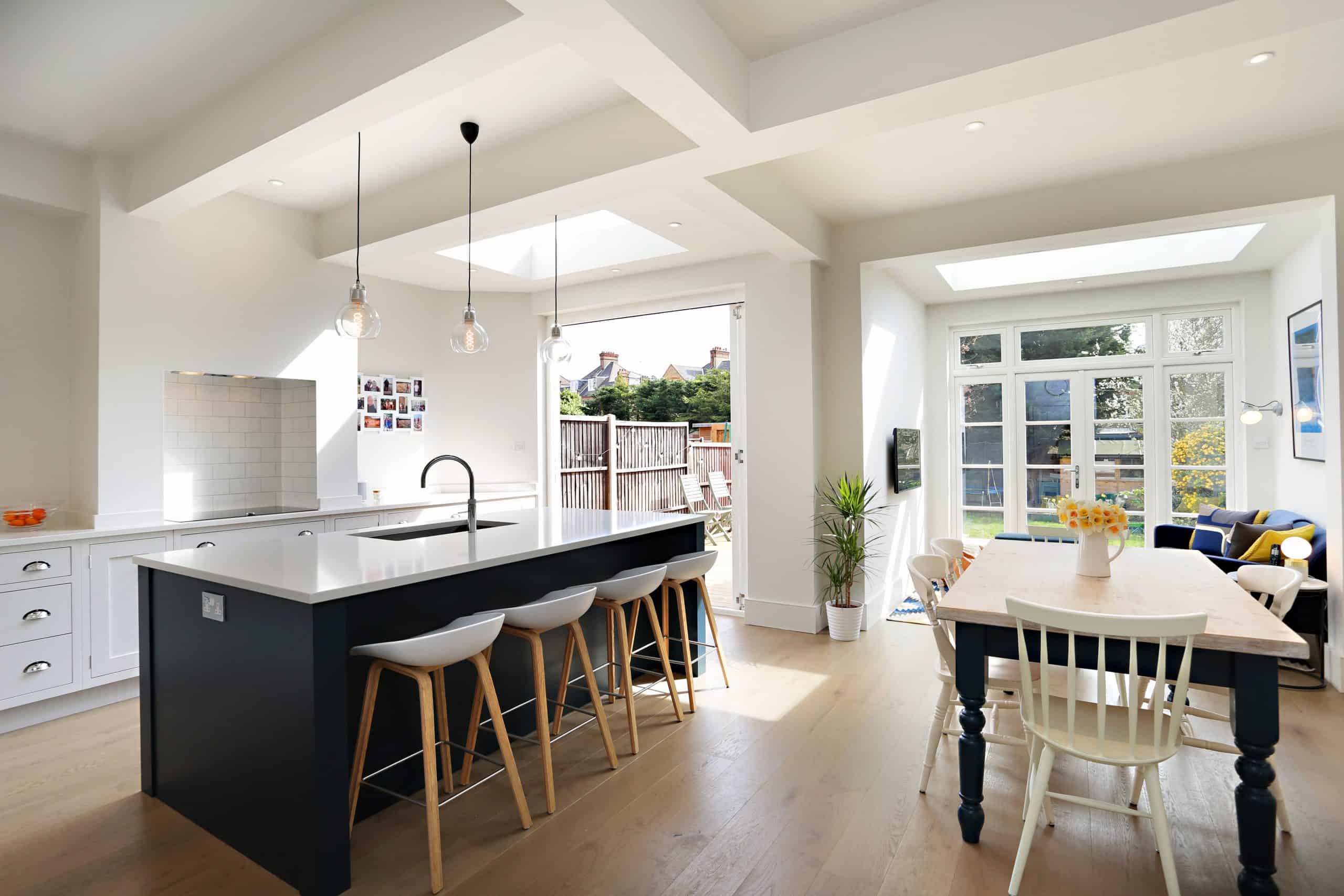 3) Opt for enduring and timeless
At John Lewis of Hungerford, all of our bespoke kitchens are built to last and the Shaker-style kitchen design has proven that it can well and truly stand the test of time. It has been a popular style of kitchen for nearly 500 years now and the classic proportions and distinctive square frames of the traditional Shaker style can be tailored to suit even the most modern homes.
This timeless kitchen was designed with the 'wow' factor in mind, and to maintain an overall traditional style. Our classic in-frame Shaker cabinetry was the perfect choice for this kitchen to harness a traditional look. Muted tones throughout add to this kitchen's timeless appeal and create a beautiful, tranquil space.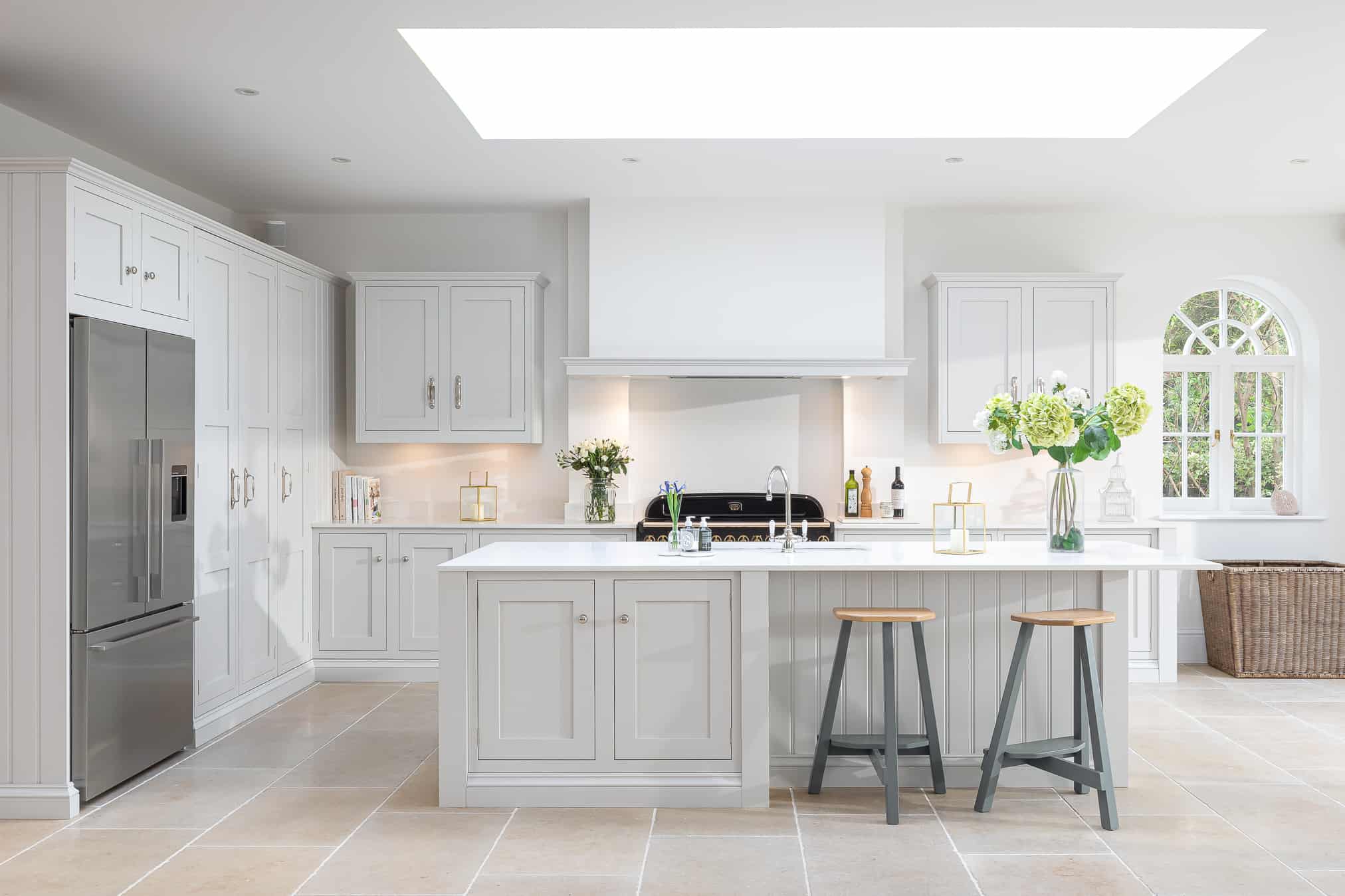 4) Improve family life
Your kitchen is a place for all the family, and memories are made in the heart of your home. With our 49 years of kitchen design experience, we work with you to establish your likes and dislikes, your family's needs and sources of inspiration so that we can craft a kitchen that is beautiful, practical and one of a kind.
This wonderful family hub is more than just a kitchen. With its bespoke bench seat on one side of the island, the room doubles as a living space where the parents and children can come together to spend quality time. The brief was to produce a hard-wearing kitchen for a growing family of four that has a warm and welcoming atmosphere. We achieved this feeling by using traditional touches like glazed wall cupboards, textured Flash Blue granite worktops and v-groove panelling.
The soft furnishings and honed finish of the granite help to soften the room and give it a warm and lived-in feel, while the traditional touches tie in with the Victorian architecture found elsewhere in the home. With plenty of storage and worktop space, this convivial kitchen is both stylish and functional.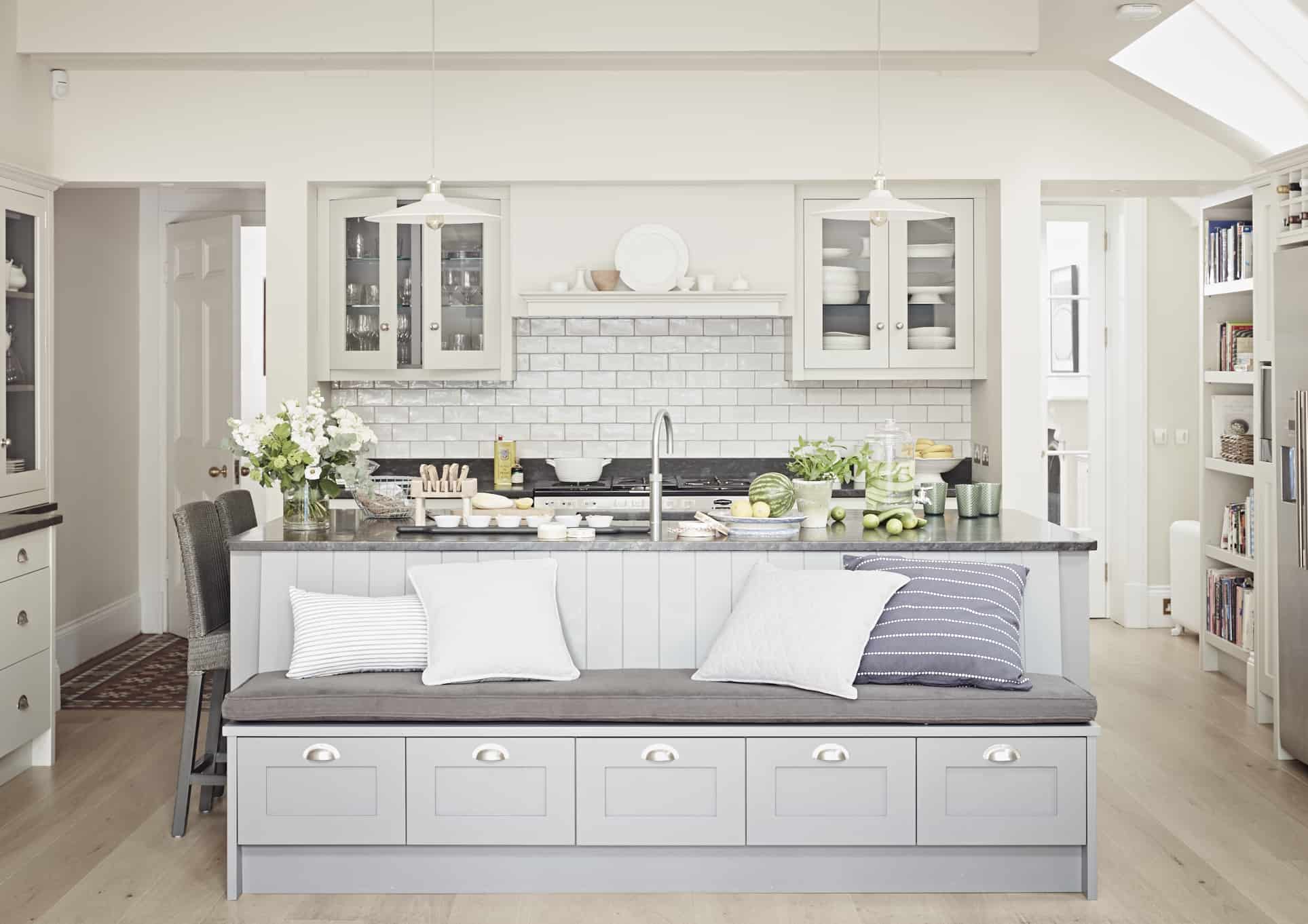 5) Choose elegant country quality
Elegant in-frame Shaker kitchens are truly at home in a country abode.
This stunning country home features an expansive kitchen with an island as the centrepiece. The island uses contrasting surface materials, a slab of Quartz with beautiful marble veining and warm Oak, which lies atop Shaker cabinetry finished in Dove White. The close colour match to the limestone flagstone flooring helps to create a sense of space and emphasises the traditional kitchen style. The main run of bespoke cupboards have been painted in Putty, tying in beautifully with the rest of the colour scheme, while the large Belfast sink gives an additional touch of nostalgia to this country kitchen.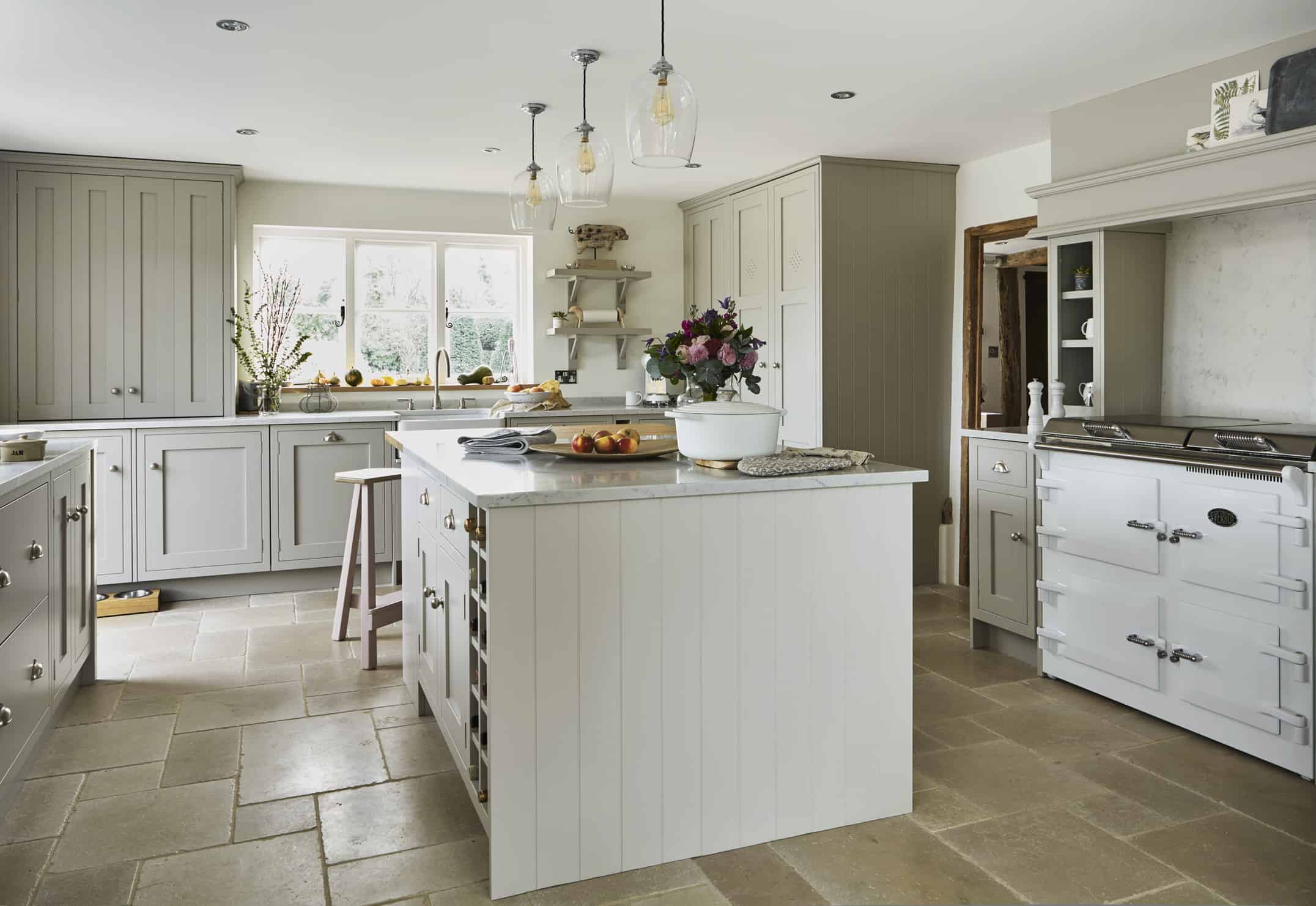 Inspired by You, Crafted by Us
The perfect kitchen should work in harmony with your lifestyle. If you are looking for further kitchen design ideas, our expert designers are here to guide you every step of the way. Explore our gallery for additional examples of our Shaker kitchens along with our other core kitchen ranges, or contact us for advice on what type of kitchen will fit seamlessly into your home.
Book a free design consultation
John Lewis of Hungerford designers are on hand to bring your ideal home to life
Book a design consultation