For so many, the kitchen is the heart of the home.  It's a space that needs to be warm and welcoming without feeling outdated.  Country kitchens with their rustic style have had this balance right for years.
We chatted to a few of our senior designers so we could share their expert tips for you to keep in mind when starting your country kitchen project.
What's the best way to achieve rustic charm in your kitchen?
Karen, Kitchen Designer at our Hungerford showroom says:
A lot of the success in rustic style country kitchens comes down to texture and materials.  Country kitchens feel much closer to nature, and most have some sort of timber element, for which there are many options.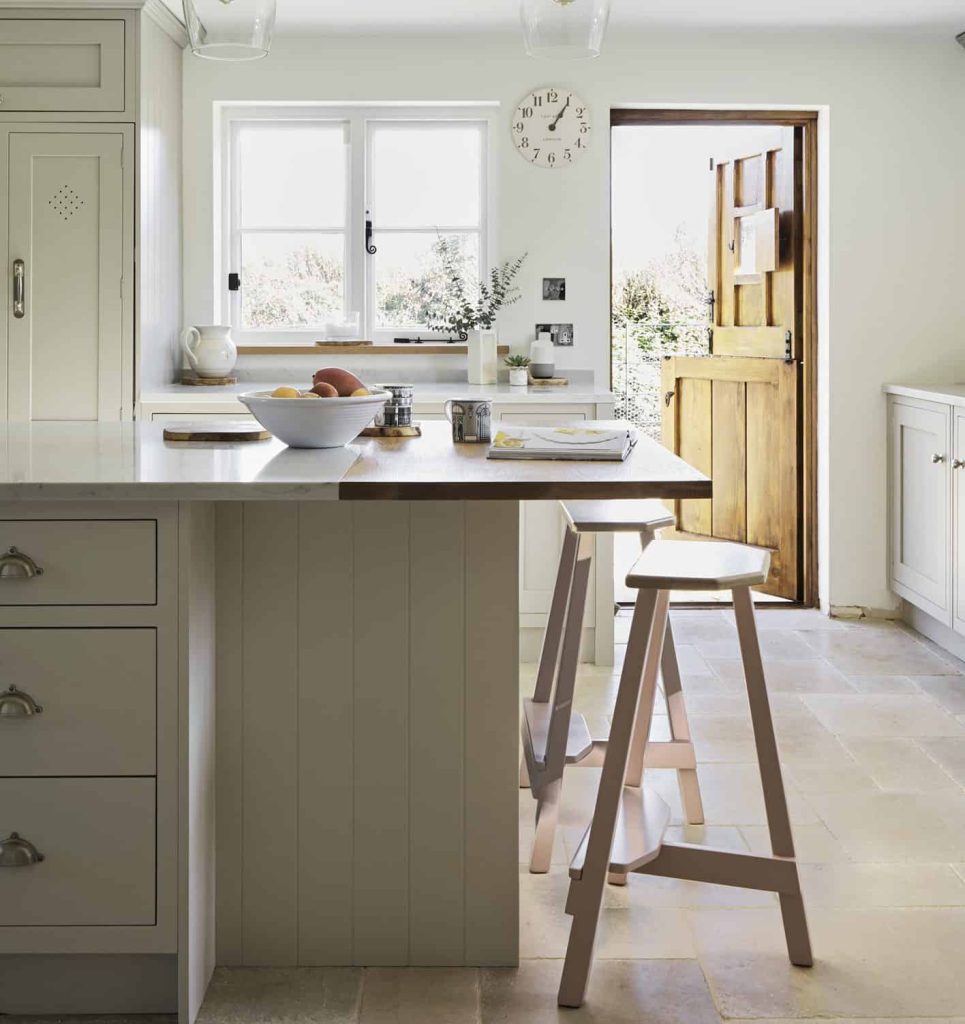 Touches of soft oak or deeper pine add natural warmth and softness to a room, achieved through reclaimed flooring, freestanding furniture, or worktops.  While wooden worktops aren't for everyone  as they can be difficult to maintain in high activity areas. However they can be the perfect organic touch when used sparingly.  A breakfast bar is a lovely example of this.
Another great way to add texture is grooved or TGB paneling.  This can be set behind open shelving, another hallmark of the rustic kitchen.  Such shelving is brilliant for storing cookbooks or wicker baskets that keep everything in easy access and adds to the homely atmosphere of a country kitchen.
Details are also really important.  Handles are a lovely way of tying together a rustic space, and a tarnished brass or anything that changes over time works particularly well.  As it wears and you're using and touching it more, some parts will become yellowed and others darker.  Having parts of your kitchen that live and age as you do is quintessentially rustic.  Final touches such as oak chopping boards or a butcher's block are small ways of adding texture and completing the space.

What colour scheme should you choose when it comes to designing an authentic-feeling country kitchen?
Jacinta from our Muswell Hill showroom says:
When imagining a country kitchen, warm, atmospheric colours come to mind, often with their roots in nature.
Neutral colour schemes are best to support such bolder colours, and off-white is the classic choice for country kitchen cabinetry.  Although greys can often be seen as clinical and ultra-contemporary, they can however be incorporated into a rustic scheme by choosing the undertone carefully, so a warmer green-grey is perfect.  This cosy base scheme can then be accented with brighter yellows and sharp greens, well-suited to larders or dressers to energise a neutral space.  Alternatively, velvety peach-based colours, deep and rich greens, or dirty mustards create a softer feeling, but are just what you need if you're after a hearty atmospheric kitchen.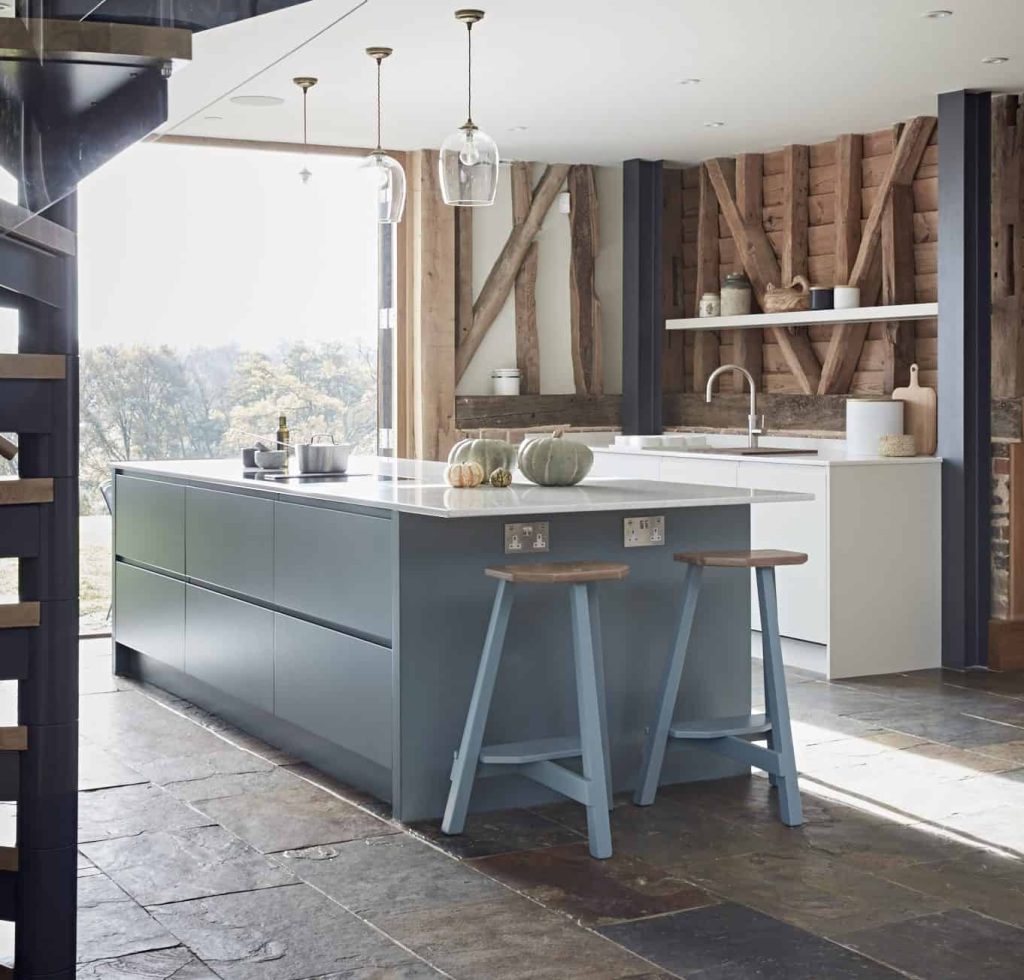 Can you ever mix country and contemporary styles?
Jacinta says:
You can really play around with this.  With care you can definitely achieve the right balance between rustic and more modern elements.  You could have, for example, an in-frame shaker style in a muted traditional colour, but with a heavily veined worktop.  Alternatively, you could go for more classic style doorknob and cup handles, but in a brushed steel finish as opposed to brass.  Modern appliances integrated behind cabinet doors would give a more polished look overall and give the benefits of using the best functioning appliances without detracting from the overall look of the cabinetry.

Can you only get the rustic look in an older building?
Rebecca, Kitchen designer at our Fulham showroom says:
It may be easier to do so in an older building, but there are ways to achieve the rustic look in both old and new settings.  A good way to do this in either space is to expose the original brickwork on one or more walls, or add some brick slips in a finish similar to the original building.  Timber flooring, reclaimed wood or a rougher finish, can soften a new extension and enhance the original features of a more period property.  Alternatively, flagstone, limestone, or terracotta tiles are ideal for a country look.
If you're building out, it's really important to think about lighting.  Modern roof lighting can take away that cosy feeling, so a more traditional feeling orangery style is sometimes better.  Retaining an original fireplace as part of the new kitchen scheme or adding something such as a wood burning stove into a newer kitchen space again will add a country or rustic feel, without going overboard.  An old chimney breast can be opened up so that a range or hob can sit in-between or, in a room where there aren't these existing features, they can be added in the form of an extractor canopy to give character.

Should I choose a country-style kitchen over something simpler?
Rebecca says:
One major advantage of a country style is that you can add kitchen cabinetry elements or country style furniture that you already have to your new kitchen, for example, an antique dresser or old country farmhouse table.  By going classic, there's much less risk when thinking about resale – lots of homes in England were built in a style a rustic kitchen will mesh easily into.  Aesthetically, a country-style kitchen is more lenient when it comes to adding personality with accessories, and certainly more forgiving with mess.  Country kitchens often make displays of utensils, so there's much less pressure to have everything tidied away.
Is there anything to avoid when designing
a country-style kitchen?
Karen says:
There aren't any rules when it comes to designing your dream kitchen, but some general advice is to lean into the style you want, and run with it.  This doesn't mean going over the top, but holding back on the amount of cabinetry or the use or open storage can create a disjointed overall look and an in-cohesive space.  A balance in practicality is just as important in a country kitchen as it is for any other style of course, just keep in mind that it will be a warm and busy space, but that's the best bit!
Book a free design consultation
John Lewis of Hungerford designers are on hand to bring your ideal home to life