Statement Splashback Ideas For Your Modern Kitchen
Inspiration20th November 2021 4 minute read
Splashbacks are so much more than a safeguard against ricocheting water or food in your kitchen. In addition to worktops, splashbacks are often the first element that's noticed when walking into a kitchen. Splashbacks give you an  exceptional opportunity to highlight your unique personality and style. This blog post reveals the many ways you can make a statement in your bespoke luxury kitchen with unique kitchen splashback ideas that are equal measures functional and aesthetic.
Create A Pattern With Tiles
Tiles are the most popular choice for a splashback, and for a good reason. They come in an exciting variety of colours, patterns, sizes and materials to suit any taste – from traditional farmhouse to uber-modern. Tiles not only protect your walls from water, washing liquid and food debris, but they also allow you to easily make a stunning statement in the heart of your family's home.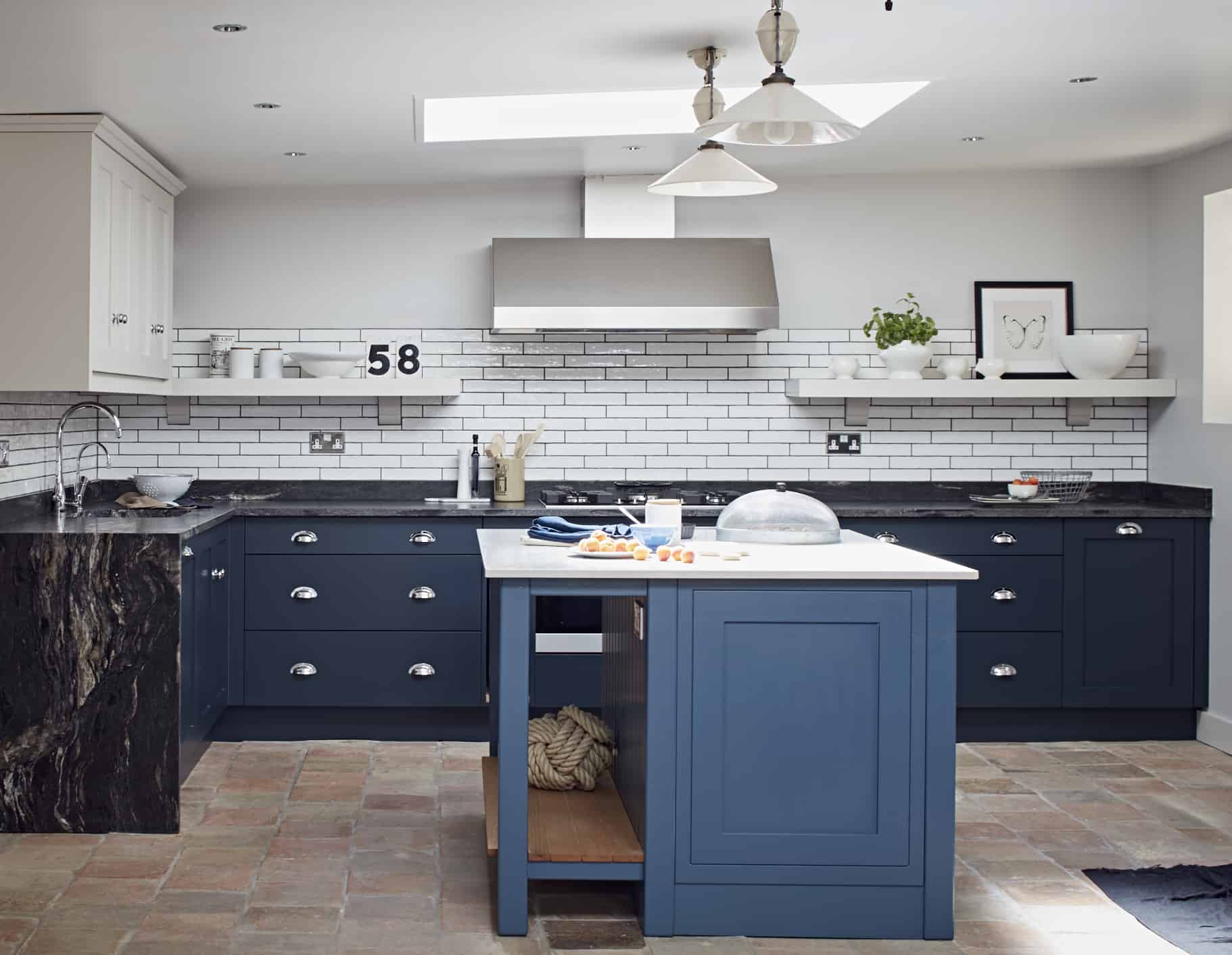 If you've ever researched kitchen wall tile ideas, you may have been overwhelmed by the seemingly limitless options. But there are a few tips to consider to help design your family's unique tiled splashback:
Select boldly coloured tiles in a neutral kitchen for a pop of colour that will brighten any morning
Opt for uniquely shaped tiles
Try porcelain tiles with a contrasting grout for a sophisticated
Use classic square or metro tiles for an understated look
Tiles allow you to play with texture, patterns and colours that you may not be able to easily integrate into more prominent design choices in your kitchen, allowing your family's individuality to shine. Have fun arranging your tiles and let your discerning taste take centre stage.
Shimmer With Metal
Metal is a hardy, fire-resistant and easy to clean material that's ideal for a statement splashback. Metal splashbacks come in a variety of materials to choose from, allowing you to easily and quickly elevate even the most minimalist of designs. Copper, for example, is paired well with polished copper fixtures and a butcher block topped kitchen island in a homely rustic kitchen design. Conversely, stainless steel evokes a mid-century industrial feel that is reminiscent of a welcoming retro diner.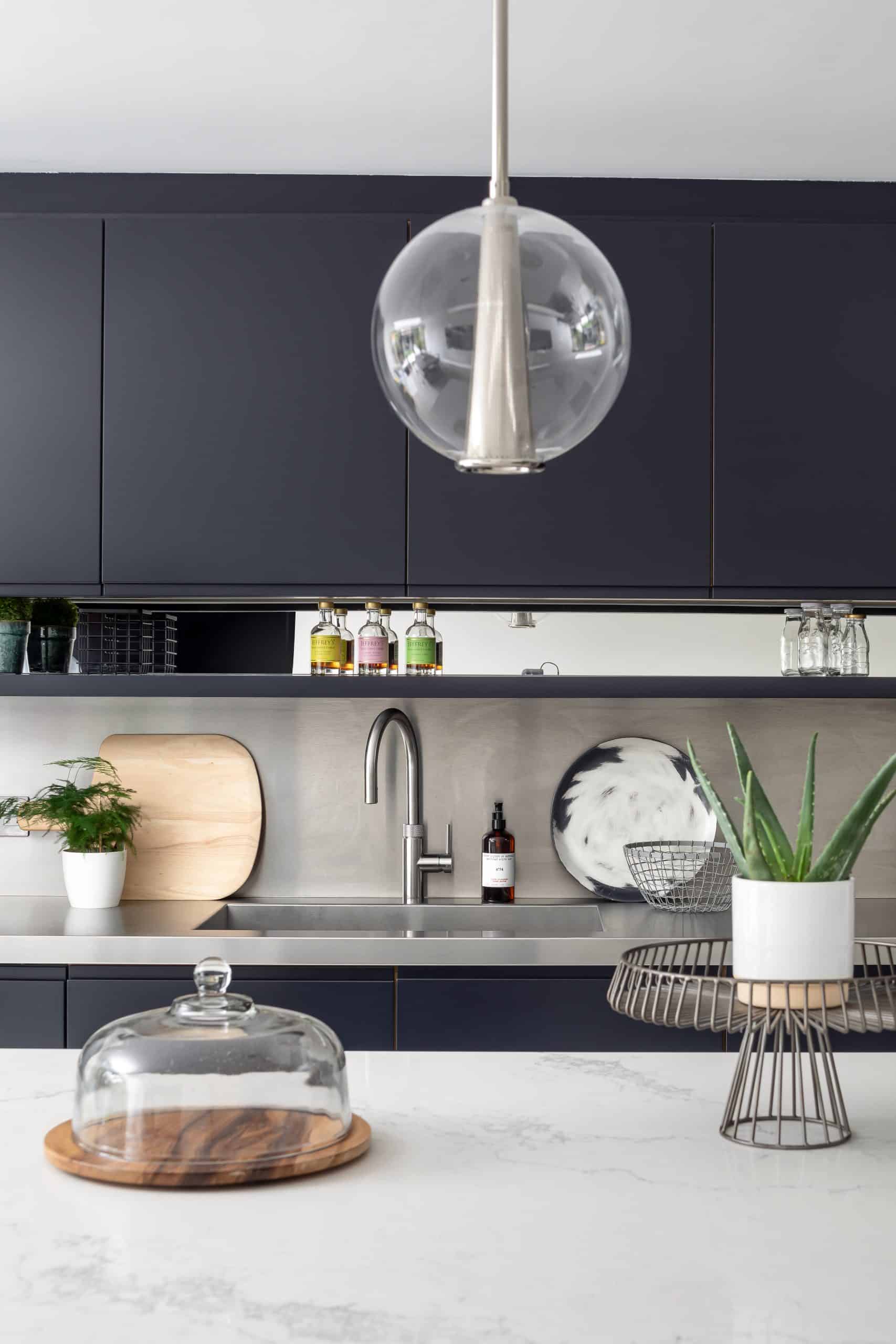 Brass splashbacks are very much on-trend at the moment and pair perfectly with colourful kitchens in shades of our Midnight Green, Blake Blue or Damson Blue.
To get that beautiful copper look without using metal, consider a splashback in Iron Cooper Neolith. Neolith is an extremely strong and durable material that is waterproof, easy to  clean and heat resistant. It's muted reddish tones and subtle glow pair well with darker kitchen colours.
Select the right metal and your splashback will shimmer and shine, adding a glittery and romantic touch to your modern kitchen that is sure to be a conversation piece at your next gathering.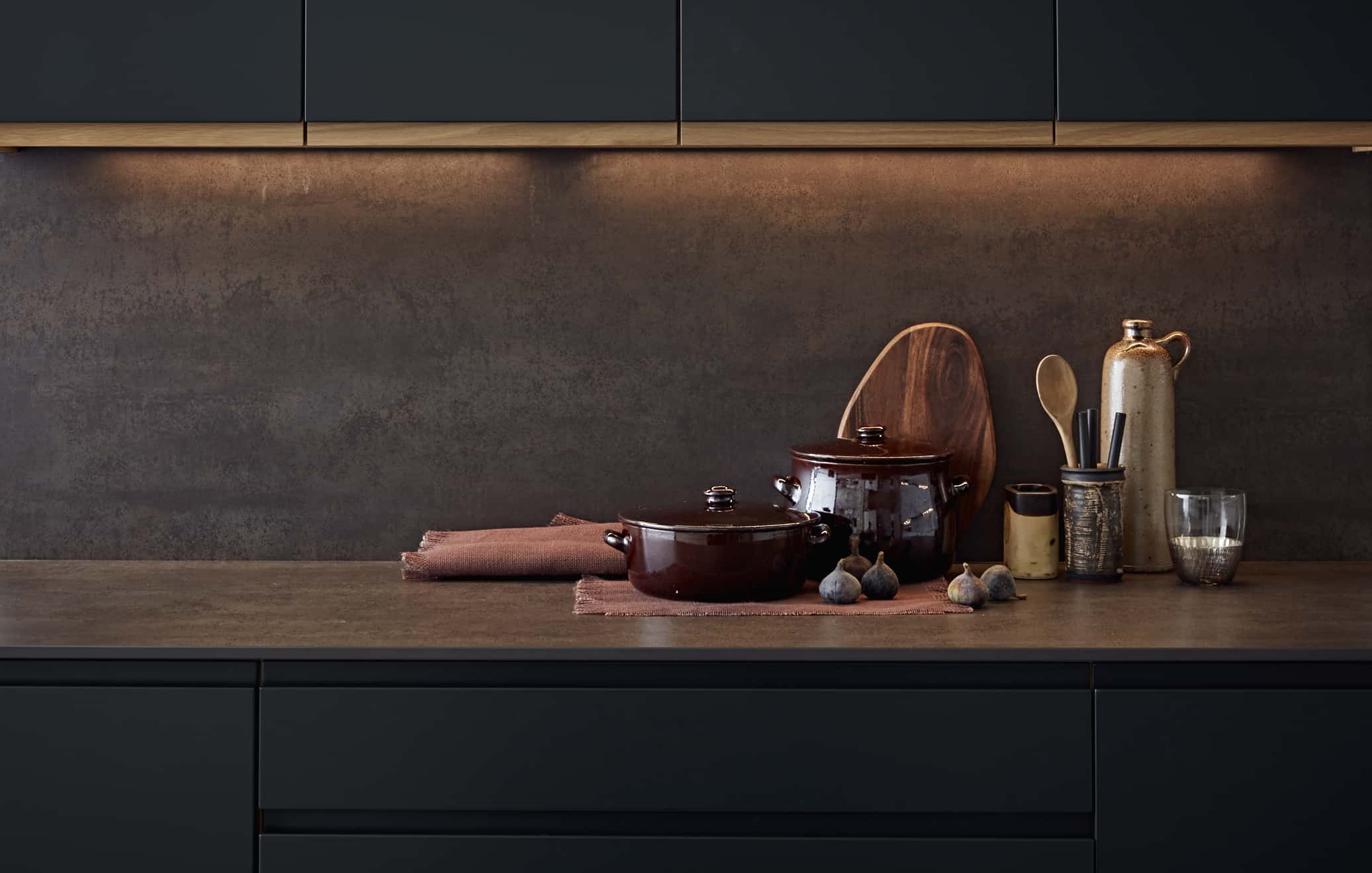 Contrast Splashbacks With Wallpaper
Have you fallen in love with a stylish, trendy or funky wallpaper for your kitchen renovation? In that case, try implementing a more subdued splashback in a complementary or neutral colour for balance, breaking up the patterned walls while letting the splashback stand out.
If installing a bold wallpaper feels a bit daring, use a large strip as your splashback, keeping it protected by installing a sheet of glass over it. This option allows you to easily replace your splashback as your design tastes evolve over the years. If you think you may want to switch out your bold wallpaper splashback often, we recommend selecting a neutral colour palette for your cabinetry and walls. Alternatively, experiment with different hues, such as a grey kitchen, and change out your splashback wallpaper to keep the aesthetic fresh.
Match The Countertops
Create a feeling of unity and harmony in your kitchen by using the same material for your splashback as your worktops. This design choice comes off as sleek and contemporary without being too obvious. For example, if you desire marble or quartz worktops, selecting a natural stone splashback in the same material will create a seamless look with a soothing flow. This route also allows your uniquely coloured cabinets or kitchen island to stand out in contrast.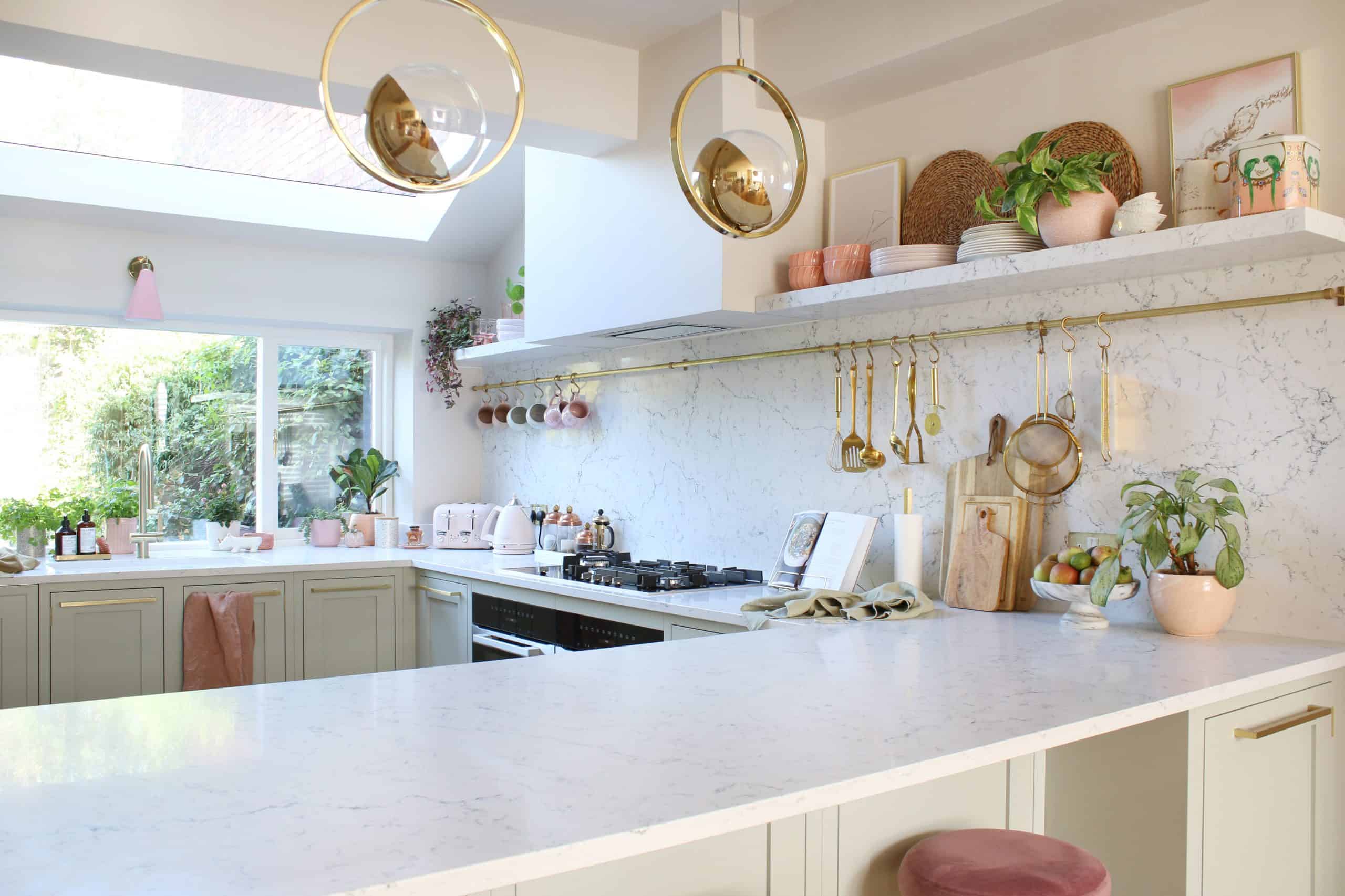 Materials for your matching worktops and splashback:
The following materials are excellent options when designing a kitchen that features matching worktops and splashbacks:
Quartz
Granite
Solid wood
Ceramic
Brass
Stainless steel
Extend For A Statement 
Statement splashbacks don't need to be confined to the area just behind your washbasin. Extend your splashback along the entirety of your worktop – or even meld it with the flooring – for a declaration of your individual taste and preferred aesthetic.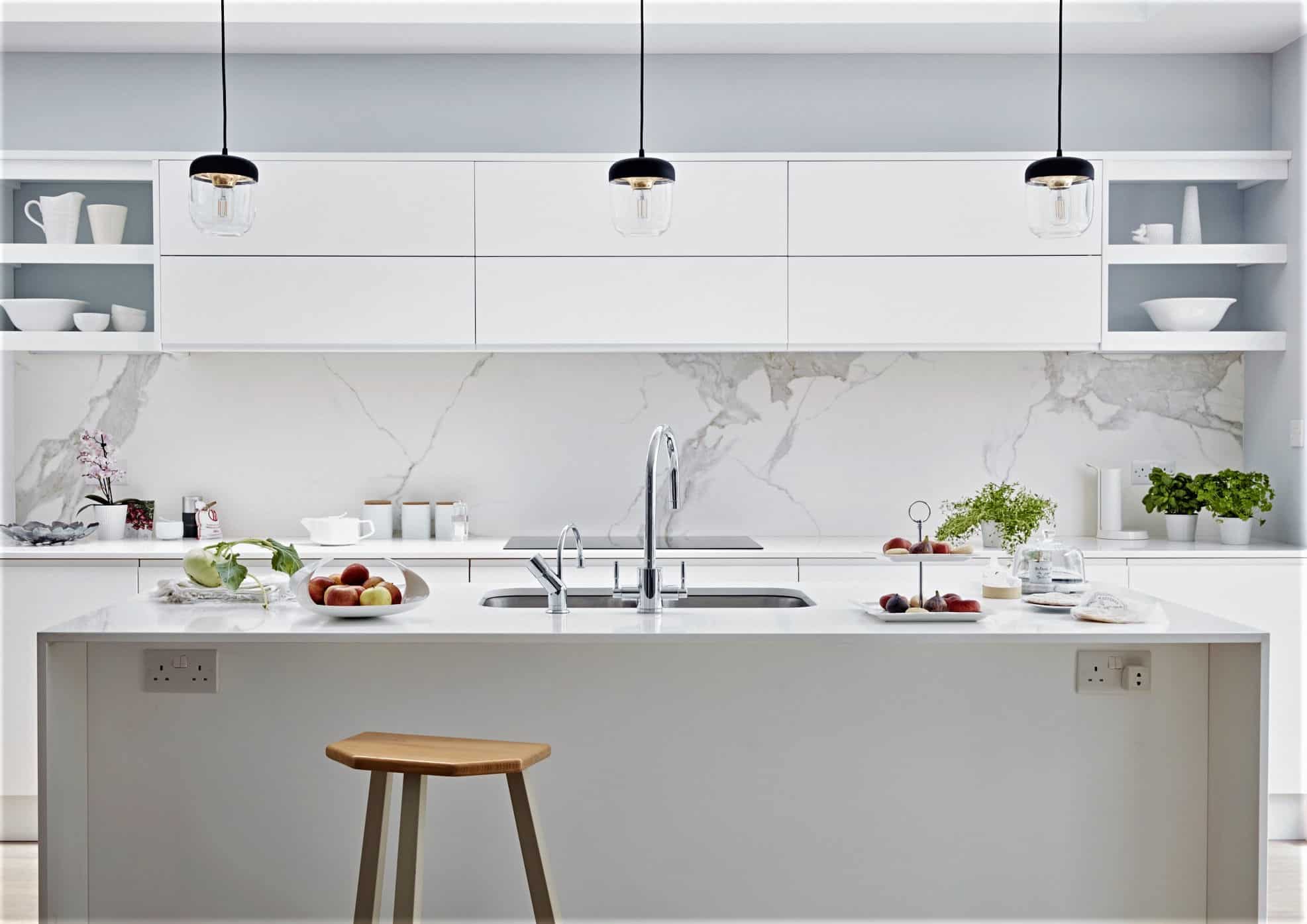 At John Lewis of Hungerford, we have years of experience assisting customers in implementing a statement splashback in any luxury kitchen, while keeping an overarching design that remains classic for years to come. Get in touch with our team of expert designers to brainstorm kitchen layout ideas, kitchen paint ideas, handcrafted cabinetry and custom furniture that will suit your home, no matter what your unique tastes are.
Book a free design consultation
John Lewis of Hungerford designers are on hand to bring your ideal home to life
Book a design consultation