Modern Cottage Kitchen Designs for Your Home
Inspiration4th April 2022 4 minute read
The harmonious combination of expert craftsmanship, functionality and traditional design make the cottage style an obvious choice when renovating your kitchen. Cottage kitchens have always been fashionable, and their endless appeal lies in the warmth and character this aesthetic instantly gives to any home. 
If you're ready to usher the classic English cottage style kitchen into the 21st Century, we have some fantastic inspiration, to ensure you end up with a cosy cottage feel that maintains the functionality and style found in the finest luxury modern kitchens synonymous with John Lewis of Hungerford designs.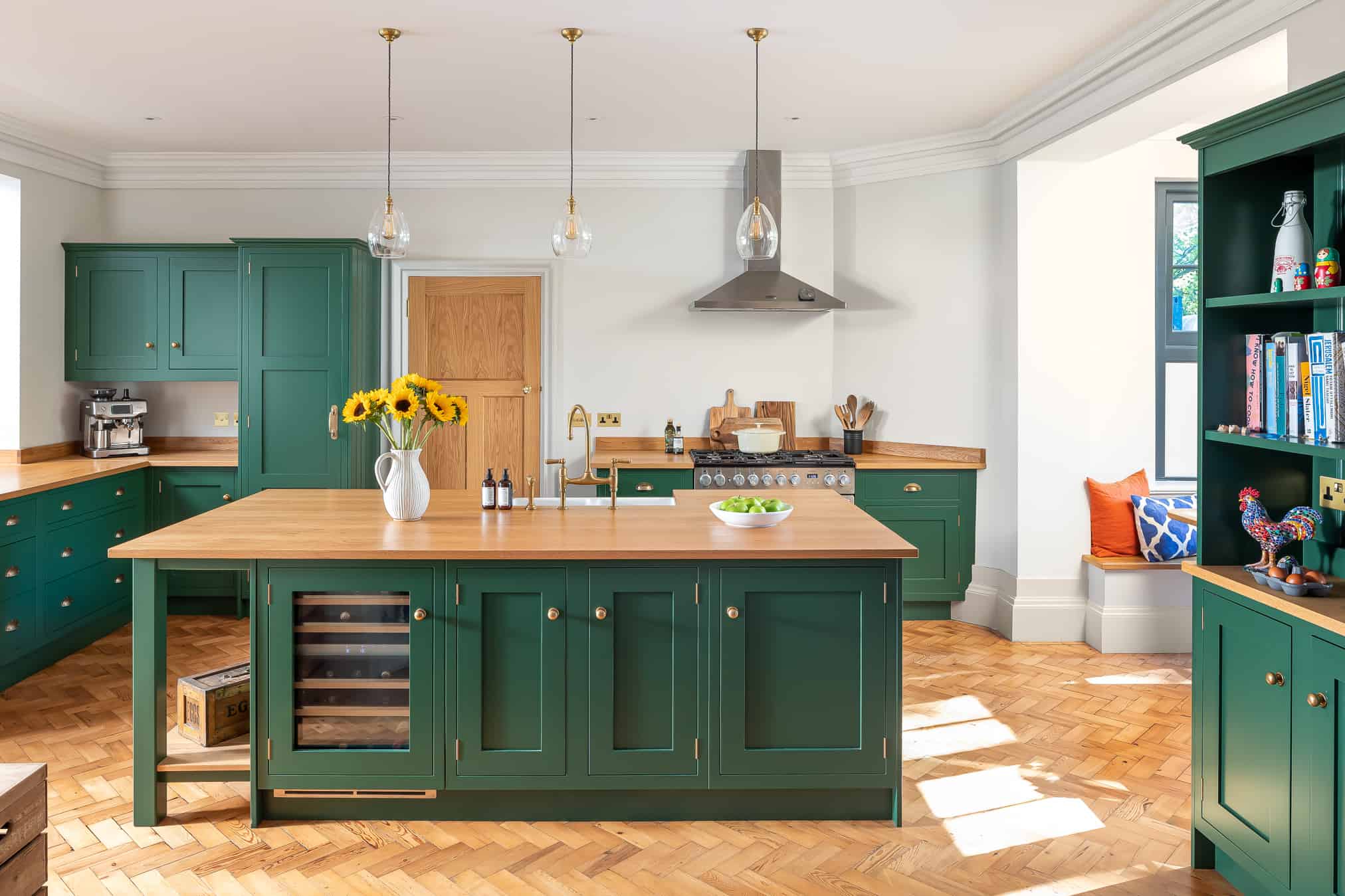 Go Rustic With Natural Timber
Nothing gives a natural, rustic feel to a cottage kitchen, quite like natural timber accents. Imagine waking up and putting the kettle on for a relaxing family breakfast surrounded by timber beams, furniture and everyday kitchen essentials, like chopping boards, mixing spoons and spatulas. Timber brings the romantic and relaxing aura of the forest right into your home.
Wooden worktop
One of our favourite ways to implement natural timber elements into cottage style kitchens is with wooden or butcher-top worktops. If you decide to go this route, pairing a matching custom kitchen island is a smart move. By carrying natural timber elements throughout your cottage kitchen, you will effectively create a cohesive theme that harkens back to traditional homes from generations before.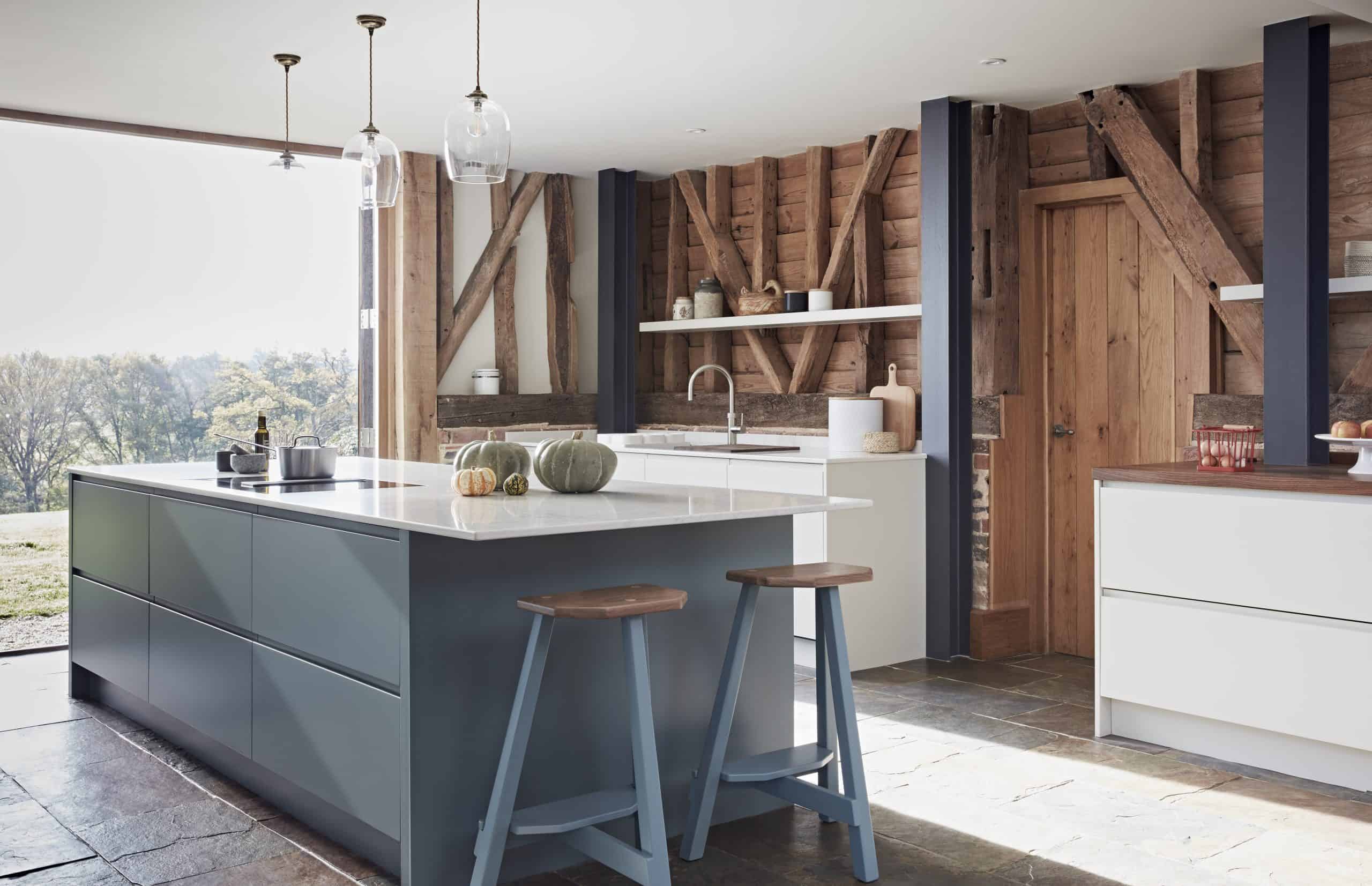 Opt for Freestanding Furniture
In cottage kitchens, freestanding furniture reigns supreme. Why? Because space is often at a premium. When you opt for freestanding furniture such as cupboards, islands or butchers blocks, you will be given more flexibility in terms of kitchen layout, letting you move things around as your needs change and style evolves over time.
Add a vintage dresser
Speaking of freestanding furniture, consider incorporating a vintage dresser or larder into your kitchen design for a whimsical and eclectic take on the rustic kitchen aesthetic. There, you will have the perfect spot to showcase your heirloom crockery proudly. A lovely sage green colour is an attractive option for a vintage dresser in your cottage kitchen, as it pairs well with natural elements such as a rustic timber dining table.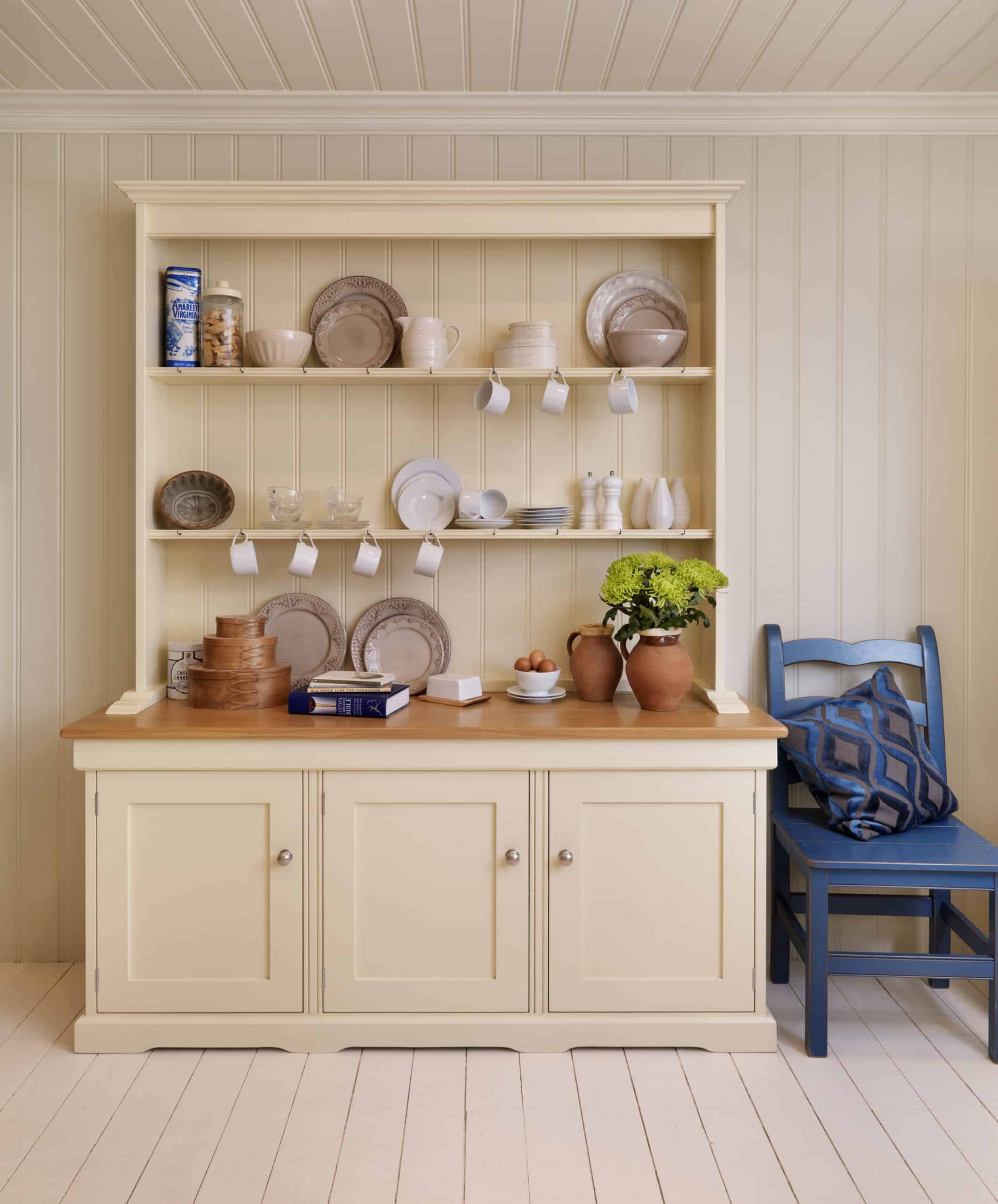 Take Advantage of Natural Light
Bring the cottage kitchen aesthetic into modern times by utilising the natural light offered to your home, creating a bright and cheery look that's coveted amongst any homeowner.
Take advantage of the light your kitchen gets with minimal curtain coverings in a slub weave fabric combining creme and dark grey shades to produce a flecked, cosy look in the low evening lights. Alternatively, you can opt for sheer curtains in light, neutral colours to keep the light as bright as you can throughout the day.
If you love the look of patterned textiles, why not take some inspiration from nature by layering fabrics that capture elements of the picturesque country landscape? From muted garden roses to soothing pastel tartans in neutral shades, it's easy to achieve the timeless feel of a cottage kitchen when your window dressings are patterned right. Consider extending the same cottage-style fabric to your sink curtain or chair cushions for a show-stopping finishing touch.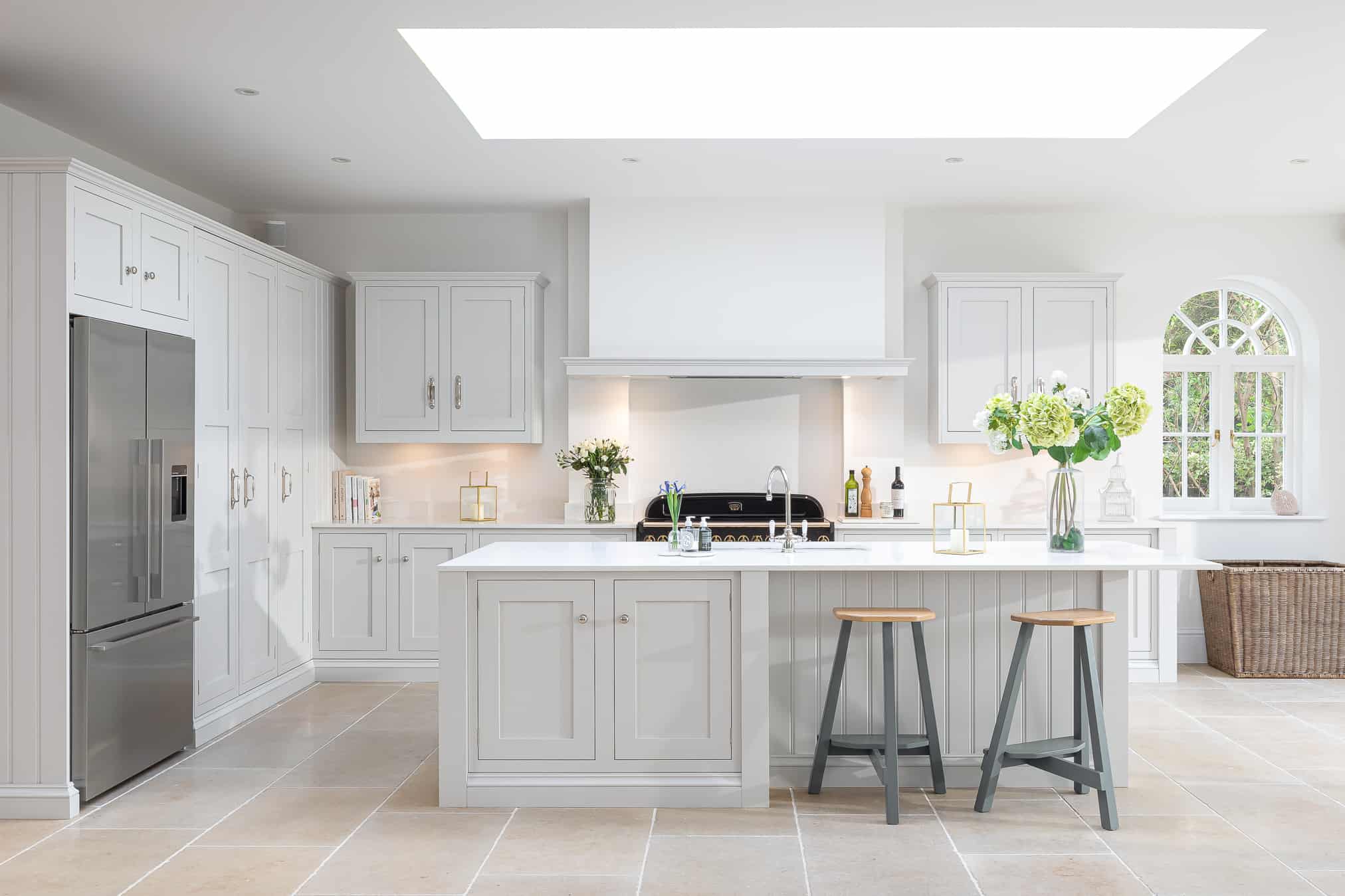 Enhance the light with neutral colour palettes
Applying a fresh coat of paint is a simple way to effortlessly unify an eclectic cottage kitchen in no time. Our designers recommend selecting neutral, warming shades with muted tones. Other elements in your kitchen such as vintage dressers, islands and custom-built kitchen cabinets can be easily spruced up with a simple pastel shade, such as our Dove White or Fossil paints.
Browse our line of award-winning paint shades, and discuss your favourite shades with our designers for more inspiration and design ideas. Our carefully curated colour palette offers a diverse selection of tones and hues – expertly applied with a hand-sprayed finish.
Our favourite signature colours for cottage style kitchens:
Biscuit
Dove White
Fossil
Shortbread
Easy Cream
Easy White
And worry not, If you don't see the colour you imagine in our collection, we offer a bespoke colour-matching service to deliver the exact look you desire.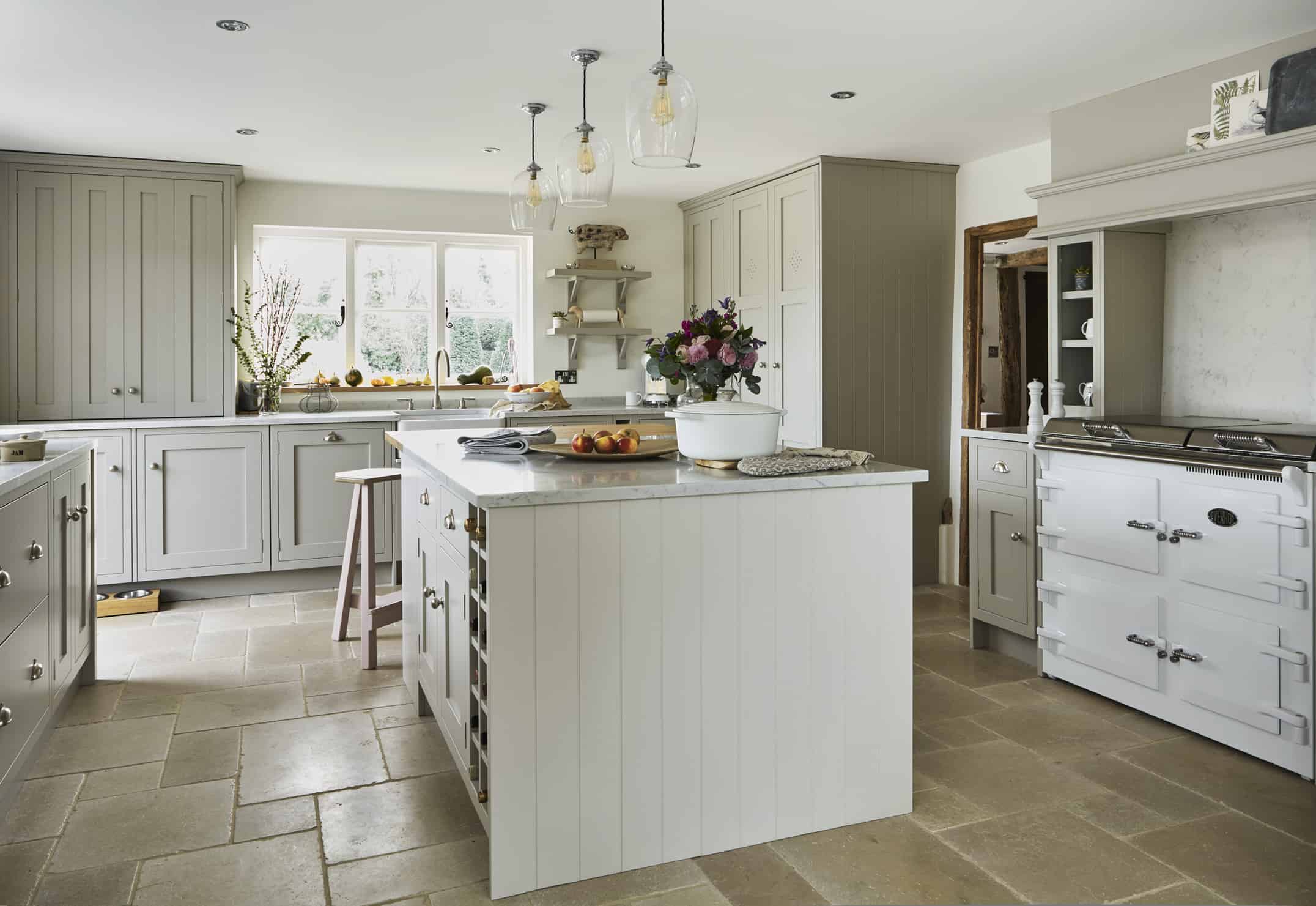 Opt for Shaker Style Kitchen Designs
Cottage kitchen cabinetry and designs more often utilise a classic Shaker kitchen design, which naturally brings about a traditional, cosy family feel.
Shaker-style kitchens date back to the mid-eighteenth century and have gained popularity as of late, especially in cottage kitchens. Shaker kitchen doors, for example, are classically portioned and tasteful, with square frames that can be personalised using an array of handle designs.
The timeless Shaker kitchen design integrates seamlessly into both traditional and modern homes, so if you're wondering if a Shaker-style kitchen will look fabulous in your home, the answer is most likely yes!
Benefits of a Shaker-style kitchen?
Shaker kitchens are marked by quality carpentry and expert craftsmanship. Built to last generations, a Shaker kitchen is a smart investment, adding to your enjoyment of your space as well as the value of your property. To achieve the Shaker look, you will want to select cabinetry with clean lines, efficient design and quality artistry. If you wish to add in pops of modern luxury, a granite countertop or kitchen island is an excellent way to bring this perennial, coveted look into modern times.
Whether you want to incorporate elements of a classic cottage kitchen into your home or wish to do a complete overhaul, the designers are John Lewis of Hungerford are ready to offer their expert advice. Get in touch or download our brochure for more inspiration, and create a bespoke luxury cottage kitchen that will be equal measure cosy and functional with timeless design elements that will withstand the test of time and be enjoyed for generations to come.
Book a free design consultation
John Lewis of Hungerford designers are on hand to bring your ideal home to life
Book a design consultation