Minimalist Kitchen Ideas: Bringing Calm to Your Kitchen
Kitchens25th February 2021 5 minute read
At John Lewis of Hungerford, our modern handleless kitchens have been carefully designed to bring a sense of calm and serenity to the heart of your home. If your ideal kitchen has clean lines softened with practical details then allow these minimalist kitchen ideas from our Pure portfolio to breathe serenity into your home.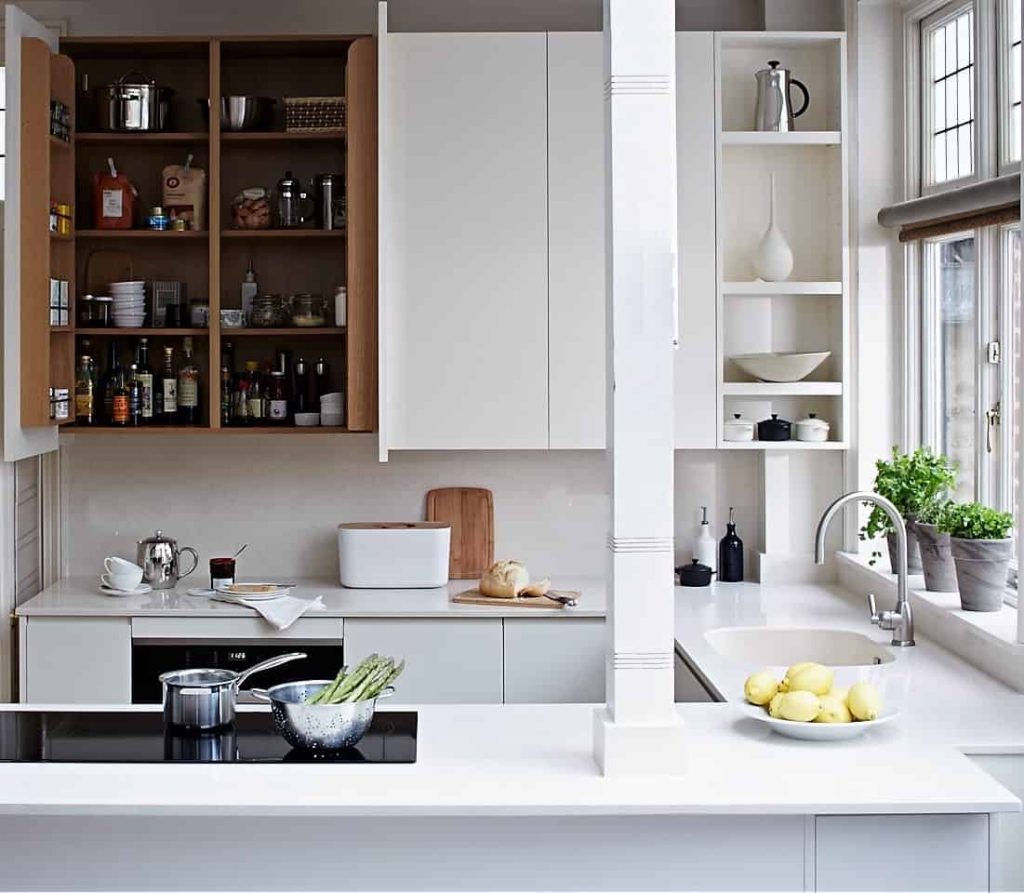 Our Designers' Favourite Minimalist Kitchen Design Ideas
Discover our Pure range of bespoke handleless kitchens, where minimalist kitchen style meets a mid-century feel. This blog post will take a look at some of our most stylish minimalist kitchens designed by our talented team of designers, exploring a chic handless design that will appeal to anyone aiming for a simple, refined and beautifully minimalist kitchen.
Tailored to fit
The clean lines of a Pure kitchen are enormously versatile and can be tailored to fit a multitude of interiors, whether your kitchen lives within a modern flat or a traditional rustic abode.
One of our more challenging installations was this spectacular barn conversion, which called for a modern kitchen that perfectly juxtaposed the rustic charm exuded by the rough oak beams and glorious views of the British countryside. Our skilled fitters were tasked with carefully scribing in all the cabinetry and work surfaces around the unique dimensions, angles and levels of this charming room.
We worked with the client to find the perfect balance of smooth lines and bucolic quirks by mixing quartz stone and walnut worktops. A combination of rebated LED lighting and glass pendant lighting provide the ideal lighting and ambience, while the cabinets are finished in contrasting light and dark paint finishes, adding interest and balancing the light and shade in the room. The extractor fan in the hob is a concealed downdraft type to ensure that the picture perfect view through the bifold doors is unobstructed and remains the main focus.
Rough beams, exposed brickwork and flagstone flooring are wonderfully counterbalanced with the crisp lines and smooth surfaces of the Pure kitchen. The result is a modern kitchen that is right at home in the country.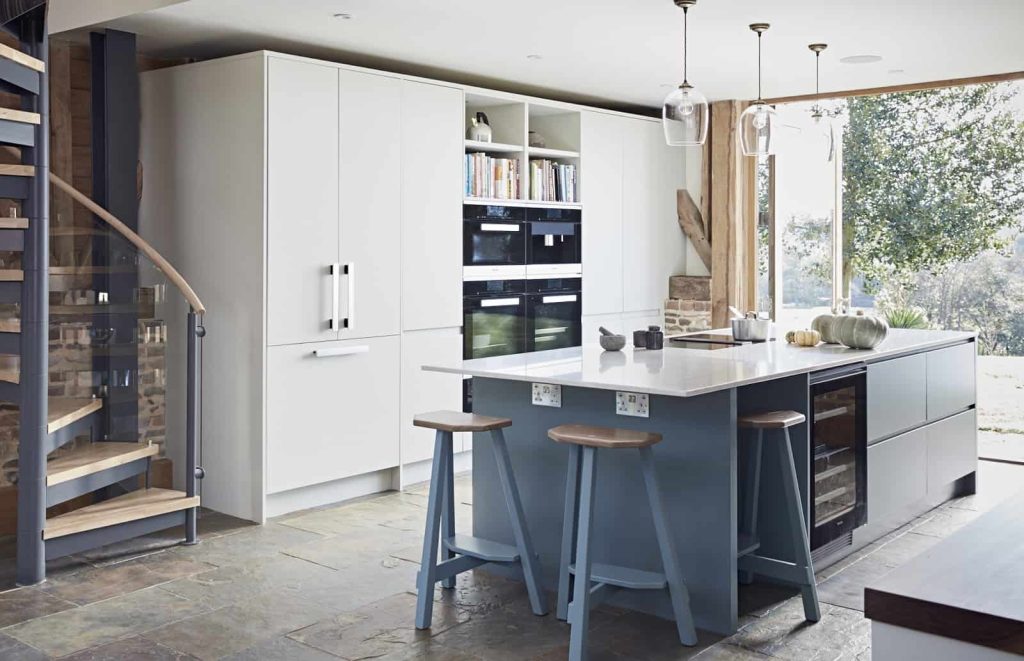 Refreshing heritage
The Pure kitchen provides the perfect opportunity to use colour to its maximum effect so that its contemporary features look great in many different types of homes, from elegant townhouses to small kitchen spaces.
For this listed townhouse in North London, we worked alongside the owner to create a kitchen that was sensitive to the heritage of the home while still creating a versatile space with a contemporary feel. Our stylish remodelling of this Victorian home makes the most of natural light through the use of substantial glazing and light-reflecting kitchen cabinets, while the dark accents make the space feel grounded and chic.
The client wanted to create a clear divide between the cooking and dining areas so we installed a beautiful kitchen island to act as a focal point as well as a prepping station, a social hub and the sophisticated delineation of an open-plan space.
Our Pure cabinetry was a key part of this contemporary kitchen design, with its handless features contributing to the feeling of cleanliness, organisation and functionality. The wooden accents like the oak drawer trim and the copper pendant lights give a respectful nod to the Victorian heritage of the house while bringing the kitchen up to date.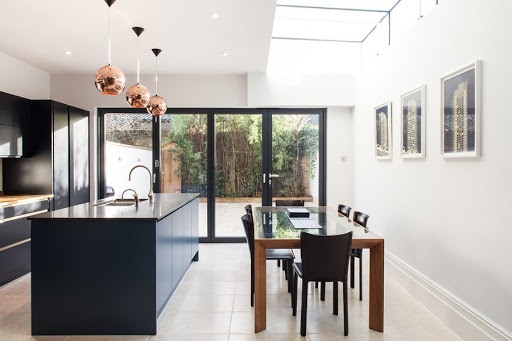 Understated and modern
The Pure kitchen makes an excellent choice for modern living and is an eminently popular choice for those seeking a no-fuss, refined aesthetic.
This modernised kitchen renovation project called for clean lines, a simple colour scheme and durable materials. The wall units painted in Earl Grey contrast with the dusky blue walls, while the feature island features one of our darkest blue shades (Blake Blue) under a marbled quartz worktop.
The remaining work surface areas are Neolith – a highly durable sintered man-made porcelain stone material that allows for minimal joints – contributing to the clean lines of this Pure kitchen design. Clever gullwing-style handleless kitchen doors in the wall units are a great option from our Pure range and allow for easy access to the interiors.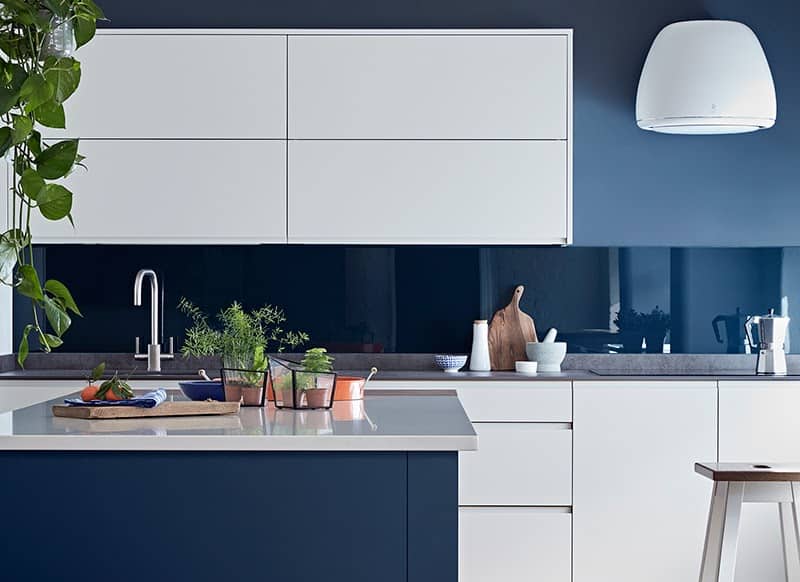 Ultimate simplicity and elegance
The white kitchen appeals to many for its airy, clean, crisp and uplifting aura, which is what makes it the perfect hue for this beautifully restrained kitchen design.
In this wonderfully designed kitchen, a muted colour scheme using mixed whites and creams creates simplicity and elegance. The white and grey marbled Neolith backsplash and white oak flooring create a sense of serenity when paired with our award-winning Satin Eggshell cabinet paint in Pure White.
Natural light floods in from the garden, illuminating the room during the day, while task lighting provides ambiance and practical visibility when the sun goes down. Integrated kitchen appliances and simple wall cabinets amplify the minimalist theme of this kitchen so that the overall effect is a kitchen with clean lines and a welcoming feel.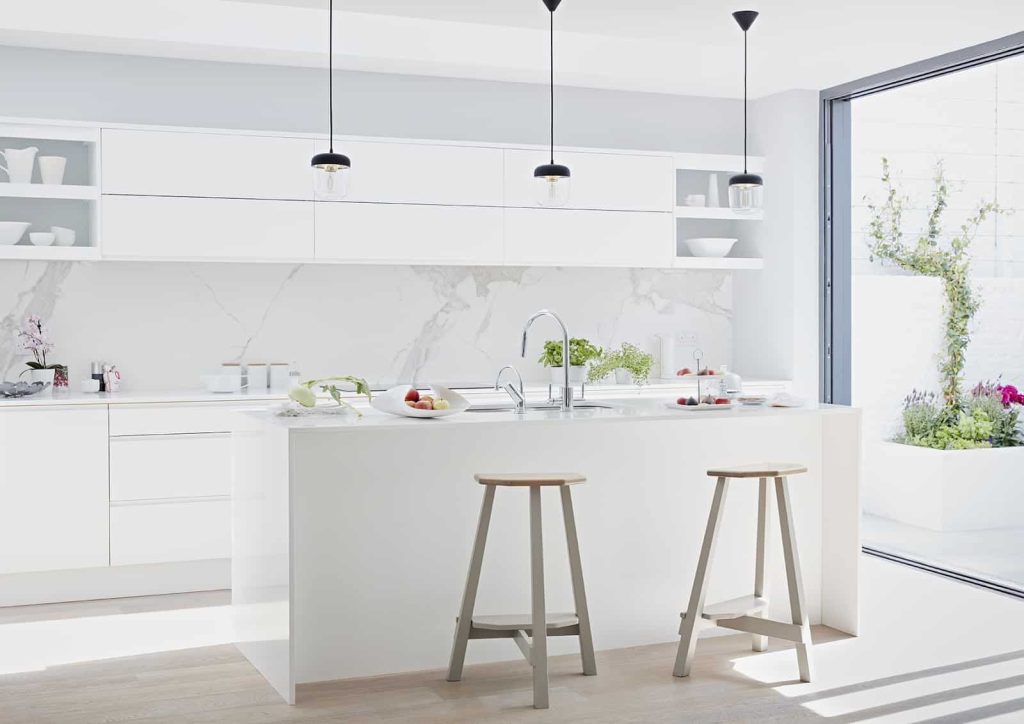 Small kitchen design
Small spaces need careful consideration to maximise their functionality. A Pure kitchen is a timeless choice and, when installed in lighter paint shades, handleless cabinets help to bring a feeling of light and space into a smaller area.
This picture perfect design uses a simple white colour scheme to create a sense of space, while the oak interior of the overhead cabinets provides a subtle warm tone that coordinates with the kitchen accessories. A speckled worktop and backsplash add interest and texture, and our designers cleverly coordinated the angle of the gull-wing door on our Pure handleless cabinet with the angular Karbon tap.
The end result is a small space that uses a flawless design to maximise the feeling of spaciousness and create a functional kitchen with understated character.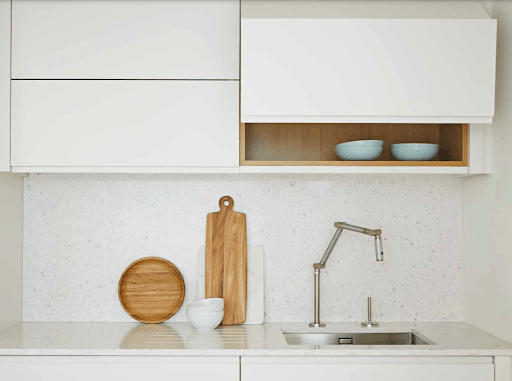 Pure and Simple
With a wide array of personal touches that can be tailored to every kitchen, our Pure range is ideal for creating a truly bespoke handleless kitchen with an effortlessly simple and refined feel.
If a deep and lustrous paint finish with clean, crisp lines appeals to you, take a look at our Pure kitchen gallery for further inspiration. Our talented design team would be delighted to discuss your kitchen ideas with you and help you find solutions to optimise your kitchen and living spaces. We are here to inspire and guide you throughout the whole process, from start to finish. Please get in touch with us or download our brochures for more information.
Book a free design consultation
John Lewis of Hungerford designers are on hand to bring your ideal home to life
Book a design consultation