5 Tips on How to Maximise Space in a Small Kitchen
Bespoke KitchensInspiration3rd November 2017 4 minute read
When it comes to kitchens, size isn't everything. Having a small kitchen doesn't mean you have to sacrifice style or function. It's all about making the most of what's available. Here are 5 tips on how to maximise space in a small kitchen:
1. In small kitchens, good storage is key. Utilising wall space is a fantastic way to create storage without minimising your floor area. Beautiful floor to ceiling cabinets work really well and building upwards keeps your worksurfaces free from clutter. Bespoke fitted cabinets make use of the 'dead space' that you get with standards cupboards and create a seamless look and feel. You don't have to opt for floor to ceiling cabinets as one. You can choose double-stacked cabinets which give an equally seamless style, but don't overwhelm. Consider having glass fronted doors for some of your cabinets, this will give a wonderfully light and airy feel to your kitchen, it also creates visual interest and allows the opportunity to display those extra-special pieces you don't want hidden.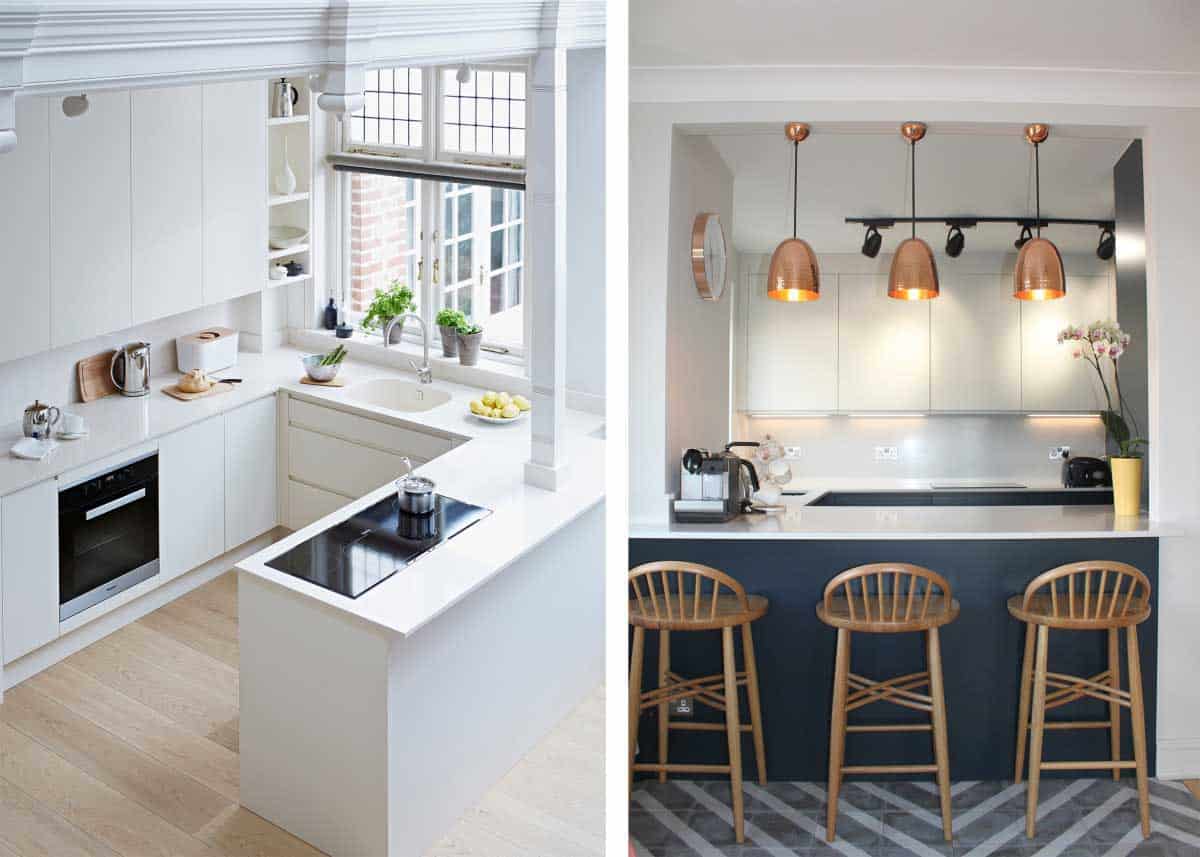 2. Floor to ceiling fitted cabinets work for all styles of kitchen, from classic to contemporary and even retro! If you have high ceilings this is a fabulous way to draw attention to the height and create an unforgettable look.
If this type of cabinet isn't for you, then open shelving is an equally stylish option, which really helps to open up a cramped space and is also ideal to display cook books and glassware. Or get creative and add some wall hooks for your pots and pans, another effective and eye-catching way to use wall space and keep your worktops uncluttered. Well thought out kitchen drawers with dividers can also transform the way you use your kitchen, keeping your surfaces tidy and providing a practical solution when it comes to cooking, making your kitchen an enjoyable place to be. If you need more inspiration, you can take a look at our kitchen and dining room furniture.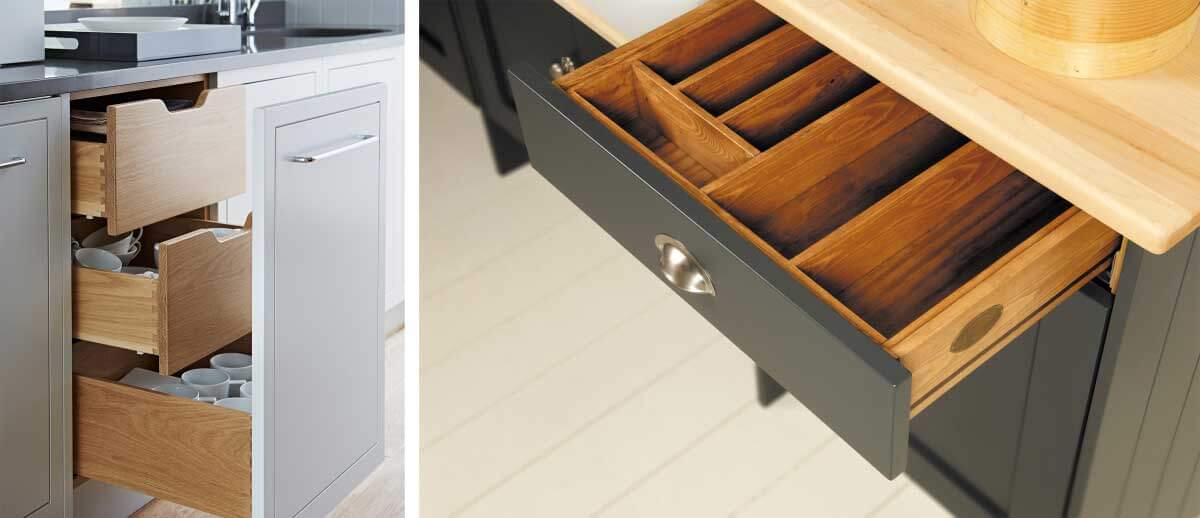 3. When space is limited you've got to get smart with storage. This is where you need tailored storage cabinets, which can make the most of awkward spaces, especially if you have an unconventional area with sloped ceilings or exposed beams. Installing a 'magic corner' unit in a small kitchen makes great use of the 'dead space' of a deep corner unit and nothing will get lost at the back.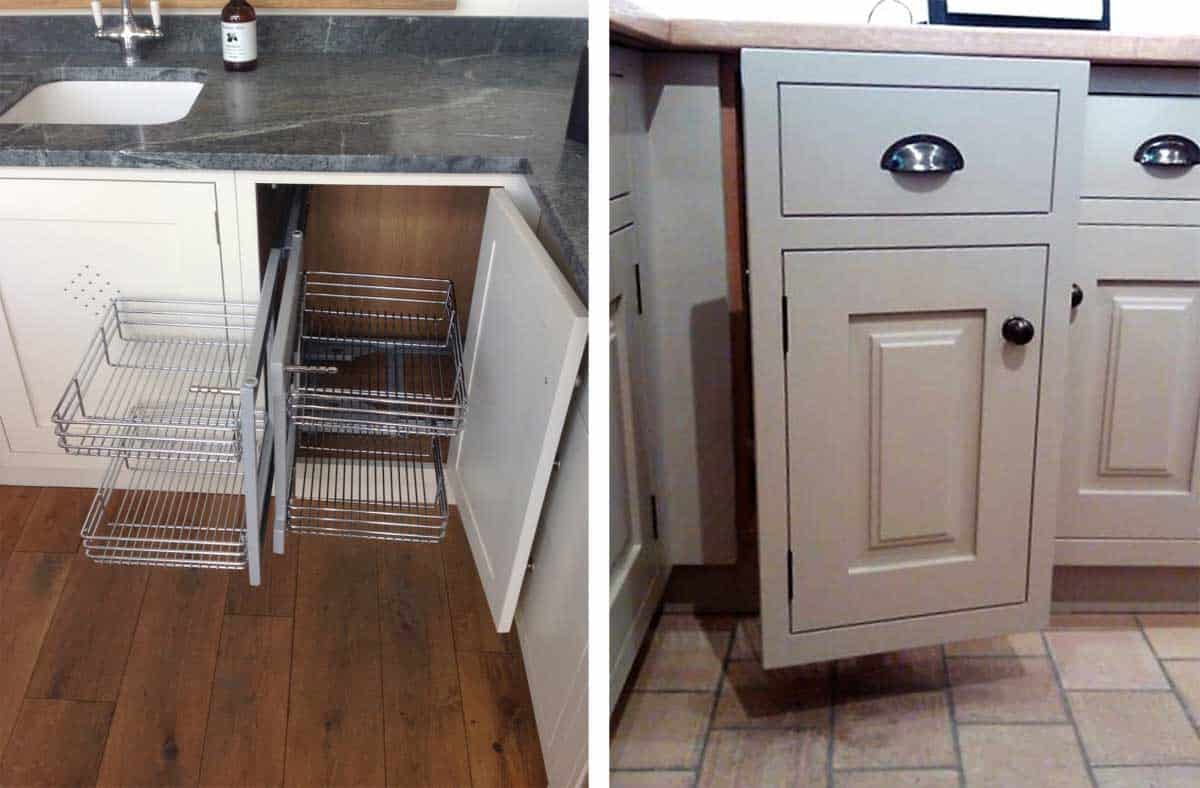 4. If you love the idea of having a pantry but are short on kitchen space, a slim pull-out pantry can be tucked into the tightest gap, and even items way at the back are easily accessible.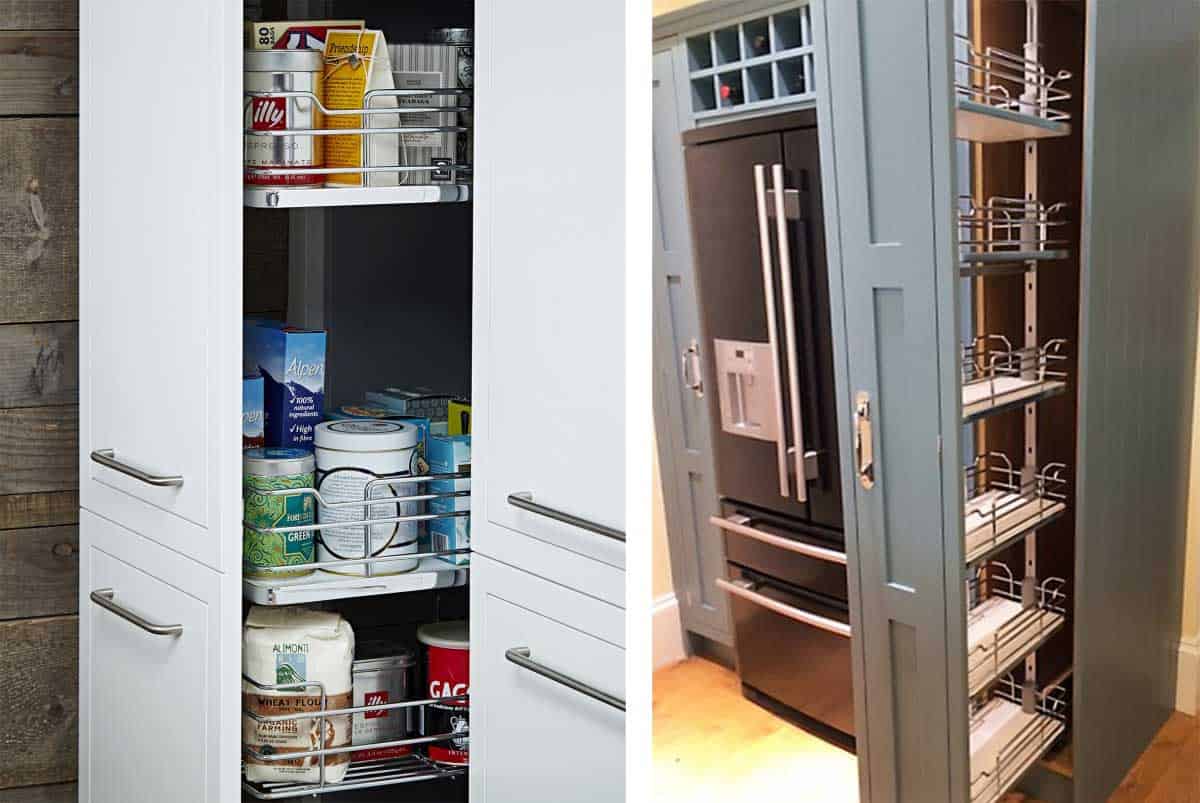 5. The right colours in a kitchen will provide the lift needed to update and open up the confines of a small kitchen. Shades of white are always a good choice if you have a small kitchen, as they reflect light and create the impression of spaciousness. You can always liven up a neutral kitchen space with pops of colour.
Read all about adding colour accents to kitchens here
Reflective surfaces amplify the effect of natural and artificial light. Having a mirrored spashback not only transforms your kitchen into something of elegance, but it creates a simple yet extremely effective way to make your small kitchen feel bigger, especially if it reflects the view from outside. Clever lighting is important to consider, a simple ceiling light is often insufficient, especially in a small kitchen. Adding down lights underneath cabinets makes a small kitchen feel much bigger and brighter. Dark areas can often make a small kitchen appear even smaller, by shining light in all the corners of a room, details that would otherwise go unnoticed can be accented. Try using hanging pendant lights to make the room look bigger too, these look best above a kitchen island or table.
It may seem like a small thing, but in a narrow galley kitchen, it's easy to knock into bulky knobs and handles. Keep things looking and feeling sleek by choosing minimalist cabinetry. Take a look at our Pure handleless range for inspiration.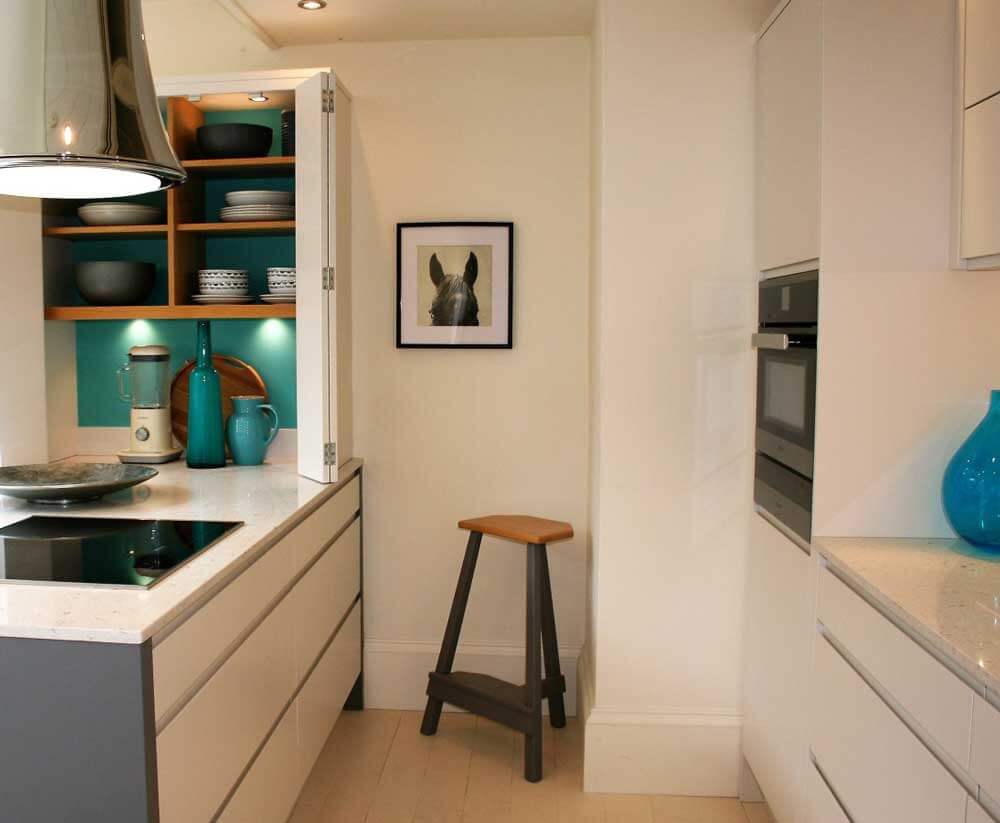 If you're looking for more small kitchen design advice, tailored for your home, get in touch and we'd be happy to help.
Book a free design consultation
John Lewis of Hungerford designers are on hand to bring your ideal home to life
Book a design consultation