Marble Effect: Inspiring Ways To Use Marble In Your Kitchen
Inspiration14th March 2022 5 minute read
Luxurious, sophisticated and naturally beautiful, marble has long been a prized material in interior design. In this blog, we explore elegant options for incorporating marble and marble effect surfaces into your kitchen design.
What Is Marble?
Marble is a naturally occurring metamorphic rock that's formed when carbonate materials (usually dolomite or calcite) are recrystallized. The etymology of the word marble is derived from the ancient Greek μάρμαρος (mármaros) which means "crystalline rock" or "shining stone". Many varieties of marble exist, with different shades and marble effects occurring in different world regions — from salmon coloured Etowah marble in the state of Georgia (USA), to black Nero Marquina marble from Markina (Spain).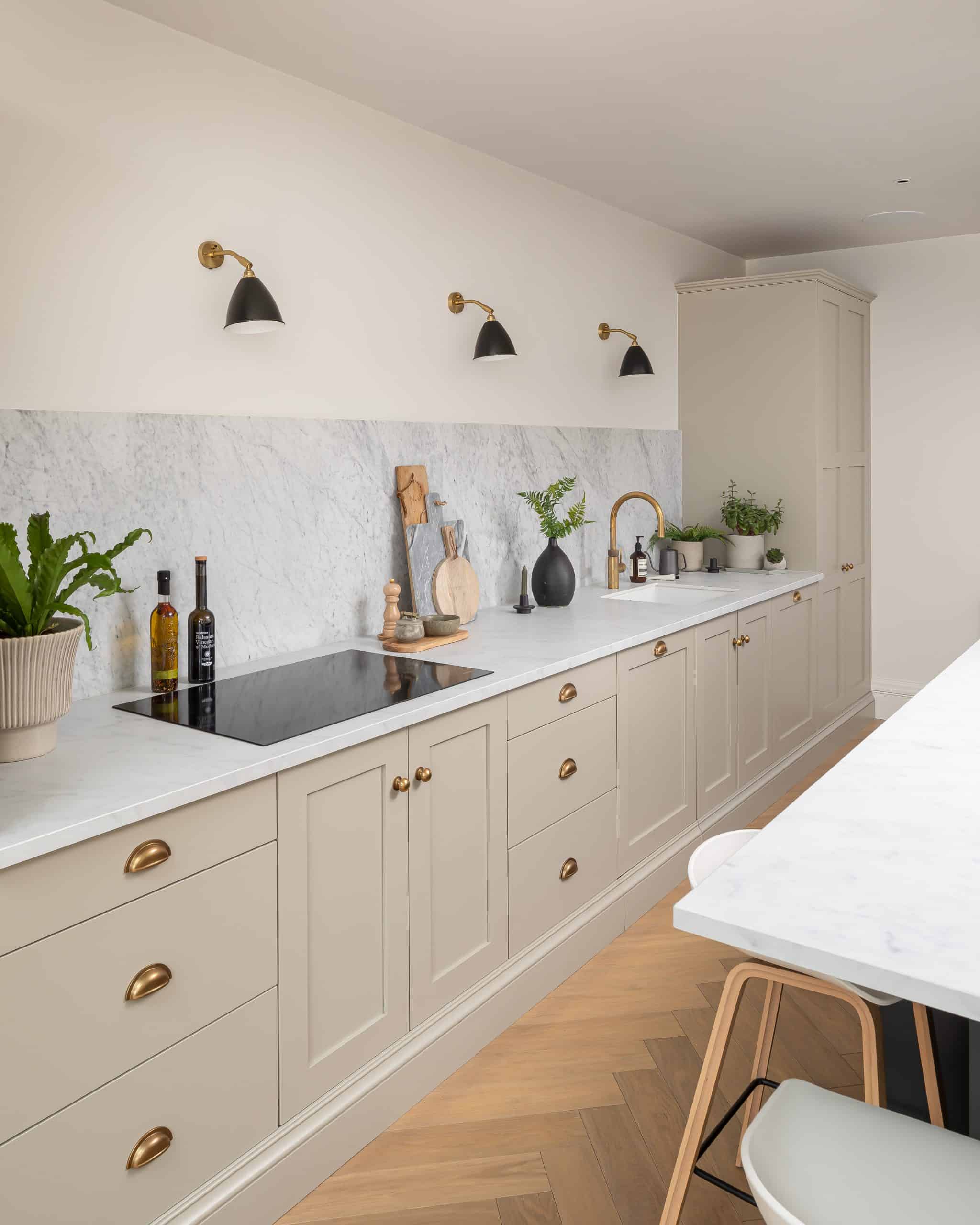 Although used in earlier prestigious constructions, some of the first known marble quarries can be found on the Greek islands of Paros and Naxos, in the Aegean Sea. Extracted on these sites since at least 300 BCE, marble was traditionally painstakingly cut away from its surrounding quarry and hauled away for use.
Many ancient marble wonders live on from ancient times, including the Parthenon Sculptures (from 440 BCE) and more modern constructions like Marble Arch in London (from 1827 CE). Today, marble and marble effect surfaces remain enduringly popular and ever-more widely used, as the material and its alternatives become increasingly accessible in everyday interior design. If you love the look of marble, these luxury kitchen design ideas are perfect for upgrading your property.
Luxury Patterned Worktops
Marble worktops are a timeless interior design classic. Hard-wearing, durable and elegant without being ostentatious, installing a variegated or white marble effect worktop is a fantastic choice for those seeking long-lasting style in their kitchen. As marble is available in long, seamless slabs, a worktop is the ideal place to show off the material's natural beauty to its greatest advantage. This stone may be ancient, but its clean, natural and high quality appearance has an enduringly contemporary look which blends effortlessly into modern kitchen designs.
If marble is not within your budget, there are many substitutes available, including patterned, coloured and white marble effect worktop alternatives which look every bit like the real thing.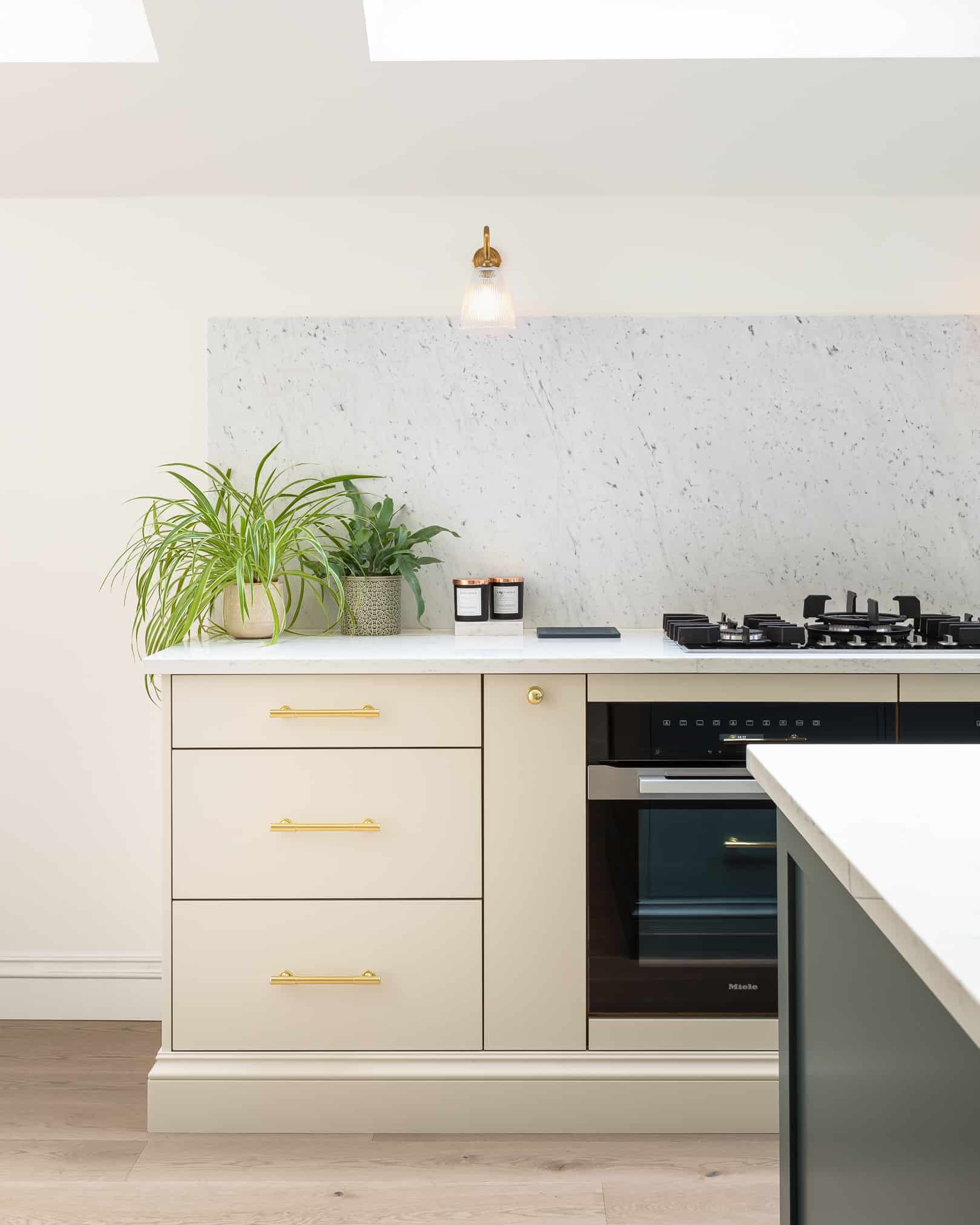 Bright Splashbacks
Just as unbroken slabs of marble can be used to their best advantage as seamless kitchen countertops, they are also a beautiful option for elegant splashbacks. Easy to wipe clean, stain resistant, with impressive durability, marble doesn't simply look lovely, it's also made of surprisingly tough stuff.
The natural gorgeousness of marble makes this material a wonderful statement splashback option, which adds immediate visual flair without overwhelming a kitchen interior. Perfect for styling with neutral walls and minimalistic cabinetry with statement metal touches — we love pairing cool marble with warm gold-hued fixtures, like cupboard handles — marble is the perfect material for calm, pared back kitchens which retain a sense of luxury.
A fabulously versatile kitchen design element, marble and marble effect tiles can be elevated or dressed down as your kitchen style evolves.
Contemporary Kitchen Islands
A centrepiece within any kitchen, kitchen islands are the ultimate place to showcase the beauty of marble. A place for families to gather, coffee to be shared, friends to socialise and work to be done, the kitchen island is often the hub of the modern home.
If you want to add design flair to your kitchen, the kitchen island is the place to realise this vision. Tie your interior together by using marble effect tiles consistently across your kitchen surfaces, or make a statement with a high contrast, marble-topped kitchen island. With many different marble shades and marble effect colours available, you can easily create contrast against the rest of your kitchen.
The John Lewis of Hungerford designers and craftspeople specialise in bespoke kitchen islands, built to realise your unique interior design ideas. Download our brochure for more kitchen layout inspiration in a wide range of styles.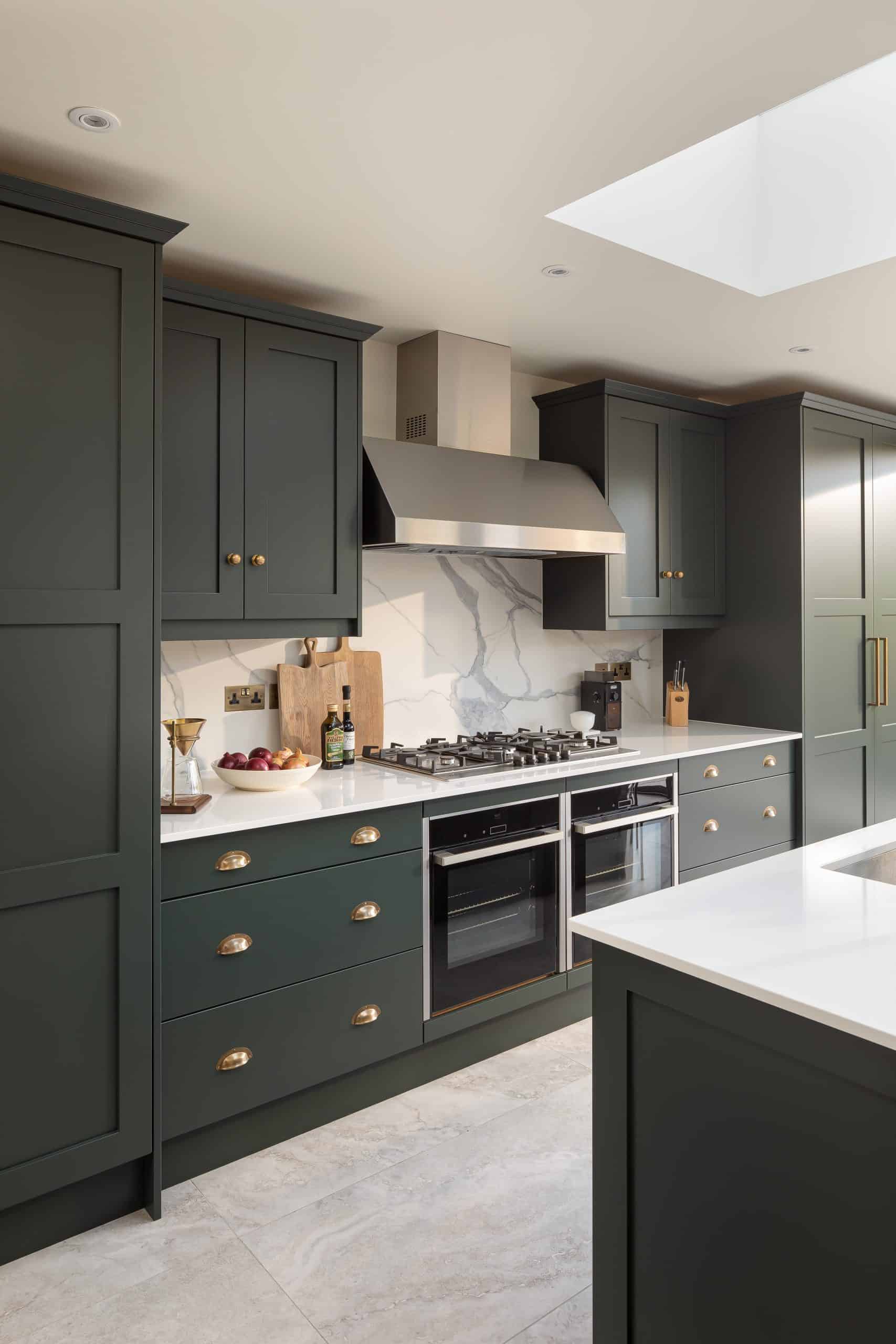 Bright Kitchen Flooring
Marble and marble effect kitchen flooring offers immediate sophistication. Sleek, minimal, natural and beautifully bright and contemporary, both marble effect tiles and real marble flooring add a timeless touch to any kitchen.
Classic light marble effects (whether pure or variegated) are popular colour options for kitchen flooring, adding instant lightness and cleanliness. For more innovative and creative alternatives, you could also consider marble effect tiles in unconventional shades, to add a bold colour splash to your kitchen. This guide to colour in contemporary kitchens is full of bright ideas.
If you're considering a marble kitchen floor, it's important to be aware of the upkeep your new flooring will require:
Regular dusting
Like any hard surface, marble's beautifully smooth surface can accumulate dust easily. To ensure your marble kitchen floor stays spotless, frequent dusting will be necessary to keep your surface sparkling.
Mild detergents
Unlike more synthetic surfaces, marble is a natural material with its own unique properties and characteristics. One such property is porousness. This means that marble can be prone to absorbing liquids, particularly harsher chemicals. For this reason, only mild detergents, applied using a soft cloth, should be used to clean marble floors.
Careful rinsing
To protect your marble surface and to ensure it retains its beauty for as long as possible, rinse your flooring after gentle cleaning in order to rinse away any remaining chemicals, no matter how mild. Once cleaned with a very mild detergent, rinse the surface with cool, clean water.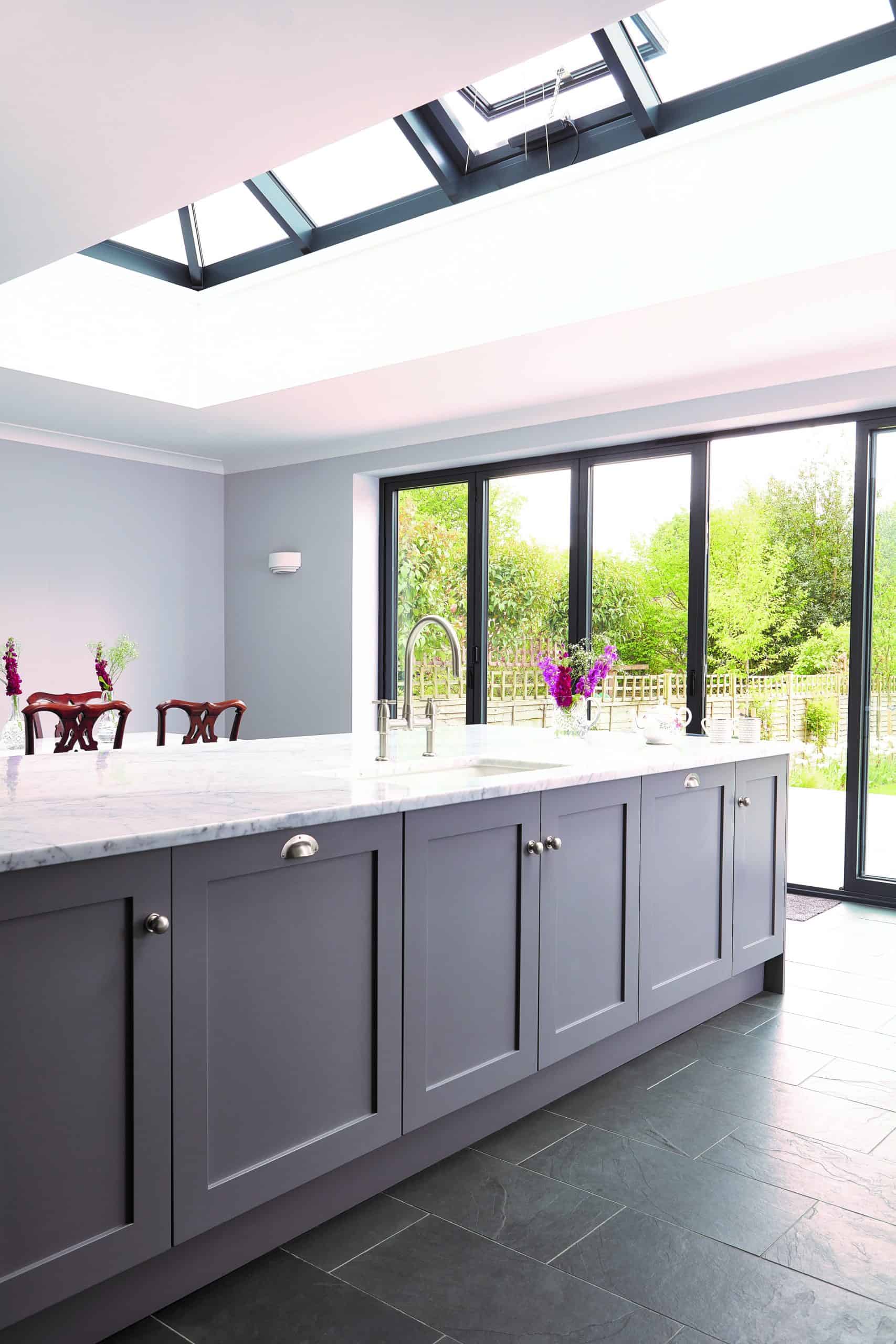 Statement Marble Accessories
Whether you're extending a marble theme through your worktops and kitchen island, or simply looking to add subtle marble effect touches (without a larger statement piece), marble accessories are an easy way to incorporate the material into your kitchen.
From marble-effect crockery to trays, tumblers and soap dishes, it's easy to add these sleek touches to your kitchen, without a more substantial investment. For creative types, marble effect paint (particularly spray paint) can be purchased and used to upcycle your existing kitchen accessories.
Marble Finishes with John Lewis of Hungerford
The John Lewis of Hungerford designers and artisans have the expertise to make your kitchen inspiration a reality. We work with you from first idea to final fitting, imagining, designing and installing made-to-measure cabinetry, worktops and more. From marble-effect splashbacks, to statement kitchen islands, contact our team to realise your kitchen interior design vision.
Book a free design consultation
John Lewis of Hungerford designers are on hand to bring your ideal home to life
Book a design consultation