6 Tips to Design the Luxury Kitchen Extension of Your Dreams
Inspiration21st August 2022 5 minute read
You may have gotten to know the walls that make up your kitchen far too well over the last couple of years, and think it's about time for a redesign. Perhaps you need more space for your growing family, or you're looking to increase your property's value with an extension.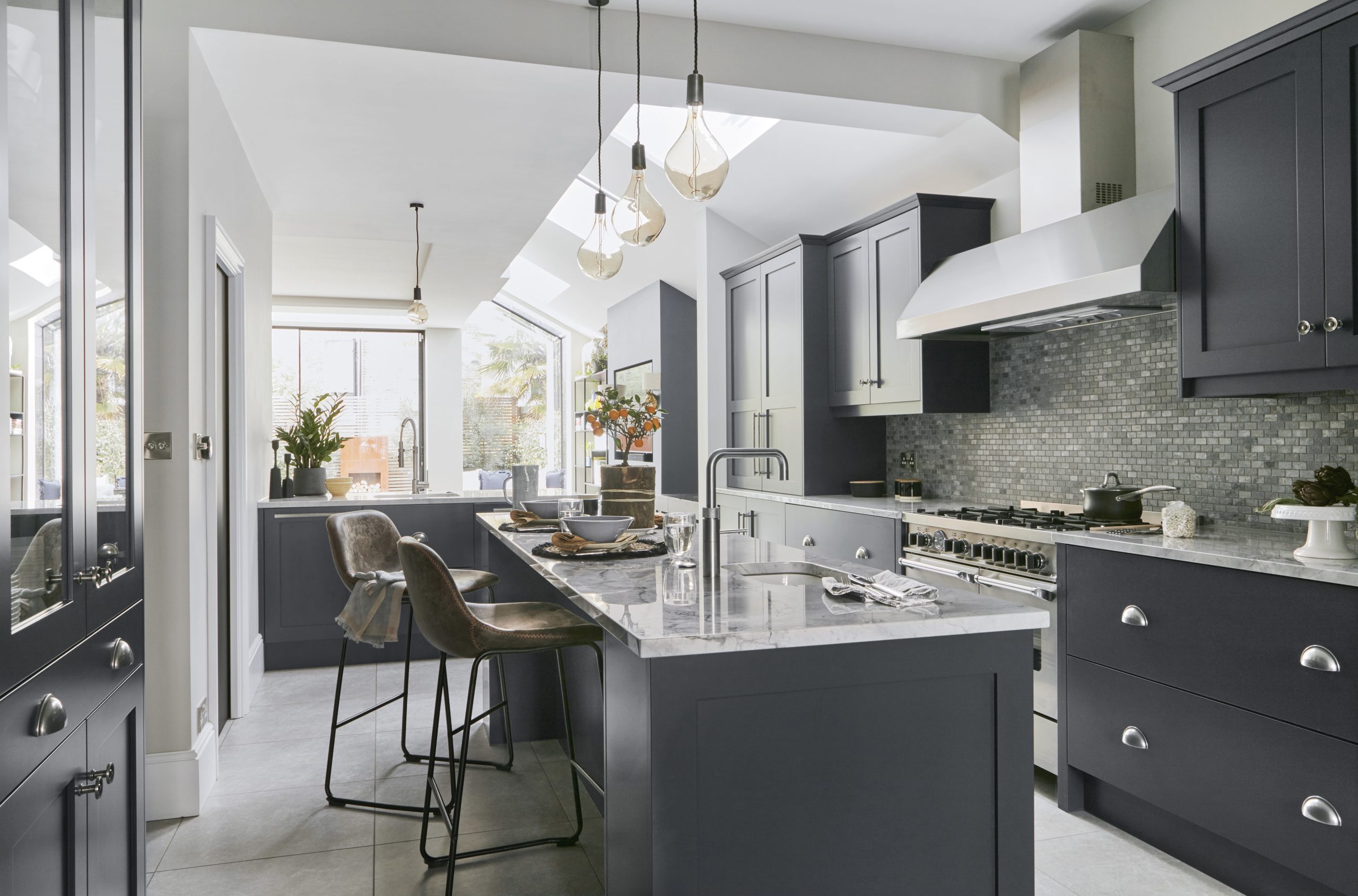 Whatever the reason, it's important not to rush into a complete kitchen redesign without stopping to consider how the space can and will be used. The kitchen of your dreams is certainly possible to create, and acknowledging that it may become a staple of togetherness within your family for generations to come will be a key factor in deciding to invest in a kitchen extension.
When designing luxury kitchens, our designers will take your existing space and work with you to enhance it. Working closely with you, our designers will add their expert knowledge on layouts to your dream plans, so your extension flows seamlessly with the rest of your kitchen and, ultimately, showcases your unique style.
Consider Layout and Style
In the kitchen of your dreams, what do you see? Friends laughing, gathered around a warmly lit kitchen island, or perhaps little ones tucked into a breakfast bar as they pass around maple syrup? In either case, your kitchen layout will need to support the happy times ahead. If you're unsure what this could entail, have a read through of our kitchen design ideas for 2022, for inspiration and a look at popular styles.
John Lewis of Hungerford designers can help you determine what it is about your current kitchen layout that's working in your favour, and where some additional space will help you to fulfil the plans you have for your future kitchen. If your current kitchen layout doesn't have the space to incorporate the vast marble or granite worktops that you've been dreaming of, an extension can not only provide the space but also act as a spacious hub for family and friends to gather in.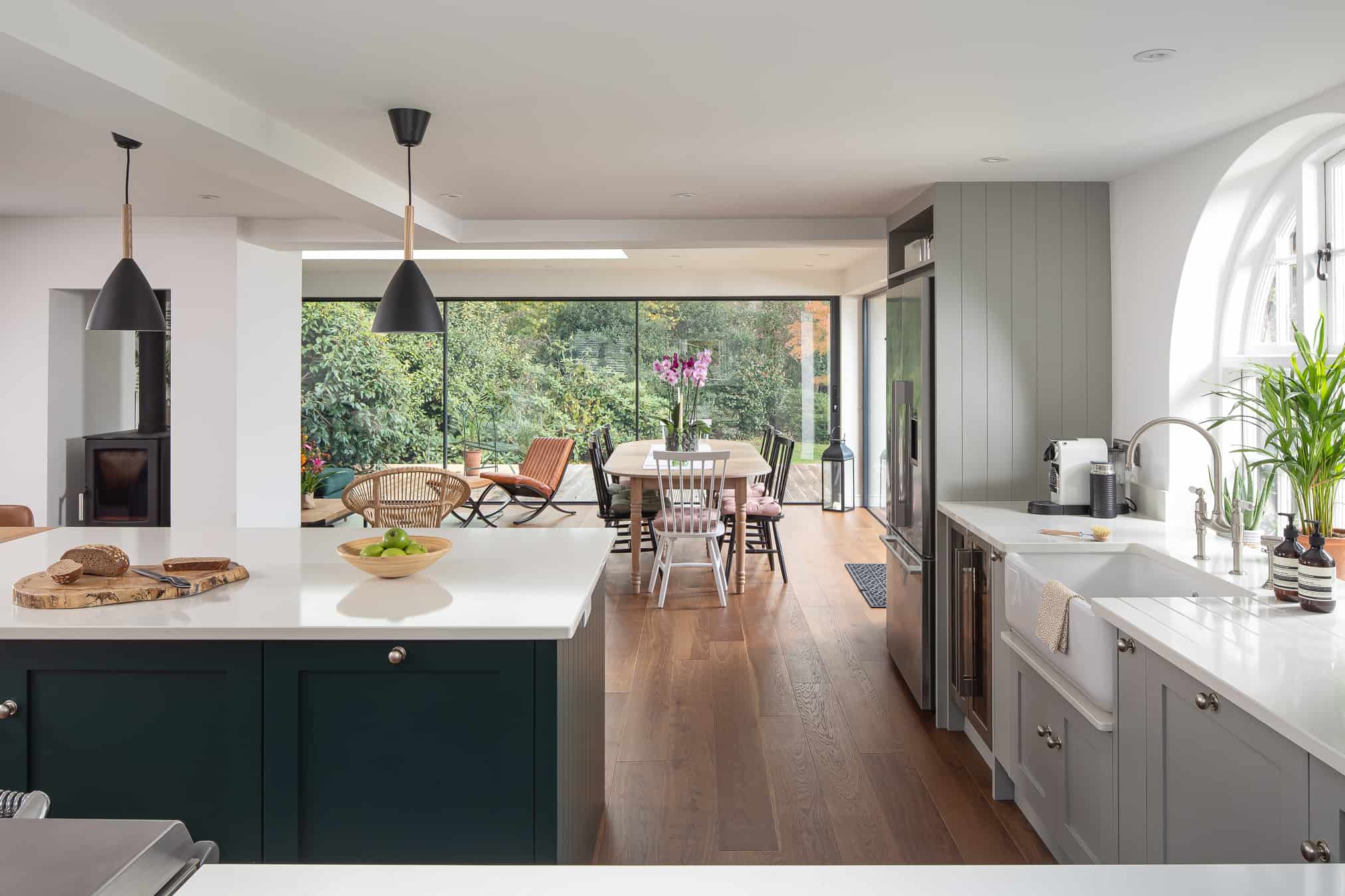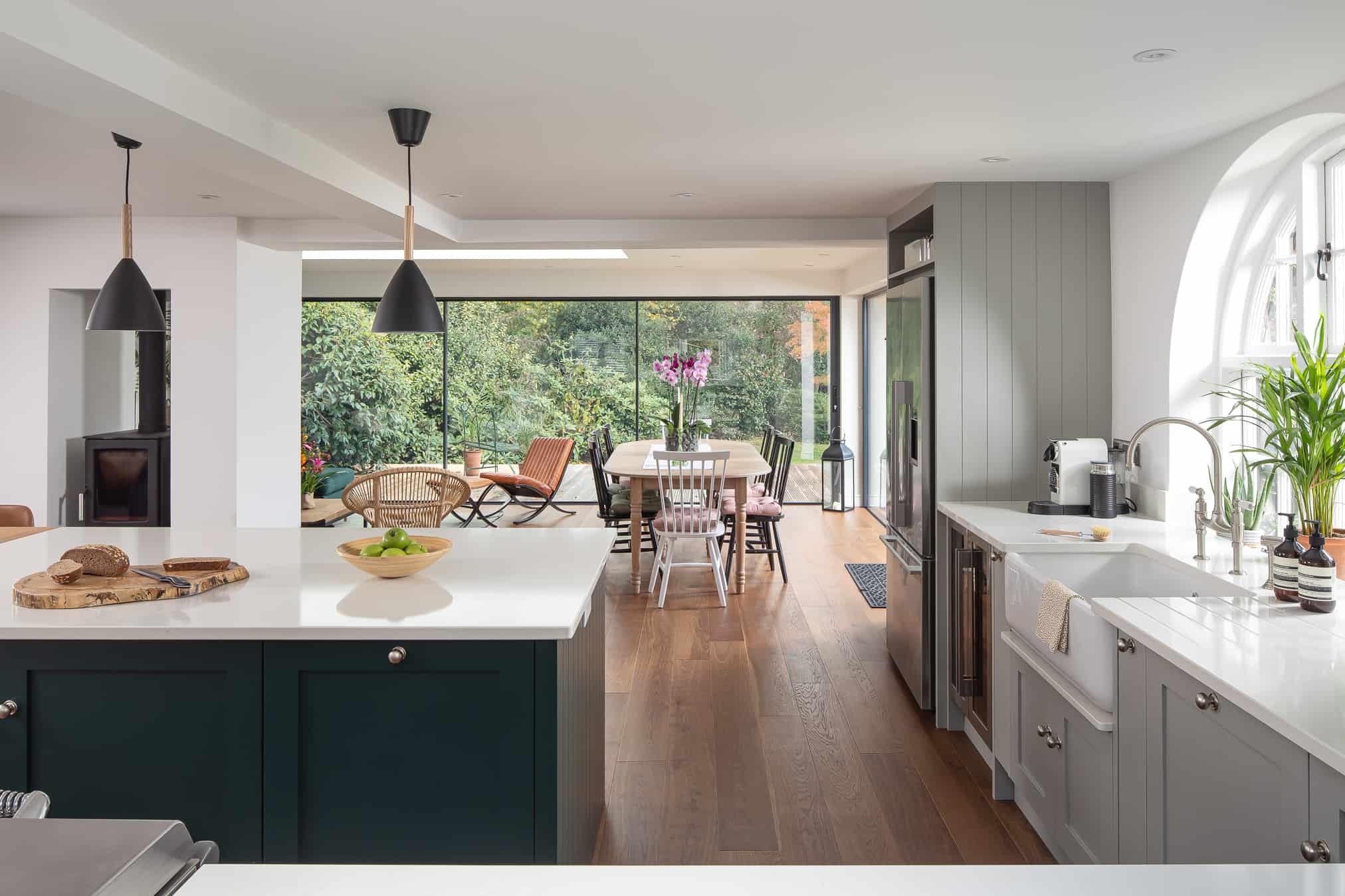 Think About the Lighting
Natural light plays a huge factor in the perception of your kitchen. It's the secret ingredient to making a space appear bigger and more welcoming, perfect to keep on your list of small kitchen extension ideas if you're working with an already petite space. In designing your extension, you've got the valuable opportunity to increase the amount of natural light that washes over your kitchen.
If you're not one of the lucky homeowners that are hosts to a south-facing kitchen, underscoring the natural light you are able to bring in through the thoughtful placement of large windows, glass doors and ceiling hatches will be key to maximising the natural light in your kitchen.
As you imagine life in your newly expanded kitchen, how do you see your family and guests interacting with the space? If the kitchen island will become a staple of daily life, choosing the right lighting will not only enhance the atmosphere of the room but become integral to its function.
Whether you opt for dramatic pendant lighting to spotlight homework time in the future, or would rather go for LED recessed lighting to illuminate your kitchen workspaces, the way light is layered within your kitchen will make or break its look, feel and functionality.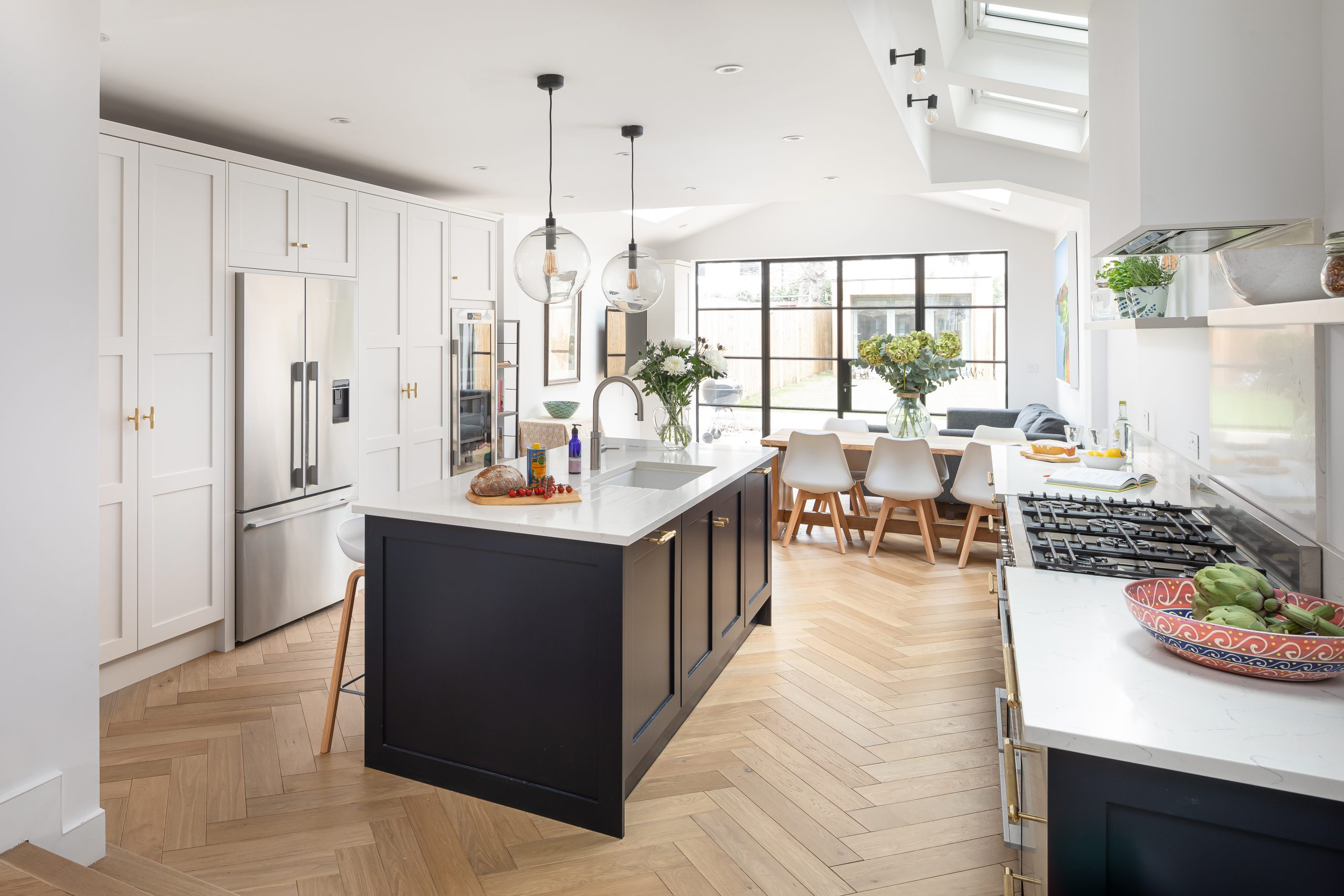 Choose Your Kitchen Colour Scheme
There are many ways to make an impact in your kitchen by experimenting with colour. Depending on your personal style, a feature wall may be up your alley. Choose a wall in your kitchen that naturally draws the eye in, by incorporating a splashy colour that goes with your existing colour scheme, or opting for a complete redesign of the current paint pallet with an expertly designed mural that ties the whole space together. Different colours and designs make it easy to reimagine what a kitchen should look and feel like in a playful way.
Kitchen extensions are an invitation to incorporate dark, moody colours or matte finishes to your space if that's something you've been dreaming of. Since colours on the darker end of the spectrum absorb natural light, you won't be at too much of a loss when you extend the size of your kitchen as the extra room will still boast plenty of space for light to shine.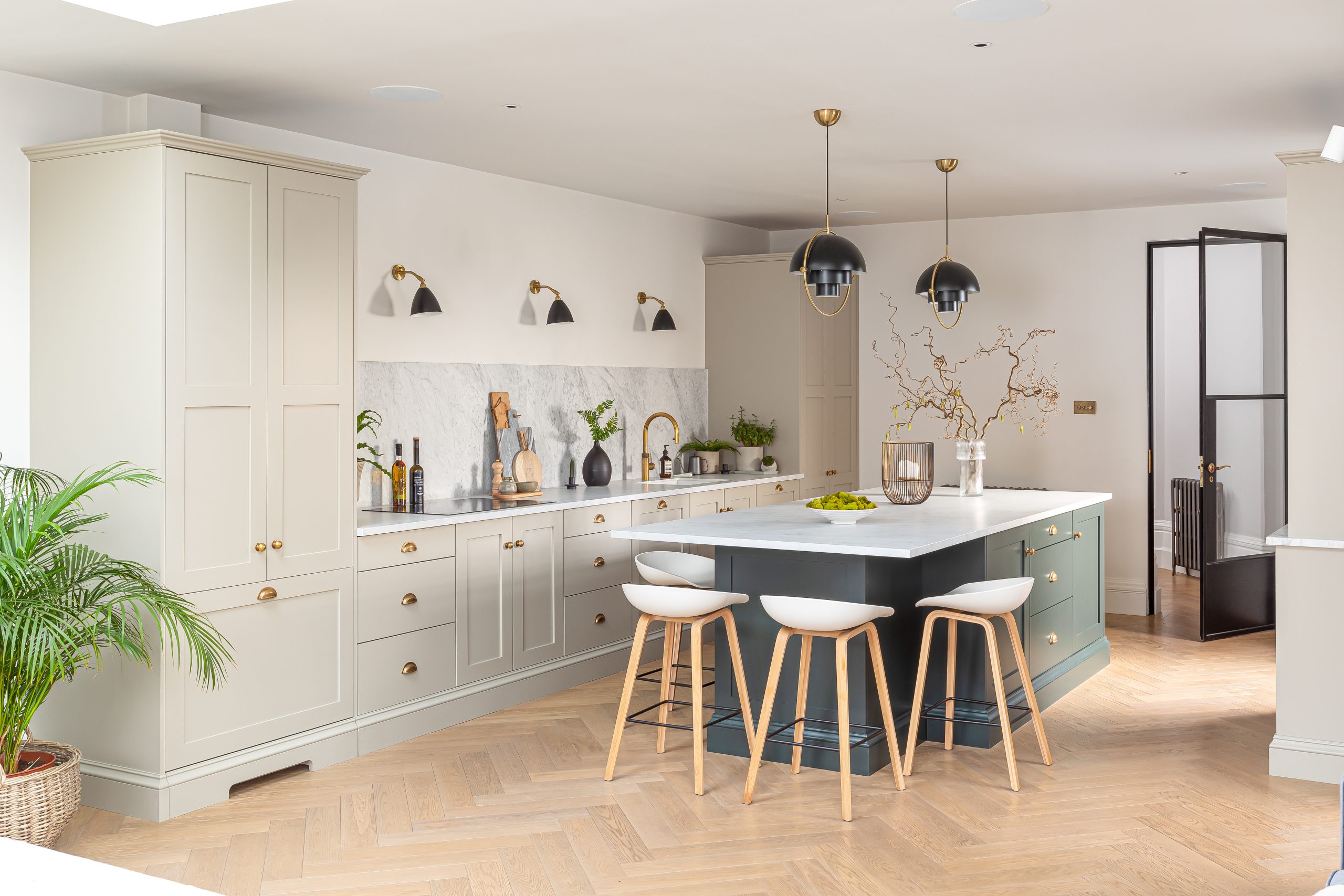 Add Texture with Materials 
You could have the most beautiful kitchen in the world, but if it doesn't strike the right balance with texture, chances are it will simply fall flat. Adding texture to a kitchen design is relatively easy; it just comes from the right choice in materials. 
Adding tactile appeal and visual interest to your kitchen will be important players when it comes to the overall depth and impression of your kitchen. Just as it is important to layer lighting within your kitchen, it's also key to layer various textures. This can be achieved through the thoughtful application of different materials.
Mixing materials, such as natural wood finishes with exposed brick, for example, is a practical way to curate interest within your kitchen without overpowering the space. Composite worktops may become your best friend at this point in the design process. Not only are they a useful way to keep kitchen extension costs down, but this type of worksurface is also brilliant because it can be found in nearly every finish, such as granite or marble, without the potentially tedious upkeep that is necessary for the authentic material.
As you near the end of your kitchen renovation, you should shift your focus to the little things – the details. Often overlooked as an opportunity to add texture to your kitchen, remember that details are an opportunity to add thoughtful moments and variety to your space. Updating your light switches or using unique hardware where applicable can add simple moments of personality that will make a big statement, overall.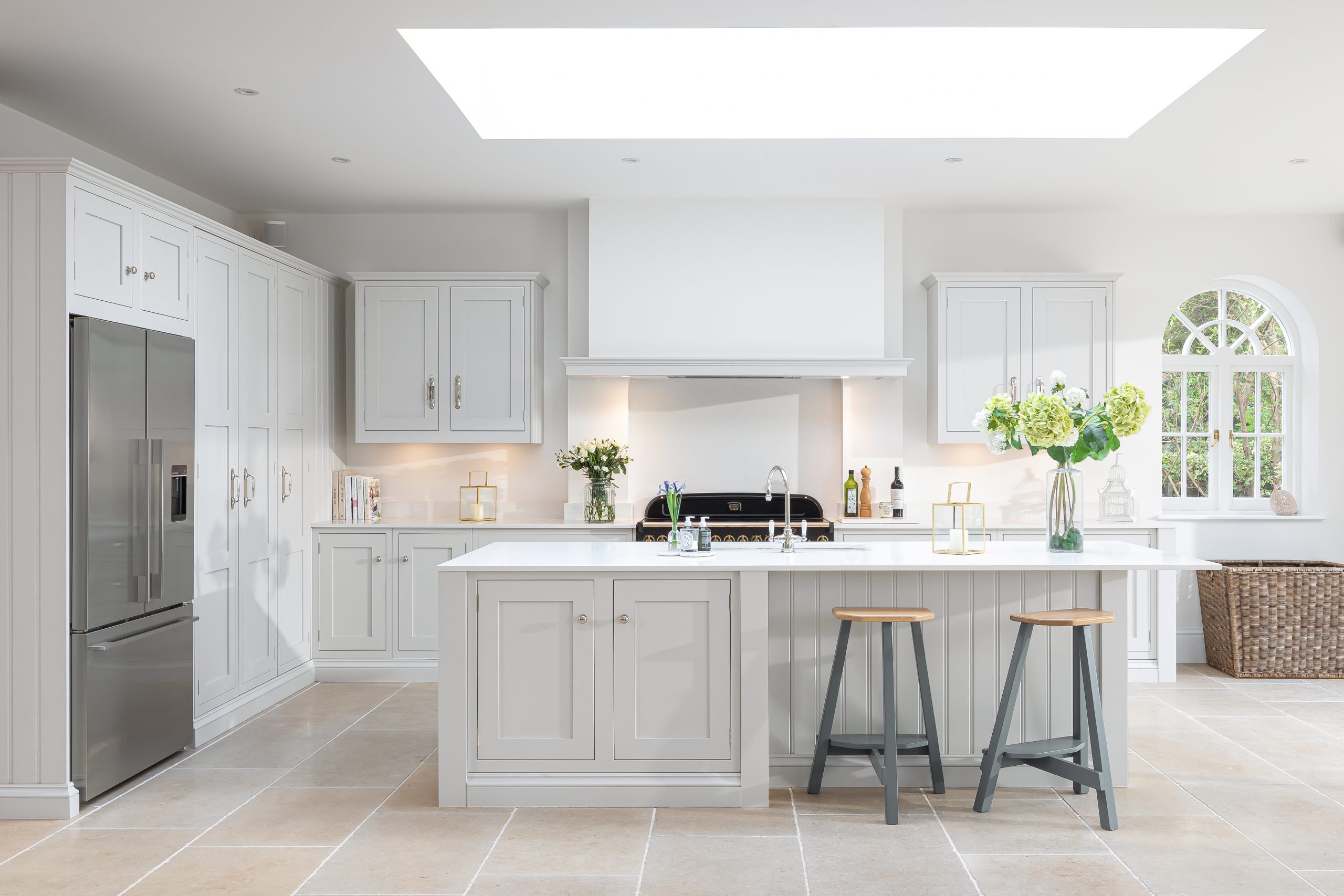 Designing a Luxury Kitchen Extension with John Lewis of Hungerford
Our dedicated designers can assess your current kitchen layout and collaborate with you to create a luxury kitchen extension that would make the perfect accent to your home's sense of place and purpose. For inspiring kitchen remodel ideas, take a look at our brochure. We want to help you to make the most of your space and bring your vision to life.
Our experienced team of specialists are on hand every step of the way, to answer questions and offer advice in executing the kitchen extension of your dreams. Contact our team when you're ready to start the process of your kitchen remodelling so that you'll be sipping tea under your new ceiling hatches come autumn.

Book a free design consultation
John Lewis of Hungerford designers are on hand to bring your ideal home to life
Book a design consultation