4 Clever Kitchen Storage Ideas To Maximise Space
Inspiration28th April 2022 5 minute read
Nothing sets the soul at peace quite like a well-organised home, but keeping the kitchen in order can be a challenge for anyone. With the kitchen acting as the hub of your family's home life, it can quickly become cluttered and messy. Factor in busy family life and long days at the office, and the next thing you know, you're dealing with an avalanche of crockery, mugs, bottles and more.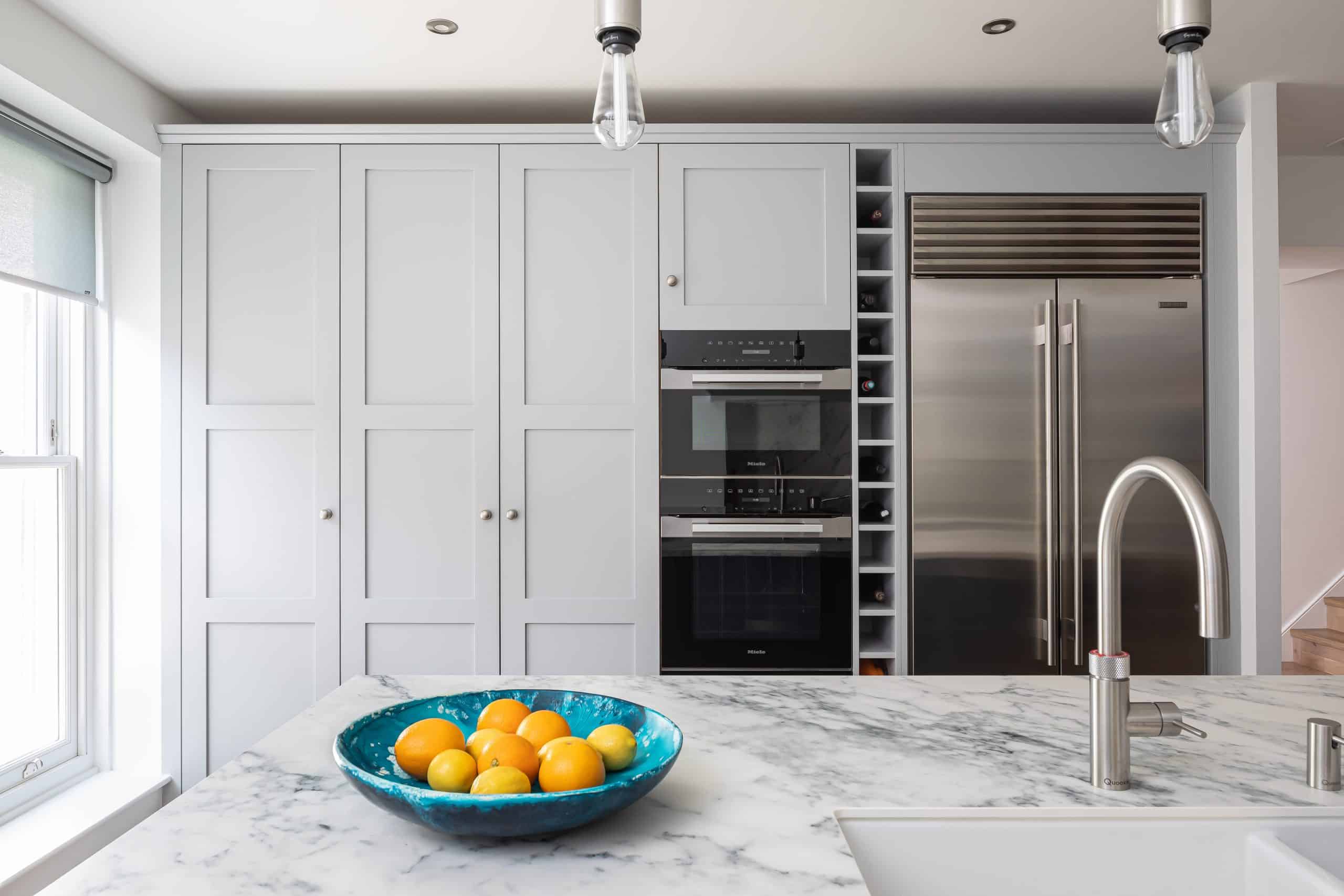 If you're looking at upgrading your kitchen to deal with everything you've managed to collect over the years,  an important place to start is by deciding on storage options. After all, an organised kitchen means an organised home. We're here to help you learn how to situate and organise your home with storage ideas that instantly maximise space, functionality and the intended style of your bespoke kitchen.
1. Corner Cabinets
Commissioning custom-built corner cabinets is a great way to save space in any kitchen. Fitting snugly into a corner, you'll instantly transform unused space into a beautiful showpiece to display your heirloom crockery, mixing bowls and more. You can opt for a floor-to-ceiling unit with glass doors or an under the counter option with a built-in rotating tray to tuck away all your spices and sundries. A hallmark of the country aesthetic, corner cabinets are now a must-have in any modern kitchen and make for a welcome addition to any kitchen design.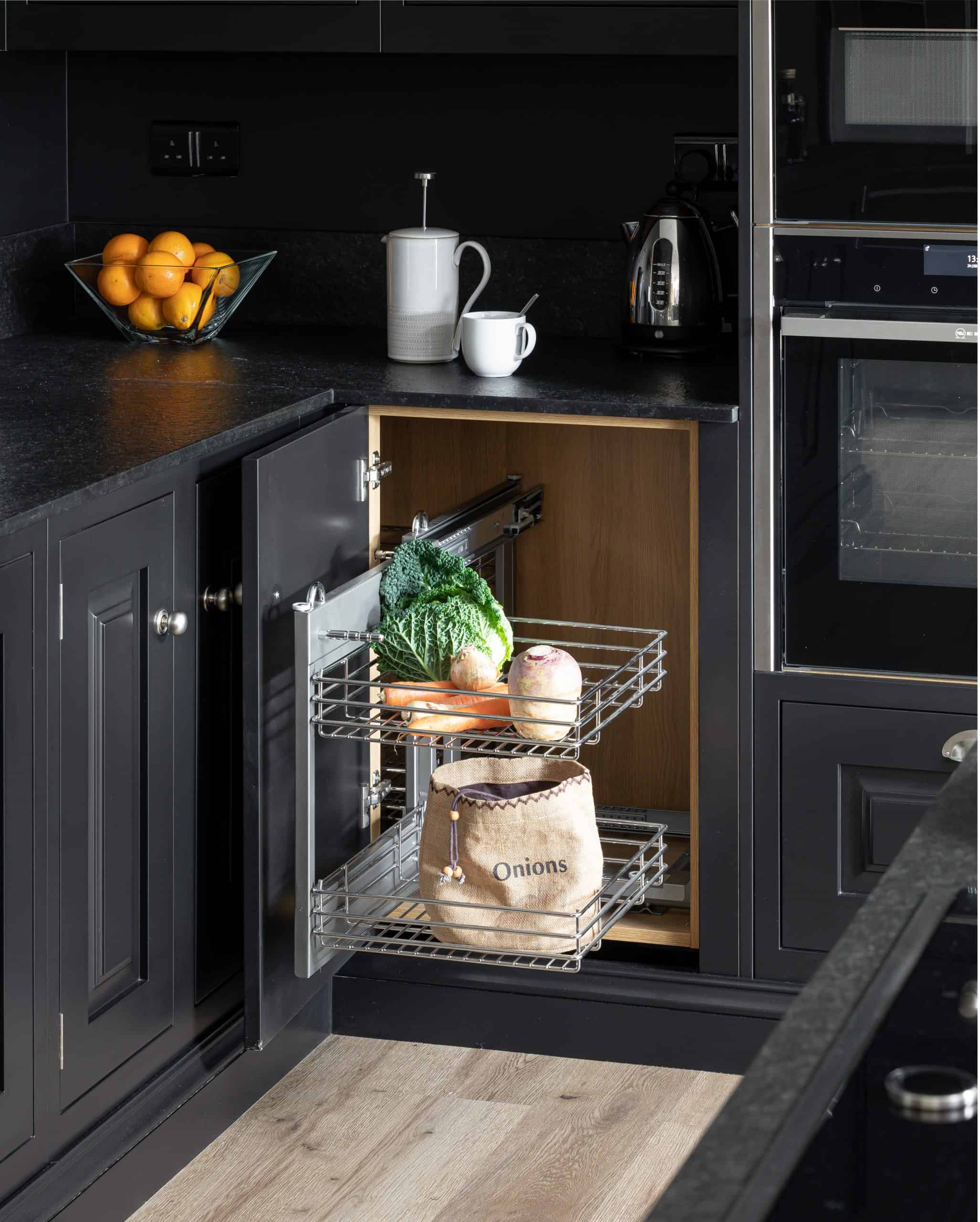 How to organise your corner cabinets:
Because corner cabinets can be tricky to organise and navigate, we thought it would be helpful to provide some tips for keeping everything tidy.
Pot rack:

A popular solution for deep corner cabinets is to install a pot rack. These often metal racks resemble the racks you'll find in your dishwasher but, instead, they're mounted inside your corner cabinet, giving you easy access to your most used items

Wire shelving:

A wire shelving unit is one of the most affordable (and easiest to install) options for storing your mugs, dishes or cleaning products. These shelves will nestle securely inside your corner cabinet to store everything you need nearby but out of sight.
2. Bottle Storage
Wine lovers will know how the right bottle storage can transform your home and those evenings focused around entertaining. To keep your bottles (and their precious contents) in the best shape possible and clutter to a minimum, you'll want functional yet stunning storage for your collection. A lovely timber wine rack compliments almost any design aesthetic for any of your bottles, and can be easily concealed amongst your cabinetry. If something more whimsical or sleek is your desire, our design team would be delighted to mock up a design completely unique to your exacting standards that complement your existing kitchen design.
If you're not a wine connoisseur, a simple brass tea trolley or freestanding pantry serves as a lovely space to display not just a collection of exotic liquors, but bar tools like cocktail shakers, ice buckets and glassware. Raise your glass and prepare to toast your ingenuity and organisation.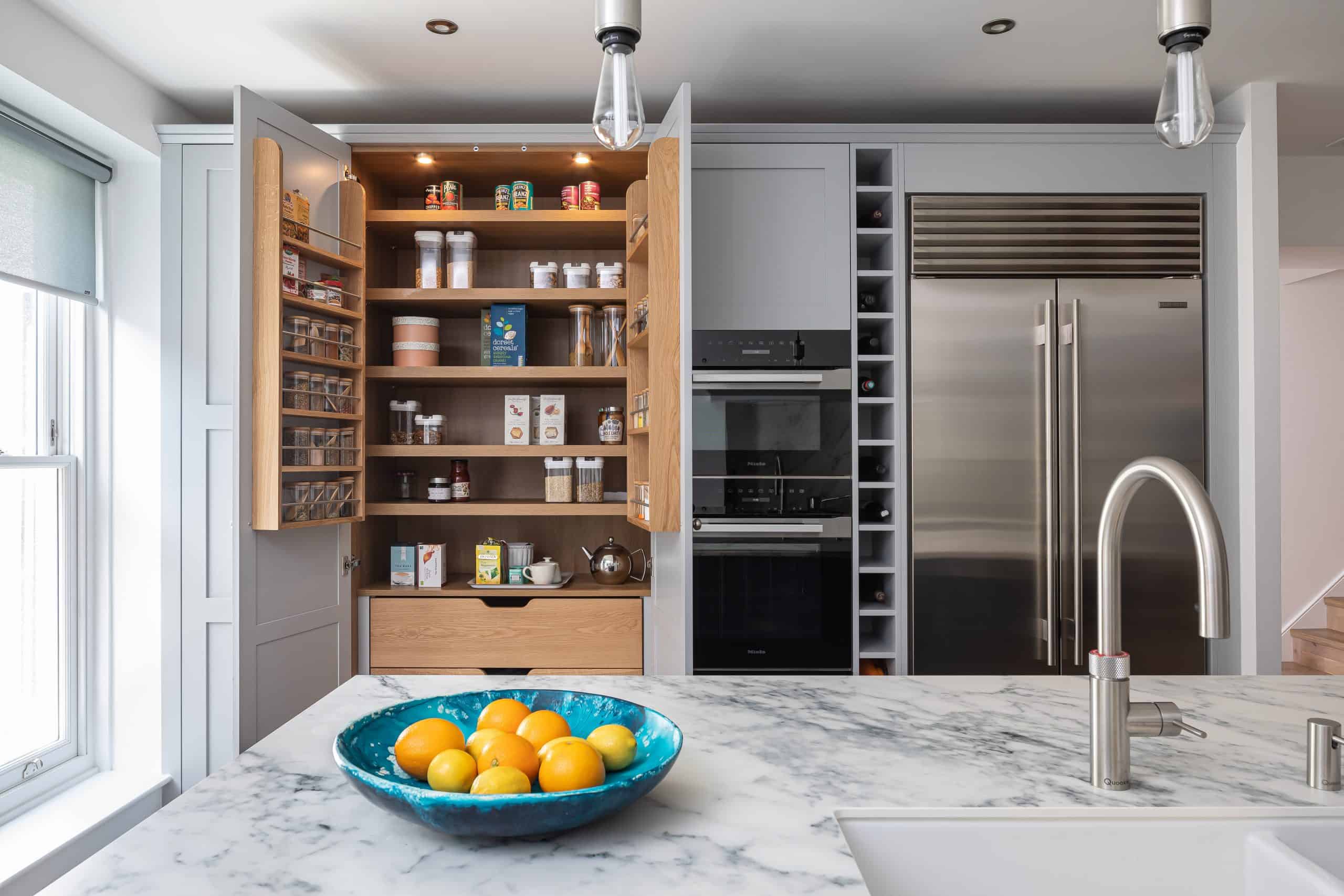 Smart bottle storage solutions:
Countertop bottle racks: This type of bottle rack rests on your countertop, which is an excellent option if displaying them is your desire.


Wall-mounted bottle racks: Wall-mounted bottle racks make sure you use the empty space on your walls to provide a designated place to display your favourite bottles.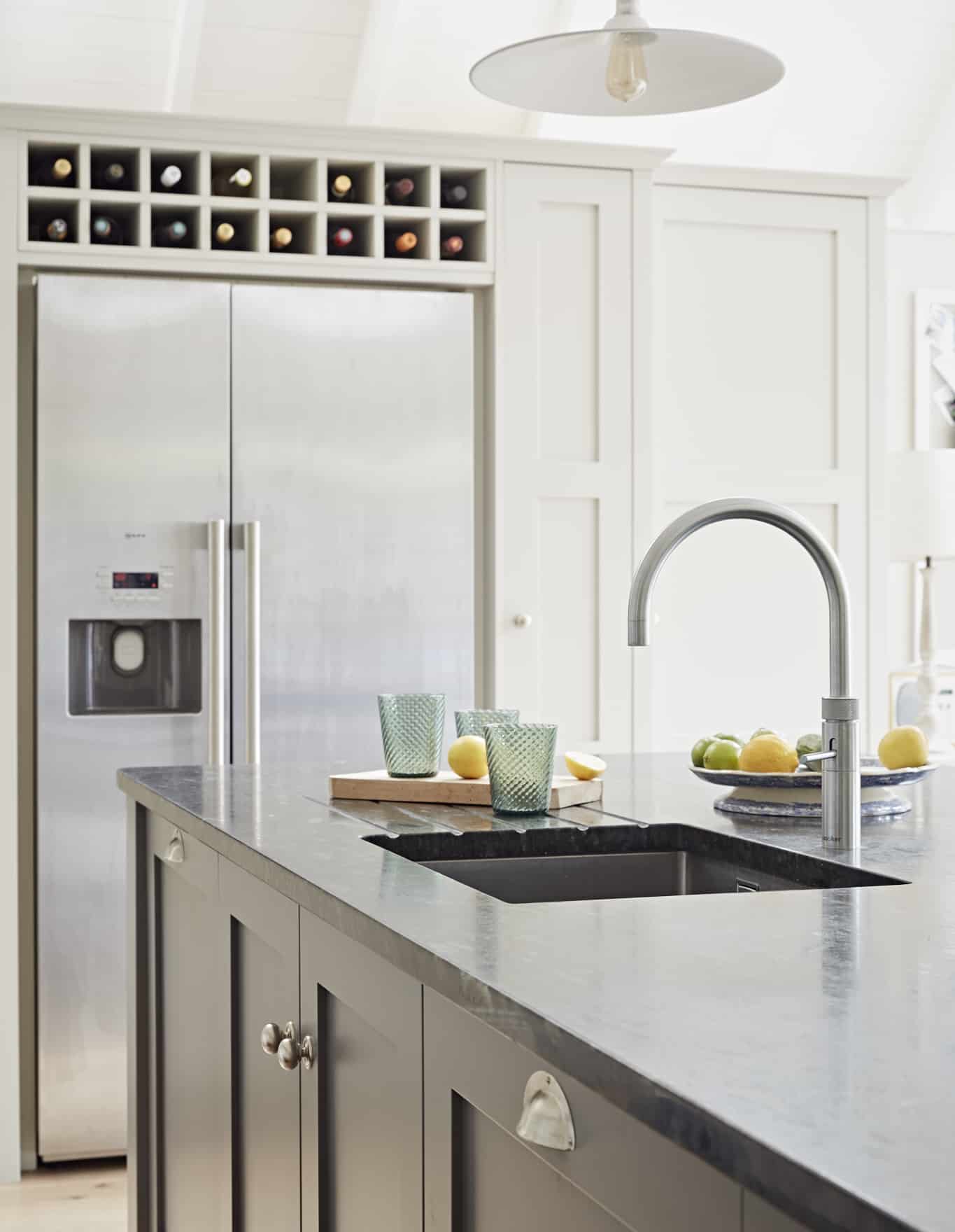 3. Worktop Mounted Cabinets
Uses for worktop mounted storage
Create a breakfast station:

A dedicated breakfast storage space will take the stress out of those rushed weekday mornings. With a dedicated spot out of the way from the rest of the kitchen, it's perfect for a busy family kitchen.

Use wasted space:

I

f there's a part of your kitchen space that's an awkward size or would get left unused, it makes sense to fill it with beautiful cabinetry. Not only will it complete the look of your kitchen, but it will also increase your storage.

Add symmetry:

If you have a run of beautiful floor

-to-ceiling cabinets and want to create a seamless look in your kitchen. Completing the run with worktop-mounted storage will help the space to appear symmetrical and complete, rather than leaving an awkward gap.
4. Kitchen Drawers
When designing your bespoke luxury kitchen, you'll quickly learn that you have a wide variety of kitchen drawer styles to consider. Each has its benefits and, ultimately, it will be up to you to decide which is best for your family and lifestyle. If you find yourself stuck, don't hesitate to book a design consultation with one of our designers, who'll guide you through the options and help you realise your kitchen dreams.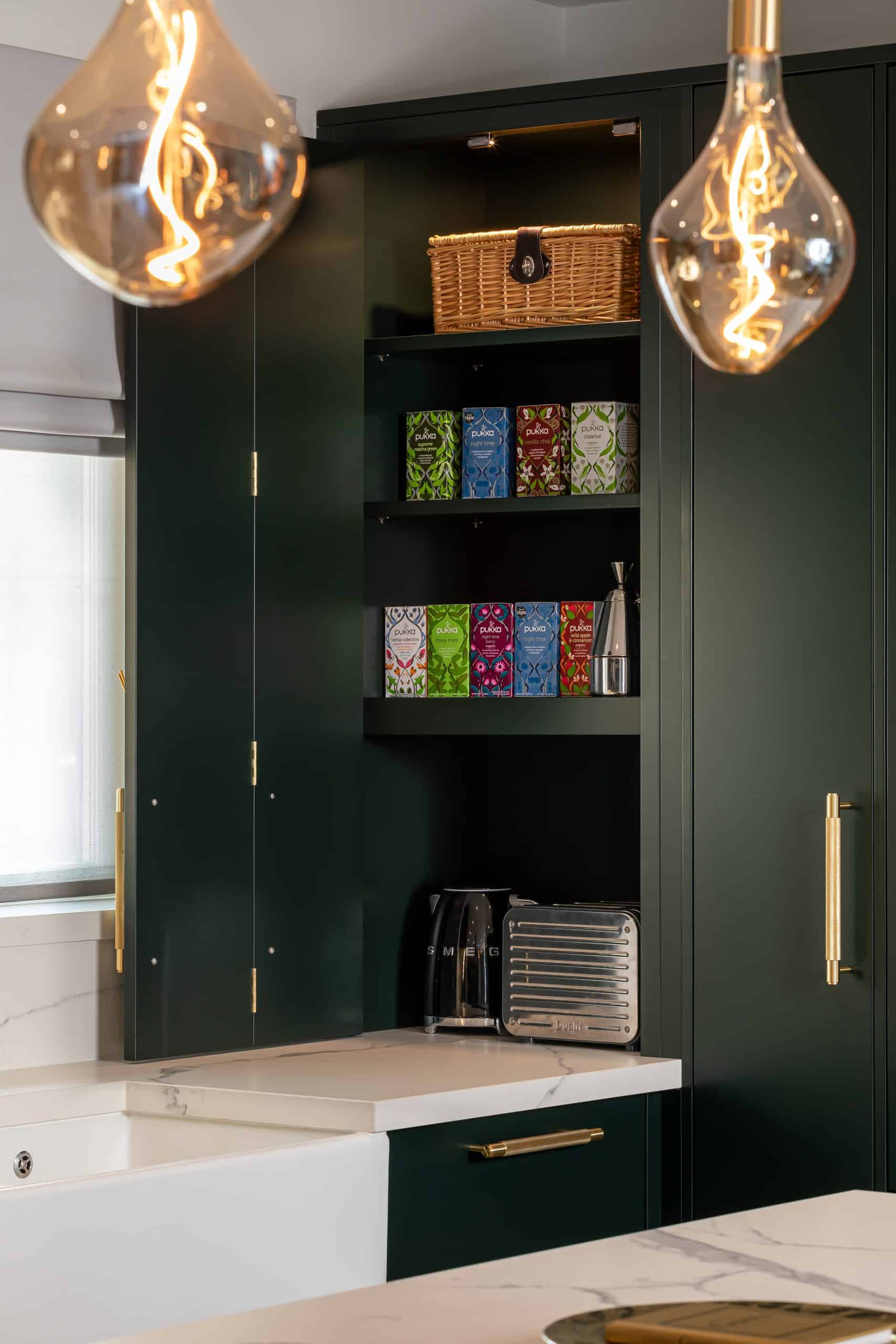 Types of kitchen drawers to choose from:
Internal drawers:

Internal drawers provide space for ingredients, utensils and other essentials. And because they are hidden behind a cupboard door, they'll help create a minimalistic look you are sure to love. Internal drawers work perfectly under worktops and in

kitchen islands

.

Plinth: Plinth drawers are single or double drawers that occupy the often underutilised space below a kitchen floor unit. This is an ideal space to store your collection of linens, tea towels and rarely used cooking utensils.


Under oven drawers: Keep organised by making the most of every inch of space in your kitchen, including the area underneath your oven. This discrete storage option is the ideal place to tuck away roasting pans, baking sheets and bread pans when not in use.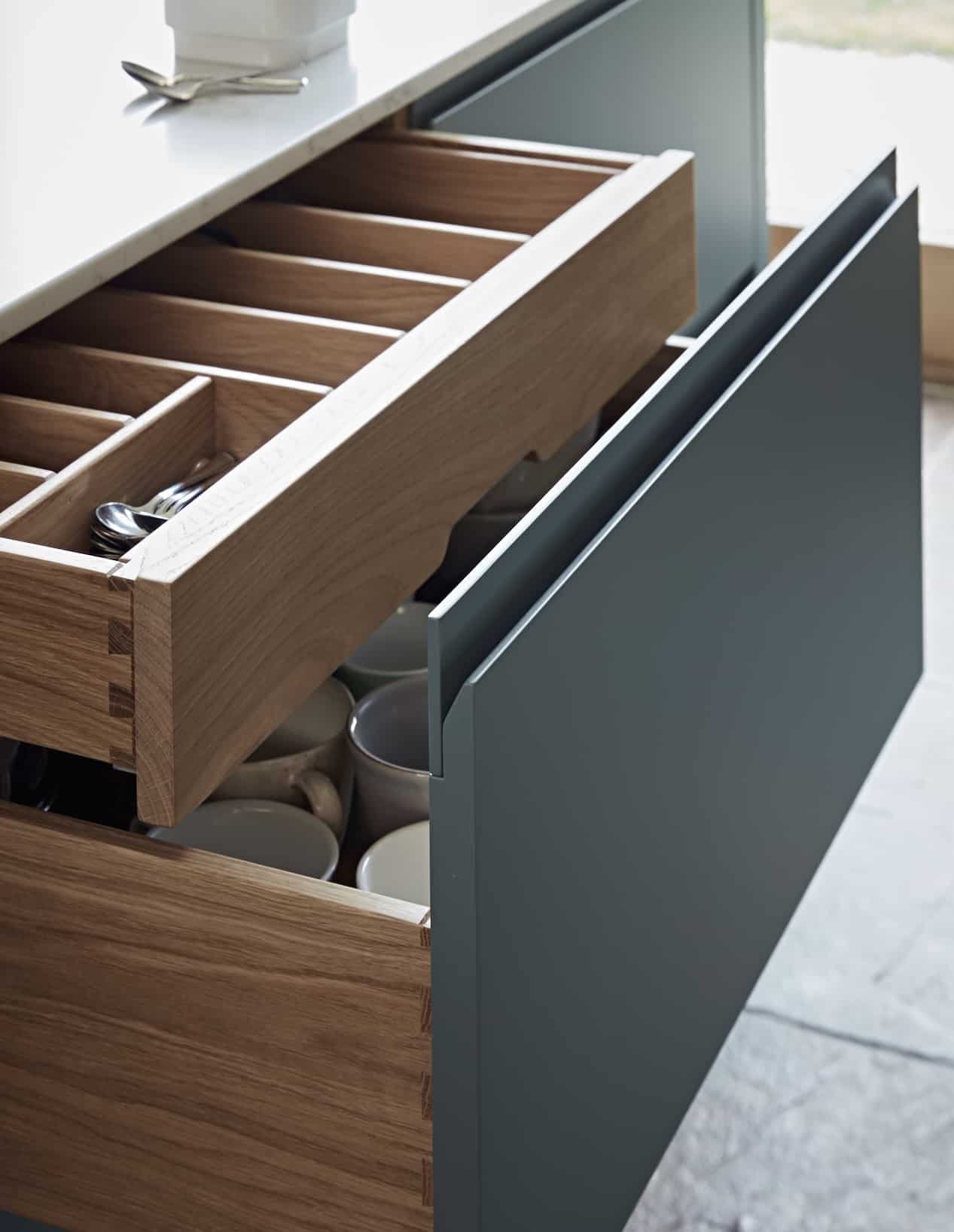 When you're ready to start redesigning your kitchen, the team at John Lewis of Hungerford would be delighted to design and craft the perfect space-saving kitchen furniture for a stylish and well-organised interior. Download our brochure to get inspired.
Book a free design consultation
John Lewis of Hungerford designers are on hand to bring your ideal home to life
Book a design consultation