Turning Your Kitchen Into a Living Space
Inspiration4th February 2022 4 minute read
Today's kitchen is so much more than an area for food preparation. As home working has increased and 'staying in' has become the new 'going out', our kitchens have become hubs within our homes. Once a space for cookery, the modern kitchen is now a place for working, relaxing, entertaining and dining.   
If you'd like to add flexibility to your multifunctional kitchen, we've compiled a collection of clever interior design ideas which will give your kitchen versatility, however you make use of your home.  From incorporating living room furniture into your kitchen space, to using lighting to tie multi-purpose spaces together, you'll discover big ideas and little tweaks to adapt your kitchen to fit your lifestyle.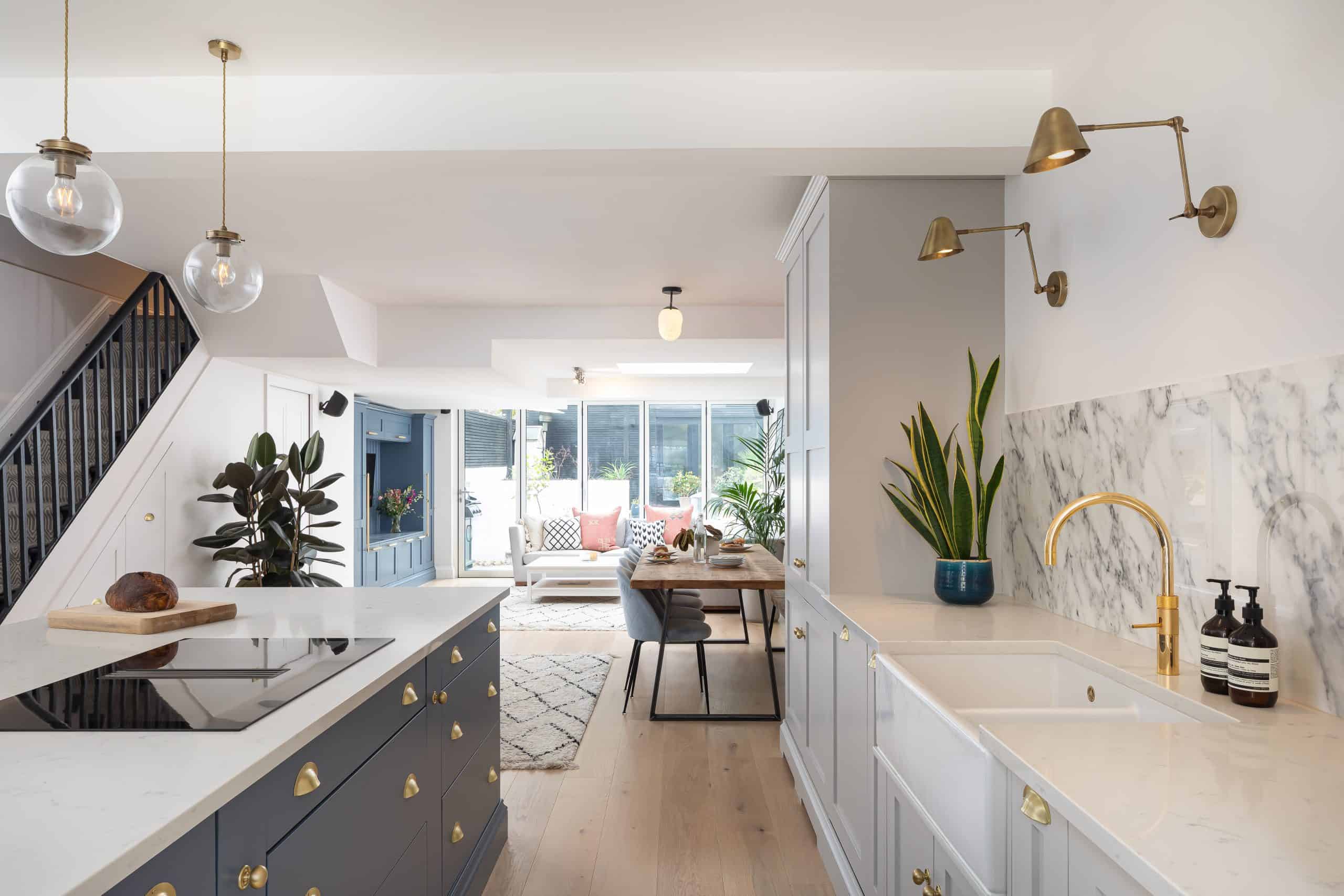 Install a Breakfast Bar
The breakfast bar is for much more than your morning bowl of granola. This increasingly popular kitchen feature is the ultimate multi-purpose surface, perfect for firing off emails with a strong cup of coffee, and for relaxed socialising with friends over a pot of tea. The breakfast bar can even be a space for helping the kids with their homework and serving up casual dinners.
Less formal than a dining table, not to mention more economical in terms of space, this versatile surface can provide a focal point in modern kitchens, where families and friends congregate, perhaps while dinner is being prepared. A breakfast bar can be designed to fit into your kitchen space and can be used to 'zone' more open plan mixed-purpose spaces. For example, delineating the food preparation area from the more social areas in a space.
Choose a breakfast bar with a timeless finish, built from made-to-last materials, to ensure its longevity, even when subjected to high use. The durability and natural beauty of marble countertops make marble a particularly fine choice of breakfast bar surface. Natural materials, like marble, stone and wood, are particularly versatile worktop surfaces in terms of design, fitting well into most colour schemes and interior design aesthetics, when you're ready for a change.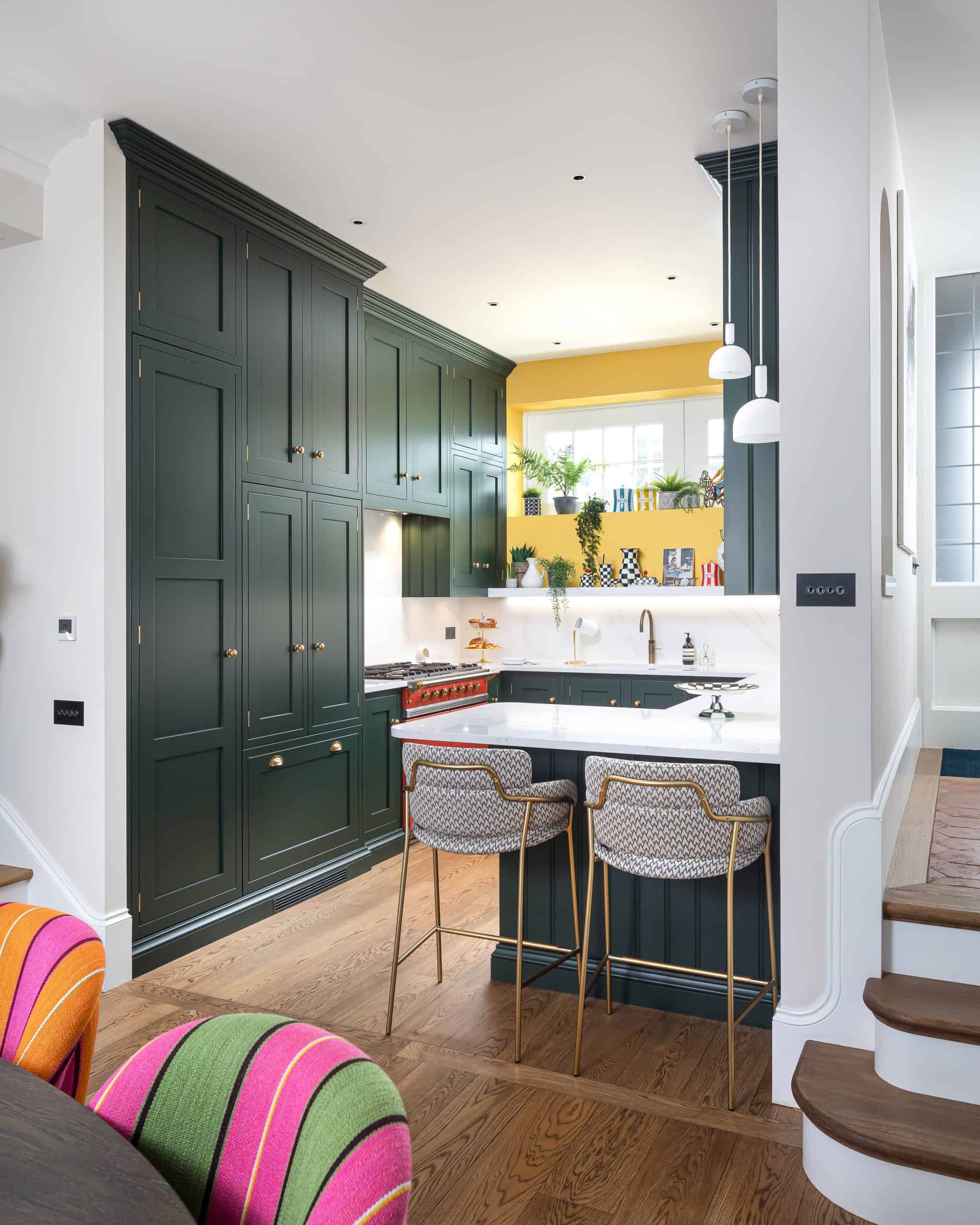 Go Open Plan
Opening up your home to blend kitchen, dining and living spaces is an increasingly popular interior design option, which can even add value to your property. Removing dividing walls and amalgamating the different areas of your home has many advantages, from letting more light into the property and making the absolute most of square footage, to nurturing a more 'connected' lifestyle. Without dividing walls, parents working in the kitchen can keep an eye on youngsters as they complete their homework. Guests can socialise with their hosts, while they prepare dinner behind the stove. Open plan living brings people together and allows for more flexibility.
Use room dividers
More togetherness and open plan living may sound wonderful but, at times, everyone wants a little privacy. Equally, blending your relaxation space with your kitchen can lack a certain cosiness. These downsides are easily remedied, however. As well as the aforementioned breakfast bar, room dividers can also be used to screen certain areas, offering a little privacy and creating cosy spaces even within a more open plan interior design.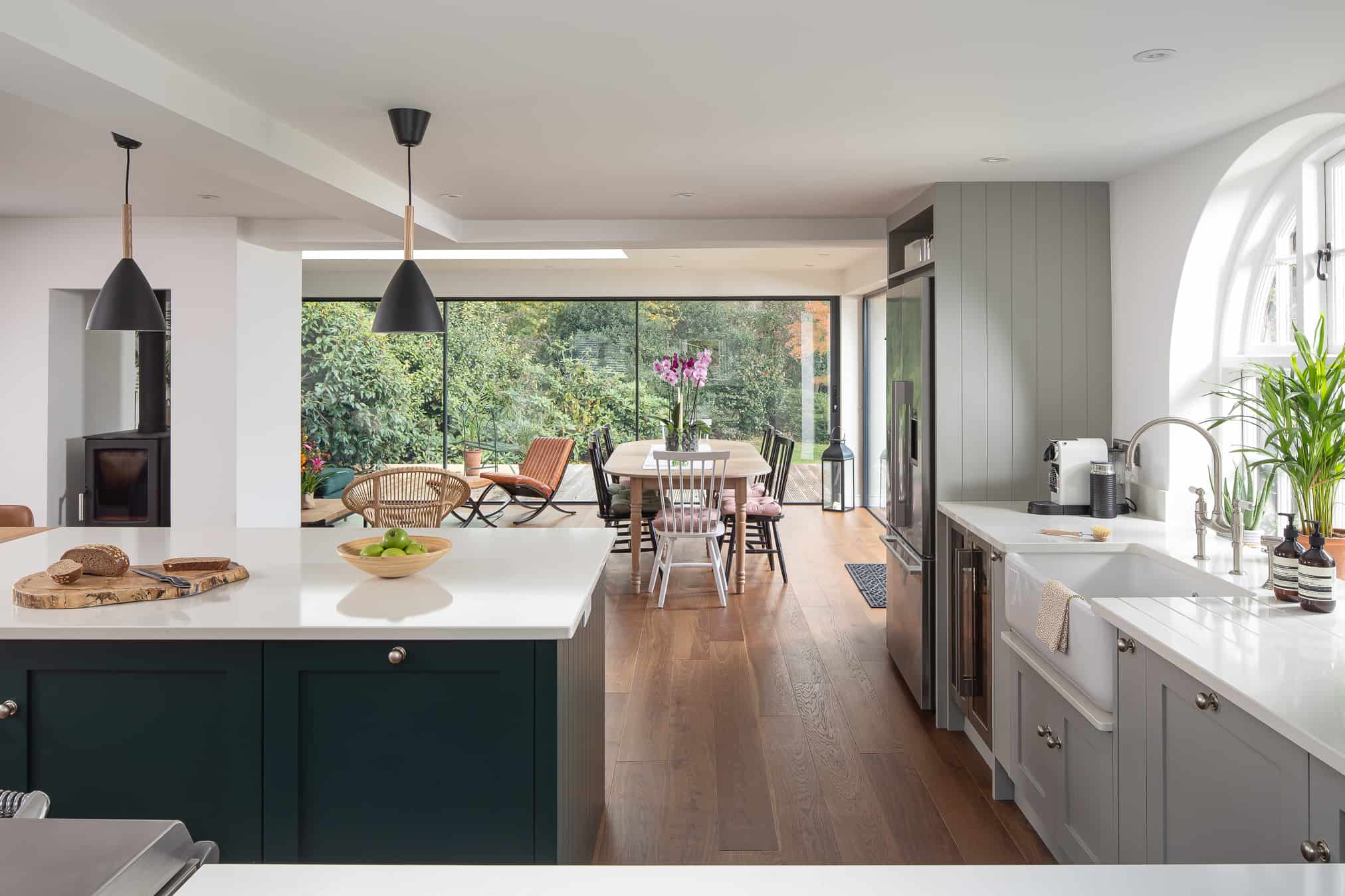 Utilise a Utility Room
While some kitchen appliances and equipment are helpful to have to hand in any kitchen, others are less so – and less aesthetically pleasing. Making use of a separate utility room is a brilliant way to avoid living with a washing machine in full view of your sofa.
Tucking large appliances, like tumble dryers, fridges and freezers away in a small, adjacent utility area will also ensure that your living space is not blighted with the sloshes, buzzes and hums of white goods. A separate utility room will dull appliance noises and help ensure your kitchen/diner is aesthetically pleasing to the eyes and ears.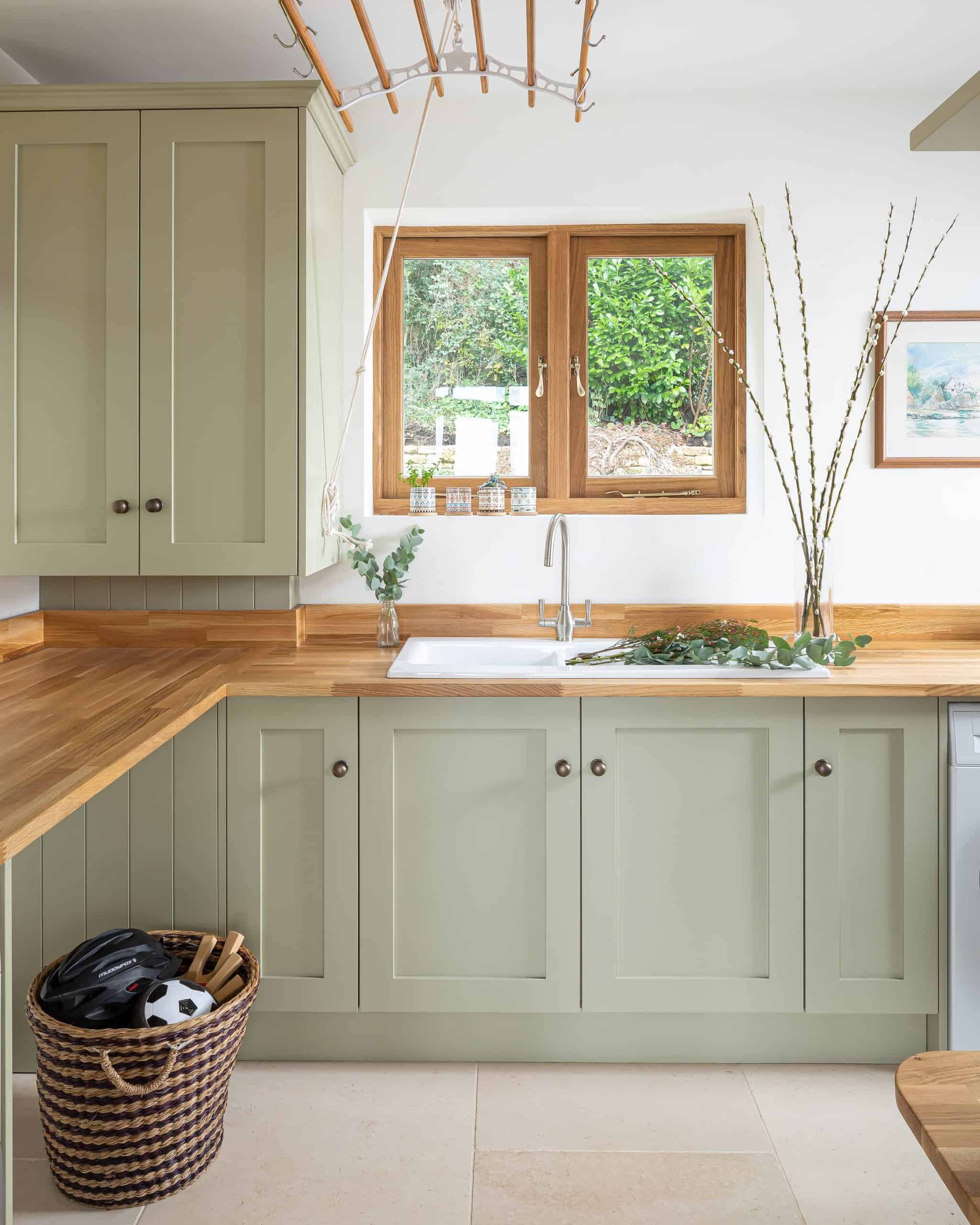 Install Multiple Lighting Options
Carefully considered lighting is absolutely crucial to interior design. In multipurpose spaces, lighting needs to perform multiple roles. From ensuring the chef of the house has strong light to cook by and illuminating workspaces during the daytime, to creating a warm ambience for dinner guests and cosy spots for the household to relax in, the right lighting has many functions to fulfil.
We suggest installing a range of lighting options, which are all independently adjustable. This will allow the household to choose the lighting they need, depending on how they are using the space.
Bright spot and wall lights, directed at kitchen surfaces, make it easier to cook and prepare food with great visibility. Meanwhile, hanging lights with decorative shades look wonderful above a breakfast bar, making it perfect for socialising and creating a focal point in your dining area. Meanwhile, dimmable standalone table and floor lamps are the ideal option for living areas within your open plan space, creating a cosy glow or plentiful light, depending on the activity and time of day.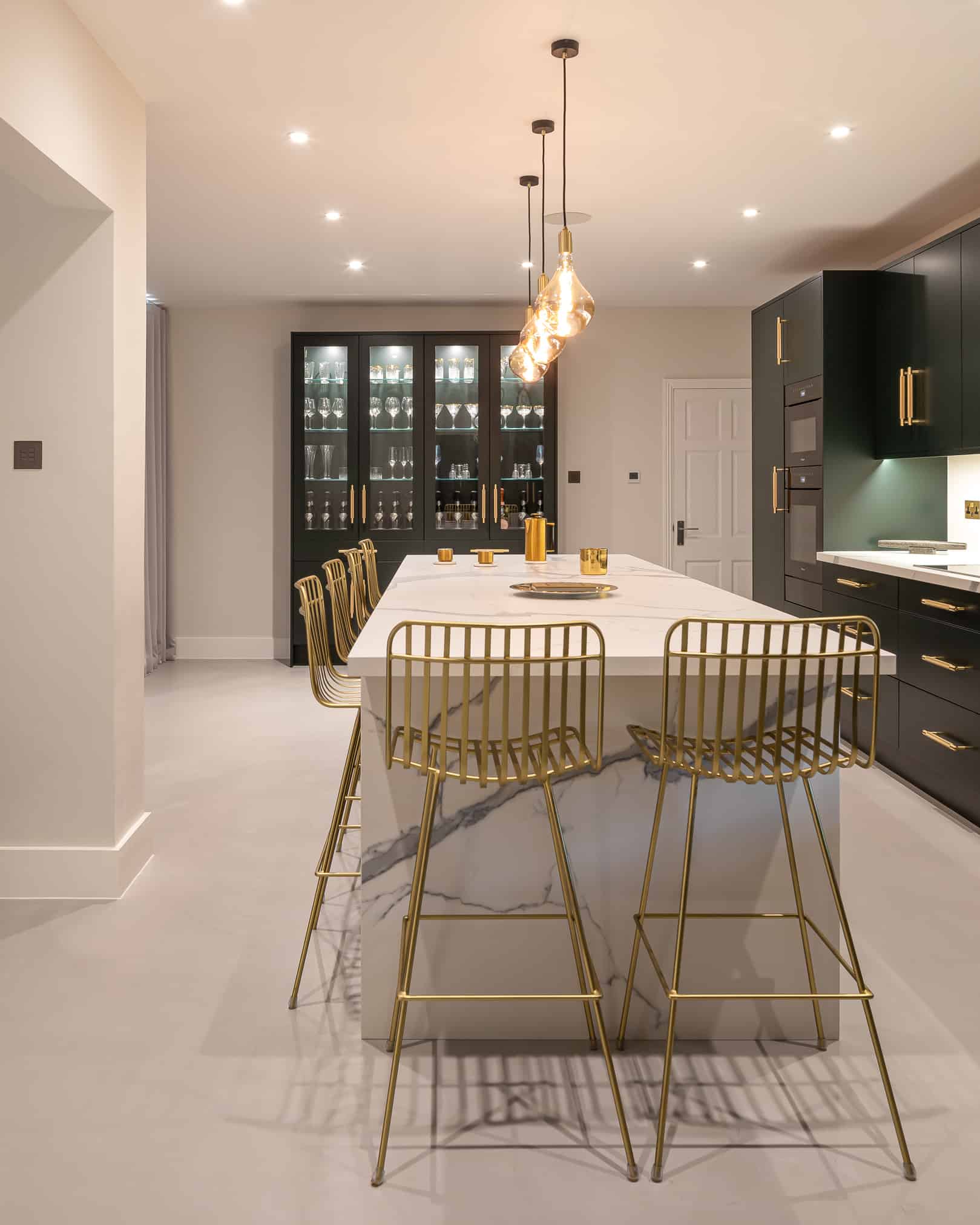 Interior Design with John Lewis of Hungerford
From breakfast bars to kitchen cabinets, the craftspeople of John Lewis of Hungerford, understand how to create furniture which meets the demands of multifunctional living. With decades of expertise, we design and craft exquisite furniture, made-to-measure modern homes.
Whatever your kitchen vision, our specialists can help. Discover our bespoke kitchen furniture on our website, or contact a John Lewis of Hungerford specialist to discuss your kitchen design ideas today. From a simple quote, to guidance on making the most of the layout of your home with clever installations, our craftspeople and installation experts are always happy to help.
Book a free design consultation
John Lewis of Hungerford designers are on hand to bring your ideal home to life
Book a design consultation