Three Things to Consider When Choosing Your Kitchen Lighting
Kitchens25th May 2022 4 minute read
A well-designed kitchen is more than a statement piece — it's a bustling family hub and a place that should extend a warm invitation to gather. Choosing the right lighting for your kitchen can change the dynamic and mood of the space, setting the tone for family gatherings and focused homework time.
While our luxury bespoke kitchens accomplish a timeless sense of place and purpose, none would be complete without the proper lighting.
1. Make the Most of Natural Light
We understand that your kitchen is more than a place to prepare meals. It's a place of togetherness, a living space for sharing meaningful interactions with loved ones. And with an increase in time being spent at home — especially since the pandemic — getting to know how natural light relates to your kitchen can guide you to a design that makes the most of precious daylight.
The right colour in your kitchen can have a big impact when it comes to the reflection of natural light. Dark, matte colours naturally absorb more light, so are best suited for more spacious kitchens, while lighter glossy shades help to open up kitchens that are smaller with less natural light. Regardless of the size of your kitchen, considering how you'd like your kitchen to embrace natural light can allow you to choose the right colour scheme for your household's needs.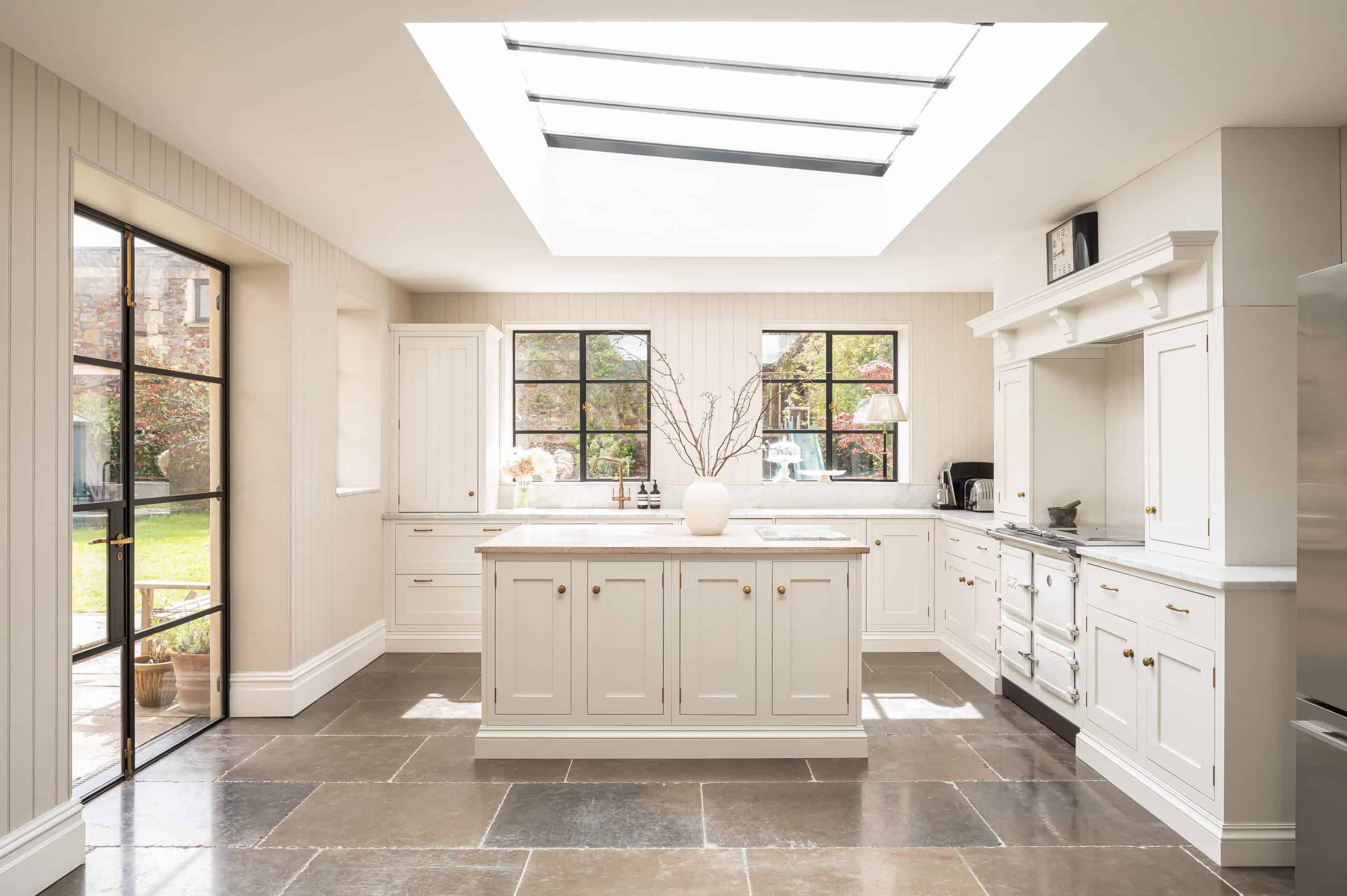 2. Pick the Right Lighting
Once your custom kitchen design has been carefully considered to suit the needs of your family's lifestyle, it becomes time to polish the design with lighting. Whether your spacious kitchen island will become an afternoon worktop for your children, or you desire a space that exudes warmth for hosting family and friends, the right lighting can not only enhance a room but become an essential feature. 
Lightbulbs
Finishing a space with lightbulbs can accentuate a space with more traditional design components. The warm glow of a pendant lightbulb in the evening evokes a warm and inviting space fit for socialising, extending a tone of tenderness beyond the kitchen and throughout an open plan kitchen layout.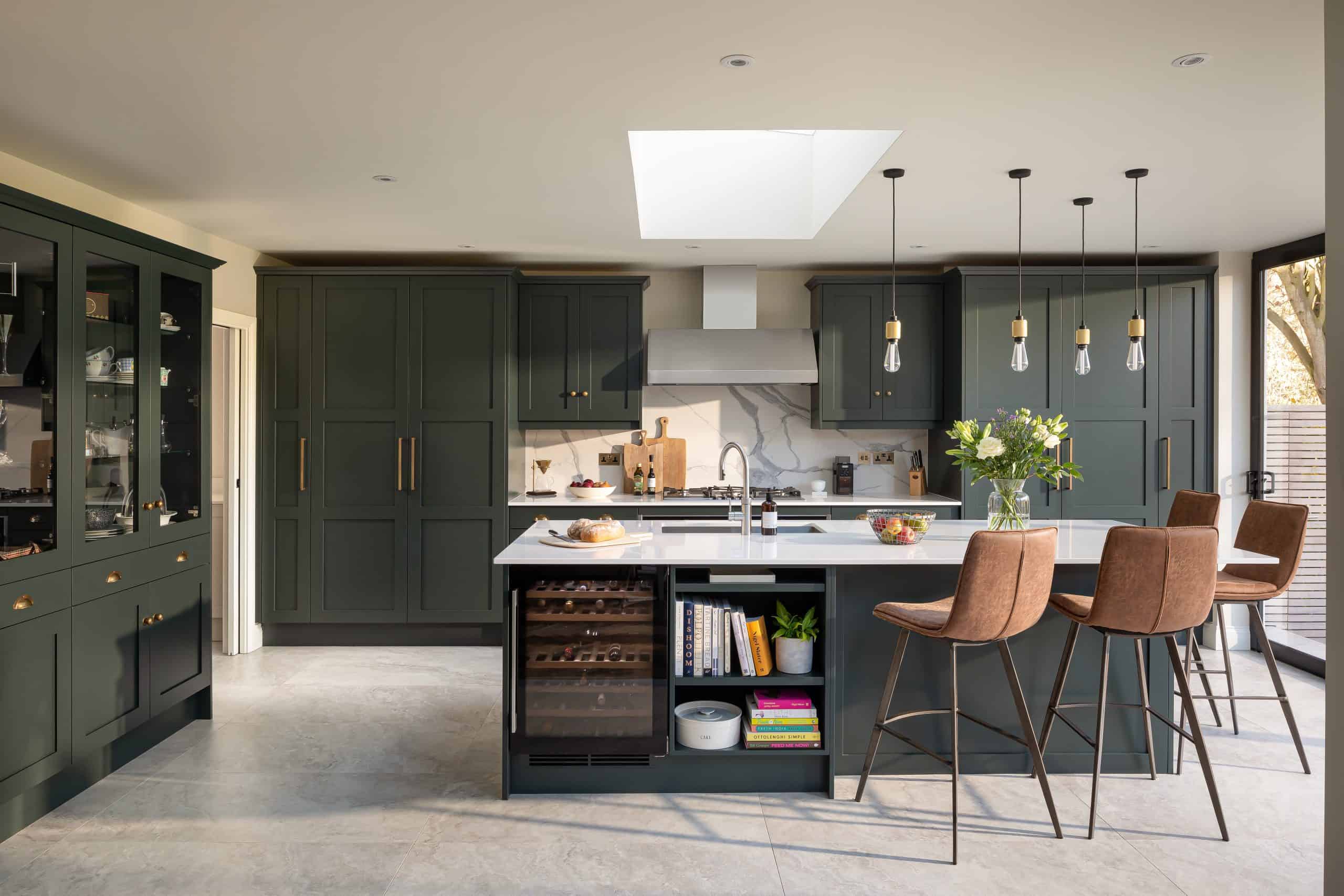 LED light strips
LED kitchen lighting may be the most versatile lighting option, as these cool-toned lights are bright and able to complement the day's most productive hours in the kitchen spent cooking or working. These lighting options are especially useful when applied as task lights, giving you the bright, clear light needed for home working during the day or to cook up an extravagant family feast in the evenings.
3. Utilise Layered Lighting 
Layering lighting in your kitchen gives you a variety of options to accentuate the different uses of your space. Give yourself the option of different lighting schemes for each moment of the day, whether preparing the family for the day ahead or dimming the lights at night before rest.
Wall light 
Wall lighting falls under the ambient lighting category, which serves as general illumination of a space. Wall lights generally light the walls of your kitchen, often in the form of sconces, highlighting the entrance and giving the impression of a welcoming space.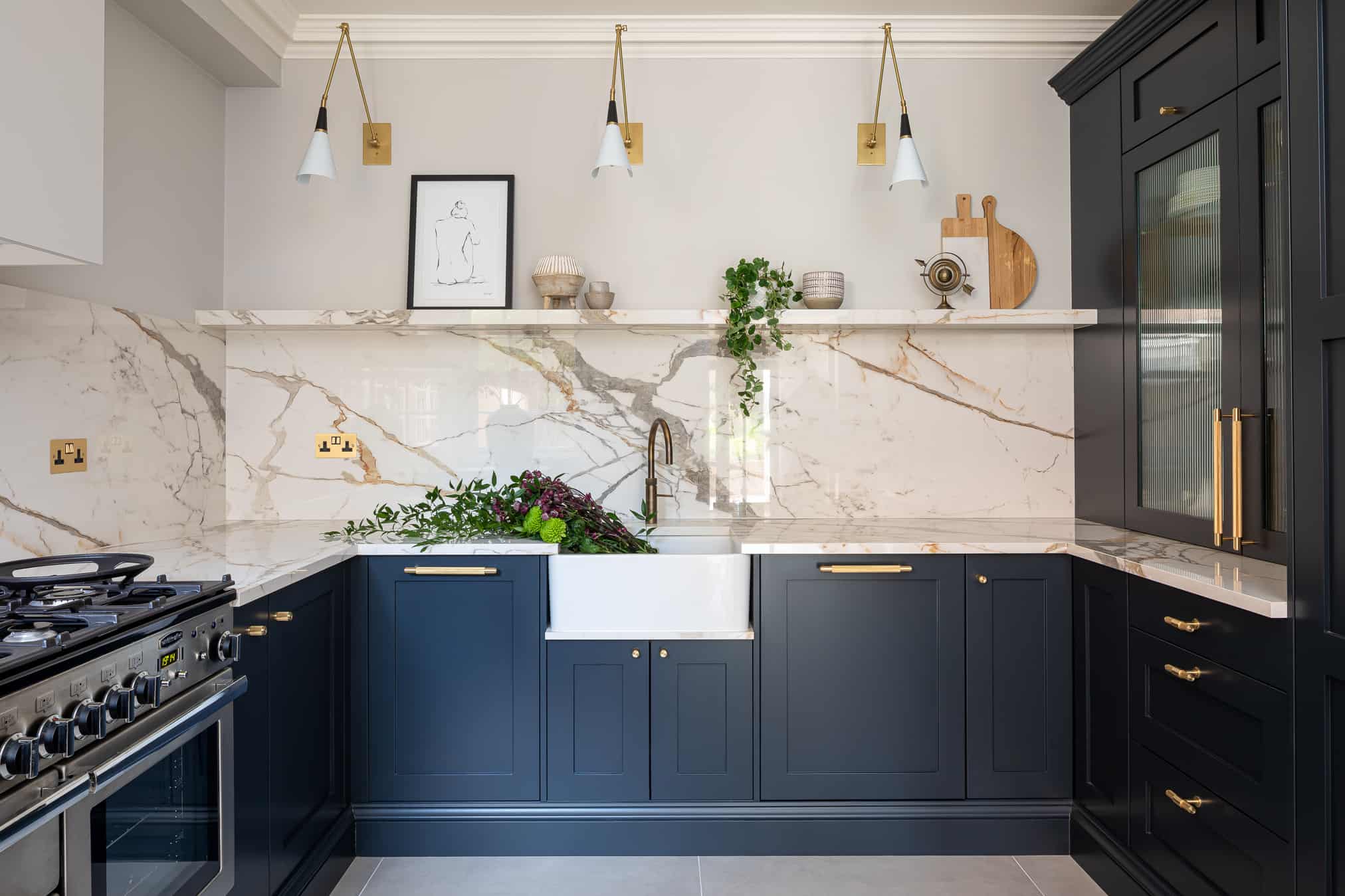 Task lights
When it comes time to prepare a meal or settle the children into focus for their schoolwork, task lights will become essential to your kitchen design. These lights are typically brighter, creating a spotlight on work surfaces such as countertops, islands and sinks, affording you to direct light exactly where it is needed.
Downlights 
Downlights add softness to a kitchen lighting scheme, as they serve to reflect light wherever needed, making them ideal for kitchen island lighting, for example. Directional lighting integrated above your island invites togetherness, as a relaxing and romantic charm is cast by the glow.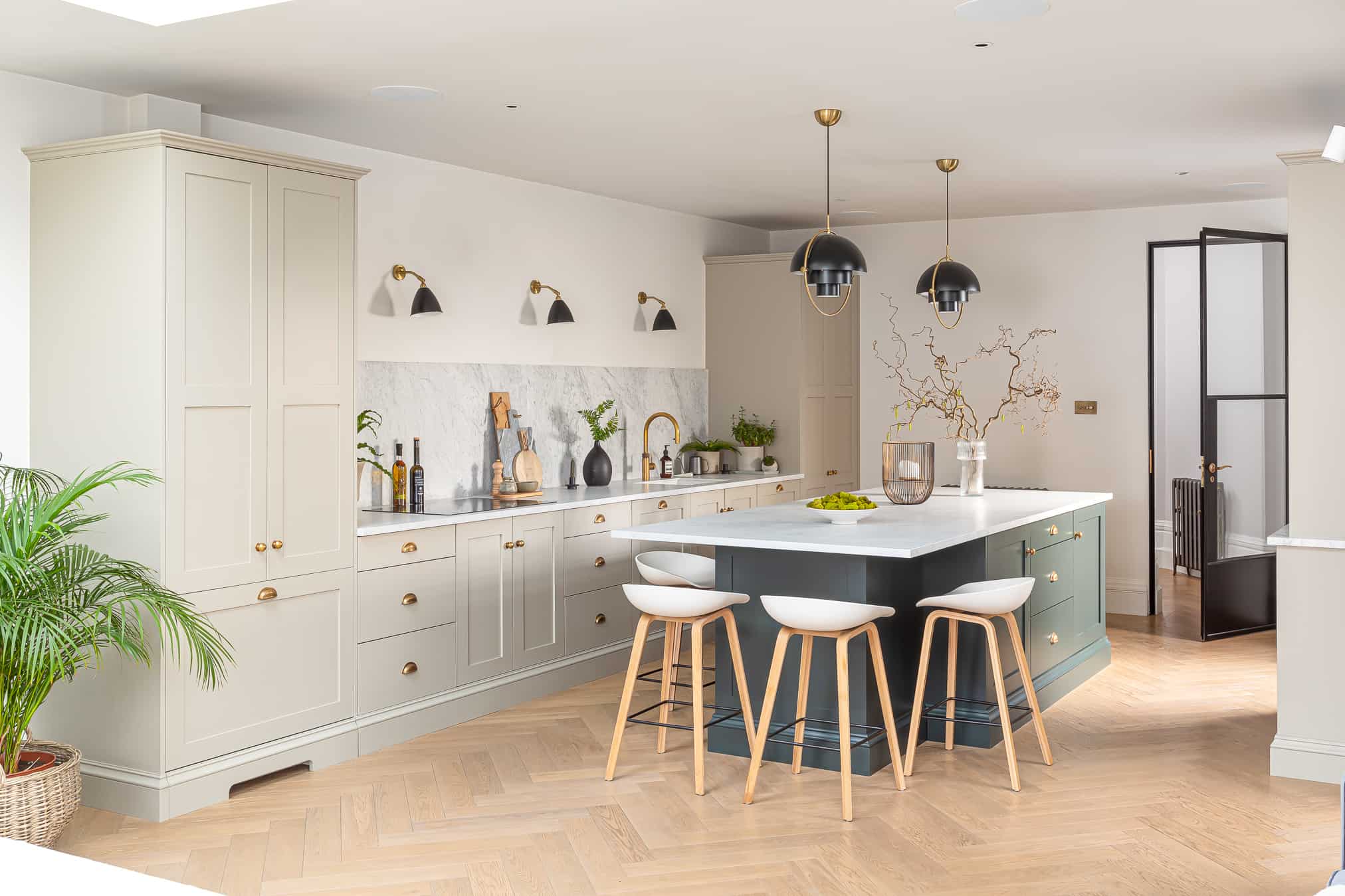 Under-cabinet lights 
In a space of food connoisseurs, quality kitchen under-cabinet lighting maximises the efficient navigation of countertops. LED lights sequentially placed underneath the cabinets makes it easier to reach for essential tools and cookware, and are an ideal way to fully illuminate important worktops. When accentuating small kitchens, lighting ideas could include the application of led light strips underneath open shelving for the greatest impact of light reflection, giving the kitchen a larger feel, overall.
Our designer's kitchen ideas are meant to complement the needs of your home life and stand the test of time through quality components, such as timeless light fixtures. For an inspiring look at kitchen lighting ideas tailored by the craftsmanship of our designers, request a brochure. Our skilled John Lewis of Hungerford designers would gladly connect with you over meaningful guidance and advice to reflect the needs of your space and family.
Book a free design consultation
John Lewis of Hungerford designers are on hand to bring your ideal home to life
Book a design consultation