Kitchen Island Ideas to Fit Every Family
Kitchens20th February 2021 5 minute read
A kitchen island can truly be the hub of your home, as well as a stunning centrepiece that transforms your cooking, dining and hosting experiences. Join us as we explore a variety of kitchen island ideas so you can discover the one that fits your family's lifestyle and needs best.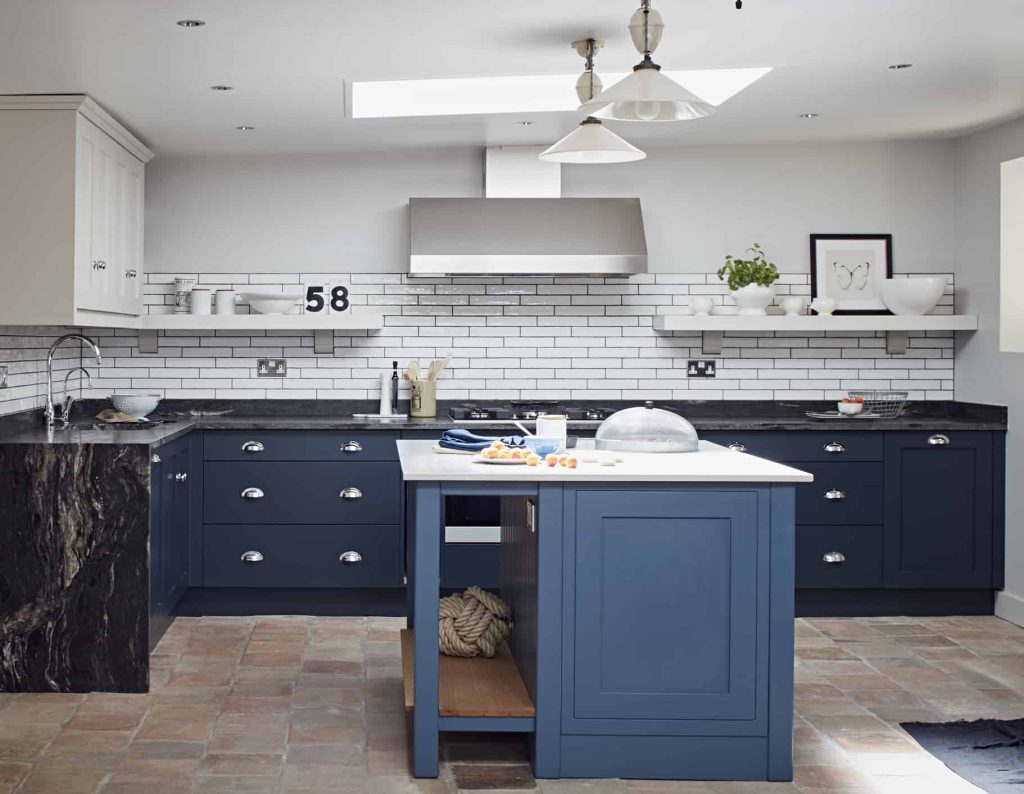 5 Kitchen Island Ideas to Fit Around Your Family
At John Lewis of Hungerford, our bespoke kitchen islands can be tailored to fit your needs by our expert designers. Whether you are looking to change your space completely or are simply seeking an addition to your existing kitchen, an island is a great way to enhance the room and provides unrivalled versatility in practical and stylish kitchen design.
We have identified some of the key benefits that come along with installing a kitchen island:
It is the perfect place for friends and family to gather and spend time together
It allows the chef of the family to mingle with guests while they prepare the food for the occasion
It is an innovative way to create more worktop and storage space for hot taps, hobs, refrigerated drawers, wine coolers, sinks and more…
It provides additional seating and makes a great breakfast bar
It creates a focal point and can separate your living and dining areas
It is the ideal canvas for adding a splash of colour to your kitchen
1. A kitchen for socialising 
Installing a kitchen island is an effortlessly practical way to bring friends and family into the heart of your home. Our designers can easily tailor an island to fit neatly into your lifestyle and the proportions of your kitchen so that cooking, hosting and dining can all be seamlessly carried out in the same space.
This thoroughly well-dressed kitchen extension was designed with a client's desire for a social space in mind. The beautiful open room called for a bespoke kitchen island with simple lines, plenty of room for bar stools and ample worktop space.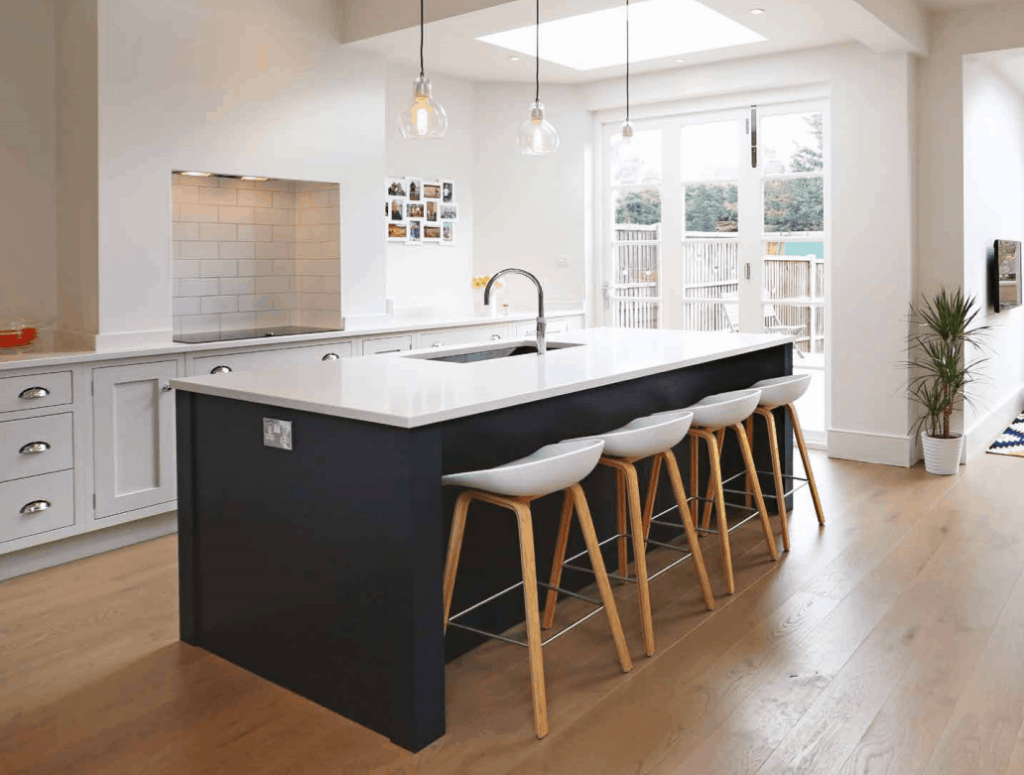 An elegant kitchen that lends itself to entertaining friends and family while enjoying wonderful views of the garden.
2. A kitchen for family life
A kitchen island allows you to spend quality time with your family, whether that means your children can eat their breakfast nearby while you wash up or you can prepare an evening meal while the young ones do their homework at the island. With a wealth of options for designing your island around your family life, we can help you to create a kitchen that is beautiful, practical and homely.
If you and your family love to bake together, an island with a quartz worktop section looks great and provides a cool, easy-to-clean surface for working with dough and other ingredients. Or perhaps you would like a kitchen island that works as a seamless dining area, suitable for both highchairs and regular dining chairs alike.
This wonderful family home features a bespoke bench seat along one side of the kitchen island, with a simple V-groove backboard and easily accessible soft-close drawer storage. The island creates extra worktop and storage space, with a nearby seating area where your family can relax as the chef works his or her magic. The honed Flash Blue granite work surface completes the look, proving that functionality and practicality can also look beautiful.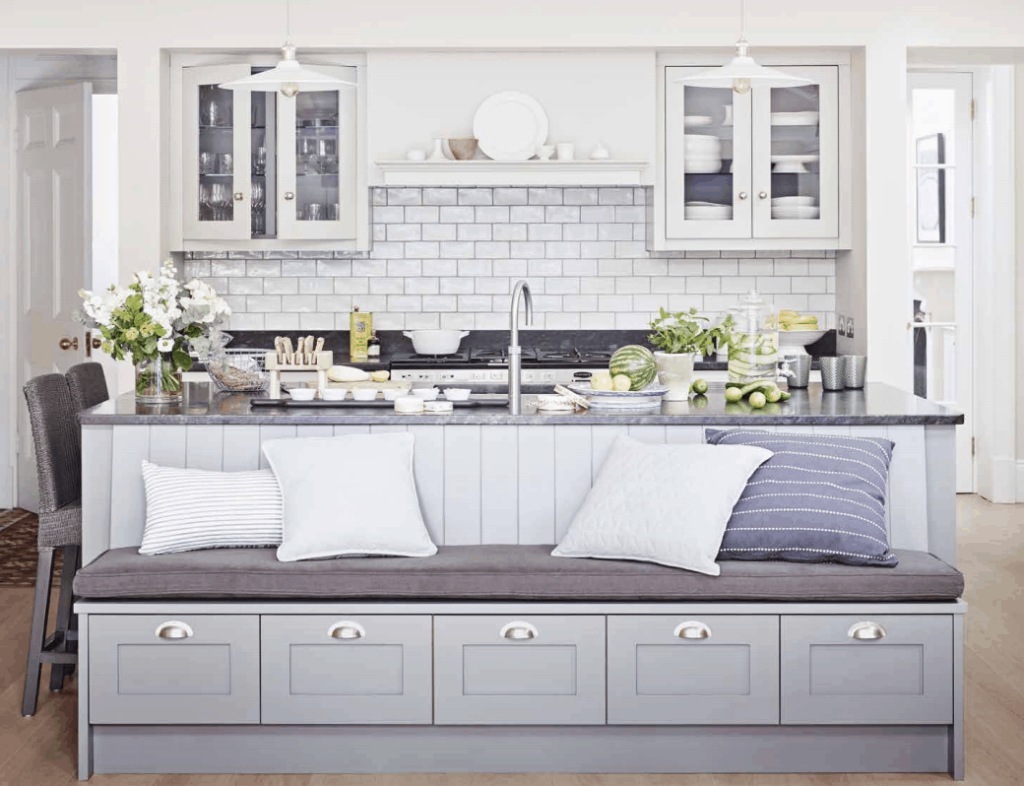 3. A kitchen for a period property
The kitchen island dates back to the 1800s, when traditional homes would have had a worktable in front of the stove. Period properties are highly sought after by homeowners and many are overdue for an updated kitchen that fits in with modern day living while still giving a deferential nod to the building's heritage.
If you are a period property owner and are looking for kitchen renovation inspiration, look no further than this contemporary kitchen, which ties in beautifully with the Victorian heritage of the house. The finished space is modern and open, but ultimately very respectful of the original country features. The island provides additional storage space without interrupting the vista created by the bifold patio doors, and cleanly separates the dining and cooking areas. Copper pendant lights make the most of the wonderfully high ceilings in this stunning listed townhouse and work with the kitchen island to create a striking focal point.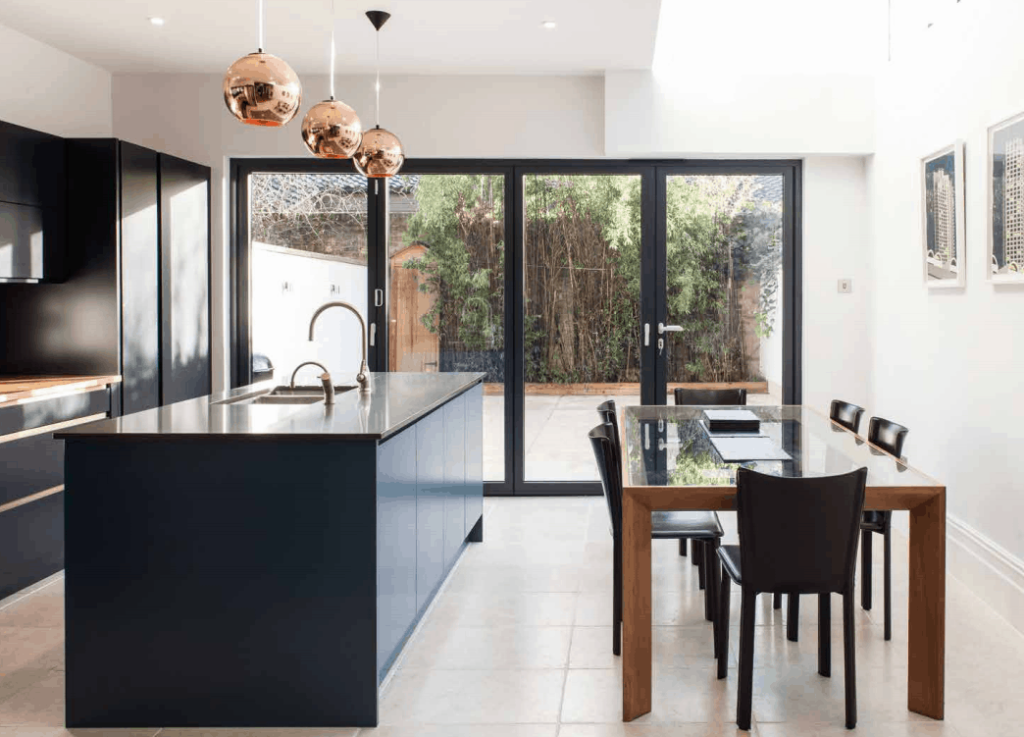 4. A kitchen in the country
An island is the perfect accompaniment to a classic country kitchen, particularly when coupled with elegant in-frame Shaker-style cabinetry. Country homes have huge appeal thanks to their peaceful surroundings and comfortable charm. A kitchen island is a great way to play on the rural charisma of your home, especially when you also incorporate pastel colours, butcher block worktops and Belfast sinks.
This wholesome rural kitchen finished in Biscuit and Cocoa hosts an extensive island that pairs black granite worktops with a solid wood breakfast bar. Utilising bespoke kitchen storage ideas such as built-in serving trays and maximised cupboard and drawer space, this kitchen island with seating provides exceptional functionality for the whole family.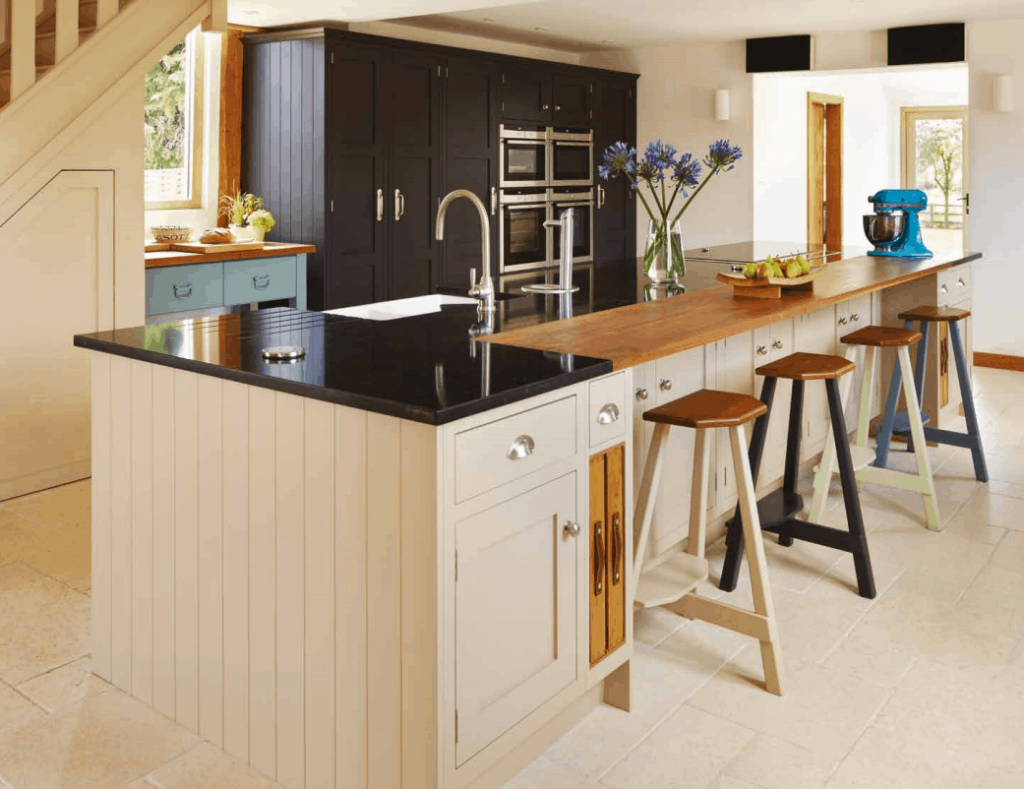 5. A freestanding kitchen
Kitchen islands are not purely restricted to large kitchens. If space is limited in your small kitchen and you are worried that an island unit might make it feel cramped, you will be happy to learn that there are a wealth of kitchen island options available.
Our classically designed and built standalone furniture pieces are an ideal way to create a less built-in look and come in three sizes: one, two and three drawer. They can be integrated into existing islands, set into long runs or simply placed as stand-alone pieces that provide a great opportunity to add a splash of colour to your kitchen. Open worktables or trolley islands may also be a practical solution if you require extra space for meal preparations but still want the option to move the unit out of the way at times.
Kitchen Islands Brought to You by John Lewis of Hungerford
The perfect kitchen should work in harmony with your family lifestyle. If you would like to know more about how a kitchen island can fit perfectly into your interior, take a look at this blog post or get in touch with our team of skilled designers. The expert design team at John Lewis of Hungerford would be delighted to discuss your options and work with you to create a bespoke kitchen that's truly personalised to you.
Book a free design consultation
John Lewis of Hungerford designers are on hand to bring your ideal home to life
Book a design consultation