Kitchen Design Ideas: Welcome the Sun with a Summer Kitchen
Kitchens5th April 2021 5 minute read
With lockdown easing, now is the perfect time to refresh your kitchen and ensure it is summer ready. Let the experts at John Lewis of Hungerford work with you to craft a social and summery luxury kitchen – one that you can look forward to enjoying with friends and family in the months to come as the UK returns to normality.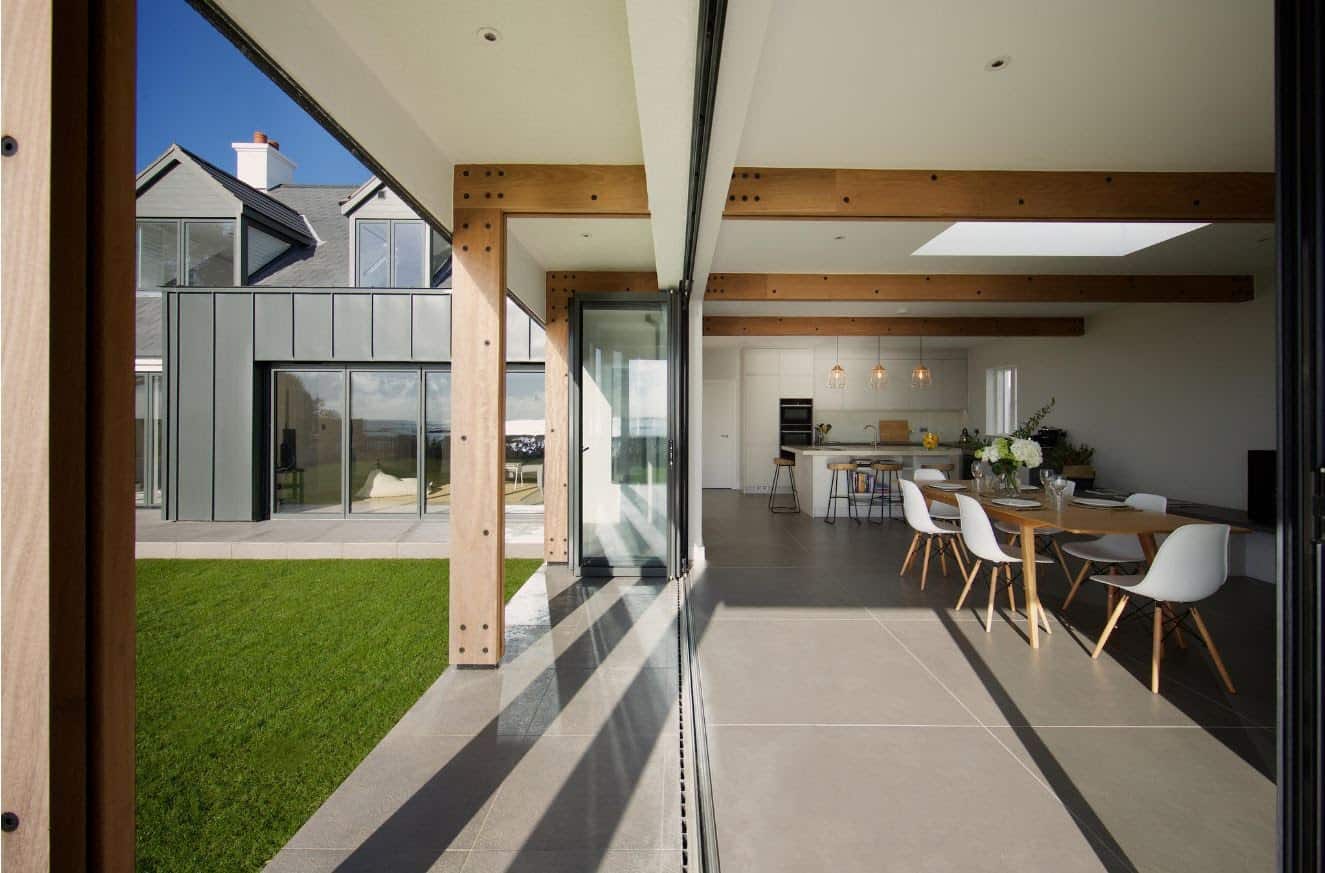 Building a Summer Kitchen with John Lewis of Hungerford
At John Lewis of Hungerford, our bespoke kitchen designs are guaranteed to provide you with a beautiful life-proof kitchen. To ensure we are crafting the ideal space for you and your family, we have broken our design process down into three simple steps:
Step 1 – Free kitchen design consultation
The first step towards attaining the kitchen of your dreams is a consultation with one of our design experts, who will be on hand to guide you through the process from start to finish.
We work with you to create 3D full colour visuals that your interior designer will use to illustrate a range of design solutions for your home. After the consultation, a site survey will be completed and the detailed specifications of your kitchen design will be sent over to our specialist workshop in Oxfordshire.
Step 2 – Artisan craftsmanship
Top quality craftsmanship is at the heart of our process and we use a combination of traditional and modern techniques to ensure your bespoke kitchen is built to last.
Our kitchens are made on site, which means we have complete control over quality. We offer full transparency, and visits to our artisan workshop are available should you wish to see the process your kitchen units undergo as they are handmade by our skilled carpenters.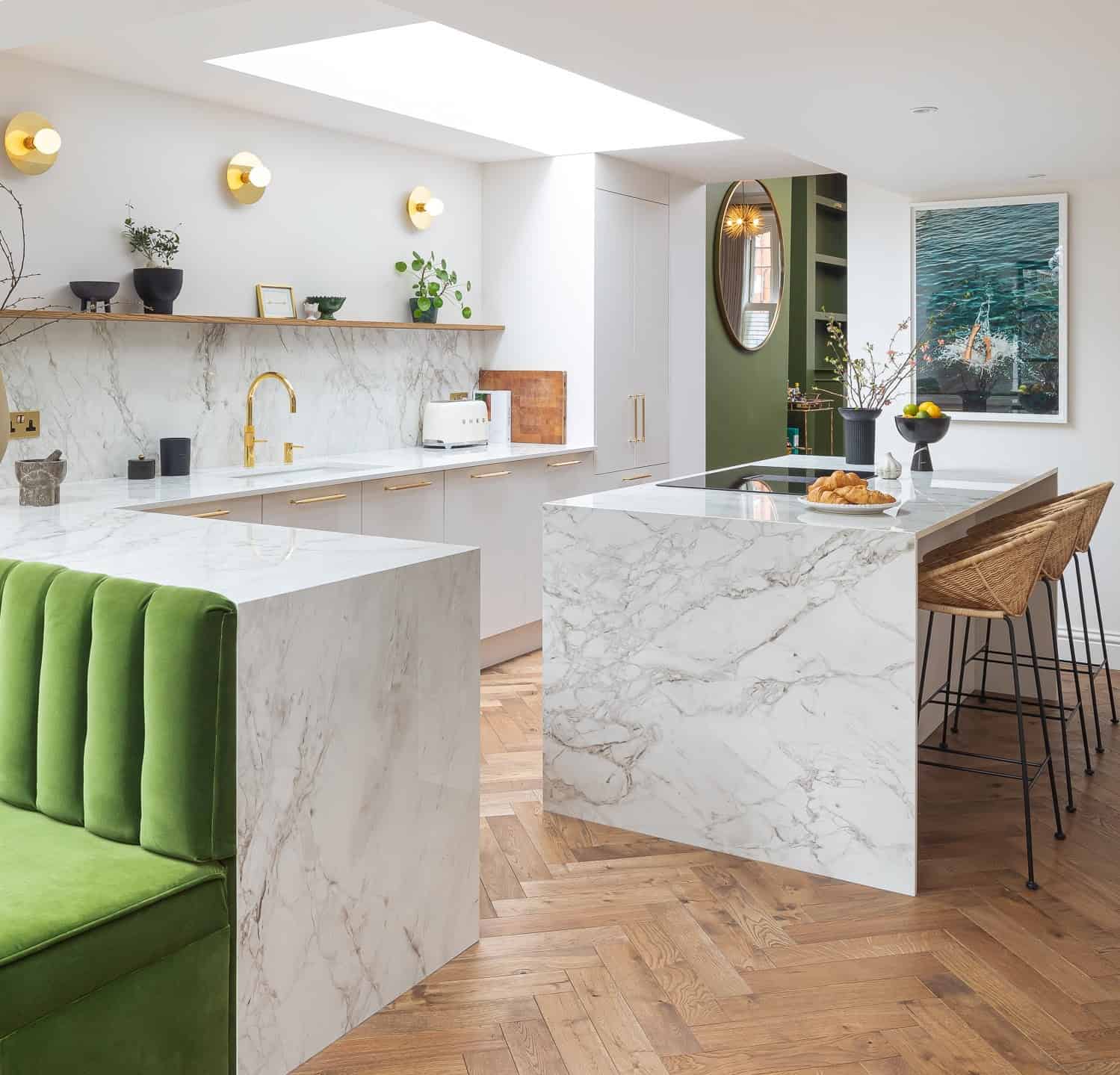 Step 3 – Expert installation
The final step in finishing your luxury kitchen is the expert installation of your units, worktops and appliances. Our installers have full project capability and will be happy to quote for any electrical work, plumbing, gas, tiling or plastering you may need. As always, your dedicated designer will be on hand during this time should you have any last minute questions.
Post-Lockdown Summer Kitchen Ideas
You deserve something to look forward to after the year we've had, and a kitchen update is the perfect pick-me-up. Here are our top summer kitchen design ideas for post-lockdown life.
1) Apply a pop of colour
The grey skies of winter make way for colourful flowers and bright sunny mornings, so what better time to add a splash of colour to your kitchen? There are plenty of ways to add colour, from freestanding accent furnishings to spirited backsplashes and vivid pendant lights. We love the fabulous, bold cabinets of this country, Shaker kitchen, finished in vibrant Brooklands.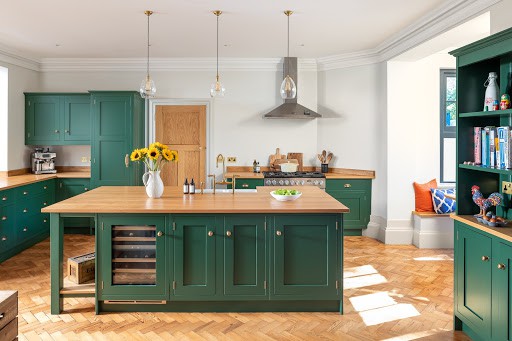 2) Blur the lines between your kitchen and outdoor space
Take open-plan living to the next level by integrating your kitchen with your garden. For an optimal indoor-outdoor dining area, place your dining table adjacent to bifold doors, which you can then open to enjoy a cool breeze on a warm summer's day. Alternatively, you can install a patio kitchen, complete with a grill area or pizza oven to make the most of balmy summer evenings with friends. If you'd like more outdoor kitchen ideas like these ones, our designers will be happy to introduce you to more innovative designs.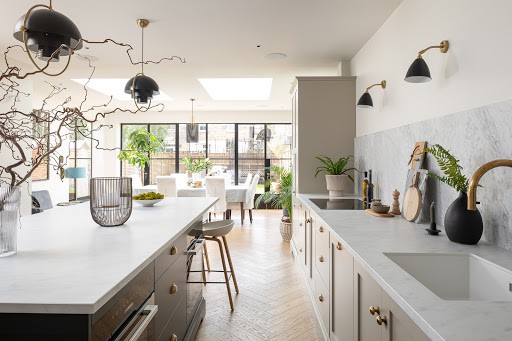 3) Socialise around a kitchen island
There has been an inexorable lack of social contact since the pandemic began, which means that socialising with loved ones is firmly on the agenda for the year ahead. Kitchen islands have a way of effortlessly bringing people together, making them the perfect addition to a summer kitchen this year. Islands suit a wide range of layouts and can be tailored to your space to harmonise cooking, hosting and dining.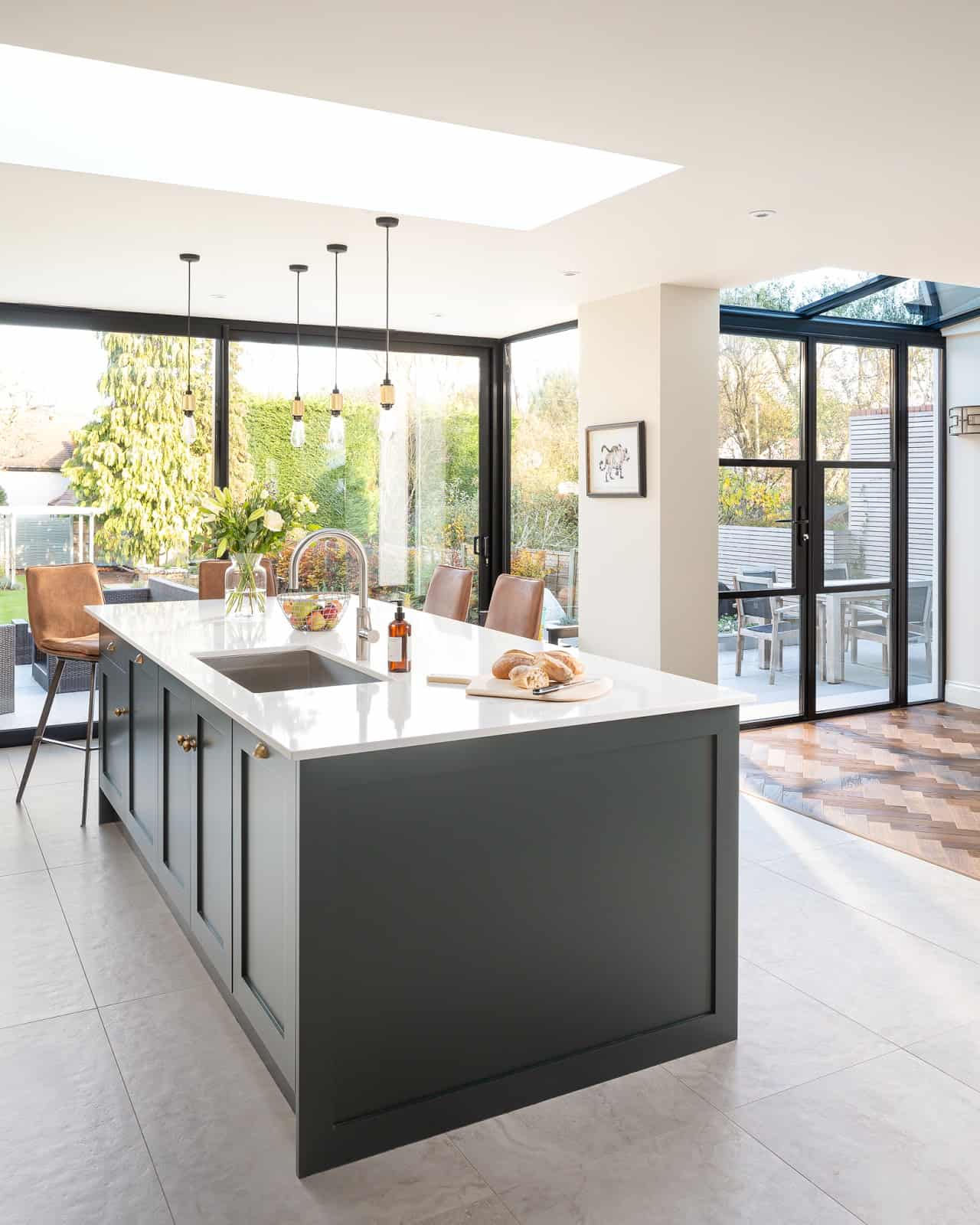 4) Make room for food
The aforementioned desire to get our social calendars back on track means hosting more people and feeding more mouths. Your summer kitchen makeover should incorporate plenty of food storage capacity, from fridge freezers to walk-in pantries. Our bespoke pantries come as individual free-standing items or a fitted piece as part of a full kitchen design.
The interiors can be adapted to your needs, including the addition of a marble 'cold' shelf, solid oak drawers and door-mounted spice storage. Additionally, sockets and lighting can be added so that small appliances can be used, creating a functional workspace.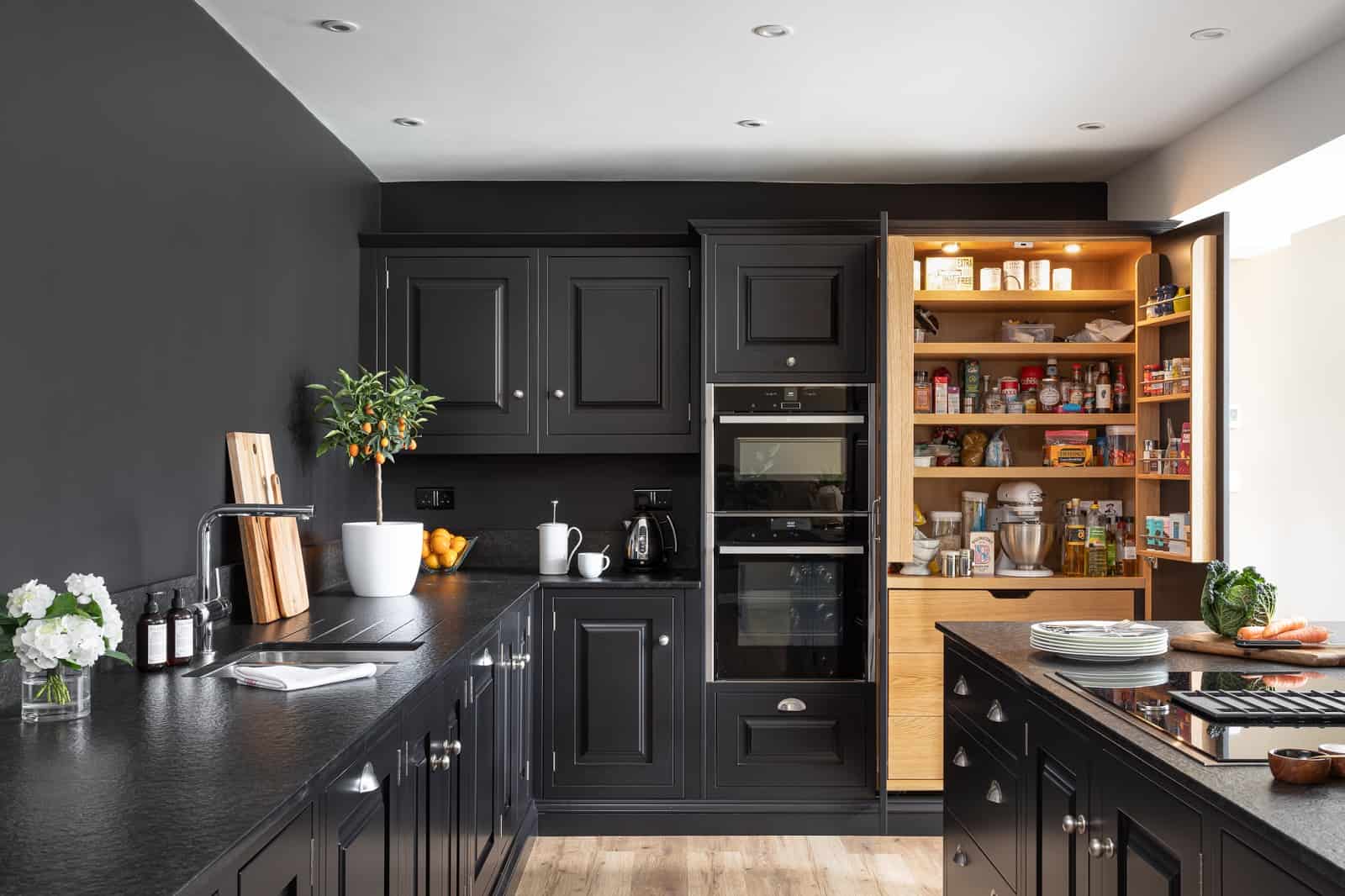 5) Go all white
If you feel that now is the time for a clean slate, a top-to-toe white kitchen is a great way to start afresh. Reinvigorate your kitchen design with a bright and breezy white colour palette this summer, with light-reflecting units that allow natural light to fill the room. Another benefit of shades of white is that they help to create the illusion of space when applied to walls, kitchen cabinetry and countertops, making them ideal for small kitchens.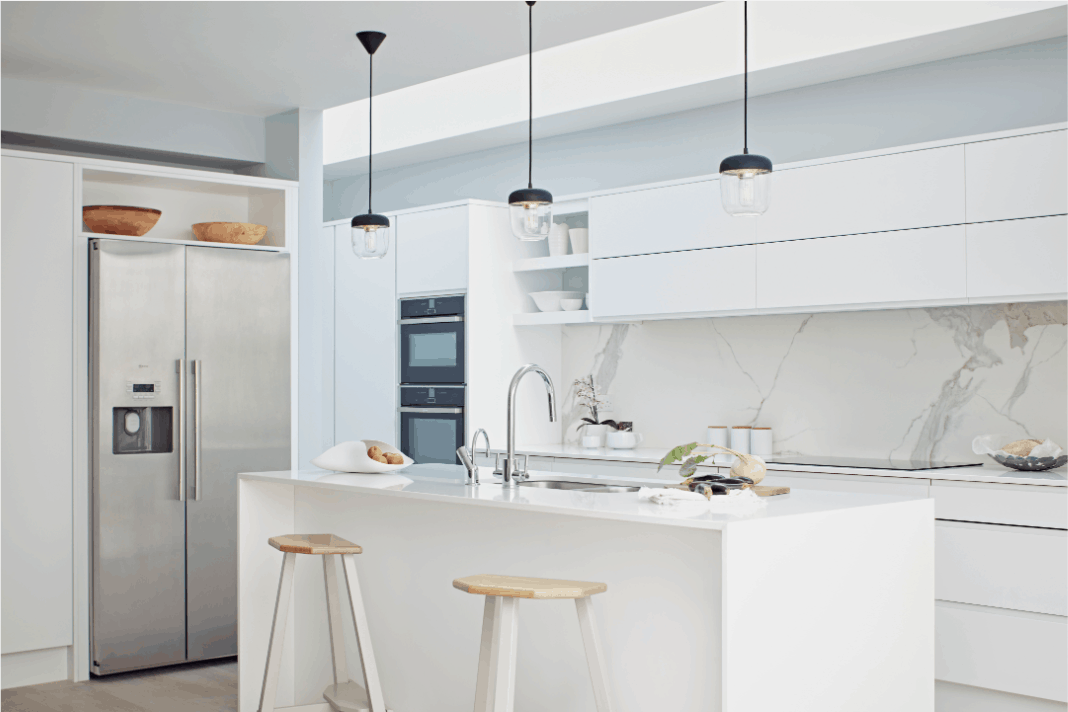 Summer is Nearly Here
If you are ready to invest in a summer kitchen, we are on hand to help. For further inspiration, take a look at our online gallery, which showcases our five core kitchen unit ranges, all of which can be tailored to fit your lifestyle and personal tastes. If you have any questions, please contact our knowledgeable team to be put in touch with an experienced designer who can guide you towards the perfect bespoke summer kitchen.
Book a free design consultation
John Lewis of Hungerford designers are on hand to bring your ideal home to life
Book a design consultation