How To Use Colour In A Contemporary Kitchen
Kitchens23rd October 2021 4 minute read
The modern kitchen is a stylish, functional space where families and friends gather to cook, chat, entertain and work. No longer a purpose-built space for cooking, the contemporary kitchen is the hub of any home. From the children doing their homework or grabbing a quick snack to a relaxing space for socialising with friends over a leisurely coffee, a kitchen is the heart of every family home.
At John Lewis of Hungerford we carefully consider factors such as natural light, fixtures, fittings and the decor of your other rooms when it comes to designing your dream kitchen. We also take great care to understand your personal taste and how colours can affect mood, allowing them to inspire the designs. Here, we share some kitchen ideas to help you navigate bespoke contemporary kitchen colour palettes.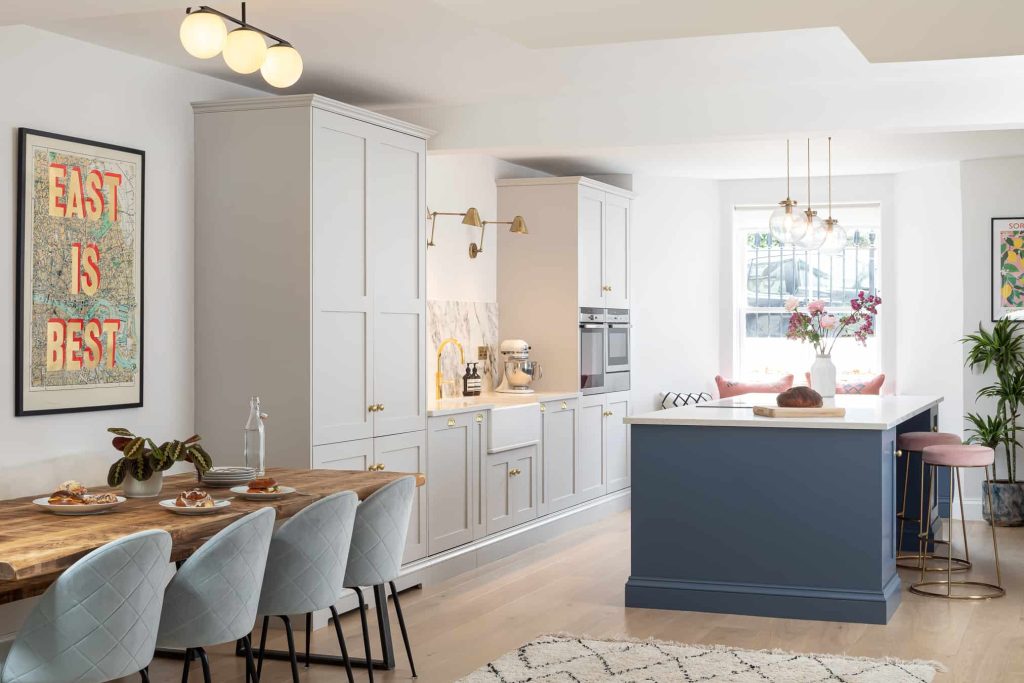 Choosing the Right Colour Scheme
When it comes to choosing the right colour scheme for your kitchen, it's best to take a more holistic approach. The modern kitchen is a reflection of the people living in the home and, as it is the most heavily used room, it should appeal to all members of the household.  Contemporary kitchen designs provide so many possibilities for potential colour palettes, where every square inch of space from your walls to your kitchen islands are a blank canvas.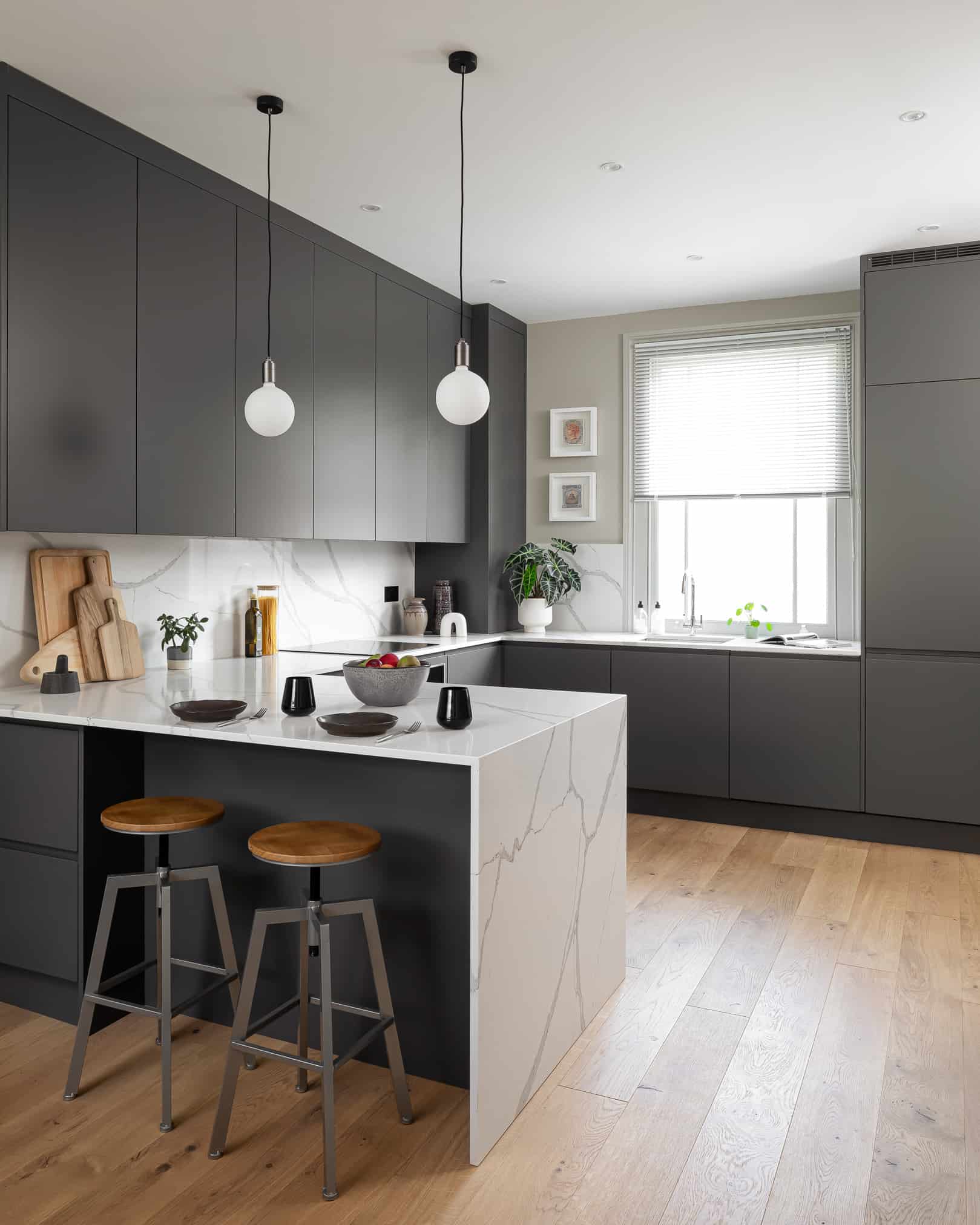 Choosing the right colour scheme takes time, the first step is to consider the atmosphere you want to evoke in the room. Would you prefer your kitchen to be a calm sanctuary or are you aiming to create a vibrant hub full of life? We can help you choose the perfect shades to complement one another and narrow the choices down based on your unique taste.
If you're struggling to choose between two shades of the same colour, try a tonal colour scheme, which uses different variations of one base colour. If you're not keen on a single colour throughout your kitchen opting for a lighter or darker colour for the flooring or worktops is the perfect solution, creating a fabulous contrast. This look also achieves the illusion of a larger room, opening up the space for a fresher, airier kitchen.
Alternatively choosing two different colours for your kitchen can create an interesting twist to your aesthetics and change the whole feel of the room. White kitchens create an airy, light feel which is especially great for smaller spaces. While dark colours add sophistication and a dramatic touch.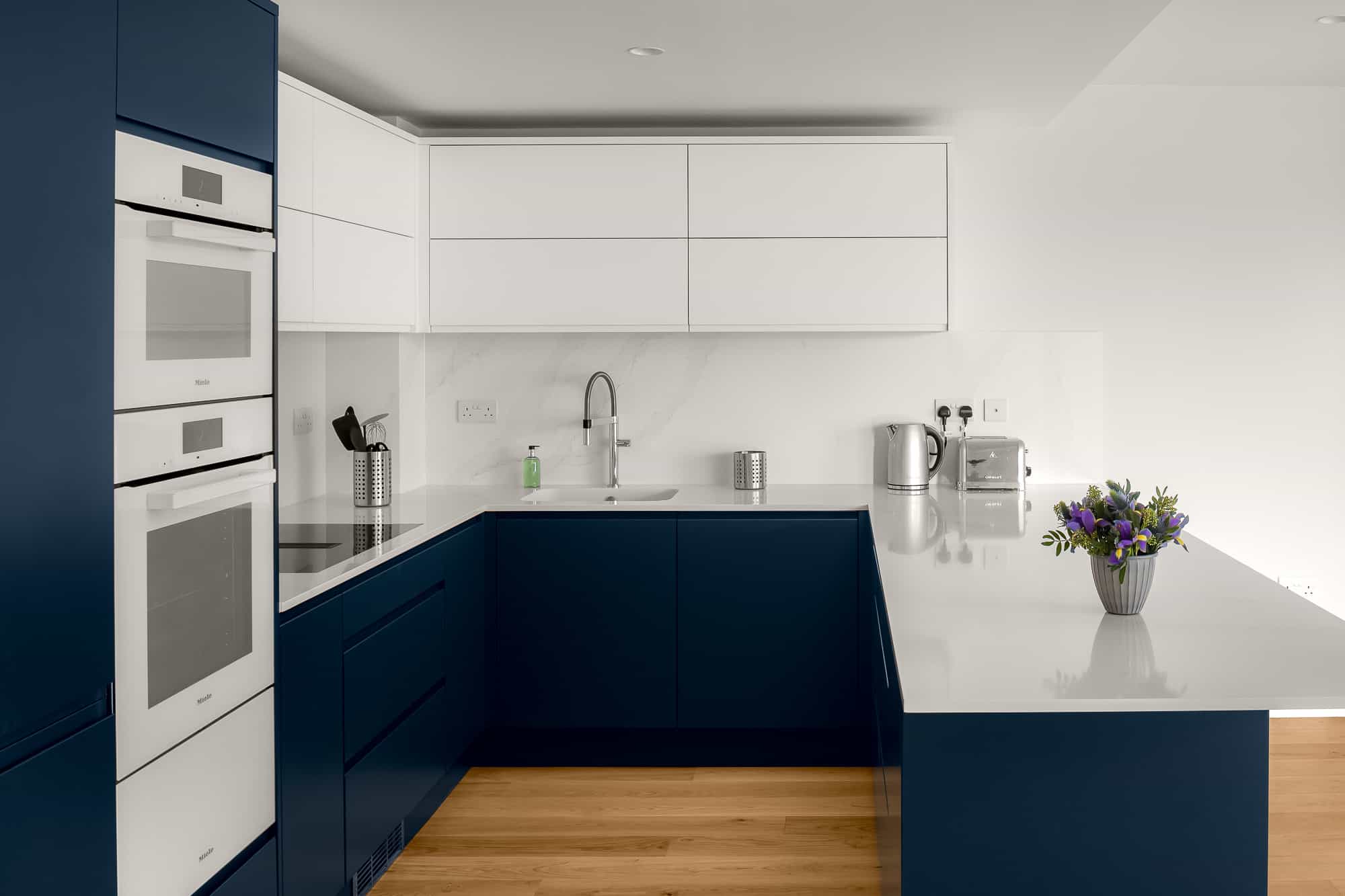 Lighting and layout are important considerations when thinking about your colour scheme. Every kitchen is unique when it comes to these so it's worth remembering, a palette that looks warm and inviting in a showroom's U-shaped kitchen with huge windows facing the sun, might not work as well in your L-shaped kitchen that has minimal natural light.
A kitchen flooded with natural light brings about a different feel and atmosphere compared to a kitchen that relies on artificial lighting. Think about how the lighting will affect the colour and consider what type of lighting you'll be using.  Large ceiling lights are great for illuminating the entire room, or you may choose to have strategically placed wall lights for mood lighting in the evenings.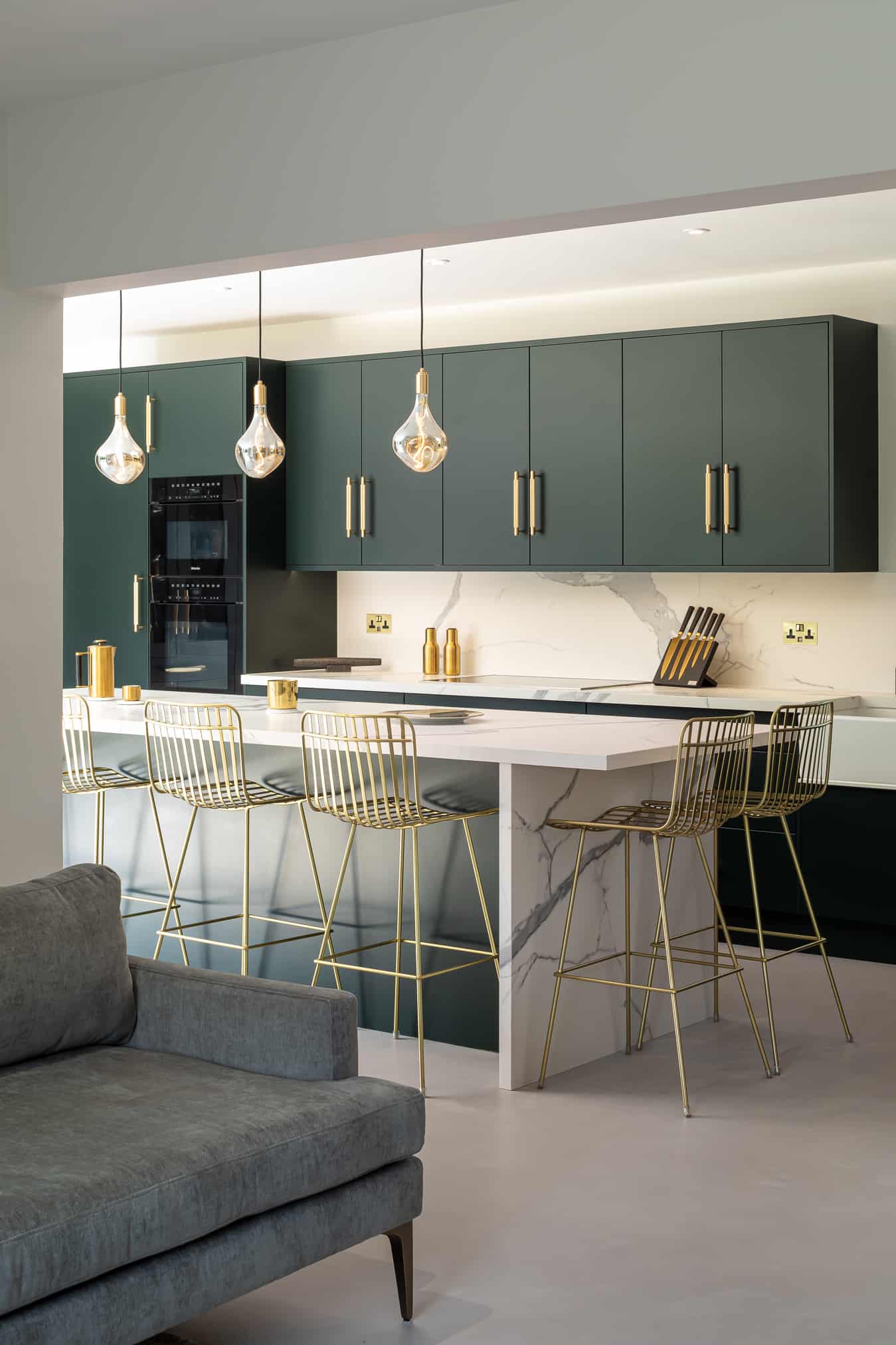 Creating Contrast
The uncluttered, clean lines of modern kitchens mean your colour choice is at the front and centre of your decor. This simplicity enhances any contrasting colours to stunning effect, by breaking up the shades and allowing any statement shades to take the spotlight.
One of the most popular ways to create this contrast is by combining neutral base colours with bold pops of colour. Painted cabinets in a vibrant shade, against a neutral background creates a breezy and fun atmosphere. If you prefer a more minimalist look, monochrome kitchens are simple yet sophisticated. Sometimes you just need one focal point to create this contrast such as a dark island in an off-white room, creating a fabulous and stylish statement piece.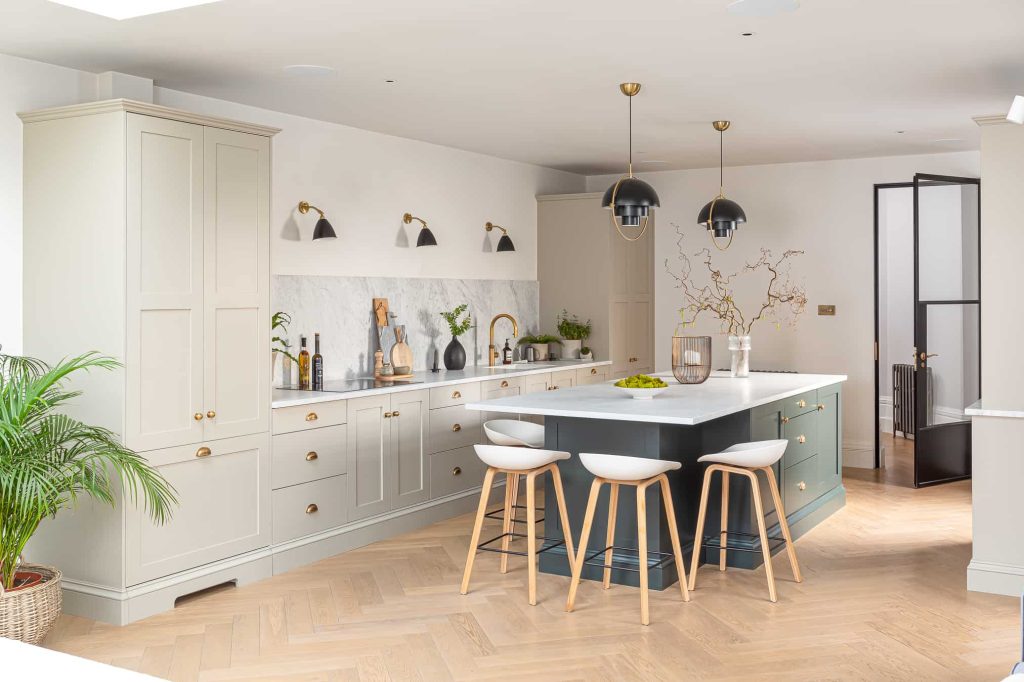 Creating contrast with texture and finishes can also make a strong statement. The sheen of stainless steel appliances pairs well with matte paint or wood finishes. Meanwhile, high-gloss paints are fantastic at amplifying and reflecting any light, adding depth and detail to a room.
When it comes to ambience, complementary spot lighting can have a dramatic, shimmering effect, perfect for intimate chats over wine or meaningful catch ups over a coffee and cake. Be mindful that you may need to incorporate softer elements to juxtapose the high flare from certain reflective finishes.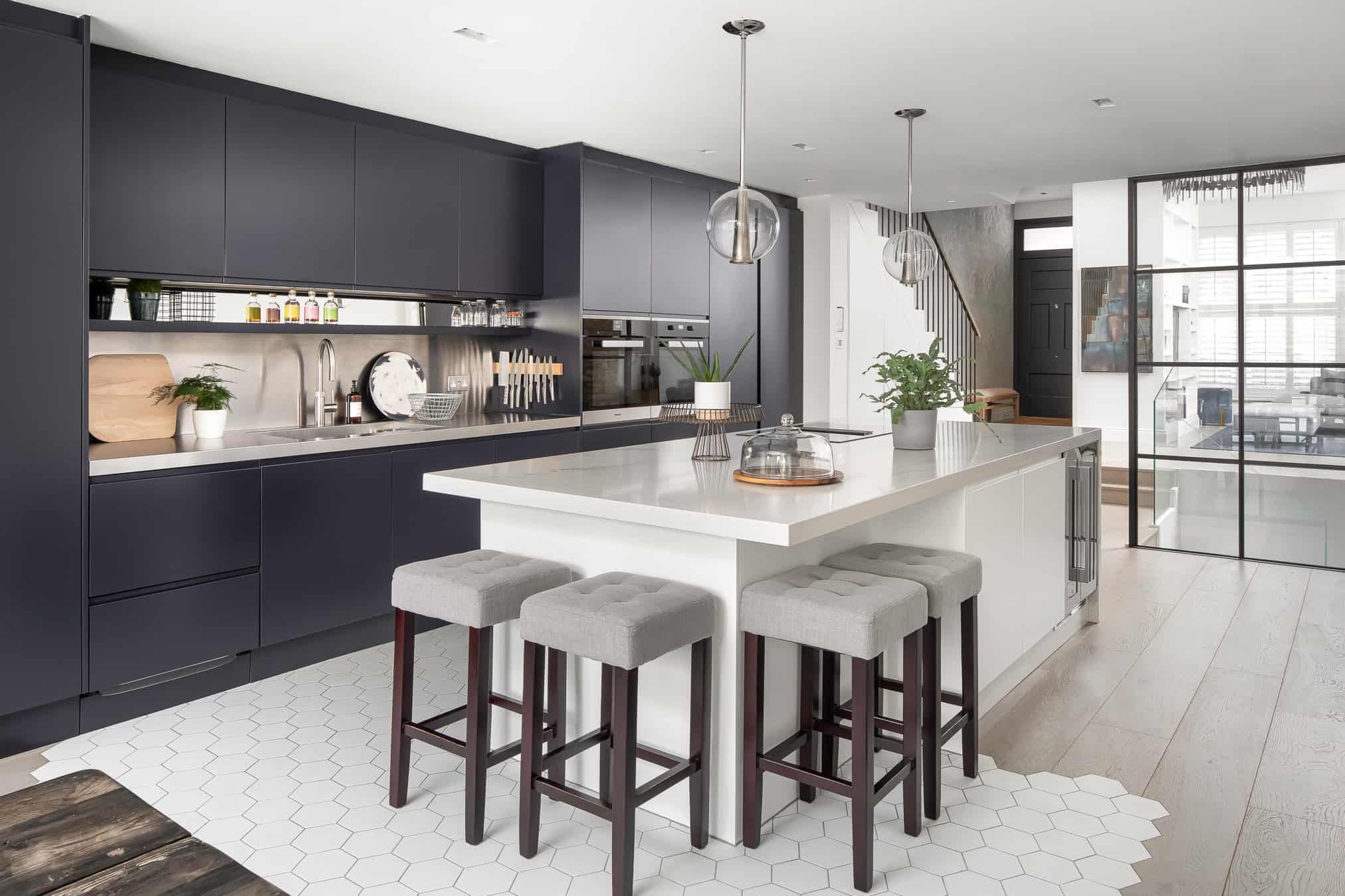 Finding the Right Balance
No matter which colour scheme you choose, you can be confident in our designers' knowledge that it will work harmoniously with your kitchen, whether you opt for a single colour throughout, go for a two-tone approach or use bold pops of colour through painted furniture.
Modern kitchen designs provide so many possibilities for beautiful colour palettes, and sometimes having a professional opinion can make a world of difference. John Lewis of Hungerford offers more than 100 different shades of award-winning paints. Our designers would welcome the opportunity to walk you through our different colour options to find a palette that suits your needs. Book an appointment with our expert designers to help you realise your vision.
Book a free design consultation
John Lewis of Hungerford designers are on hand to bring your ideal home to life
Book a design consultation