Designing the Green Kitchen of Your Dreams
Inspiration13th February 2023 5 minute read
From springlike shades to earthy sage, green kitchens are having a moment. Welcoming and organic, a green-hued kitchen brings the outside in while evoking a sense of calm and balance.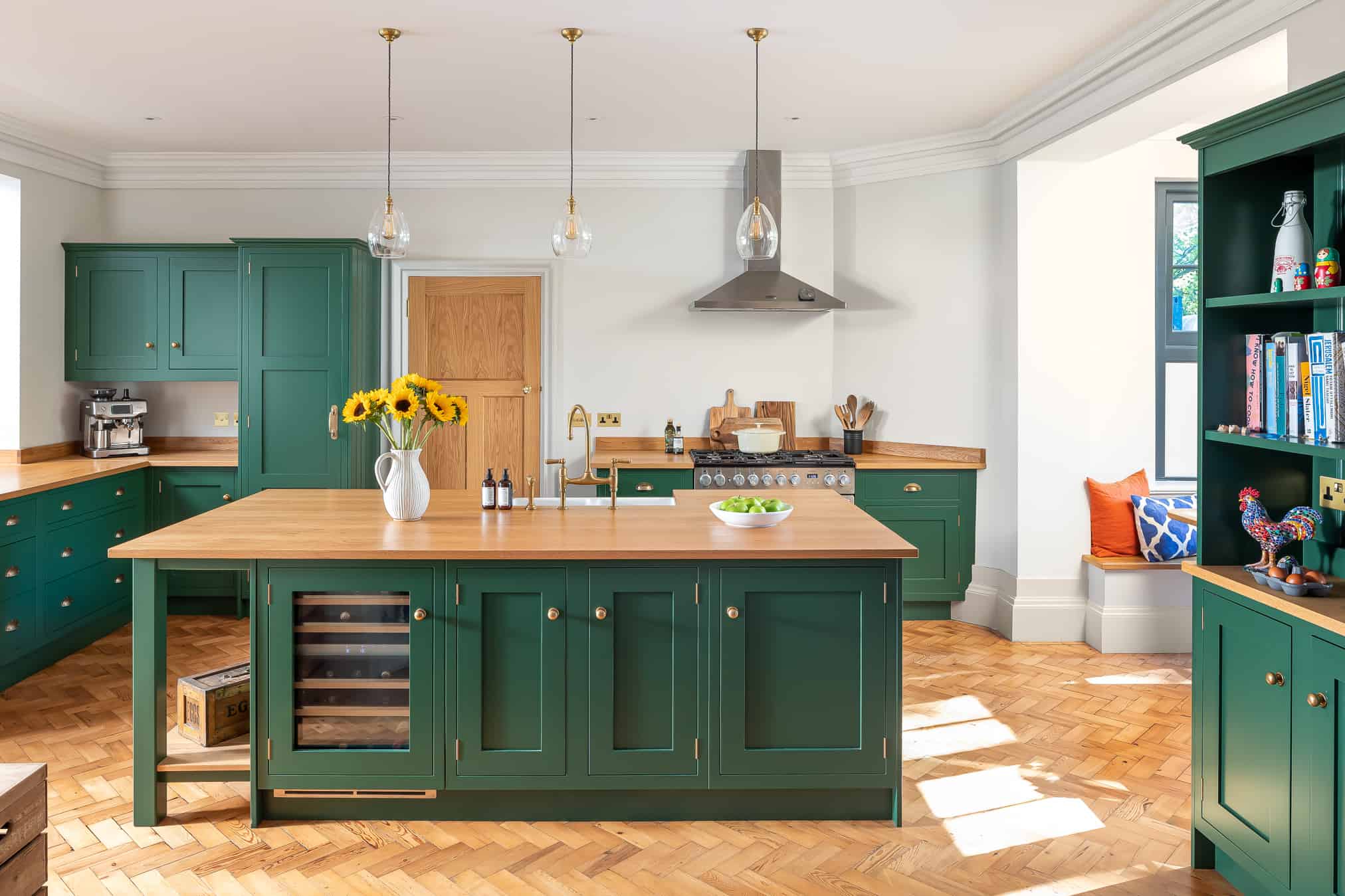 Synonymous with nature, green is the perfect choice for a kitchen, creating a sense of freshness and wholesomeness. In colour psychology, this is rich in positivity. For passionate home cooks, a green kitchen may help stimulate creativity. For those who love to socialise and gather in the kitchen, a green environment can evoke peace and conviviality. It's even believed that the colour green can inspire us to make healthier dietary choices.
With a diverse colour spectrum to choose from, the 'perfect green' exists for every home, whether it's a rich emerald shade or a warm olive tone. Read on to discover the perfect shade for your green kitchen.
Light and Airy or Dark and Dramatic?
Green is a colour with many personalities. At the light end of the spectrum, leafy shades, sea greens and mossy hues bring both brightness and a feeling of calm to interiors. In the mid-range, herbal greens and olive hues add earthiness and natural warmth. Darker green kitchens, meanwhile, painted in emerald and forest tones, evoke intrigue and luxuriousness. For homes with a particularly exuberant character, the bright, zingy boldness of zesty lime and tropical greens can make a strong statement.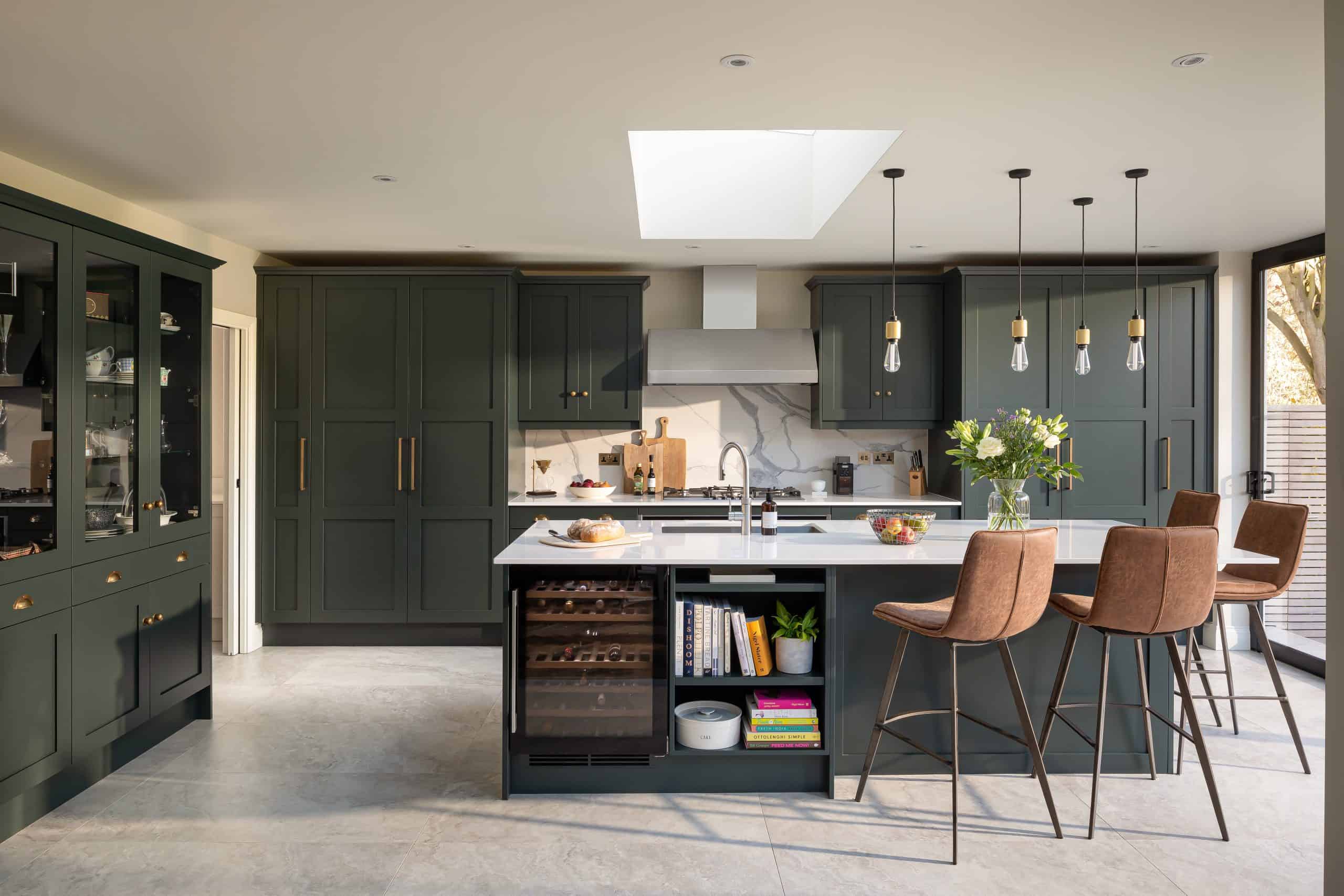 If you're drawn to the romance and luxe feel of dark green kitchens, you may want to dilute the effect by choosing fixtures, fittings and furniture in a different shade altogether. We particularly love the pairing of rich dark green walls with bright natural stone worktops or splashbacks. These shades, surfaces and finishes contrast beautifully with each other, adding lightness while working in harmony to evoke a truly decadent feel. In this combination, the lightness of marble acts as a visual 'palate cleanser', making sure that dark green hues do not overwhelm kitchens or create a feeling of gloominess.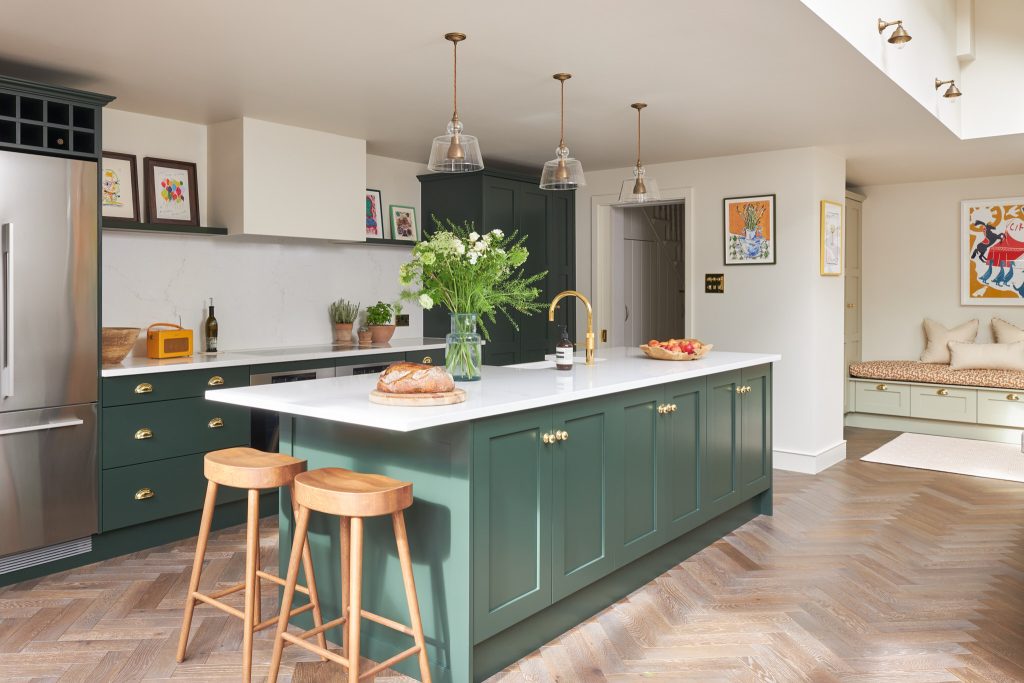 Although less visually refreshing than light marble, warm metals and darker woods also pair perfectly with dark greens. Copper-hued surfaces look particularly beautiful against a green kitchen backdrop, creating a vintage feel. Explore the John Lewis of Hungerford collection to discover more finishes and colourways.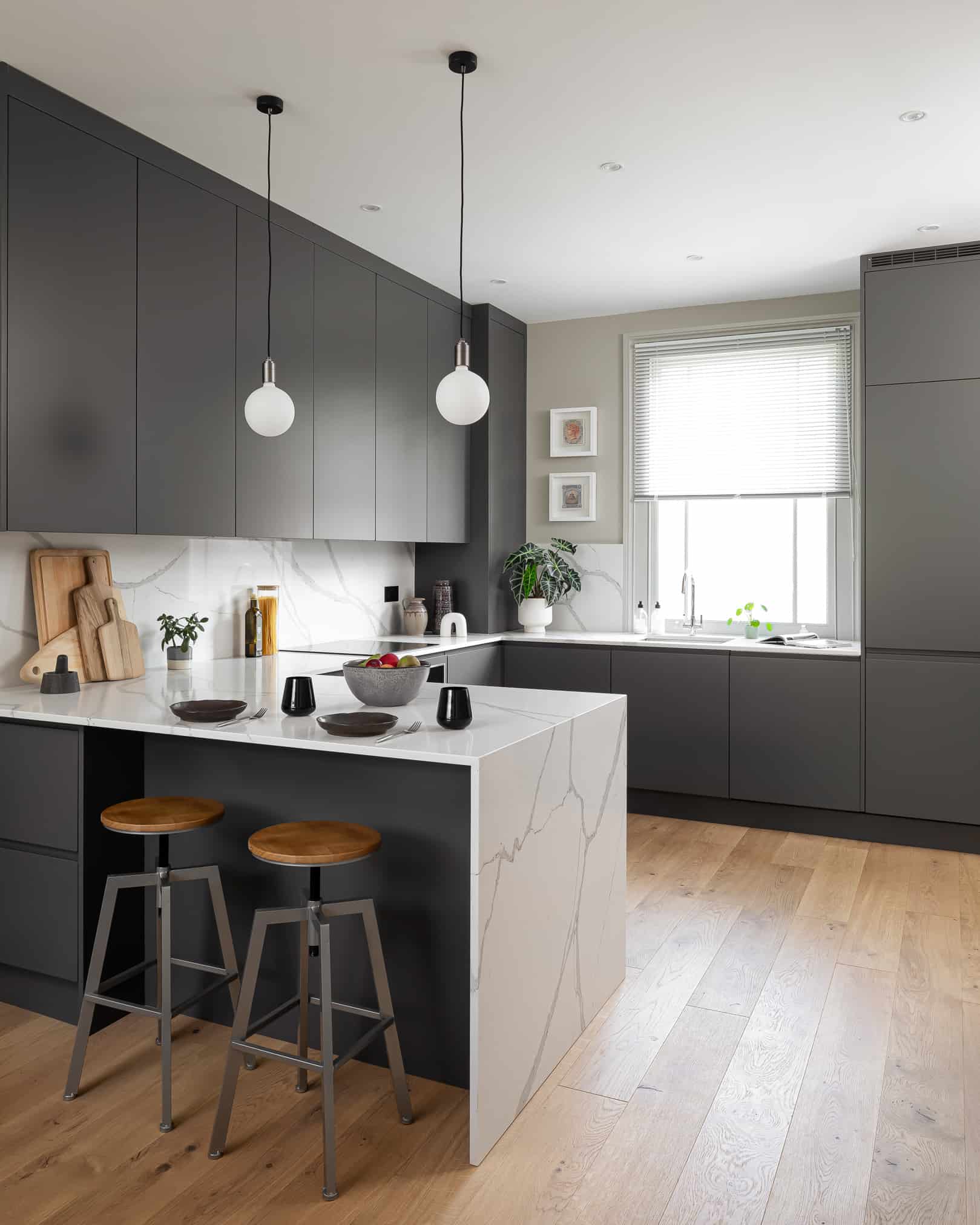 Opt for sage green for a light and airy space
Sage green is a shade undergoing a renaissance. Calming and grounding, this mid-toned green is the perfect colour for a relaxed yet welcoming kitchen area. To experiment with this shade in your kitchen, consider adding it to your kitchen fittings. Cupboard doors are a particularly easy option, ideal for homeowners trialling something new in their interiors. 
Creating a sage green kitchen needn't mean a complete interior design overhaul. Instead, small touches can be used to create a cohesive new look, whether that's with accessories like dishcloths, table mats, trays or tumblers. From cabinets and countertops to kitchen pots and culinary utensils, it's easier than you might think to carry a green theme throughout your kitchen, without a complete redesign. Download a John Lewis of Hungerford brochure for even more kitchen inspiration.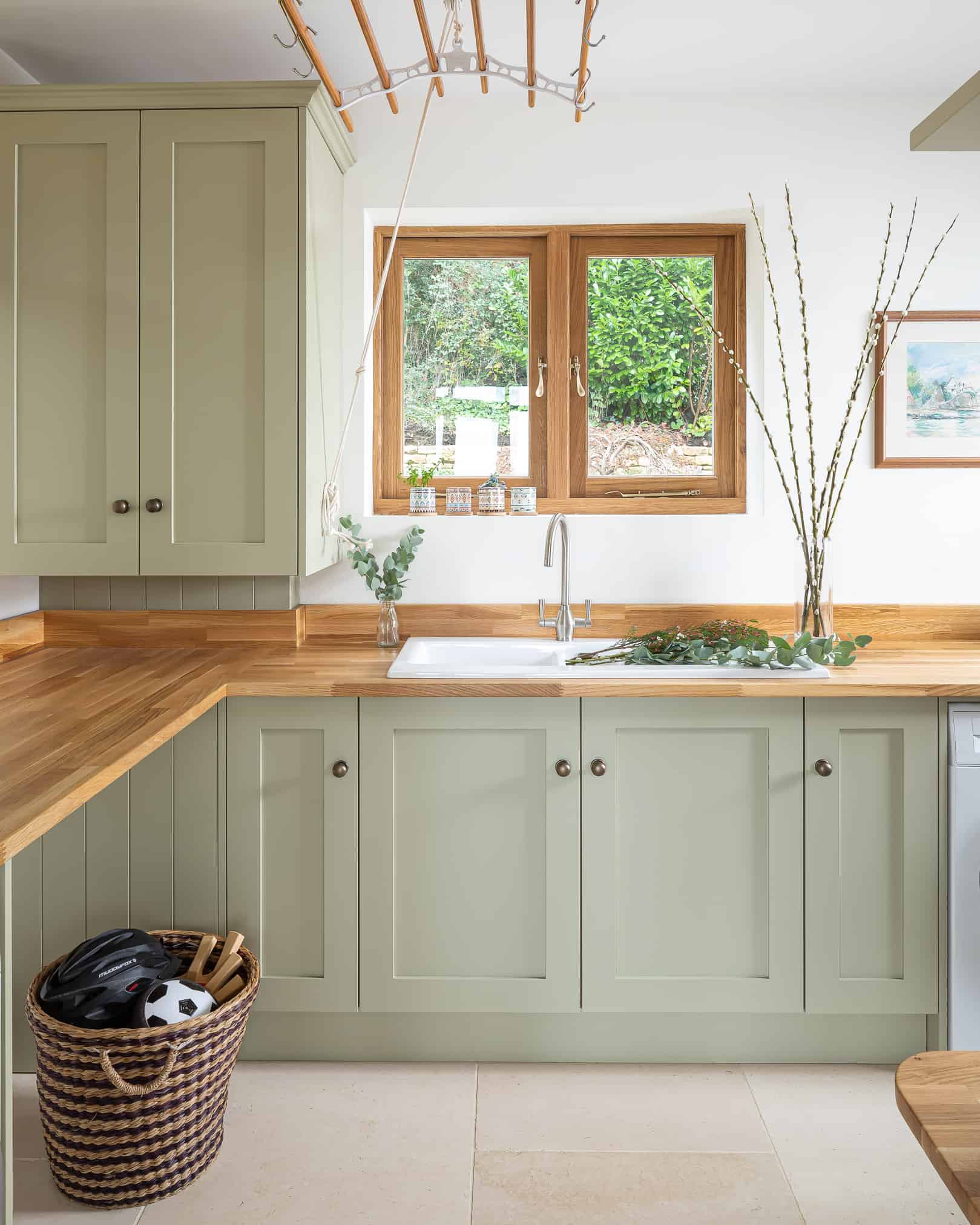 Take Advantage of Accent Colours
Green is a colour that is endlessly compatible with other colours. Adding an accent colour to your green kitchen can add invigorating contrast, introduce a burst of creativity or offset the dominant shade, to lighten the environment. Here are a few of our favourite colour combinations…
Natural greens and soft pinks
Blush, rose, coral and barely-there shades look beautiful with mint and forest green, adding contrast, creativity and femininity. Although this combination is strong, choosing softer, more natural shades ensures the contrast is not overwhelming.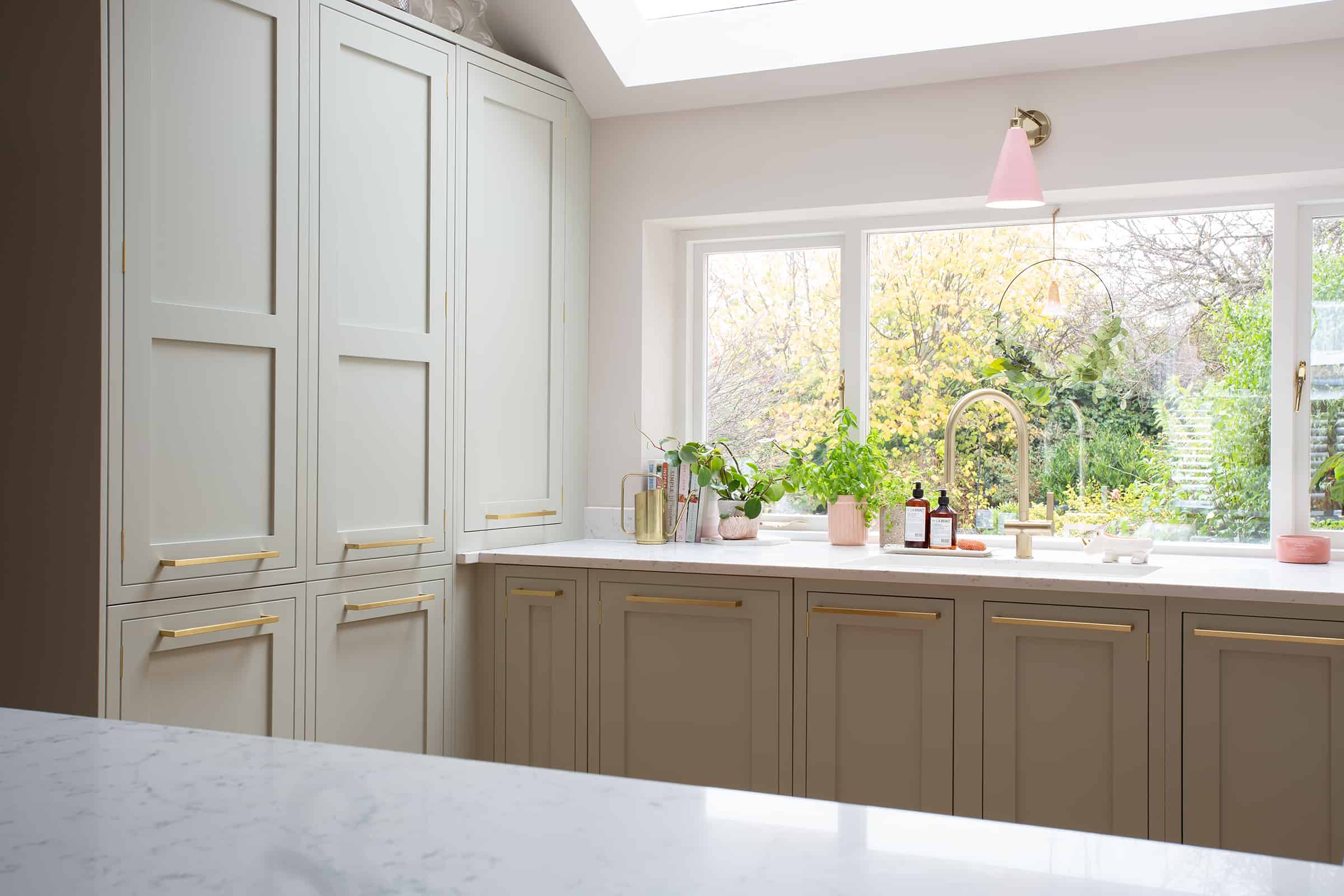 Rich greens with crisp whites
Stark, sharp and sophisticated, pairing forest greens with bright whites creates a somewhat vintage look. We love this characterful combination in high-ceilinged spaces, particularly in combination with the clean lines and historic appeal of Shaker-style furniture. To get the look, explore a perfectly proportioned bespoke kitchen design, made to measure by the John Lewis of Hungerford artisans.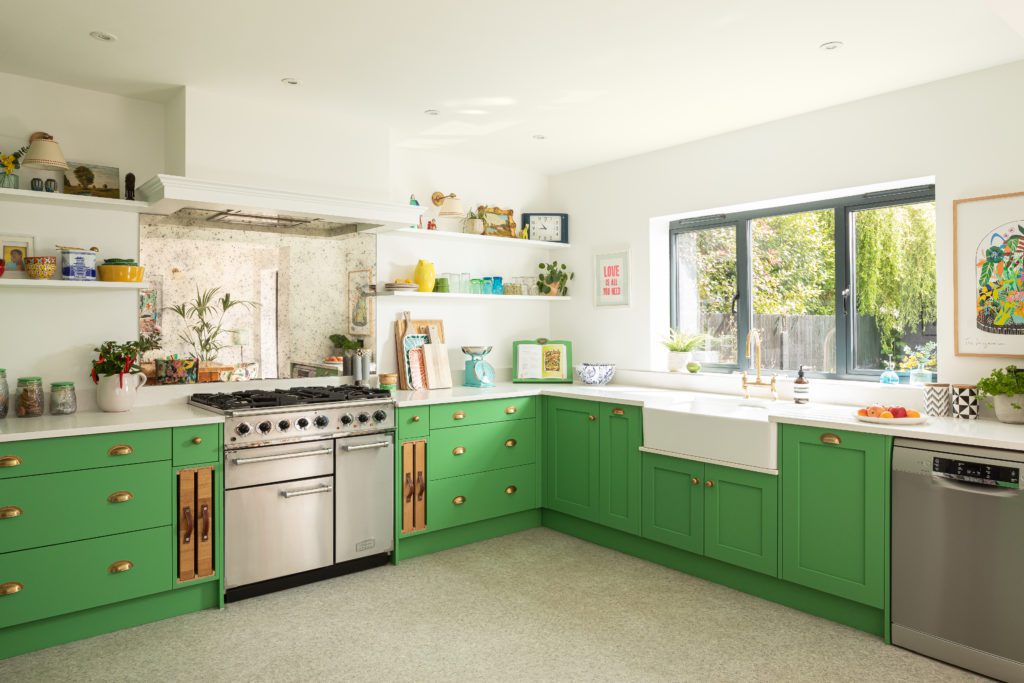 Aqua hues
The distinction between blues and greens is a blurry one, so combining aquatic greens and blues in one interior makes perfect sense – particularly in homes with an airy, coastal atmosphere. Introduce a spectrum of aqua hues into your kitchen to create a relaxed, beachy environment. Light natural wood is the perfect partner for this palette.
Greens and greys
For a modern, sophisticated take on the green kitchen trend, blend greens with shades of grey. With much overlap between the colours, it's easy to find a pairing that allows your favourite green shade to shine, without becoming overwhelming.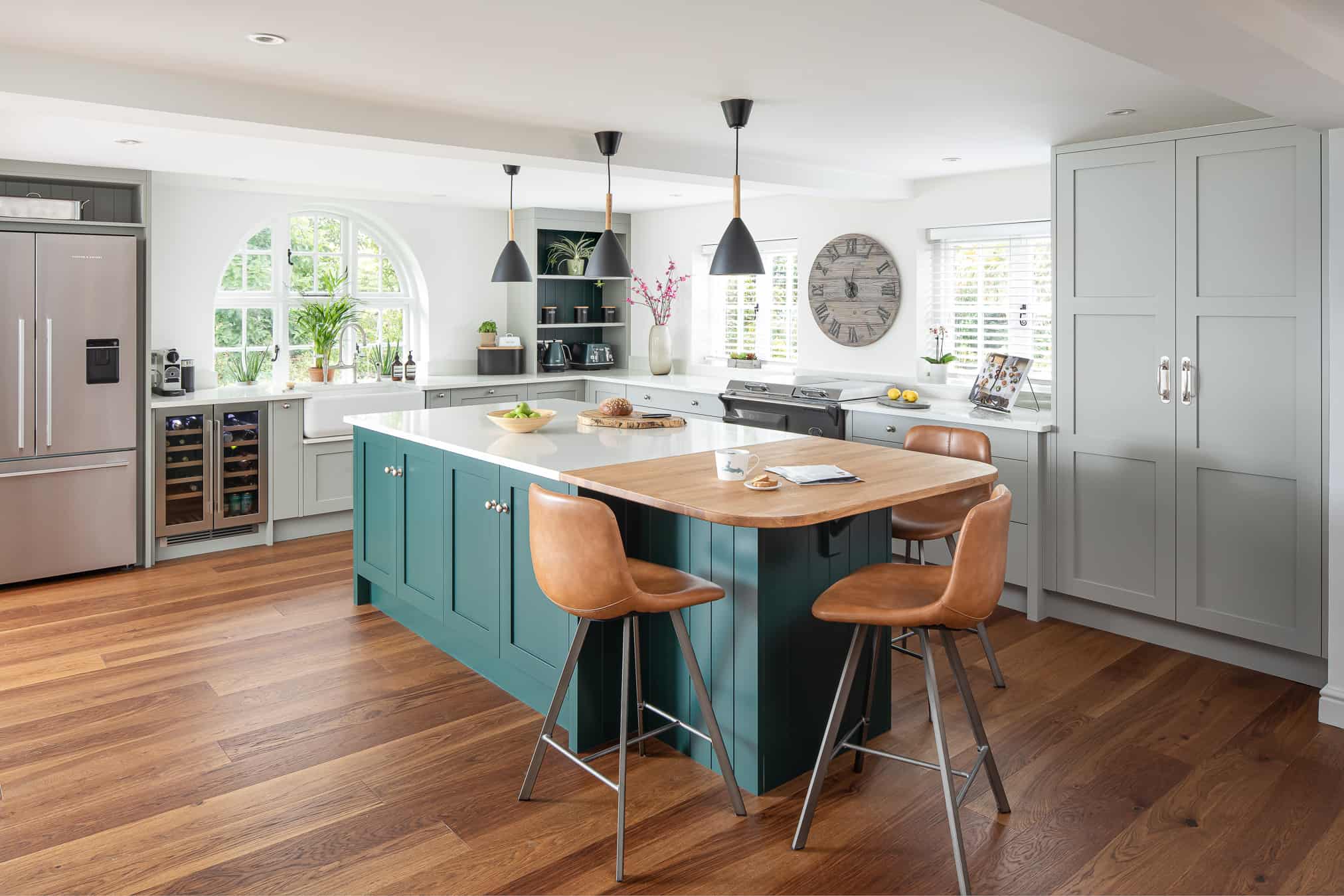 Play With Different Tones of Green Colour
With an entire spectrum of green shades to play with, why stick to just one? Mixing and matching different shades of greens can create a feeling of depth and abundance in a kitchen. From a forest green kettle and mint green spice cupboard to sage green kitchen cabinets and emerald green crockery, mixing greens in a kitchen has much the same effect as seeing different leaves together in nature. Perfect for creative homes, this exuberant approach to the colour green adds variety and inspiration to your kitchen.
Use Green Artwork or Green Accessories
Artwork and accessories are the perfect way to introduce green into your kitchen, with very little commitment. Find prints, paintings or photographs in your favourite shade of green, then hang them in your kitchen to trial the colour. Start adding green accessories into your space, to experiment a little more. Tea towels, oven gloves, plant pots, soap dispensers and crockery are all great places to start.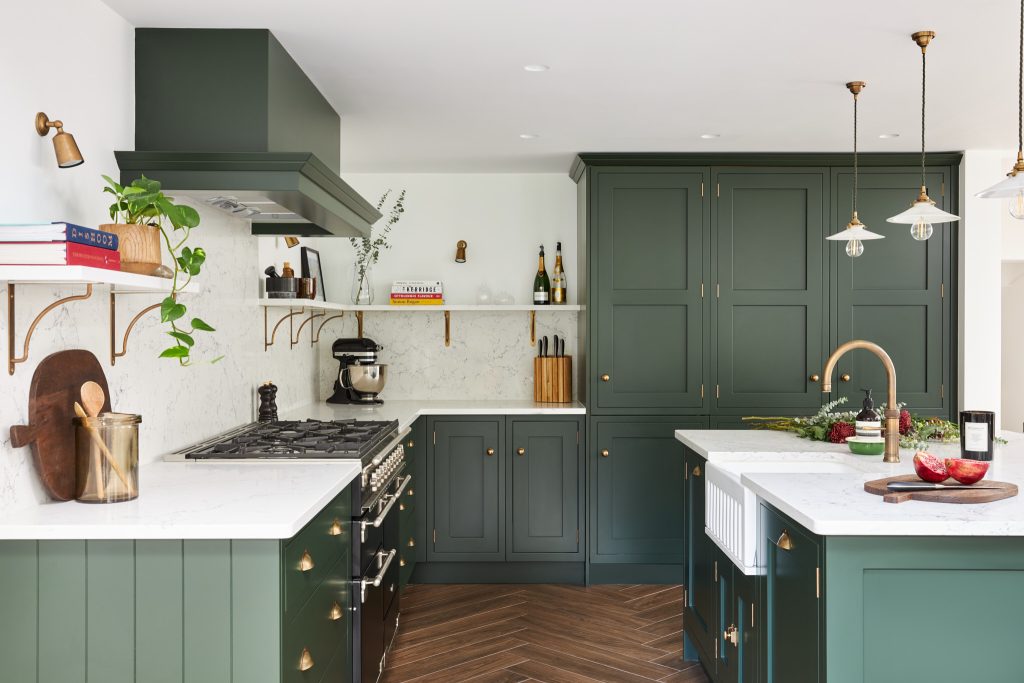 Go Green with John Lewis of Hungerford
From made-to-measure cabinetry upgrades to sleek new marble countertops, John Lewis of Hungerford specialises in beautiful kitchen furniture and fittings, available in a range of gorgeous green shades, natural woods and luxury materials. Handmade in the UK, built to last and expertly installed in your home, our furniture is crafted to help realise your interior design vision. Contact us to discuss your green kitchen design ideas.
Book a free design consultation
John Lewis of Hungerford designers are on hand to bring your ideal home to life
Book a design consultation