5 Eco-Friendly Kitchen Designs For Your Modern Home
Inspiration7th June 2022 4 minute read
Truly green living goes beyond beeswax food wraps and compost bins. Innovations in interior design have made maintaining an eco-friendly home possible in any artisanal and luxury kitchen. Centered around sustainability, a timeless home that truly leaves a lasting impression starts with an eco-friendly kitchen.
Integrating sustainability into bespoke luxury kitchens begins at the bones. From cabinetry and countertops made of recyclable and raw materials to energy-efficient lighting and appliances that reduce energy consumption, lowering your carbon footprint is possible with a few key choices in design.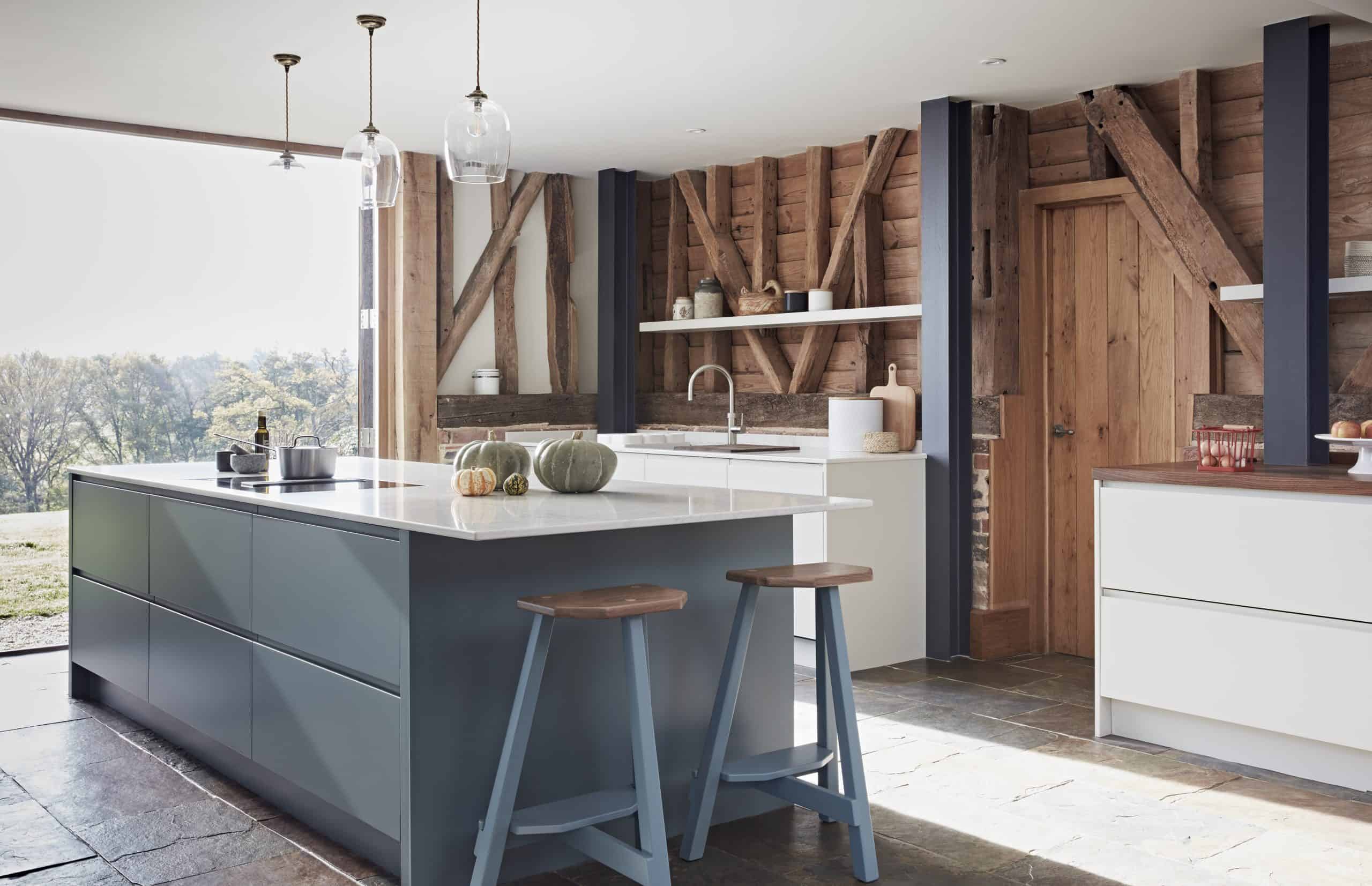 1. Use Sustainable Natural Materials
When deciding on the look and feel of your kitchen worktops and cabinetry, consideration of natural materials goes a long way in terms of sustainability. Timber and bamboo, for example, exude warmth and invite an earthy liveliness into the home. These materials are dependable for their sturdy resilience and are naturally more readily recyclable than artificially produced materials.
Part of incorporating sustainability within design choices comes from sourcing materials from reputable vendors. Our designers at John Lewis of Hungerford are committed to only using timber that is in alignment with the greatest sustainability and forestry standards, maintaining a low environmental impact from the start of the design process.
Durable as they are, caring for your wooden kitchen worktops may require some extra consideration when bustling around the kitchen. Immediately soaking up spills and protecting your counter from exposure to heat are a couple of easy ways to ensure the enjoyment of your kitchen worktops for generations ahead.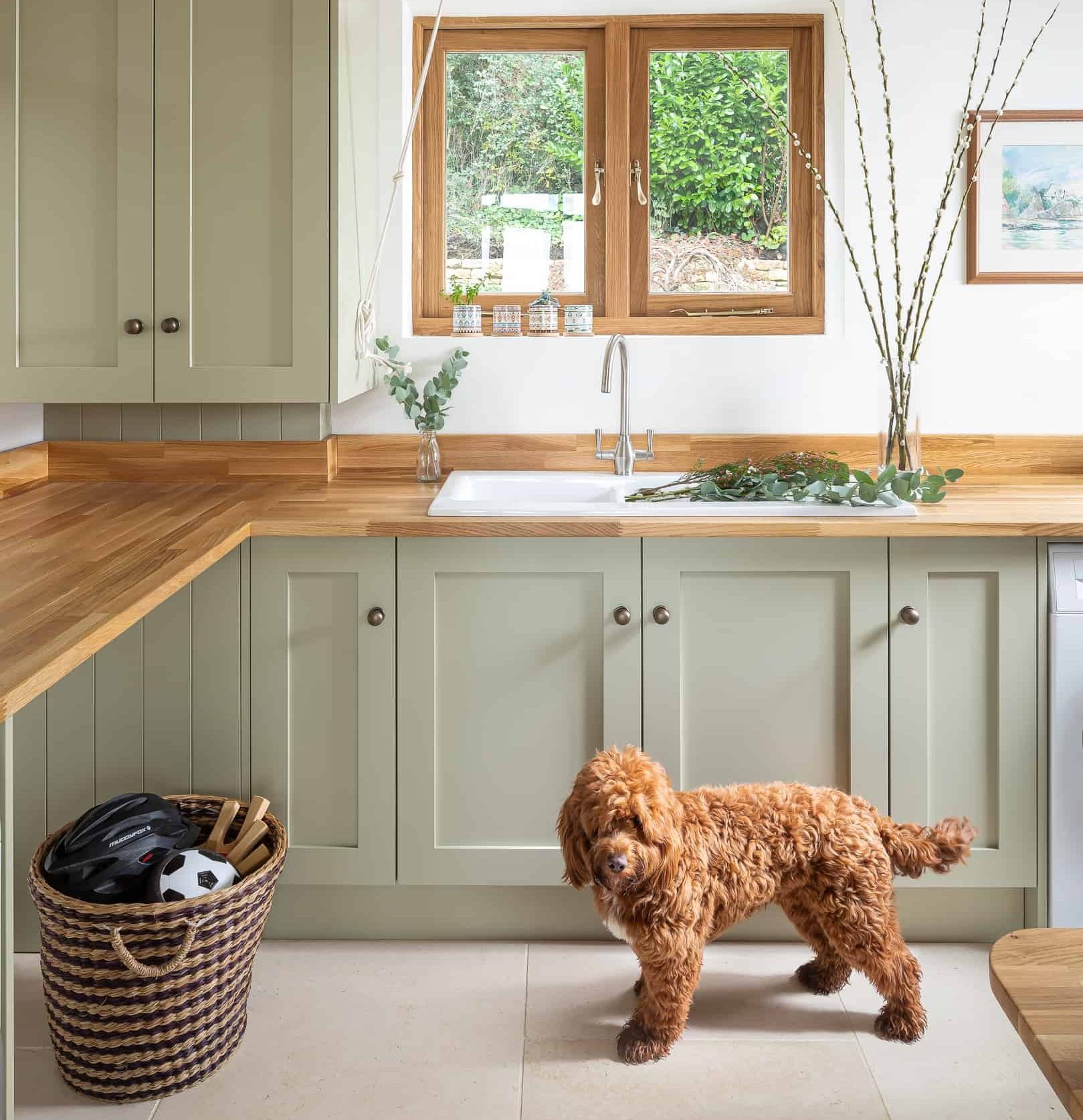 2. Install Electric Kitchen Appliances
Electric kitchen appliances are an all-around more sustainable option in comparison to their gas-powered counterparts. Non-renewable fossil fuels, like those that are used to power gas stovetops, are of the greatest contributors to global warming. Also a significant source of indoor air pollution, gas hobs pose a risk to the health of the household with a slightly higher risk of dangerous gas leaks. Electric kitchen appliances are an exemplary sustainable option for your carefully curated kitchen design, which aim to reduce global gas emissions and pollutants within your home. On top of this, more appliances than ever are focused on improving sustainability and efficiency with every use.

3. Opt For a Boiling Water Tap
When it comes time for tea or you're ready for a snappy meal after a long day at the office, waiting for the water to boil always seems to take ages. A clever way to get around this with an eco-home improvement is to simply install a boiling water tap. Cutting back on energy consumption wherever possible will make your kitchen more environmentally friendly, altogether.
Electricity expenditures, like running electric kettles or gas hobs, contribute to the increase of your home's carbon footprint. The decision to integrate a boiling water tap into your luxury kitchen design allows you the convenience of boiling water at the ready, while diminishing the energy needed to make a beloved cup of tea.
However, this is dependent on how often you boil a kettle. If you only really have one cup of tea per day, investing in an energy-saving kettle may work out cheaper than a boiling water tap.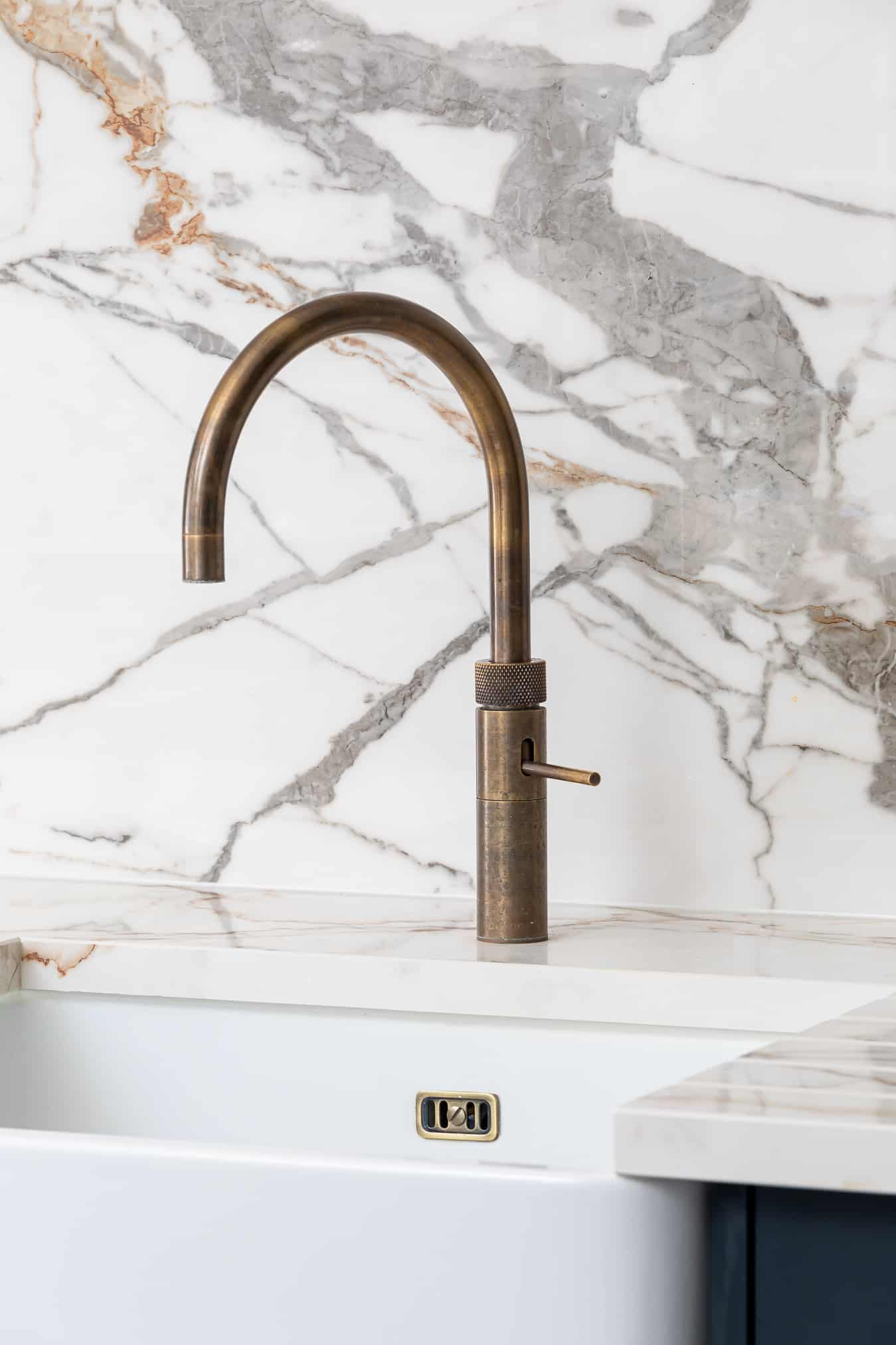 4. Choose Recycled Materials Where Possible 
Recycled materials have their place in sustainable design, and for good reason. Recycled materials impact consumer demand in a positive way by increasing demand for reclaimed and previously beloved materials. Using recycled materials wherever possible within your kitchen is one of the easiest ways to go green at home.
For countertops that are stylish yet strong, composite worktops are an eco-friendly option. Commonly manufactured with a mix of natural materials, like quartz, these worktops are made to stand the test of time while leaving a lasting impression in design.
Composite worktops are consistently manufactured to replicate the beloved look of other materials, like marble. From classic kitchens to those with an artisanal flair, our brochure offers an inspiring look at just how stunning a worktop of recycled materials can be.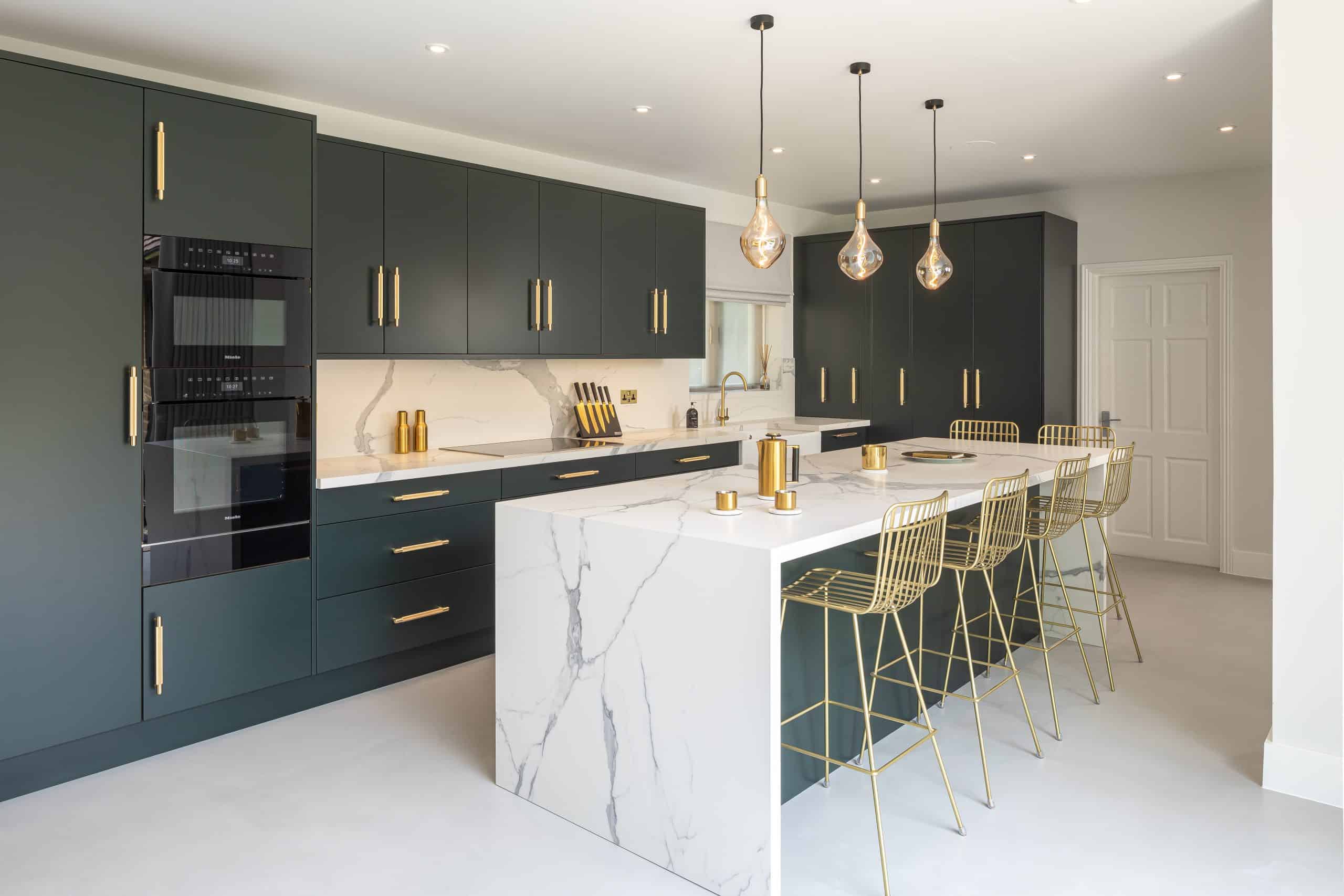 5. Lighten Up with Efficient Lighting
Our designers can help you draft a detailed lighting scheme that includes energy-efficient LED lights wherever possible. These lights illuminate your kitchen through minimal energy consumption and come with a long lifespan. Available on a spectrum from warm to cool tones, this picture-perfect lighting is ready to brighten your work surfaces or invite a glow over your kitchen island.
There are plenty of answers to the question at hand — how do you make your home more eco-friendly? But the use of recycled materials within your kitchen goes a long way in the consumer demand cycle. Simple switches from the norm, like going electric with appliances and swapping standard lightbulbs for LED fixtures, have a positive impact on the carbon footprint of your home, without jeopardizing the overall look and feel of your kitchen.
Contact our design team
today to review helpful eco-friendly ideas for your home. From concept to completion, our dedicated designers are ready to work with you every step of the way to make your sustainable kitchen ideas a reality.
Book a free design consultation
John Lewis of Hungerford designers are on hand to bring your ideal home to life
Book a design consultation