Designing A Utility Room For Your Home
Inspiration2nd November 2021 5 minute read
A utility room is perhaps the most practical space in a house, storing everything from large appliances to cleaning products and muddy boots. These multifunctional spaces are considered to be the engine that runs a modern home, giving you the space to organise yours and your family's lives without it taking over the main living spaces.
Utility rooms are often an extension of the kitchen, and play home to washing machines, tumble dryers, cleaning supplies while offering extra storage space for the miscellaneous things that just don't belong in the rest of the house. It's usually the one room guests won't see, but it keeps the house running smoothly. But just because utility rooms are dedicated to practicality, doesn't mean they can't look stylish too. Here, we'll share some stunning utility room design ideas to create a fabulous, yet functional, space you will want to show your friends.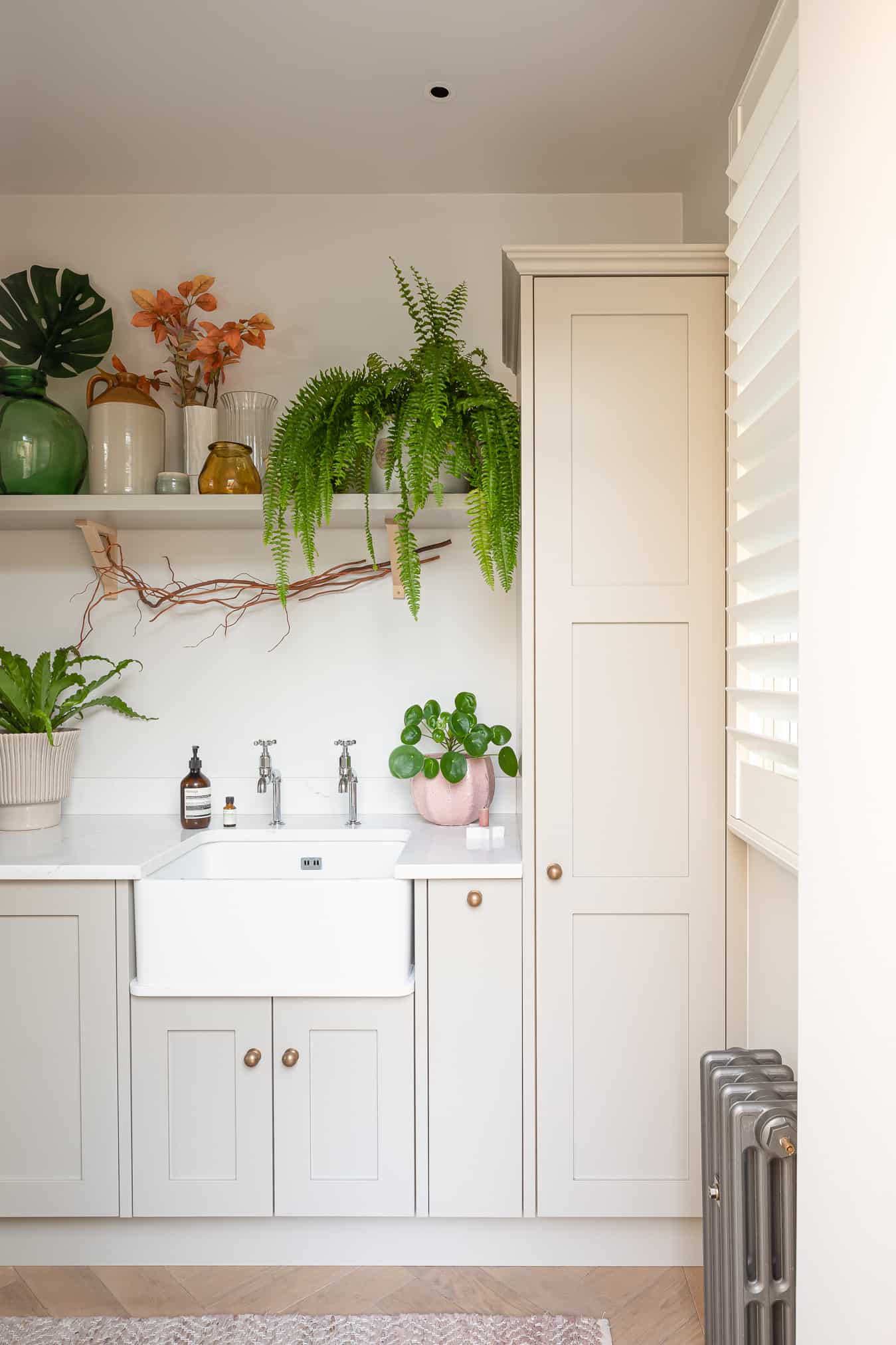 Why should you have a utility room?
A utility room is known as 'the engine of the home'. It's an apt name, considering it keeps your house running like a well-oiled machine behind the scenes.
Connected to your kitchen, it is the room where your washing machine and tumble dryer discreetly do their work away from the living spaces of the home. Although 'utility room' is often used interchangeably with the term 'laundry room', it is so much more than a place to do the laundry. It is used for the 'life admin' and organisational tasks of your daily routine, ensuring that your kitchen space can be solely used for cooking, eating, entertaining and socialising.
As an extension of the kitchen, utility rooms are also becoming a space to store less used kitchen equipment and even house larder cupboards. They typically have plenty of storage, as well as a deep-set sink for more heavy duty cleaning requirements. Beautifully fitted cabinetry houses everything from vacuum cleaners, mops and buckets to ironing boards, washing machines and tumble dryers. However, this isn't necessarily the sole use of a utility room. The 'bootility' is becoming hugely popular as a place to not only use as a laundry room, but also to store everything from coats and boots – and even a place to wash the dog and keep all your pet-related accessories.
And as well as making your life much easier, a well-designed utility room can increase a home's value and desirability.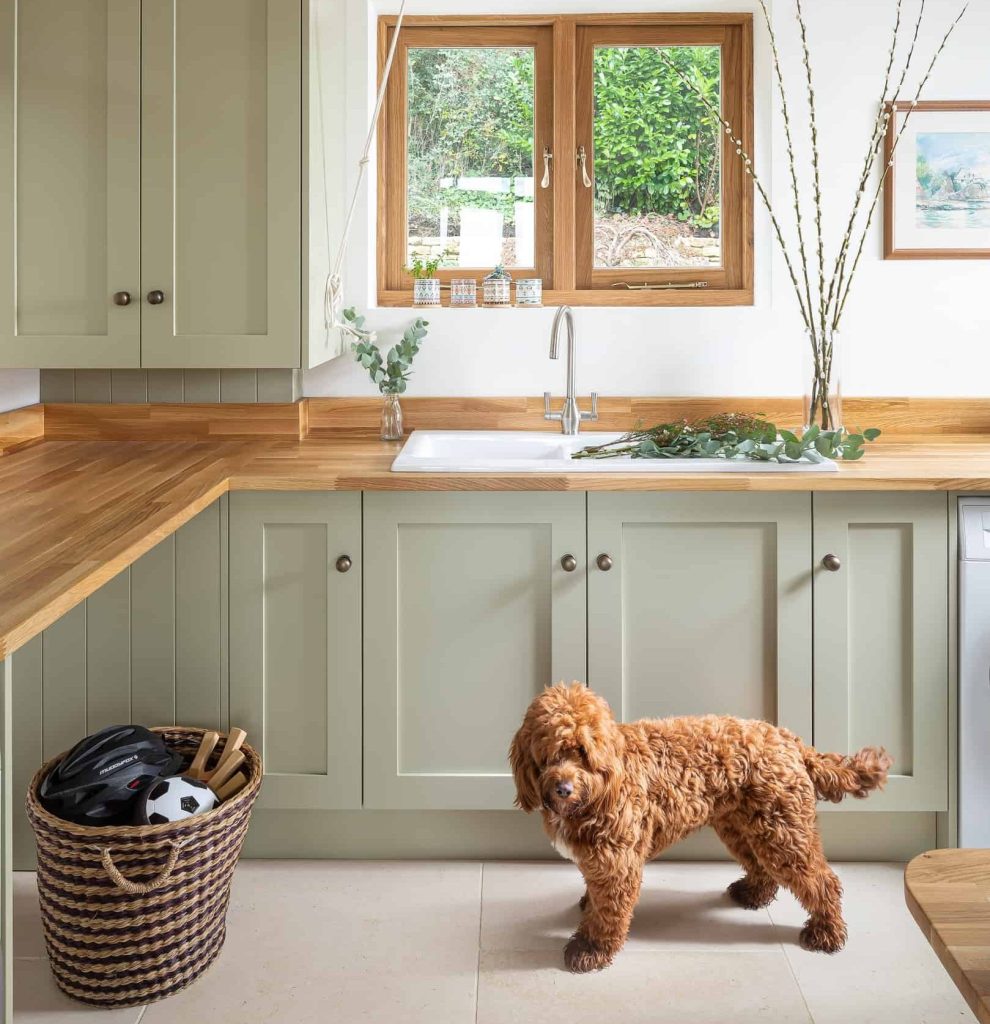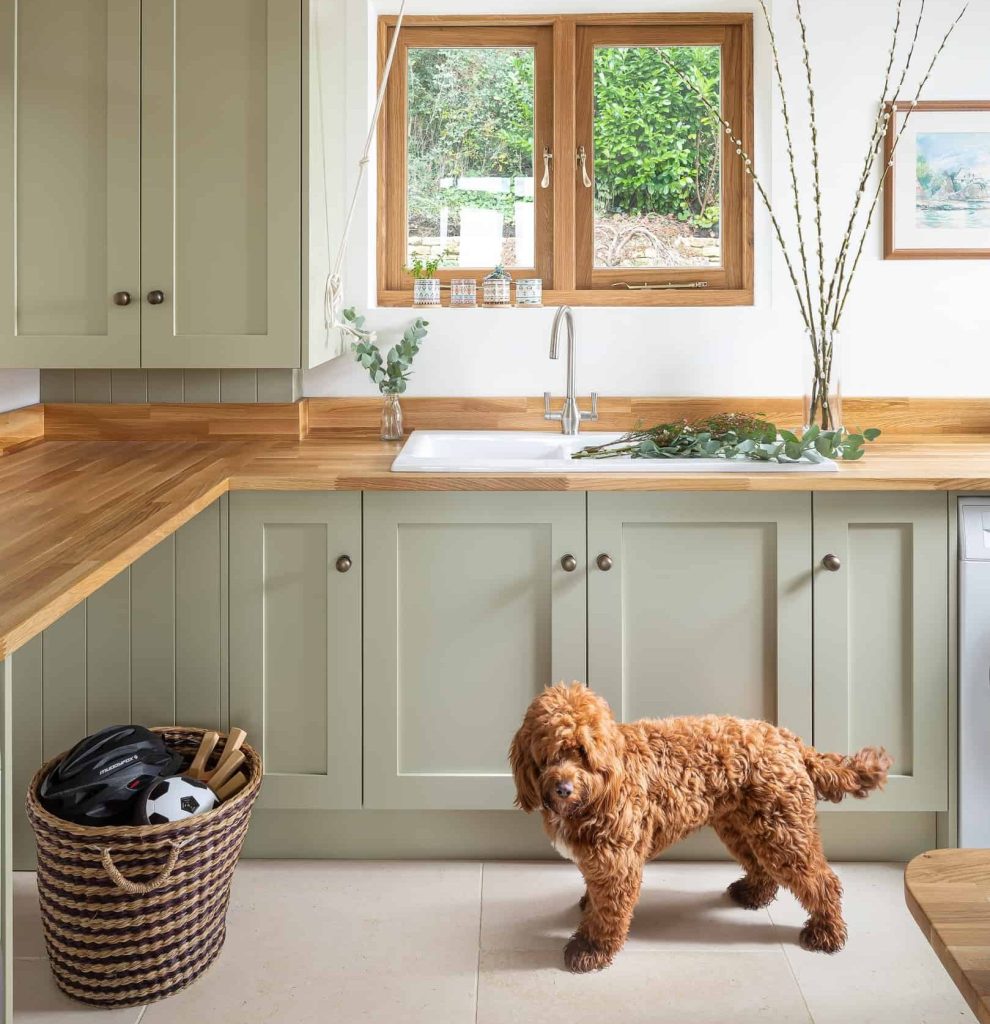 What goes into a utility room? 
A bespoke utility room can house a wide range of appliances and storage solutions.
Washer/dryer
Save space in your kitchen by moving your washing machine and tumble dryer to the utility room. Utilise all the space available by stacking the dryer over the washer. Fitting cupboard doors around appliances helps to keep the noise down and makes the room look smarter and more uniform. If your layout allows it, you can add a back entrance to make it easier to access the kitchen to hang out washing or remove muddy boots after playing outside.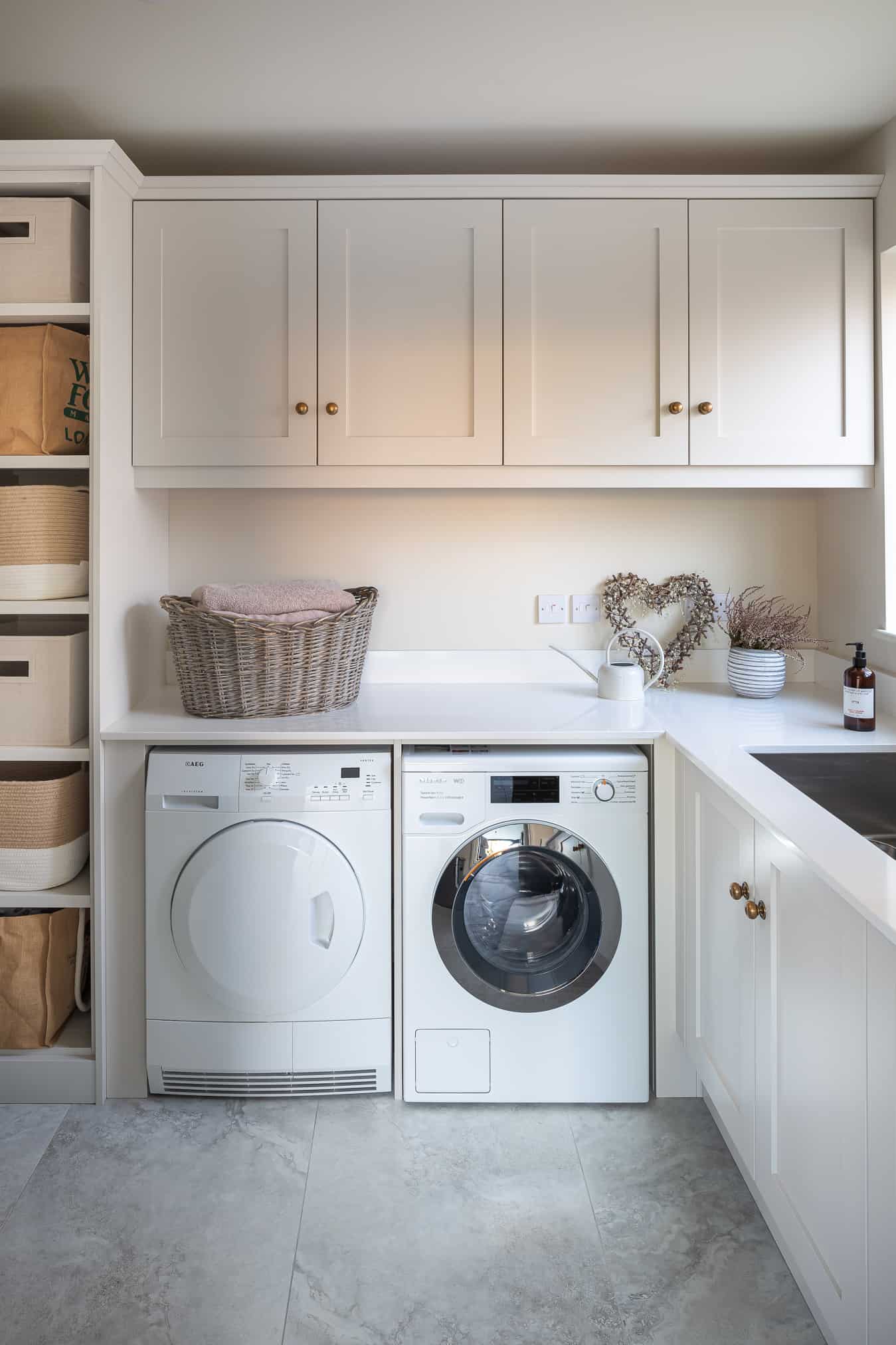 Clothes horse/indoor washing line
A clothes horse or a retractable wall-to-wall clothes line is perfect for winter and rainy days. They are adjustable depending on how much you need to dry and can be neatly tidied away when not in use.  If you have a high ceiling, you can also fit an overhead airer. For even quicker drying,  invest in a heated clothes horse or install underfloor heating, which keeps your utility room toasty warm without taking up any extra space on the walls for radiators.
A deep sink
A sink is a useful feature of a utility room because it can be used for everything from watering plants to washing small pets. The deeper the sink, the better in our opinion. A sink with extra volume can hold larger items that might need a good scrub, such as sports equipment. Your sink should be deep enough to prevent spills when hand-washing tougher stains, or even when watering any potted plants.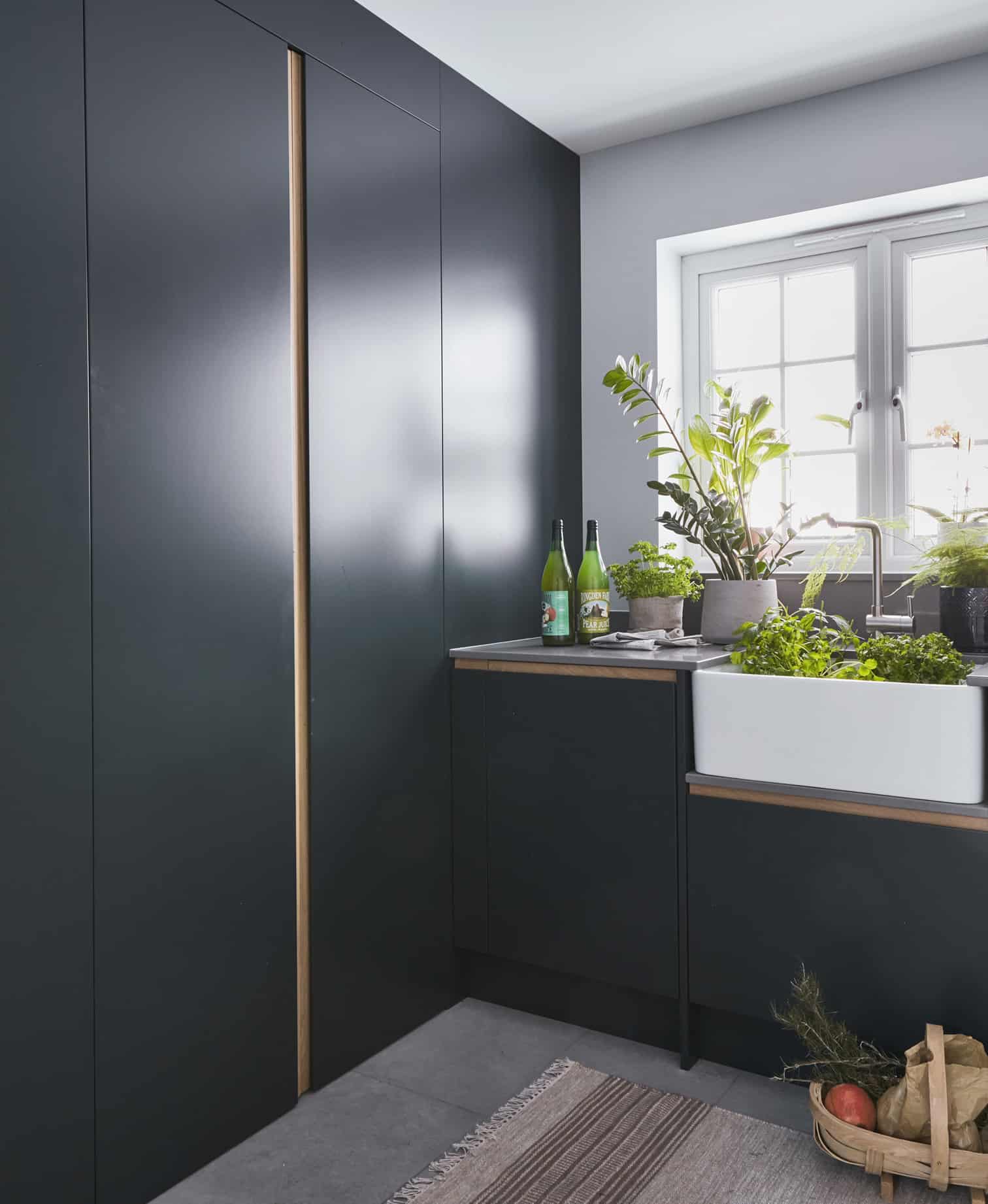 Storage options
Utility rooms can double up as overflow storage rooms, so take advantage of all available space. Floor-to-ceiling cupboards and shelves provide storage for items such as mops, step ladders, ironing boards, steam cleaners, vacuum cleaners and other household products. Consider installing freestanding cupboards and built-in units, drawers and even open shelves. Sliding doors and handleless cupboards are ideal for small spaces and look sophisticated, clean and tidy.
Include shoe racks and hanging storage such as bags for clothes pegs.  Don't forget to add some wall-mounted hangers to store rain jackets, coats and PE kits for quick access as you rush out the door.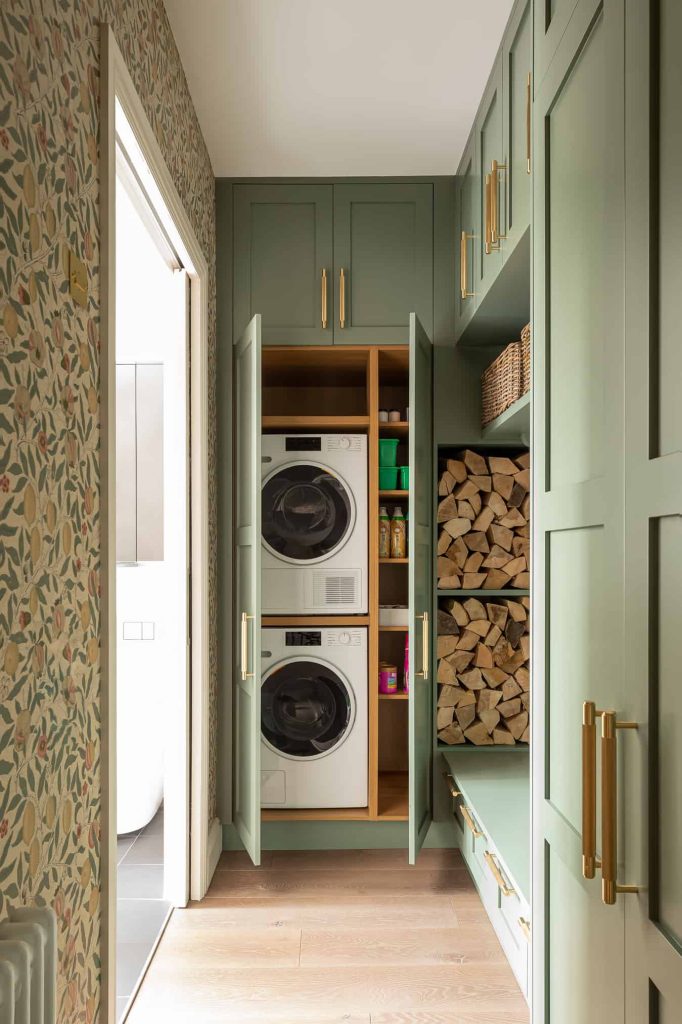 How should you style a utility room?
Wherever you choose to place your utility room, you should carefully consider several style factors to ensure its ease of use and appearance. 
Hardy worktops and floors
With the utility room's focus on cleaning materials, you should pick your worktops carefully so they're not damaged from the chemicals. Utility rooms are typically high-moisture environments, so you should choose a resilient worktop that will stand the test of time. Granite is a premium option that is highly water-resistant and durable, but hardwood is a versatile alternative that offers a more natural aesthetic.
Your utility room floor will encounter plenty of dirt and spills so it's best to opt for waterproof and easy-to-clean materials. Vinyl and waterproof wood laminate floors are good options for durability and easy cleaning, while engineered stone is a sturdier option, available in a variety of styles that mimic natural stone. Ceramic tiles are resistant to water and chemicals and perhaps the prettiest and most ornate option, giving you the chance to play around with a design that suits your family best.
Disguised plumbed goods
Just because the utility room is hidden doesn't mean you should neglect to cover up the plumbing. 
Not only can you make the area neater with disguised plumbing, but it can also serve a practical purpose. For example, underfloor heating can dry clothes quickly and prevent musty smells.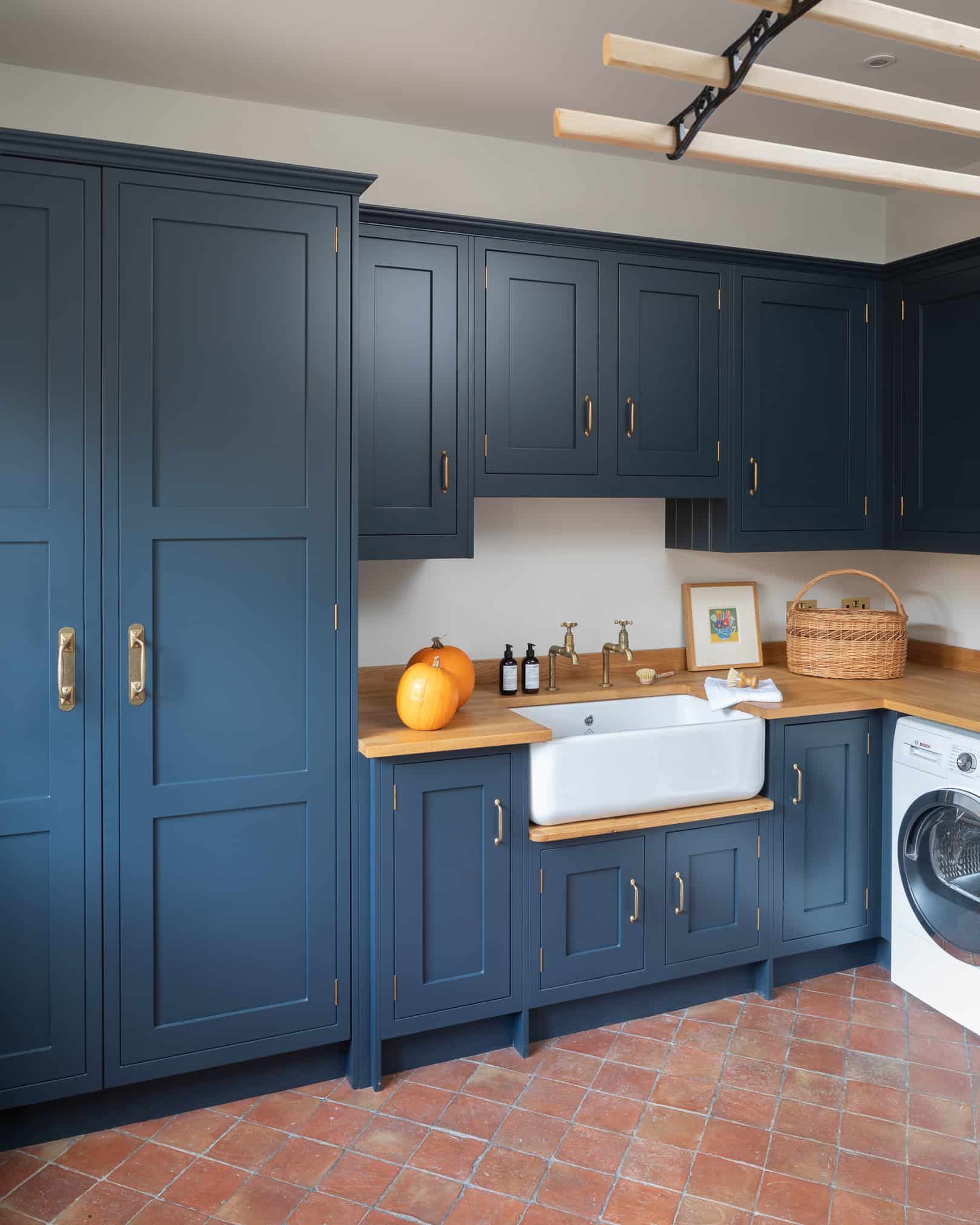 Consider the colour scheme of your kitchen
The best utility rooms share a similar colour theme or style as the kitchen to create a seamless extension. Try to keep the colours simple. This is an area where you will be carrying out chores, so it shouldn't be fussy or distracting, but rather evoke a sense of calmness while you complete all the admin that comes with running a house. If you opt for a different colour than your kitchen, aim to keep some continuity in the style of furniture, such as shaker style cabinetry or handleless designs.
If you want to add a pop of colour in an all-white room, you could make the floor or sink backsplash contrast with a pattern or eye-catching design. On a practical note, dark worktops are good for withstanding dirt and camouflaging stains. You might also prefer a glossy finish as high-shine surfaces are easier to wipe clean. 
At John Lewis of Hungerford, we have experience crafting utility rooms based on the client's unique needs, expectations and the space available. Our dedicated designers will collaborate with you throughout the process and provide a 10-year product and workmanship guarantee. Contact us for a consultation, or visit one of our showrooms for more inspiring home designs.
Book a free design consultation
John Lewis of Hungerford designers are on hand to bring your ideal home to life
Book a design consultation