Designing a Kitchen Island for Your Home
Inspiration31st January 2022 5 minute read
If you're looking to upgrade your kitchen, have you considered incorporating a bespoke kitchen island? Providing you have the space, a kitchen with an island can add a huge amount of value to yours and your family's life.
Kitchen islands are a perfect addition for every type of household. Whether you have young children and are looking for ways to keep an eye on them while you work, or you love to entertain and want a space where guests can socialise, these freestanding kitchen units provide more space for every occasion.
As a highly versatile piece of furniture, a kitchen island can also integrate appliances and sinks. Having the hob on the island with the sink on the worktop behind – or vice versa – is a great way to achieve the working triangle, which makes day to day use of the kitchen much more optimised and functional. In this blog, we'll offer our expert advice to help you plan the best kitchen island for your layout and requirements.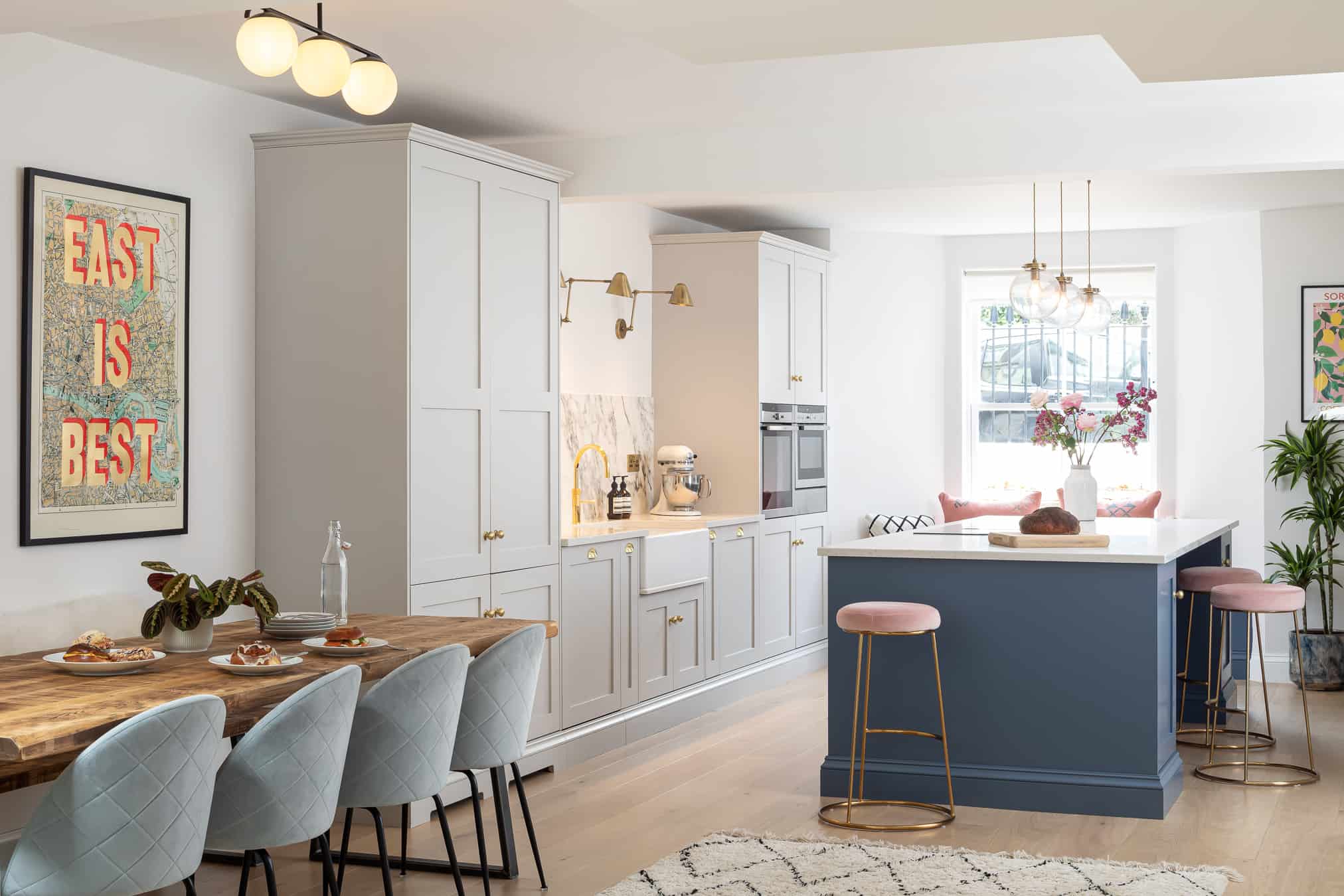 Think About the Space
If the kitchen is the hub of the home, then your island is the hub of the kitchen. It acts as a focal point and place where the family gathers, as well as a casual spot for informal entertaining. Before you begin planning, consider the purpose of your kitchen island and whether you have enough available space. 
Having an island in your kitchen requires plenty of space – even more so if you want to incorporate seating around it. Test out your layout ideas by walking around the kitchen and opening cupboards and drawers and positioning appliances, to see how much space you'll need. It's important to keep a walkway of at least a metre surrounding the island, giving you and your family plenty of space to move freely around. This is especially helpful if you'll have small children running through the house while you're working on finishing dinner.
If your kitchen is less than 4 metres wide, an island is unlikely to fit, however a free standing worktable or trolley islands can be a fantastic and practical solution if you require extra space in a small kitchen, allowing you to store it out of the way when not in use.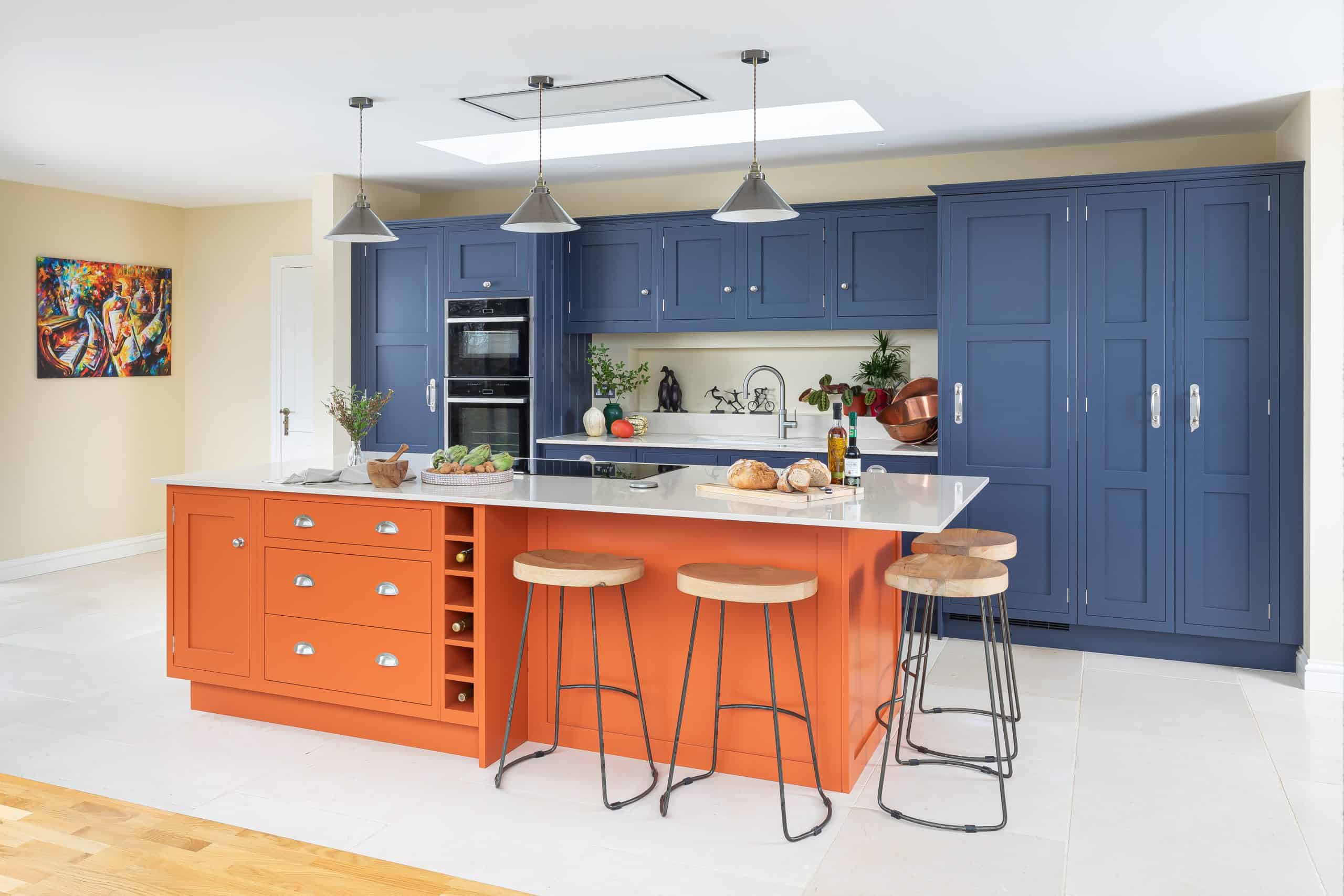 Consider Storage and Seating
Are you planning the perfect spot for preparing a quick meal or having a leisurely glass of wine in the evenings? In that case, you should plan an island kitchen table with integrated seating. The table can be just one side or section of the island, with the other side comprising discreet storage and other functions. A curved kitchen island creates a more sociable space where you can see more of your guests in comparison to a traditional straight line. This set up lends itself naturally to encourage conversations between you and your guests.
You can install multi-level counters for standing, dining and doing homework. Stools can slot into place under the highest tier when not in use, keeping the room looking neat and tidy. Alternatively, you can incorporate banquette seating on the back of an island. This saves space compared to dining chairs and can double as storage benches when not in use.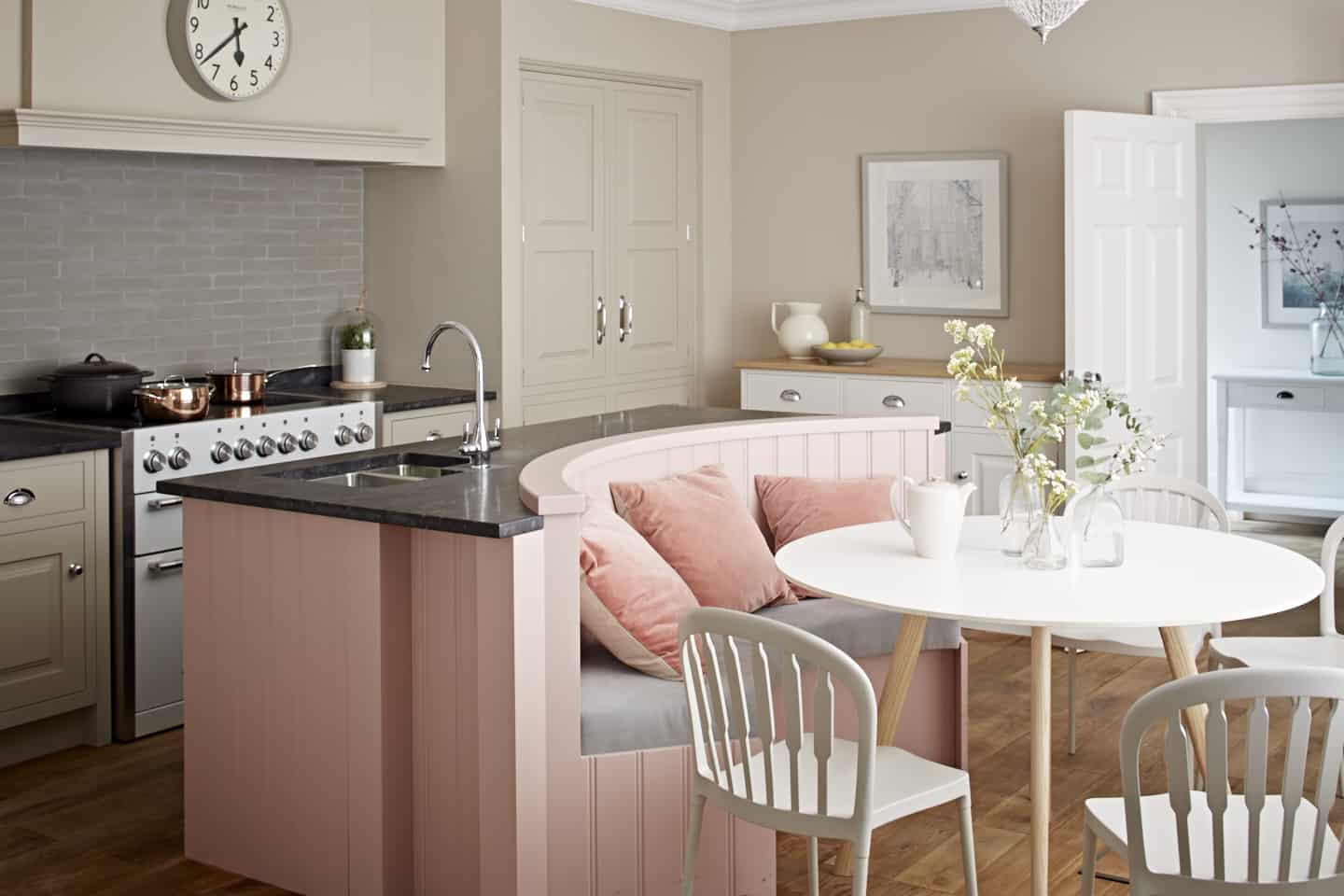 Think About the Size
A kitchen island should be practical as well as aesthetically pleasing. It needs to be large enough to incorporate storage, work space and room for socialising. When it comes to food preparation, try to accommodate more than one person cooking at the same time.  
If you do have a large kitchen don't be afraid to think big. At the heart of a spacious kitchen, a sizable island creates a real show-stopping centrepiece, with infinite space and an abundance of storage. However, if you have a small kitchen don't assume having an island will be impossible. There are a number of options to make an island work in any kitchen, regardless of size or shape.
But if you're really strapped for space, a kitchen work table is a great consideration, offering some additional worktop space and storage, with the option to move them to one side when you don't need the extra worktop space.
The size of the island can also affect the cost, depending on the materials and style you choose. Hard-wearing quartz is a popular choice for kitchen island worktops, but it can be expensive on larger-than-average islands, and even more so when used in a waterfall island design. As well as the dramatic impact they have on a kitchen design, waterfall edges are ideal for hiding cabinets and appliances in contemporary kitchen layouts.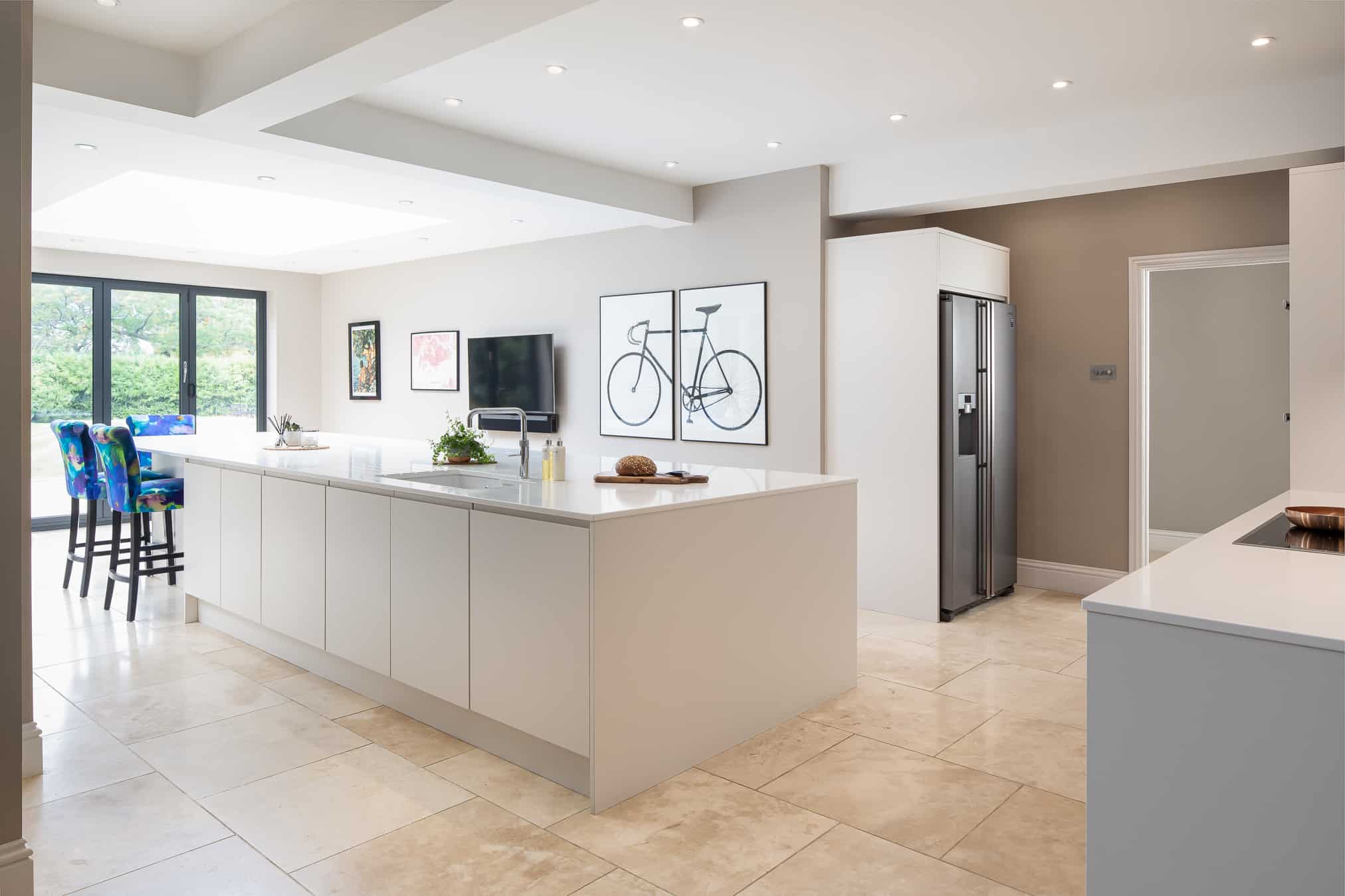 Think About the Appliances
A kitchen island can be as basic as an island kitchen table or a sophisticated tech-packed workstation. If you're considering incorporating large appliances or a sink, think carefully about the placement of each appliance. A kitchen island is the main feature of your kitchen, so you want to avoid any unnecessary mess. 
Installing a sink risks your kitchen's centrepiece being dominated by piles of dirty dishes and pans. However, you can always integrate a dishwasher in the kitchen island to keep dishes out of sight keeping your island clear throughout the day. Or, consider installing your hob on the island, which naturally allows for multiple people cooking at the same time. Cook dinners with your partner as you both stand on either side of the island, or use the layout to teach your children the family recipes passed down from generations before.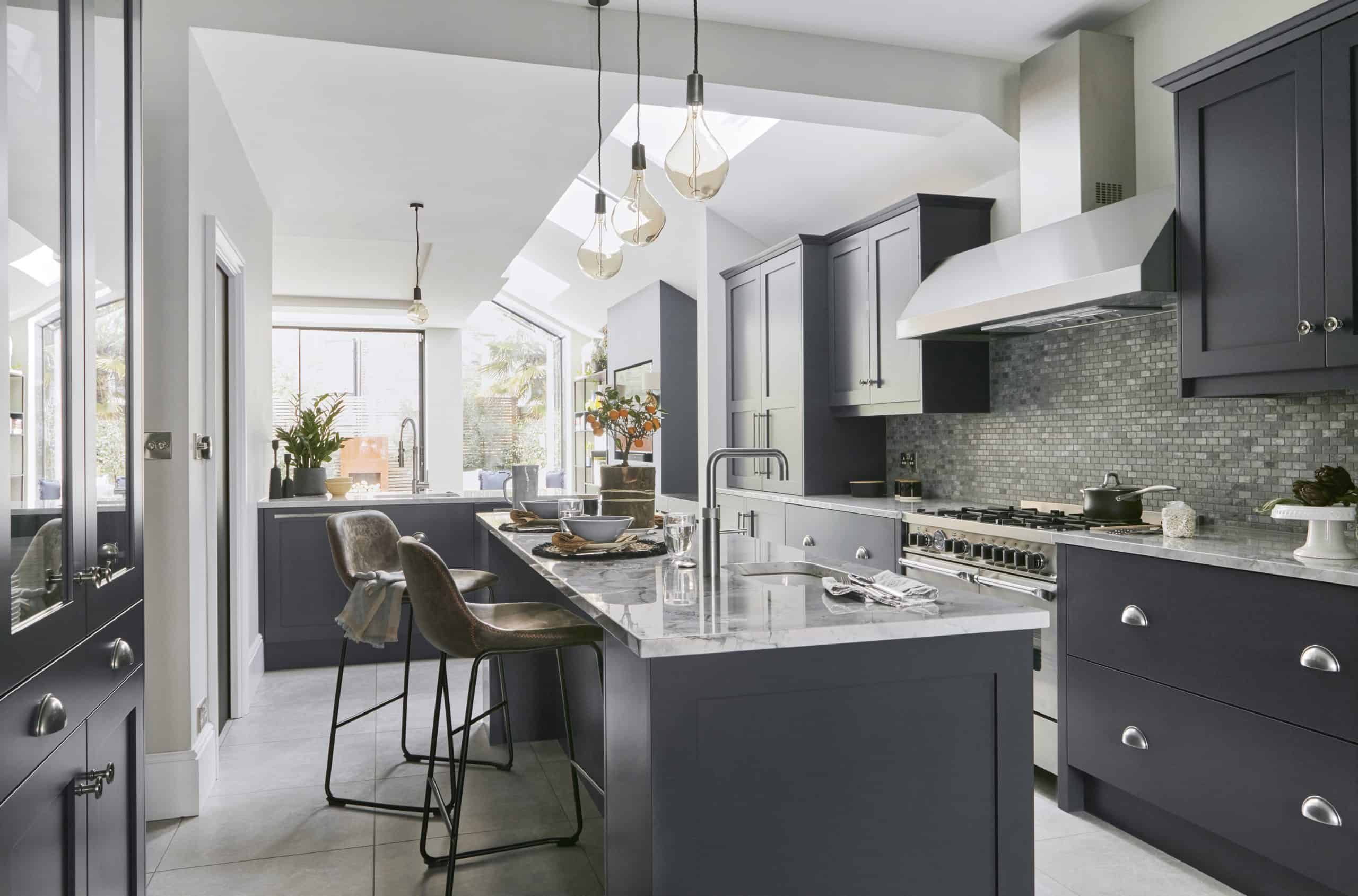 Include Electric Points
An island without electrical outlets and plug sockets isn't very useful. If you plan to use your island for preparing food, you may need a blender and other appliances. It's always a good idea to fit electric points into your kitchen island design. Electrical outlets can be installed on island legs, on side panels, in drawers or as pop-up receptacles (grommets)  on counters. 
You may also use your kitchen island for working from home or as a place for children to do homework, so it would be helpful to have a place to plug in laptops and charge devices. You can fit kitchen islands with discreet top drawers and recessed storage to charge electronics away from worktops, keeping the area clean for a more minimalist kitchen look.
At John Lewis of Hungerford, we are highly experienced in crafting and installing islands that suit specific kitchen layouts. We can design your dream kitchen island based on the space available in your home and your personal tastes. If you're ready to upgrade the hub of your home, why not book a consultation with our kitchen island experts?
Book a free design consultation
John Lewis of Hungerford designers are on hand to bring your ideal home to life
Book a design consultation