How To Create An Open Plan Kitchen For Your Home
Inspiration5th December 2021 5 minute read
Wonderful for nurturing more sociable living, an open plan kitchen can transform how your household connects. A large, multifunctional space with fewer barriers brings people together, creating important opportunities for shared moments.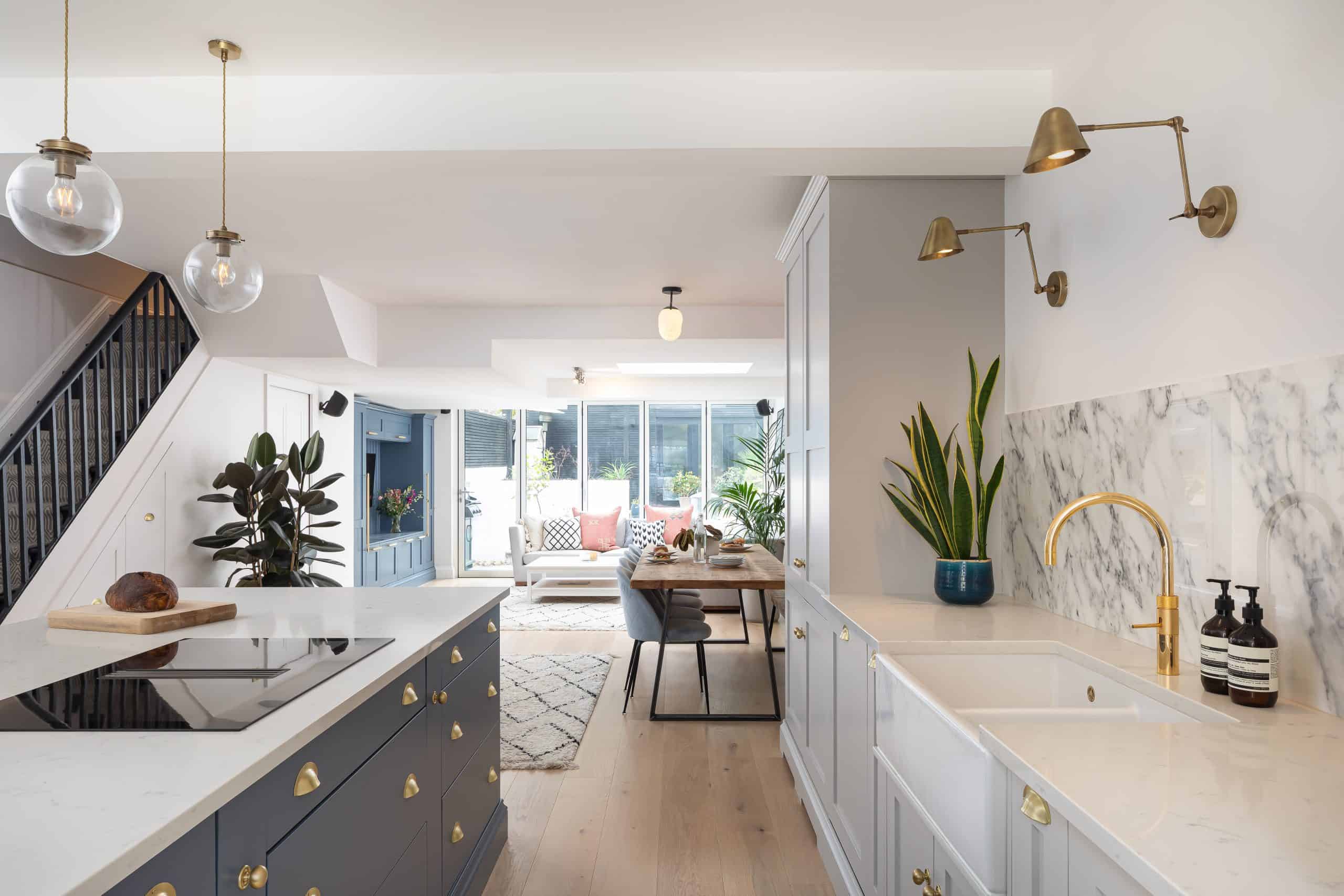 An open plan kitchen diner is perfect for households who love to socialise. A merged kitchen and living space allows for warm, relaxed hosting. The chef can stir their speciality with a drink in hand, without feeling separated from guests in the living area. This style of living is also particularly suited to families, offering flexibility as children grow and change, continuously providing a space for all generations to come together.
Although exciting, making the move to open plan living can often feel daunting. Designing an open plan area may involve big changes to your home which are much harder to undo than a rashly chosen mustard yellow feature wall. Making the move to open plan living requires commitment and careful planning.
In this article, we'll share our expertise in bespoke luxury kitchens, exploring the best way to incorporate open plan design into your home. We'll discuss the best use of the space you already have to leave you with a stylish and welcoming kitchen diner.
Benefits of an Open Plan Kitchen
Before we explore the dos and don'ts of open plan living, it's important to first consider whether an open plan space is right for your household and your home. Although partition walls can always be reinstalled, reversing an open plan installation is often a large task. Before you start opening up your space, you should understand what having an open plan home means for you and your family.
Whether you're short on square footage or have ample space in your property, embracing open plan design will add a feeling of airiness and spaciousness. Perfect for making the most of smaller spaces and wonderful for capitalising on the assets of larger homes, an open plan kitchen breaks down partitions, merging spaces in an economical way and allowing more natural light into your home.
An open plan kitchen living room is the ultimate flexible space for socialising. For homeowners who love nothing more than hosting guests for long convivial dinners, a space in which guests can sit back and relax while the hosts prepare meals – all while remaining sociable – is the holy grail.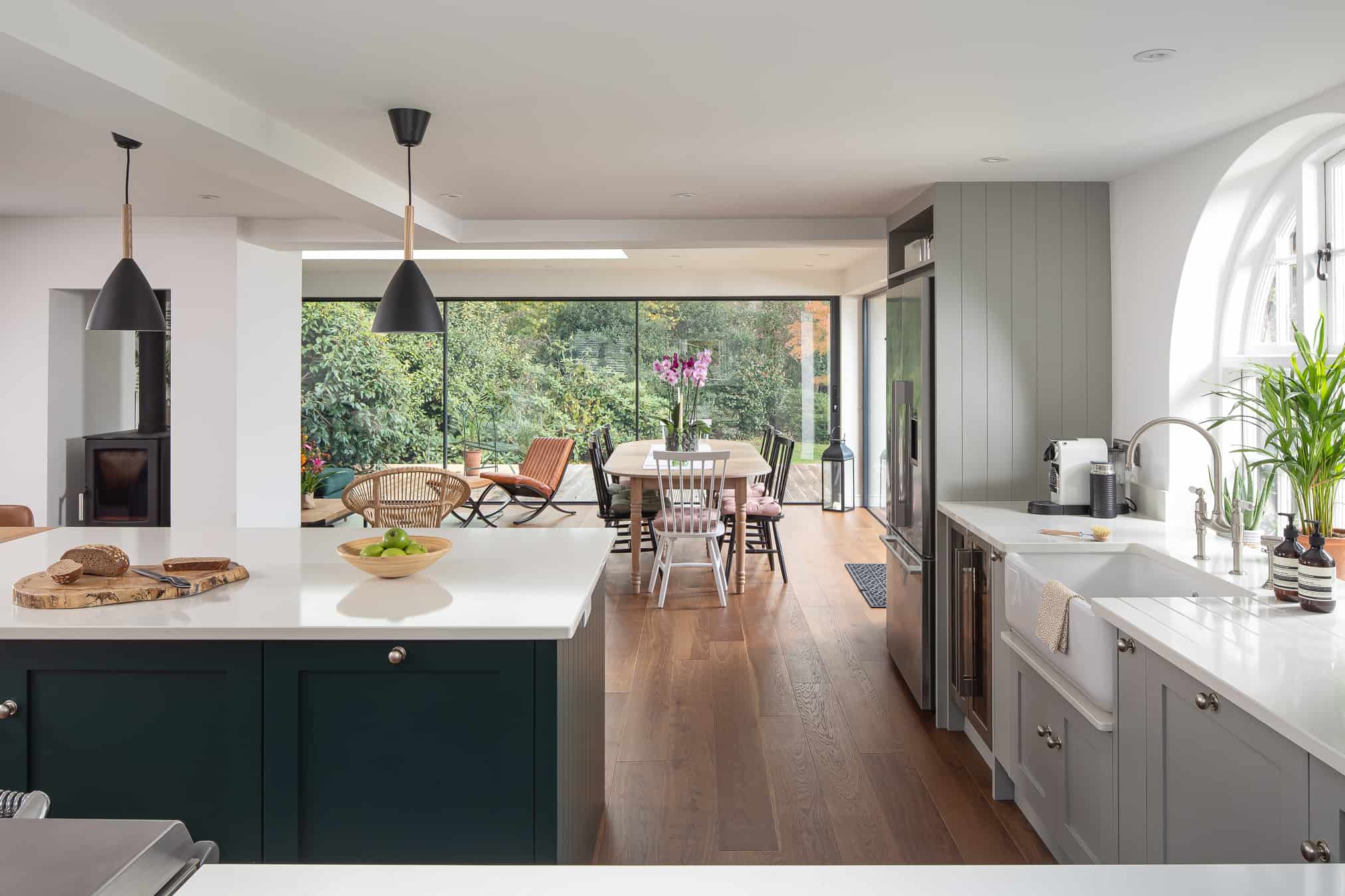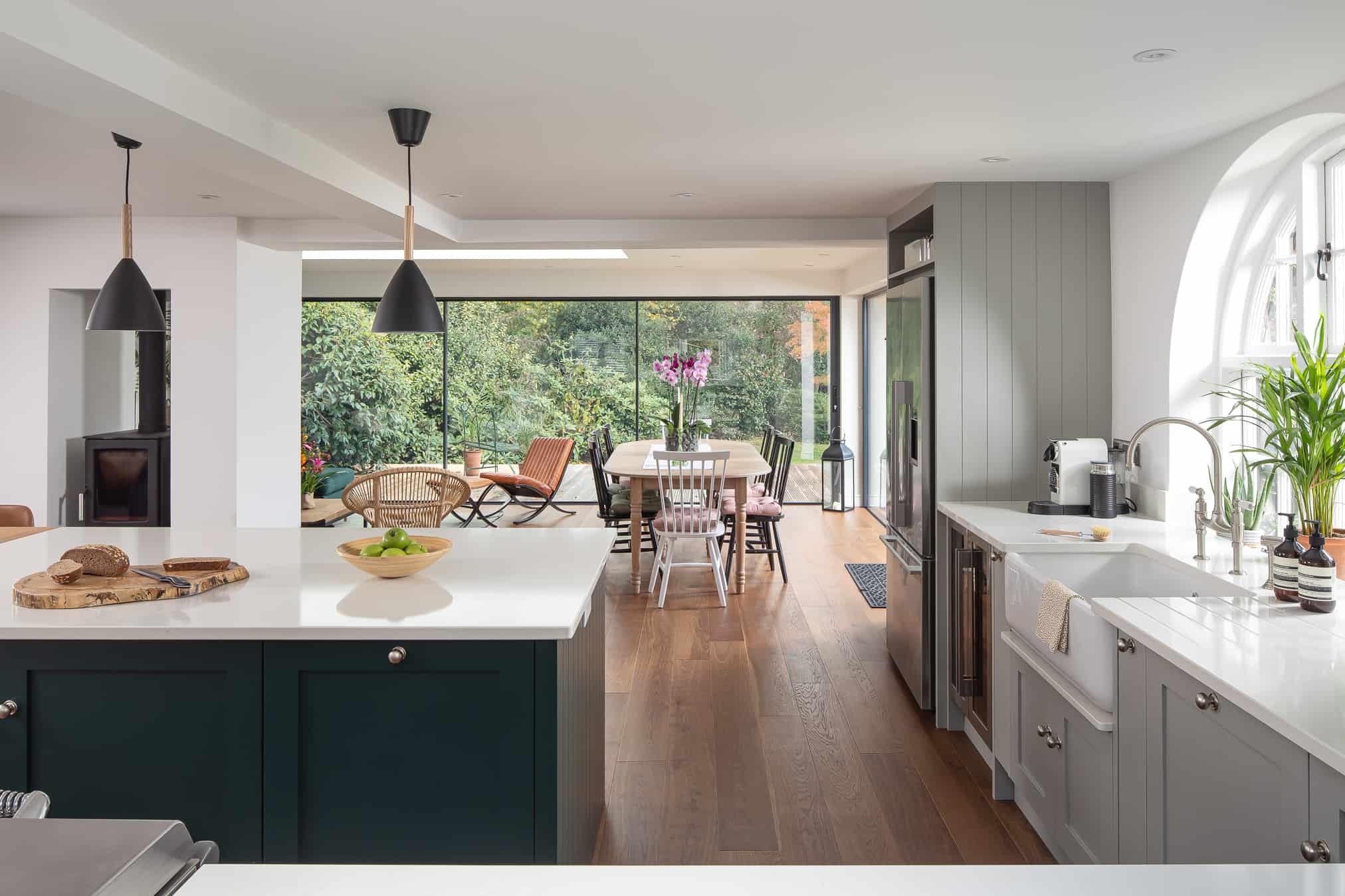 An open plan design also allows you to spend time together flexibly, whether you're helping little ones with their homework while your other half makes the evening meal, or moving from a leisurely, sociable dinner to a movie marathon – with easy access to snacks.
As children grow up, their needs and interests evolve and sometimes it can feel hard to keep up. An open plan kitchen diner offers the flexibility required to accommodate ever-changing youngsters as they grow. As children grow up, an open plan space can shift from an area for play to a space for study and enjoying media, without forcing teenagers to shut themselves away in their bedroom. This style of kitchen also creates space for families to come together while they're each engaged in different tasks – mum can finish her work tasks at the kitchen island, while the kids do their homework and dad kneads the pizza dough.
An open plan kitchen living area is a hot commodity on the property market. This in-demand feature adds value to homes, as more and more house-hunters seek properties which offer open plan living. Not only is 'open plan' on many buyers' checklists, it also creates a sense of spaciousness which instantly makes properties more desirable.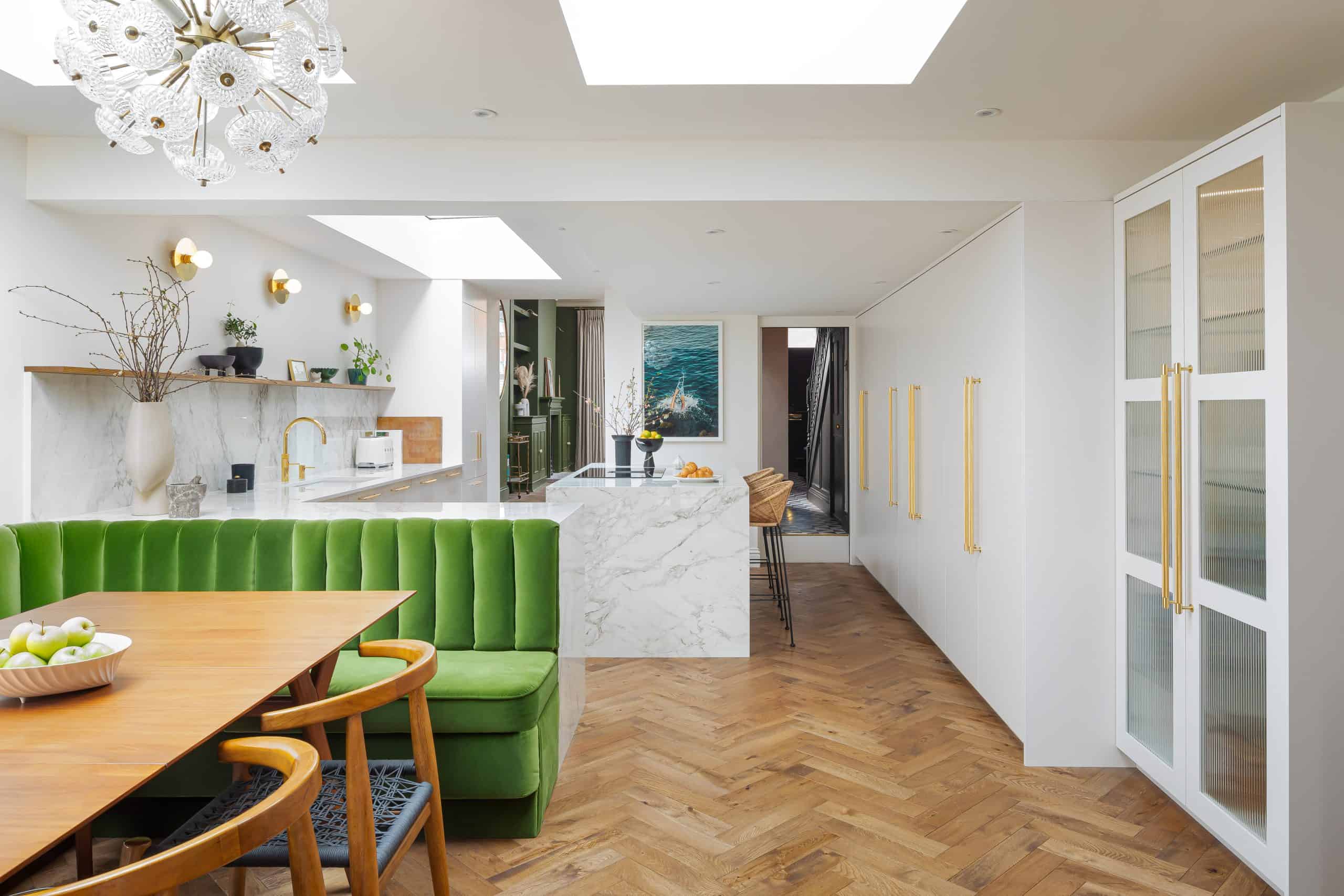 Open Plan Lighting Options
When you make the switch to open plan living, you may need to re-evaluate your choice in lighting. Uniform ceiling lights throughout the open plan living area may not create the right ambience, for example. While bright lighting is important in a kitchen, in a living area they may ruin any cosy mood. That's why it's important to carefully plan a range of light sources, which create 'zoned' lighting for each distinct area of your open plan space.
Natural light is a huge perk of open plan living. Fewer walls means more natural light entering your space. Take full advantage of this by removing any barriers to light entering your open plan area, like switching curtains for sleek roll-away blinds. Adding mirrors to your space will also help maximise natural light by reflecting it around the room. For a more substantial project, add French doors or large windows to your open plan living area.
In a large open space, it's hard to light every corner perfectly. Dark spots are inevitable but can be easily remedied. Under-counter lighting strips are a good way to brighten up even the darkest corners in an open plan kitchen, while table and floor lamps can be used to add a cosy, adjustable glow to dimmer living areas.
Often the heart of open plan spaces, your kitchen needs good lighting for food preparation. Adjustable spot lighting can be a good option, which allows you to customise the lighting throughout your space, ensuring each area is illuminated perfectly.
Finding The Right Furniture
Making the move to open plan living can herald a reimagining of your decor. Furniture and fittings which once worked in smaller rooms may not look quite right in a larger, blended space.
Our advice is to explore multifunctional open plan furniture, like kitchen islands. These installations offer endless flexibility in an open plan kitchen diner. They can be used for food preparation, as a breakfast bar, as an arts and crafts station, as a homework spot, a perch for coffee with friends and as a dinner table – the options are endless.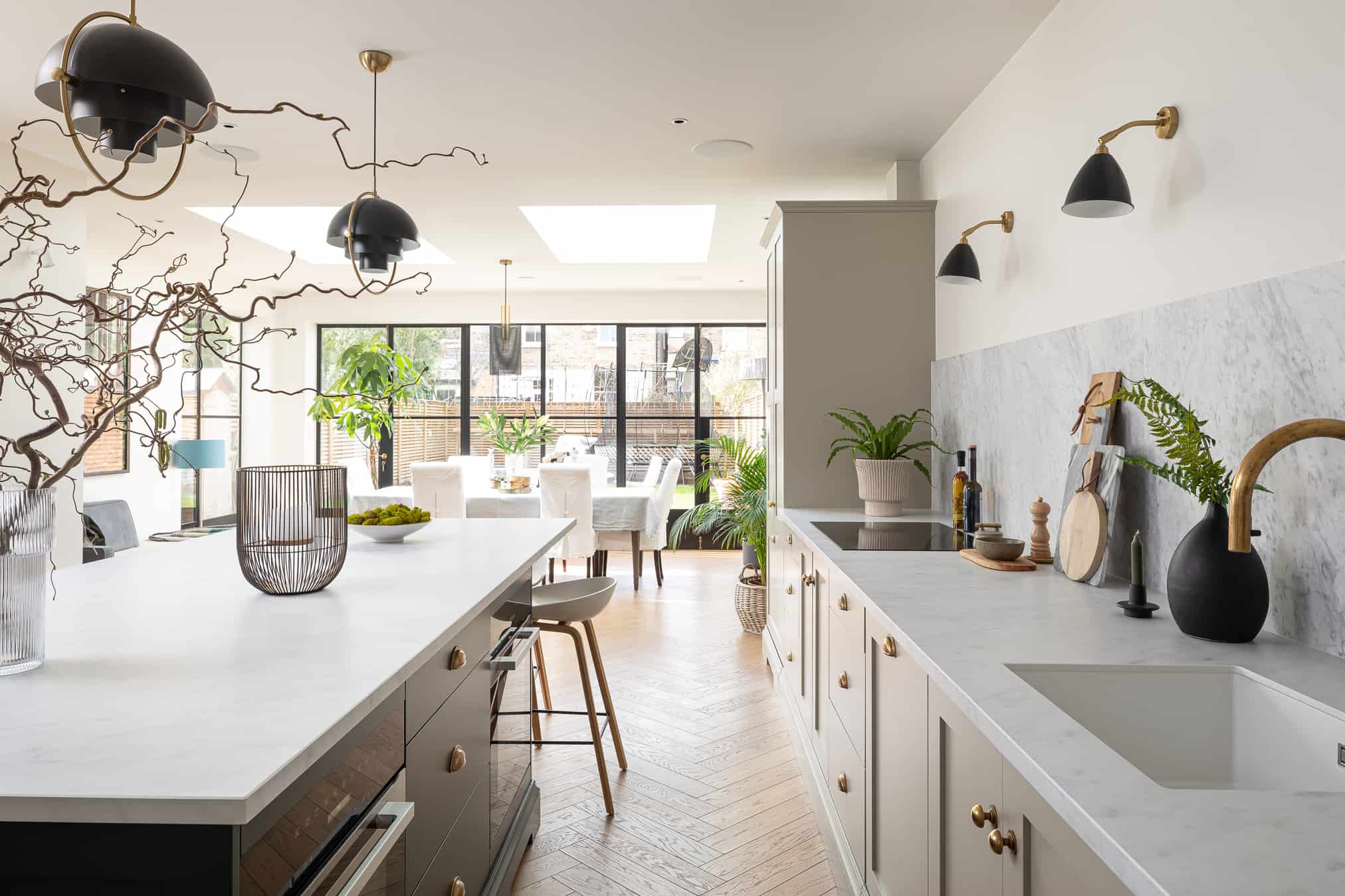 Arranging Appliances
There are somewhat more limitations upon the types of appliances you can install in an open plan kitchen living room – and more aspects for you to consider. For example, the noisiness of different appliances will make a big difference in an open plan space. In a standalone kitchen, a buzzing fridge is not a major problem. However, in a combined kitchen living space, it becomes a distracting nuisance.
To create a more seamless open plan design, you may also wish to consider how obtrusive different appliances are, like extractor hoods and microwaves. Installing kitchen cabinets to cleverly conceal these different appliances will help your open plan space feel less like 'living in a kitchen'.
Handcrafted Cabinetry
At John Lewis of Hungerford, we specialise in made to measure cabinetry for open plan kitchens. With almost 50 years of experience, we use traditional techniques, responsibly sourced materials and a contemporary vision to craft exceptional fittings for kitchens, designed around your property and your lifestyle. From cleverly concealed (but convenient) kitchen cabinets that house all of your appliances to exquisite kitchen islands which become the heart of your home, explore our bespoke kitchen fittings or contact us to discuss your open plan vision.
Book a free design consultation
John Lewis of Hungerford designers are on hand to bring your ideal home to life
Book a design consultation