Crafting a Shaker-Style Kitchen
Kitchens15th October 2021 4 minute read
It may be a design classic, but what exactly is a Shaker kitchen? Sleek yet warm, minimal but rooted in tradition: the Shaker style is all about beautiful functionality, made-to-last natural materials and elegant simplicity.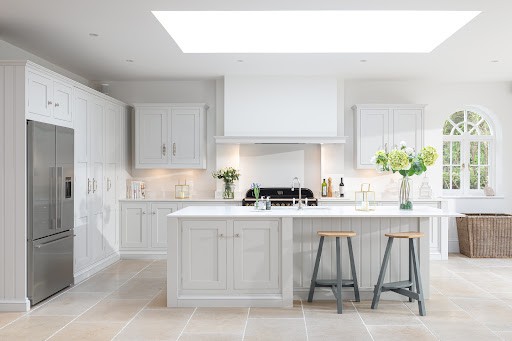 What is a Shaker Kitchen?
Perhaps unexpectedly, this design movement takes its name from a Christian sect. The Shakers emerged in the mid-1700s in England, before emigrating to the United States. Living a simple, hard-working, communal life was a core tenet of the sect, which is how the design style was forged.
Furniture was often handmade, simple and elegant, with little ornamentation. Instead, each piece featured clean lines, efficient design and quality workmanship and was built to last the family for generations to come. These design principles are highly prized today and have had an enduring influence on the kitchen designs in the John Lewis of Hungerford collection.
We craft bespoke Shaker kitchens that draw directly from this rich heritage. Use thoughtfully sourced materials, we design Shaker kitchen cabinets and fixtures specifically for each client, their lifestyle and their home. Read on to learn more about the Shaker style and how to incorporate its coveted design precepts into your home.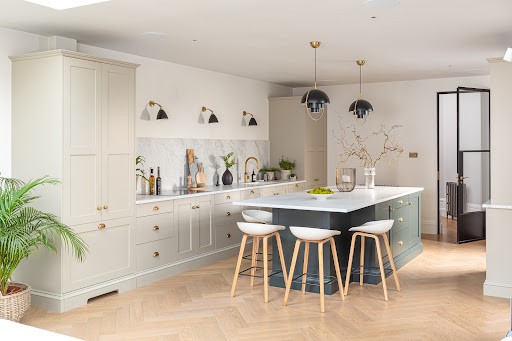 Shaker Kitchens: The Key Elements
At John Lewis of Hungerford, we have enormous respect for the principles of elegant design. We admire bespoke furniture that has been built to function effortlessly, in harmony with unique lifestyles. We strive to ensure our Shaker style kitchens do just that, while still incorporating classic Shaker features.
Shaker kitchens are easily identified by their classically portioned and distinctive square door style. At John Lewis of Hungerford, we offer our beautiful Shaker doors in both a classic framed design and a more modern lay-on design.
Shaker kitchens work fabulously in a variety of colours, from elegant neutrals to eye-catching blues and greens. Our Shaker designs are available in a wide array of colours, from traditional finishes to something a little more out of the ordinary.
Shaker kitchens also work well with a variety of textures, such as wood, metal and glass. They are the perfect blank canvas for playing around with contrasting elements to add your own distinctive personality to your kitchen. Whether you're looking to dress your Shaker kitchen up or down they work perfectly in a variety of settings from a country cottage to a city apartment.

Built to last, true Shaker designs are handcrafted with usability in mind, fully embracing the belief that a kitchen should be built to be well-loved by the whole family for years to come.
At John Lewis of Hungerford, we are equally passionate about functionality. We recognise that no two homes or clients are identical. This means that each Shaker kitchen is designed around your lifestyle and your property. From Shaker cabinets purpose-made to fit your home's appliances to clever storage tailored to you, our team considers every little detail when designing your kitchen to ensure it functions seamlessly with your day-to-day life.
Bringing Shaker Ideals into Your Home
If you'd like to embrace the Shaker design ethos in your home, our kitchen portfolio is full of inspiration.
Honouring tradition
This gorgeous family-style kitchen stays true to the Shaker ethos. Light shades, straight lines, natural materials and elegant simplicity abound, creating a feeling of calm and balance. Featuring fitted cabinets and a beautiful kitchen island, this design offers exceptional storage space, perfect for a busy household.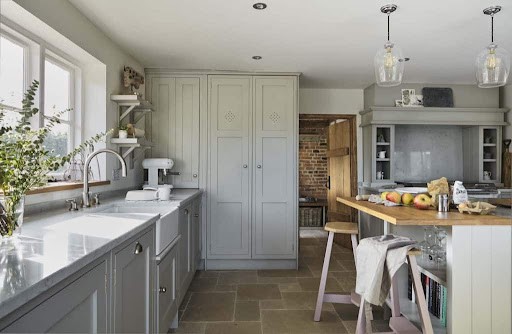 Going further

This undeniably beautiful kitchen takes Shaker design far from its humble roots. Our client wanted to make a style statement with this kitchen.
With young children in the family, the kitchen design needed to be practical and functional. This was achieved by adapting Shaker cabinets to include fabulous, bespoke kitchen island bench seating and storage. However, aesthetics were equally important in this design. The granite countertop above the Shaker cabinets is a true centrepiece in this head-turning kitchen.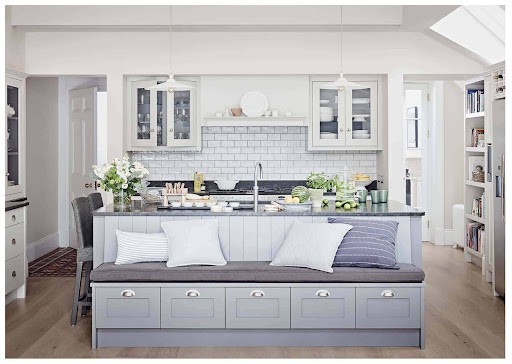 Bespoke Shaker Styles from John Lewis of Hungerford
Incorporate Shaker style into your kitchen design and embrace simple, beautiful functionality. We are happy to help you put your own twist on this coveted look, with bespoke features from John Lewis of Hungerford. Built to last and made to measure, we craft each kitchen cabinet and every piece of kitchen furniture using exceptional materials and exacting precision.
With almost 50 years of experience, we build furniture that is at home within your property, combining classic features with contemporary ideas – all inspired by your unique vision. Our team of design specialists will be more than happy to discuss the best way to incorporate a Shaker style kitchen into your home, so don't hesitate to contact us at your leisure.
Book a free design consultation
John Lewis of Hungerford designers are on hand to bring your ideal home to life
Book a design consultation