Decorating Your Country Kitchen for 2022
Inspiration24th January 2022 4 minute read
After a long period of home-working and spending time indoors, how we use, view and experience our homes has undergone a profound shift. For many of us, the kitchen has evolved into more than just a functional cooking space. Today's kitchens are culinary spaces, social spaces and even work spaces – depending on the time of day.
To transform your country kitchen, ready for whatever 2022 may throw its way, we've curated some of-the-moment kitchen design ideas. Explore our favourite country kitchen trends below – from eco-style kitchens with an environmentally-friendly ethos, to clever minimalist designs – which transform kitchens into seamless multi-functional spaces.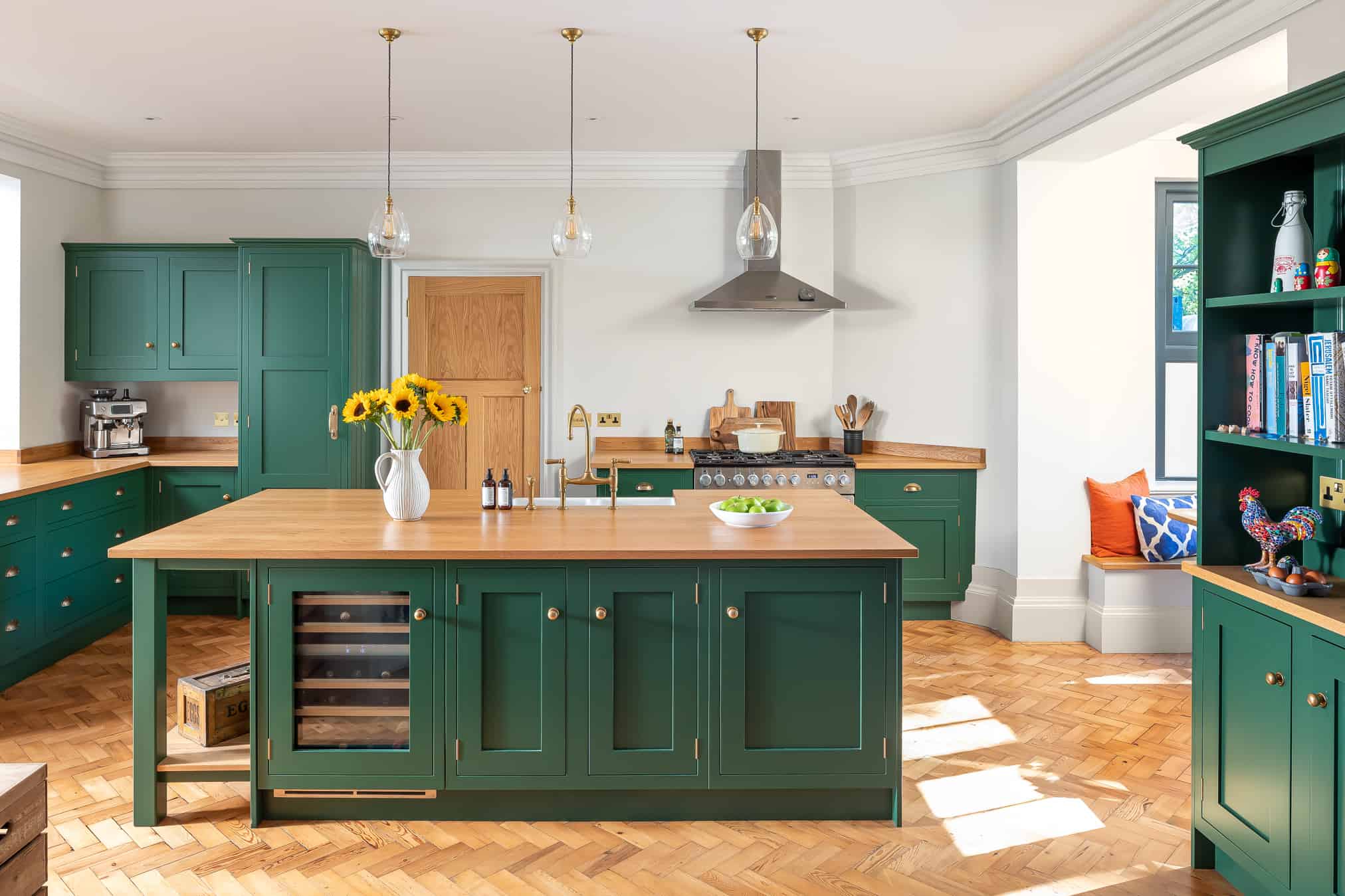 Eye Catching Splashback
To refresh your country kitchen, without starting from scratch, add a bold new splashback. Bright patterned tiles will quickly add visual interest, charm and a whole new feel to your kitchen area. Choose one, seamless finish which mimics or incorporates a natural material (like marble or wood) for a more pared-back look and to channel 2022's eco-style trend.
Beyond a splashback
Take your splashback upgrade even further. To make a bigger statement and bring in a strong new aesthetic into your kitchen, expand your new splashback tiling to cover a full statement wall. You could even choose to continue tiling throughout your country kitchen.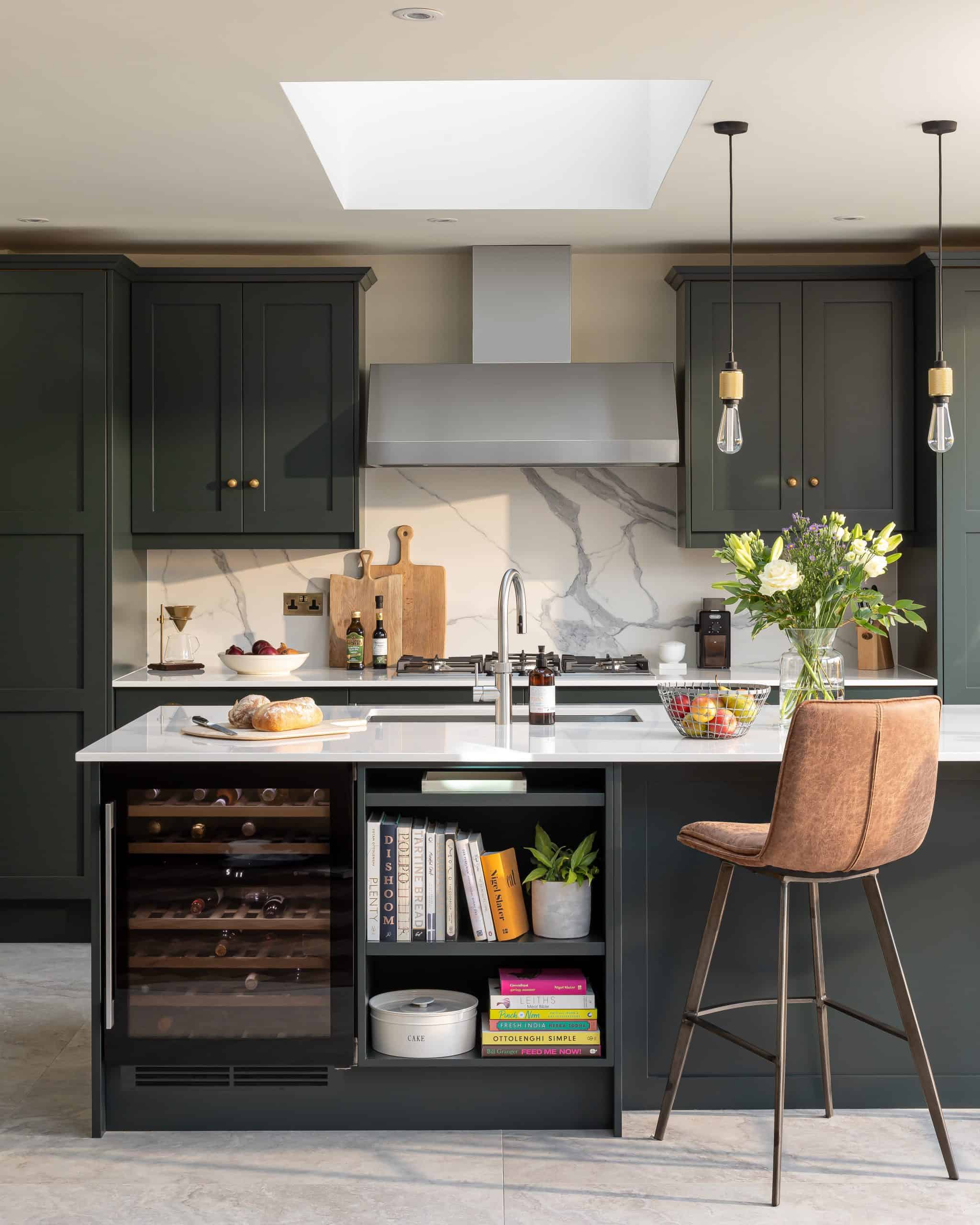 Open Storage
Practical and cosy, open storage is a popular kitchen design element for busy families and those who love to cook. This look is not for minimalists, but for the maximalists amongst us, making kitchen equipment brilliantly accessible and evoking a certain rustic, homely charm. Choose peg boards for a clever wall storage option, incorporate open shelving into your country kitchen, or upgrade your fixtures with freestanding furniture to add extra storage. For even more rustic charm to your kitchen, try these cosy country kitchen design tips.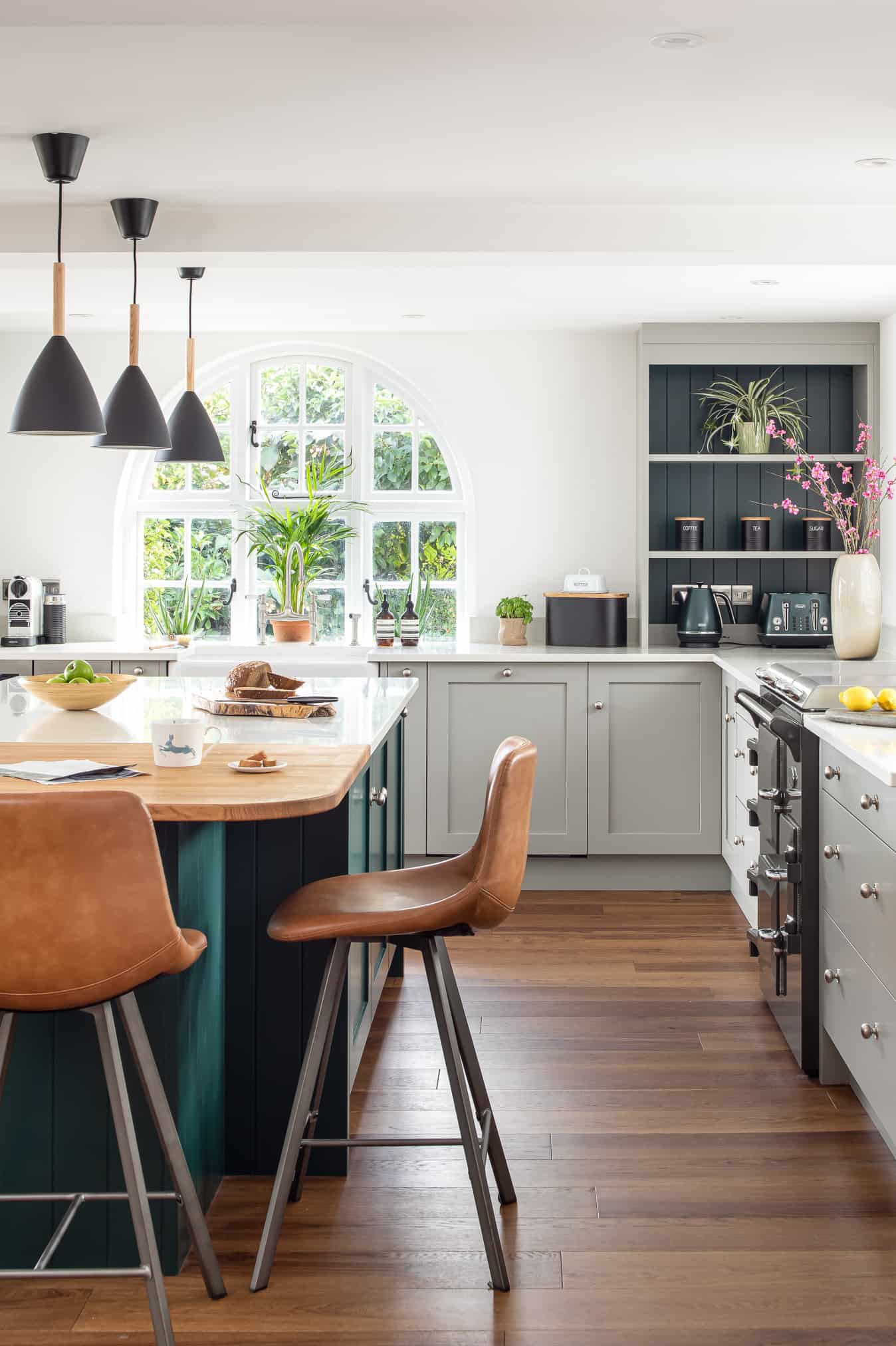 Coloured Marble
Marble is a huge interior design trend for 2022. This gorgeous natural material is synonymous with luxury and is now available in both classic shades and more creative colours. Choose marble to bedeck your new backsplash or install beautiful marble counter tops to give your kitchen an enduringly chic upgrade. Browse our traditional kitchen collection for more design inspiration.
Bring the Outside In
After discovering a national passion for houseplants during lockdown, greenery is a key kitchen design trend for 2022. Kitchen warmth and steam is perfect for houseplants which thrive in a humid environment, like aspidistra elatior and spider plants. Add new shelving to create a 'feature shelf' for plants, incorporate plant hangers into your space, use houseplants as long-lasting table centrepieces or add more functional greenery to your country kitchen windowsill with potted herbs.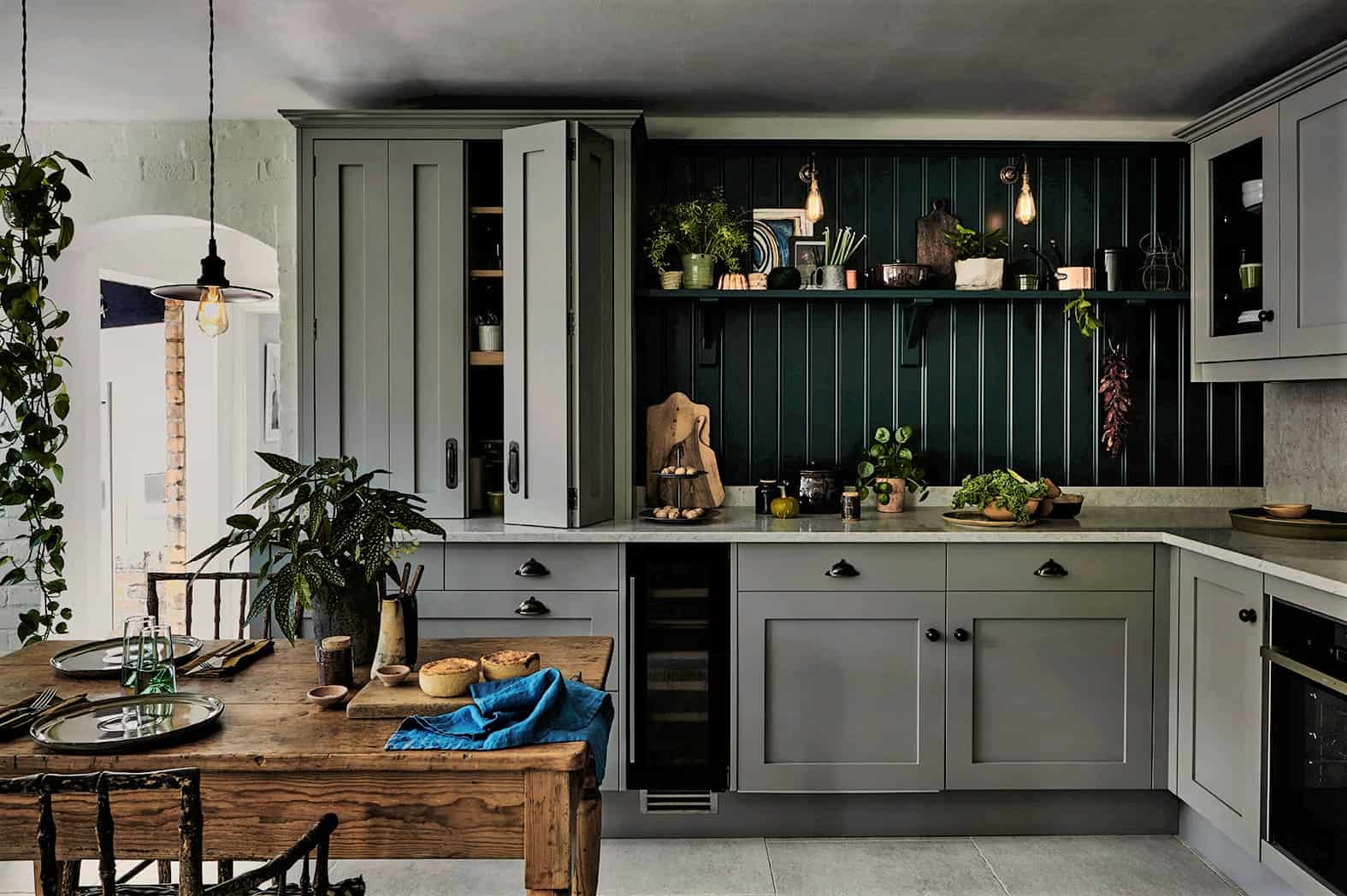 Rustic Ecostyle
Many of us love the cosiness of a rustic country kitchen, but this aesthetic can be more than simply charming. If you love the natural look, embrace an eco-friendly ethos in your kitchen by choosing fixtures made from responsibly sourced wood and incorporating environmentally friendly touches into your kitchen. Clever traditional cabinetry can:
Conceal food scrap bins, ready to feed the compost heap

Create storage space for ingredients bought in bulk, such as a

freestanding pantry

that can be easily tucked away in a

utility room

Make room for low-energy appliances like pressure cookers
Minimalist Style
Minimalism is one of the most functional design philosophies for flexible kitchens, which are used as work hubs, entertainment areas, dining rooms and cooking spaces. Colour and cabinetry are key to a minimal aesthetic, allowing all kitchen equipment to be easily stowed away and creating a seamless, unified look.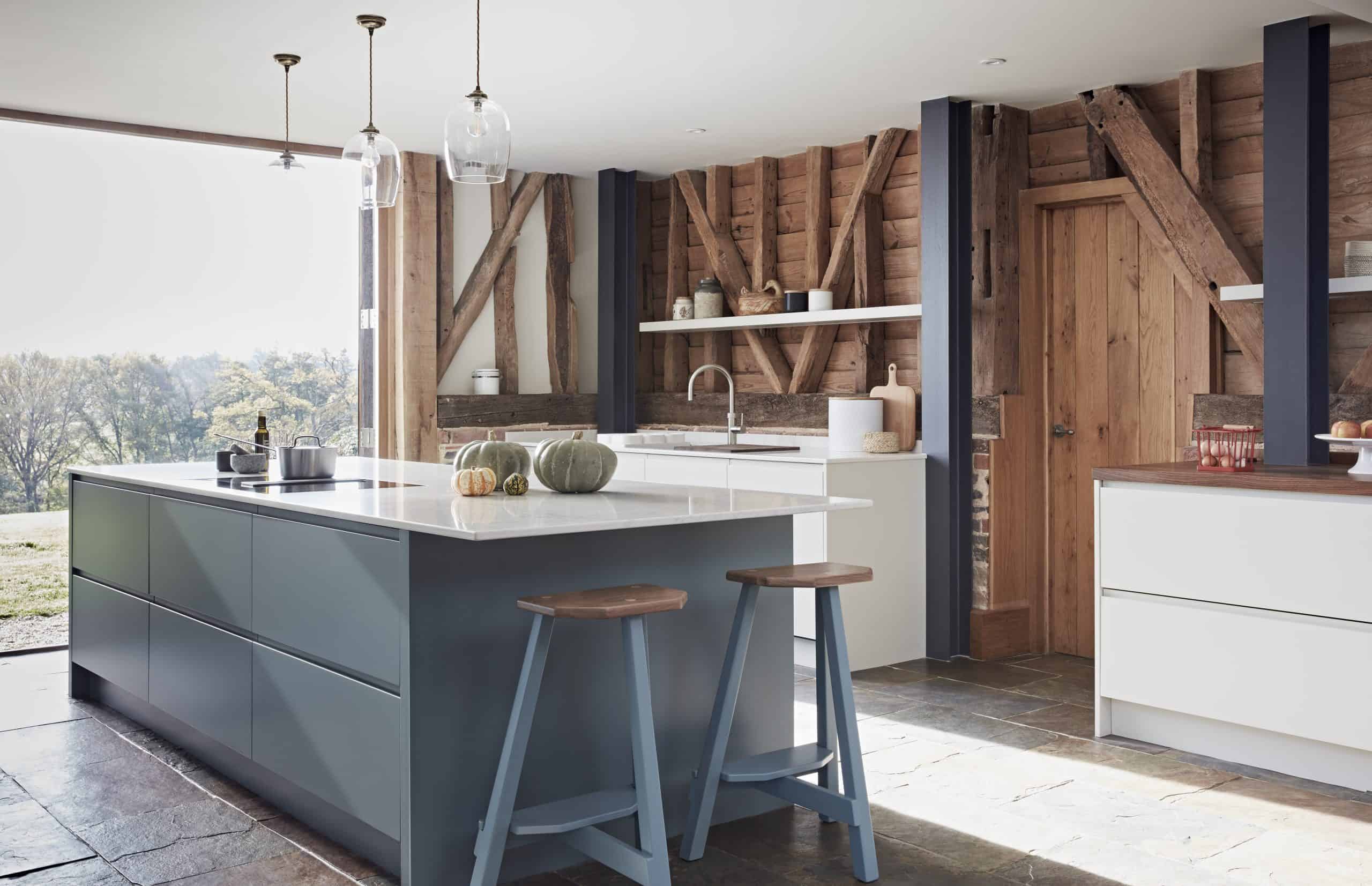 Evoke Country Styles with John Lewis of Hungerford
At John Lewis of Hungerford, our exceptional kitchen cabinetry can be designed to evoke a warm rustic charm or finished to create a pristine minimalistic kitchen, with intuitive storage space for every item. Drawing on decades of expertise, our craftspeople use the finest responsibly sourced materials to build meticulous kitchen fixtures and fittings, made to measure the heart of your home. Get in touch to discuss your design ideas today.
Book a free design consultation
John Lewis of Hungerford designers are on hand to bring your ideal home to life
Book a design consultation