Contemporary Kitchens: Sleek Designs To Inspire Your Dream Home
Inspiration19th October 2021 5 minute read
A sleek contemporary kitchen may be all about elegant simplicity, but designing a thoughtful, streamlined space can be complex. In order to build a sleek yet functional kitchen, every little detail needs to be considered. While reimagining your perfect kitchen (especially in your first home) is really exciting, there's also plenty of planning to do.
A minimal aesthetic, a warm-yet-neutral colour palette, intelligent features, ergonomic practicality and a welcoming atmosphere – the shopping list for a contemporary kitchen can seem long and, at times, contradictory. How can a minimalist space feel welcoming? How can a kitchen be clutter-free yet highly functional? In this article, we will explore the core elements of sleek kitchen design, so you can begin to imagine something seamless and perfectly suited to you.
Should You Commit to Contemporary?
The minimalist modern kitchen is now an interior design must-have. The contemporary kitchen is more than a functional food preparation space. This design ethos embraces the kitchen as the heart of the home – a social space for unwinding, spending quality time together and entertaining guests. 
This is one reason why contemporary kitchens are pared back, with a focus on banishing countertop clutter into cleverly designed cabinets. With more surface space and less visible equipment, the contemporary kitchen becomes much more multi-functional, allowing the room to be used as a workspace, a social space and anything in between. A minimalist look also makes the modern kitchen more flexible. Small touches can be used to put your mark on the space, or to quickly refresh the look and feel of your kitchen when you're ready for a change. For example, you can easily swap out any towels, placemats or decor pieces as the seasons change, keeping your home fresh and ready for every holiday.
If these many advantages make contemporary interior design the right fit for your new kitchen, the style pointers below will help you embrace the look.
Neutral Colour Palette
Choosing a neutral colour palette makes perfect sense in a contemporary kitchen design. Not only do neutrals allow for easy design updates when you're ready for a change, they also create a feeling of greater spaciousness, even in compact kitchens. If you're looking for even more space-maximising ideas, this post on creating spaciousness in smaller kitchens is full of inspiration for your interior design project. 
Neutral fixtures, fittings and furniture will give your brand new kitchen longevity and versatility. And when you're looking for a change in your space, simple updates such as a feature wall, patterned splashback tiles, upgraded cabinet handles or fresh artwork can quickly transform the feel of a contemporary kitchen, with no need for a major design overhaul.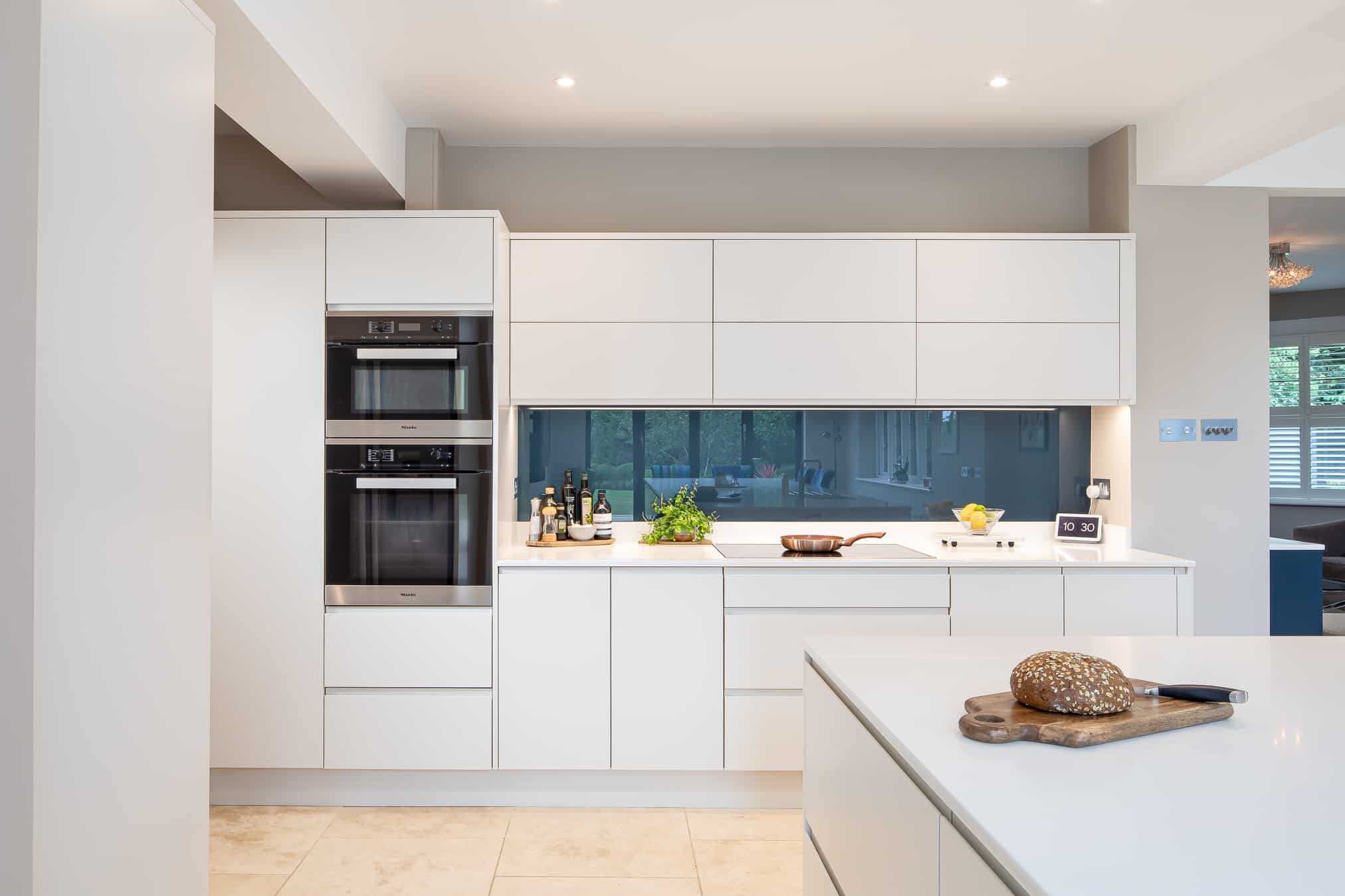 Straight, Horizontal Lines
Geometry can make a big difference in a modern kitchen design. While curved and multi-directional lines will create a busy, organic look (which may feel cluttered and chaotic), straight, horizontal lines create a sense of order, tidiness and calmness in the kitchen.
Installing neat, uniform cabinets which form a cohesive look will ensure your kitchen feels 'finished' and orderly. Ironically, perhaps, regimented lines can establish a sense of calm within a kitchen design, evoking the sense that everything is where it's supposed to be. If embracing calm in your kitchen design is a priority for you, take a look at our post full of calming, minimal kitchen design tips.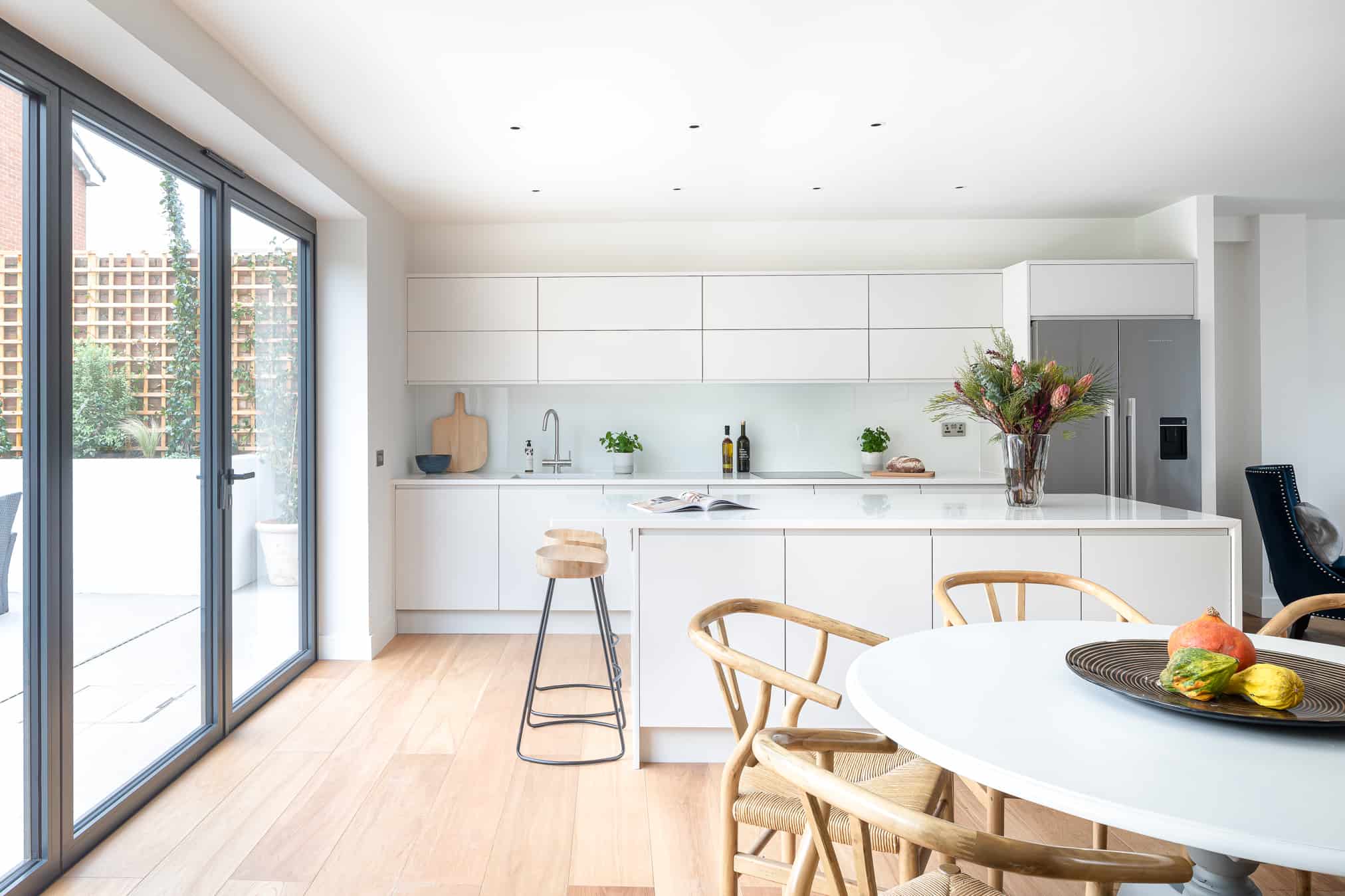 Slim and Hidden Handles
They may seem like a small detail, but the door and cabinet handles in your contemporary kitchen can make a big difference to the finished result. One way to introduce those straight lines we discussed above is to consider your cabinet handles, ensuring they are sleek and uni-directional. This will create a sense of orderliness and flow in your kitchen.
However, for even fewer features in your kitchen, consider handleless cabinets and drawers for a truly minimalist approach to your decor. This small aspect keeps your fittings looking sleek and smooth, providing the ultimate minimalist approach to your luxury kitchen.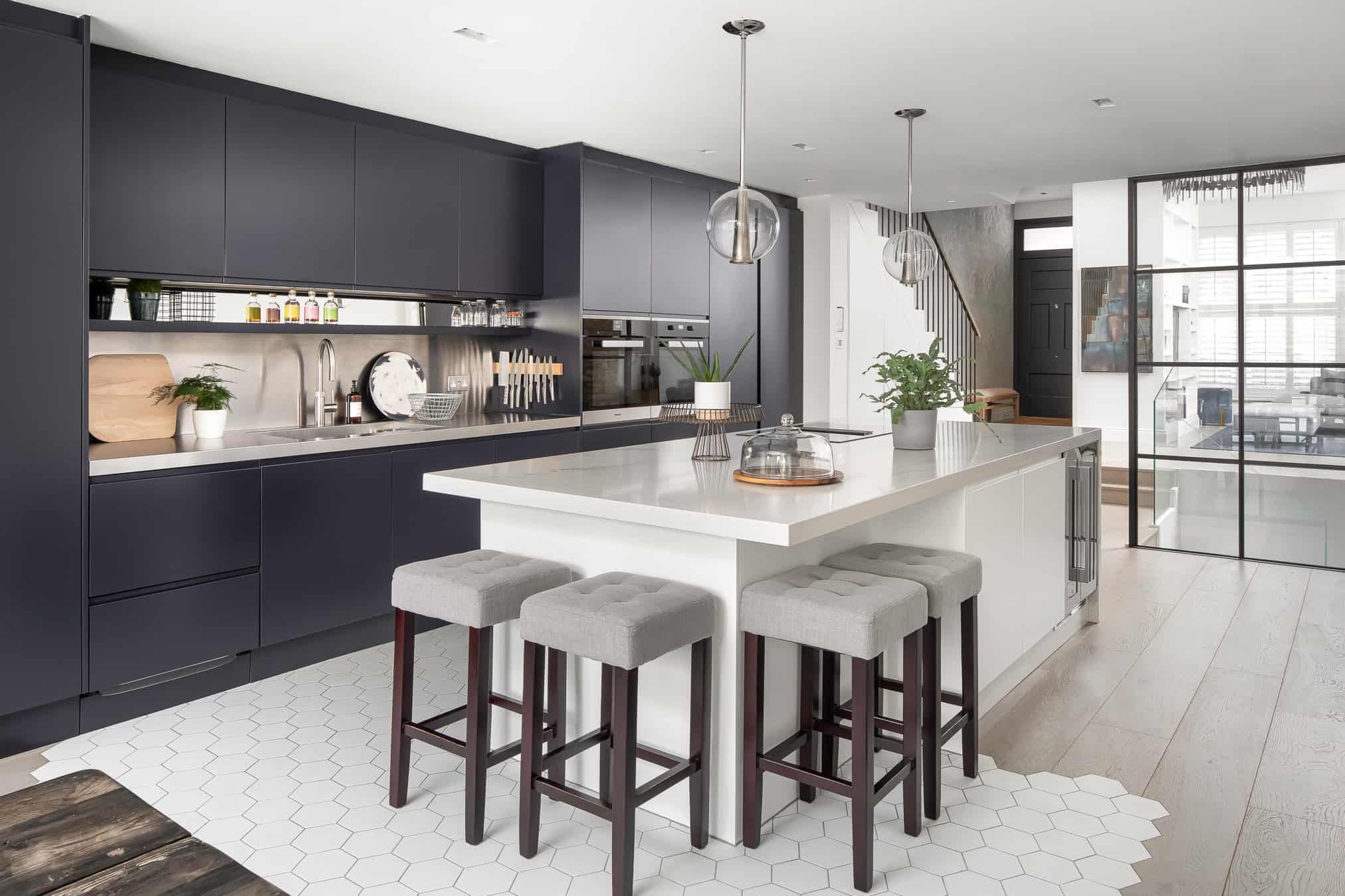 Natural Light
Welcoming natural light into your kitchen should have a huge impact upon your redesign. The contemporary kitchen is an "all day" space, particularly in the wake of COVID-19 with the rise of home-working. Today's modern kitchens should be able to offer a sunlit breakfast smoothie while checking your emails at the kitchen counter, sociable catch-ups over mid-morning coffee, as well as long evenings unwinding with your favourite recipes and favourite people. 
Maximising natural light will ensure your kitchen 'evolves' throughout the day, transforming itself from a bright spot for breakfast and home-working, all the way through to a cosy hub for dining and hosting. 
To make the most of natural light in your new kitchen, consider removing any barriers around the windows, such as heavy curtains which overlap the window frames. Sleek blinds will let more light enter the room and fit much more seamlessly with your minimalist update.
If you're considering a more substantial refurbishment, you may want to update your windows, or even take down partition walls to create a more open environment with more natural light flooding through your property. A quick alternative is to add a large mirror to your design, which will reflect natural light more efficiently around the kitchen and add to the feeling of spaciousness.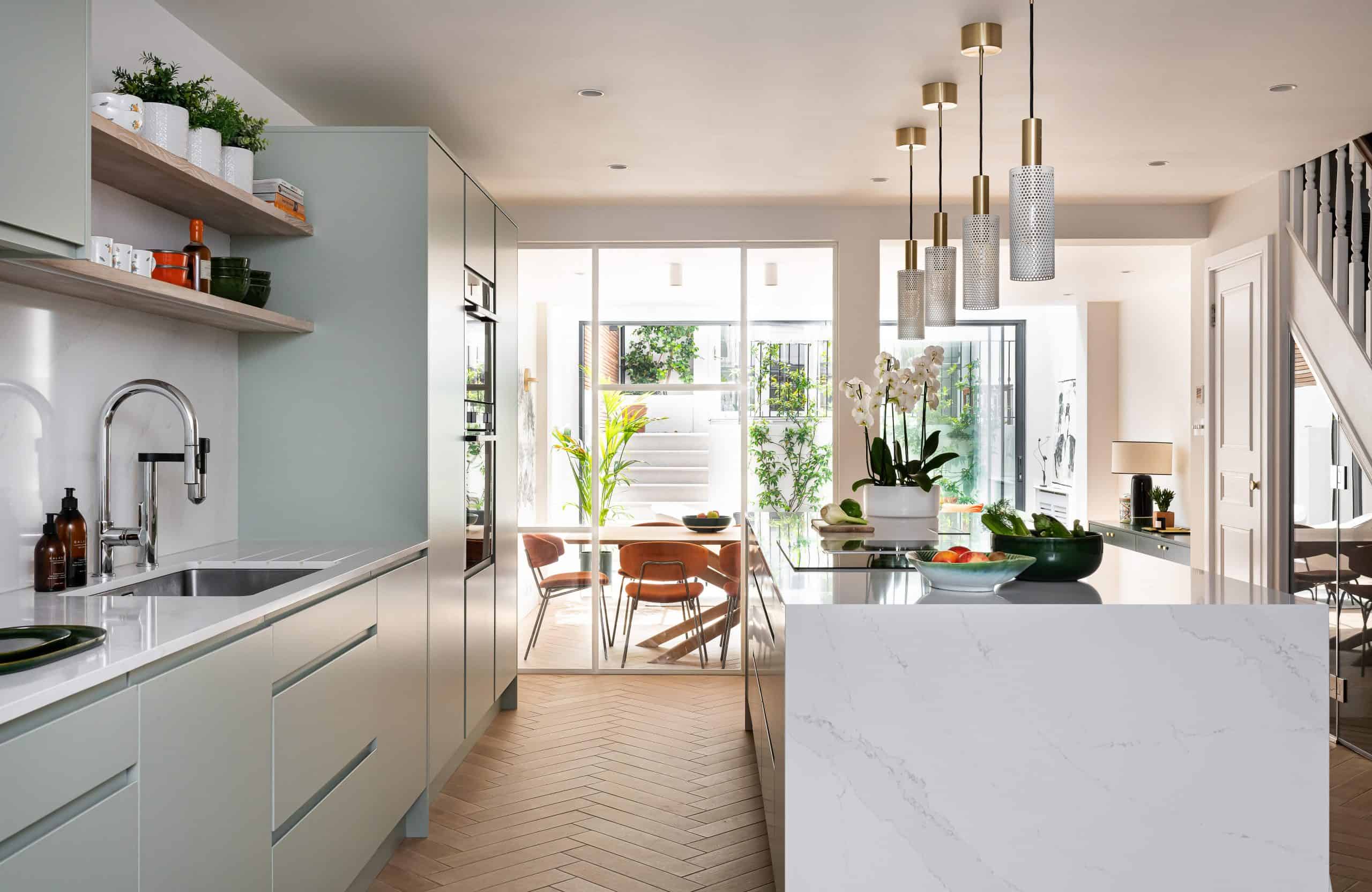 Furniture
The key to sleek modern kitchen design is consistency. From your fridge to your pantry, a truly cohesive look can only be achieved by a full cabinet refit. At John Lewis of Hungerford, we handcraft made-to-measure contemporary kitchen cabinets to house all appliances and utensils. Our beautifully constructed cabinetry conceals fridges, freezers, washing machines and every other appliance you can think of, ensuring every element is conveniently stored behind chic, uniform doors.
There is more to kitchen furniture than cabinets, however. Tables, kitchen islands, breakfast bars, bar stools and seating are also an integral part of your modern kitchen design. Explore our collection of kitchen furniture (including bespoke kitchen islands) to discover how to tie these distinct items together as part of an immaculate design. In general terms, look to incorporate the design principles above into any furniture you introduce into your new space. Choose neutral or metallic shades and simple, clean lines to stay true to your contemporary design aesthetic.
Contemporary Cabinetry From John Lewis of Hungerford
Our Oxfordshire based craftspeople employ built-to-last traditional cabinetry with contemporary vision. With almost 50 years' experience creating made-to-measure kitchens, we specialise in perfect fit installations which maximise every corner of your space. Entirely bespoke, we work with our customers to envision kitchens which sit seamlessly within their daily lives, offering beauty and functionality in equal measure. Contact our team to discuss your contemporary kitchen wishlist.
Book a free design consultation
John Lewis of Hungerford designers are on hand to bring your ideal home to life
Book a design consultation