Cheerful Spring Colours for Your Bespoke Luxury Kitchen
Kitchens11th March 2023 4 minute read
Since 1972, John Lewis of Hungerford has been designing high quality painted kitchens inspired by the tastes, needs and desires unique to each of our customers.
With our award-winning, hard-wearing paint formula, we can work with you to craft a beautiful space that complements your home perfectly. We believe that your dream kitchen, tailored to your exact requirements, should last a lifetime.
Paint Your Kitchen the Colour of Spring
The spring season reminds us of flowers and new beginnings and it's a wonderful time to add a splash of cheerful colour to your kitchen to give it a new start as well. From bright daffodil yellows to peony pinks, at John Lewis of Hungerford we can help you choose the perfect colour for your bespoke luxury kitchen.
We have compiled some of our most loved springtime kitchen colours from our extensive colour palette. Whether it is a new or time-honoured colour scheme you seek, our knowledgeable design team is on hand to discuss your vision. We also offer a great colour matching service if the cabinet colour of your dreams doesn't appear in our collection. Our paint is the toughest in the business, so rest assured knowing that it is the best independently tested paint you can get from any British kitchen design company.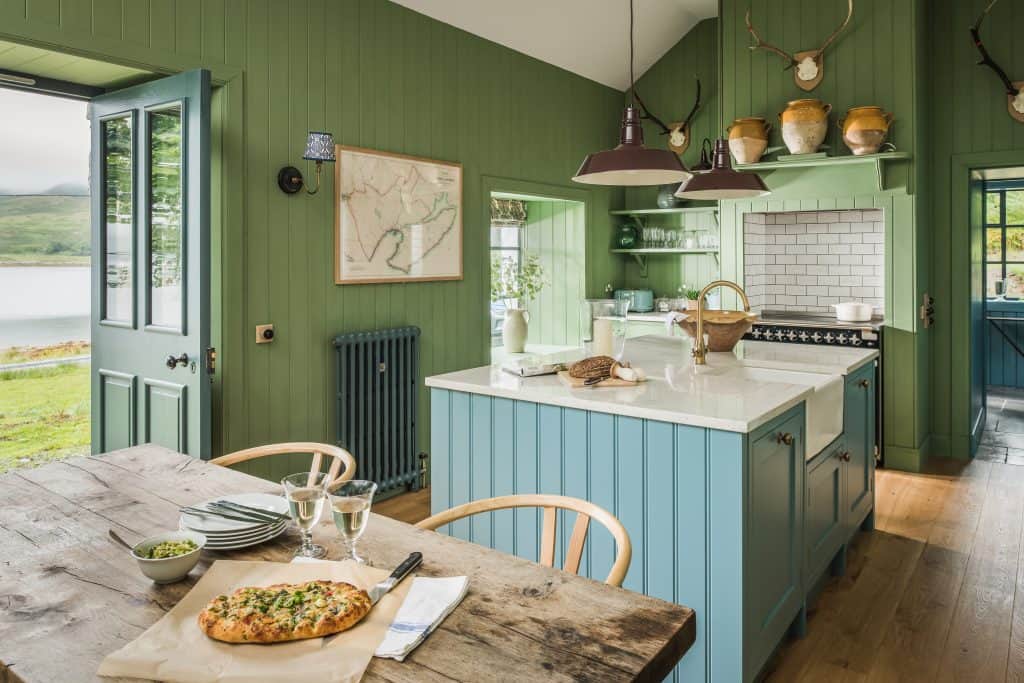 Shades of Blue
Reminiscent of the soft pastel skies above us on a sunny spring morning, our gorgeous blue hardwearing paint shades will bring a sense of serene elegance to your kitchen cabinets. Duck Egg and Spring Sky make wonderful choices for a kitchen that is classic but undeniably uplifting. Deeper shades such as Blue Thistle and Blake Blue will create a stunning ,sophisticated look to your luxury kitchen design. These blues pair beautifully with the crisp white worktops and striking natural stone splashbacks. Blue kitchen cabinets are excellent for creating a bold colour pop in your kitchen. Choose a delightful, rich shade of blue for your kitchen island and keep the rest of your cabinetry neutral, to create an inviting family space that bridges classical styling with contemporary living.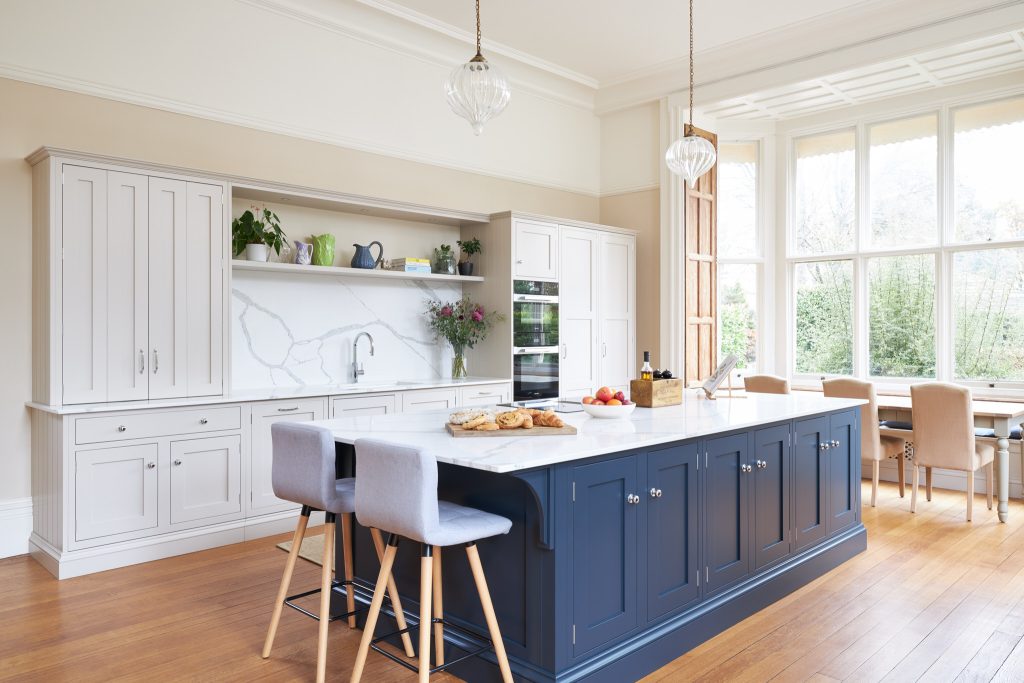 Mellow yellows
Daffodils, primroses and buttercups are quintessentially British wildflowers that flourish in the early months of the year, making their cheerful yellow petals a perfect representation of the spring season. Add a splash of yellow to your kitchen and you'll have springtime sunshine all year round. This vivacious Crème de la Crème retro-style kitchen uses yellow to make a spirited statement with its bold backsplash, glossy Alabaster units and chrome accents.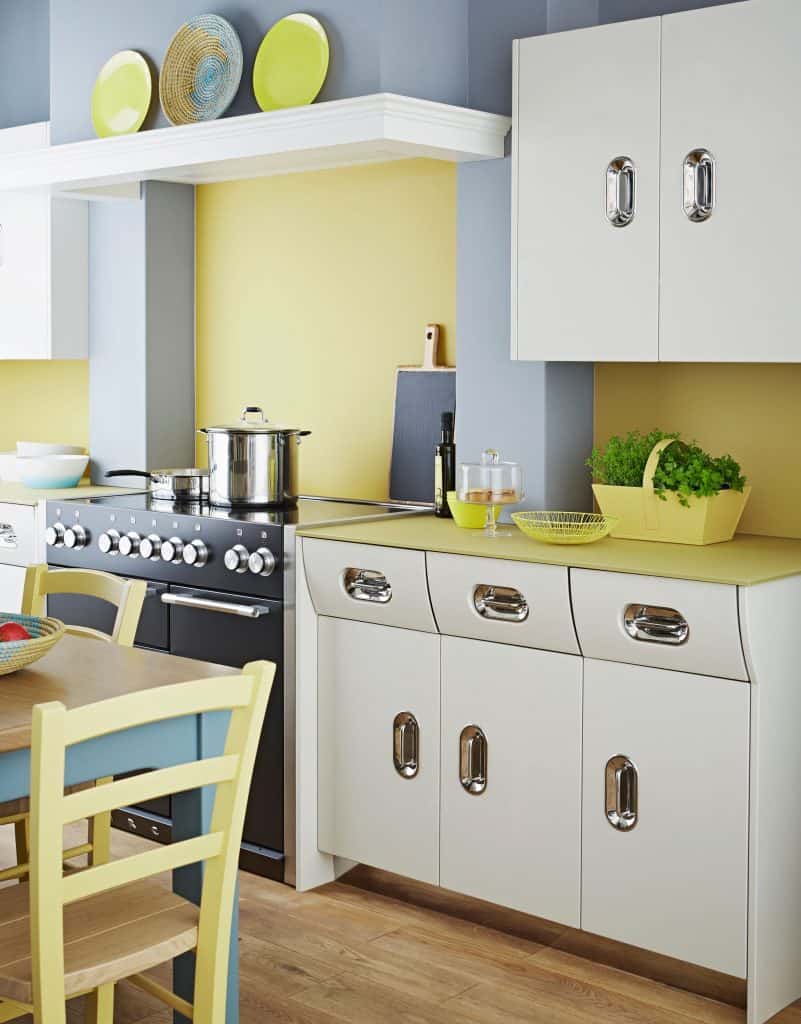 Blush tones
Whether you are in pursuit of an ultra-feminine aesthetic or a more pared back but still warm colour scheme, blush tones make a delightful choice for a kitchen renovation. Blush has gained popularity in recent years as a colour choice for living rooms and bedrooms but we think that our delicate shades of Lavender White, Blush and Blossom are all beautiful tones to incorporate into your spring-themed kitchen. Combining blush tones with more masculine shades of camel and sage green creates a balanced yet unique interior. We love the way that this bespoke Shaker kitchen creates a sense of calm with the use of a beautifully soft colour palette, perfectly showcasing the different blush tones.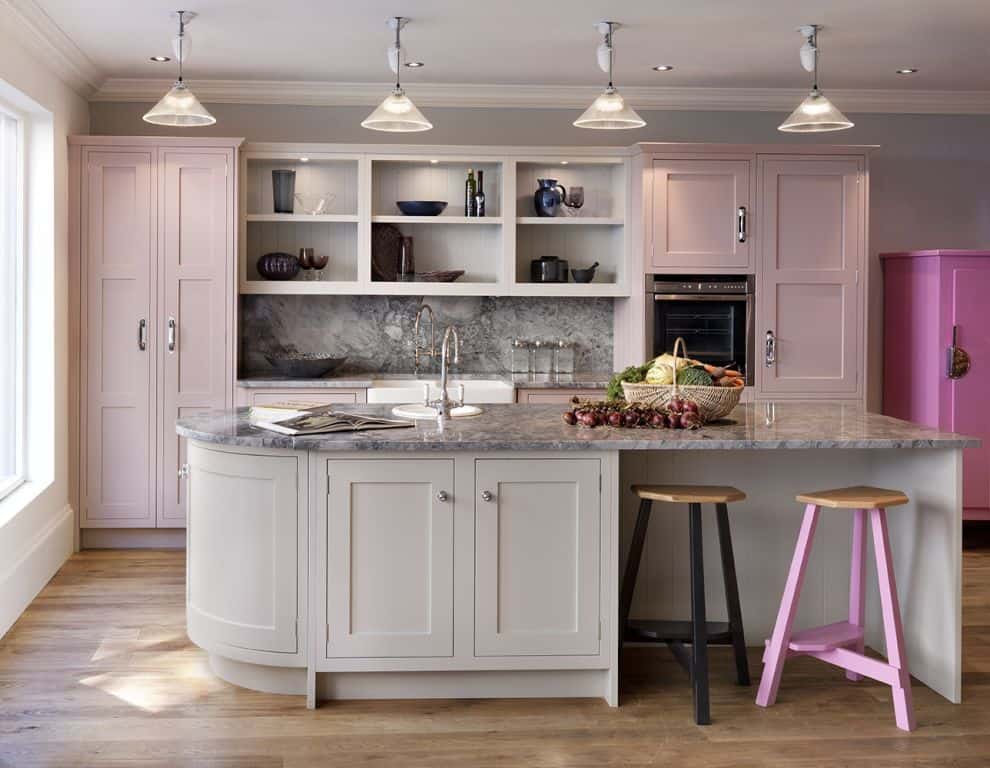 Spring greens 
Green is an exquisitely versatile colour and we have a broad range of shades in our collection, from deep Midnight Green to zesty Euphorbia and the more subdued Sage tones. This spring, we are loving the organic mid-greens like Pea, Evergreen and Brooklands, which create a bold statement without seeming overbearing. Well-suited to country and urban kitchens alike, green brings a sense of serenity with it and fosters a connection to nature. This traditional kitchen, complete with a coordinating Shaker dresser, has been expertly finished in Brooklands Satin Eggshell and is a wonderful example of how to bring vibrant colour into a living space.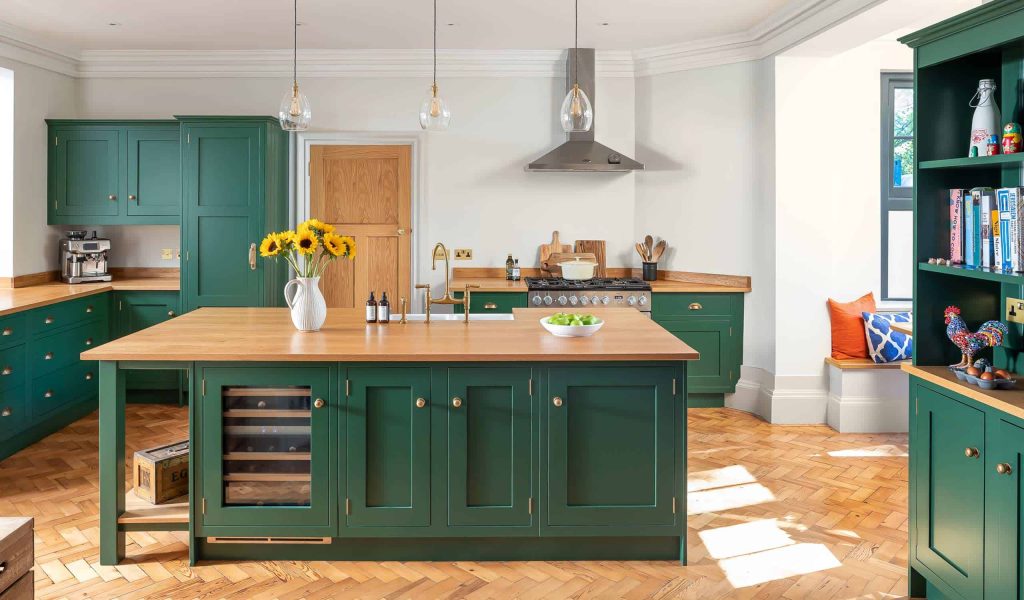 Wonderful whites 
Breathe a breath of fresh air into your luxury kitchen design this spring and update your interior with a light and airy colour palette. White makes a wonderful choice for small kitchens and those that do not receive a lot of natural light. Our Satin Eggshell finish and light-reflecting High Gloss paints are available in a range of white shades from Pure White to more subdued shades like Easy White and Flour. If pure white from top-to-tail isn't to your taste, take a look at this bespoke kitchen from our Pure range, which skilfully combines an off-white shade with a statement blue kitchen splashback.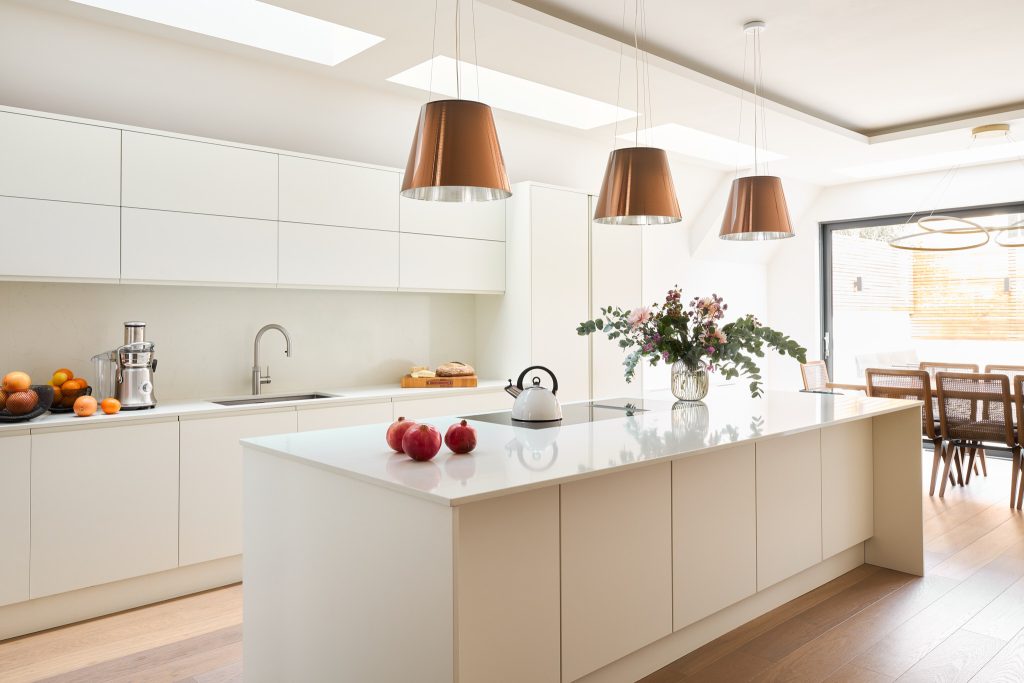 Let Us Put a Spring in Your Step
As colour experts and the original specialists in painted handmade kitchens and furniture, John Lewis of Hungerford believes in kitchens that are designed for today and made for life.  Our carefully curated colour collection is available in a range of finishes including classic Satin Eggshell and hand-polished High Gloss.
If you feel that your kitchen needs more than just a spring clean, get in touch with our knowledgeable design team. They would be delighted to discuss your dream kitchen ideas with you and provide freshly painted swatches to help you visualise what your new life-proof kitchen could look like. We are here to inspire and guide you throughout the whole process, from start to finish.
Book a free design consultation
John Lewis of Hungerford designers are on hand to bring your ideal home to life
Book a design consultation