7 Simple Ways to Make Your Small Kitchen Feel Larger
Kitchens4th February 2021 5 minute read
Small kitchens are just as beautiful as large ones and there's something wonderfully charming about their cosy format.
A small kitchen doesn't have to mean small design ideas. In this blog post, we explore our designer's luxury kitchen design ideas and decorating techniques to help open up a small space and make it feel larger in a variety of interesting and unique ways, from adding mirrors, to opting for open shelving.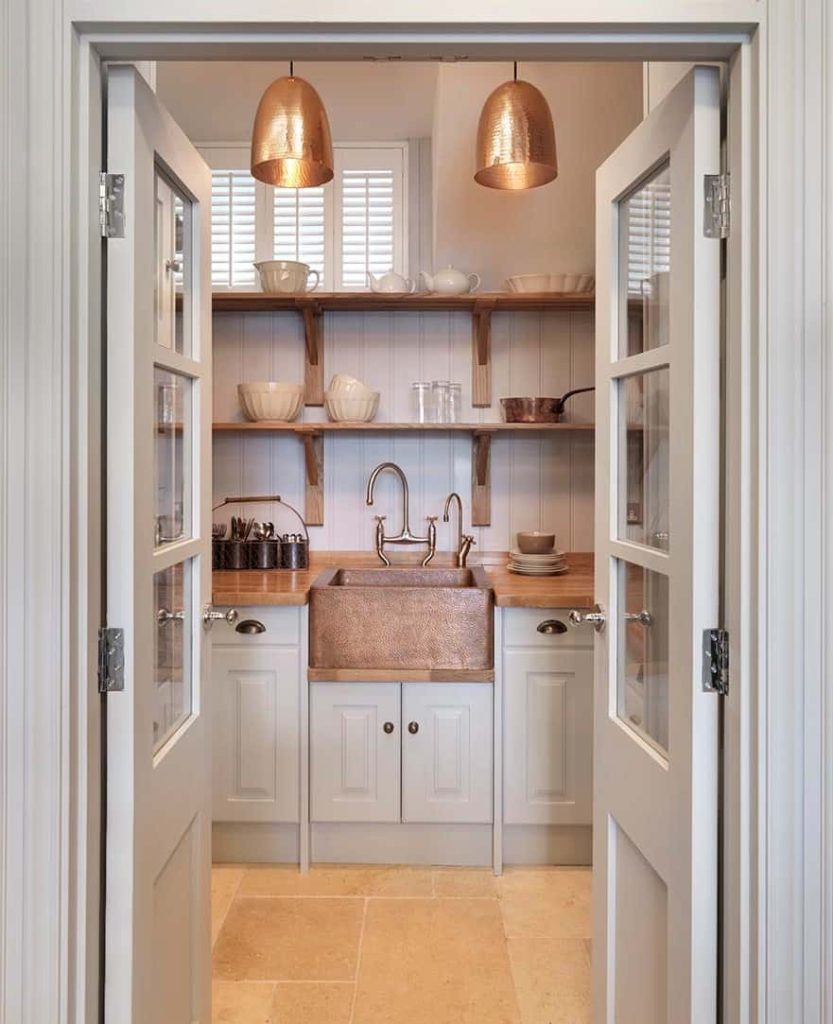 How to Make a Small Kitchen Look and Feel Bigger 
There are a number of ways to increase how big your kitchen feels without knocking down walls or building an extension, such as choosy airy, bright colours and reducing clutter. Our expert designers at John Lewis of Hungerford know that the kitchen is the beating heart of any home, no matter its shape or size, and are on hand to assist you every step of the way.
1) Mighty white 
All white kitchens are one of the top kitchen trends for 2021 and are a particularly good choice when trying to make a small room feel larger. Bright surfaces reflect light, helping to illuminate dark corners and giving the impression of space. Quartz, solid surface and marble worktops are all available in a range of gleaming whites, creams and pale greys and look beautiful set on top of high quality white painted cabinets. White oak floorboards or limestone flagstones maximise the pale light-reflecting effect, whilst also adding texture and interest.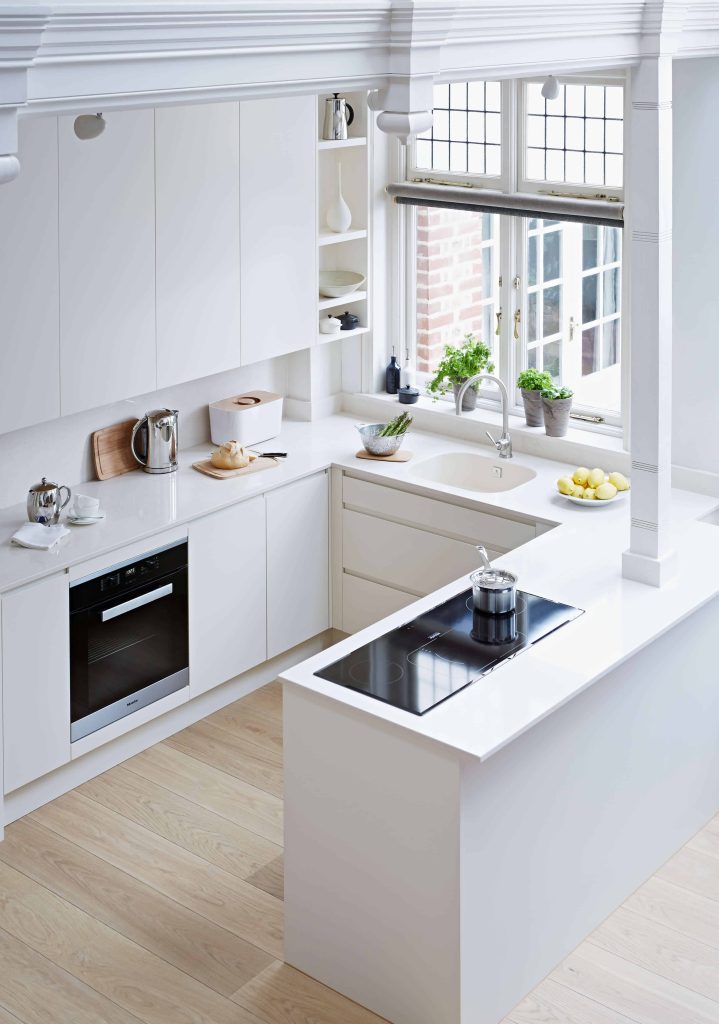 2) Reflective surfaces
As with the colour white, reflective surfaces help to distribute natural light around a room. Glossy hand painted cabinet doors, glazed units and shiny worktops are all design elements to consider when trying to make a space appear larger. If you have the wall space, hang a statement mirror instead of artwork to further enhance the reflection of light. Backsplashes make a versatile addition to any kitchen and are a great way to express your style, and they are available in a range of metallic and reflective finishes, from brushed stainless steel and hammered brass to reflective glazed white tiles.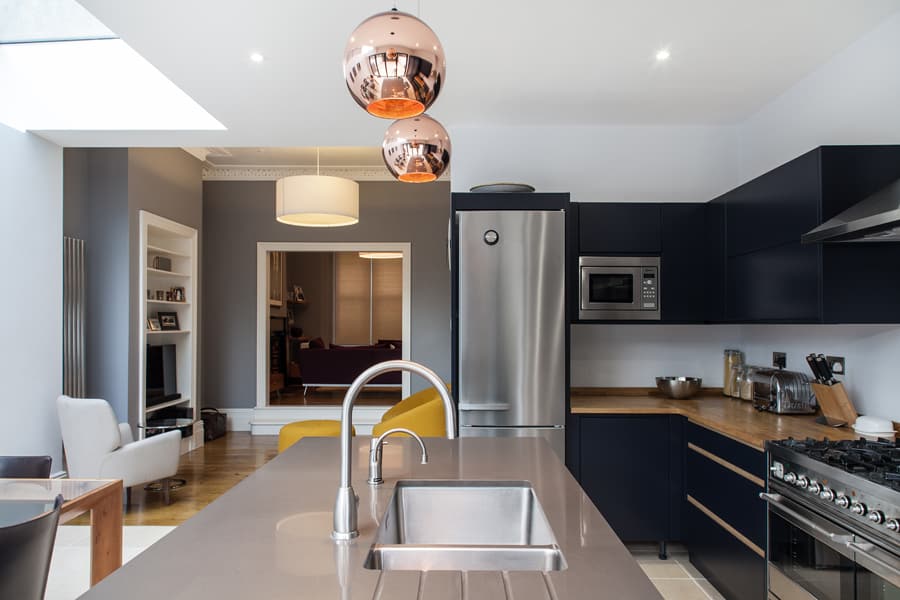 3) Sleek and clutter free
When space is at a premium, it's all the more important than ever to omit clutter. Maximising cupboard space with clever storage solutions like pull-out larders and carousel corner cupboards gives you the space you need to store your ingredients, appliances and pots and pans, all while leaving your work surfaces clear.
Installing integrated appliances also helps to maintain a sleek appearance. Hot water taps will negate the need for a traditional kettle and allow you to maximise your counter space. Opting for a handleless design is another clever way to ensure your kitchen looks clutter free, and removes the worry of catching your clothing as you squeeze through a narrow galley kitchen.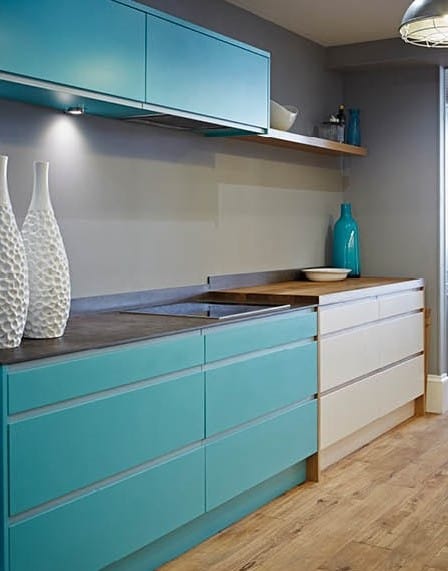 4) Focus on one colour
If an all white kitchen isn't your style, you can still create the illusion of extra space by focusing on one colour. Statement walls certainly have their place in interior design, but it's recommended you avoid colour blocking when designing a tiny kitchen as it breaks up the room. Instead, select a single colour to apply across the kitchen so that the eye sees it as one continuous space.
Light colours, like duck egg blue, lemon yellow and sage green, allow you to put your personal stamp on your bespoke kitchen without shrinking the space around you. You can also choose deeper shades like inky blues or charcoal greys, particularly when the colour scheme continues beyond your kitchen. A good rule of thumb is to place the darker colours below your work surfaces and keep things bright and airy above to enhance the feeling of space.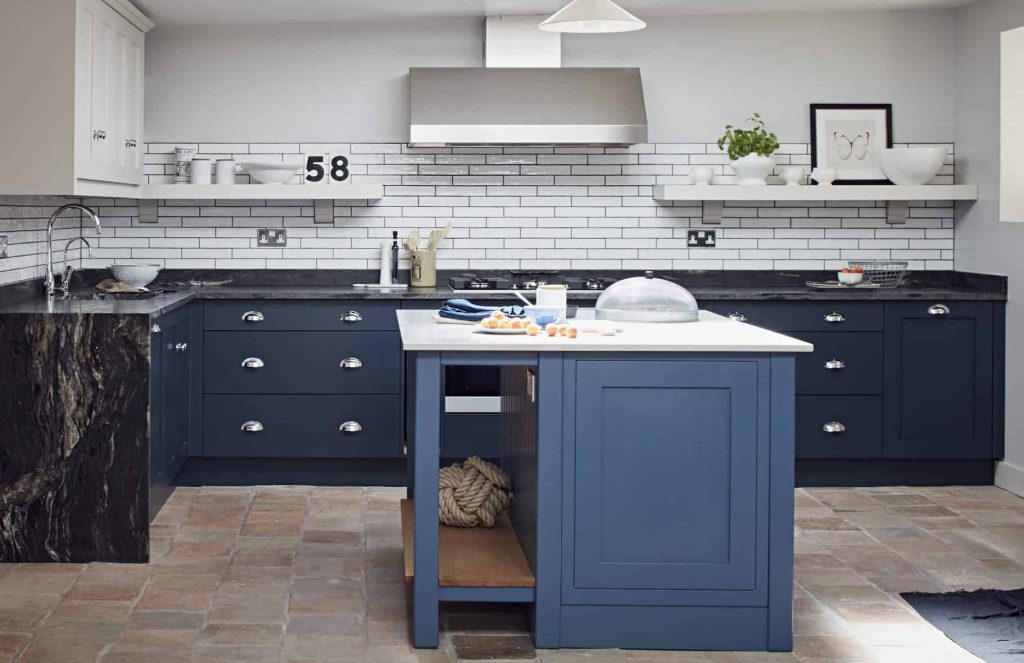 5) Open shelving
Open shelving is another popular design trend that can be integrated into almost any kitchen design. Open storage creates space by removing the upright panels you would otherwise have with traditional wall cabinets, which can block out natural light. You should avoid over-stocking the shelves and instead reserve open shelf space for tidy stacks of crockery and glassware, otherwise you run the risk of making your kitchen look busy and crowded.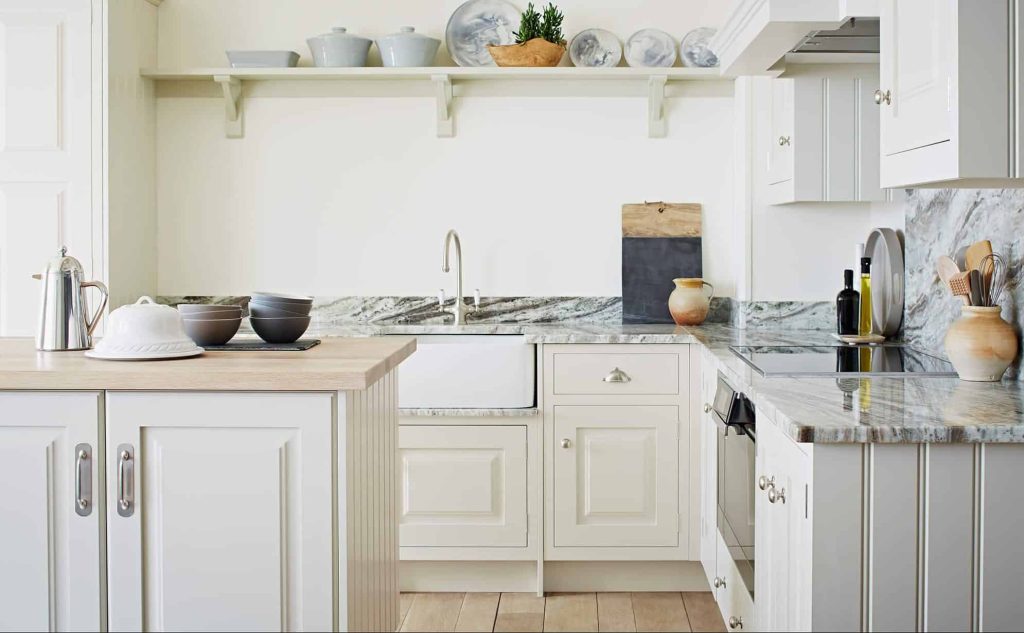 6) Clever flooring
Flooring has the ability to draw the eye across a room and can be used to cleverly create the illusion of space. Keep the following in mind:
If you have a narrow galley kitchen, parallel floorboards will accentuate the length of the room
If you are trying to make your space look wider, floorboards that run perpendicular to the units will help to open it up
Square tiles, when laid diagonally, evoke a feeling of roominess
Geometric floor tiles make a dramatic statement and are a great way to trick the mind into seeing a bigger room when used correctly
Our expert designers can help you choose tiles that aren't too small, as the more grout lines there are on the floor, the less spacious the room will feel.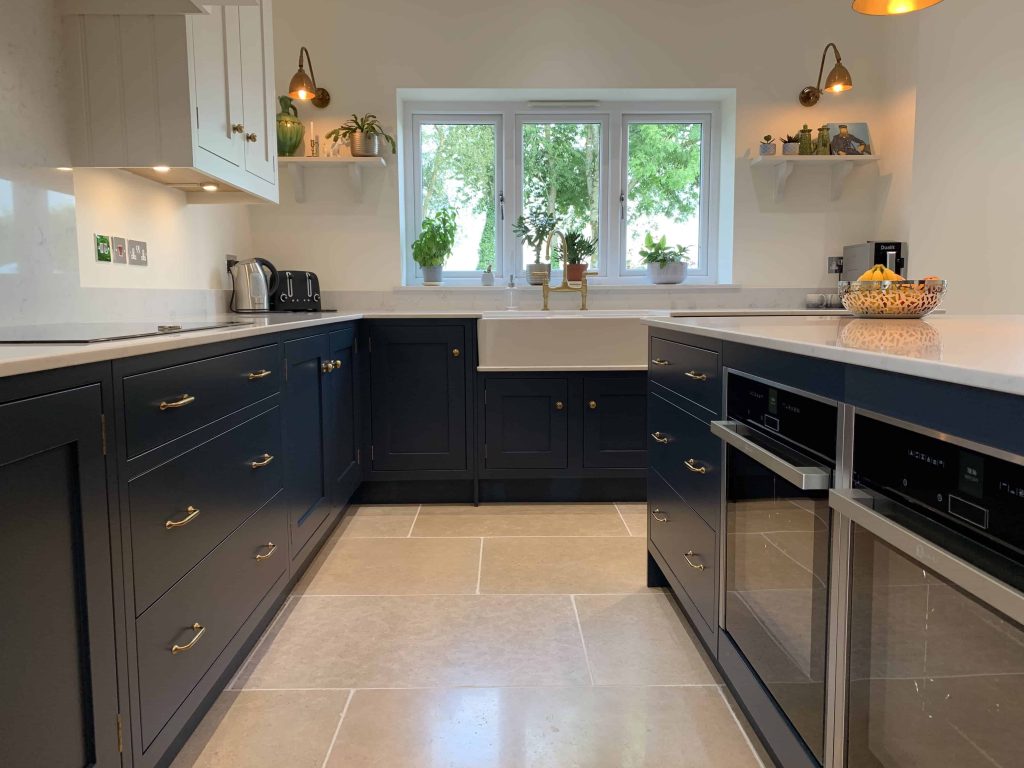 7) Look up
If you are blessed with high ceilings, tall kitchen cabinets help to make the most of that height. This can be accentuated with above cabinet lighting, which visually enlarges a room.
Upright lines are another way to elongate a room vertically. Install a vertical tile backsplash for a subtle way to create a sense of openness.
If you are feeling bold, our designers recommend a painted ceiling. Statement light fixtures and interesting mouldings also draw the eye up and distract from noticing the narrowness of a room, instead focusing on height and grandeur.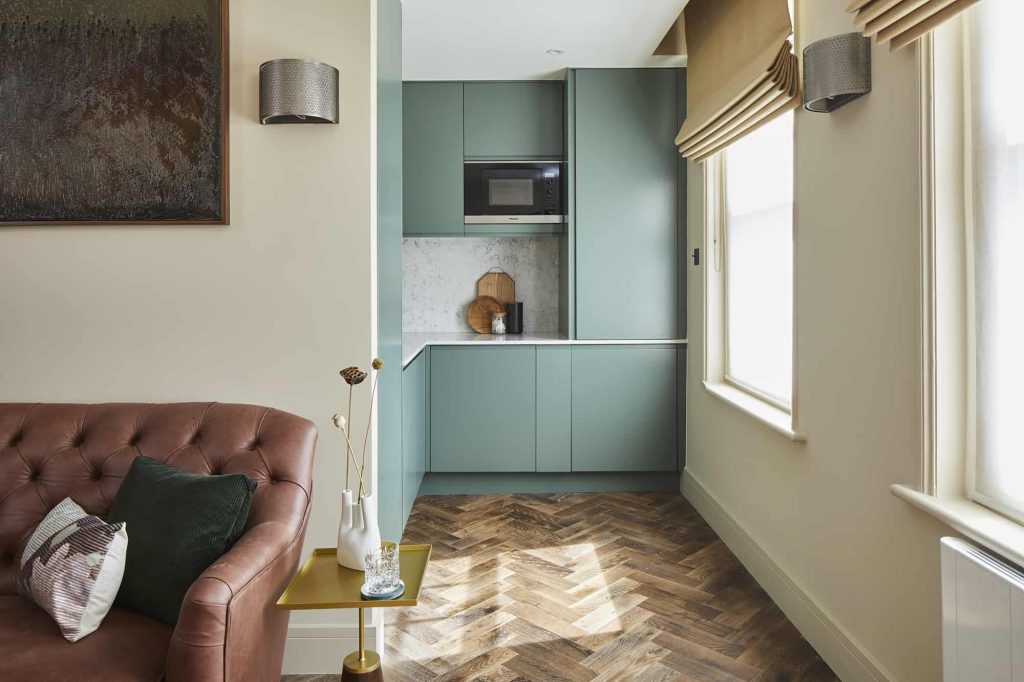 Small but Perfectly Formed
Allow our designers to help you transform your kitchen into a functional and striking space that perfectly balances charming cosiness and extraordinary beauty all at once.
The perfect kitchen should bring a smile to your face and work in harmony with your lifestyle. If you are looking for additional bespoke luxury kitchen décor ideas, our expert interior designers are happy to guide you through the design process from start to finish. Visit our homepage to request a brochure or to book a free design consultation.
Book a free design consultation
John Lewis of Hungerford designers are on hand to bring your ideal home to life
Book a design consultation