5 Luxury Kitchen Worktops That Will Leave a Lasting Impression
Kitchens15th January 2021 6 minute read
When it comes to designing your dream kitchen, your choice of worktop material can make all the difference.
Whether you're seeking a modern kitchen with sleek lines and a striking quartz worktop or a more traditional aesthetic with texture and warmth, there are hundreds of surfaces and finishes to choose from.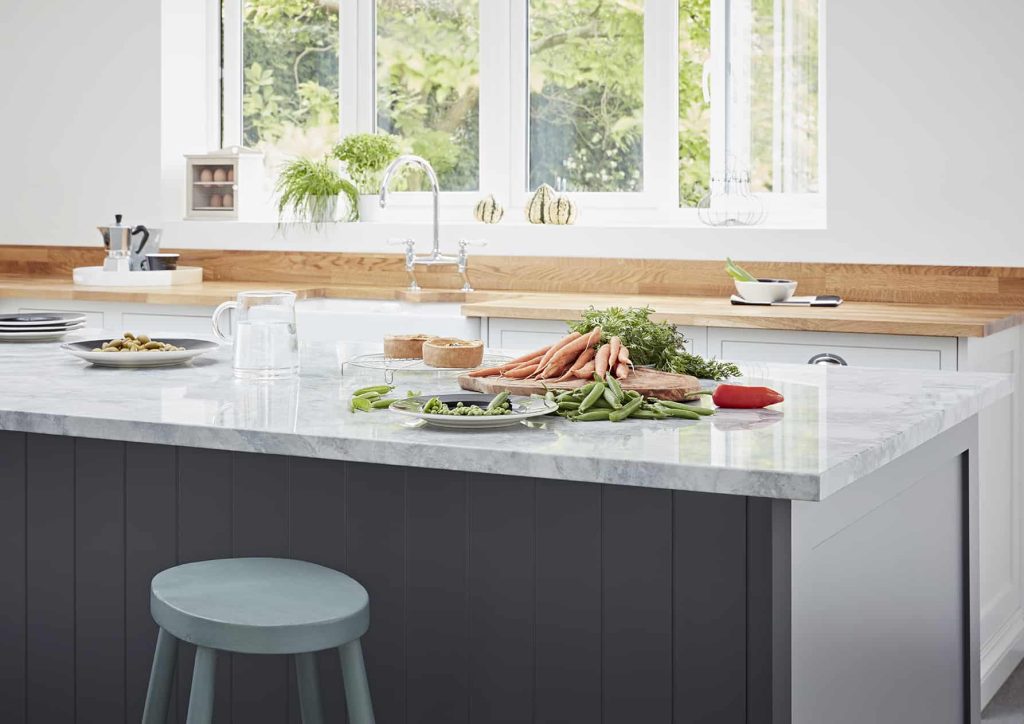 Unique Kitchen Worktop Ideas
If you're in need of inspiration, our luxury kitchen design ideas will help you choose a worktop that leaves a lasting impression. However, the perfect kitchen is not just about timeless aesthetics; it must also fit seamlessly with your lifestyle. Here, we've compared the qualities and benefits of our favourite kitchen worktop materials.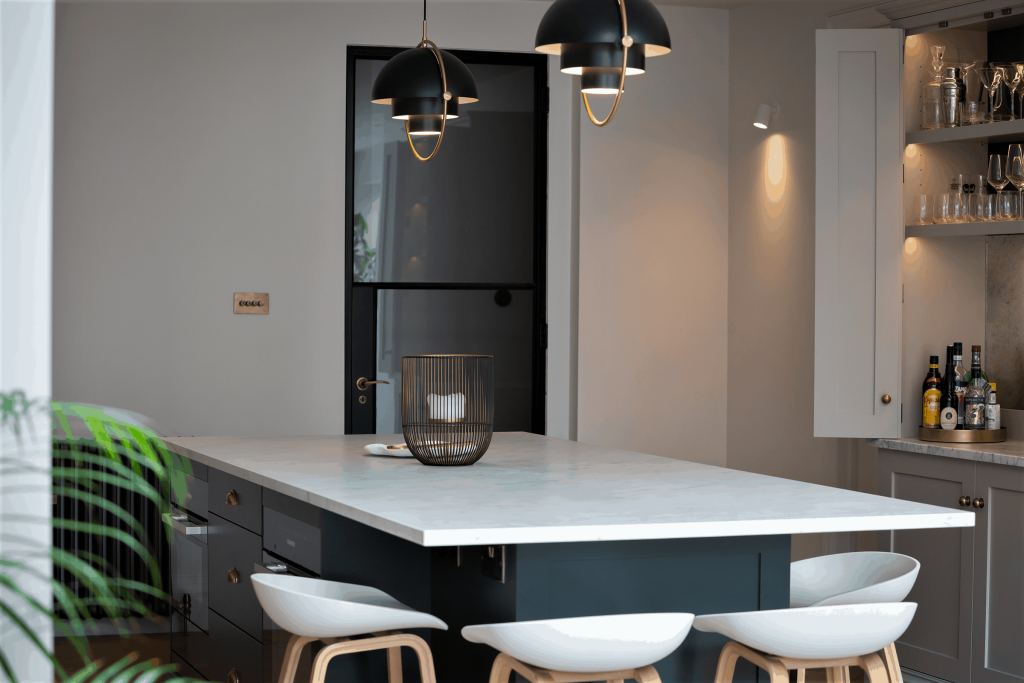 1) Granite
A timeless favourite in country homes across Britain, granite is a sophisticated material and a classic choice for handsome and hard-wearing worktops.
Granite starts its life deep in magma chambers, where it cools very slowly. This process allows crystals (such as feldspar, mica and quartz) to form, giving granite its sought-after glittering and varied appearance when polished.
This organic process results in a range of colours, from pearlescent whites and creams to glossy blue-green tones and deep shades of black, so you can easily tailor your choice of granite to your kitchen colour scheme. This elegant work surface offers practical qualities too, such as superior heat resistance, strength and durability.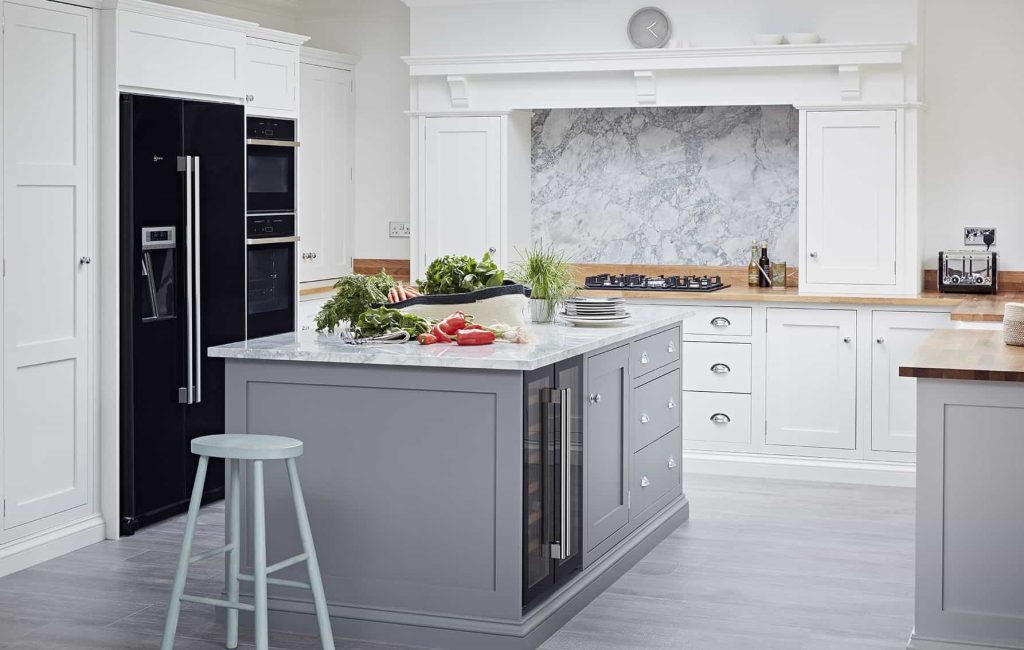 How to look after granite
Granite worktops are synonymous with long-lasting quality, but to keep them pristine for years to come, we recommend that you:
Only use mild detergents and water to clean any spills, and avoid abrasive methods like wire brushes and very alkaline products like bleach.
Use a chopping board when preparing meals, as sharp knives may scratch the surface.
Use a trivet for very hot dishes as a precaution. Although granite is hard-wearing, excessive heat may cause some discolouration.
Clean up any acidic spillages, like lemon juice or vinegar, as soon as possible to avoid creating dull spots.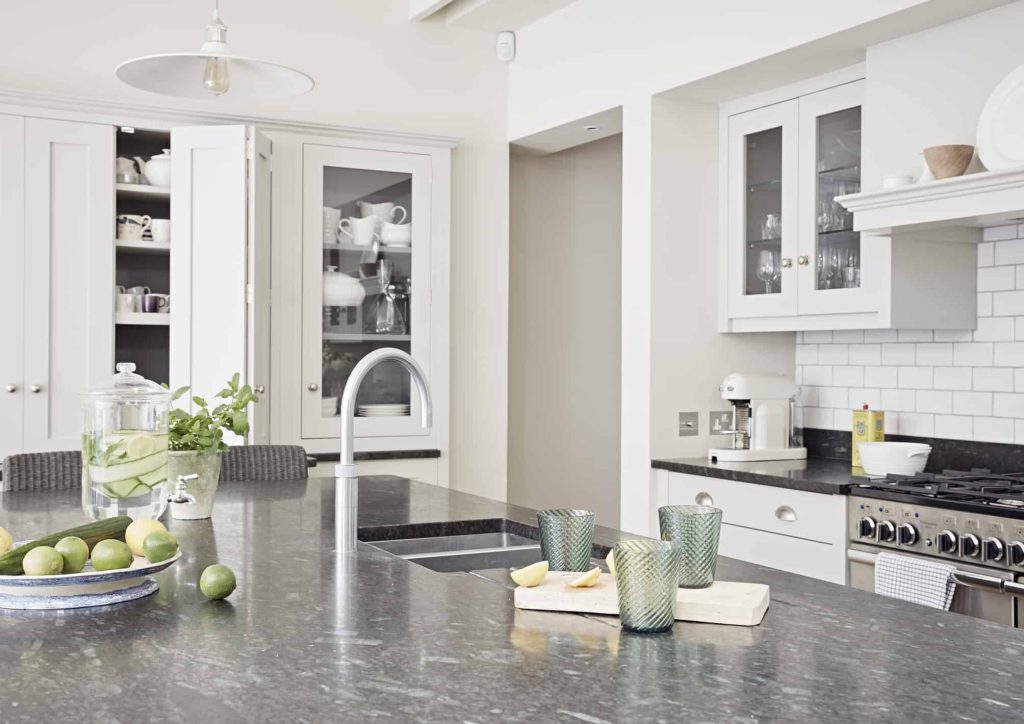 2) Quartz
Quartz worktops contain a high percentage of natural quartz crystals bound with resin, making them an elegant option when it comes to engineered stone surfaces. From a soft white, matte limestone effect to a glossy black, veined marble surface – and almost anything in between – quartz can be crafted in a myriad of colours and finishes to suit your unique design preferences.
As well as being a convincing replica of natural stone surfaces like marble and granite, quartz countertops are truly low maintenance thanks to their scratch-, heat- and water-resistant properties. Quartz worktops are also non-porous, which makes them stain resistant and very hygienic.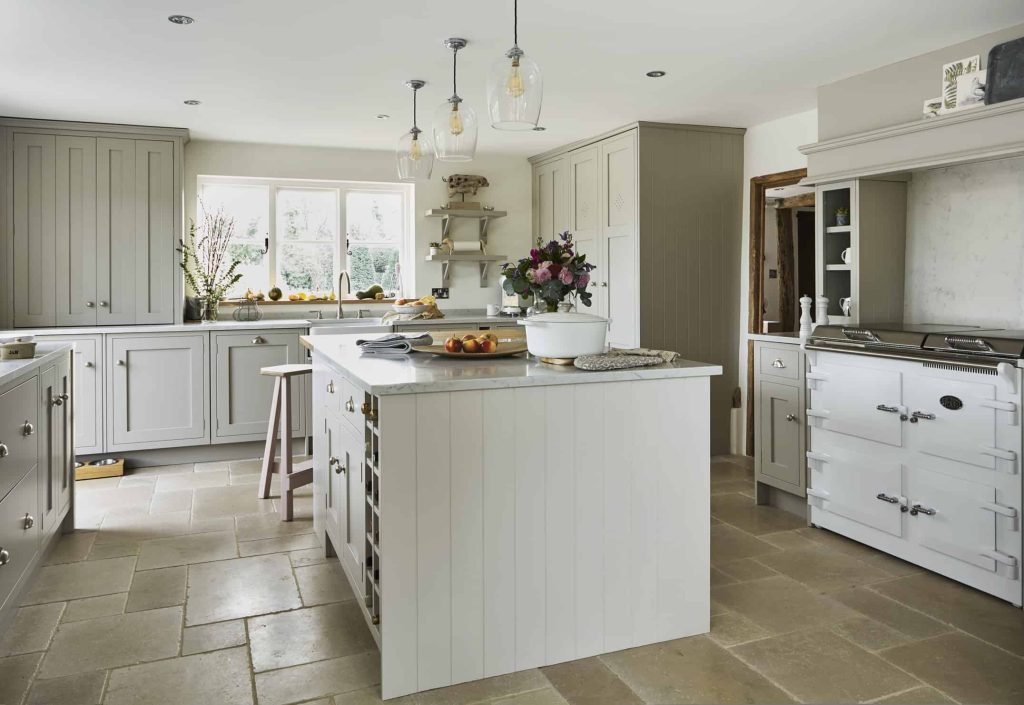 How to look after quartz
Quartz worktops require minimal maintenance, but we advise you to follow a few simple guidelines to keep them looking their best:
Use only a damp cloth to remove spillages. Mild dish soap can be used occasionally, but this can cause a dull residue to build up over time.
Close blinds to minimise exposure to direct sunlight for extended periods of time, as ultraviolet rays may gradually affect the colour pigments in the resin.
Do not use sharp knives to chop food directly on the worktop, and use a trivet for hot dishes.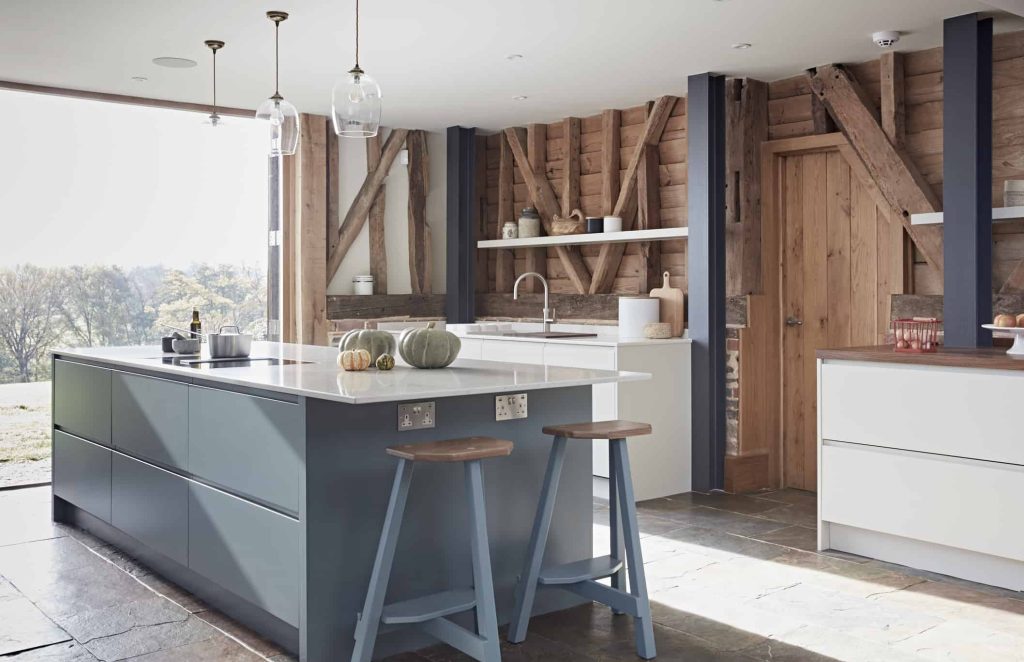 3) Wood
With its natural elegance, timber makes a warm and welcoming work surface for a traditional kitchen. There are many options available to those seeking a solid wood worktop: luxury hardwoods such as oak, walnut and maple are popular choices, while bamboo or reclaimed timber are excellent eco-friendly alternatives.
When cared for properly, wooden worktops are long-lasting and practical. However, they require a little more looking after to avoid water ring stains and knife scratches, and they should be oiled and sealed regularly.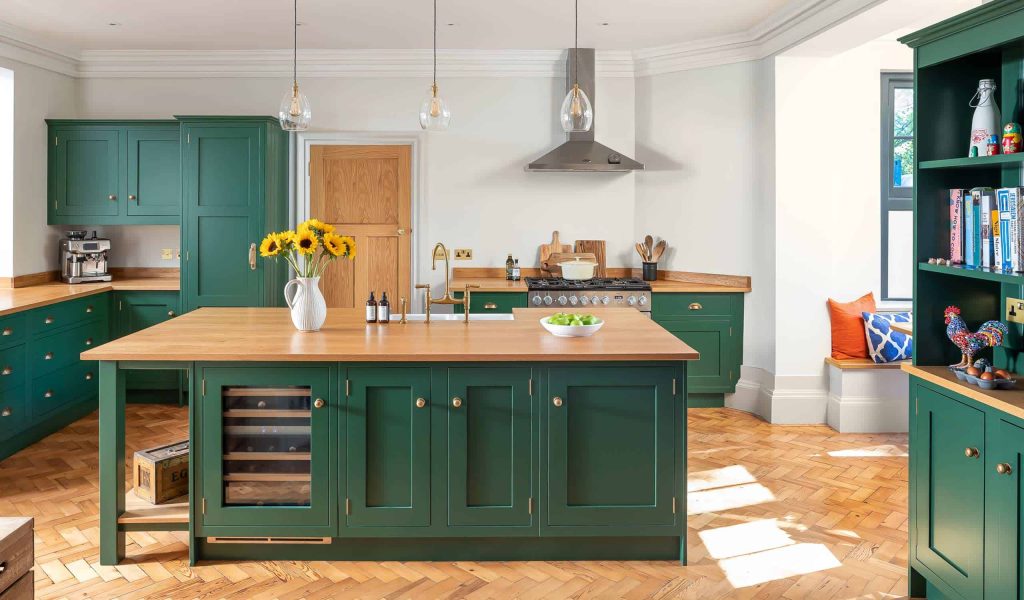 How to look after wood
If you invest care and attention into your wooden worktop, it will bring you years of joy. We recommend you:
Seal your wooden surfaces using linseed oil or Danish oil every three to six months.
Avoid placing hot pans directly onto the work surface, and use a chopping board when preparing food.
Wipe up any spillages as soon as possible, and keep the sink area dry.
Scorch marks, water rings and stains can sometimes be removed by sanding the surface down and re-sealing.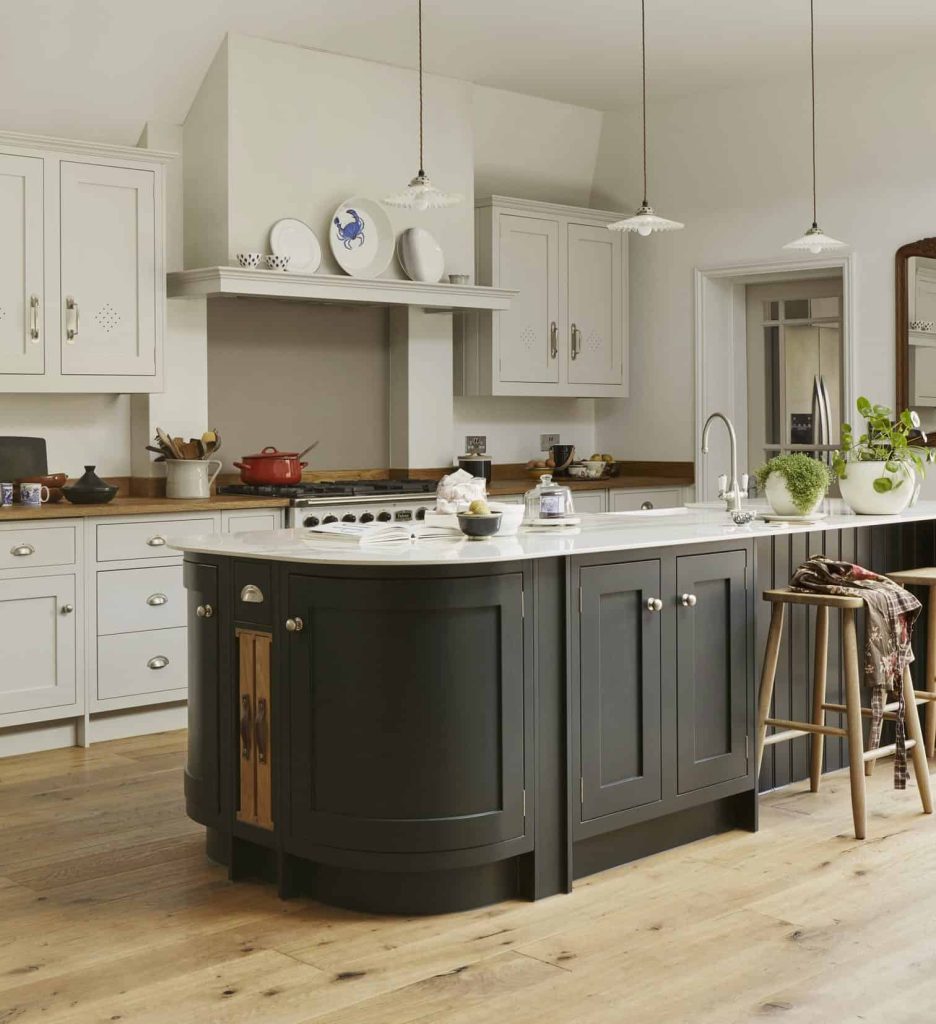 4) Neolith
Neolith may not be the first material that comes to mind when you imagine a kitchen worktop, but it is certainly an enviable choice. Made from recycled, natural products such as crushed stone, Neolith countertops are lightweight, attractive and stylish, as well as low maintenance and durable. This material is an ideal choice for families and the eco-conscious.
Neolith itself is created during a process involving pressure and intense heat, bonding the elements together to create a sturdy and strong product. It is incredibly heat resistant, so you can place hot dishes directly onto its surface. It is also non-porous, meaning that it resists stains and is remarkably unreactive – so you needn't worry if you spill acidic juices on your Neolith worktop.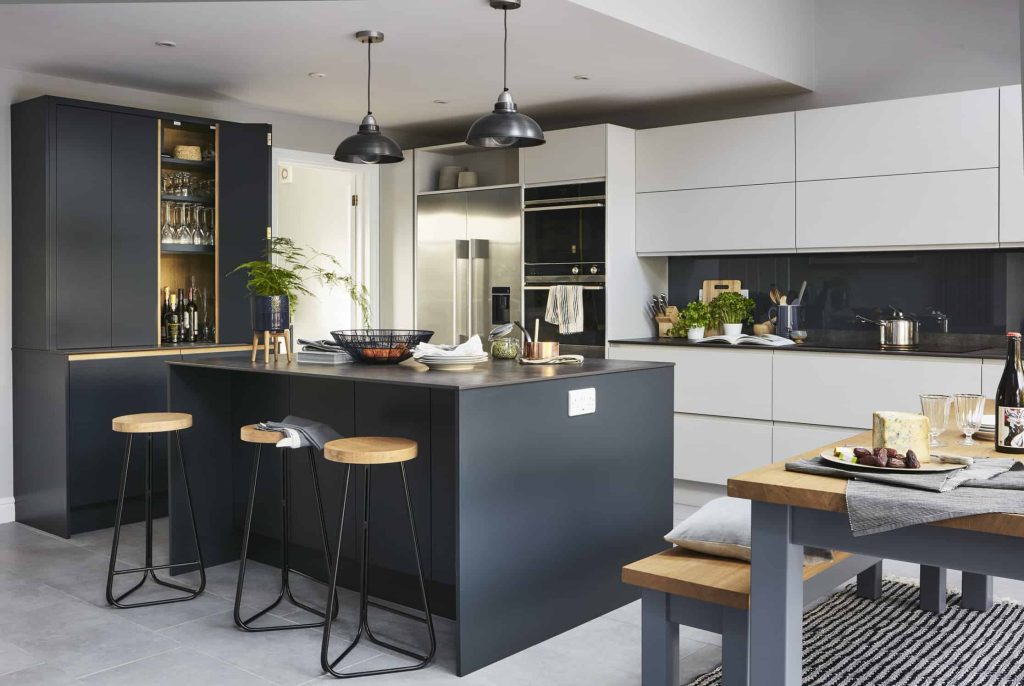 How to look after Neolith
Follow these easy steps to enjoy your beautiful Neolith countertops for many years to come:
While Neolith is generally very resistant to scratches, it is advisable to use a chopping board when using a ceramic knife, as this type of knife can scratch the surface.
Wash and wipe up spills with a damp cloth. Detergents can be added to the cloth, but it is recommended you avoid products containing hydrofluoric acid and its derivatives as they can leave an oily residue.
Avoid hitting the countertop with heavy or blunt objects, as this can break or chip the material.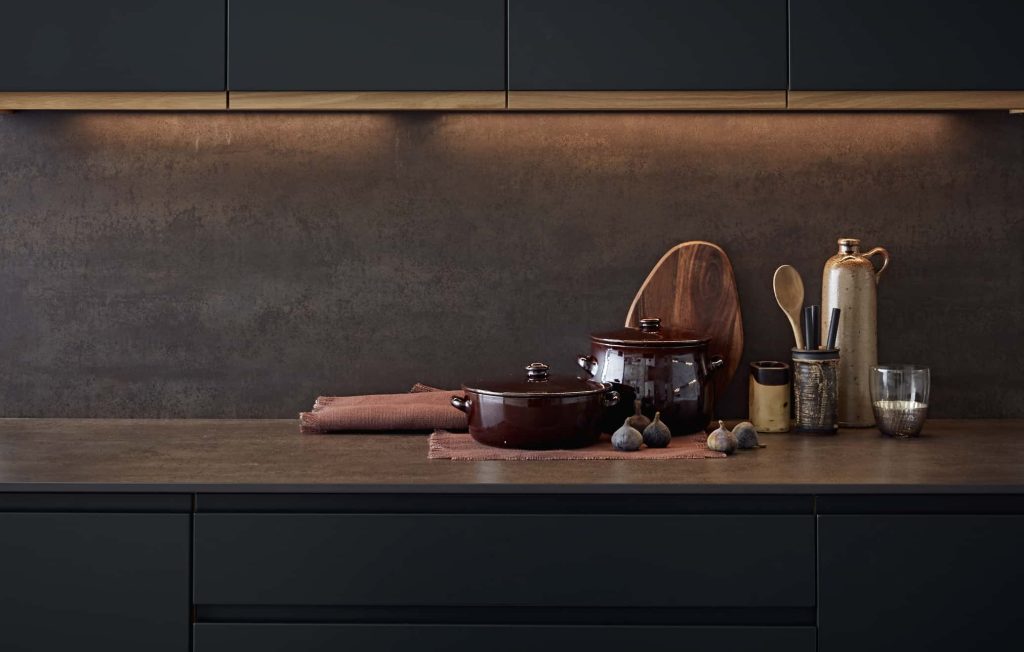 5) Marble 
No list of luxury worktops would be complete without mentioning marble. The word 'marble' is derived from Ancient Greek, and it means to sparkle or gleam. In essence, marble is a metamorphosed limestone. Reminiscent of Michelangelo's iconic sculptures, it is a luxury quarried stone with natural variations that make each slab completely unique.
From the classic white Carrara marble with grey veining from Northern Italy to striking serpentine-rich Green Guatemala marble from India, there is a wide array of choices when it comes to selecting your bespoke marble worktop. Depending on the vision you have for your kitchen, you can choose from either a polished finish for a glossy refined appearance or a honed finish, which leaves a buttery, semi-matte result. Both have their benefits: a polished surface makes cleaning spills easier, while a honed finish will hide scuffs and scratches.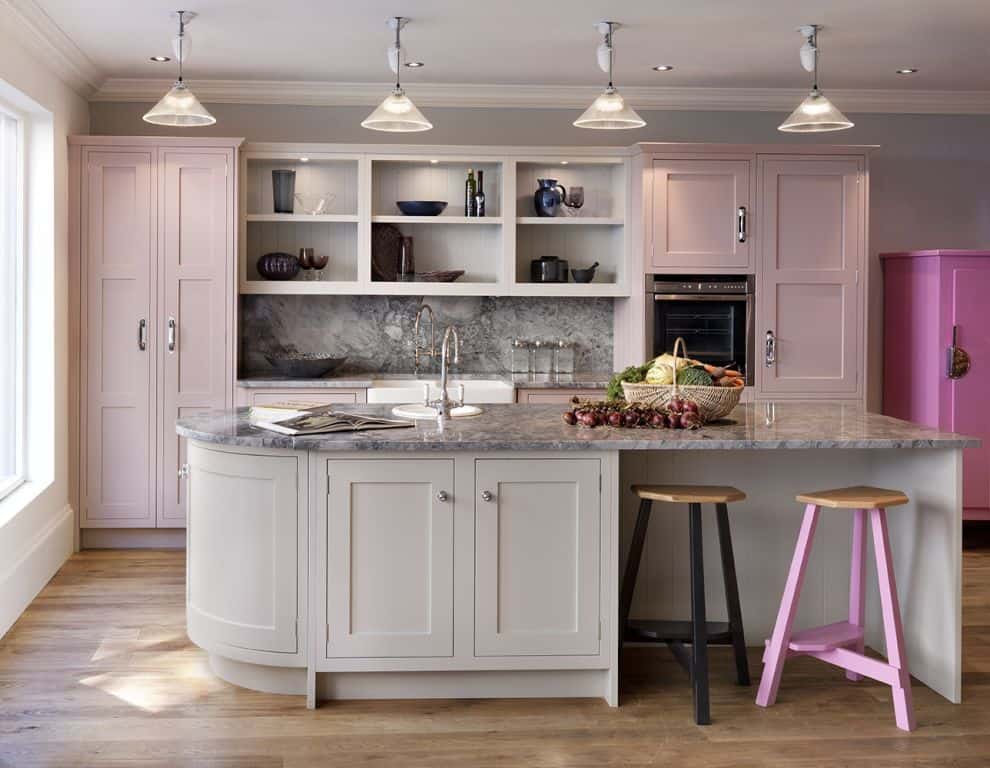 How to look after marble
Marble's striking appearance complements most design styles, whether classic or modern, but it will require some care to keep it looking its best:
Use a chopping board for preparing food, a trivet for hot pans and avoid placing wet items on your marble countertop.
Pour acidic and staining liquids (like juice and wine) at the table rather than over your worktop to avoid staining.
Clean up spillages as soon as possible and use a specialised cleaner formulated for natural stone.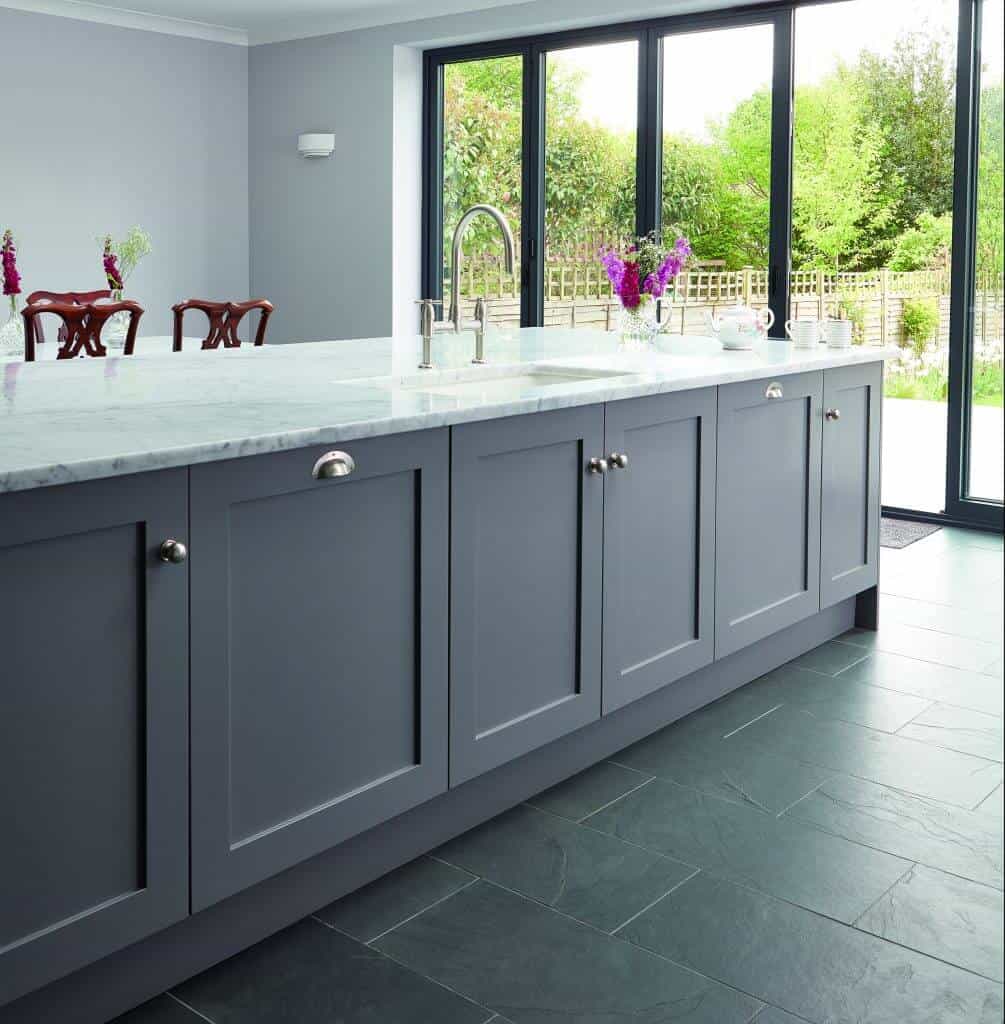 Making it Work for You
Your kitchen worktops can be functional, long-lasting and extraordinarily beautiful all at once. Mixing materials is an original way to make the most out of different practical properties whilst creating a unique blend of textures. For example, you could contrast Neolith counters with a solid wood kitchen island or breakfast bar.
If you are looking for further kitchen décor ideas, speak to our expert interior designers for more advice and recommendations.
Book a free design consultation
John Lewis of Hungerford designers are on hand to bring your ideal home to life
Book a design consultation