5 Bespoke Kitchen Layout Ideas to Fit Around Your Family
Kitchens3rd March 2021 5 minute read
The kitchen is one of the most important rooms in your house and serves as a hub for the whole family. Whether your kitchen is small, spacious or somewhere in between, the design should maximise its appearance, functionality and conviviality in a way that suits your lifestyle. 
At John Lewis of Hungerford, handcrafting bespoke luxury kitchens has been our calling since 1972. This blog post will explore five kitchen layouts – open plan, island, galley, a straight run along one wall and U-shaped – and discuss which one might suit you and your family best.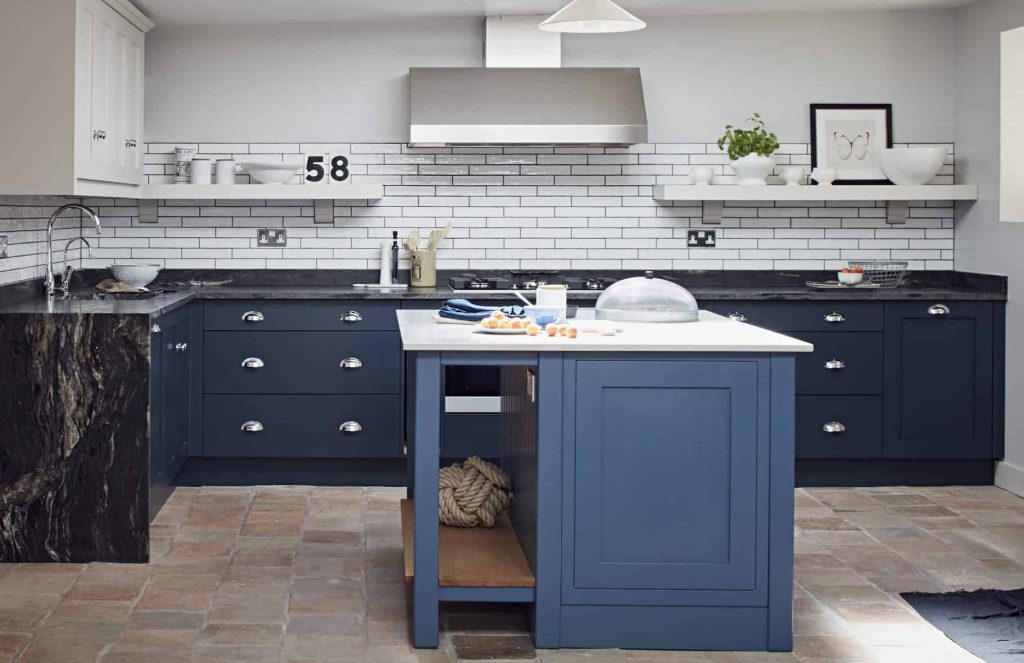 Discover the Perfect Kitchen Layout for Your Family
Whatever the shape of the room or your personal and family needs, our designers can help you carefully curate a beautiful yet functional and enduring kitchen.
1) Open plan
Open plan designs suit many families. This layout creates a sociable space and fosters a sense of togetherness, while still allowing two or more family members to be in the room at the same time while doing separate activities. Combining your kitchen with your dining and living space can be achieved by removing partition walls and subtly demarcating the perimeter of each 'room' with cabinetry, colour and flooring instead of physical barriers. Open plan living is also brilliant for hosting, as it ensures whoever is cooking won't feel separate from the party.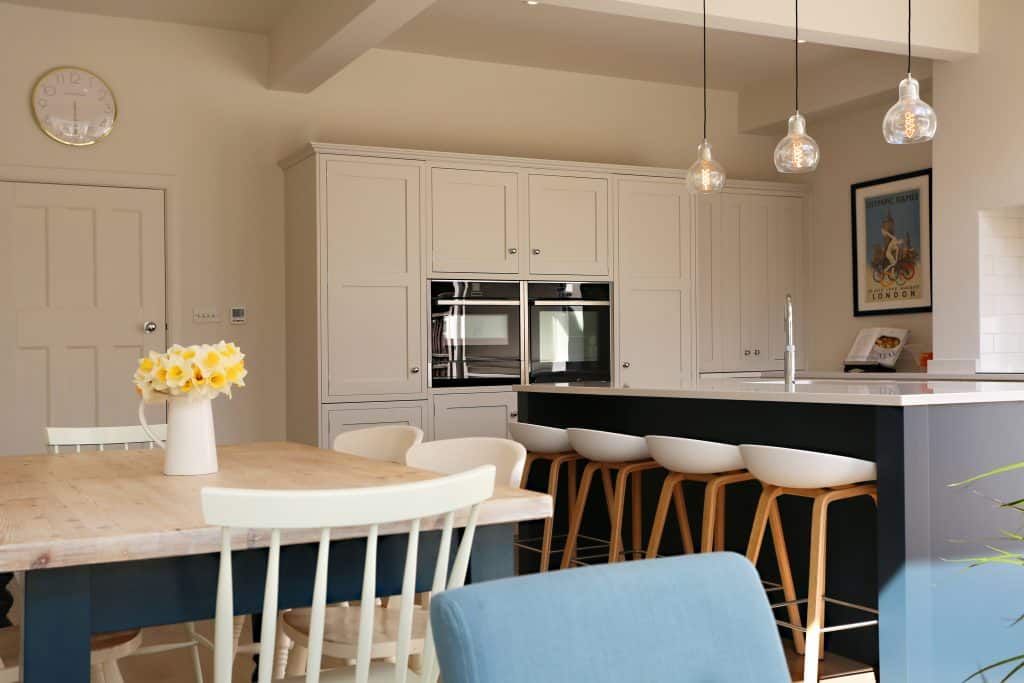 If you already have an open floor plan at home or a large space you would like to get the most out of, this kitchen layout will enable you to create a communal living space that is both stylish and functional.
2) Island
A popular addition to larger kitchens, the kitchen island gives you additional work space and storage, and allows extra room for built in appliances like induction hobs and wine coolers. We love the versatility of a kitchen island: it can double as a breakfast bar or homework station, while its central placement encourages socialising. During meal preparations, the chef is guaranteed plenty of space to cook without spiriting them away from the conversation – another testament to the kitchen island's adaptability.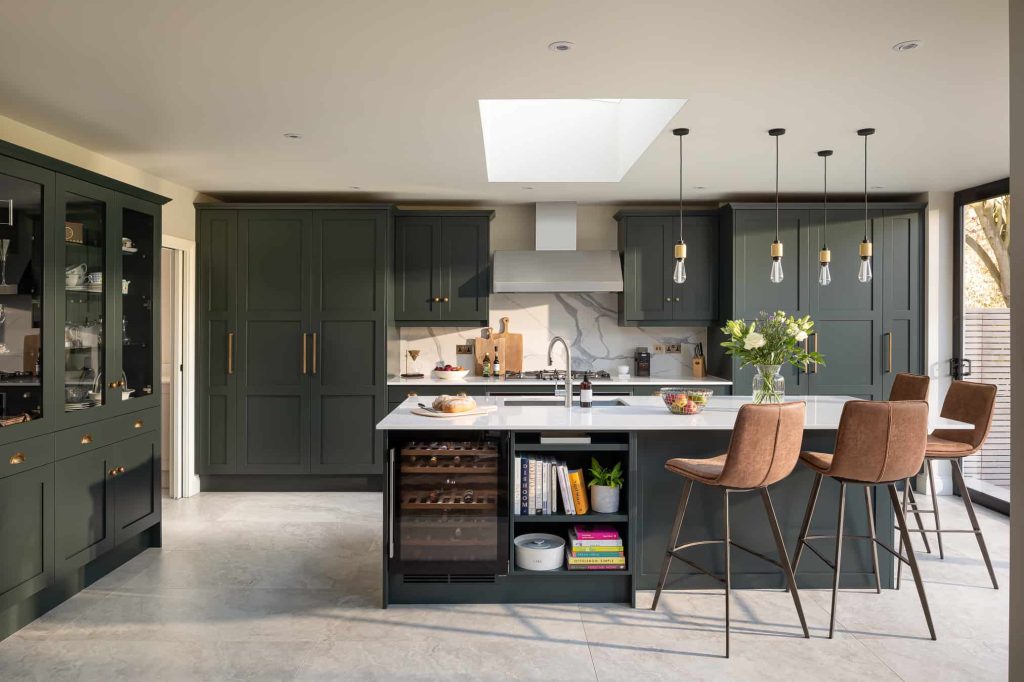 A kitchen island also presents a great opportunity to install statement pendant lights. This allows you to express your sense of style while simultaneously lighting up the room – it's the perfect blend of decorative and functional.
3) Galley
Galley kitchens make the most of narrow rooms with parallel walls. Whether you have a small kitchen that is in need of additional storage space or enjoy practical, simple designs, a galley kitchen is the perfect option for many families.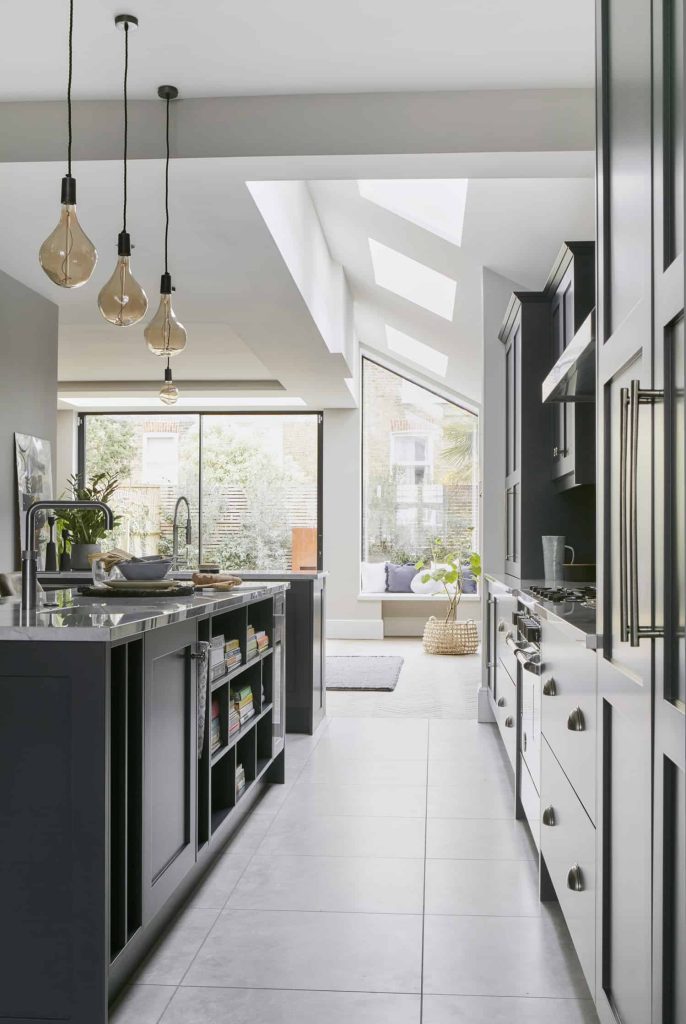 This small kitchen has units on either side to optimise work and storage space. The layout conveniently positions the hob, sink and seating close to each other to make life in the kitchen as easy as possible.
In a galley style kitchen, the layout of your appliances, work surfaces and food cupboards takes careful planning in order to avoid busy through areas. If you love this style of kitchen, the designers at John Lewis of Hungerford can ensure your galley kitchen fits seamlessly into your home.
4) A straight run along one wall 
This kitchen design is beautiful and simple in its design, whilst also utilising space efficiently and creating a clean aesthetic, making it a very popular choice for side return extensions with long straight walls and open plan flats with small kitchens.
In order to maximise storage space for this style of kitchen, our designers recommend you make the most of the room's height with wall cabinetry, wall shelving and wall storage. One of the benefits of this layout is that it facilitates easy movement, allowing a seamless flow around the space.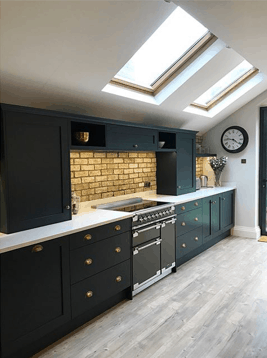 This simple run along one wall of the space uses a combination of wall cabinets and open shelving to create a balance between the work surface and storage areas. Under cabinet lighting gives the exposed brick backsplash a warm glow while our deep inky Blake Blue hand painted Shaker units give it a modern feel.
This beautiful kitchen design offers a contemporary look that works particularly well in modernised townhouses.
5) U-shaped
The U-shaped layout is a wonderfully versatile design that complements square kitchens of all sizes by incorporating cabinetry into three adjacent walls. It is also a seamless design solution for open plan spaces, and divides the room with a kitchen peninsula.
This design offers ample storage below the worktops, while designating the upper cabinets to one wall maintains the feeling of spaciousness. Using open shelving, hanging racks and feature tiles on the opposite wall creates a modish aesthetic.
If you have a window along one of your walls, allow natural light to filter into the room and illuminate your clutter-free kitchen.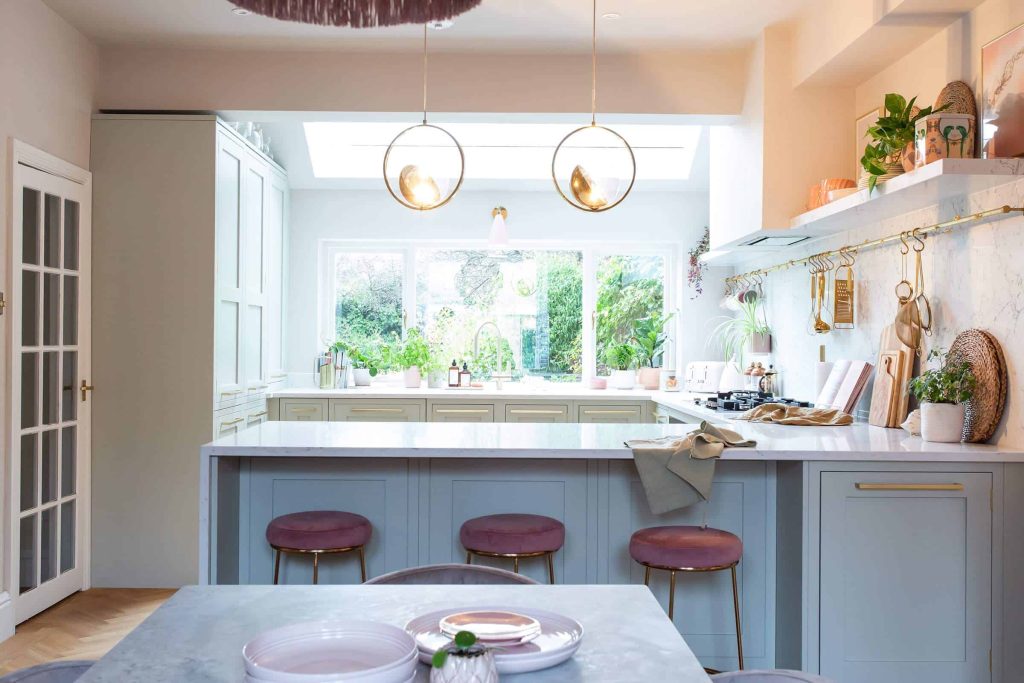 Our bistro style U-shaped kitchen, colour-matched to Farrow and Ball's Mizzle hue, uses a kitchen peninsula to create a sociable area whilst adding further storage. Gold accents, clever uses of artificial lighting and open shelving bring this traditional Shaker kitchen into a modern era.
As with a kitchen island, a peninsula unit provides the perfect opportunity to install striking pendant lighting that will add interest to your kitchen design.
Kitchen Designs to Suit Every Home
Whatever your personal style, home layout or lifestyle, your kitchen should be a space that helps you and your family live together in that space.
We are the pioneers of the hand-painted kitchen, and we have a wealth of experience when it comes to creating uniquely personal kitchens with attention to detail at every stage of the process.  If you are looking for further kitchen design inspiration, take a look at our gallery. There you'll find examples of our five core kitchen ranges, all of which can be tailored to any home by our expert designers.
Our talented design team would be delighted to discuss your dream kitchen ideas with you and help you uncover solutions to optimise your kitchen and living spaces. We are here to inspire and guide you throughout the whole process, from start to finish. Please get in touch with us or download our brochures for more information.
Book a free design consultation
John Lewis of Hungerford designers are on hand to bring your ideal home to life
Book a design consultation