19 Luxury Kitchen Design Trends for 2021
Kitchens7th January 2021 6 minute read
Summer will soon be upon us, so it's the ideal time to take you through the kitchen design trends of 2021.
Why not treat yourself to a well-deserved bespoke luxury kitchen, made possible by the John Lewis of Hungerford expert designers, and transform your home for summer 2021?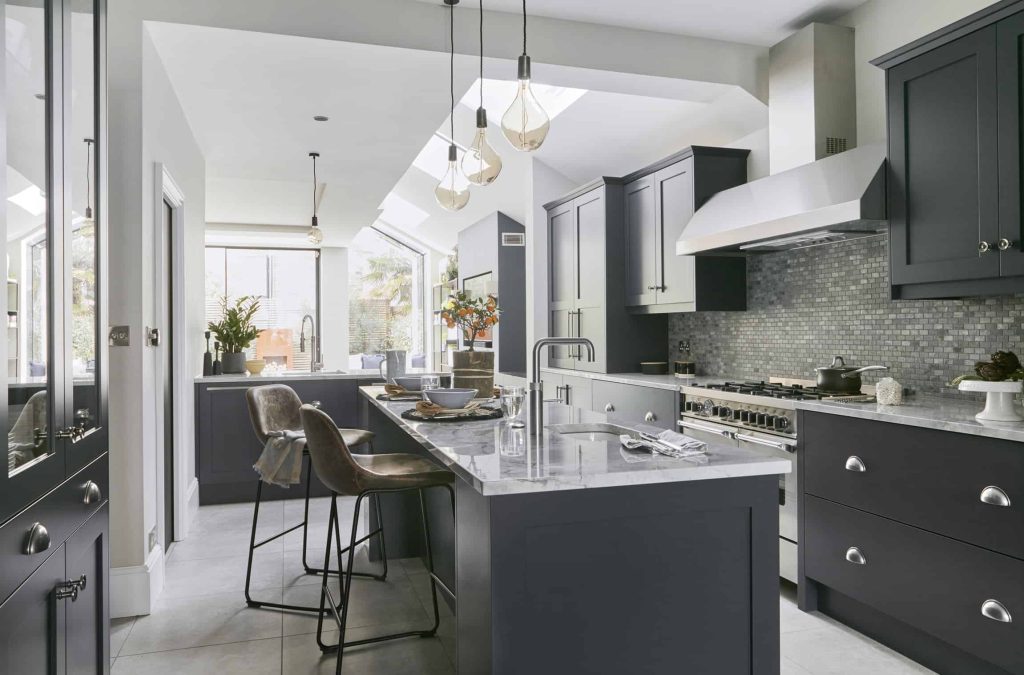 19 Luxury Kitchen Design Trends to Help You Welcome 2021
From pops of colour and golden finishes to wooden worktops and pendant lighting, our designers have collected the top 19 kitchen design trends we expect to see in 2021. Allow us to inspire you to make the best style choices for your home, with a look ahead at the top kitchen trends for the new year.
1) Pops of colour
The kitchen is your culinary playground, so why not introduce a sense of playfulness through the use of colour. Ombre style cabinet doors, statement kitchen islands and bright fridges are a simple way to make your kitchen unique.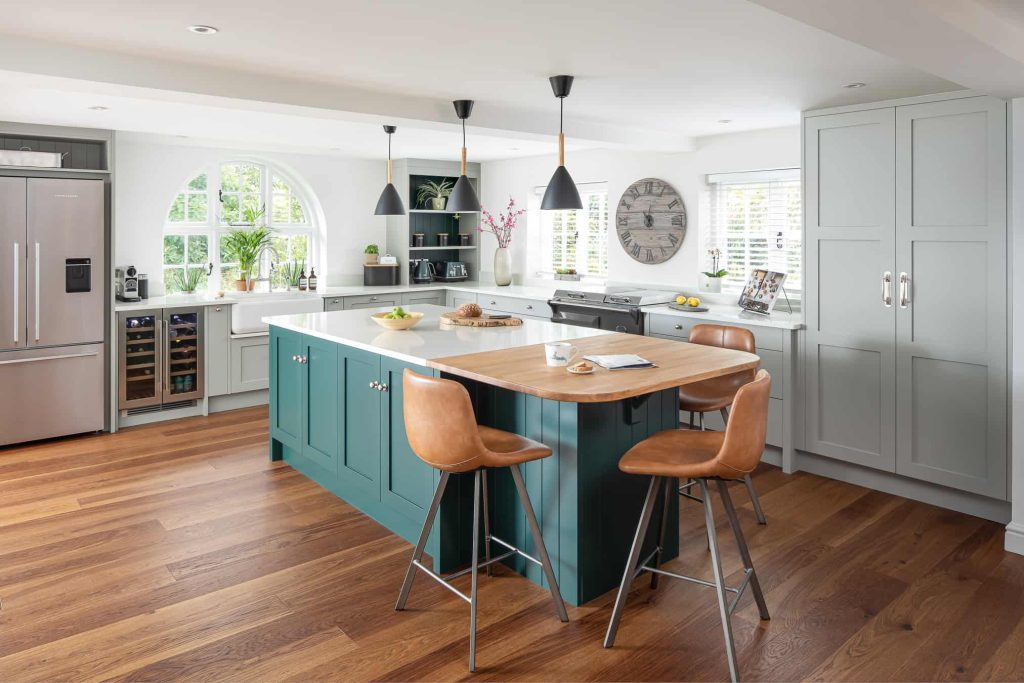 2) Kitchen-based home office
With the rise in individuals working from home, practical multi-use space solutions are in demand. To make the most out of this trend, our designers recommend the kitchen-based home office: a functional space where a section of the kitchen (such as the island) doubles as a workspace that blends in seamlessly with the rest of the room.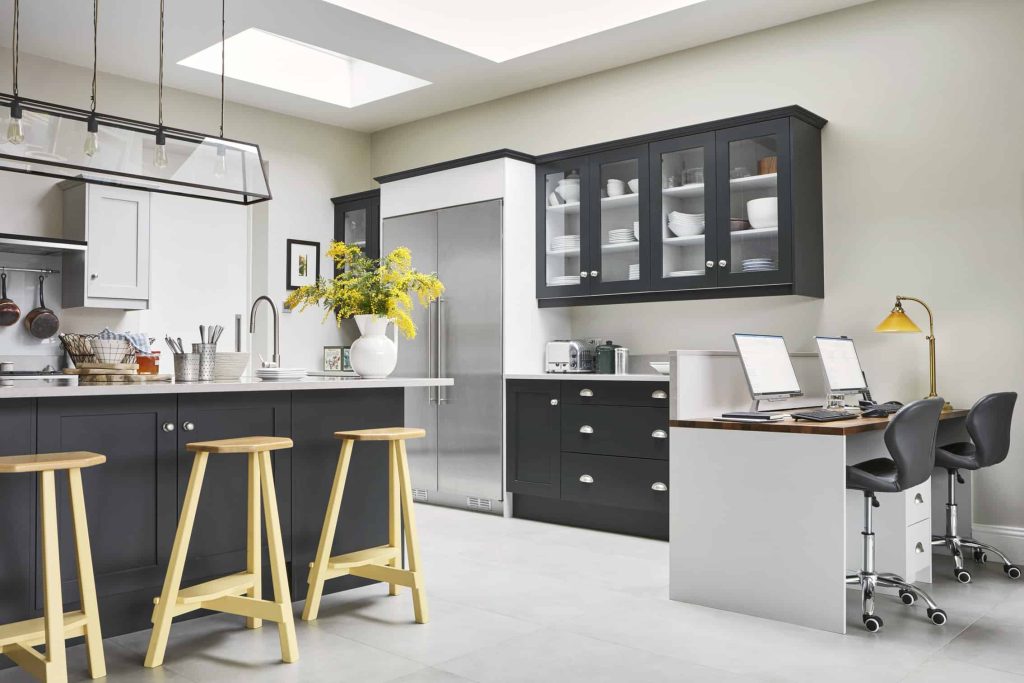 3) Wooden worktops
We are seeing a rise in the appreciation of wooden materials. Walnut worktops are a sophisticated choice for homes, especially those with a mid-century interior design theme. For individuals who already have brightly coloured interiors, ash worktops are a wonderful choice due to the subtle grain pattern.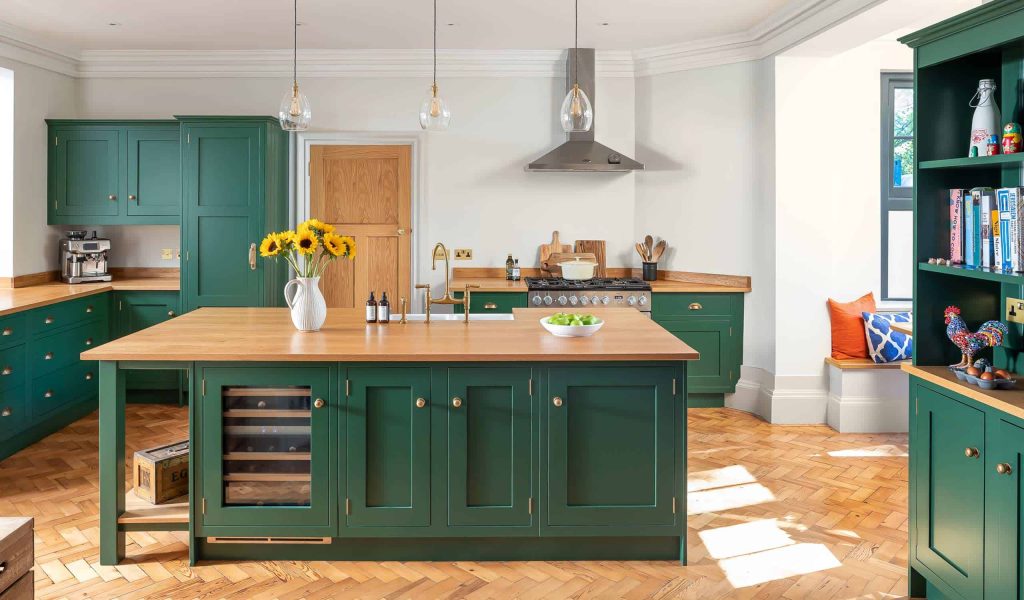 4) Pantries
Rather than haphazardly storing food in different cupboards throughout the kitchen, we are seeing an increase in the demand for beautifully organised pantries. Free-standing or fitted, pantries are a practical yet stylish addition to any bespoke kitchen.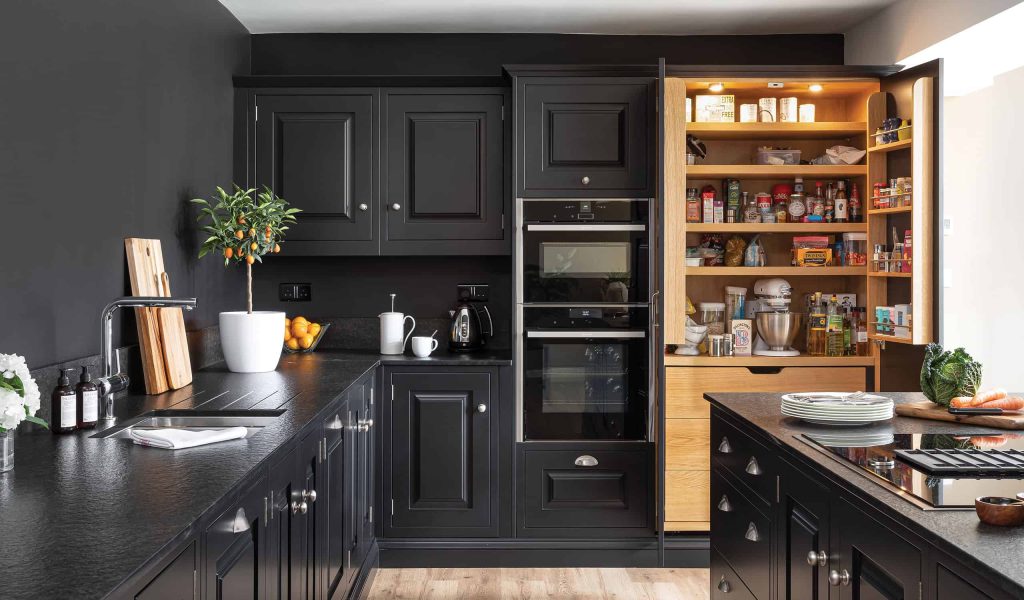 5) Forest green cabinetry 
This deep green colour trend gained traction in 2020 and we expect to see this continue throughout 2021. Forest green brings a sense of earthy sophistication to a kitchen, and its reflection of the natural world creates a very grounding experience.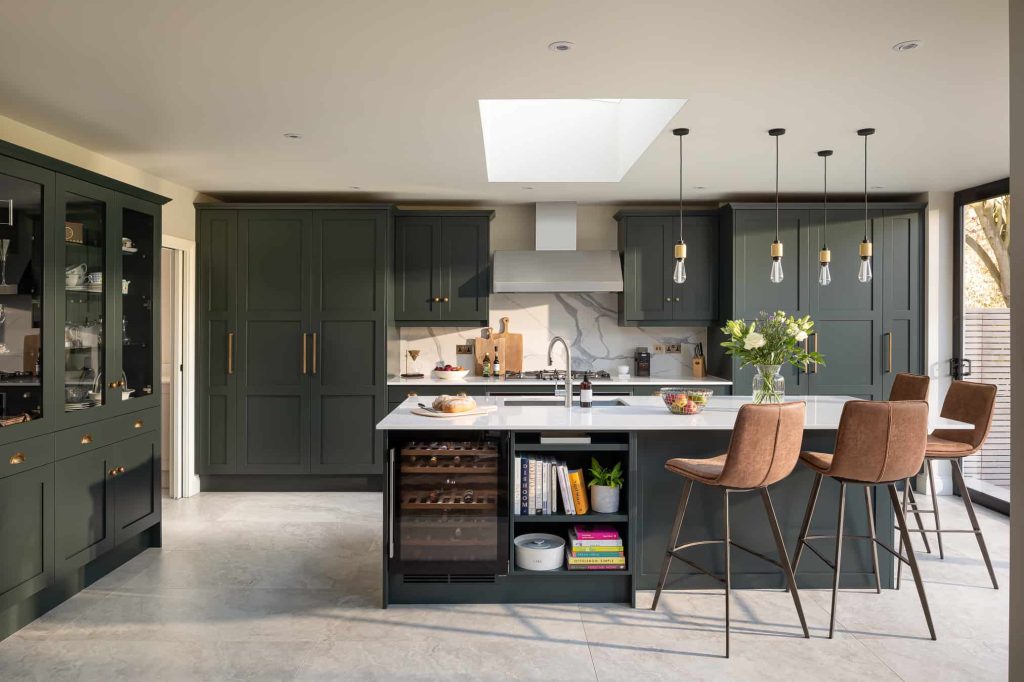 6) Dark and soulful
Kitchens with dark painted cabinets in shades of carbon grey, midnight blue or deep sage bring about an air of soulfulness and creativity. Complete the look with matte black faucets and a patinated metallic backsplash.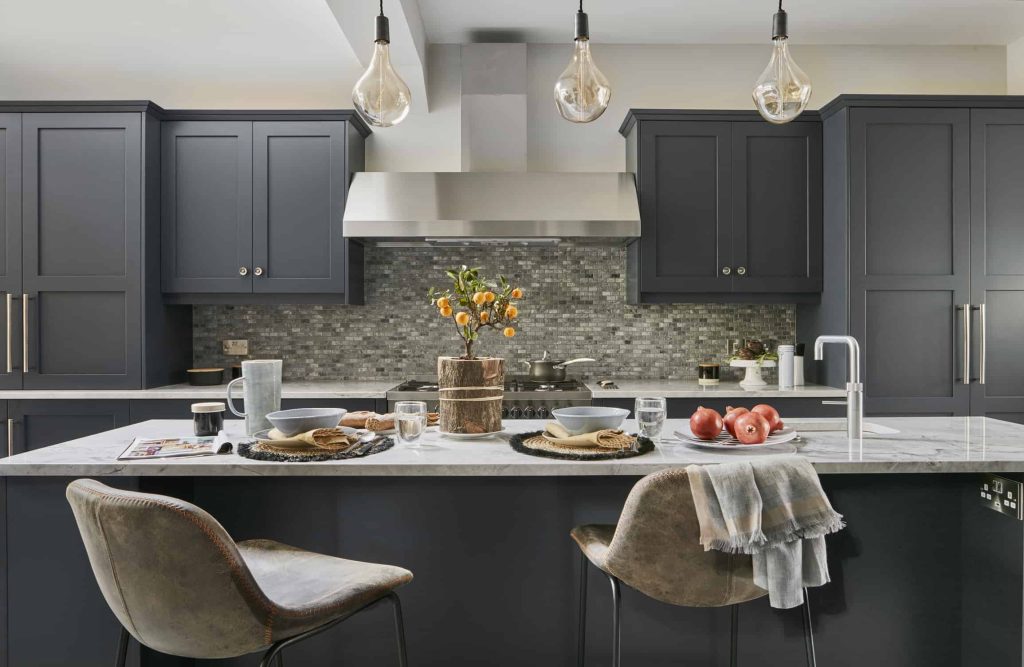 7) Industrial style
Close your eyes and imagine exposed brickwork, cast iron radiators and Edison light bulbs. Graphite grey units with copper accents will transform your kitchen into a stylish Victorian era warehouse, and materials like concrete and reclaimed wood create a cutting edge factory-esque interior.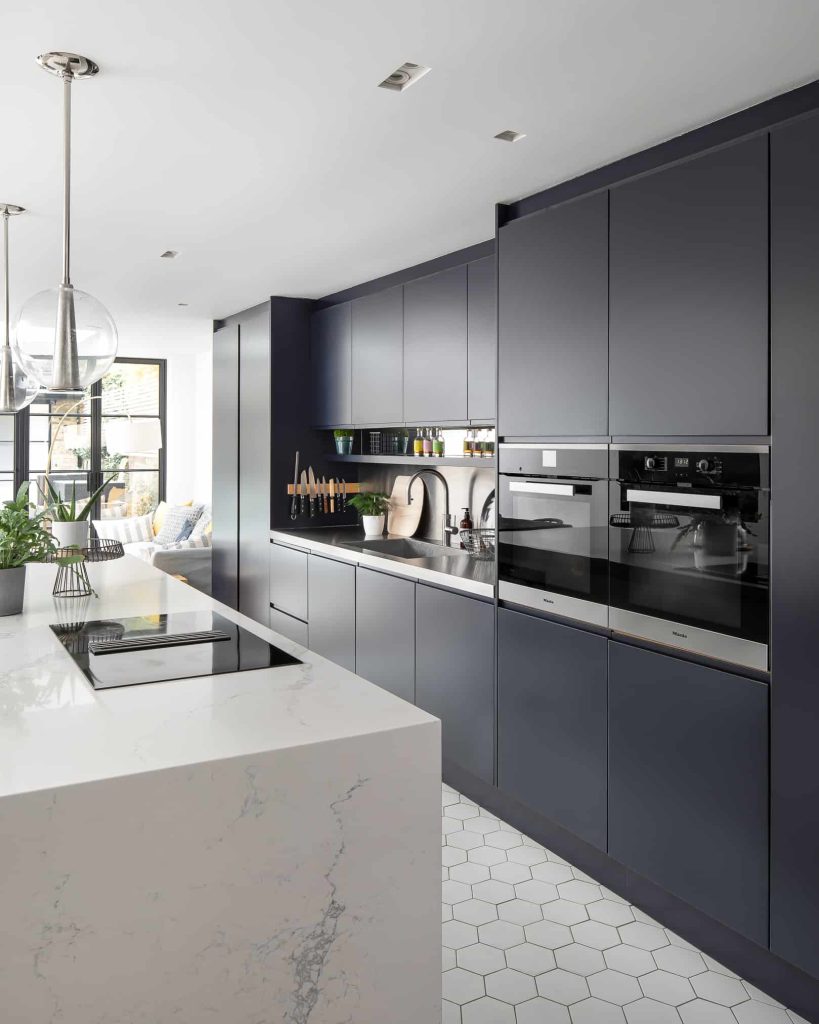 8) Handleless design
If you favour a contemporary look, handleless designs are a simple way to create a sleek, modern kitchen. Additionally, if you have a particularly small kitchen, you won't find yourself accidentally catching yourself on any protruding handles as you cook meals for your loved ones or make a cup of tea on a cosy Sunday afternoon.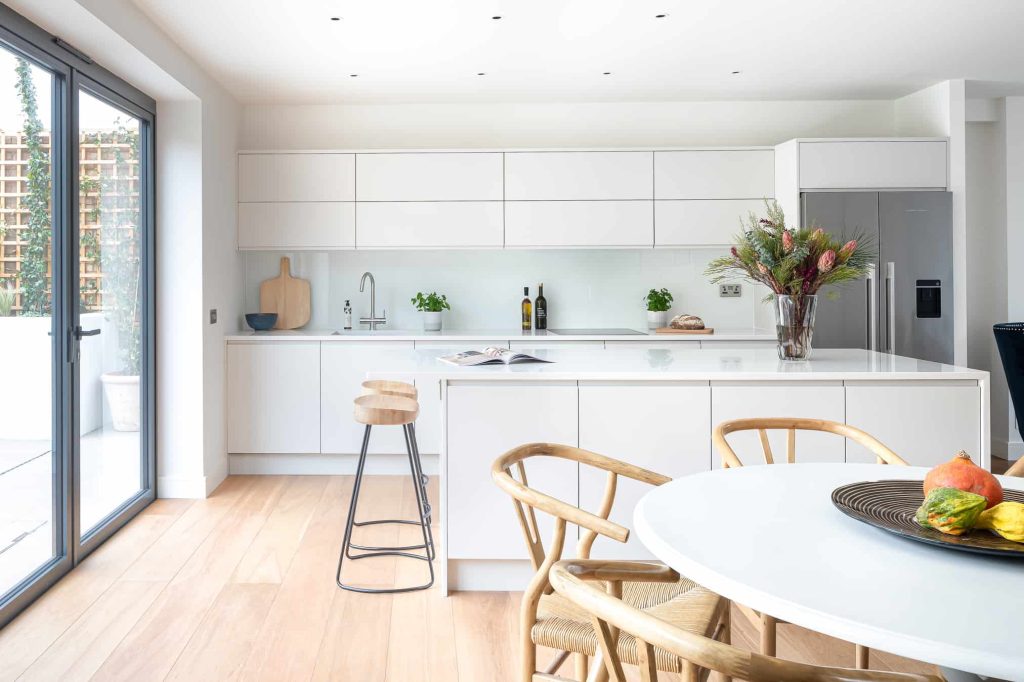 9) Pendant lighting
Pendant lighting offers flexibility in both design and ambiance. With an extensive range of light shades available, from brightly coloured lacquers to rustic metal finishes, pendant lighting can easily fit in with most styles and is a calming way to light up a kitchen island or bar area.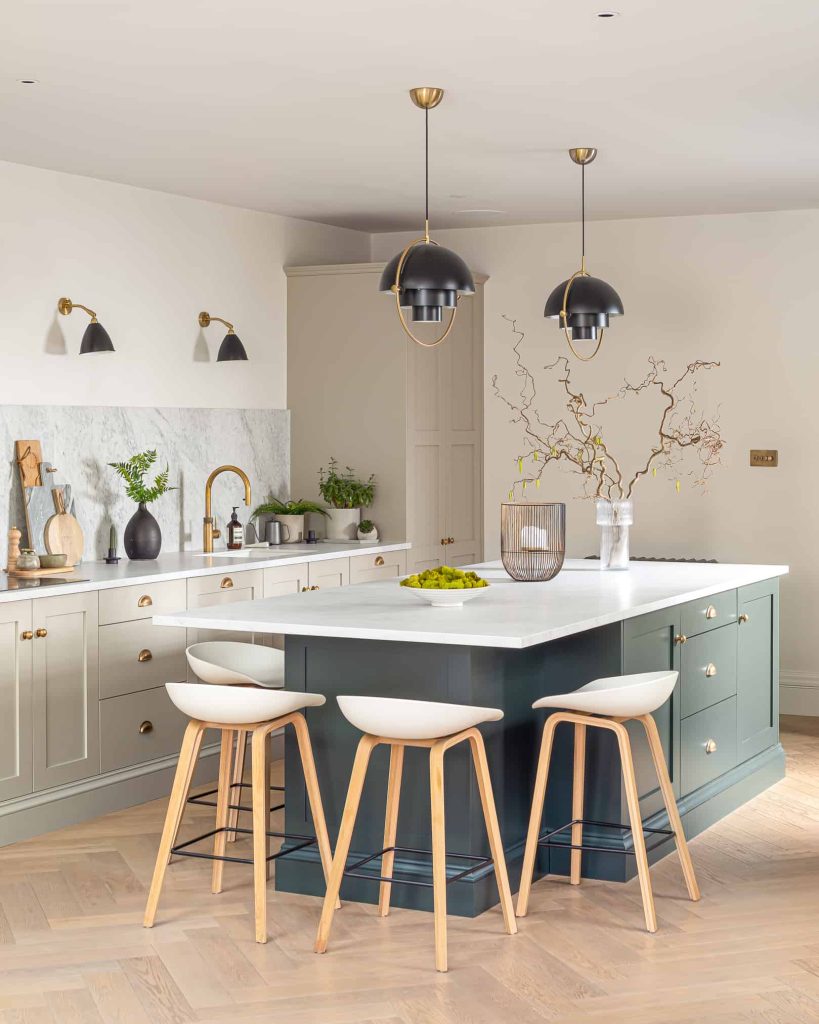 10) Hot water taps
Hot water taps are rising in popularity. Not only are they efficient, they also negate the requirement for a traditional kettle and free up space on your kitchen work surface.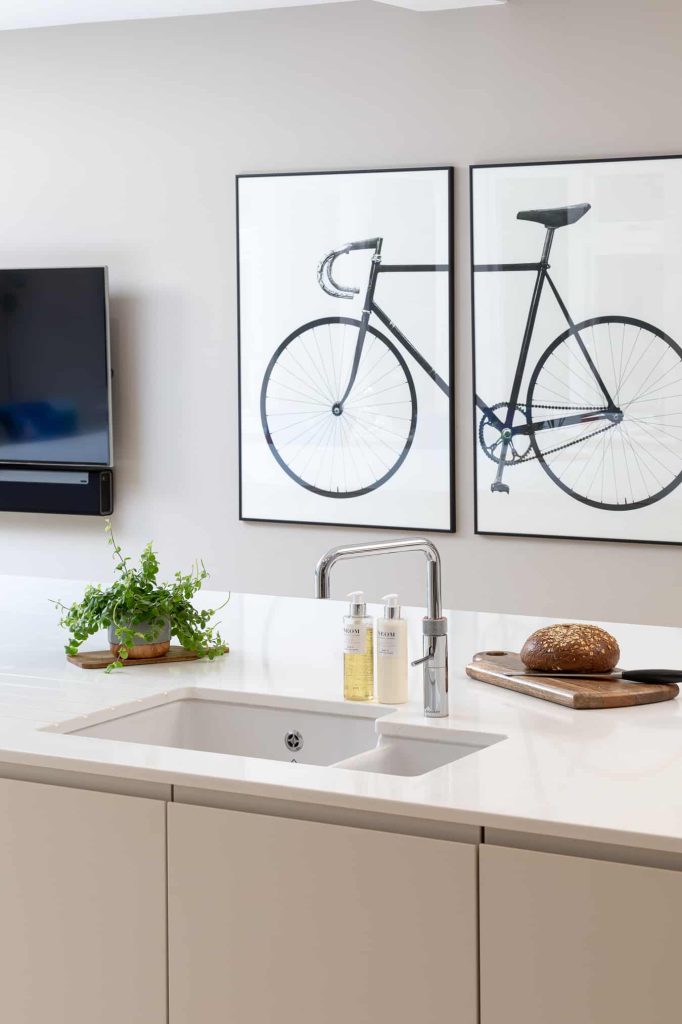 11) Integrated refrigerators
Like handless designs, refrigerators that are seamlessly integrated into the rest of your kitchen give the room a sleek look. These designs, which are built into the room much like cupboards and cabinets, are ideal for modern and contemporary kitchens.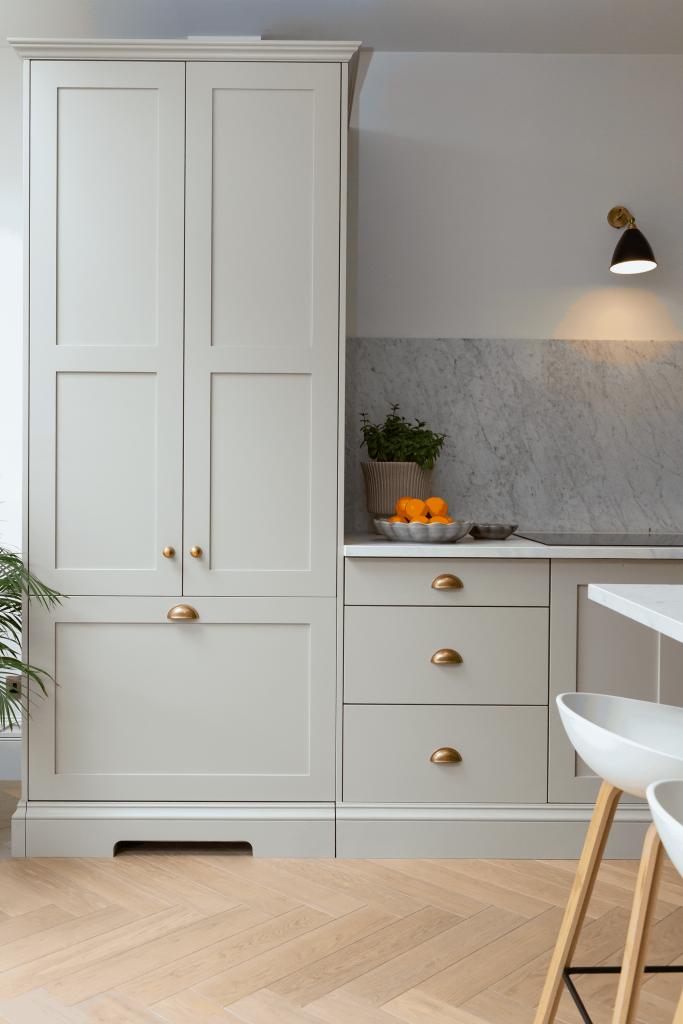 12) Dining islands
Dining islands are ideal for families who want an alternative to eating in the dining room. They are a chic and social way to turn your kitchen into a multifunctional space where cooking and eating unite effortlessly.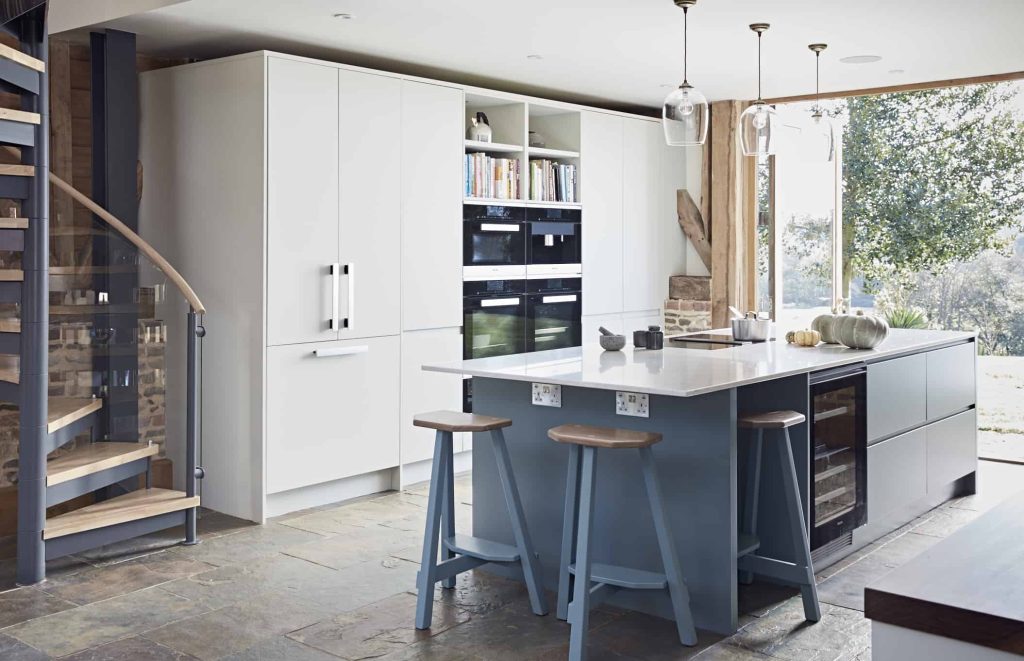 13) Broken plan
The broken plan design evolved from open plan living. This technique utilises open space and light but subtly separates areas through the use of bookcases, breakfast bars or glazed walls.
14) White kitchens
There is something undeniably elegant about an all-white interior. Gleaming quartz worktops, white units and white oak flooring come together to create a kitchen that is modern, bright and airy. Our designers recommend enhancing this ethereal ambiance with under cabinet lighting.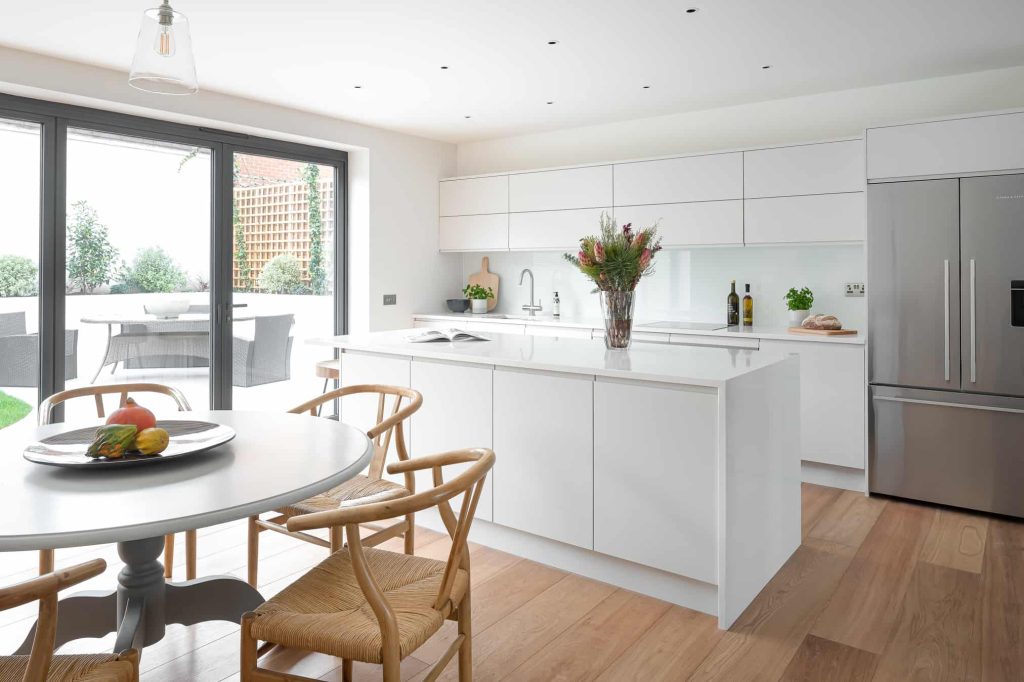 15) Open shelves
Open shelving is as at home in a classic kitchen as it is in a modern townhouse. From immaculate displays of white porcelain to eclectic presentations of artisan crockery, open shelving is a great way to express your sense of style in the kitchen.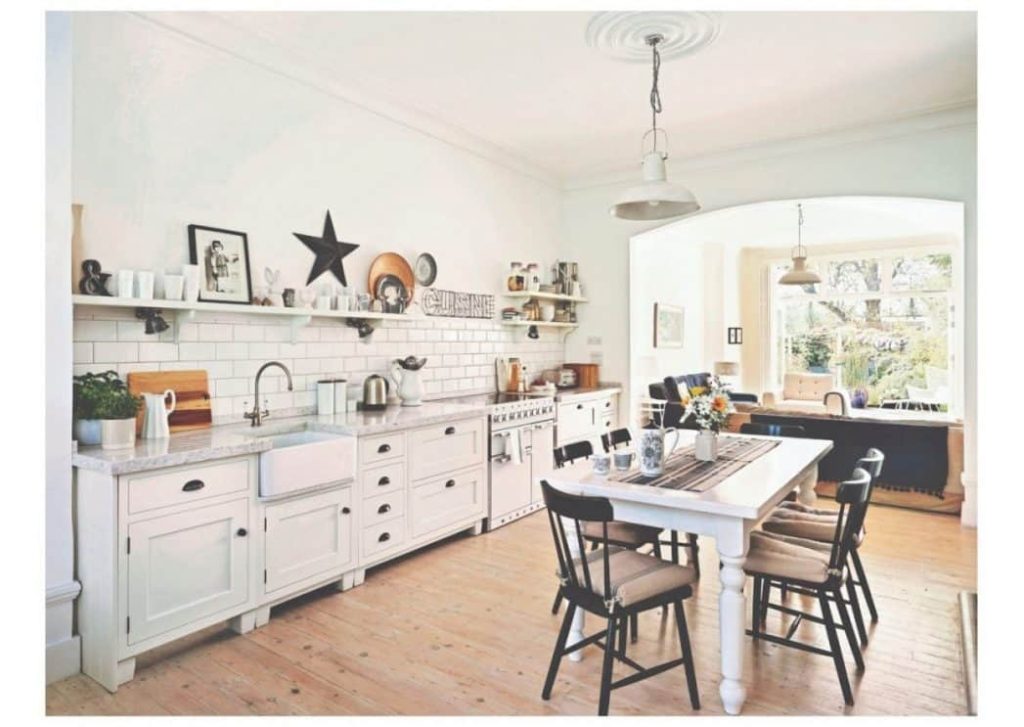 16) Gold finishes
This luxe trend is the definition of opulence, particularly when paired with other luxury materials like marble. From subtle touches like golden cabinet handles and faucets to more dramatic statements like a brass wrap-around backsplash, this trend brings a rich glow to your home.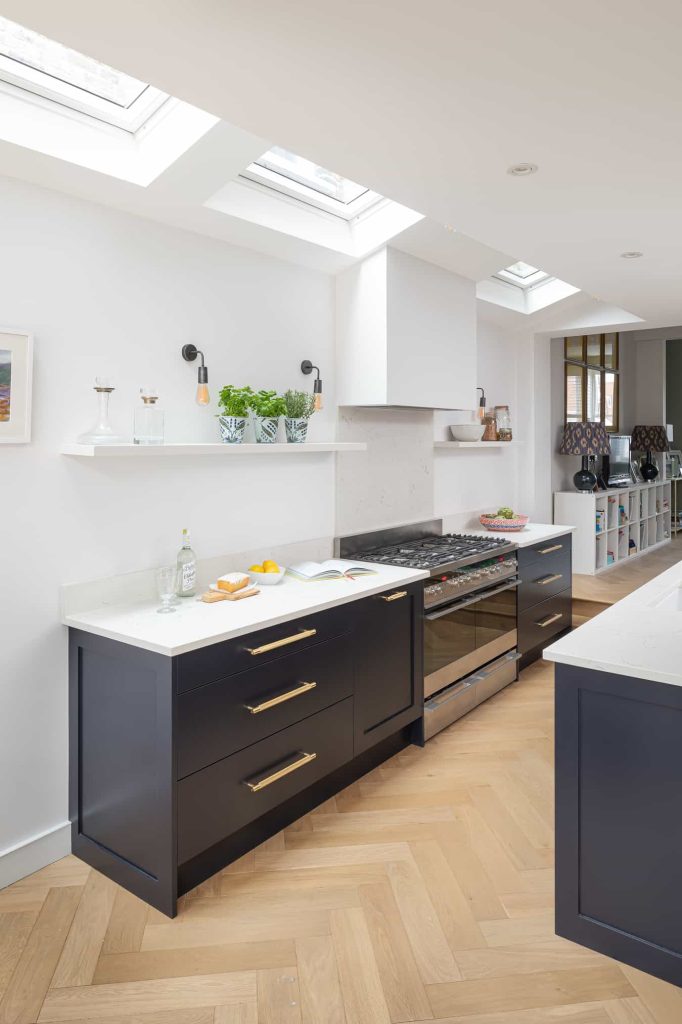 17) Stainless steel 
Hygiene is certainly trending this year, so we expect the stainless steel kitchen to see a comeback. Stainless steel work surfaces are ultra hygienic, easy to clean and reminiscent of the industrial kitchen – ideal for any budding home chef.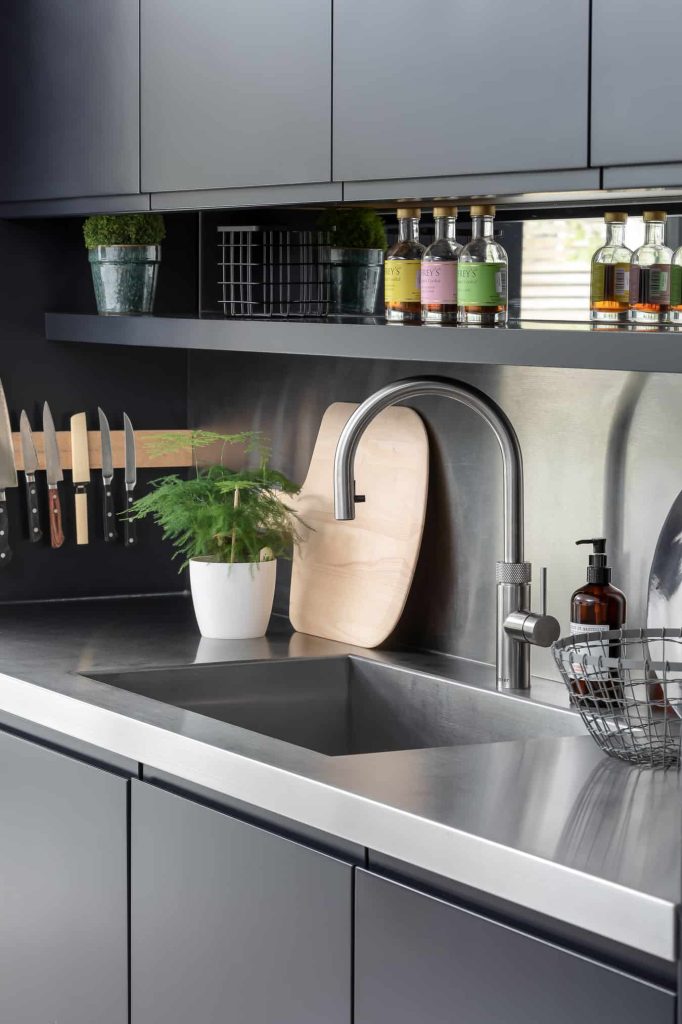 18) Two toned
Beautiful colour combinations of light and dark shades can immediately liven up an interior and add depth, intrigue and originality to your kitchen. Whether you want to create contrast between your units and worktops or divide the room using colour, our expert designers can help you choose a design and combination that suits your personality and home.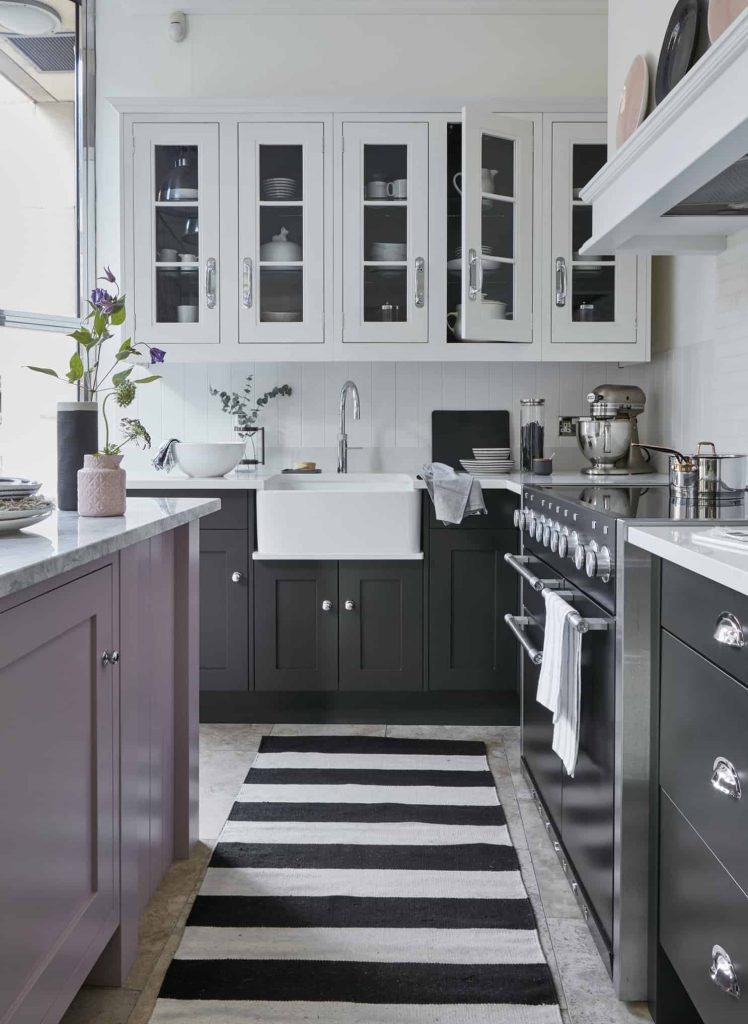 19) Statement floors
Your kitchen floor should be built to stand the test of time, high foot traffic and frequent spills, while still actively contributing to the room's overall style. From geometric tiles to polished concrete and herringbone parquet laminate, our designers can assist you in choosing the perfect flooring for your dream kitchen.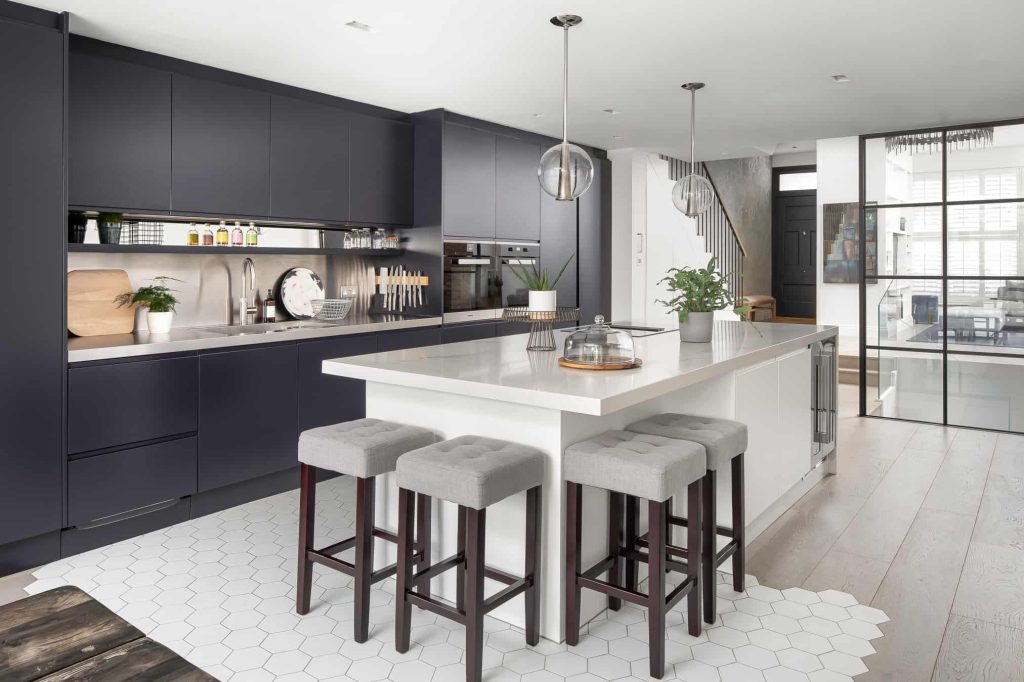 A Toast to Your Dream Kitchen for Spring/Summer 2021.
If you are looking for further bespoke kitchen décor ideas, our expert design team is on hand to provide tailored advice and recommendations. Get in touch to request a brochure or to book a free design consultation for your dream luxury fitted kitchen.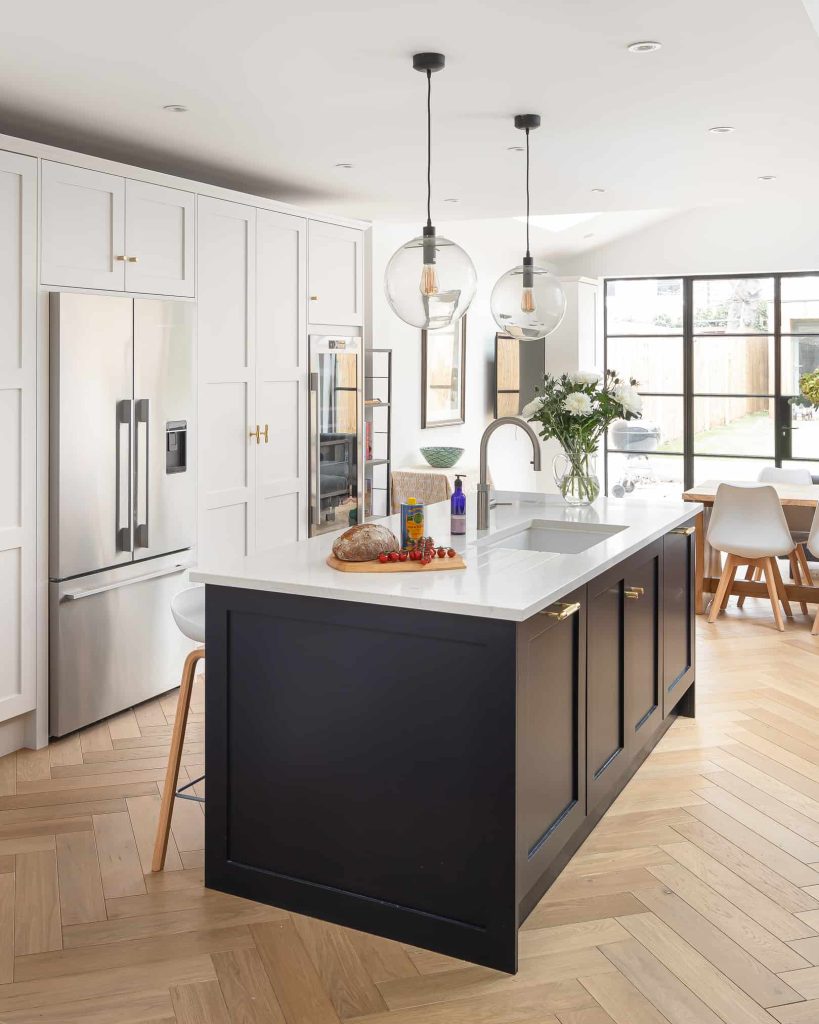 Book a free design consultation
John Lewis of Hungerford designers are on hand to bring your ideal home to life
Book a design consultation