10 Minimalist Tips to Keep Your Kitchen Clutter-Free
Kitchens27th October 2021 4 minute read
Minimalist kitchens are defined by their simple, elegant style and lack of unnecessary adornment, creating a wonderfully pared back and relaxing environment for the family. Minimalist kitchen layouts feature an abundance of space and light to create a balanced aesthetic, often incorporating a neutral colour palette for a more understated affair. Minimalist kitchens  give an overall appearance that's streamlined, unfussy and free from clutter.
Of course, even the most streamlined kitchen design can fall victim to the pace of everyday life and start to look more messy than minimal. Pots, pans and utensils are left on display, while worktops can accumulate books, food packets and an assortment of items that don't belong in minimalist kitchens. What starts off as harmless clutter can very quickly descend into chaos, leaving you missing the clean, tidy workspace that once was.
Fortunately, there are some creative ways of keeping your bespoke kitchen design looking clean, fresh and tidy. We've put together some tips to help keep your kitchen looking minimalist and clutter-free, without needing hours of tidying up, leaving you free to focus your time on the more important things.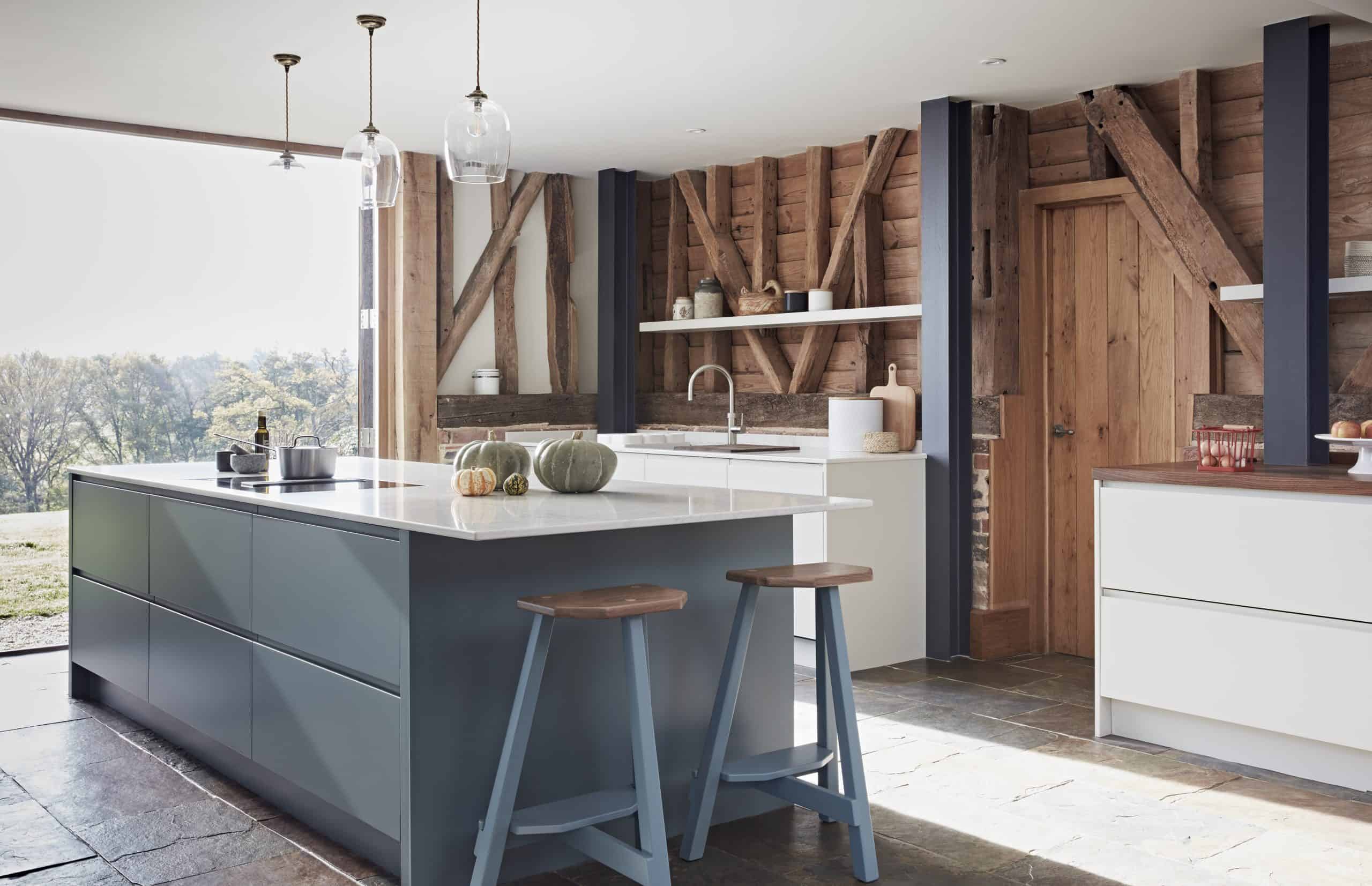 Keep Appliances Hidden/Out of the Way
Minimalist kitchens can be deceptive. They have all the appliances that a country or classic kitchen might have, except they are hidden away. Microwaves, fridges and dishwashers are carefully concealed behind beautifully crafted cabinets, leaving worktops free from any visual distractions and keeping the look and feel of the kitchen fresh and airy.
Use Clean, Straight Lines
Contemporary kitchens usually feature flat-front cabinets to create more space and a light and balanced aesthetic. The clever use of straight horizontal and vertical lines creates the illusion of an uncrowded kitchen layout.
Having large handles and knobs on your cabinetry often works against the minimalist look, as they draw attention to the cupboards and drawers rather than letting them blend into the background. We suggest opting for small, understated handles or removing them altogether to boost the understated vibe of the room. John Lewis of Hungerford's contemporary kitchens incorporate customisable slim handles or handleless kitchen designs for a clean, linear look.
You can extend this symmetrical, streamlined style to splashbacks by choosing simple designs and shapes. Matching your splashback to your countertops will create uniformity and flow, which is crucial in a minimalist kitchen. Likewise, choosing a long rectangular breakfast bar with stylish, contemporary stools that can easily be tucked underneath adds to the streamlined appearance while also giving you that all-important space that's needed in a family home. So whether you've got little ones running around or you're hosting friends and family for dinner and drinks, it's wonderful being able to maximise the space in your kitchen.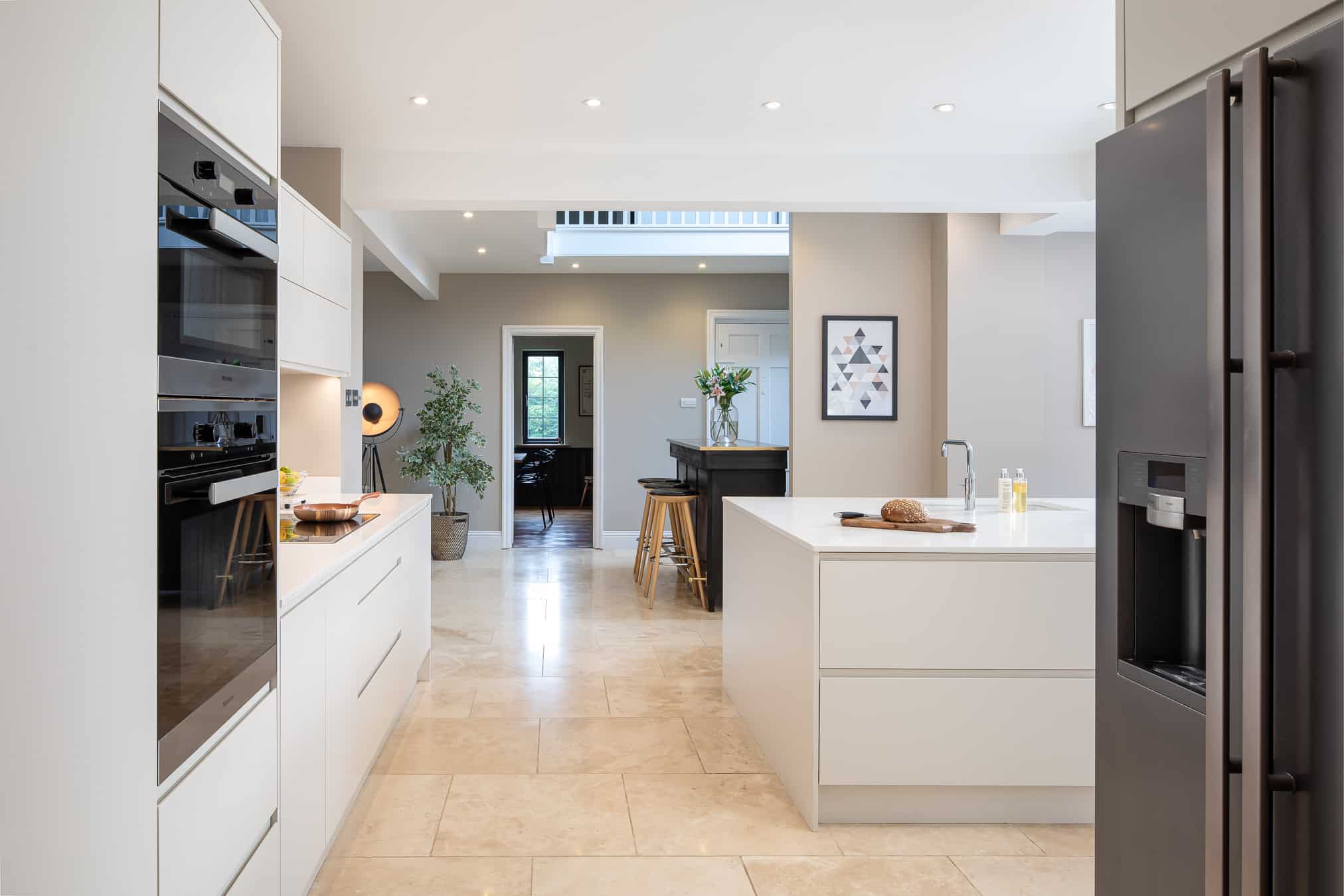 Opt for Neutral Colours or One Stand Out Shade
While white is the most popular colour palette for minimalist kitchen designs, it is far from the only option. The key to an effective minimalist colour scheme is to limit yourself to one base colour and then incorporate accent colours and natural materials for balance and texture. Blues, greens and stone palettes with subtle variations and well-chosen lighting add character and sophistication to your space, allowing your family's unique personality to shine through.
By adding accents such as brass or wood finishes, you can add warmth and visual interest to an all white or neutral colour scheme. Wooden bar stools, paired with finishing touches such as copper pots, framed artwork or fresh flowers add texture and breathe life into a minimalist design, making it fresh rather than sterile.
Layered lighting with dimmers and spotlights also create a more welcoming kitchen space. This instils a softer ambience to come home to after a long day at work, where you can relax as you prepare dinner. Recessed spotlights are a good choice for general lighting, while spotlights provide enough intimate lighting for specific tasks without unnecessarily flooding the entire kitchen.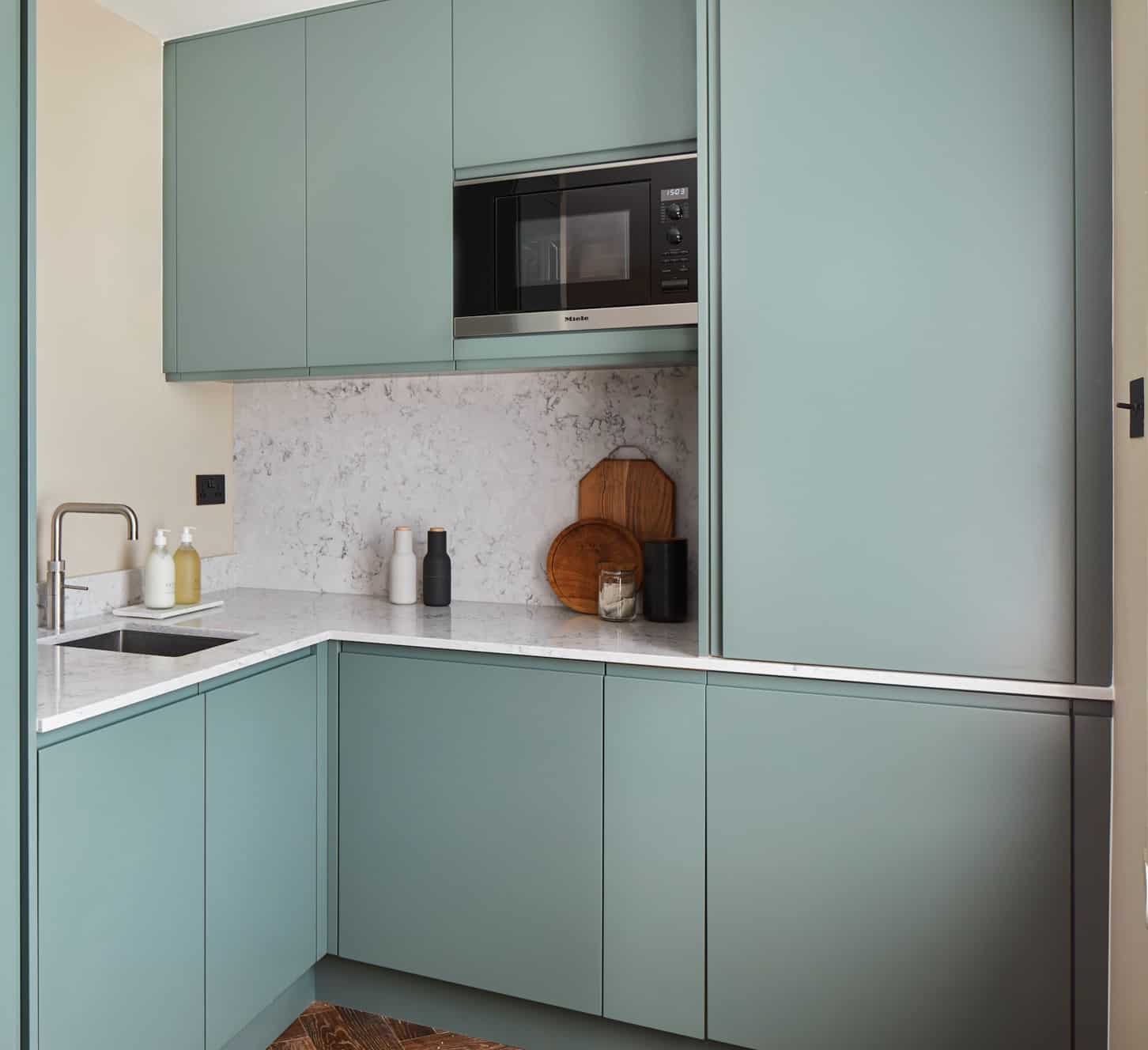 Open Shelving
When combined with plentiful concealed storage, open shelves provide an attractive focal point. Wooden open shelves provide contrast to industrial or minimalist decor, creating an airy and expansive feel. Try to keep it simple and uncluttered with a few items or decorative features of similar colours. For example, white or glass bowls, a jug and a few mugs within easy reach for an early morning coffee can work wonders, and turn your everyday items into decorational pieces.
Greenery can really bring your shelf to life – we recommend mini succulents because they are low-maintenance and suit a minimalist design. Or opt for herbs potted in attractive ceramics for a splash of bright, fresh colour with a practical use.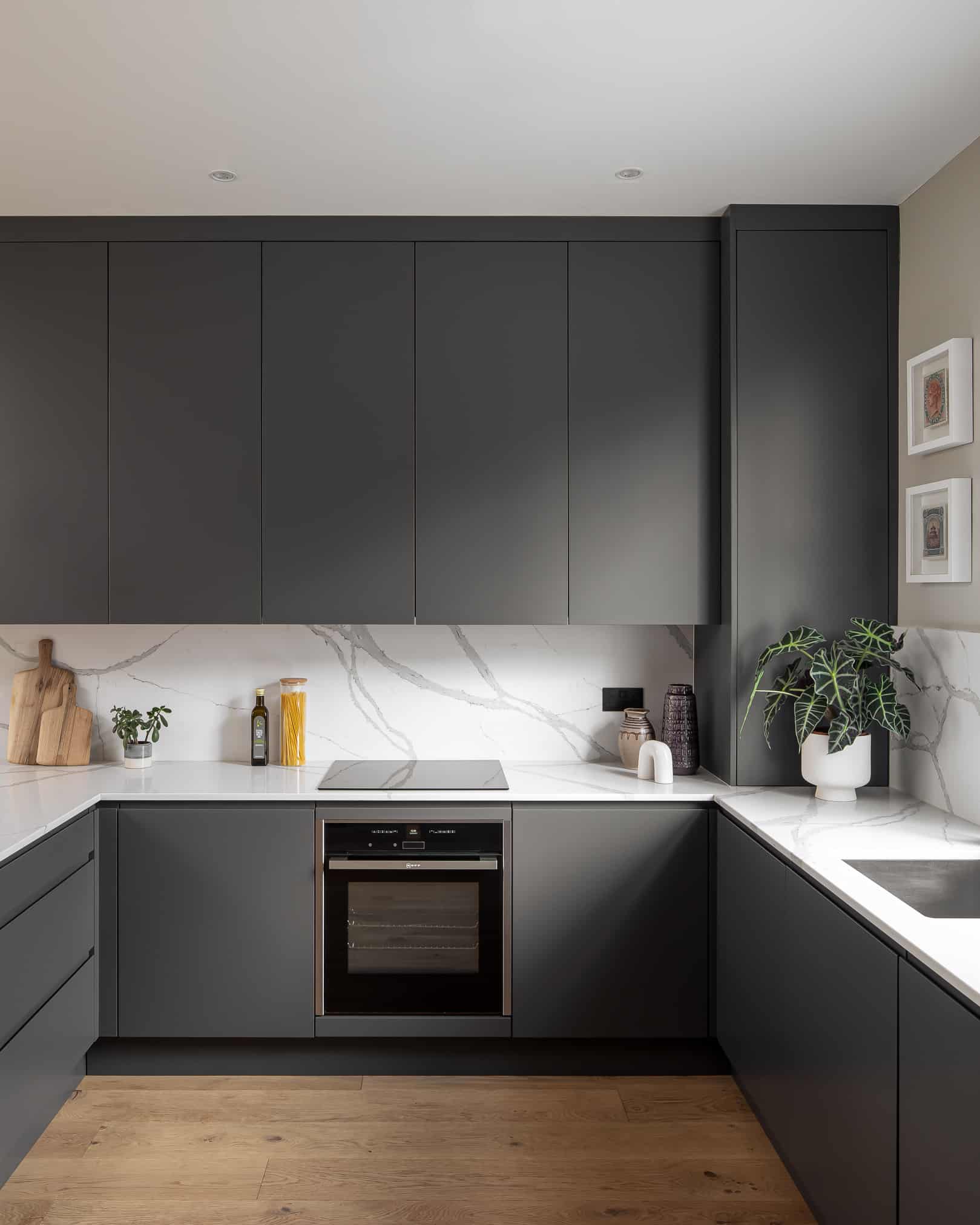 Have Enough Storage
Storage is an essential component of tidy kitchens and we recommend making use of every space to keep your surfaces clutter-free. Make use of any empty spaces above or below appliances, or even hidden away in corners.
Sliding cupboards, shelves and drawers help you maximise space and access every part of the unit, ensuring you're not left with empty space that can't be reached.
At John Lewis of Hungerford, we have years of experience helping clients design their ideal minimalist kitchen. From camouflaging hardware and appliances to innovative storage solutions, our experienced designers are more than happy to collaborate with you to create a kitchen based entirely on your personal style, needs and the shape of your kitchen.
Book a free design consultation
John Lewis of Hungerford designers are on hand to bring your ideal home to life
Book a design consultation