10 Country Kitchen Ideas to Bring Rustic Charm to Your Home
Kitchens18th April 2021 5 minute read
Country-style kitchens age beautifully, settling comfortably into the heart of Georgian townhouses and authentic farmhouses alike. Whether you'd like to complement your kitchen with a cosy breakfast nook, a free-standing kitchen island, statement lighting or aesthetic accent colours, John Lewis of Hungerford's designers can help you realise your unique vision.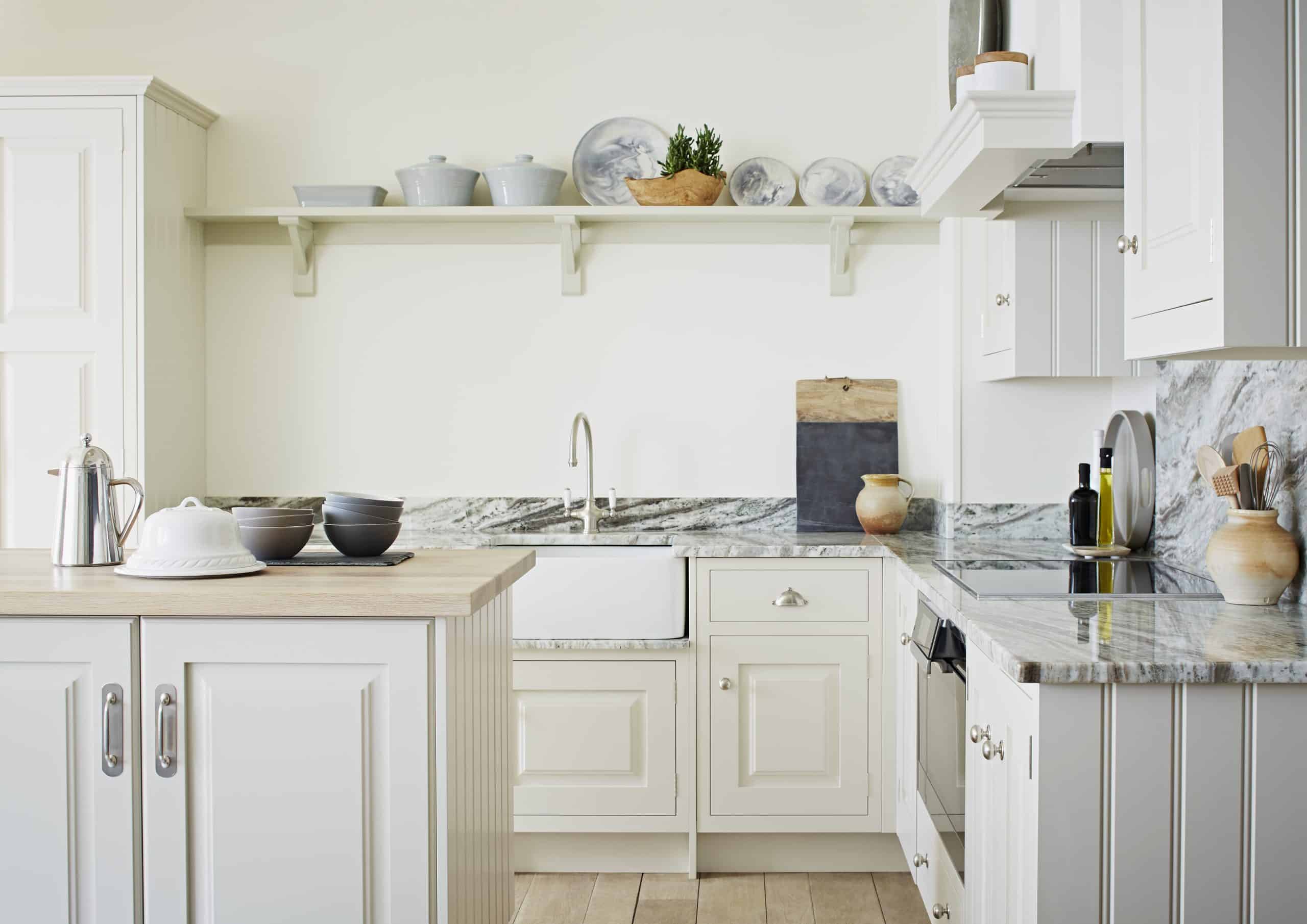 10 Modern Country Kitchen Ideas for Your Home
Our hand painted and bespoke traditional country kitchens are designed around you and your family, with beauty and functionality kept in mind throughout the process. Our original Artisan design exudes elegant English simplicity and is easily customisable.
Here are 10 stylistic elements that we can bring into your kitchen to give it a charming country feel, complete with examples of some of our stunning past projects.
1) Display your wares with glazed wall cabinetry 
Our traditional Artisan glass-fronted cabinets offer a lovely way to show off your collection of glassware and crockery. In this country kitchen design, we created an abundance of storage space through glazed wall cabinets with a striking Persian Green inside. Using classic Cardoon as the primary colour choice for the lower cabinet doors attracts the eye to the display of crockery and glassware above.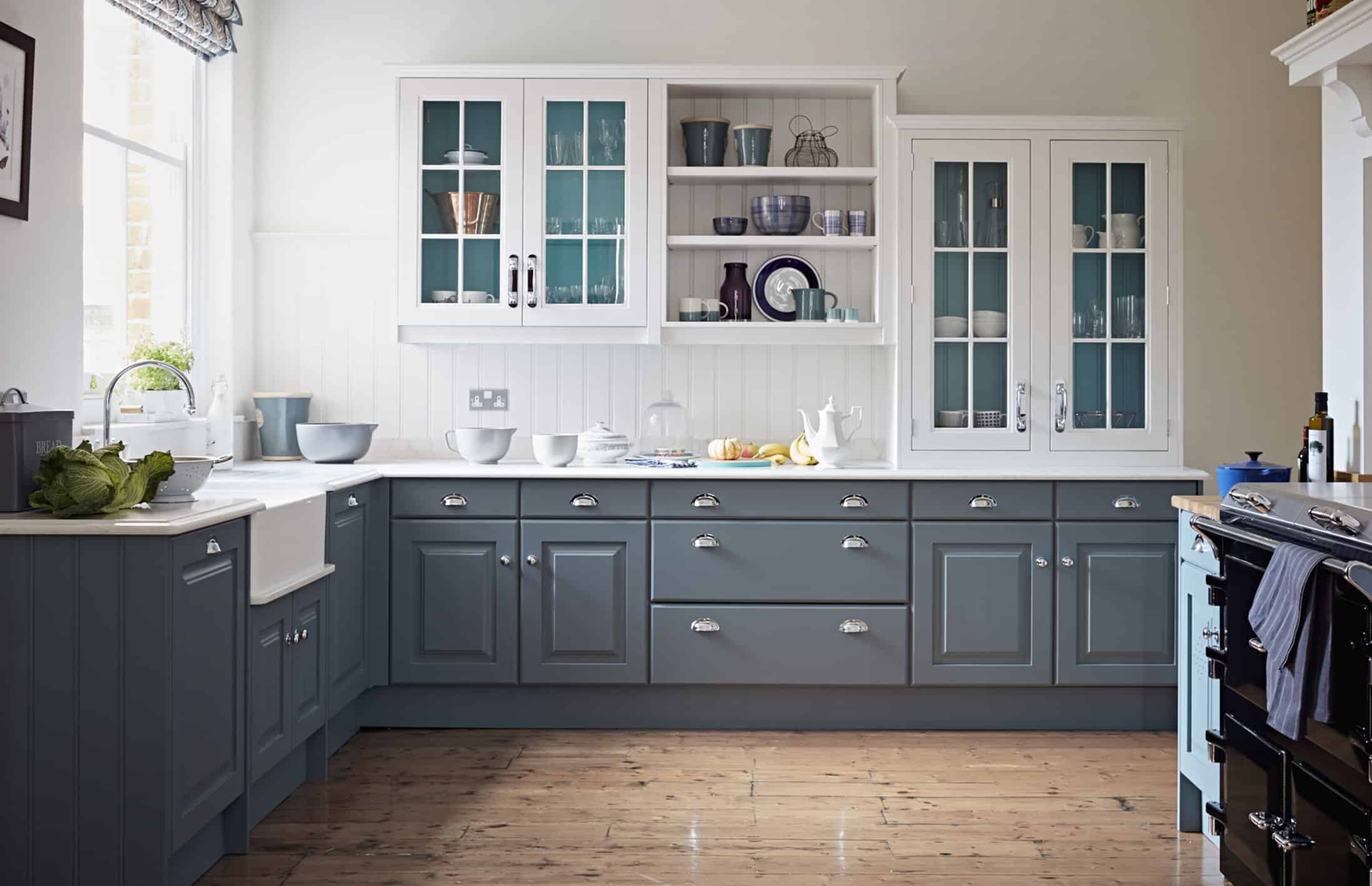 2) Kitchen islands create a country aesthetic 
The kitchen island is a staple in large country kitchens and dates back to the 1800s, when traditional homes had a worktable in front of the stove. They create a focal point that offers lots of storage, extra workspace for meal preparation and a lovely spot for entertaining friends and family, as well as the perfect opportunity to experiment with features such as pendant lighting. Our custom-made kitchen islands can be tailored to fit your requirements, and can be fitted with everything from deep drawers and slide-out serving trays to built-in appliances.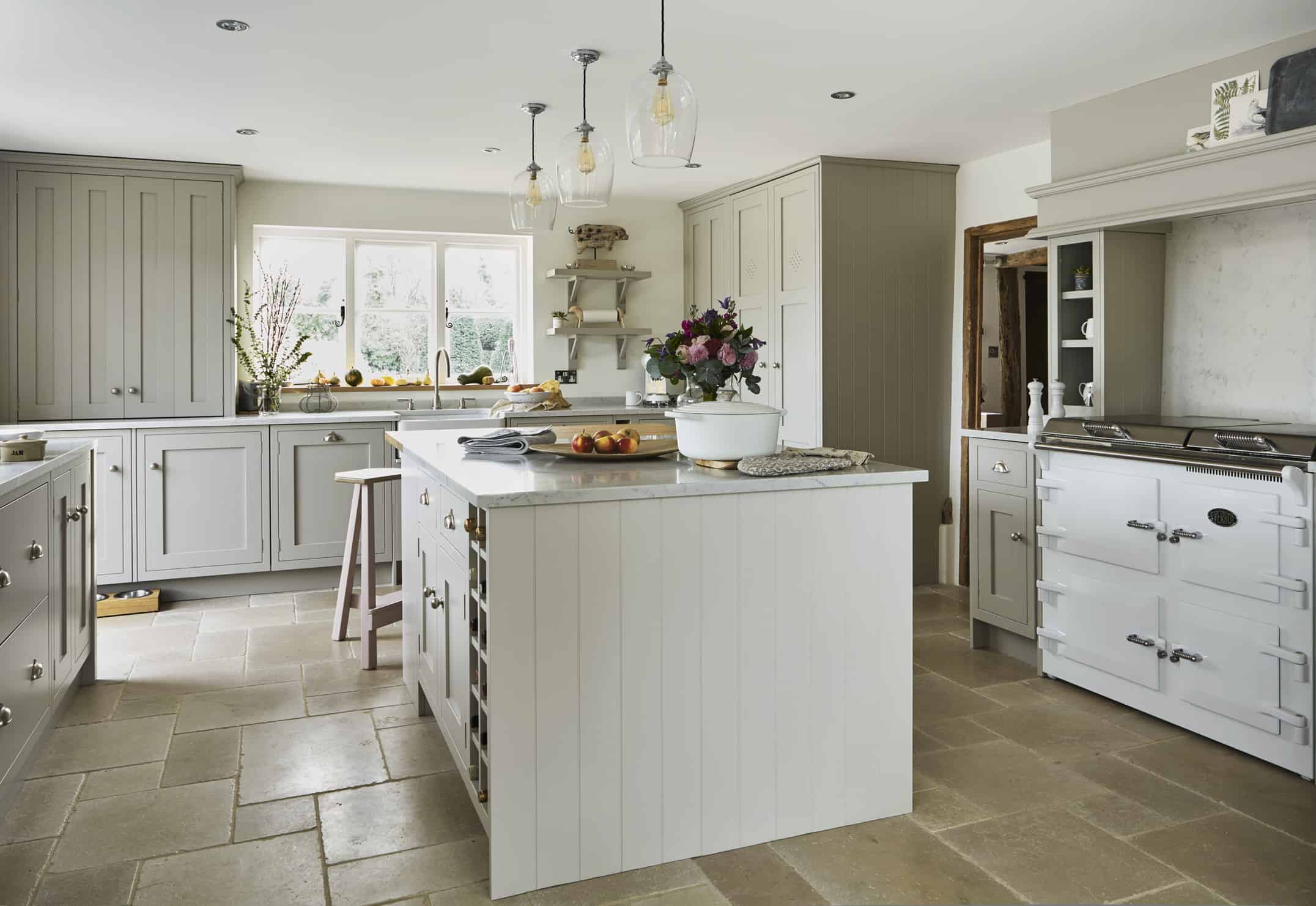 3) Install a classic range cooker
A true hallmark of the traditional country kitchen is the range cooker, and it is a lovely way to add rustic charm to the heart of your home. The serene Cardoon cabinets pictured below contrast beautifully with the glossy black range cooker, while the country-style oven mantle breaks up the high ceilings and frames the cooking area. For an exceptionally traditional feel, our designers recommend you opt for a cooker with minimal glazing and a rail for a tea towel.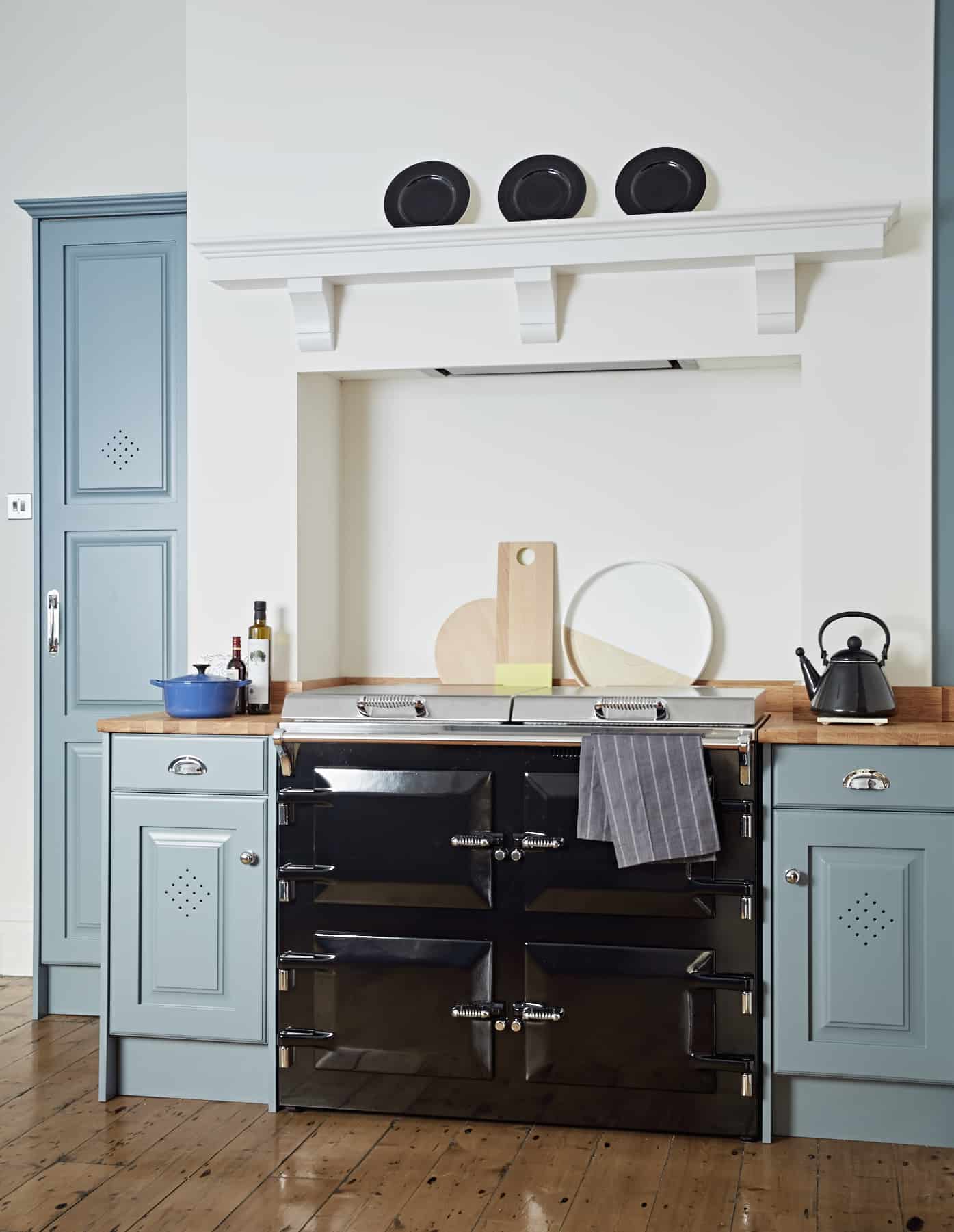 4) Use colour carefully 
At John Lewis of Hungerford, we are the colour experts. In fact, we were the first bespoke kitchen company to offer such a wide array of colours of hardwearing cabinet paint. Therefore, you can trust us when we say a classic country kitchen calls for careful colour consideration.
Traditionally, kitchens were the workhorses of the home and function came before fashion, which is why we typically see muted and practical colours like cream and navy in country kitchens. The modern country kitchen has plenty of opportunity to move beyond these shades, and our carefully crafted heritage colours like Townhouse Blue, Malthouse and Green Tea all work wonderfully in a country-style kitchen.
5) Install stone flooring
Another signature feature of a country kitchen is the natural stone floor. Flagstone flooring has traditionally been commonplace in historical farmhouses, stately homes and English cottages alike as it is easy to maintain and can help to regulate the temperature by trapping heat during the colder months and staying cool in the summer. Most natural stone floor tiles also work well with modern underfloor heating.
Stone flooring comes in many different types, colours and finishes. Limestone is a classic choice and looks great in honey beige tones or muted greys. For a darker effect, slate is available in rich black or warm patina tones, and tumbled travertine in soft oyster shades looks gorgeous in most settings.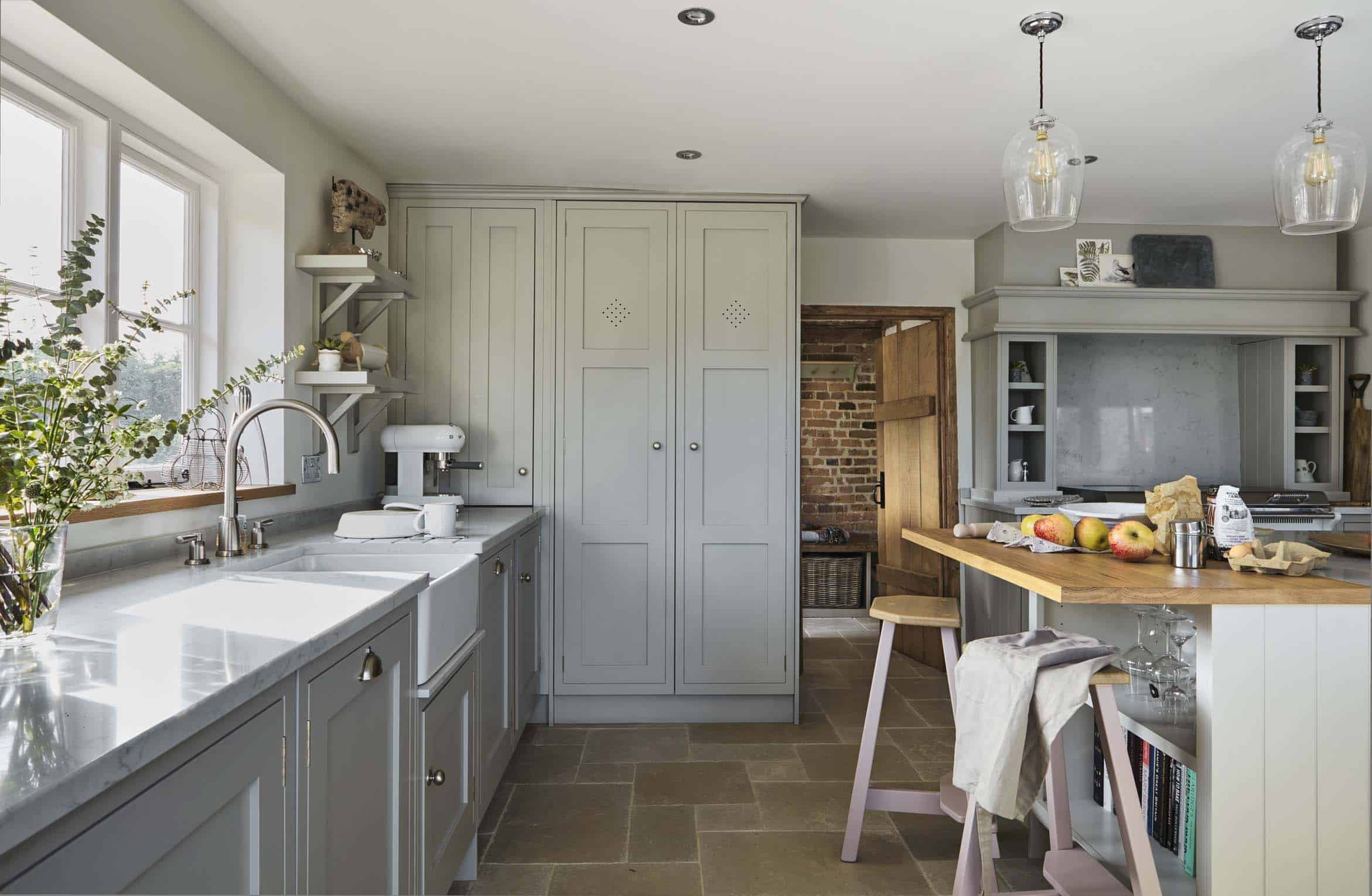 6) Consider classic kitchen cabinetry
Traditional cabinetry is a must when it comes to crafting a beautifully rustic kitchen fit for the countryside. Our handmade Artisan kitchens feature detailed cabinetry that incorporates a raised field centre panel and beautiful drawer edge detailing. The versatility that comes with a bespoke kitchen allows us to add extra design features to accentuate the rustic aesthetic of an Artisan kitchen, such as plate racks and open shelving.
7) Imagine a traditional Belfast sink
The wonderfully simple ceramic Belfast sink has been in vogue for the best part of 300 years and its popularity isn't waning. This deep-set sink, commonly found in historical homes across the British Isles, is perfect for washing larger pots and pans and adds a timeless feature to any country kitchen. The large double bowl Belfast sink pictured below contrasts with the Heron Grey Artisan units, making the sink and the tiled backsplash behind it a wonderful focal point in this kitchen.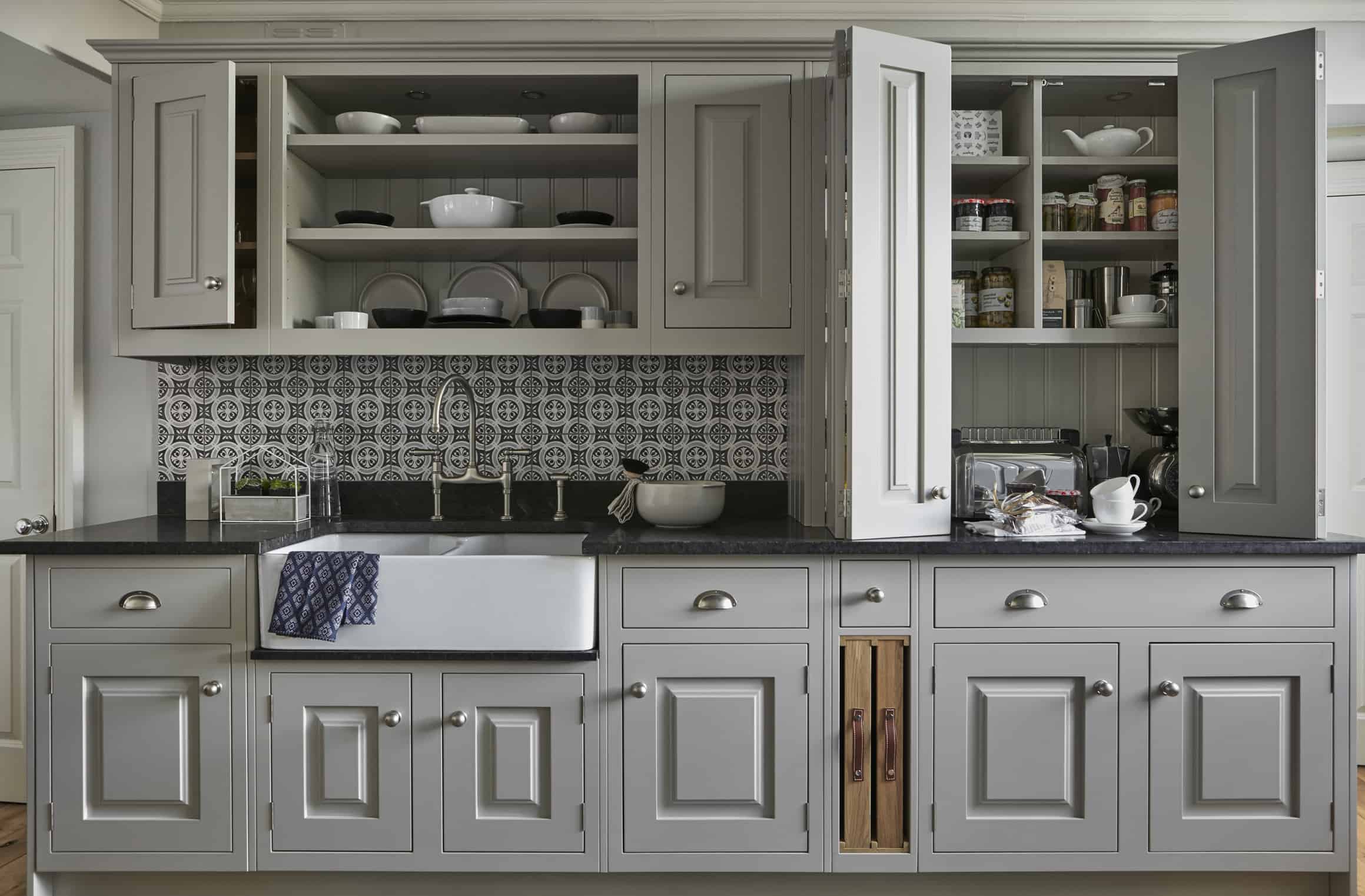 8) Use antique touches for a hint of history
Finishing touches can transform a room and antique kitchen items could be all you need to bring a touch of rustic charm to your kitchen space. Items like copper pans, old fashioned weighing scales, a traditional hob kettle or antique pendant light shades give a modern kitchen an undeniably cosy country feel.   
9) Have freestanding furniture
Another hallmark of a traditional country kitchen is freestanding furniture. Picture a freestanding pantry cabinet, a painted dining table or a traditional dresser or larder – all wonderful pieces of kitchen furniture that give you added storage and food preparation space whilst exuding rural charm. At John Lewis of Hungerford we offer a range of stunning freestanding furniture for your kitchen, handcrafted to complement your space. The classic farmhouse kitchen in Flour pictured below uses our hand painted worktable in a contrasting colour to create a focal point.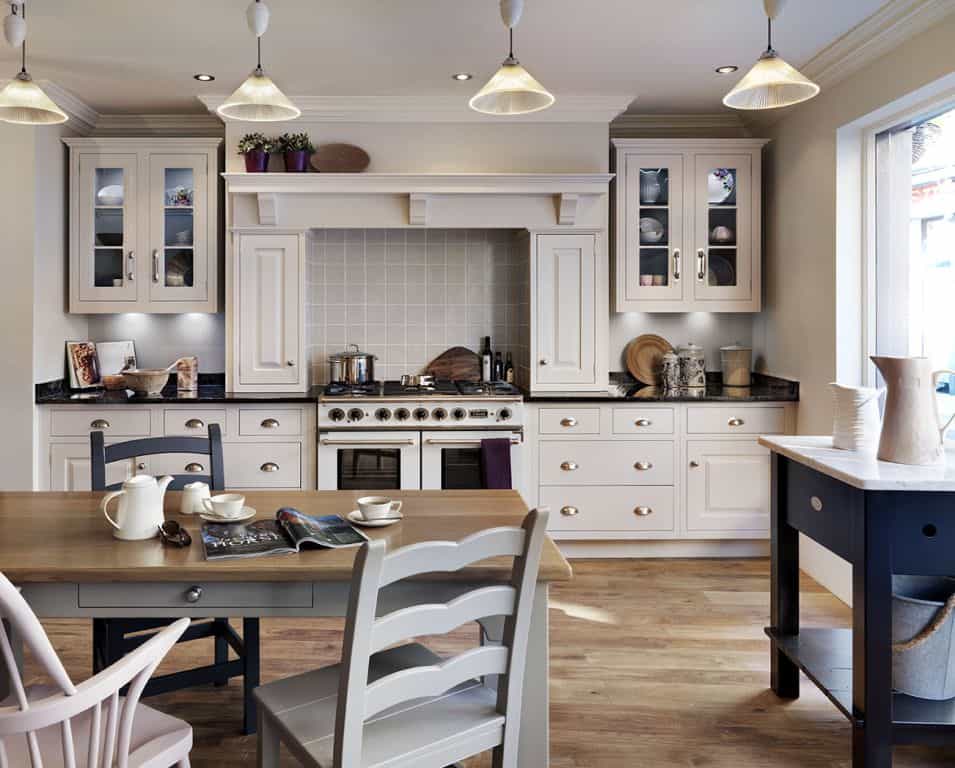 10) Choose wooden countertops
Natural timber elements warm up the colour palette of a kitchen and create a wonderfully homely environment. Timber worktops are long lasting, practical and a great way to introduce wood into your kitchen. They make for a truly traditional kitchen work surface and have been a popular choice for hundreds of years in small cottages and larger homes alike.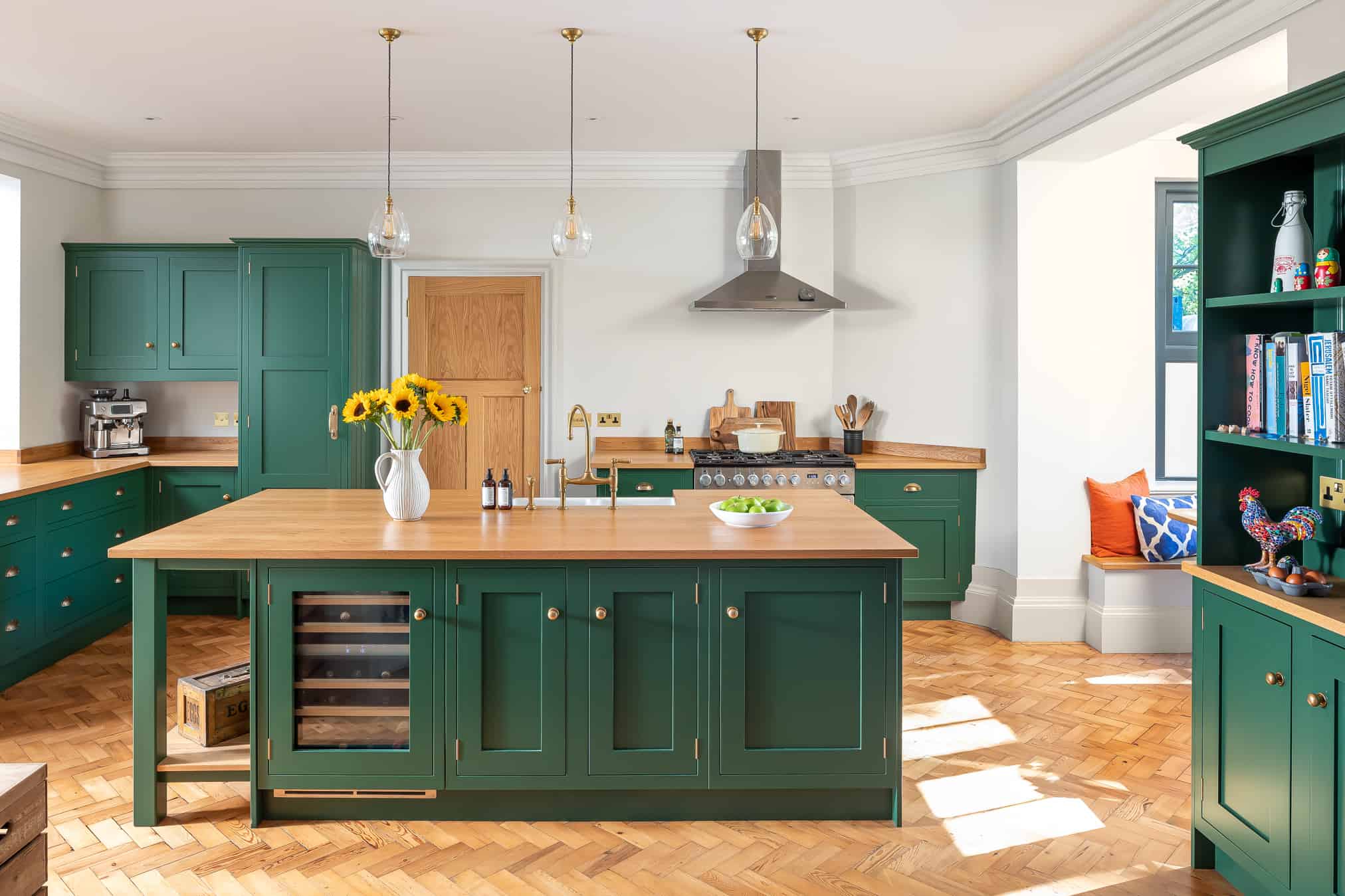 Country Kitchens That Exude Rustic Charm
We hope this blog post has given you some inspiration for designing your country-style kitchen. Should you wish to discuss your kitchen renovation or talk through your interior design ideas, book a free design consultation appointment to speak with our team of expert designers. We use a combination of traditional and modern techniques and use only select materials so that you always get a beautiful kitchen that is built to last.
Book a free design consultation
John Lewis of Hungerford designers are on hand to bring your ideal home to life
Book a design consultation