10 Aesthetic Accent Colours for Grey Kitchen Units
Kitchens21st June 2021 6 minute read
At John Lewis of Hungerford, we are pioneers of the painted kitchen and were one of the first companies in the industry to paint kitchen cupboards. Our hard-wearing, award-winning paint is designed to last for generations, and nothing is as timeless as a grey kitchen unit.
If you are considering investing in a luxurious bespoke kitchen and think that grey could be a good colour choice for your home, read on to learn how to take that colour scheme a step further. Here, we'll offer you a guide to choosing the best accent colours that work alongside different shades of grey and inject a sense of personality into your kitchen design.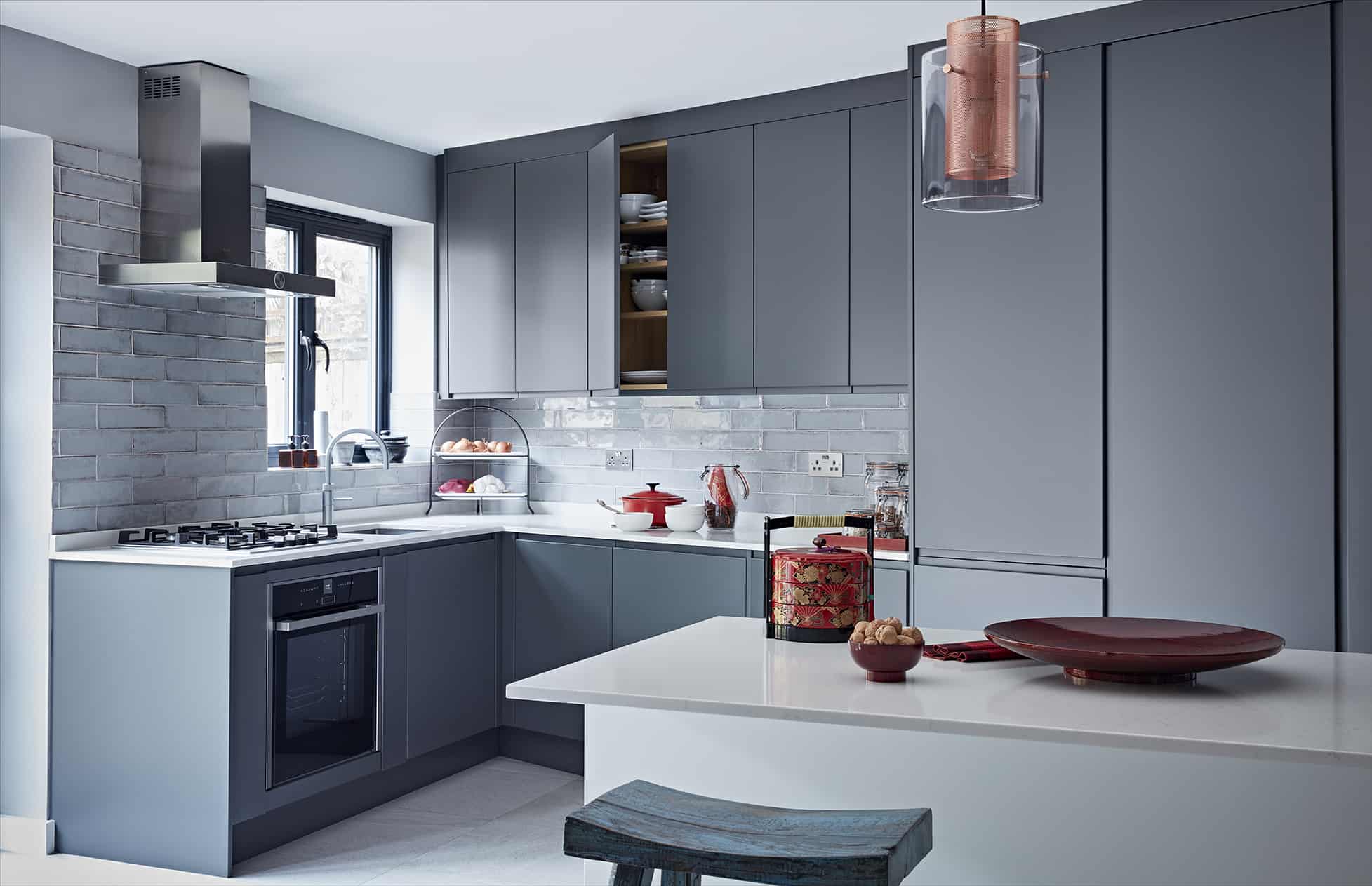 What Colours Go with Grey Kitchen Units?
There are plenty of opportunities to experiment with colour when designing your kitchen, from your choice of flooring, work surfaces and backsplashes to the kitchen accessories you have on display. More exciting still, these choices give you the chance to add aesthetic accent colours to each, letting you put your own personal touch on a grey kitchen.
Grey Kitchen Units: What Colour Floors Work Best?
On the whole, solid wood or wood-effect flooring pair beautifully with a grey colour scheme. While grey has a reputation for being cold and clinical, turning up the heat with oak, teak or maple materials underfoot is a great way to balance the colour palette of your kitchen. At John Lewis of Hungerford, our clients are spoilt for choice and have options including solid timber, laminate, parquet, engineered wood and parquet.
If the colour scheme of your kitchen features earthy, natural colours like granite grey, chalky white and sandy beige, laying a natural stone floor works beautifully to complement the arrangement. Bright and textured natural stones such as limestone flags also make for a wonderfully grounding choice.
Larger kitchens can typically get away with darker colour schemes, as they don't rely on a light and airy colour palette to make the space seem bigger. In these situations, dark porcelain tiles make a striking impression and look great arranged as planks or in a herringbone fashion. Similarly, polished concrete floors offer a dramatic, functional and eye-catching flooring option for an industrial warehouse-style kitchen.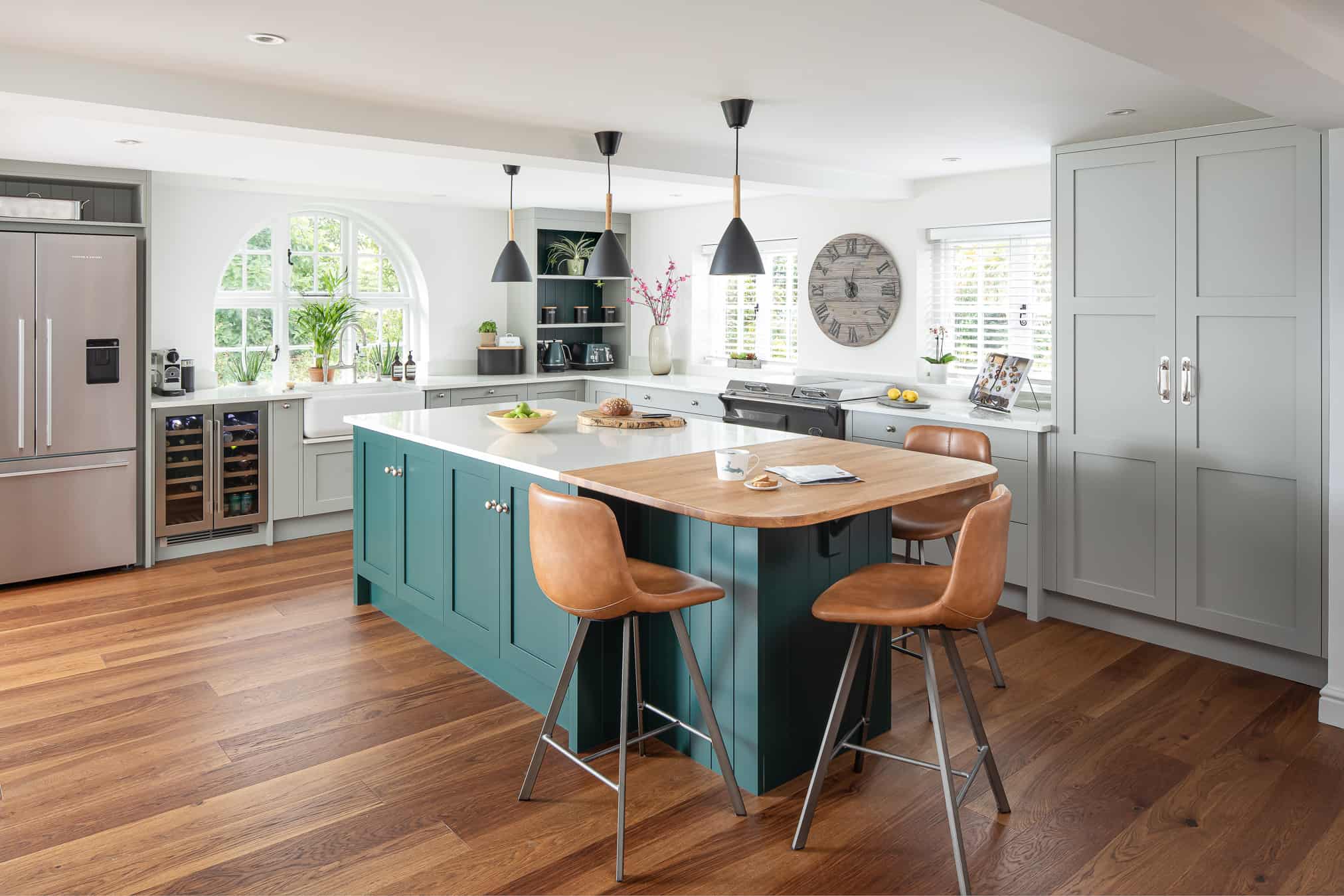 Grey Kitchen Units: What Colour Walls Should You Choose?
When it comes to selecting the colour combination for your kitchen, there are two main avenues of thought: selecting complementary colours and contrasting colours.
By choosing complementary colours that sit closely to one another on the colour wheel, you can create a seamless and calming effect. Creating a close colour match between your kitchen cabinets and wall paint is a fantastic way for a smaller kitchen to give the illusion space. Alternatively, contrasting colours like pinks and reds can be used to energise a space, allowing you the freedom to express your sense of style.
There are many shades of grey, ranging from greige tones at the warmer end of the spectrum to cooler shades of grey tinged with blue. These tonal differences are important to keep in mind when it comes to selecting complementary colours. White is a popular choice, and looks great with grey units. However, even white can be a considerably variable shade, so it's always a good idea to compare swatches at different times of the day, under both natural and artificial lighting. Our designers are happy to help with these colour comparisons should you need guidance.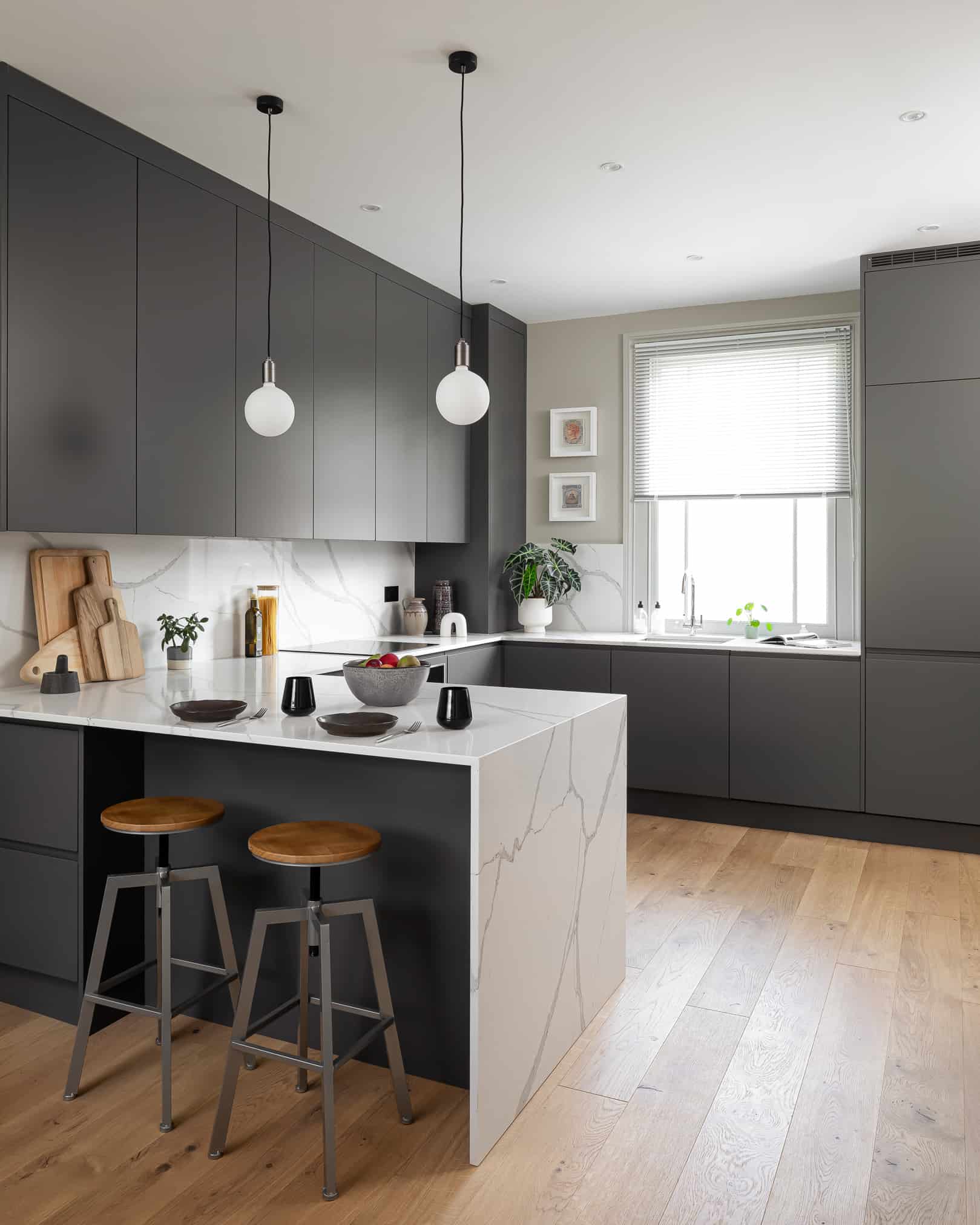 Accent Colours for Grey Kitchens
Here are our top 10 accent colours to complement a grey colour scheme, all taken from our carefully curated colour palette of hard-wearing paints.
1) A splash of pink
Fortune favours the bold, and this colour combination will guarantee you a striking home interior. Our stunning Easy Pink Egg Shell paint colour pops against the dark grey wall and Easy Graphite wall units, and is the perfect way to inject a sense of fun and vibrancy into your kitchen design.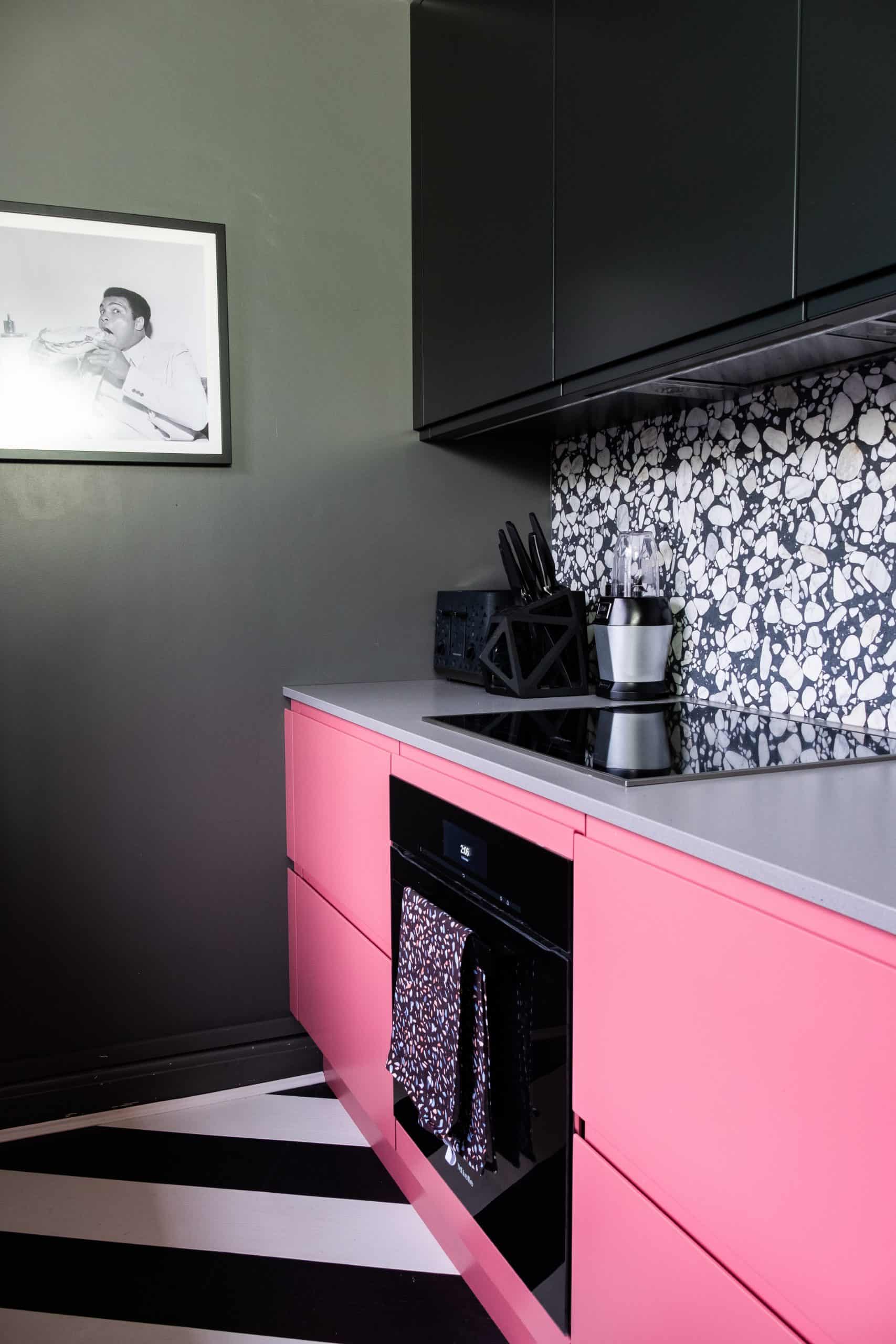 2) Pastel blue
Grey is a somewhat industrial colour, but that doesn't mean that it can't look at home in a domestic setting. Pastel blue shades like our gorgeous Forget-Me-Not Satin Eggshell pair wonderfully with warmer tones of grey, giving the room a lighthearted feeling. This wonderful pastel colour looks particularly welcoming on our Shaker cabinetry in a rural cottage setting.
3) Whites and creams
Grey and white is a timeless combination that goes together like salt and pepper. An excellent choice if you favour neutral interior design, this colour combination uses shade and light to create interest rather than vibrant colours. Pictured below is a beautiful white kitchen with a striking grey kitchen island painted in Birch to create a focal point for the room. The White Satin Eggshell used on the wall cabinetry gives this kitchen a spacious feel.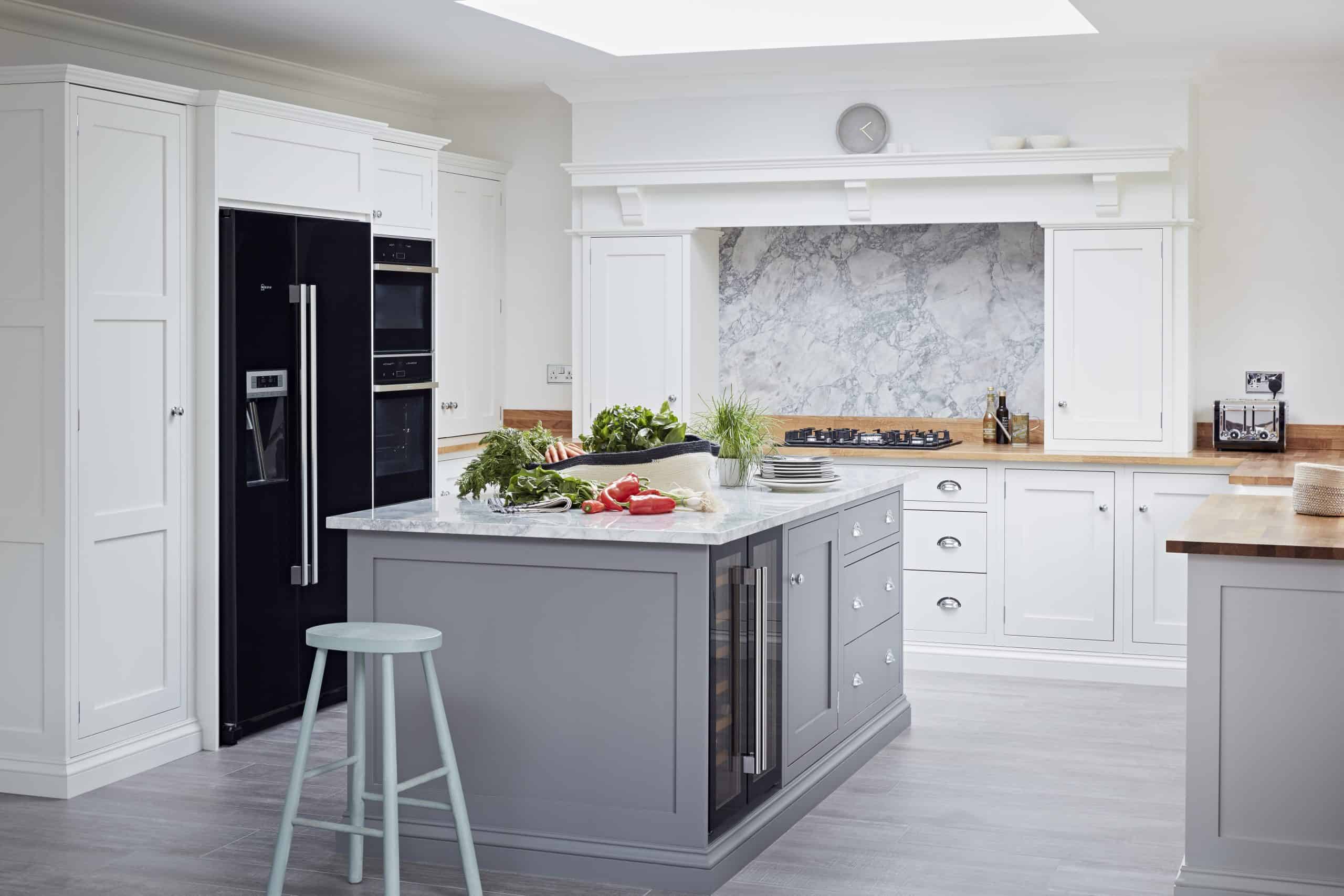 4) Sage green
Organic interiors are all the rage, and our updated colour palette now includes a host of dusky green hard-wearing paints like Kew, Sage, Malthouse and Eucalyptus. These hues look beautiful in a kitchen that uses warmer pale grey tones, creating an earthy atmosphere. Complete the look with pots of kitchen herbs and you're guaranteed a beautiful botanical brasserie.
5) Dark and brooding 
Add a sense of mystery and masculinity to your kitchen with a black kitchen aesthetic by complementing grey kitchen units with black accents. This brooding Shaker kitchen finished in Heron Grey has been installed with black handles that coordinate with the built-in appliances. The industrial feel of this monochromatic kitchen is contrasted with organic design touches like the antiqued wood freestanding furniture, wooden kitchen accessories and houseplants.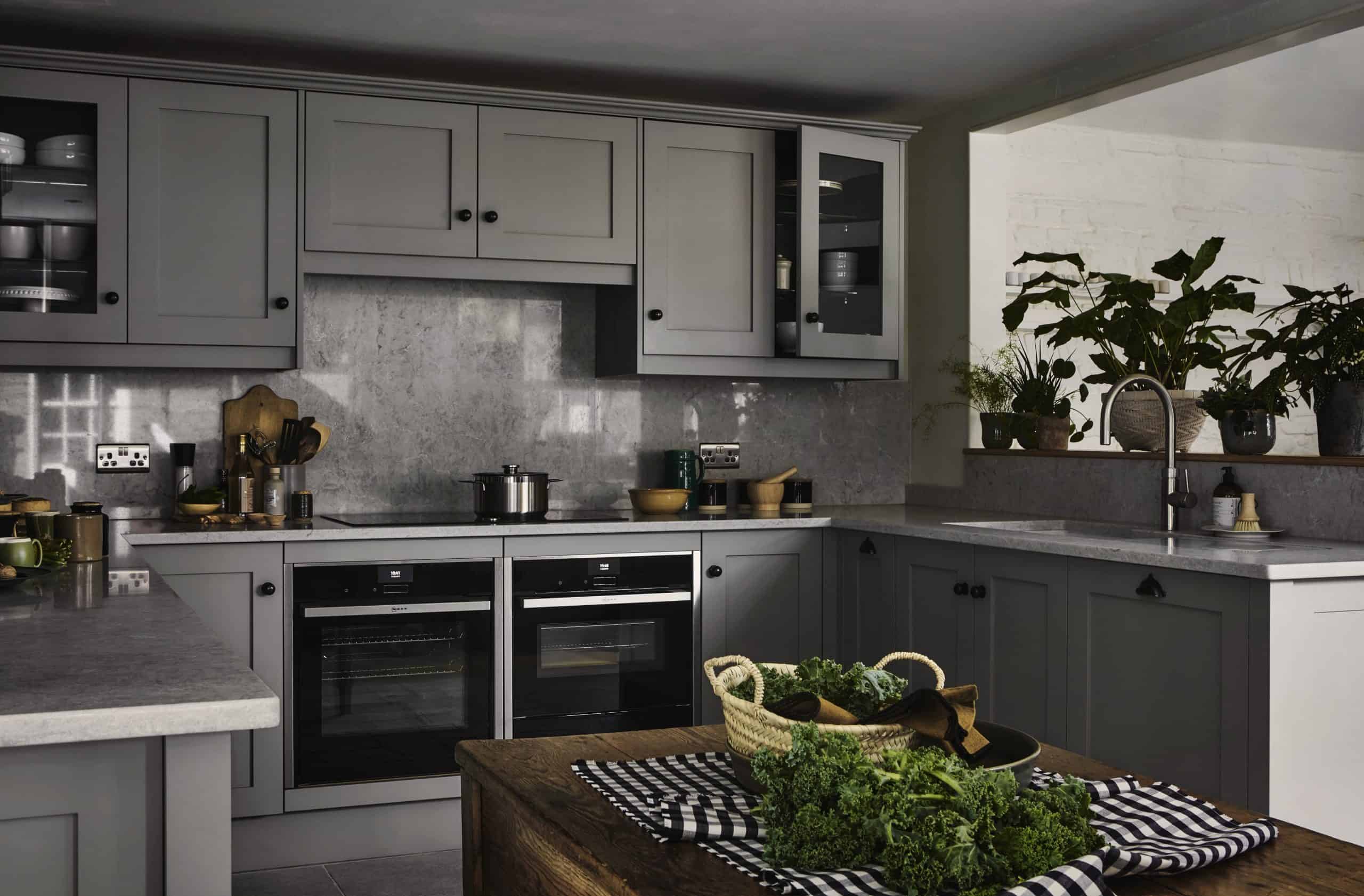 6) Navy blue
Deep inky blues create an air of sophistication for your kitchen cabinetry, and look gorgeous in a wide range of kitchen styles. The Heron Grey units on the back wall of this kitchen contrast well with the gorgeous Marina Blue island, creating a subtle nautical theme. The maritime feel of this contemporary kitchen is further accentuated with the chrome fisherman pendant lights, while a striking grey and white veined quartz worktop and backsplash creates a rippling effect like waves washing ashore.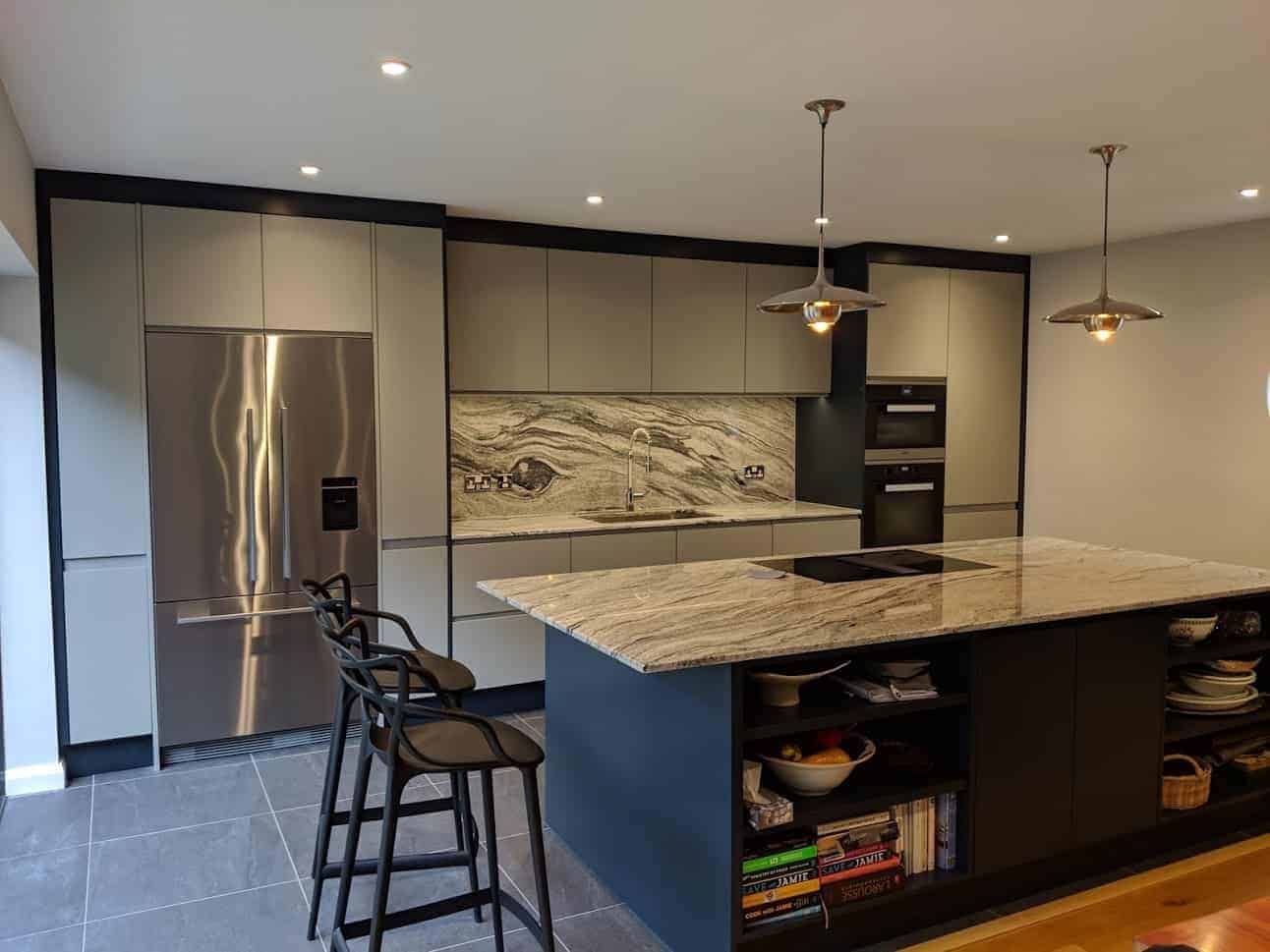 7) Metallic accents
Grey kitchen units provide a beautifully blank canvas when it comes to selecting kitchen accessories and hardware. Virtually all metallic tones, from silver and gold to copper and bronze, complement grey. Using metallic accents like handles, pendant lights and mixer taps can help you add interest to the room. This calming Shaker-style kitchen in Putty is finished with elegant gold bar style handles.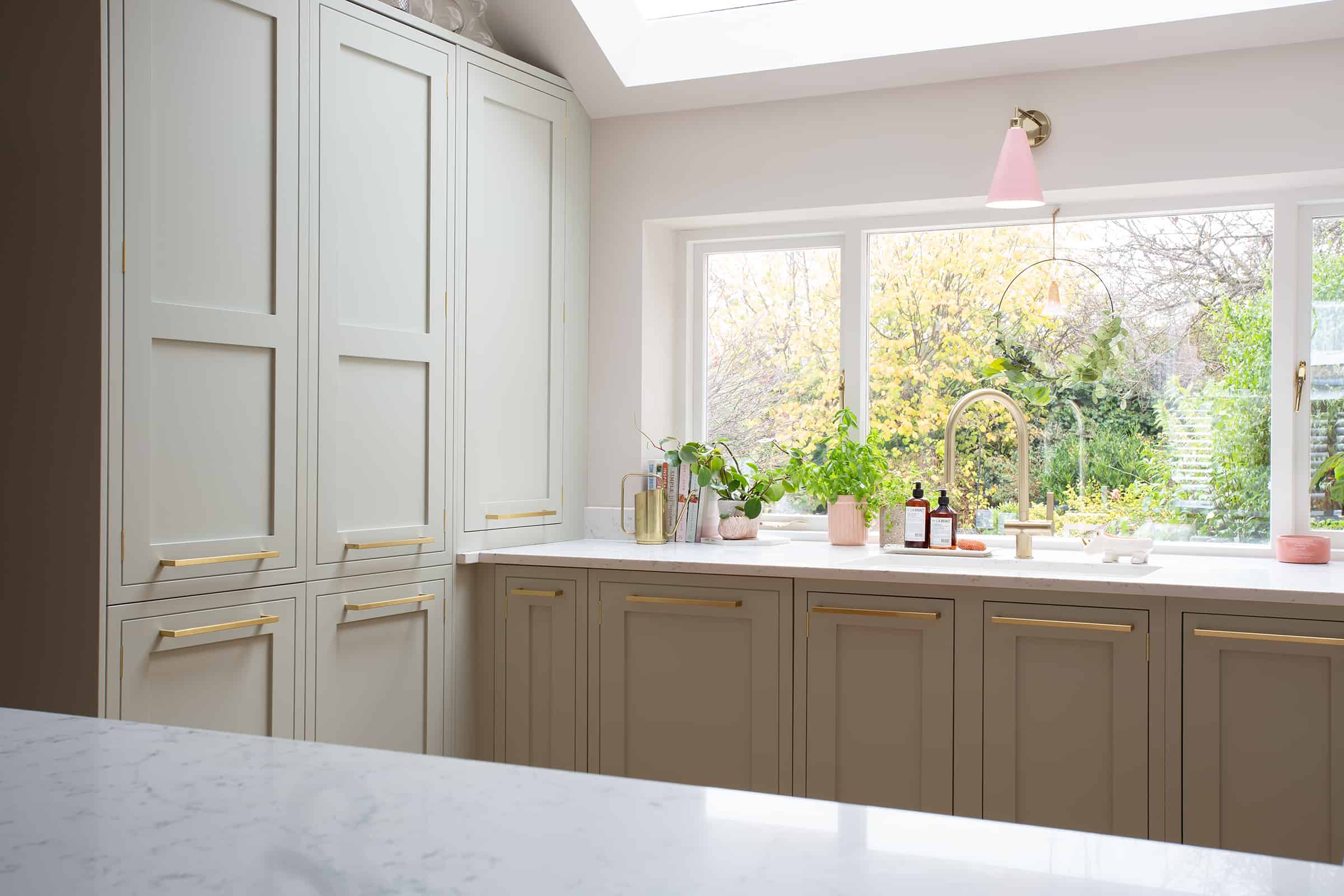 8) Grey on grey 
These stately Easy Graphite kitchen units look impeccable against the grey porcelain tile floor, while the stainless-steel fridge freezer, mixer tap and bar stools add extra polish to this grey-on-grey colour scheme. The wall cabinets above the stove are finished in Pearl Satin Eggshell, blending in with the colour of the wall to reduce the risk of creating a top-heavy feel.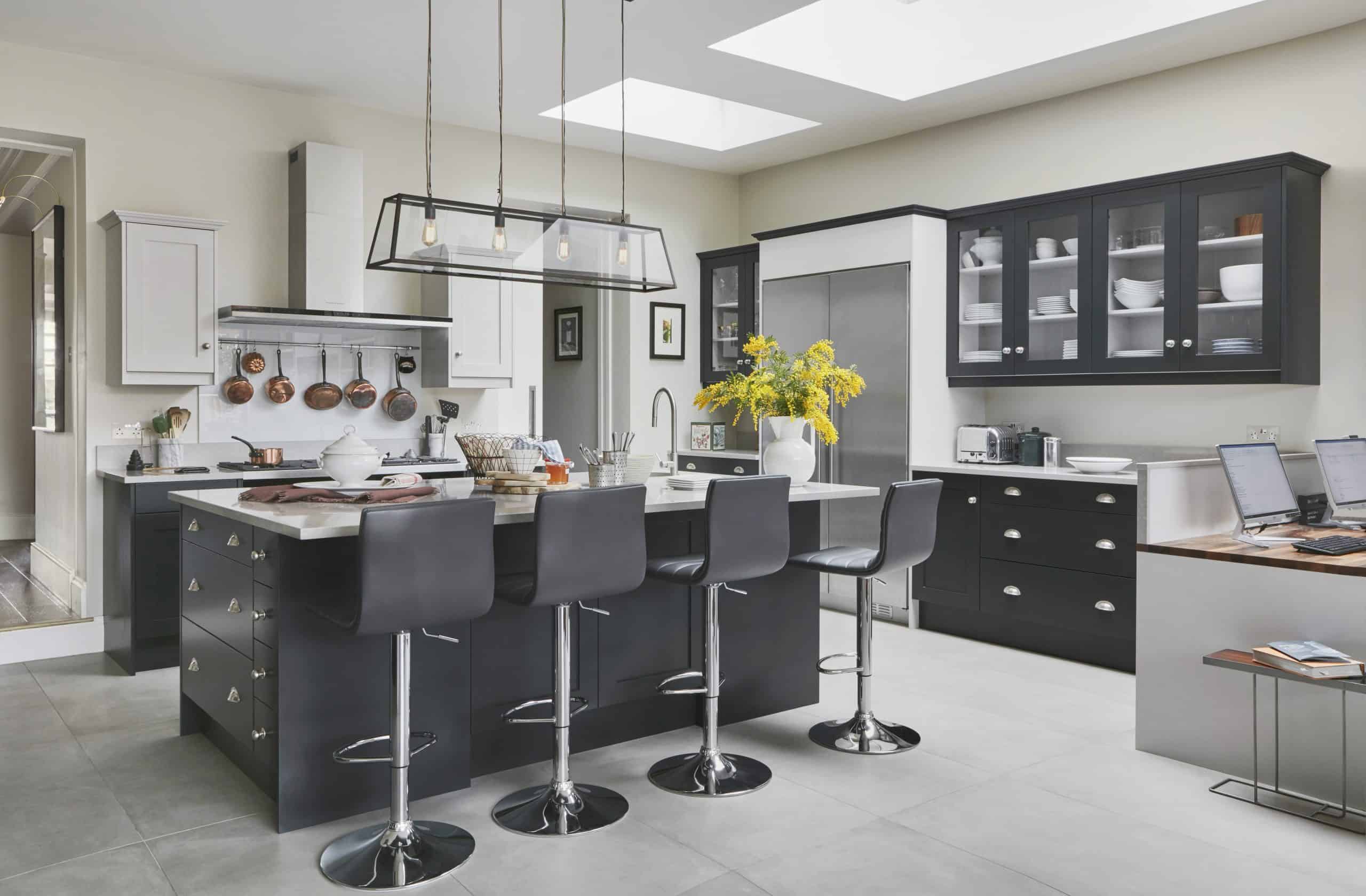 9) Natural timber
Grey kitchens can benefit from the addition of natural timber elements in order to warm up the colour palette and create a homely environment. Timber worktops are long-lasting and practical, and are an easy way to introduce wood into your kitchen. We offer subtle options of visible wood trim in our Pure range of cabinets, which are available in Walnut or Oak.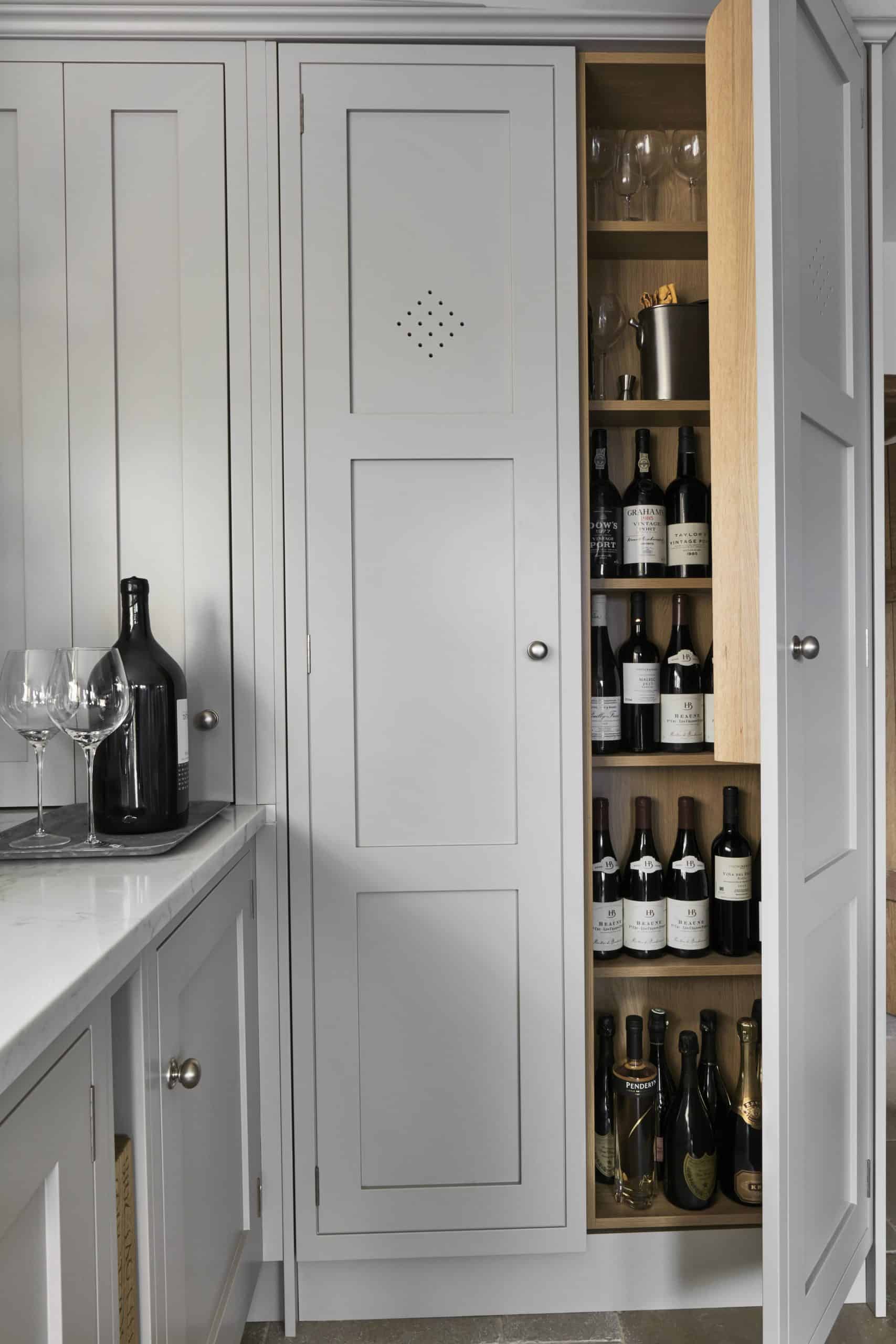 10) Retro red
If you're looking for a bold kitchen design, look no further than this retro-inspired kitchen from our Crème-de-la-Crème range. The steely grey walls and chequered tile floor of this kitchen are brought to life with a fiery red quartz worktop. The piano gloss Sugar Almond Cream cabinet paint and the classic curved design is the epitome of a showcase 1950's American diner-style kitchen.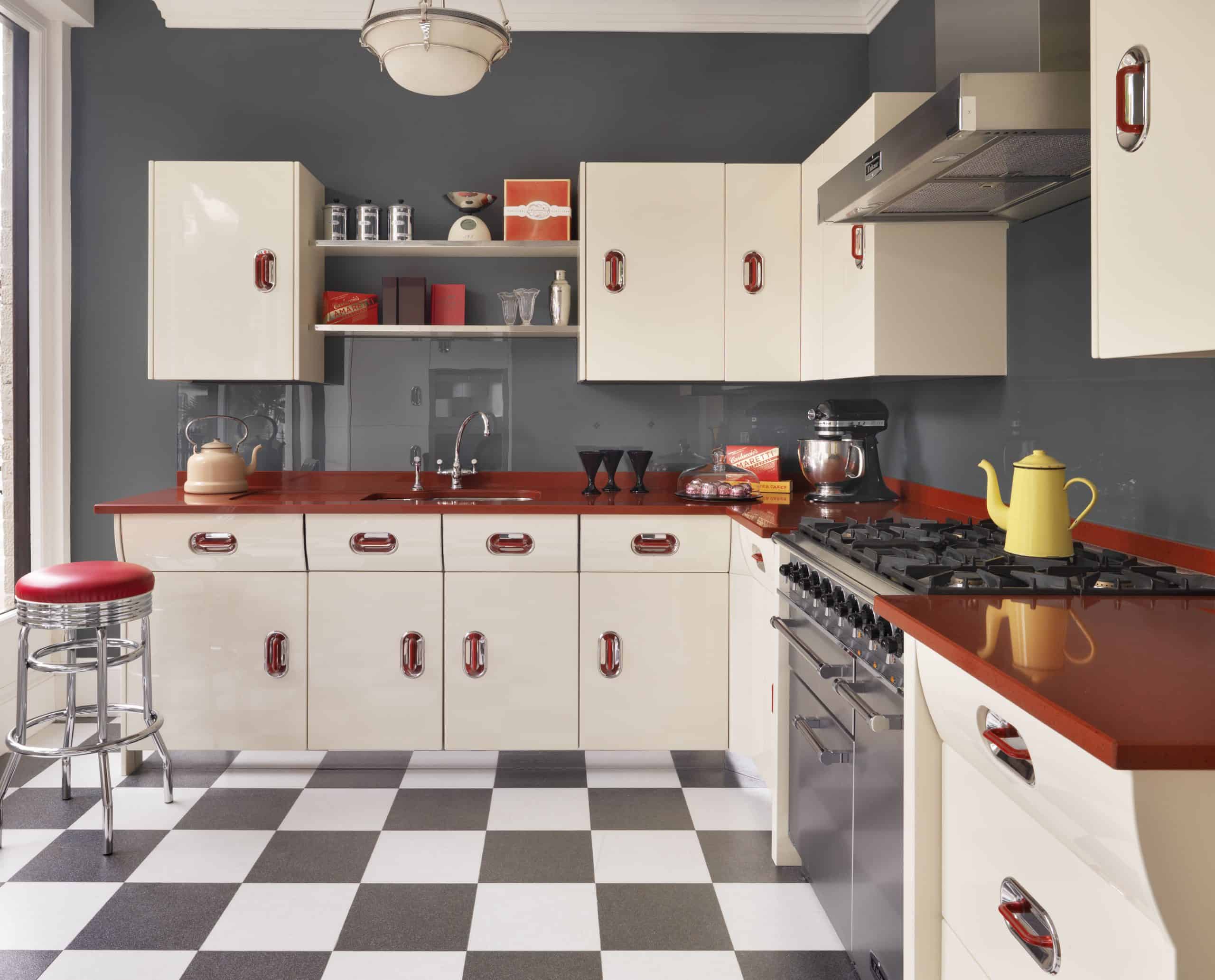 Picking the Perfect Palette
Our award-winning paint comes in a huge range of colours, and is resistant to wet and dry heat and marking by liquids, oils and solvents. Take a look at our Satin Eggshell colour palette with 89 beautiful colours, or choose from our selection of 14 High Gloss colours. We offer a bespoke colour matching service, so our expert designers won't have any trouble bringing the right colours into the heart of your home. We'd love to hear from you if you need guidance.
Book an appointment with our experts, who have years of experience helping clients like you find the perfect colour combination for your kitchen furniture. All of our hand-sprayed paint finishes add character to your surroundings and include a 10-year product and workmanship guarantee.
Book a free design consultation
John Lewis of Hungerford designers are on hand to bring your ideal home to life
Book a design consultation