Composite Worktops: Everything You Need to Know
Inspiration21st March 2022 3 minute read
After your cabinetry style choice, kitchen worktops are the next important element of kitchen design to consider. These surfaces often dominate visual space in a kitchen and receive the most daily use. For these reasons, choosing kitchen worktops is a task that warrants careful consideration.
Boasting durability and a multitude of beautiful patterns and colours, composite stone worktops are an option certainly worth your consideration. Here we'll delve into the properties of composite worktops, to ensure your new kitchen surfaces are a perfect fit. To explore a wider range of surfaces for your kitchen, read our guide on choosing the right kitchen worktops.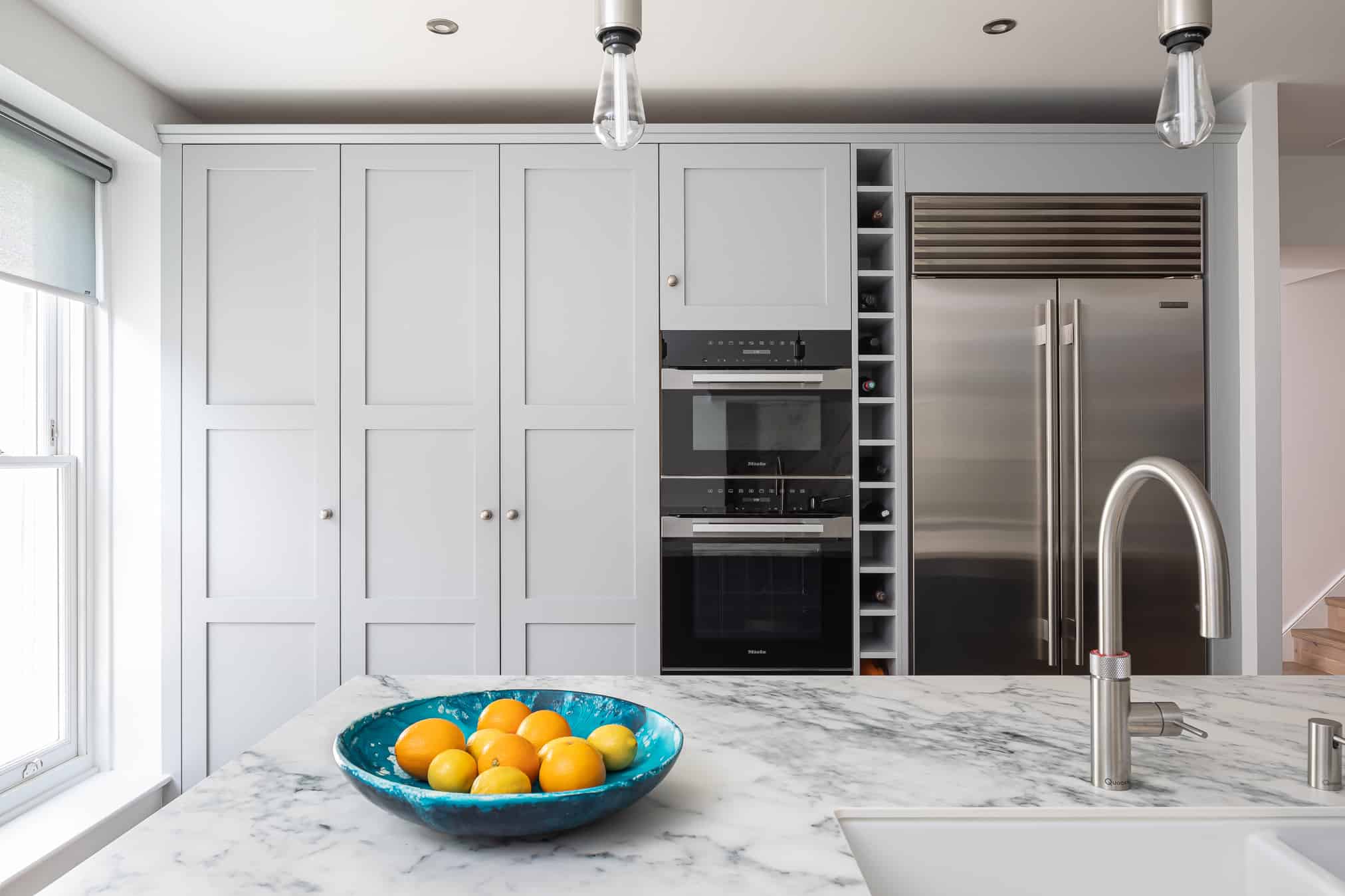 What Is a Composite Worktop?
The word 'composite' refers to the blending of more than one material to create a new material that can be used for a range of things. In this instance, we're discussing kitchen worktops. Commonly found minerals like quartz crystals or manmade acrylics are mixed with polymer resin, pigments and bonding agents to produce customisable, hard-wearing surfaces.
As composite worktops are manufactured, they can be designed to replicate the look of other materials, such as marble and granite. Composite stone worktops look just like the real thing, at a lower cost, without the downsides of using natural, porous materials.
Because natural stones are typically porous, they generally offer less durability than composite stone worktops. They require more care and can be damaged more easily. A composite worktop, however, is designed for durability and can outlast natural alternatives by many years. While the cost might be lower, the appearance can be every bit as beautiful and the functional qualities certainly exceed those of natural materials.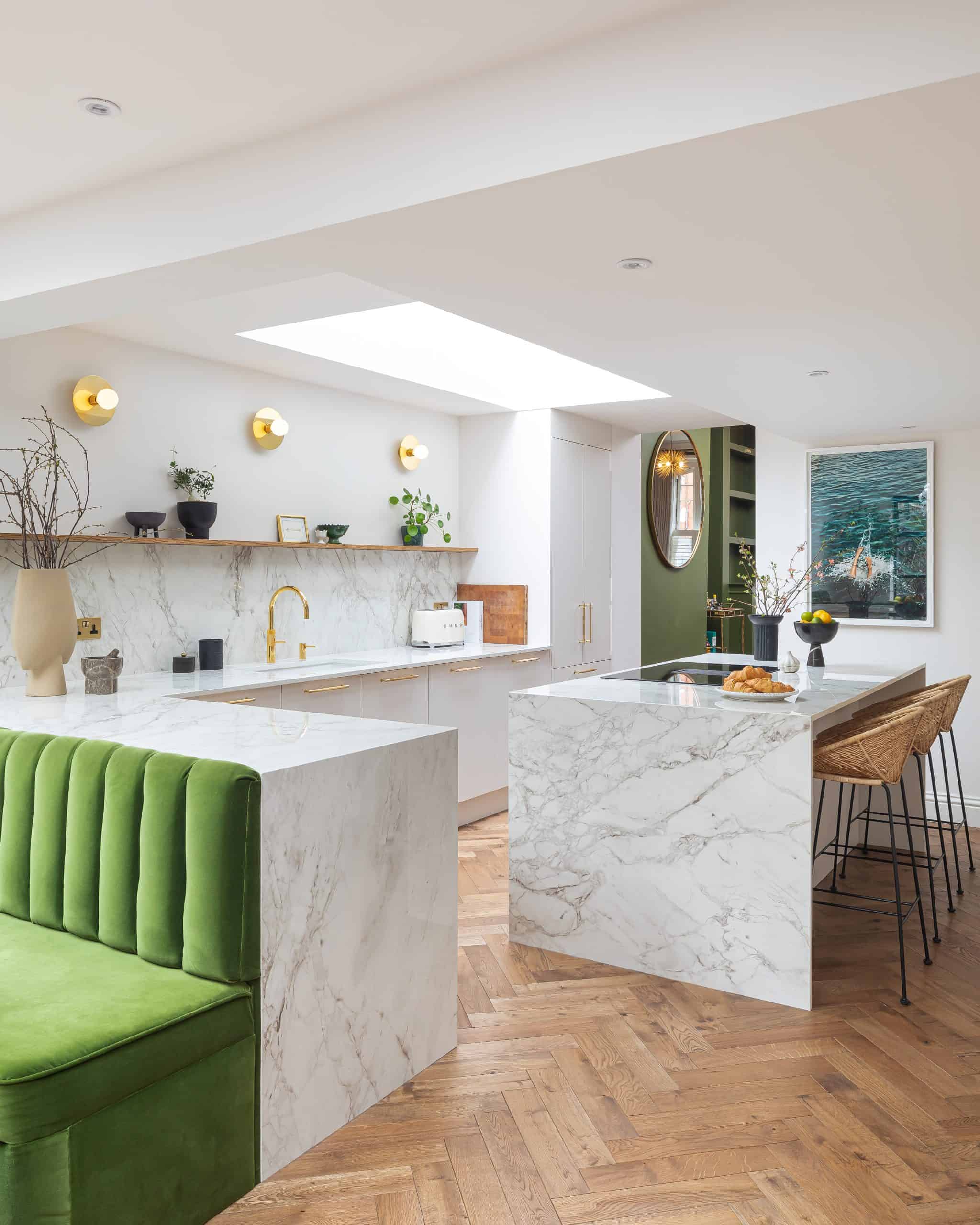 Range of Composite Worktops
From marble and granite, to copper and quartz, composite worktops can be designed to replicate a very wide range of popular surfaces used in luxury British kitchen design, without compromising durability or practicality. If you prefer a bolder, more contemporary or minimalistic look, composite worktops can also be engineered in pure shades, whether you envision a bold colour or a sleek, neutral look. Explore our brochure for colour and finish inspiration.
Benefits of Composite Worktops
Unlike naturally occurring work surface materials, composite worktops have been specifically designed for use in the kitchen. This means they are built to last, even when subjected to hot pans, exuberant chopping and messy chefs. Boasting both heat and scratch resistant properties, composite surfaces are stronger than stone, making them one of the most practical kitchen worktop options.
While natural work surfaces (like wood and marble) require careful and attentive maintenance, composite worktops can simply be wiped down and left. There is no special care required for composite kitchen surfaces, which is perfect for busy households. In the unlikely event that a composite worktop is scorched, stained or scratched, it can simply be sanded down to remove all traces of the damage.
As composite worktops are non-porous, they cannot be easily damaged by liquids. Spills can simply be wiped away, with no risk that the fluid will seep into your surface, causing stains, marks or even bacterial growth. The non-porous qualities of composite materials also makes them very hygienic, with no opportunity for bacteria or harsh cleaning products to leech into your kitchen surface.
From the shape of your kitchen surface to its colour and finish, every element of a composite worktop can be customised for your kitchen. Choose an organic shape for your kitchen island to add creativity and flow to your kitchen. Alternatively, select a veined finish which replicates natural stone worktops, to create a more rustic effect — the choice is yours.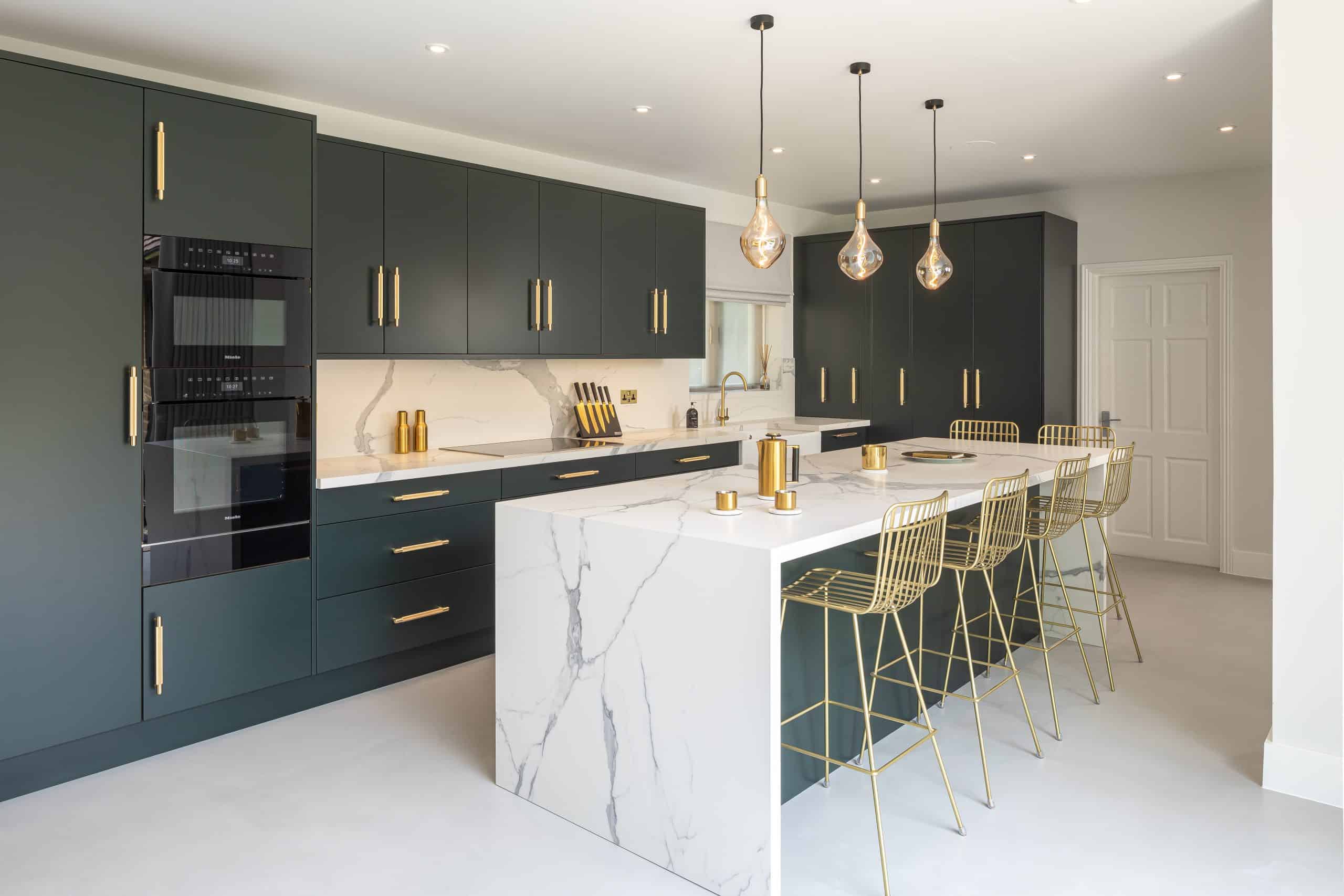 Creative Composite From John Lewis of Hungerford
With decades of experience, the John Lewis of Hungerford designers and craftspeople are deeply knowledgeable about the materials which make beautiful kitchens. We specialise in bespoke kitchens which do not compromise on functionality. You're welcome to get in touch with our team, to share your vision and uncover the materials which will make it a reality.
Book a free design consultation
John Lewis of Hungerford designers are on hand to bring your ideal home to life
Book a design consultation