DESIGN SOLUTIONS: INTELLIGENT KITCHEN ISLANDS
Inspiration19th September 2023 2 minute read
The centrepiece island has become a top priority in the design wish list. Whether it is the hub where the family sit, eat and socialise, the ideal entertaining space or to maximise storage. The Centre-stage island can incorporate it all and create a timeless kitchen.
At John Lewis of Hungerford, we will design your island around you and your personality. A multifunctional island can be for prepping and cooking, entertaining and eating or the kids homework and a cuppa.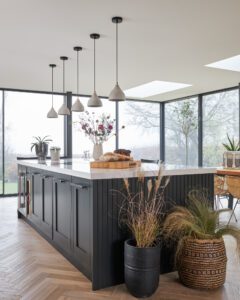 The kitchen island can come in all shapes and sizes, a permanent fixture or moveable. We can design the perfect island around your particular space and the right dimensions to give your kitchen that sense of balance.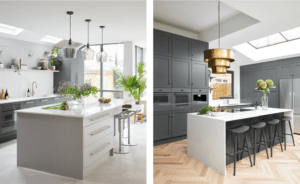 SINKS
Whether you opt for a traditional Belfast sink or a more contemporary design. incorporating a sink into a kitchen island offers the perfect solution to keep other work surfaces clear for preparing food and housing small appliances.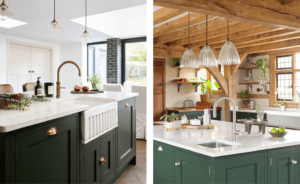 APPLIANCES
From ovens and hobs to wine fridges and dishwashers, installing appliances into your kitchen island makes cooking and entertaining a breeze, this allows you to use the rest of your kitchen for mainly storage and keeping the sides clutter free.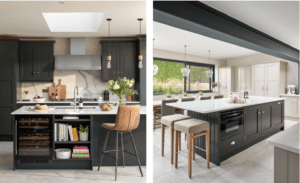 SEATING
Seating for family or entertaining is a clever choice, not only is this a wonderful space saving idea but can be used to mix cocktails and enjoy with nibbles before moving to a more formal dining room. Your choice of bar stools could add a bold statement to your centre-stage island.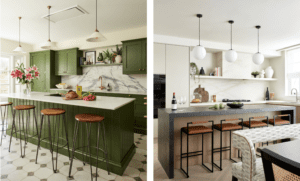 STORAGE
Our designers appreciate the chaos of busy family lives and we certainly understand how critical storage has become.
There is a multitude of storage options for the kitchen island to help keep your space clutter free. From wine racks, drawers to cupboards for small appliances, Each bespoke, made to measure John Lewis of Hungerford kitchen island can be tailored to your exact needs.